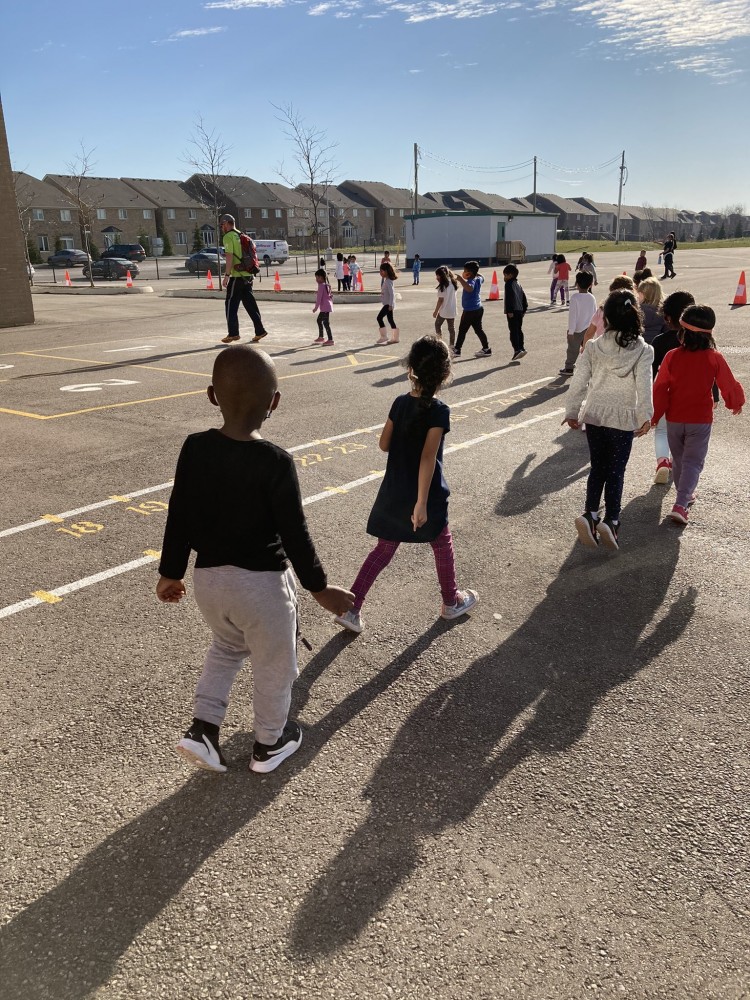 Photos from Twitter-KinderSquadK2/Karen Rana/Natacha Verdiel
School special education assistants demand vaccinations while risking their safety to help students
Structure and rhythm are important for Ayden Rana.
The six-year-old is on the autism spectrum and requires a little extra help to complete his studies. When the winter break turned into an extended period away from the classroom, keeping most children and teachers at home, it presented a unique challenge for Ayden and his mother, Karen, who found herself playing the role of teacher, therapist, support worker and parent.
"He was very receptive the first two days, I would say, to virtual learning because he got to see the teacher and the educational assistants," Karen said. But the novelty quickly wore off. Studying became much harder. Learning became even more challenging than usual.
Touch and sense are key to Ayden's educational development, meaning the curiously flat, two-dimensional world of pixels on a screen, fell far short of meeting his needs.
"The educational assistant realized his needs for tactile material — he's not grasping the Chromebook — so she put together a binder with all the activities," Karen explained. "All the math, English, all the subjects he would do at school, along with his puzzles, his timer [and] his favorite pens [are included]."
The binder is carefully prepared by his educational assistant every week and left for Ayden to pick up, offering new material to make the best of a difficult situation.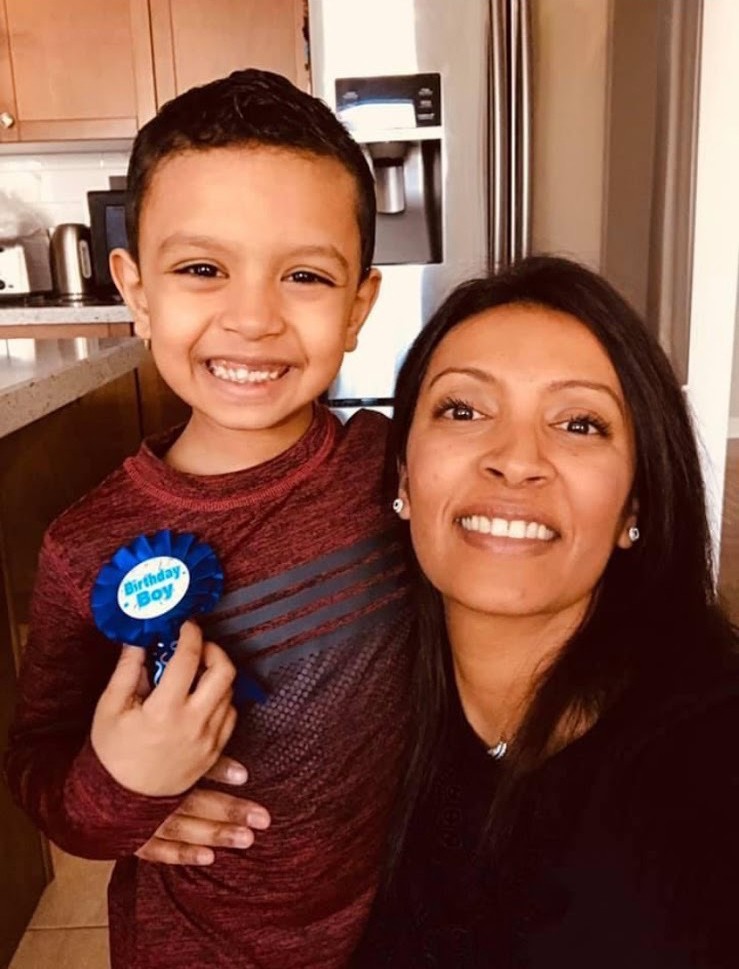 Ayden and his mother Karen.
For some other students with special needs, learning at home — even with the extra work and resources — isn't a possibility. As a result, despite the province-wide shutdown and stay-at-home-order, some are still physically in school.
A few teachers are on hand, along with a small army of special education assistants. At the Peel District School Board, they are referred to as educational assistants (EAs) and a large number of the board's 3,800 EAs are reporting for duty. At Dufferin-Peel Catholic District School Board, where they are known as educational resource workers (ERWs) 40 school sites are open and staffed.
A major issue for EAs working at PDSB is a lack of coordination and tracking by the board, Natacha Verdiel, president of OPSEU Local 2100, the union representing EAs at PDSB, explained to The Pointer. Unlike students and teachers who cohort together, EAs do not have to sign into classrooms and are not included in contact tracing efforts when an outbreak is declared.
"An EA might cross cohorts 14 times on any given day," she explained. "They might report to 12 different classrooms to provide support to high needs students. They're now cross contaminating between students, that's alarming, and no one knows they've been in that classroom."
As a result of their specific profiles, many children with special needs are unable to wear a mask. Some even find staff wearing them to be upsetting and can attempt to physically remove them. Depending on a child's age, size and unique needs, such behaviour can be challenging. In some instances the desire to create normalcy can even lead to aggressive actions by some students. That's why some personal protective measures to mitigate the risk of viral spread can't be used.
"Here's what I don't think the public understands: the students that are reporting to the physical building right now are students who cannot wear masks," Verdiel said. "They are all unmasked, all of the students are unmasked. Most of them are extremely behavioral, they are our highest needs students in the system."
Natacha Verdiel, president of OPSEU Local 2100
Verdiel described one situation where a particular student coughs, spits and sneezes as part of their behavioural profile. "The staff in there are covered in bodily fluids, all day long," she said, lamenting the lack of effective personal protective equipment and how masks can act "as a target" for some students who attempt to remove them or strike the workers wearing them.
For the parents of children with special needs, the role EAs, ERWs and the education system play can be nothing short of a miracle. Staff are able to look after children during the day, calm them and tend to their various behavioural and physical needs.
"Some of our workers have phenomenal skills… some of them are outrageously amazing at what they can do," Pam Bonferro, president of the Dufferin Peel Educational Resource Workers' Association, told The Pointer. "They're like pied pipers, they walk into a room and the students calm down."
Karen Rana agrees, describing Ayden's EA as a rock. "He changed three classes [due to COVID-19 attendence variations], so you can imagine," she said. "Three classes, three teachers, three sets of students, but with the same assistant. She has been the constant and it's been very positive for Ayden."
The work of classroom assistants is often born of passion. As a vocation, many pursue the work out of a desire to help care for children and assist with their challenging development.
"It's not that they don't want to support the students that are there," Verdiel added. "They want the Province to acknowledge that those who are reporting in person are unable to maintain any kind of physical distancing at all. Their job is very, very, very high risk in terms of exposure to bodily fluids."
Highlighting the fact the government is working hard during a crisis, but still missing key supports, Bonferro said ERWs and EAs are being inadvertently positioned in opposition to the very families they support.
"What they have technically done is they have pitted the EAs against the parents," she said. "They are taking the EAs voice away, if an EA speaks up, they're going to be kind of vilified as the bad guy [in the] situation. So they are way beyond stressed and what's really tearing them apart is: they have a conscience, they care about the kids they work with."
The Ministry of Education did not provide a response in time for publication.
Despite working in the same space as teachers, classroom assistants have unique demands, detailed by the unions who represent them. Where teachers can safely distance from pupils, even in the same classroom, EAs and ERWs are unable to make the space. Their duties include helping students use the bathroom, feeding and, when needed, physically helping them to calm down.
"The exposure level that a teacher has when they're standing in front of a classroom teaching versus the exposure that an EA has when they're being spat in the face or restraining a student [is significantly different]," Verdiel said.
The unions have several specific asks of the Doug Ford government to improve the situation. They include pandemic pay, more robust PPE and rapid access to the vaccine.
Under the Province's current vaccination rollout, teachers and classroom assistants find themselves on the list at the same time. The second phase, which also includes older adults living in the community and several other key worker categories, could run as late as July, which risks some EAs and ERWs not being vaccinated until during the summer break.
"The government has taken on the position that EAs are now essential workers; however, they are not being provided with the same level of pay or protection," Verdiel said.
"The NDP has long called for pandemic pay for all frontline workers, and believes educators should be included among the groups prioritized to get their vaccine," NDP Education Critic Marit Stiles told The Pointer. "Special education assistants, who are now working in classrooms with vulnerable people, should be vaccinated as soon as possible, when the vaccine becomes available."
PDSB provided a statement offering extensive instructions to EAs around wearing PPE. It did not address questions around contact tracing and EAs working in multiple classrooms.
"Since returning from the winter break, all students and staff, including EAs, who have returned to in-person learning and working are required to follow the Active Daily Screening process," a spokesperson told The Pointer.
At DPCDSB, contact tracing does not appear to be an issue and ERWs are carefully monitored.
"School principals maintain a record of any ERWs that are working in the school and should a positive COVID case be reported, any staff and students that worked with, or could be considered to be a close contact, would be identified for contact tracing," Bruce Campbell, general manager of communications and community relations for the board, told The Pointer.
As most schools remain closed and the majority of children learn at home, EAs and ERWs continue to show up for work feeling increasingly isolated and vulnerable.
"Everybody is sympathetic, everybody understands," Verdiel said. "Nobody is willing to do anything."
---
Email: [email protected]
Twitter: @isaaccallan
Tel: 647 561-4879
---
COVID-19 is impacting all Canadians. At a time when vital public information is needed by everyone, The Pointer has taken down our paywall on all stories relating to the pandemic and those of public interest to ensure every resident of Brampton and Mississauga has access to the facts. For those who are able, we encourage you to consider a subscription. This will help us report on important public interest issues the community needs to know about now more than ever. You can register for a 30-day free trial HERE. Thereafter, The Pointer will charge $10 a month and you can cancel any time right on the website. Thank you.
Submit a correction about this story