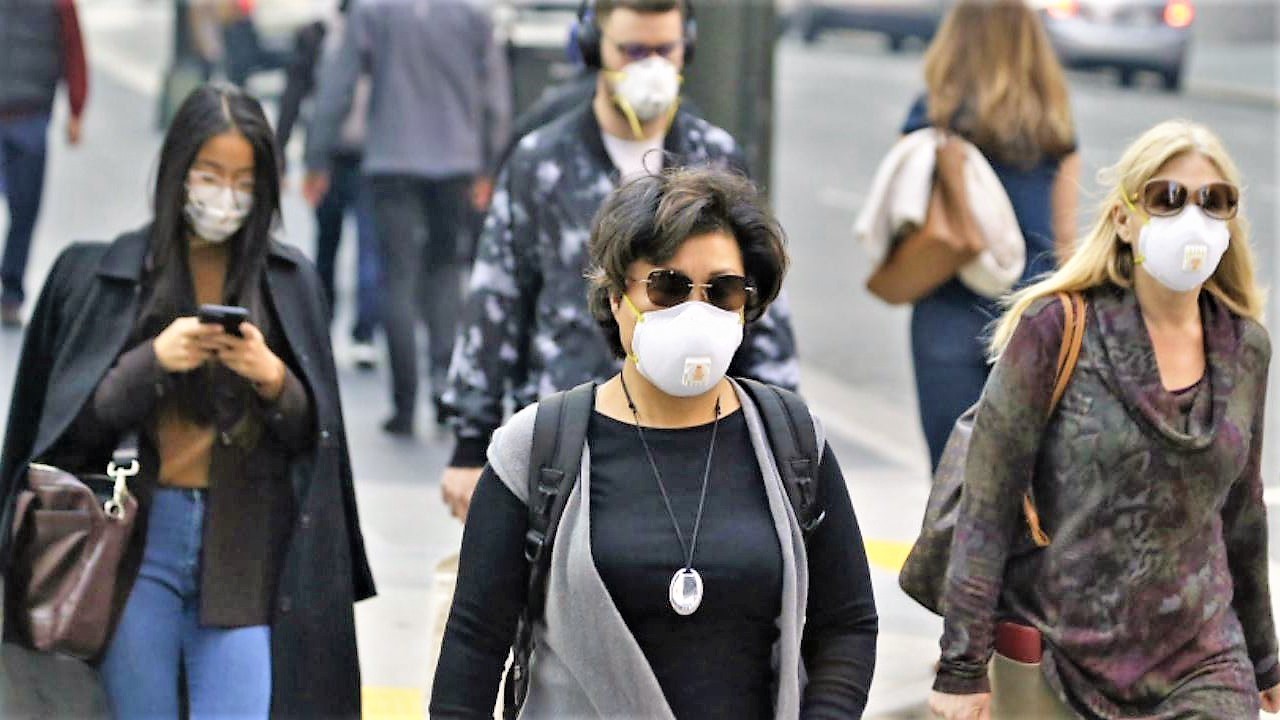 Photos from The Pointer files/Government of Ontario/Twitter
Amid confusion over Ford's latest enforcement rules advocates worried Peel's diverse communities will be targeted
Ontario crept toward 12:01 a.m. on Thursday, the latest line in the shifting sand.
Before the weekend, Premier Doug Ford teased modelling projections he said were so shocking, "You'll fall off your chair". Despite the dire warning, no further information was shared with the Province. Instead, over the weekend, reporters from the Queen's Park Press Gallery suggested a curfew was being considered, similar to the rules in Quebec. By Monday, it appeared to be off the table again.
The first two days of the week dragged by with a sense of doom hanging over Ontario as the lack of clarity from the ruling PCs turned into a running provincial joke. On Tuesday, Ford's 1 p.m. presser was delayed by half-an-hour, only adding to the tension.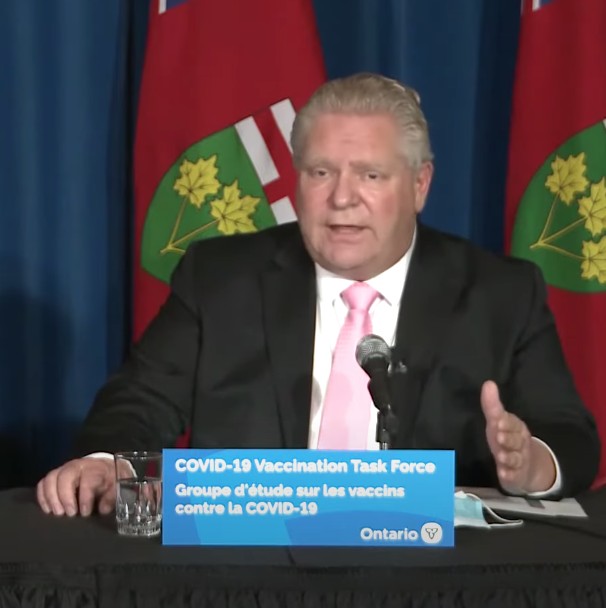 There should not be any confusion around the new orders, Premier Doug Ford says, it's simple, "Stay home".
Finally, he walked up to the microphone and began to speak. Unusually, there was no preamble. Ford launched straight into the news: a second state of emergency and the introduction of a stay-at-home order, planned to come into play on Thursday.
More confusion ensued. And the jokes kept rolling.
Almost immediately, social media was flooded. Journalists, members of the public and local politicians struggled to grasp exactly what was being announced.
Weren't people meant to be staying home under the grey lockdown anyway? Weren't non-essential businesses already closed? What was the difference between a stay-at-home-order and being told to stay at home?
"There is no confusion," the Premier insisted at his Wednesday press conference. "The message is simple: stay home."
It's the same directive Peel residents have been under since November 23. The restrictions have failed to reduce the case counts in the region, and few understand how the latest order will change things. Reducing business operating times for non-essential shops by one hour seems like lip service at this point. Ford says he "hates" closing anything down, despite claiming for months that he will do anything it takes to keep Ontarians safe.
The one obvious thing Ford could do to address the "fall-off-your-chair" reality staring at besieged hospitals, is another thing he's unwilling to do.
""I've never been in favour of a curfew," he said Tuesday. "The last thing I've ever believed in ever is having a curfew."
The one area of clarity came from Solicitor General Sylvia Jones. She did not lay out new rules or detail how exactly the measures would be enforced, but made it apparent that authorities are placing an increased emphasis on policing.
"The Government of Ontario cannot determine what is essential for every person in this province, each with their own unique circumstances and regional considerations," a list of answers to frequently asked questions issued by Ford's office Wednesday admits. The document also says essential work, trips and items cannot be defined.
Around 7 p.m. on Wednesday, five hours before it was due to come into force and after the interviews featured in this story were conducted, the Province released its official order, stating 29 acceptable reasons to be outside the home while the rules are in place. They include travelling to an airport, obtaining services from a financial institution or selling and buying a house.
According to the Province, going for groceries or to the pharmacy, outdoor exercise and work that can't be completed at home are all acceptable reasons to leave the home.
Mississauga Mayor Bonnie Crombie said at her Wednesday press conference that things like walking the dog or playing basketball with fewer than five members of your household are also allowed.
"A police officer or other provincial offences officer who has reasonable and probable grounds that an individual has committed an offence … may require the individual's correct name," the new rules state.
Questions remain around how these rules will be communicated and enforced after they were sent to police and bylaw officers so late. With 29 different reasons to avoid any violation, and so much interpretation, it seems unlikely the public will be able to easily remember the list or necessarily know how to demonstrate they're adhering to it.
Despite this, police and bylaw are being empowered to crack down. Asked at a Wednesday press conference for details on how the rules would be applied, Solicitor General Jones referenced gatherings and their enforcement, but did not provide a fulsome response. "If you are not at your place of residence and you need to be fined or ticketed, [police] have an obligation to ask for your name, date of birth and address," she said.
In Mississauga and Brampton, the vagaries of the new rules and delay in releasing the specifics are causing concern for some. The Peel Regional Police has a well-documented history of discrimination and, toward the end of 2020, vowed to end its systemic problems with racism.
Under former chief Jennifer Evans, the force spent considerable time aggressively defending its use of street checks, while the rest of the province, including the previous Liberal government, quickly moved away from the destructive practice. It involved the random stopping and documenting of residents, and was shown to disproportionately target Peel's Black community at more than three times the rate compared to white residents.
In a slip of the tongue during her comments on Tuesday, Jones articulated this fear. "They will be subject to fines and persecution," she said of rule-breakers, presumably intending to say "prosecution" instead.
"In the case of discretion … we know that discretion will turn to compulsion when it comes to Black bodies," Kola Iluyomade, a leader of local equity group Advocacy Peel, told The Pointer.
Iluyomade played a key role in forcing change at the Peel District School Board in 2020 after years of anti-Black racism and has also been vocal in his criticism of the Peel Regional Police. "Obviously, not being able to have a definition is very problematic because should you need to fight [a fine] in court or something like that, the word discretion itself is what the police will use against you. The data shows that that's what's going to happen."
Stephen Warner, press secretary to Jones, said the Solicitor General's office has "confidence in our law enforcement personnel to take the necessary enforcement actions". Concerns about systemic issues of racism within policing and how it may impact COVID-19 orders were not addressed.
It's also unclear how bylaw officers are going to apply the rules, with concerns that white residents will receive informal privileges, while others will be heavily surveilled.
The behaviour of many politicians, such as former Ontario finance minister Rod Phillips, and Ford himself, are held up as examples of the entitlement some have. Despite knowing Phillips had left the country in mid-December for a vacation in the Caribbean, neither did anything about the blatant violation of their own government's directives until after the trip was exposed.
But now, residents are being threatened with police action for violating essentially the same rules.
"Serious questions: I choose to work from school. What am I supposed to say/show to a police officer who stops me? Are teachers essential workers or not?" Jason Bradshaw, a high school science teacher in Peel, wrote on Twitter. "As a side note, I'm not trying to play 'the race card' here, but as a Black man, I do consider what steps I need to take to ensure that any potential interactions I have with police officers have positive outcomes," he added in a second tweet.
Sam Rogers, in charge of Mississauga's bylaw officers, said the Peel Regional Police would take the lead on enforcement. "Still a lot of questions to be answered on our end," he said, speaking at around 4:30 p.m. Wednesday with the orders due to come into place less than eight hours later. "We've got very, very good at short notice changes throughout this pandemic and I am very confident, regardless of the regulations that do come out, our staff will be ready to implement a reasonable and balanced enforcement approach."
Asked how it would ensure an equitable application of the rules, Peel police highlighted the need to stay at home and reduce the spread of COVID-19. Peel Police, Mississauga bylaw nor Brampton bylaw did not suggest any equity or bias training to ensure their officers apply vague rules without over-policing Black and other racialized residents.
"Enforcement will be an option when responding to calls relating to the order, and/or public gatherings; however every call for service will be evaluated individually and the appropriate action will be taken for each," Constable Sarah Patten, a member of the Peel Police communications team, told The Pointer in an email.
Crombie placed emphasis on staying home, telling residents to avoid any trips or errands that could reasonably be put off or done online. "We don't want to see any scenario that people are stopped unnecessarily as we had with the street check program whether that be by bylaw – what will their role be? Or by Peel Police – what will their role be?" she articulated at her Wednesday press conference, saying she hoped clarity would be coming from the Province within hours of her address. "That hopefully will all be explained in the regulations which we will receive later."
As they have throughout the pandemic, bylaw enforcement officers will play a key role in plans to enforce the new stay-at-home-order. Staff have the power to write tickets for individuals breaking the rules and disperse crowds.
"We have a very diverse, multicultural community within the City of Brampton," Paul Morrison, the City's bylaw head, said at a Wednesday morning press conference. "We police ensuring that all the citizens' rights are maintained and, when it comes to race, we'll understand as best we can culture and race when it impacts on enforcement."
He did not address measures in place to ensure bias-free enforcement.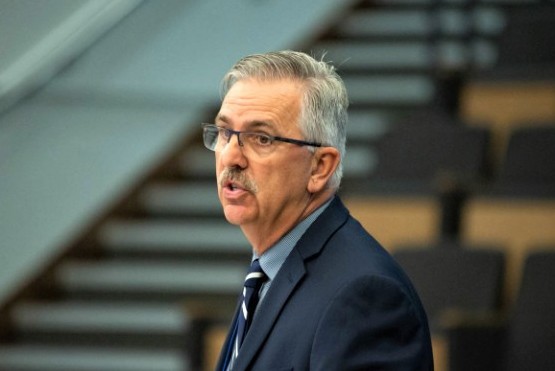 Paul Morrison, head of Brampton's bylaw department, tasked with putting the Province's new orders into action.
"The laws are changing so quickly and so often in terms of emergency protocols, I know Brampton bylaw always attempts, on first brush, always to educate and to make sure that the communities know what the new provisions are," Brampton Mayor Patrick Brown added.
---
Email: [email protected]
Twitter: @isaaccallan
Tel: 647 561-4879
---
COVID-19 is impacting all Canadians. At a time when vital public information is needed by everyone, The Pointer has taken down our paywall on all stories relating to the pandemic and those of public interest to ensure every resident of Brampton and Mississauga has access to the facts. For those who are able, we encourage you to consider a subscription. This will help us report on important public interest issues the community needs to know about now more than ever. You can register for a 30-day free trial HERE. Thereafter, The Pointer will charge $10 a month and you can cancel any time right on the website. Thank you.
Submit a correction about this story