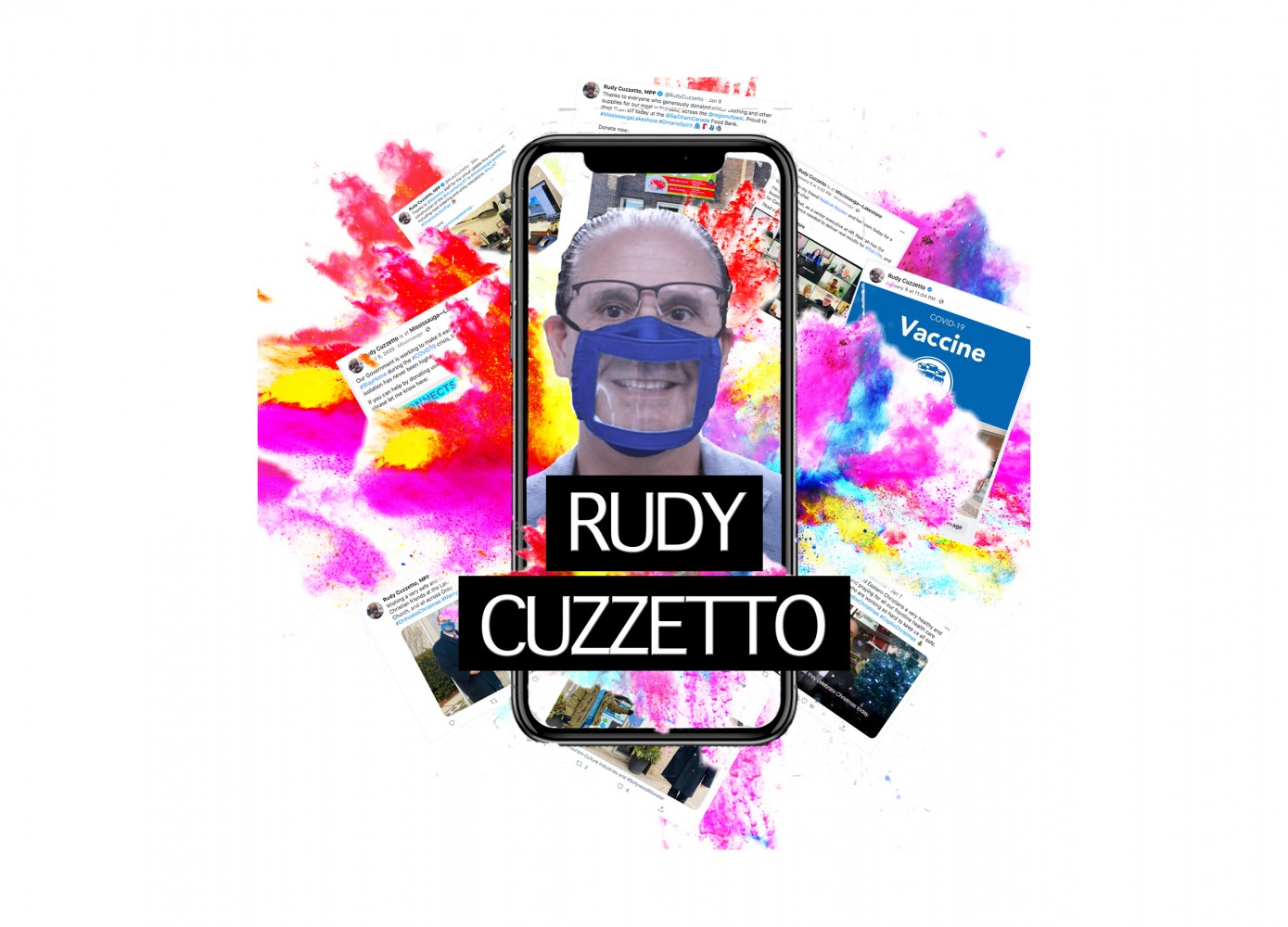 Graphics from The Pointer/Photos from Rudy Cuzzetto-Twitter
Balancing photo-ops with party loyalty, but what do constituents get?
The Pointer's Social Media Monitor is a weekly look at how elected officials and other public civil servants are using their taxpayer-funded resources to shape digital communication aimed at constituents. We feature one public figure each week.
---
Walking along Lakeshore Road, you might bump into the unmistakable figure of Rudy Cuzzetto.
The local MPP has been sporting an accessible mask since the beginning of the pandemic. The face covering's design leaves a clear window to see the speaker's mouth and frames it with bright blue fabric. It's a look Cuzzetto has plastered over social media for months and, to many, it makes him instantly recognizable.
The MPP also sports signature slicked back hair in the style of Premier Doug Ford and a small pair of spectacles.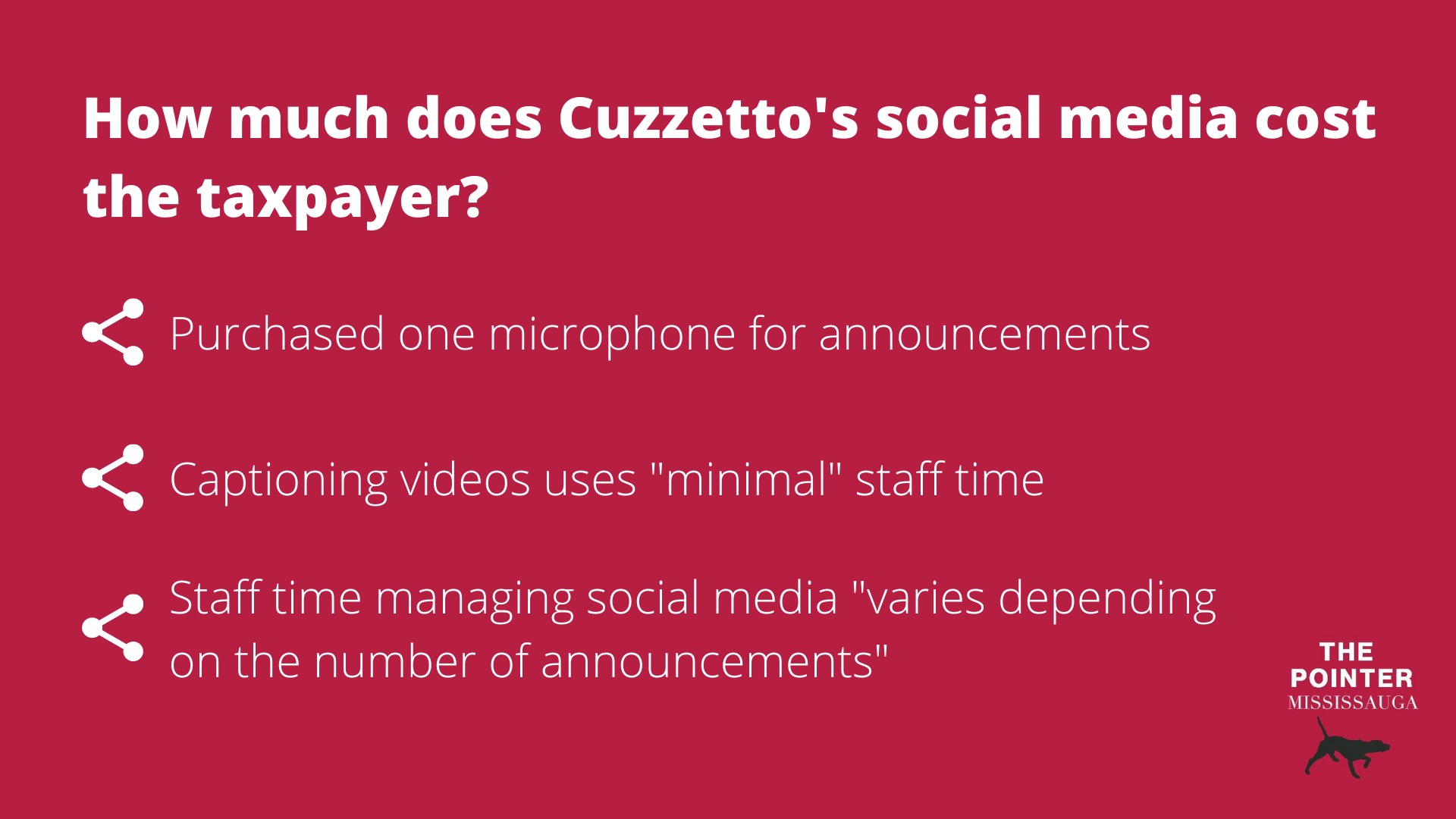 He's a notable local figure able to project his appearances to residents through a well managed presence on Facebook, Twitter and Instagram. As a grey lockdown descended on the City of Toronto and Region of Peel in November, followers were treated regularly to the sight of Mr. Cuzzetto out and about in the community, and on social media.
"Since [the] beginning of the lockdown, nearly all of my meetings and announcements have been virtual," Cuzzetto told The Pointer in an email. "It's true that there are a few exceptions; I visited a medical clinic (near my home), for example, and I've visited local restaurants for takeout Wednesdays. We followed the public health protocols at all times."
The images posted online suggest that, despite lockdown restrictions commanding residents to "hunker down", Cuzzetto was making the rounds. In the couple of months that followed the dawn of lockdown, the MPP has posted regularly to his Twitter, Facebook and Instagram accounts to show his work delivering to the elderly, volunteering at a local food bank and offering congratulatory certificates to local businesses.
"Distributing food to vulnerable seniors and people with disabilities is an essential service," Cuzzetto said. "I'm very proud to regularly help volunteers at the Sai Dham Food Bank distribute hampers of food and other supplies to local seniors, in order to help them stay at home (especially during the provincewide shutdown)... Over the past year, my team and I have been able to facilitate donations of over a hundred thousand pounds of food, millions of dollars, and tens of thousands of pieces of personal protective equipment, from our local businesses to food banks and frontline health care workers."
A photograph from MPP Cuzzetto's Instagram page showing the politician delivering pizza to maskless senior residents.
Almost all these efforts are documented and blasted out to his social media followers (he follows more than 8,400 on Twitter and has almost 8,200 following him).
Cuzzetto's approach–ticking off a series of noble achievements–plays into an interesting question: how should an MPP use their online presence? And how does a pandemic complicate that?
Cynics would argue the MPP is setting the wrong tone by posting multiple times per week to show himself out in the community–it's the opposite of what his government is advising. Take his pizza deliveries, for example. It seems unlikely Cuzzetto is the only person who can deliver Domino's pizza and more unlikely still that taking photos of the task improves the flavour of each slice.
Natalie Hart, of the Malton BIA, called Cuzzetto out for the behaviour on Twitter. The tweet led to a discussion in which the MPP defended himself by saying he "did not even enter the building"; other photos on social media show him greeting seniors inside.
Cuzzetto says his social media activity attempts to increase donations to local food banks and other charities.
Posting photographs of good deeds raises questions about his performance as an elected, and well-paid, public servant. Being charitable, and drawing attention to it, can certainly help causes; it's also a good way for politicians to help their image, in some voter's eyes.
There's always an eye on the next election.
Social media has completely changed the game. Quarterly newsletters that often went straight from the mailbox to the recycling bin, are now eclipsed by slick photo ops that land nightly in people's palms and professionally produced videos used by the most savvy PR politicians.
Cuzzetto is not of this ilk.
He maintains an active presence on Twitter, Facebook and Instagram, with the content relatively uniform across all three platforms. His Twitter account was started in 2013 while he was an auditor for Ford Motor Company, used during his campaign to become an MPP in 2018 and it remains a central part of his very active digital personality.
His Facebook page is managed by three individuals including himself, according to the platform's page-transparency feature. It was created in January 2018 specifically for his election campaign and went through various iterations until his election when it became his official Facebook page as an MPP.

Days after the entire province was put into a strict lockdown, Cuzzetto visited a Mississauga hospital to get photographs to promote the vaccine.
Compared to some of his PC caucus colleagues in Peel, Cuzzetto's social media is a veritable explosion of personality. His Twitter account, in particular, oozes his political views.
The MPP regularly 'likes' posts from other PC members, federal Conservative Party figures and news articles praising his government's pandemic response. The tweets Cuzzetto 'likes' show a man more interested in conservative political philosophy than the riding of Mississauga Lakeshore, with a large volume of posts.
He's not scared to spar with journalists, digitally, evidenced by his exchange last week with Queen's Park Press Gallery president Colin D'Mello over vaccine distribution.
"I'm responsible for my own social media, with assistance from staff," Cuzzetto told The Pointer. "The time required per week varies depending on the number of announcements or events in any given week."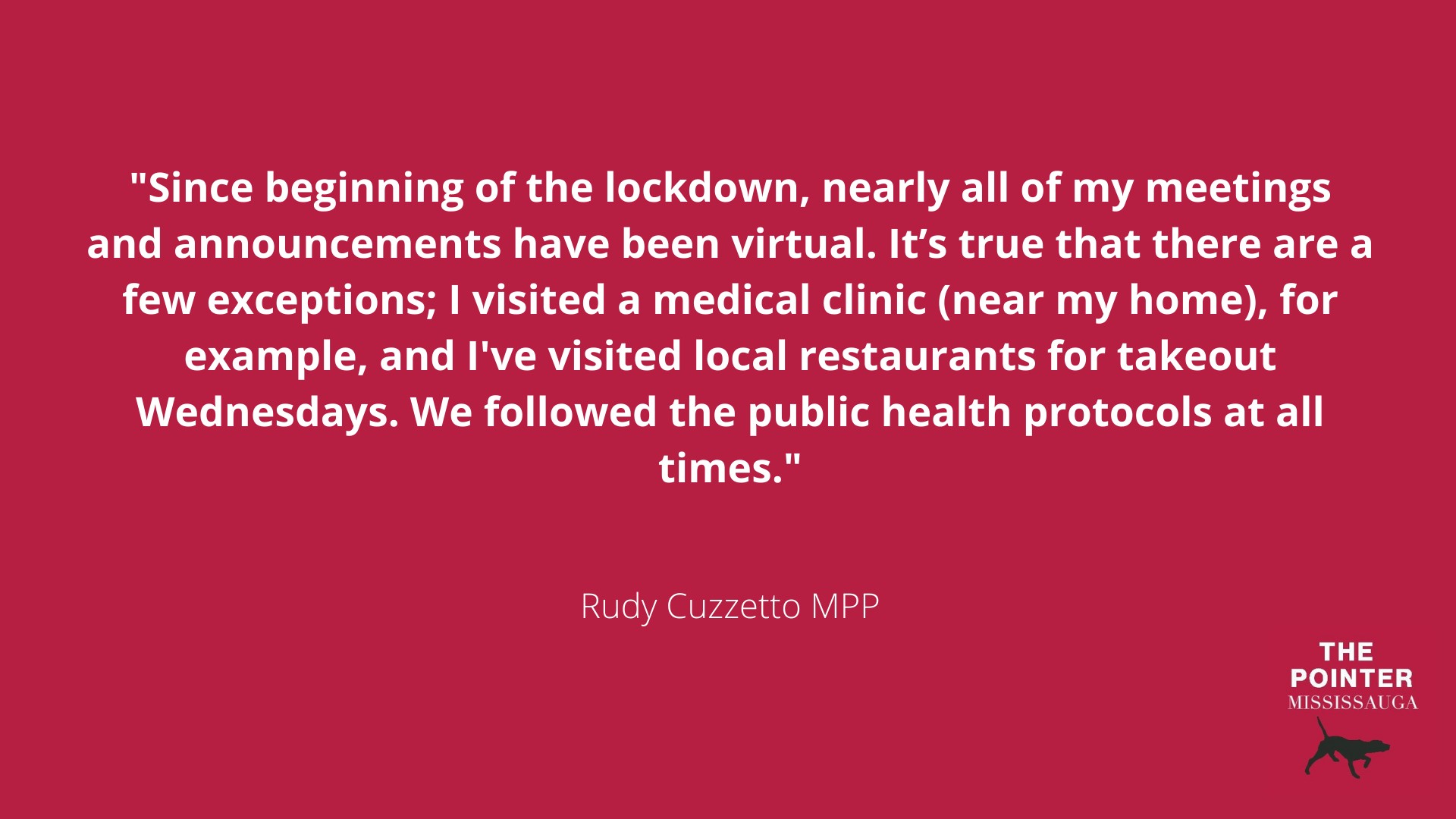 In his photo-posts, Mississauga Lakeshore comes to the forefront. When Cuzzetto snaps a picture opening a business, it is plastered across his personally curated internet from wall to wall. His Facebook, Instagram and Twitter accounts carry largely the same images, generally showing MPP Rudy Cuzzetto in his role as local volunteer and delivery man.
"Thanks to everyone who generously donated winter clothing and other supplies for our most vulnerable, across the @regionofpeel. Proud to drop them off today at the @SaiDhamCanada Food Bank," he tweeted on January 9, accompanied by an image wearing his mask with a volunteer. Many similar posts have been shared by the MPP through the pandemic.
Cuzzetto's social media posts show him as an active community member who spends a considerable amount of time helping others. He is depicted delivering food and raising funds for local charities, using his 8,000-plus Twitter followers, 2,400 Instagram fans and roughly 3,000 Facebook likers to promote the good deeds.
The posts, he says, do not come at significant cost to the taxpayer. Cuzzetto has purchased a microphone for announcement videos, but does not pay for other accessories or social media management software.
Cuzzetto says subtitling for his social media videos uses "minimal staff time" and was done at the request of the Canadian Hard of Hearing Association. His unique masks also cater to those who read lips.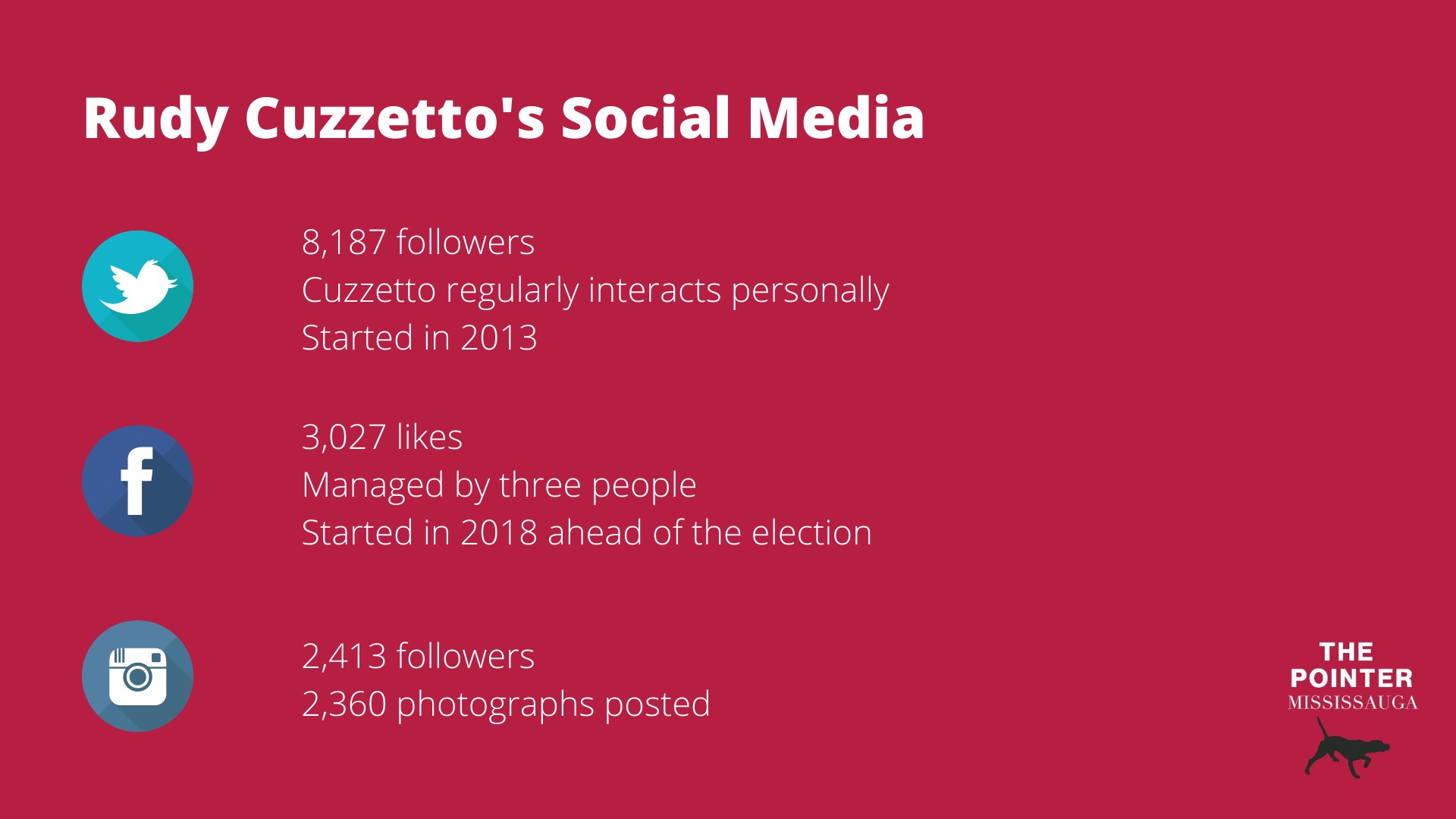 It is important to remember Cuzzetto's role as a legislator in the governing party and a parliamentary assistant. He is not just a good samaritan with a social media presence, sharing his involvement with local food banks and other charities. His social media does not spend much time dealing with how they should be funded by those elected to do so.
The work of government, and his contributions specifically, feature more rarely on Cuzzetto's timeline. He raises pressing local issues in the legislature more rarely still.
Occasionally, he will post clips of himself speaking in the legislature to his social media timelines.
He doesn't use his social media as an input tool to allow constituents to shape policy or specific positions on a project or issue. Instead, he simply amplifies the decisions his party has already made, trumpeting the news like a good PR agent.
Cuzzetto posted a short clip on social media of him discussing the approved Hurontario LRT at Queen's Park.
"Each year more than 110,000 new residents settle in the Region of Peel, so it is absolutely vital that our transit system expands to meet the needs of Mississauga and Brampton," he said in a Queen's Park clip shared on his Facebook page, extolling the virtues of the already approved Hurontario LRT. In the video, Cuzzetto lays out the basics of the LRT, including its length, stops and how much money had been approved.
The treatment and care of seniors is one issue Cuzzetto is clearly passionate about and it features prominently across his social media accounts, reflecting his work inside the legislature. The MPP regularly posts about his deliveries for seniors and other photos have demonstrated his concern for older generations.
The Mississauga Lakeshore MPP's only work on a specific Bill since his election in 2018 concentrates on a particular section of the Life Settlements and Loans Act. His proposed changes would bring a regulated secondary market for life insurance which Cuzzetto says will bring a better deal to seniors.
His work has featured prominently on his social media, perhaps slipping past younger generations of digital information consumers who might not be concerned about issues pertaining to seniors.
Those above the age of 65 are less likely to engage with Cuzzetto on social media.
Innovative approaches to engagement are notably absent from the MPP's online presence, with a variety of uses left unexplored.
With Mississaugans told to stay home during a worsening pandemic, Cuzzetto could be using Instagram or Facebook's live streaming options, for example. The features allow followers to comment during a live stream, meaning constituents could directly speak to the MPP as he presented vital, sometimes difficult to interpret information. Explanations could be provided and direct townhalls to answer pressing questions could easily be conducted.
There is even potential to stream from within the legislature.
During Question Period, instead of asking softball questions about job figures, as he did in July, he could tap into questions from his constituents. The technique is one former UK Labour leader Jeremy Corbyn employed in the House of Commons, asking the public's questions instead of his own.
Corbyn did not use the live features available on social media, which could only increase the possibilities. Live streaming offers a chance for MPPs to invite voters into the heart of government and extends an opportunity to engage in a way normally reserved for politicians, journalists and staffers.
Cuzzetto's Twitter account shows a public official genuinely interested in informing residents.
He posts a range of articles and viewpoints within the conservative political ideology he represents. His photo-laden tweets, Instagram and Facebook posts show a man trying to highlight the needs of those who are most vulnerable in his community, including local seniors.
There are two sides to his social media presence: his broader conservatism and loyalty to the party; and his direct work to help those who need it. But they don't often meet on these platforms.
He could use them as the bridge.
Instead, Rudy Cuzzetto the local campaigner is rarely seen with Rudy Cuzzetto the MPP, in his digital world.
---
Email: [email protected]
Twitter: @isaaccallan
Tel: 647 561-4879
---
COVID-19 is impacting all Canadians. At a time when vital public information is needed by everyone, The Pointer has taken down our paywall on all stories relating to the pandemic and those of public interest to ensure every resident of Brampton and Mississauga has access to the facts. For those who are able, we encourage you to consider a subscription. This will help us report on important public interest issues the community needs to know about now more than ever. You can register for a 30-day free trial HERE. Thereafter, The Pointer will charge $10 a month and you can cancel any time right on the website. Thank you.
Submit a correction about this story