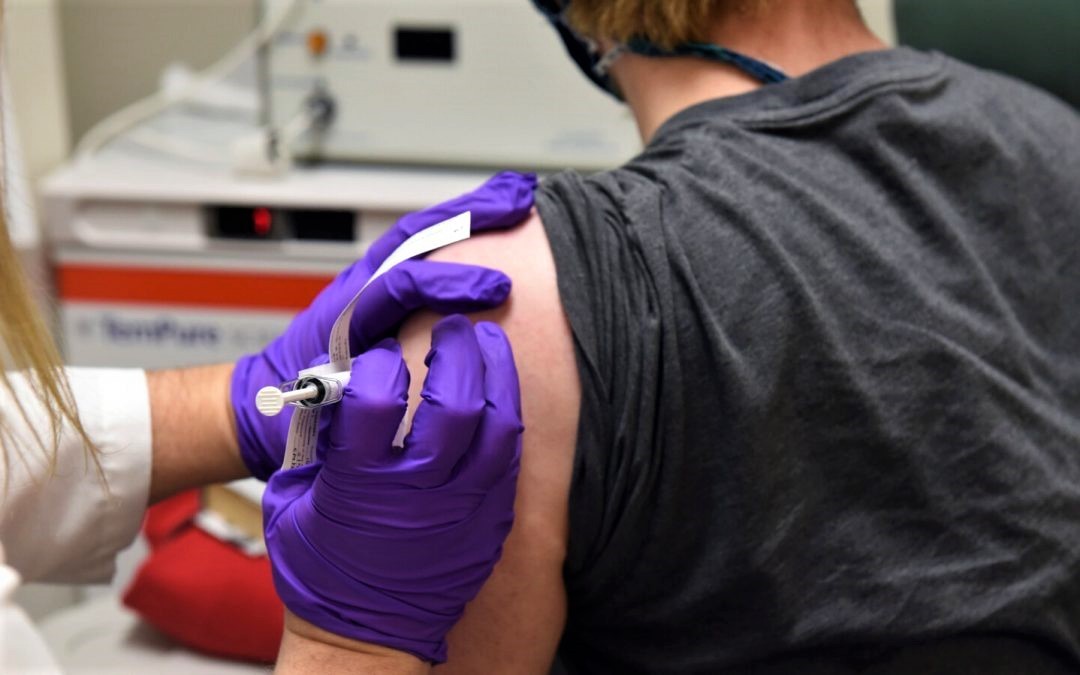 Flickr/Graphics Government of Canada/Punjabi Community Health Services
Peel identified as priority for vaccine distribution
The challenging path to complete immunization of Canada's 38 million residents has been mapped out in a series of announcements by the federal government this week – and containers packed with dry ice will be a key.
To ensure the integrity of the vaccine is maintained, the just-approved Pfizer product has to be stored at -70 degrees Celsius (-89 is the coldest natural temperature ever recorded on Earth) and can be kept stable for about six months under these conditions.
Pfizer is shipping special containers that hold the viles and with dry ice packed around them they can keep the vaccines at the required temperature for at least ten days, which gives the distribution chain some welcome breathing room.
The federal government says it has purchased "26 freezers to store ultra-low temperature vaccines" including Pfizer's and so far 9 of these have been delivered.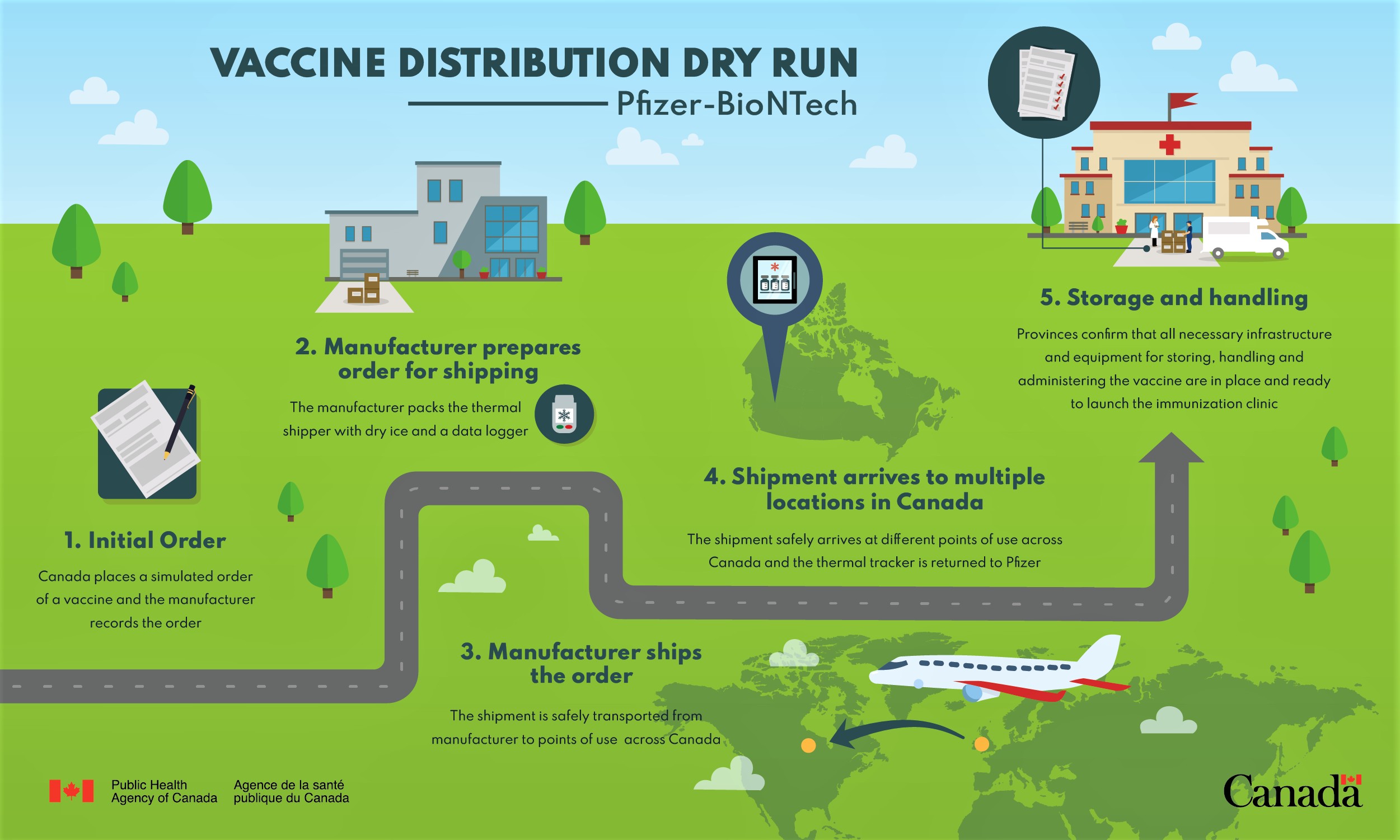 Some hospitals where the vaccines will be stored already have deep-freeze storage units but it remains unclear how others across the country will be equipped with such units ahead of the vaccine shipments.
The Pfizer containers rigged with a data-logger – a device that records location data and other metrics over time – will be shipped on a rehearsal delivery run this week, Public Services and Procurement Canada confirmed in a December 7 press release. Officials are working out any last logistical kinks to ensure that adequate equipment and infrastructure are in place to handle the shipments across the country. The extreme cold temperatures are needed to keep the chemical compound inside each vaccine vile stable. After being placed in normal refrigeration each vile has to be discarded if not used in five days.
The distribution testing was launched on Wednesday, after Health Canada announced it had approved the Pfizer-BioNTech vaccine. Prime Minister Justin Trudeau said about 249,000 doses of the company's treatment are coming to Canada before the end of the month, with 30,000 doses slated to arrive as early as Monday. The federal government's agreement with Pfizer includes from 20 million up to 76 million doses. Similar procurements have been inked with six other pharmaceutical companies. Each recipient requires two doses of the COVID-19 vaccine.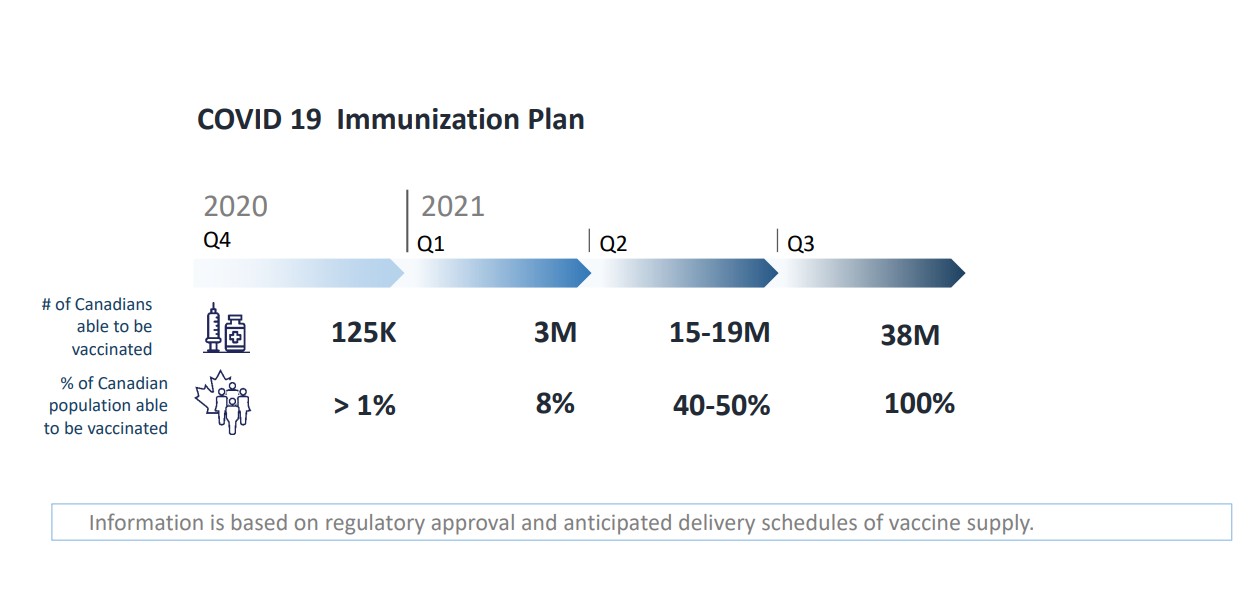 Ottawa's current vaccination timeline
Details on the rollout are limited. The first batch of Pfizer vaccines coming to Ontario next week "will only include a small number of doses," said Alexandra Hilkene, press secretary for Health Minister Christine Elliott, in an email to The Pointer. Vaccines will be distributed per capita, with Ontario set to receive about 40 percent of the country's share. Areas in lockdown, including Peel and Toronto, have been identified as priority regions for vaccine distribution.
In a press conference Wednesday, Mayor Bonnie Crombie urged residents to continue respecting the grey-lockdown rules, citing infection data showing 132 cases per 100,000 in Mississauga, well above the 40 cases and over (per 100,000) bottom threshold of the red-control category, and much higher than the 25 to 39.9 cases per 100,000 for the orange-restrict zone under the current provincial system.
"Any wrong move at this point could be disastrous for our community, for our municipality, for our city and for our residents, especially at a time when a vaccine is on its way to Ontario," Crombie said.
As Peel enters week three of the second-wave lockdown, these measures were the subject of debate in Mississauga council Wednesday morning, with Ward 5 Councillor Carolyn Parrish repeating pleas from previous weeks to re-open small businesses.
"This is killing people's livelihoods. This is causing a worse outcome in the end, than what COVID is doing. COVID is awful, but 82 percent of small businesses in Ontario are predicted to go bankrupt or close," she told her peers. She floated the suggestion that Regional Chair Nando Iannicca sign a letter, endorsed by the mayors, to advocate for the easing of restrictions.
"If Dr. Loh doesn't want to sign a letter, maybe he should be giving this a little bit more thought. Scientists are purists, and I've said this before, doctors think they've been treated as gods by most populations because we depend on them to keep us healthy," she said. Parrish's ward has a neighbourhood that Dr. Lawrence Loh, Peel's chief medical officer of health, previously identified as having one of the highest COVID-19 infection rates in the province. A postal code-area in Malton sits at 14.4 percent test positivity according to data as of November 28, the latest information published by the non-profit group ICES, which is funded by the Province.
Ward 7 Councillor Dipika Damerla objected to Parrish's lobbying and her direction for Dr. Loh, alluding to the situation in Alberta, which reported more than 1,700 new cases on Tuesday. "We've seen a number of jurisdictions where politicians have tried to craft the policy… and we've seen that the results haven't been good," she said.
Peel's transmission curve has not yet reached its peak, which would be apparent when the infection numbers begin to cascade down. The trends are still not pointing that way, Loh said at Wednesday's press conference.
While lockdown measures will likely remain in place past December 21, Peel Public Health is standing ready to receive direction from the Province on the quantity and timeline for the Region's vaccine distribution.
"However, in light of hearing that disease burden will be considered when determining who receives the vaccine first, we are working with our partners to develop plans to ensure we are ready to distribute vaccines to priority populations once they arrive," said Peel health spokesperson Ashleigh Hawkins.
At-risk populations such as healthcare workers and seniors residing in long-term care homes will be prioritized for inoculation, under the provincial guidelines released Monday.
Community healthcare providers are also preparing to develop strategies to reach certain racialized residents, frontline workers, and other at-risk individuals to ensure equitable access to the vaccine.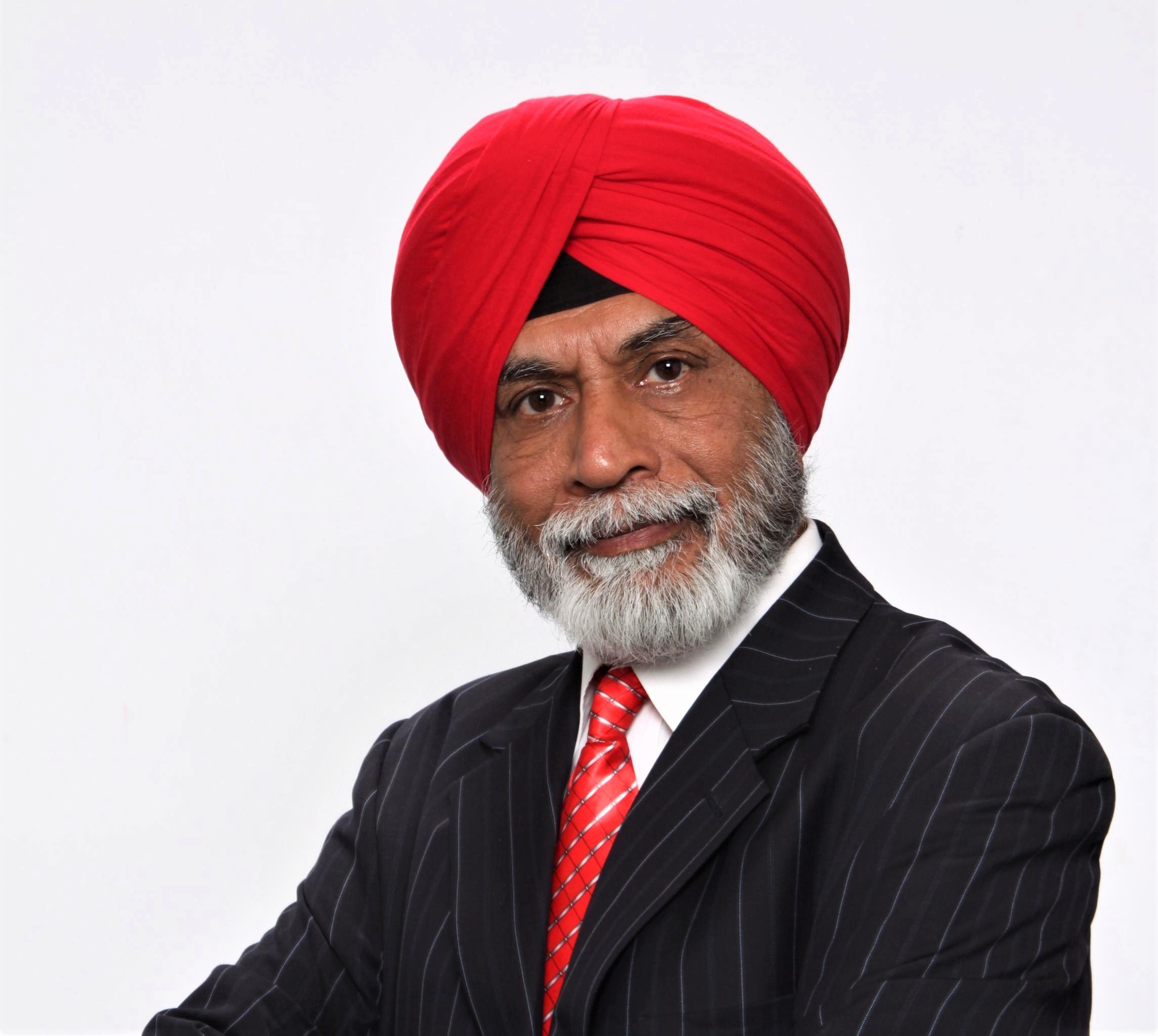 Baldev Mutta, CEO of Punjabi Community Health Services, is concerned about misinformation that might dissuade residents from getting vaccinated
Baldev Mutta, CEO of Punjabi Community Health Services – which has locations in all three of Peel's municipalities – said the movement to discredit vaccines has presented challenges in the South Asian-Canadian community. He has already heard skepticism and doubt from segments of the diverse communities his organization serves based on what some people perceive as a rushed and possibly unsafe timeline for developing the treatment compared to previous development of vaccines for other viral threats, as well as misinformation about its possible adverse effects.
Public health officials across the country are stressing the vaccine would have only been approved by Health Canada Wednesday if it is safe. Though it is voluntary, residents are being asked to get vaccinated, as the best way to ensure broad immunity and an end to the pandemic.
"Trust is a bigger issue to people in the South Asian community," Mutta said, adding that he hopes to see a grassroots information campaign translated into various languages to dispel other misinformation related to COVID-19 that he has seen shared on community platforms via YouTube and WhatsApp. "We have to have influential religious leaders, politicians, people in the community, businesspeople… they should be the frontrunners to tell the community, 'Look, I am taking [the vaccine]. It is safe'," he said.
Mutta said he is awaiting messaging from Peel Public Health that he hopes to then relay on community radio and television. "I don't want to create my own message. I want to know what Public Health and their medical staff is recommending," he said. As a 72-year-old, he said when seniors are added to the priority framework, he intends to take the vaccine and share photos on social media to encourage community members to do the same.
The second phase of vaccine distribution will include the Moderna vaccine. Distribution is set to begin in April, Mayor Crombie told Council. This vaccine does not have to be stored at the extreme low temperature of the Pfizer product.
Questions have been raised about the lack of facilities in Ontario that currently can store vaccines at the temperature required to use the company's treatment, and Elliott said this week 21 hospitals are potentially equipped with the necessary deep-freeze storage.
---
Email: [email protected]
Twitter: @LaVjosa
---
COVID-19 is impacting all Canadians. At a time when vital public information is needed by everyone, The Pointer has taken down our paywall on all stories relating to the pandemic and those of public interest to ensure every resident of Brampton and Mississauga has access to the facts. For those who are able, we encourage you to consider a subscription. This will help us report on important public interest issues the community needs to know about now more than ever. You can register for a 30-day free trial HERE. Thereafter, The Pointer will charge $10 a month and you can cancel any time right on the website. Thank you.
Submit a correction about this story