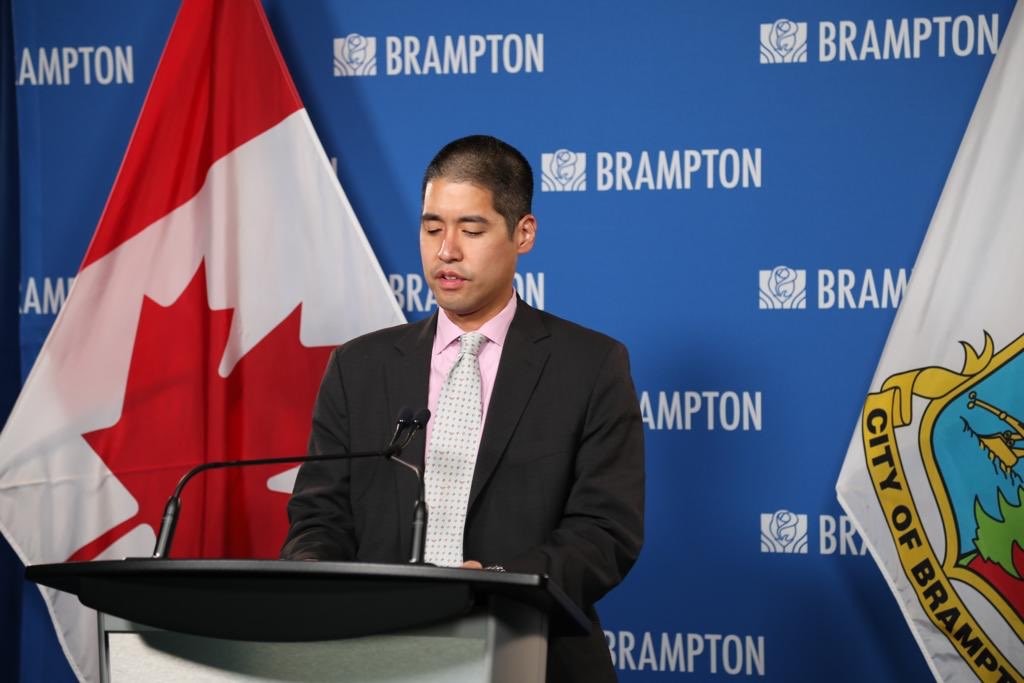 Photos from the City of Brampton/Government of Ontario/
Peel's COVID situation grows 'increasingly dire' amid more confusion and further local restrictions
In a move to control the startling COVID case count, in what could be called Ontario's pandemic capital, Peel's top health official stepped out of the Province's shadow in an effort to keep his residents safe.
Publishing a list of instructions over the weekend, Dr. Lawrence Loh, Peel's medical officer of health, provided stricter restrictions on top of what some see as lax measures from the Province. The enhanced public health measures, which include restrictions on large gatherings like weddings, businesses and placing a ban on interactions with those outside your household, were made public a day after Peel was put into the red (control) category of the Province's new pandemic-response framework. In his letter to Peel residents outlining the instructions, Loh stressed "categorical reopening encourages more person-to-person interaction," and can lead to an increase in transmission even with precautions in place. It's clear the shift into the Province's new framework on Saturday which effectively loosened restrictions in Peel, allowing restaurants and gyms to open with severely limited capacity, was too lenient for Dr. Loh.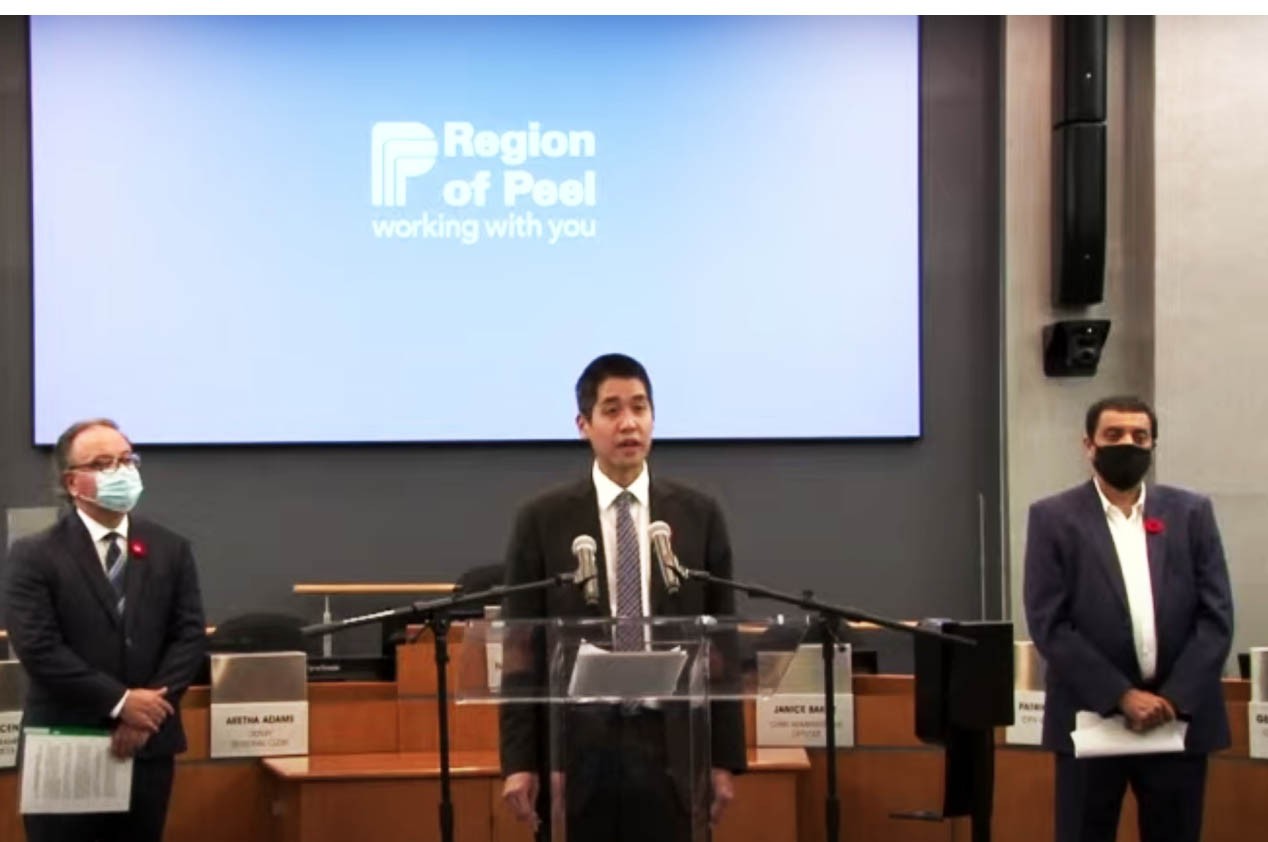 Dr. Lawrence Loh (centre), along with Regional Chair Nando Iannicca (left) and CEO of William Osler Health System Naveed Mohammad during Monday's press conference explaining Peel's enhanced safety measures.
Under Provincial guidelines, small social gatherings are allowed in the modified control stage, capped at 10 people indoors and 25 outdoors. Banquet halls are free to fill their rooms with 30 percent capacity indoors for religious services and weddings.
However, the enhanced rules from Dr. Loh ban such events from taking place completely. Starting Friday, weddings and associated gatherings will be banned until January 7, 2021, with the possibility of this timeline being extended. Other social gatherings, usually smaller than weddings, such as birthdays or retirements, are also not allowed to be celebrated at businesses, until further notice.
Other rules Dr. Loh outlined took effect Monday morning.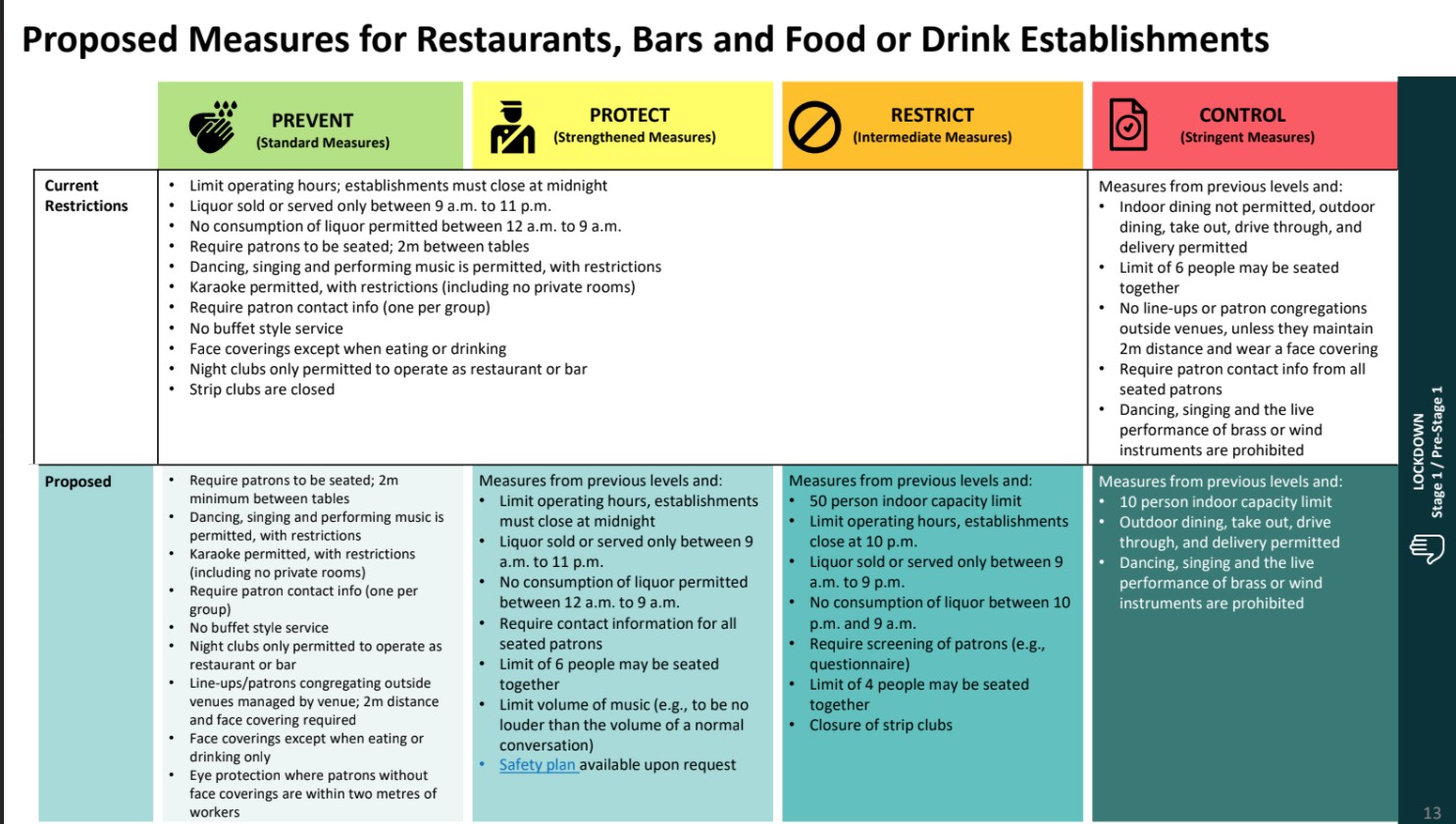 Measures introduced by Loh go above the red "control" category which the province placed Peel into over the weekend.
He told The Pointer banquet halls will remain closed not only because of their role in facilitating large gatherings (and the potential for viral spread during these events), but also because that's what these business owners requested. Loh says the limited number of people these event halls are permitted to allow under the Provincial framework does not make operations viable. It makes little sense to keep them in limbo, with the potential of contributing to more viral spread in a region now reeling.
Loh said late last week that Peel could be the worst hit area in Canada during this current steep rise in cases being seen across the country, and called the region's situation "increasingly dire".
On Monday, Health Minister Christine Elliott reported 279 new COVID-19 cases in Peel, after the region had 385 on Sunday, the highest daily figure yet. The 664 cases over two days represents the highest per capita rate of any municipal region in Canada.
Large weddings and social gatherings have been a recurring point of COVID-19 spread in Peel throughout the pandemic. In July, 200 people were caught attending a party in Brampton. In late October, it was reported a wedding in York Region led to dozens of cases among attendees, with 31 cases linked to Peel Region. Between August 1 and October 24, events, ceremonies and religious services accounted for 5 percent of outbreaks in Peel, according to provincial modelling.
Not far behind, restaurants, gyms and sports facilities accounted for 3 percent and 4 percent of the outbreaks, respectively. Despite this, restrictions similar in severity to those being imposed on larger settings, have not been handed down by Dr. Loh to control viral spread in restaurants and gyms.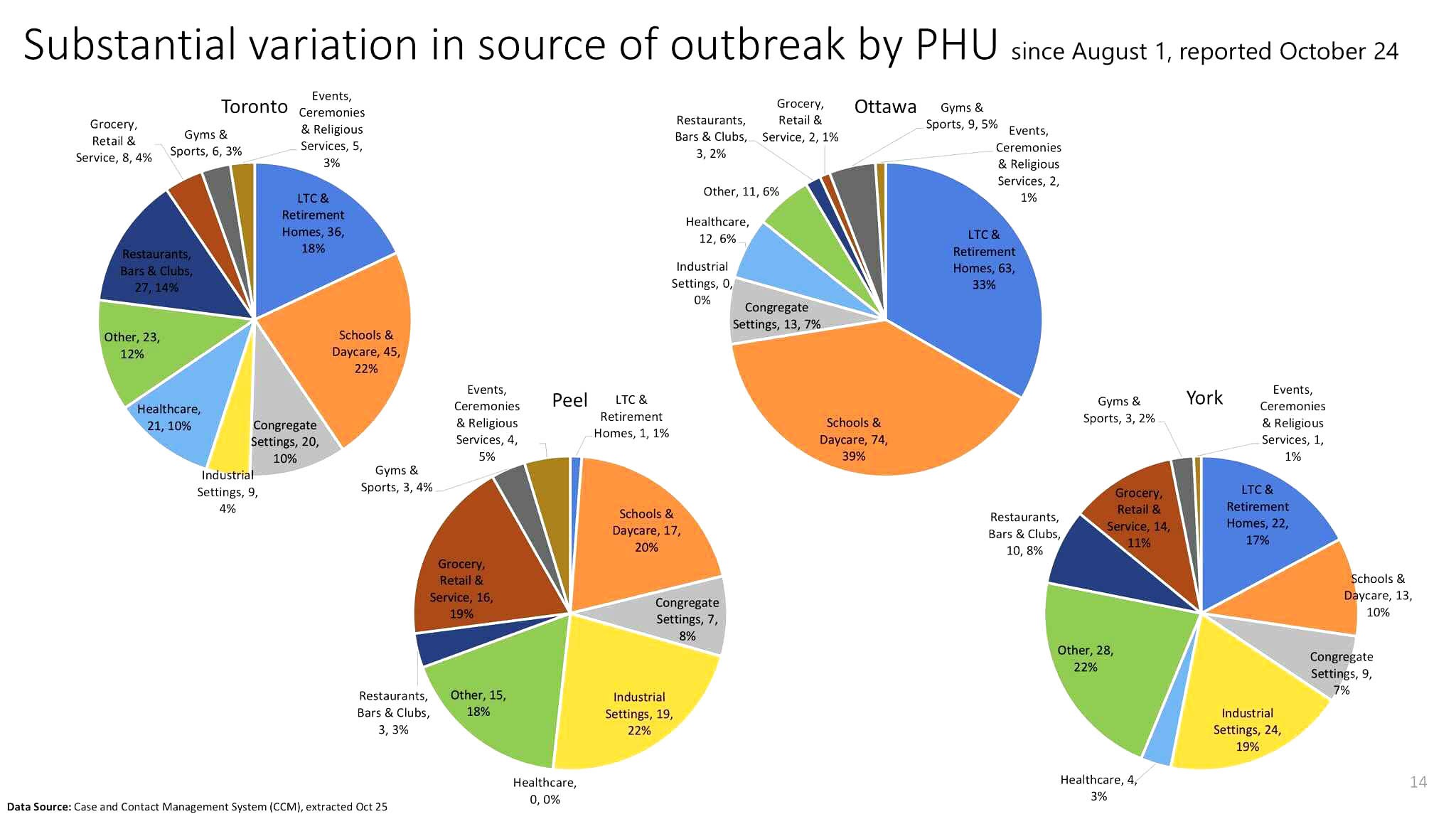 COVID-19 outbreaks in Ontario's hotspots.
Under the Provincial framework, indoor dining is capped at 10 people, screening is required, and contact information must be collected. All groups must be seated two metres apart. Dr. Loh's broader restrictions still allow for restaurants to open, but indoor diners can only sit together if they're from the same household.
In gyms, group classes are "highly discouraged" by Dr. Loh but can take place. Participants will have to register online, and class lists must be maintained and kept for one month. Under the red category, 10 people can come together for classes indoors and 10 people can be allowed in the gym outside of classes.
When asked about the difference in rules, Dr. Loh explained settings aren't the main focus at this point. Restricting who people interact with is the key. It doesn't matter where people are, as long as they aren't with people outside of their household or their essential supports.
While the instructions are enforceable, under the Emergency Management and Civil Protection Act, there's no clear routine for enforcement. Dr. Loh did say they will enforce the restrictions "as we can, on a complaint basis going forward," but a focus will be placed on educating the public about the new rules as opposed to handing out fines.
Enforcement during the pandemic has been completed by local bylaw officers in each municipality. The City of Mississauga told The Pointer it is "working on a plan of enforcement for the new restrictions." A spokesperson from the City of Brampton said it will continue to partner with the Region and focus on education and enforcement.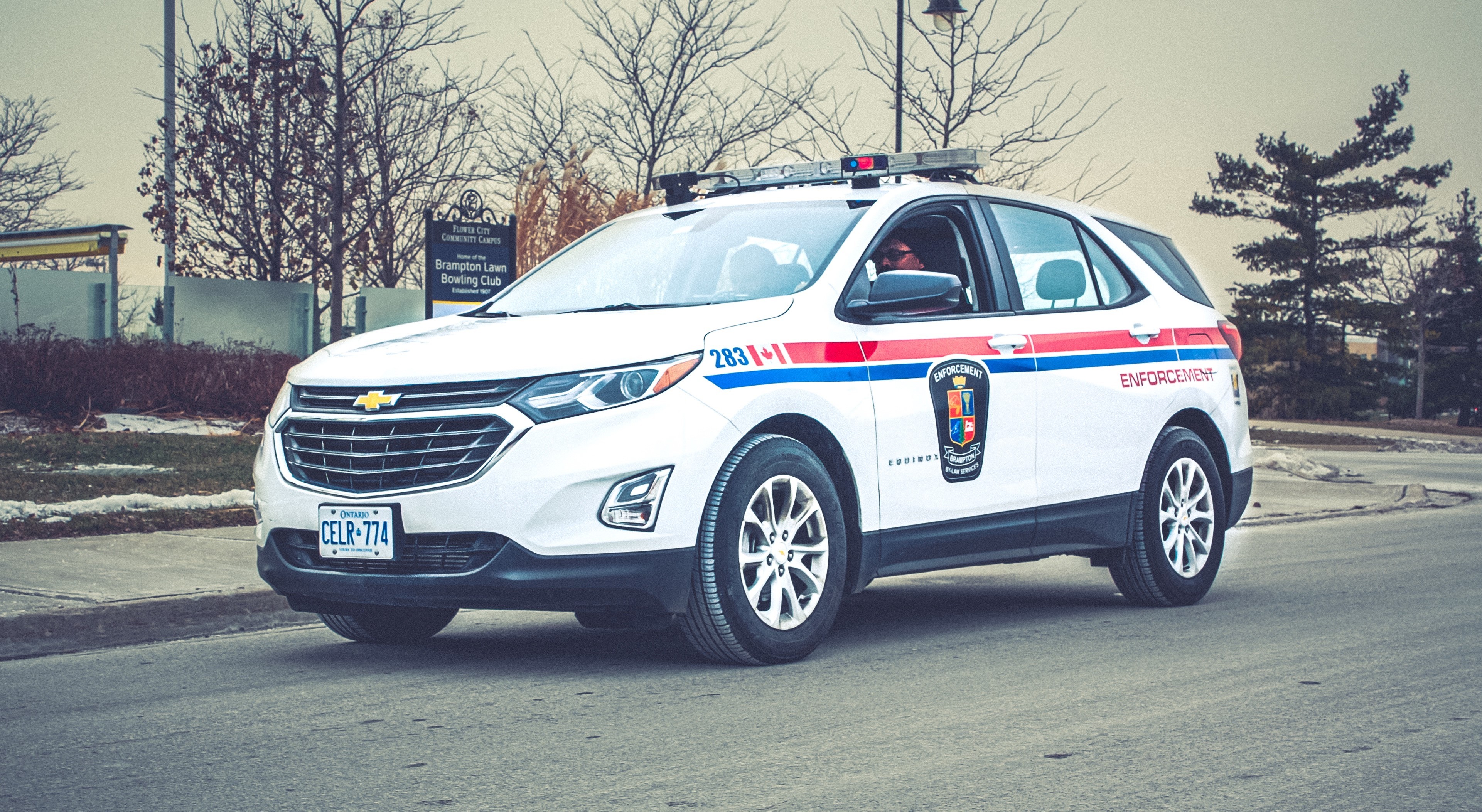 Local bylaw officials will be tasked with enforcing the new rules, but a focus will first be placed on educating rather than punishing rule breakers.
"It's a matter of getting the word out to the community. Just like speed limits, most people will actually adhere to it and stick to around the speed limit and our goal will be to catch the most egregious, including the large gatherings we have identified in the instructions," Dr. Loh said. It's not clear what these charges could entail.
The rules went into effect Monday morning, one day after Peel recorded 385 new cases. Between 22 and 28 percent of Ontario's daily COVID-19 cases were reported in Peel over the past few days, while the region only makes up a little more than ten percent of the population.
The time it's taking to inform people of positive test results has also increased. Between October 27 and November 2, only 56 percent of those with a positive test were informed by Peel Public Health within 24 hours. Between October 20 and 26, this number sat at 74 percent, substantially lower than the target of 90 percent, to help ensure further spread of the virus does not occur.
The region has also banned non-essential visitors from the workplace.
Residents can only interact with members of their own households and essential supports and can't visit other homes unless there's an emergency, for renovations or construction, and one-on-one teaching. Activities outside the home should not be conducted, unless it's essential, such as buying groceries or going to work.
Places of worship are also asked to close down and conduct services online if possible. If this isn't a possibility, indoor capacity can't exceed 30 percent of the building's volume and only those from the same household can sit together.
For individuals living alone, they're asked to only maintain contact with one other household. If any members get sick, they are asked to isolate alone, a hard task for many larger families and multi-generational households in Peel. In an effort to address this, there have been numerous calls for an isolation centre to be opened in Peel, similar to one available in Toronto.
The Toronto facility, opened in September, is funded by the federal government which allocated $13.9 million for the project. According to the City of Toronto's website, qualification is made on a case-by-case basis, but generally includes those infected with the virus or those who are at risk of being infected from someone residing in their home. The facility houses 140 people and occupants receive their own rooms and meals.
According to a November 9 letter signed by all three mayors and Peel's Regional Chair Nando Iannicca, an application for an isolation centre was sent to the Public Health Agency of Canada (PHAC) to set up a similar centre in Peel.
"Timely funding to support the implementation and delivery of this critical intervention is imperative to reducing infection rates and associated disparities due to COVID-19," the letter states. The Pointer reached out to PHAC but did not receive a response.
All of the measures outlined by Dr. Loh will be revisited every two weeks.
Originally, Peel was headed to the orange (restrict) category under the Province's new colour-coded framework, allowing for indoor dining and gyms to reopen with a maximum of 50 people. In an attempt to stop this from happening, Dr. Loh sent a last minute request to the Province Friday, asking for the region to be kept in modified Stage 2 with gyms and indoor dining closed.
The Province did not agree, instead putting Peel in the red stage over the originally planned orange stage. A full code red does allow indoor dining, but with strict limits on patrons.
When it was originally revealed that the region would be in the less restrictive orange zone, municipal leaders were delighted. Both Mississauga Mayor Bonnie Crombie and Brampton Mayor Patrick Brown advocated for restrictions to ease to help struggling businesses. Since Ford's announcement Friday, and the decision to restrict gyms and restaurants to only ten indoor patrons, Crombie has released a statement telling business owners she was "truly sorry," but supported the Premier's decision. Brown did not make any public statement.
Preceding the Region's press conference Monday morning was an earlier announcement by Minister Elliott, introducing additional testing centres and mobile testing for Brampton and more contact tracers in the region, to offer "immediate action… and protect individuals, families and workers" in Peel, she tweeted.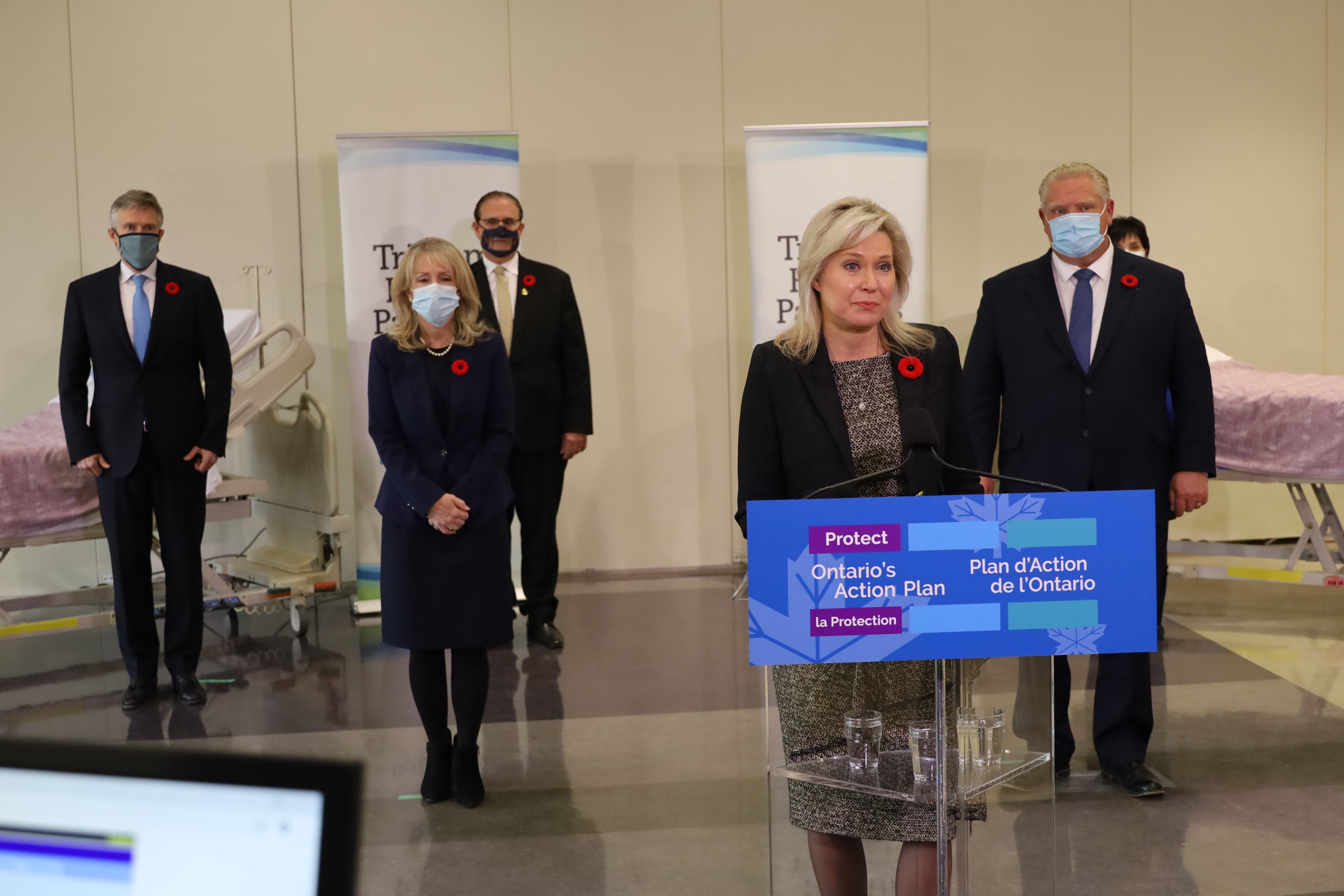 Mississauga Mayor Bonnie Crombie said she was "truly sorry" to business owners who are facing stricter safety measures upon reopening.
The three new testing centres in Brampton will all be operating by November 10 with limited testing times. Snelgrove Community Centre opened November 3 and will operate for a total of 8 hours over two days. Testing at Gore Meadows Community Centre started November 6 and will be open from 10 a.m. to 2 p.m. Tuesday to Saturday. Another screening site will open November 10 at Greenbriar Community Centre for 4 hours between the late afternoon and early evening between Tuesday and Saturday.
The additional resources were criticized by the Opposition NDP as being too little too late.
"Our community should have had these, and more, testing centres all along," stated Sara Singh, the NDP's Deputy Leader and a Brampton MPP, in a press release.
"Our community is in crisis. We need more resources, not press releases that make the government look like they're doing more than they actually are," added Kevin Yarde (NDP-Brampton North).
Before the extra testing was available, those with symptoms were asked to get tested at South Fletcher's Sportsplex, which remains open, and those with flu symptoms were directed to Osler's COVID-19, Cold and Flu Clinic at Peel Memorial.
In Mississauga, new testing sites were opened at Kingsway Paramedics Station and Four Corners Health Centre on November 4, adding to the three testing centres maintained by the city's hospital network.
---
Email: [email protected]
Twitter: @nida_zafar
Tel: 416 890-7643
---
COVID-19 is impacting all Canadians. At a time when vital public information is needed by everyone, The Pointer has taken down our paywall on all stories relating to the pandemic and those of public interest to ensure every resident of Brampton and Mississauga has access to the facts. For those who are able, we encourage you to consider a subscription. This will help us report on important public interest issues the community needs to know about now more than ever. You can register for a 30-day free trial HERE. Thereafter, The Pointer will charge $10 a month and you can cancel any time right on the website. Thank you.
Submit a correction about this story