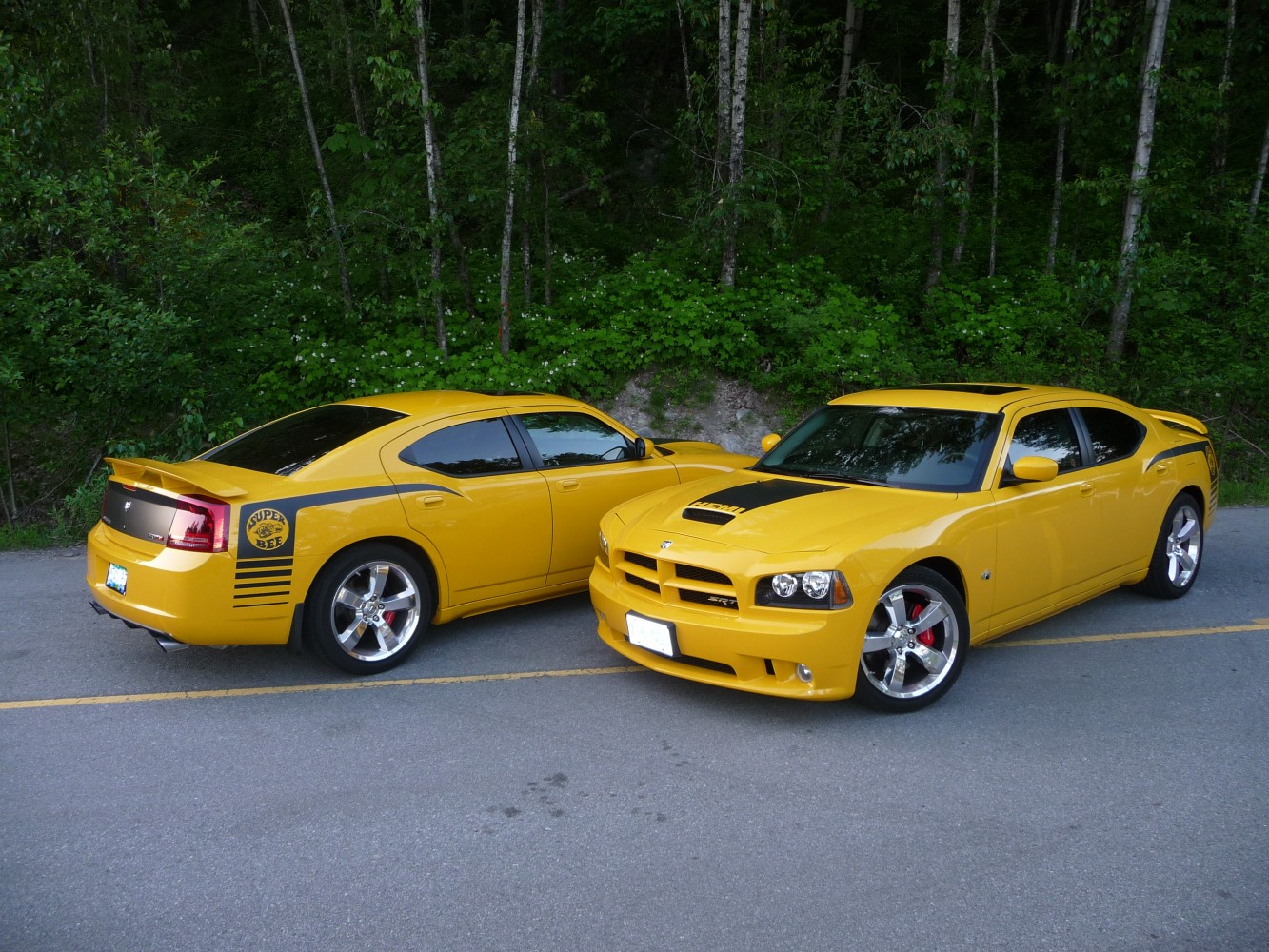 The Pointer file photos/Flickr/FCA/Tesla/Ford
Will Brampton's Chrysler plant adapt and survive in a green future?
An odd confederacy now makes up the green movement. None more so than the seemingly polar opposite teen activist Greta Thunberg and Mark Carney, the economist and former governor of The Bank of Canada and England.
The chasm between those two seems wider than their 38-year age gap.
Thunberg is a stirring voice of the young and aggrieved who want to quick-march a reversal in climate change policies to pull our planet back to its natural course. Decades of human behaviour have altered this path.
The cost of climate change caused by human activity does not have to be repeated.
But the savings if we change our behaviour are seldom mentioned.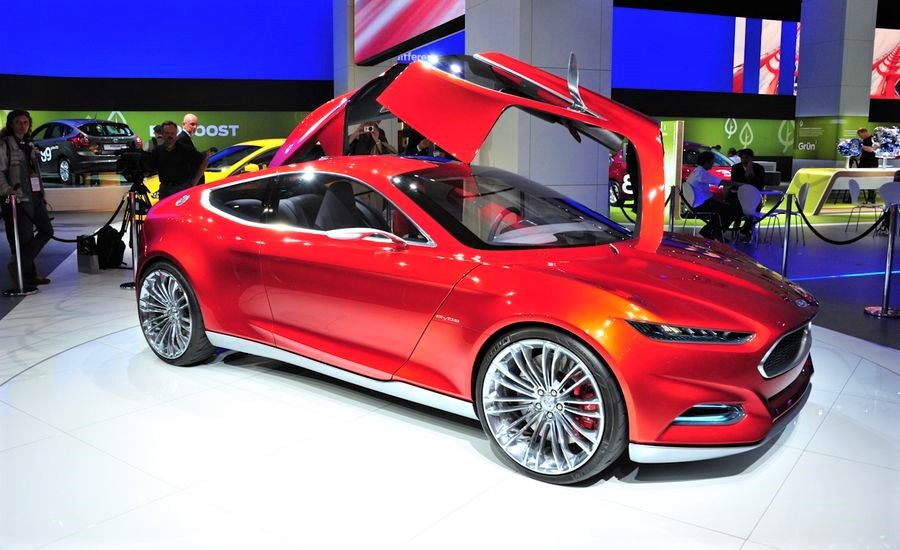 Ford unveiled its prototype Evos, a plug-in hybrid, back in 2011
The Intergovernmental Panel on Climate Change estimates that between 2010 and 2050, if renewable energy is optimally pursued, there will be a $60 trillion (US) net savings by switching away from high-carbon-based energy sources.
One key market reality is the profit to be made by industry players in sectors that adapt in tandem with future energy investments.
None, or few, are better positioned to take advantage of this inevitable shift to renewables than the auto sector.
During one of the recent U.S. presidential campaign debates, now President-Elect Joe Biden pledged to transition his country's economy "away from the oil industry."
The auto industry already is.
The Boston Consulting Group estimates hybrids and electric vehicles will reduce the market share of internal combustion cars by 50 percent as of 2030.
Ford Motors has stated it's going "all-in" on electrified vehicles with 40 new models by 2022.
Porsche has stated 50 percent of its production will be hybrid or electric vehicles by 2025: "[W]e can't stop the onward march of electromobility," Oliver Blume, the innovative car maker's CEO, said earlier this year.
Last year at the U.N. Climate Action Summit in New York City, Thunberg said, "Change is coming, whether you like it or not."
The "you" was directed at bankers and other investors like Carney, the buttoned-down, pinstriped, small "c" conservative, who was the former chair of the Financial Stability Board (2011 -2018) which sought to strengthen financial systems and increase the stability of international financial markets.
As Thunberg's emotional UN speech attests, she runs hot, while Carney is cool, and not given to radical pronouncements, or waving protest banners.
Yet, in their own way, each is an eco-warrior, and at the forefront of world-wide change.
It's clear both long for it, but for different reasons: Thunberg, because it's righteous, and gives hope to future generations; Carney, because it makes business sense and stabilizes the economic future.
The latter hasn't "sold out," a derogatory term that suggests he has swung over to "the other side." He is smart enough to know there is only one side, the human one.
Still, there is a certain inevitability at work here – a connection between why cleaning up our air, water, and land, can also help a struggling business clean up its bottom line.
Last year as Thunberg railed against the world's leaders and put them on notice at the UN, Carney was also promising a "green industrial revolution". He announced a new 'Taskforce on Scaling Voluntary Carbon Markets,' which would be comprised of a who's who of global corporate giants like Shell, BP, RWE, Tata Steel, Unilever, UBS, Siemens, Nestlé, Etihad, BNP Paribas, BlackRock, Bank of America, and Maersk. Plus, carbon market specialists like ClimateCare, Verra, and Natural Capital Partners were also included.
Carney is serving a new role as the United Nations' special envoy on climate action and climate finance. Secretary-General Antonio Guterres described him as "a remarkable pioneer in pushing the financial sector to work on climate."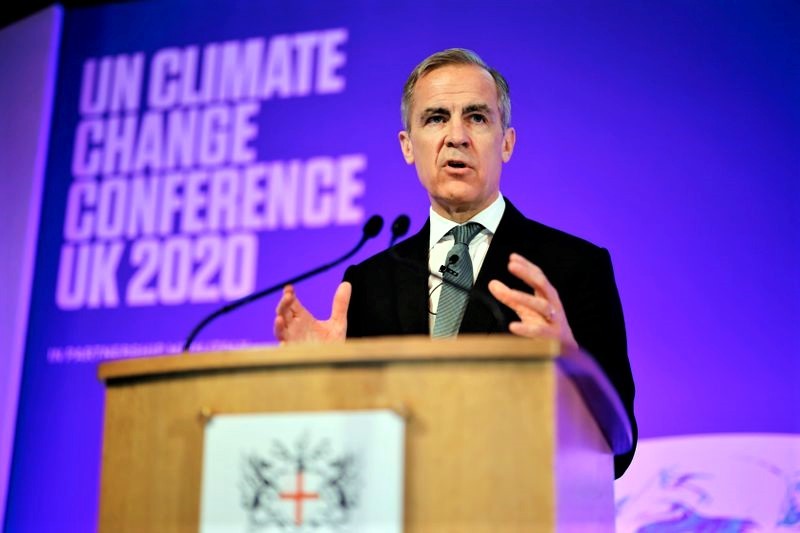 Mark Carney has become a leading financier in the area of green investing
Carney joined his counterpart in the French government to pen a fevered column in The Guardian last year, saying: "Climate change is a global problem, which requires global solutions, in which the whole financial sector has a central role to play."
Where Canadian banks, specifically RBC, TD and Scotiabank, are failing to withdraw investments from the carbon-based energy sector, the country's auto sector is showing far more innovation and progress toward widely shared values.
The goal is a carbon-free global infrastructure.
Many jurisdictions are taking on this challenge, even in Ontario, including its automotive manufacturing sector.
In the second part of this feature, The Pointer reports on a stunning series of announcements that has transformed the sector over the past month.
This culminated in this week's news that General Motors is investing upwards of $1.3 billion to reopen the once shuttered Oshawa assembly plant, which only a year ago, put nearly 2,000 Unifor members on the streets.
A new three-year GM-Unifor deal is in the offing, and the assembly line will once again produce vehicles.
This follows earlier union-management deals with Ford and Fiat Chrysler Automobiles (FCA), which means a stunning $4.7 billion in new investments is being infused into Ontario's sputtering, COVID-19-infected economy.
But there's a cryptic sidebar to all this giddy news: Oshawa's GM plant, and FCA's Williams Parkway factory in Brampton, won't be re-retooled to build new lines of carbon-free green vehicles – the new economic driver in the sector.
The Ford deal will see five types of electrified vehicles produced at the Oakville plant, while FCA's Windsor factory will get a facelift to build plug-in hybrid vehicles and/or battery-electric cars.
In Brampton, the Chrysler agreement does not include government subsidies, unlike the multi-millions being poured into assembly lines in Oakville (Ford) and Windsor (FCA) by the provincial and federal governments.
These partnerships seem more implausible because only a couple of years ago, the Doug Ford government at Queen's Park was raiding its treasury of $30 million to bring legal action against the federal government over its carbon tax. It also flatly rejected tax breaks to purchasers of electric vehicles.
The Ford Motors deal struck in September of this year, includes $1.95 billion to retool and build electrified vehicles starting in 2026. Investment in Oakville includes $590 million from the federal and provincial governments, each contributing an equal share. The Premier said the Ford deal "marks a new chapter" for Ontario's auto industry. "We're laying the groundwork for the long-term recovery and prosperity of our province."
Ford, who has made no secret of his negative stance toward carbon taxes and previous electric-vehicle rebates in Ontario, now says his government is a "strong believer in electrical cars."
Ford's commitment to a cleaner future was always questioned by the Green Party of Ontario, and its leader Mike Schreiner, MPP for Guelph. "When the premier came to power, he did everything he could to deter electric vehicles, from cancelling EV rebates to ripping chargers from GO stations," he said when Ford came to power.
Schreiner spoke to the Brampton Board of Trade last year, and has close ties to the city as a former part-owner of an organics market. He thinks governments have to have a futuristic sense of principles which includes jobs, people, and the planet as the key drivers, and maybe that can be seen in reverse order.
He categorizes climate change "as nature's tax on everything" with Canada and the world at a pivotal moment in history. He thinks smart businesses (like many in the car sector) build a bridge to the future, not the past.
The Green party believes the urgency to clean up our planet now is because the world doesn't have a Plan B.
Carney likes the carmakers' Plan E: the move to zero emissions via electric automobiles and hybrids.
While GM announced plans to return to Oshawa, there was no e-component. The company produces electric vehicles at three plants in Michigan and Tennessee. Last year, FCA announced plans for a $4.5 billion expansion into the U.S., which sparked fears at the Williams Parkway plant in Brampton. But, with the new deal, the Dodge Charger and Challenger which are produced there, will remain halo products in FCA's car strategy, both considered part of a niche muscle-car market of sports cars, or what used to be called, "gas guzzlers".
The US$4.5-billion commitment is in three plants in the U.S. Michigan which will create 6,500 jobs and boosted production of current and new-model Ram trucks, a revived Jeep Wagoneer, the next-generation Jeep Grand Cherokee and future plug-in hybrid models.
"In theory, those models could have been assigned to Brampton," said John Holmes, a professor emeritus at Queen's University in Kingston, Ont., and co-author of a report released last year entitled, The Future of the Canadian Auto industry. "It's not encouraging for Brampton in the sense that it's taking those models out of the mix."
At last year's Detroit auto show, FCA CEO Mike Manley hinted at an electric future and a new platform for the vehicles currently built there – rejecting the old way of building cars. "The reality is those platforms and that technology we used does need to move on. They can't exist as you get into the middle-2020s," he told The Detroit News. "New technology is going to drive a load of weight out."
What's more worrying is this: FCA's five-year plan is to electrify its lineup and didn't include a commitment to cars produced in Brampton, especially the Charger and Challenger.
---
Are the Canadian automakers future-proofing their assembly lines?
Last year's study on the future of our country's auto industry said that "maintaining the competitiveness of Canada's important automotive sector in a rapidly changing industry requires decisive action and collaboration by provincial and federal governments, targeted investment and new policies designed for the new automobility."
That includes developing a green industrial policy with targeted supports for companies that commit to building green vehicles sustainably, to respond to consumer demand for electric and autonomous vehicles.
It's Carney's contention that companies feeding off of fossil fuels will have trouble getting financing in the future.
One Canadian company in the oil sector ate over a billion dollars because of its ties to a losing proposition.
Last year, CBC reported that Vancouver-based Teck Resources Ltd. withdrew its application to build a massive oil sands project in northern Alberta, citing the ongoing debate over climate policy in Canada. The company said it would take a $1.13-billion write down on the project, which it said would have created 7,000 construction jobs, 2,500 operating jobs, and brought in more than $70 billion in government revenue.
"We are disappointed to have arrived at this point," CEO and president Don Lindsay wrote in a letter addressed to federal Environment Minister Jonathan Wilkinson, posted to the company's website.
The recent announcements that some assembly lines in Ontario's auto sector are moving toward a carbon-free production model, are doing so unevenly, favouring cities like Oakville and Windsor, over Brampton and Oshawa. This could fray nerves by the time it comes to renew the current three-year deal between Unifor and FCA in Ontario's fourth largest city.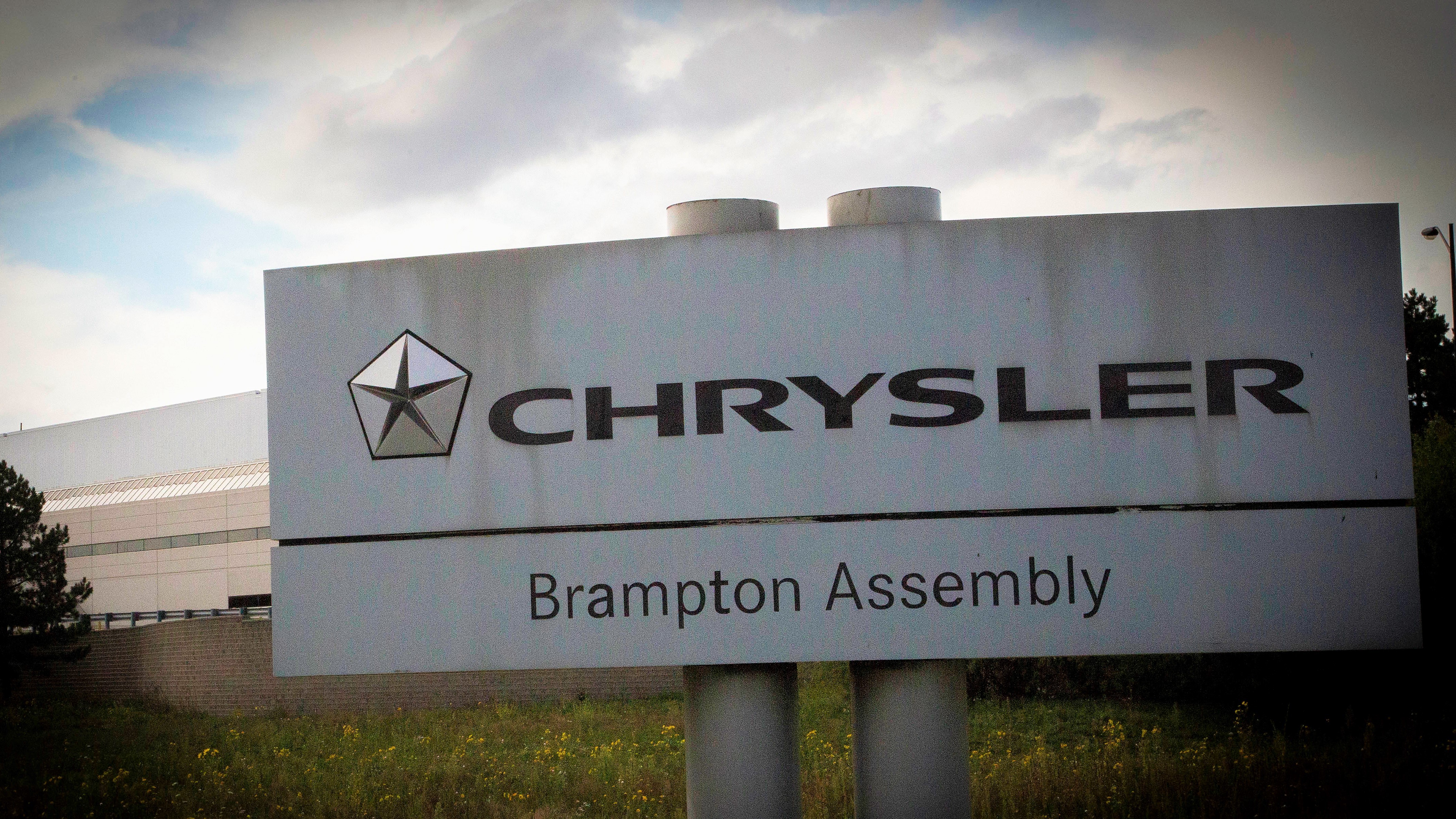 Can Brampton's Fiat-Chrysler plant survive making the cars of the past?
This isn't lost on the rank and file members of Unifor 1258, which represented the 3,000-plus workers at the Brampton plant in the recent negotiation.
Ardis Snow is the unit chairman for the FCA assembly facility, a veteran of six rounds of bargaining during his 32 years at FCA. "There's always been a certain amount of stress here," he says, "and that's because the industry has a lack of security."
There will be even less with a commitment to muscle cars over e-autos. The current market for these could change suddenly. In 2012, a documentary, Death of the Gas Guzzler, spoke of a world ferociously dependent on petroleum, prompting the filmmakers to ask, "Are there any other solutions?"
Yes, there are.
TechPubs.info published a compelling, but stark warning to automakers, under this headline: "6 Reasons 2017 Marks the Demise of the Gas-Guzzler". The story by author Matt Pressman said this: "Mark your calendars. This year [2017] could start the beginning of the end for the internal combustion engine."
Heck, The Economist magazine gave the internal combustion engine an obituary this year in a recent cover story. And, according to Peter Holley at the Washington Post, "when future auto historians look back, they may pinpoint 2017 as the year electric vehicles went from a promising progressive fad to an industry-wide inevitability."
This makes Musk look like a seer, who rose like a phoenix in an industry that once welcomed chance takers. His company took the stock market on a joyride, and he now sits seventh on the Forbes 400 list of richest Americans with a net worth of $68 billion. Tesla's stock has an enormous market cap, and fluctuates around $2,000. Its line of cars is still considered high-end, but if they become more affordable, it might be an even bigger threat to the legacy carmakers.
Still, the number of e-autos on the market has yet to explode. Andrew Chesterton from Car Guide says industry analysts think there are over 1.4-billion vehicles in the world, cars and trucks for personal and business use. But electric vehicles still make up only a tiny portion (about 2 percent) of the global market. The Frost Global Electric Vehicle Market Outlook 2018, tracked EV sales across the globe and said 1.2 million sold in 2017 which was expected to climb to two million by 2019.
Industry analysts predict this is ready to explode, as battery technology brings costs down dramatically and climate targets push policy and personal behavior move further away from internal combustion vehicles.
Governments around the world, including Mississauga's and Brampton's are already shifting their fleets to renewables.
The good news is that governments world-wide are putting targets on a CO2 turnaround.
The federal government plans to exceed Canada's 2030 climate goal, and it will legislate the goal of net-zero emissions by 2050. Mississauga approved a $457.6 million climate action plan. The city aims to cut its GHGs 80 percent by 2050, and Brampton approved plans to build a new electrified bus maintenance and storage facility. The City hopes to reduce CO2 levels by 80 percent by 2050.
This, of course, is all theoretical, and very political, and it's in the private sector where the rubber is really hitting the road, led by the Musks of the new-look auto industry.
At the granular level, change is coming quickly, but not quick enough for Thunberg. Her emotional and withering speech at the U.N. reverberated around the world. The "betrayal" of young people through the inertia over the climate crisis, has failed us, she said.
The question for automakers is, do they want to become part of the latest extinct sector that failed to adapt?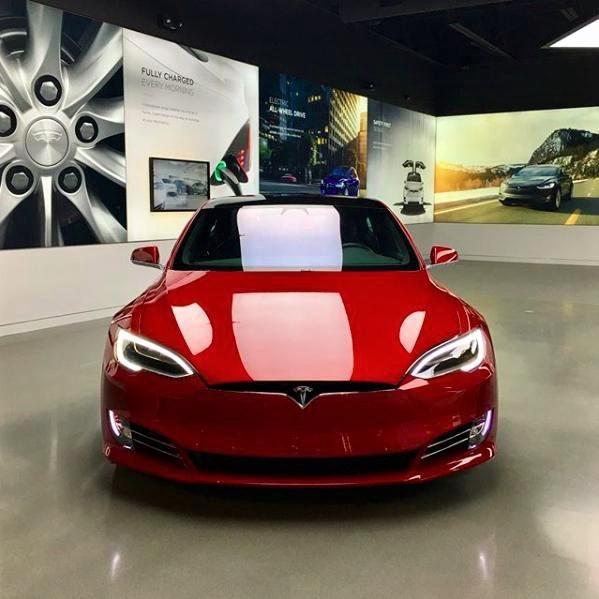 The Tesla Model S, above, was recently chosen the top "dream car" by millennials and men in the U.S.
Musk has boasted that Tesla will make 20 million cars per year before 2030, and will produce an e-car with a sticker price of US$25,000 in the next three or four years.
Carney, the new-look eco-warrior, who operates inside the world of money, is leading a movement toward a highly profitable green planet. He contends that everything is intertwined and capitalism will find solutions to turn the elimination of CO2 numbers into a profitable enterprise.
Michelle Chrétien, director of the Centre for Advanced Manufacturing and Design Technologies at Sheridan College's William Davis campus in Brampton, asks rhetorically: Is the business world embracing the urgency around carbon-neutrality? "I think the answer is absolutely yes and no. Sadly, carbon neutrality is still not a business imperative in much of the world."
Carney stated bluntly in The Guardian: "For those who say we can't afford to do this, I say we can't afford not to. Dealing with the horrors of unmitigated climate change will be incalculably costlier than intervening now to prevent them. It requires a massive public investment, but that would pay for itself many times over in the years over the years ahead through the good quality work it would create. There are huge economic opportunities in renewable technologies and energy efficiency."
He is back in Toronto now, an investment banker with Brookfield Asset Management. He spearheads environmental and social investing. It is the world's second-largest investor in climate-friendly businesses, behind the US firm Blackstone, with about $550-billion in assets under management.
Earlier this year, he was named finance adviser for the United Nations' COP26 climate change conference in Glasgow, delayed for a year because of Covid-19.
The gathering pushed to next year won't have much positive to say about companies like FCA, and the continued insistence to make muscle cars in Brampton, because there's still money to be made.
Once the driving force of the auto industry, the gas guzzlers produced on assembly lines like the giant one on Williams Parkway, now seem like outliers, a niche product that is thoroughly unmodern, relics from a bygone era when the Big 3 Detroit automakers were on the ascendency in the 1970s.
It's 2020, not 1975. Markets change. Tastes vary. Sedan owners are now buying SUVs, crossovers, hybrids, and the newest Tesla.
Automakers are freer to innovate, make billions, and clean up an industry dirtied by an older generation.
Musk was born in South Africa in the '70s, only to grow up dreaming of a new business model that was leaner, greener and determined to leave fossil fuels in the ground, not fueling his new-look vehicles.
The ones even future muscle-car enthusiasts will drive.
---
---
COVID-19 is impacting all Canadians. At a time when vital public information is needed by everyone, The Pointer has taken down our paywall on all stories relating to the pandemic and those of public interest to ensure every resident of Brampton and Mississauga has access to the facts. For those who are able, we encourage you to consider a subscription. This will help us report on important public interest issues the community needs to know about now more than ever. You can register for a 30-day free trial HERE. Thereafter, The Pointer will charge $10 a month and you can cancel any time right on the website. Thank you.
Submit a correction about this story