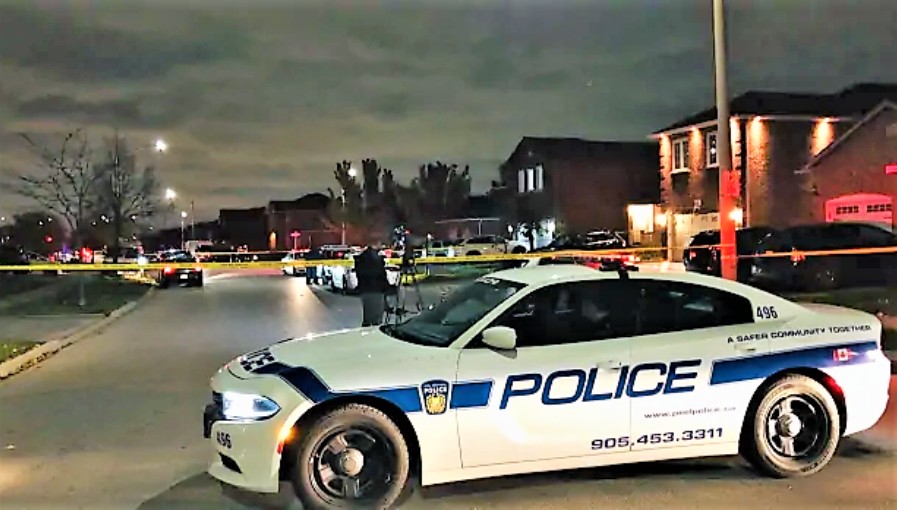 The Pointer file photos/Peel police/Charts and graphics Peel police
Number of guns seized from Peel streets declining amid steady rise in shooting victims 
In the early hours of October 5, while most people in Brampton were fast asleep, Peel Regional Police officers found a stolen vehicle in the area of Bovaird Drive and Torbram Road.
When police approached the car the suspects burst from their seats and fled on foot.
Police dogs had little trouble picking up the scent in the clean fall air. Two men were taken into custody, along with about a kilogram of marijuana and a 22-caliber rifle loaded with 16 bullets.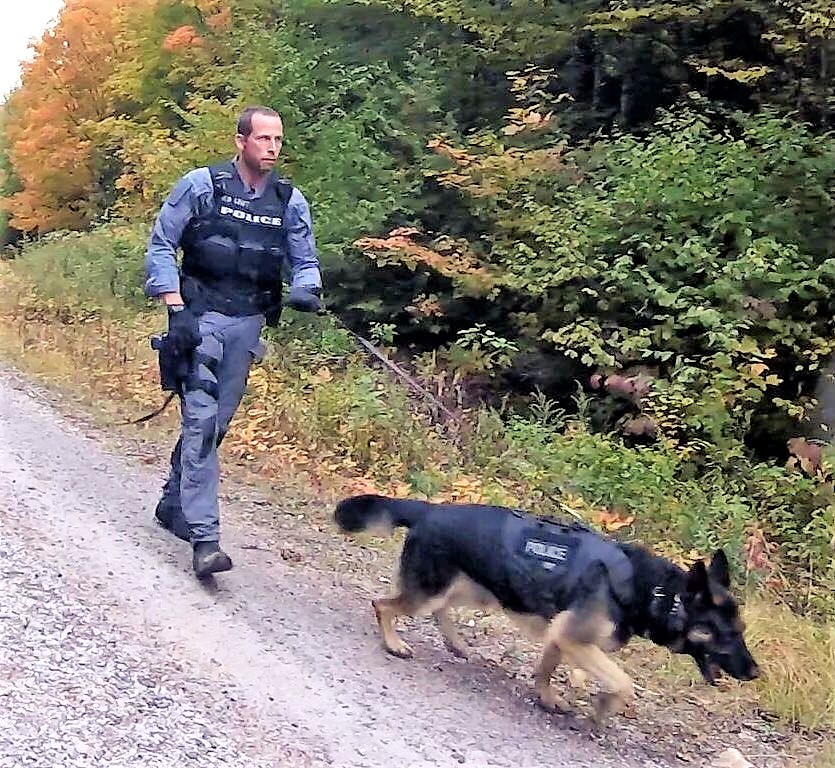 Over an hour later, at 4 a.m., police were called to a home on Yately Street following reports of a shooting. Tanveer Sidhu, 28-years-old, was inside. He had been shot and was dying from his wounds. Life-saving measures were attempted, but he died at the scene.
One hour, two incidents, and the picture was clear: illegal firearms were wreaking havoc on the streets of Brampton and Mississauga.
The next day, Peel police entered two homes, one in Mississauga, the other in Toronto, executing search warrants for a protracted investigation triggered by a young victim who had been exploited in the sex trade. They arrested two people and seized a number of weapons, including a 9mm handgun and Taser.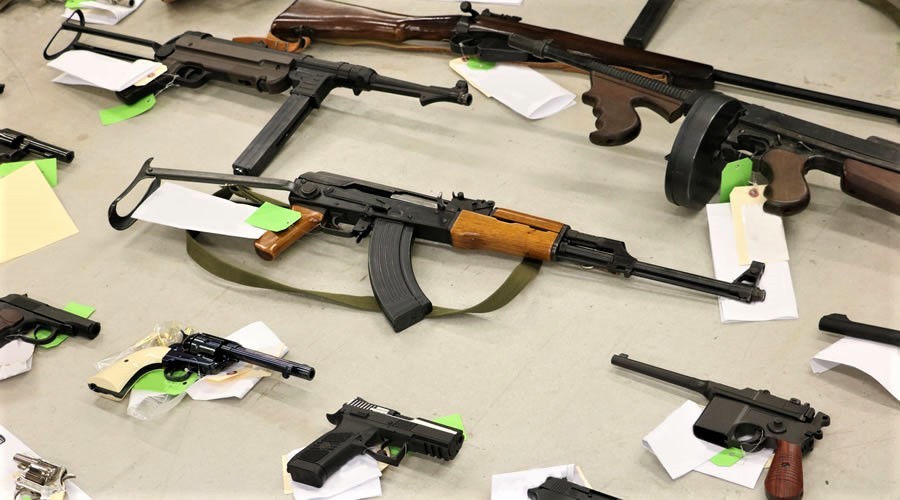 A recent gun seizure by Peel police
The seizure was only a tiny portion of the 165 illegal weapons police took off the streets between January and September.
"Those illegal firearms have been seized from some of our most violent offenders who have injured our community through various criminal activities and public safety incidents," said Chief Nishan Duraiappah in a news release. "Front line and investigative members have unrelentingly pursued those who possess crime guns."
Any illegal weapons taken off the streets is a victory for residents of Canada's sixth and ninth largest cities, where violent crime has steadily increased over the past few years. These crucial wins have become harder to achieve as the roles and duties of police officers have expanded. Combined with the added responsibility of policing during the unrelenting global pandemic, the number of gun seizures has declined precipitously, dropping nearly 40 percent over the last five years.
According to Peel Police's 2015 annual report, officers seized 680 firearms. Last year, the number had fallen to 436. It remains unclear whether these figures include the 129 firearms received during PRP's voluntary gun amnesty program. Unless there's a sharp uptick in the firearms seized in the remaining months of 2020, it will mark the third straight year of decline.
While fewer guns have been taken from criminals, violence has escalated. Over the same five-year period when illegal weapon seizures dropped 36 percent, the number of shooting victims skyrocketed – 146 percent, from 24 victims in 2015, to 59 last year.
This trendline continues this year. From January to September Mississauga and Brampton have seen 63 shootings where a victim or evidence that someone was shot was found – more than all of 2019.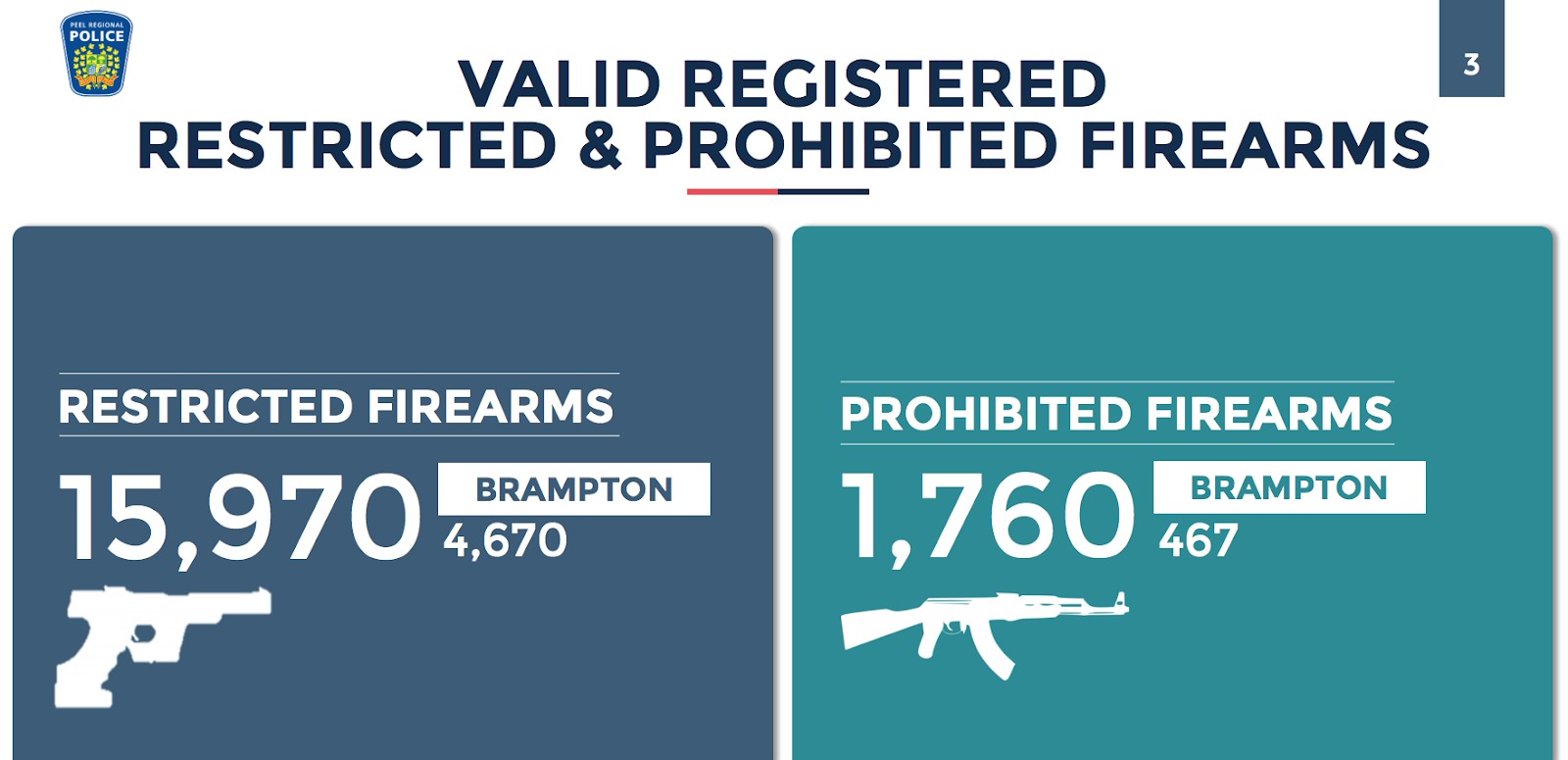 The number of legally registered firearms in Brampton
The chief's press release added, "violent crime continues to be a plague on society and leaves behind countless victims in their wake. These crimes know no boundaries; we have had shootings in densely populated residential areas and highly frequented commercial properties. The violent offenders who perpetrate these crimes do not recognize race, religion, or geographical borders. They have no consideration for the safety of innocent bystanders."
The jump in gun violence in recent years is combined with a growing number of workload pressures for Peel police. The redirecting of resources put toward the most heinous types of crime is happening as officers are being used for other problems such as responding to mental health crises impacting more of the population.
These incidents represent one of the largest citizen-initiated call categories for Peel officers. The number of people apprehended by PRP under the Mental Health Act has increased 50 percent over the last six years, from 4,000 in 2014 to about 6,000 in 2019.
The consequences are striking. Numerous considerations have to be made when allocating policing resources. If the responsibility for frontline mental health support during a crisis falls on police officers, they are forced off the streets where violent, gang-related crime is being committed. At current apprehension levels, two officers take a person in crisis to hospital 16 times a day.
PRP said $1.8 million in salaries were spent last year while officers sat in emergency department waiting rooms with individuals suffering a mental health crisis.
It's a huge fiscal drain and takes up valuable police time. These apprehensions are often ineffective. Approximately 40 percent of those plagued with mental health issues have been apprehended by police at least once, sometimes more.
These calls are often filed under the classification: 'not related to criminal conduct'.
The rise of mental health and violent crime incidents in tandem has pushed officers to attend one, while perhaps missing another.
Over the last three years, homicides have increased 67 percent between 2016 and 2017, and 63 percent between 2017 and 2018. Last year saw a 17 percent jump, leading to 31 deaths. Other violent crimes, including assaults, uttering threats, and shootings also grew last year. The number of rounds discharged in Brampton and Mississauga (Peel police does not break down its crime data by city) increased 41 percent from 2018, with 700 rounds fired over the course of the year. The majority of these shootings are linked to turf wars between gangs, which often devolve into violent confrontations over territory, various disagreements or the local drug trade.
The violent crime severity index (VCSI) measures and then determines the level of criminal activity in an area by rating different crimes, with the more violent offences carrying more weight. Peel's rate increased by 51 percent between the start of 2014 and the end of 2018, compared to a 27 percent increase for Ontario and 17 percent bump in the country over the same period.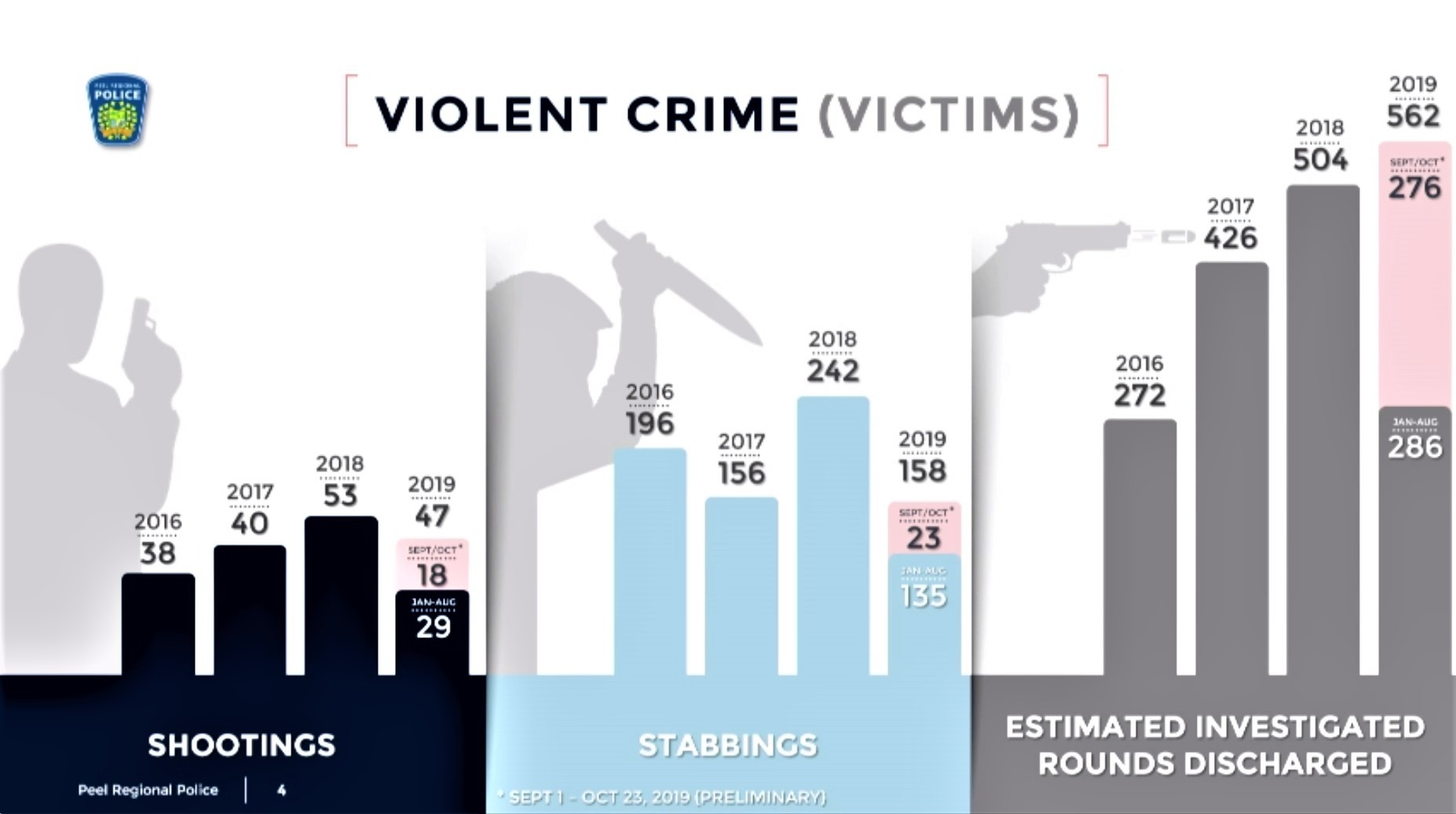 Recent violent crime statistics for Brampton and Mississauga
The Pointer already reported this figure is rising at nearly three times the rate of the national VCSI. The rise in gun violence in the two cities played a major role in the increase.
Peel police are also handling an increasing workload in an ever-expanding region, including the typical bread and butter police work, like Highway Traffic Act offences and petty property crime.
The force dealt with a total of about 41,000 Criminal Code offences in 2019, nearly 9,500 of which were crimes against persons (an average of 26 per day), and more than 26,000 crimes against property (an average of 72 per day in the two cities; Caledon is policed by the OPP).
The force laid about 176 Highway Traffic Act charges on a daily basis, a number sure to rise as the region welcomes about 25,000 new residents a year. This means more houses, and more cars on the streets.
The COVID-19 pandemic has only exacerbated things, as Peel police have had to conduct approximately 70 Quarantine Act checks a day to ensure people are following the 14-day self-isolation period after returning from abroad or other jurisdictions.
Police have completed more than 500 checks since emergency measures were put in place. "It's a displacement from normal activities," Chief Duraiappah told the Police Services Board at the end of September.
Increased violence is not isolated to Peel's two cities. National levels of homicide victims linked to organized crime or street gangs have risen throughout recent years. In 2014, there were 497 homicides, 666 by 2017, and 651 in 2018.
Both Queen's Park and Ottawa have launched recent grant programs to fund new police initiatives targeting gun violence.
Ottawa provided $54 million over three years so the province could get a handle on rising gun and gang crime. Much of that money will end up in Peel, for the expansion of a firearms prosecution team. A further $65 million for similar initiatives in the province was announced last year.
Chief Duraiappah made it clear he plans to take a holistic "upstream" approach to the rising violence. Much of that planning will be grounded in Peel's Community Safety and Wellbeing Plan, currently under development by Regional staff and councillors. An update will be made available at the end of this month, with implementation of the plan scheduled to begin before the end of 2020.
The community safety and wellbeing approach "focuses on the needs of the community first," Duraiappah explained in a video statement released in August. It will allow local residents to "get the right services, for the right people, at the right time."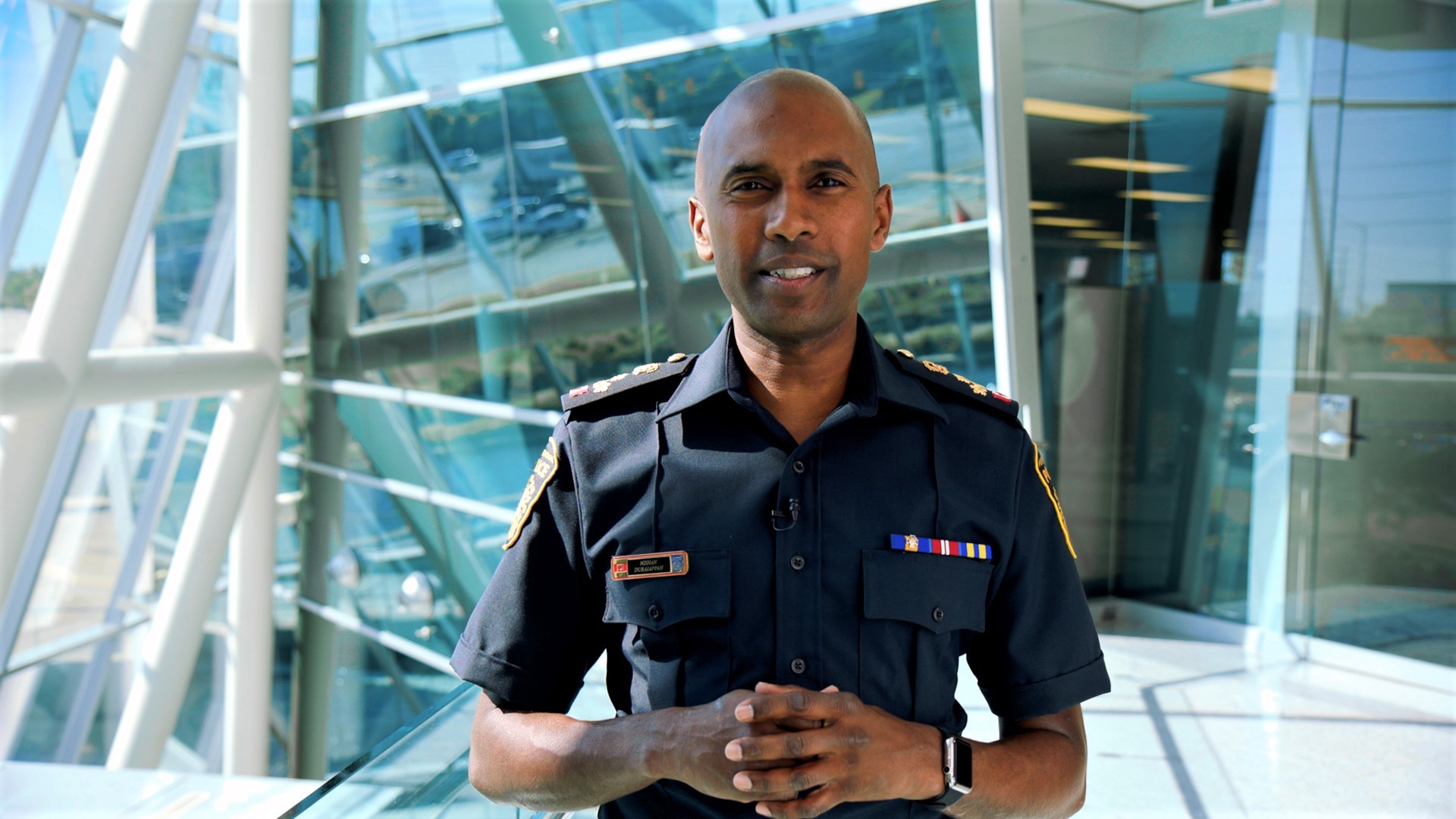 Chief Nishan Duraiappah, hired last year to bring change, has said he is open to rethinking the way policing is fundamentally approached
According to a recent report to regional councillors, the plan will place emphasis on addressing family violence (family/intimate partner disputes are the top citizen-initiated called to Peel police), systemic discrimination, mental health and addictions. It will focus on assisting key population sectors, such as vulnerable youth and seniors. The Region's report lists a number of goals, including improving advocacy efforts and data collection.
It will hopefully reallocate much of the current work being done by police officers who have little training to deal with some of these problems. The push across North America to rethink policing models is something the Peel Police Services Board, led by Mississauga Mayor Bonnie Crombie and Brampton's Patrick Brown, has supported, with cooperation from Chief Duraiappah. But if upstream, community focused approaches are implemented, Regional Council will have to take responsibility for funding initiatives such as increased support for mental health workers who could take the burden off police. In the past, Peel's Council has thrown money at the police department while neglecting many issues at the root of crime, such as a lack of affordable housing.
The community safety and wellbeing framework is grounded in social development and addressing the problems that push people to enter into a life of crime. It states incident response is viewed as the last resort after prevention and mitigation measures have failed.
This gradual shift to a more holistic approach will require addressing costly problems outside of police jurisdiction, including supportive and affordable housing, and other problems plaguing Peel's low-income population. At the same time, PRP needs to maintain the frontline efforts to investigate the rising gang violence. These investigations are typically lengthy and expensive.
Police leaders and members of the Police Services Board have said little about the upcoming 2021 police budget. A call for police reform has dominated society throughout much of 2020. While other police forces like Toronto have fostered a dialogue with residents through town hall meetings on budget priorities for the coming year, Peel's representatives haven't followed that route.
Aside from the speedy approval of a body-worn camera (BWC) project at a cost of $1.4 million annually, there has been little indication of what the new Peel police budget proposals will look like.
The decision to approve the BWC project has been heavily criticized by community members, and nearly 100 of them wrote to the Police board criticizing the move. One argument is that it is nothing but a Band-Aid solution to an incredibly complex police accountability problem and will drain more money away from crucial police work.
The 2020 Peel Police budget breakdown
Critics say the technology does nothing to address the root causes of crime. There's a push for the reallocation of money that is currently being eaten up by unsustainable police budgets, which are eaten up by skyrocketing labour costs over the past decade. In 2020, 85 percent of the force's revenues went to salaries, overtime and benefits. Still, municipal politicians continue to throw more and more dollars at fighting crime, while ignoring root causes like poverty, mental health, youth disengagement and homelessness.
The overall $490 million PRP budget for 2020 represents an almost 70 percent increase from the roughly $290 million budget a decade earlier. Any increase in 2021 will come as Region of Peel councillors face tough financial questions around the ongoing pandemic, while violent crime is on the rise and police resources are being stretched to address a growing range of societal problems.
---
Email: [email protected]
Twitter: @JoeljWittnebel
---
COVID-19 is impacting all Canadians. At a time when vital public information is needed by everyone, The Pointer has taken down our paywall on all stories relating to the pandemic and those of public interest to ensure every resident of Brampton and Mississauga has access to the facts. For those who are able, we encourage you to consider a subscription. This will help us report on important public interest issues the community needs to know about now more than ever. You can register for a 30-day free trial HERE. Thereafter, The Pointer will charge $10 a month and you can cancel any time right on the website. Thank you.
Submit a correction about this story