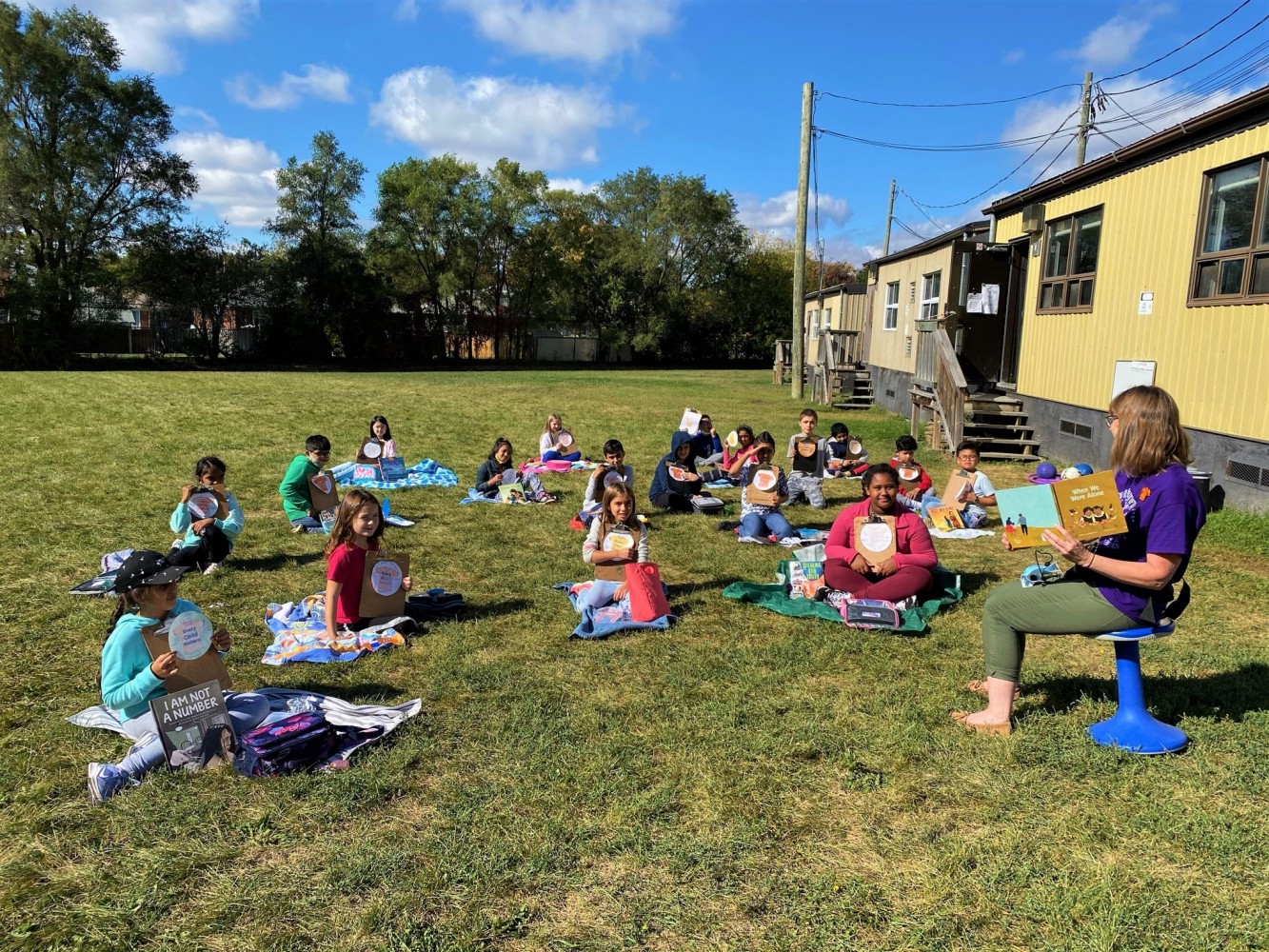 The Pointer file photos/Twitter-PDSB/Courtesy Maureen Sim
Teachers do God's work under constant fear of a virus that continues to slip through school doors 
Their face masks make it hard to communicate. Plastic shields overtop often get fogged up and make it even harder to talk.
Students can't be approached and crucial visual cues are impossible to read.
Social distancing protocols are constantly top of mind. Figuring out how to convey complex learning concepts in this alien environment is like being back in school themselves.
Managing homework without physical contact is a whole other level of stress.
This is just a small sample of the brutal conditions teachers across Peel – and around the world – are facing every day.
If not for their inspiring efforts under these nearly impossible conditions, millions across the province, especially the children, would be far worse off as this pandemic refuses to withdraw.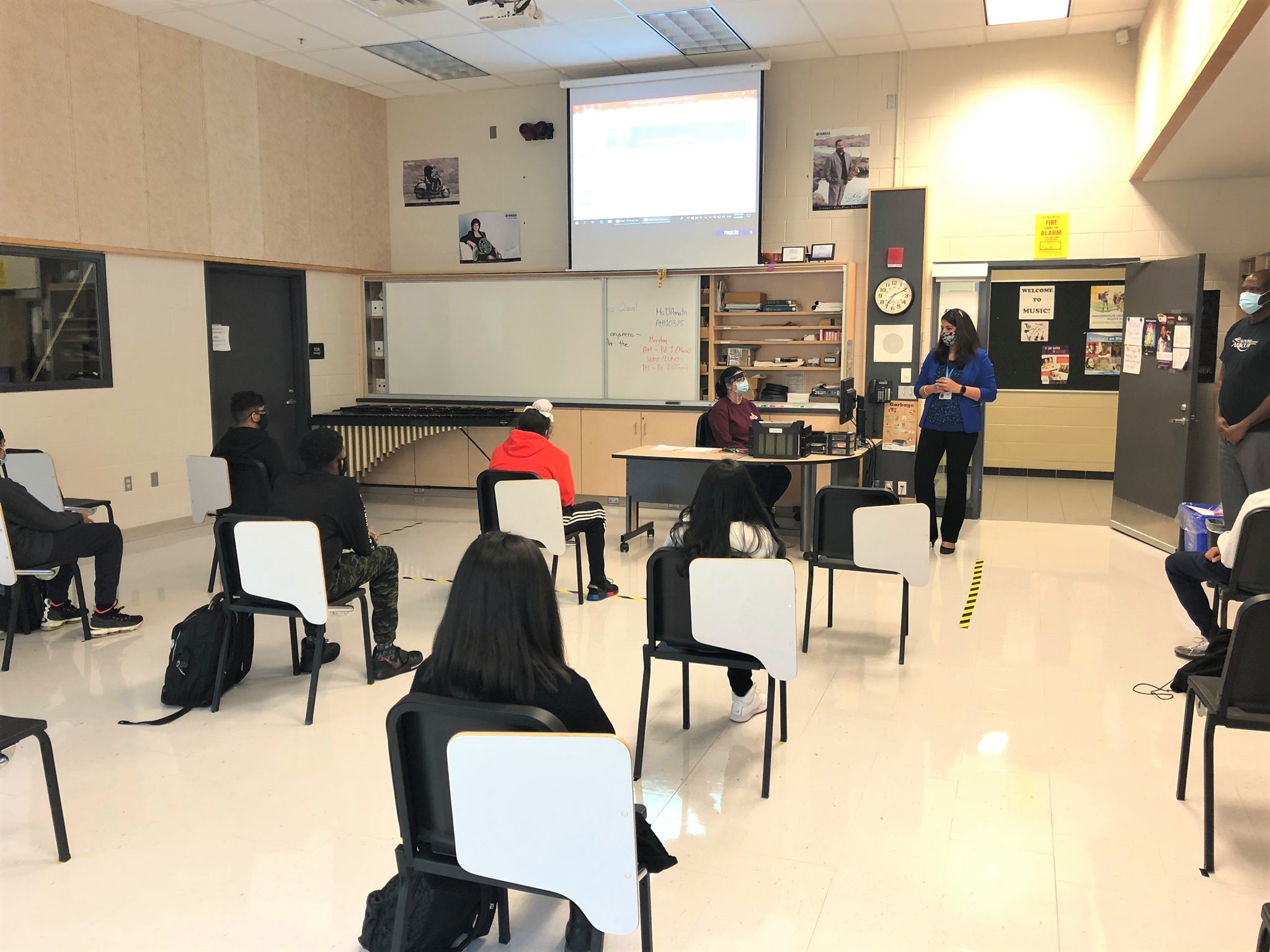 Teachers at the front of a classroom in Peel
"The protocols in place are doing what they can to limit the spread of the virus and it's a pretty reasonable system we have worked out," Anita DeFlece tells The Pointer. She teaches Grade 10 history and social science at Bramalea Secondary School in Brampton, and, like thousands of other teachers across Peel, is doing her best to focus on the needs of students under challenging circumstances.
She is concerned looking out at the colder months ahead. In the crisp fall air, keeping the windows open is doable. But this won't be the same when winter arrives and temperatures dip below freezing. The help promised by the Province to improve ventilation never arrived.
It's just another issue pressing in on teachers who walk into battle every day, determined to focus on the goal in front of them, while the threat of the virus surrounds them. They are on the frontline.
Without teachers and schools we would be hurtling back to March, to the darkest days of the pandemic, when so much uncertainty filled our collective anxiety.
It could still happen.
But educators are doing everything to keep students engaged, happy. Parents and families, because of their efforts, have been able to regain some normalcy in their lives, as well.
All of it hangs by a thread.
Some disagree with the reopening of schools, potentially putting children and staff in harm's way.
Before this unprecedented school year began with a shaky start, terse words were exchanged between teachers' unions and the Province.
Premier Doug Ford steadfastly defended his Ministry of Education's back to school plan against unions who said much more needed to be done to keep students and staff safe.
"I'm always going to listen to the doctors," Ford said on August 18. "I'm not going to listen to the head of the unions that are playing politics."
The fight has since escalated. On August 31, the province's four major unions representing teachers and education workers filed a complaint with the Ontario Labour Relations Board (OLRB), alleging the province's back to school plan does not take "every reasonable precaution to protect workers."
The OLRB dismissed the complaint October 1, but the unions say they will continue to demand improvements. "The OLRB's decision means that educators must put forward individual complaints about health and safety violations, one at a time, for adjudication. This is not a sensible approach to the problem of the pandemic," a joint press release from the unions said.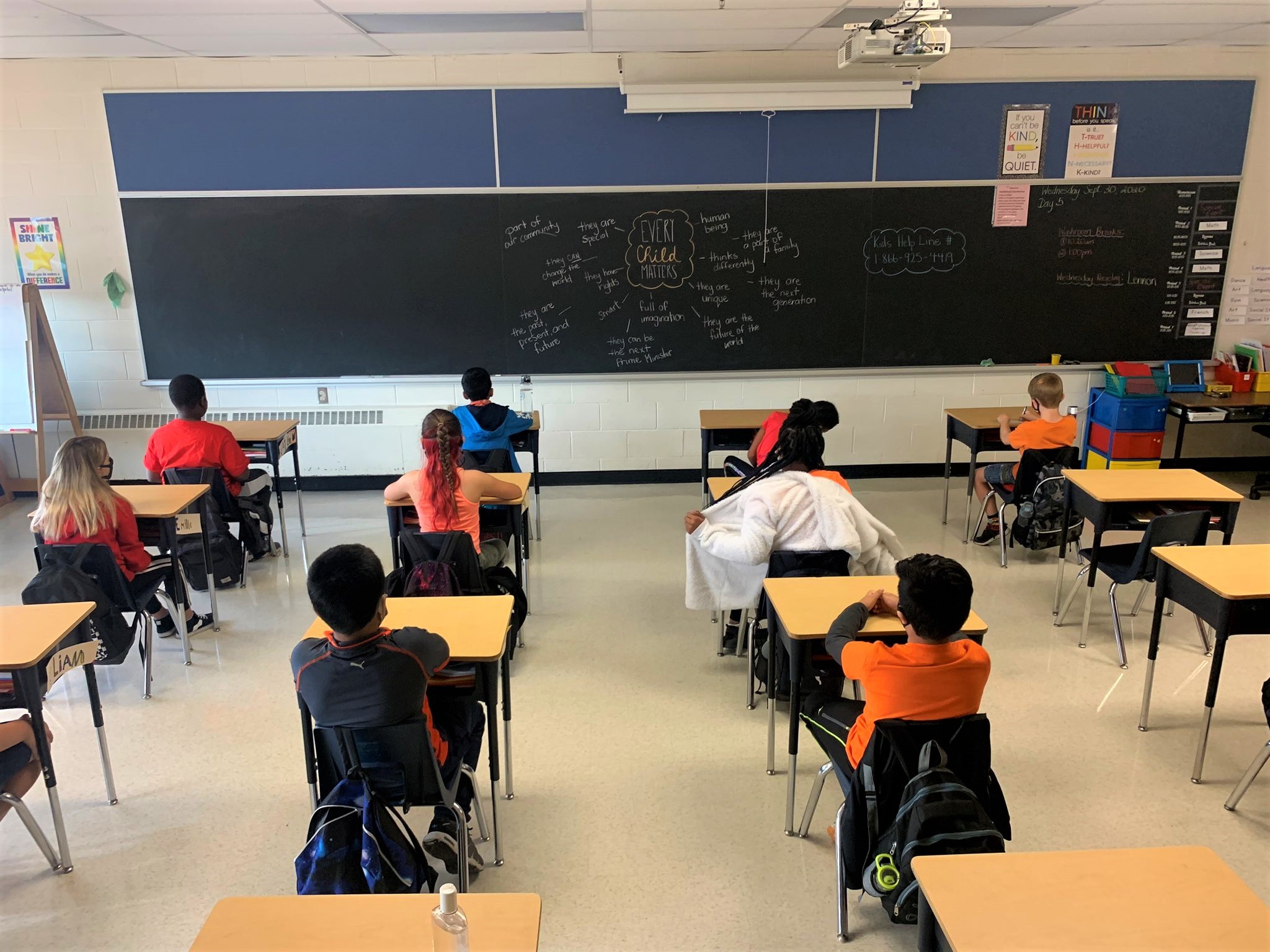 Poor ventilation inside many classrooms is a major concern of teachers
DeFlece has grown more concerned over the flawed ventilation in the school. She's considering keeping her windows open even in the winter. Hopefully, schools will also remain open. The school's ventilation system, she says, was already facing a number of problems before COVID hit. The air quality was poor and the lack of asbestos removal were concerns staff had for a number of years. "I don't see where there's been any improvements made to our ventilation systems."
On Monday, the Province announced an additional $35 million for schools in Peel, Toronto, Ottawa and York, the hardest hit regions during the second wave of the pandemic.
"We have an obligation to our young people, to our society, to our working parents, to the mental health of our kids to keep them in school," Education Minister Stephen Lecce said, after Ford made the commitment, which is focused on hiring more teachers to bring class sizes down, and custodians, as well as procuring 6,000 more devices to support at-home learning.
But it does not top up money provided earlier to improve ventilation inside schools, which has emerged as an extremely important issue for educators confined in closed spaces like classrooms or office buildings. Numerous studies have shown the novel coronavirus can linger unless there is proper circulation to filter the contaminated air.
There are currently 64 schools reporting cases of COVID-19 in Peel's two main boards, and 27 classrooms are currently closed. No schools have been shut down.
On August 13, the Ministry of Health announced $50 million will be provided to school boards to "improve ventilation, air quality and HVAC system effectiveness in schools," but so far, DeFlece hasn't seen anything at her school.
Boards are working on extremely tight deadlines to get retrofitting and other work done. An August 25 memo from the Ministry of Education said boards only have until Thanksgiving (October 12) to use the money. With five days before the deadline, it's not clear what the Peel District School Board, which was given $2.9 million, or the Dufferin-Peel Catholic District School Board, which was given $1.7 million, have done to implement changes.
The latest injection of funds from the Ministry, to increase distance between students, create smaller class sizes or to provide additional support to students for remote learning, should be received "in the coming weeks," the Province said Monday.
The PDSB will receive $5.8 million, DPCDSB $2.9 million, and the French-first language, Viamonde School Board, which has locations in Brampton and Mississauga, will receive almost $544,000. Responses about how the PDSB and DPCDSB will use the money were not received ahead of publication.
Teachers aren't the only ones who have been impacted by the sweeping changes. All students are required to wear masks, stay in their assigned cohorts, and in-person socializing is almost non-existent. Students who attend school in person complete the day's activities in the classroom assigned to their cohort.
When Maureen Sim was growing up in Brampton's Peel Village neighbourhood, an important part of her school day was socializing. Like clockwork, she would gather with her friends from school and other neighbourhood kids at the local park.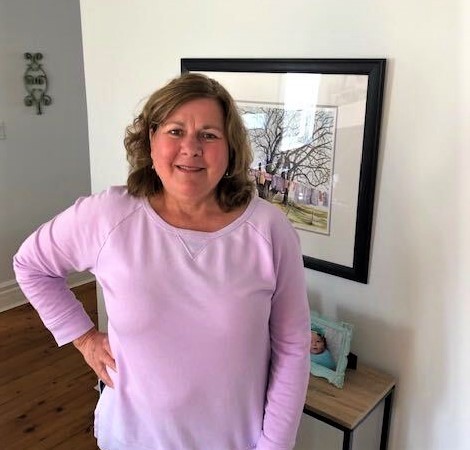 Brampton teacher Maureen Sim admits she is afraid of the virus slipping into her classroom and decided to teach online
Now a teacher herself, Sim says she never imagined anything like COVID, which has forced many kids to socialize exclusively online.
"The social part [means] so much to them. They're so happy to see each other in the morning…you can tell they want to be social," she says.
Sim is a fifth-grade teacher at Russell D. Barber Public School in Brampton and is thankful she can teach her students online and avoid going into a classroom.
"I'm just afraid of COVID. I'm going to be honest. I didn't want to go into the classroom in person," she says.
If she wasn't given the option to teach solely online, she's not completely sure what her future would have held. She acknowledges she "probably would've gone in," but admits the experience would be nerve-wracking. The only thing that would keep her going, she says, is her love for teaching and the few years she has until retirement. "I probably would have given it a try and just checked it out."
DeFlece feels secure working in her school, but does not want to minimize the pressure teachers are under.
She feels particularly bad for her elementary school counterparts.
"From what I understand, the people in decision making positions, such as the Ministry and the school boards, were really not interested in what the teacher representatives had to say about the schools reopening in September. So I think that elementary teachers' voices were not heard."
Because secondary schools are capped at 15 students, DeFlece feels it's easier for her and her students to keep a distance. She also explains it's easier for 16-year-olds to understand the rules of physical distancing and safety precautions, concepts simply beyond many younger students.
There are no caps for elementary classes, and, despite the efforts of the Province and the boards, some parents have reported dangerously large classes.
DeFlece does wish things were more organized and the Ministry communicated with teachers and parents more transparently. The plans for school opening "came down to the wire," when everybody already "knew that school was going to be different this year," she says.
Some of DeFlece's departmental colleagues were directly impacted by this. The Friday before school started, some teachers were still unsure of what class they would be teaching, she says. "That was a very common experience especially for teachers who've been in the system for 10 years or less."
Representatives from AEFO, ETFO, OECTA, and OSSTF/FEESO, the four major teachers' unions, will hold a media conference Wednesday afternoon to share their concerns over the Province's current back-to-school commitment and the safety of staff and students.
Meanwhile, in the morning, tens of thousands of educators across Ontario will walk into their classrooms. They will have on their masks. Many will wear a plastic shield on top.
They will make their students feel welcome and safe. And then... they will begin to teach.
---
Email: [email protected]
Twitter: @nida_zafar
Tel: 416 890-7643
---
COVID-19 is impacting all Canadians. At a time when vital public information is needed by everyone, The Pointer has taken down our paywall on all stories relating to the pandemic and those of public interest to ensure every resident of Brampton and Mississauga has access to the facts. For those who are able, we encourage you to consider a subscription. This will help us report on important public interest issues the community needs to know about now more than ever. You can register for a 30-day free trial HERE. Thereafter, The Pointer will charge $10 a month and you can cancel any time right on the website. Thank you.
Submit a correction about this story