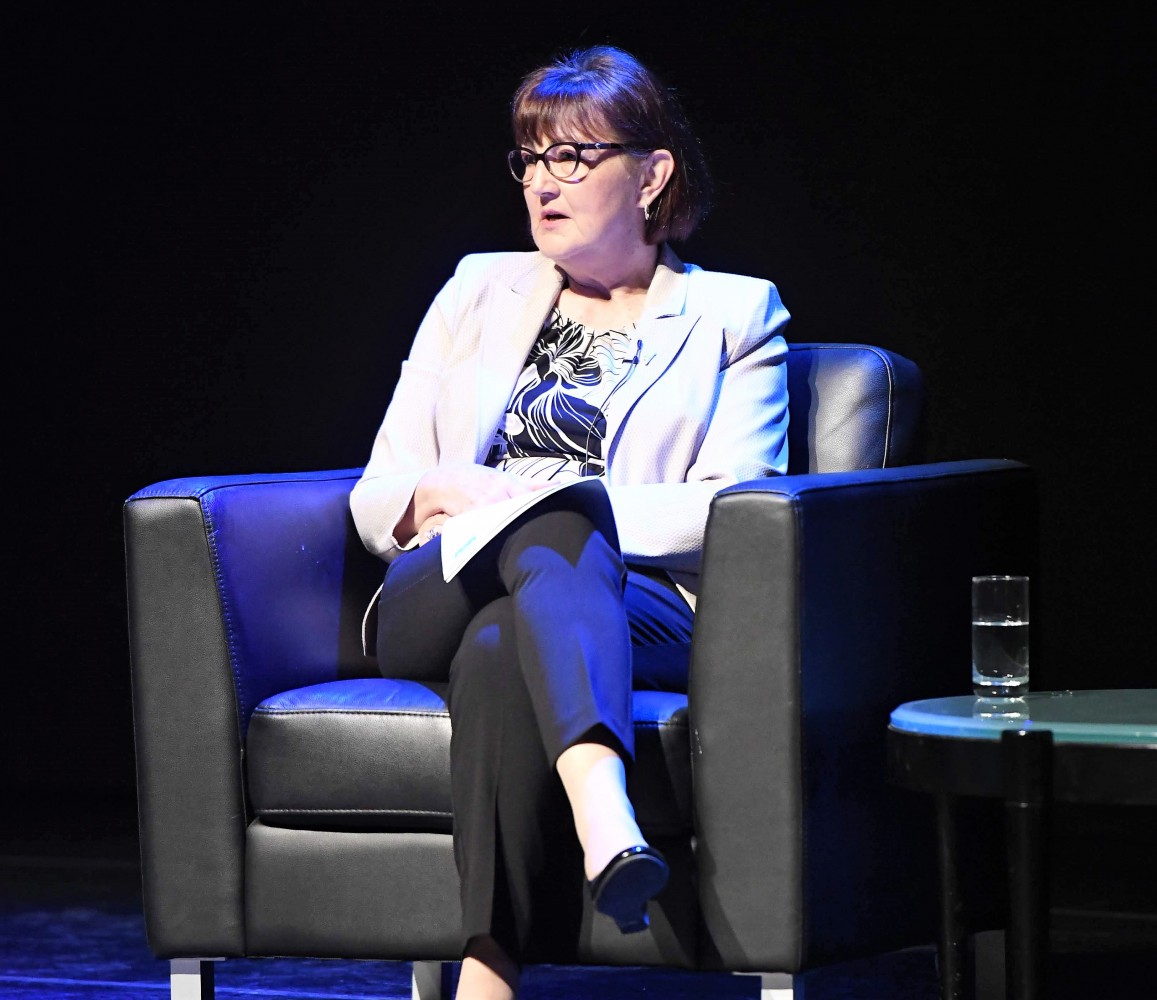 The Pointer file photos/City of Mississauga
Mississauga's longtime City Hall leader appointed to Region's top job, will steer massive growth & work with a fractured council
Janice Baker, the former long-tenured city manager for Mississauga, has been appointed as the new chief administrative officer for the Region of Peel. The decision, which caps more than a year of searching for a successful candidate, created dissent among councillors from Brampton and Caledon, and was not supported by the mayors of either municipality.
Baker retired from the City of Mississauga in May of this year after 15 years at the helm. Her return to public service after a brief retirement was celebrated by regional chair Nando Iannicca, who had worked with her for more than a decade when he was a long-serving city councillor.
"She is an experienced and innovative leader, who has worked passionately in the community for many years," said Iannicca in a press release. "Janice is a leader who will support us on delivering our strategic vision of a Community for Life."
Janice Baker had told The Pointer she was ready for retirement, but it was a short break for the highly respected leader
In 2019, Baker was awarded the prestigious Vanier Medal by the Institute for Public Administration of Canada, one of the top honours a civil servant at the highest reaches of public administration in the country can receive, and she joined a list of big names who have skillfully managed the biggest public operations in the land.
Her latest appointment signals the beginning of a new chapter for the Region of Peel, with Baker now at the top of a bureaucracy responsible for guiding the future of the region. It will be no easy task. She will face not only the challenges of a hyper-growth region — expected to explode to more than 2.5 million residents in three decades, the largest increase of any region in Canada — but also decisions around how to house these newcomers, create and maintain the infrastructure, while keeping regional finances balanced. She will also deal with the simmering tensions that exist around the council table.
The regional government review initiated by Premier Doug Ford last year highlighted the differences in stark detail.
The City of Mississauga, for years, has made clear it wants to break free from regional chains, while Brampton and Caledon have fought to keep Peel together. During the review, which culminated in an anti-climactic status-quo — much to the dismay of Mayor Bonnie Crombie and her local colleagues — there were controversial efforts, largely orchestrated by Baker's predecessor, to undermine Mississauga and keep Peel together.
A trove of documents obtained by The Pointer at the time — regional staff emails, meeting notes and behind-the-scenes project updates — painted a disturbing picture of senior Peel Region staff attempting to influence and direct an external financial analysis and review of regional governance for the province's decision on whether or not to keep Peel intact. The Region's work was quietly initiated in January immediately after the province's surprise decision to examine the need for regional governments across Ontario.
The documents showed that, on the day after Premier Ford's PCs announced a sweeping review of the need for a regional government system — opening the possibility that Peel could be dismantled — Peel's former CAO David Szwarc, who ended up stepping down amid the controversy, and chief financial officer Stephen VanOfwegen, who still holds his position, began a secretive effort to influence Queen's Park's final decision and scuttle Mississauga's hopes of exiting regional government.
---
---
The documents, obtained through a request under the Freedom of Information Act, showed that senior staff secretly took a position without Regional Council's knowledge, hired the consulting firm Deloitte for $225,000 without informing Council, and made clear to the firm, before it was officially hired, that its work to produce a financial analysis of three different scenarios was to conclude that leaving Peel intact was the best option, and that would be the Region's submission to the Province.
The ultimate report produced by the firm was preordained.
The revelations by The Pointer triggered strong condemnation from councillors around the regional table who labelled the behaviour of the region's top officials and regional chair Iannicca, who the documents show was aware of what was being done away from Council's view, as "immoral".
Staff should have been taking direction from the Region's elected representatives, but Szwarc and VanOfwegen instead led a covert effort to circumvent council and protect their own interests, knowing what Mississauga's position was.
Mississauga, with Baker at the helm, commissioned its own report, by Day & Day accountants, which outlined how much more the city was paying into the Region than it ought to be. The report concluded the city would save $85 million annually by separating from Peel. However, the Deloitte report said these conclusions were "flawed" and did not "present the complete picture."
Szwarc eventually left on his own.
It's unknown whether Baker will decide to keep VanOfWegen in his current role after his questionable behaviour to undermine the efforts of the City of Mississauga was exposed, raising concern about his integrity and professionalism.
In his dissent to the initial motion to hire Baker for the Region's top job, Brampton Mayor Patrick Brown said he had concerns about appointing a person to the helm who had clear ties to Mississauga and its position against keeping the region together.
"I hope that my concerns are not founded, but I want this to be put on the record that we're going to be looking very carefully and I will raise alarm bells if I think this issue of regional governance is being revisited," he said.
A request for comment on Baker's hiring sent to Mayor Crombie's office was directed to the regional chair.
The motion to approve Baker's contract eventually carried with only Brown, Caledon Mayor Allan Thompson and his fellow local councillors Johanna Downey, Jennifer Innis and Ian Sinclair voting against it.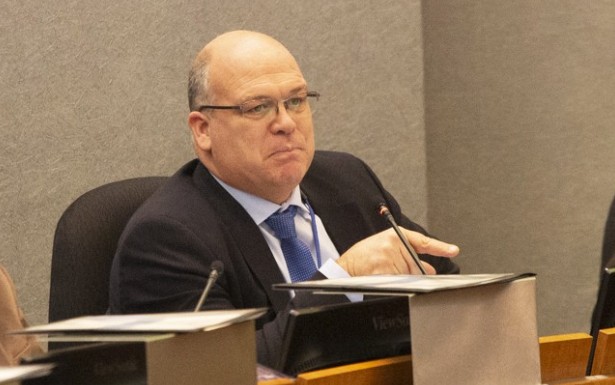 Caledon Mayor Allan Thompson did not support Baker's appointment
Similar concerns about loyalty to regional interests were raised around the selection of Iannicca to the chair position in 2018 after he had served a lengthy career as a Mississauga councillor. Brown admitted during the meeting on Baker's hiring that Iannicca had since proven those concerns were unfounded. Brown's contention with Baker's appointment comes as much larger issues divide Peel's councillors.
In the same way the regional chair must balance the needs of all three Peel municipalities, Baker, in her new role, will be tasked with finding a similar balance, focusing on what is best for the future of Peel, while protecting the interests of each lower-tier municipality.
Managing the needs of the country's sixth and ninth largest cities, with a combined population of more than 1.4 million residents, will require a skilled manager and negotiator. Baker, who was a Mississauga commissioner for six years before being appointed to the top job in the city, certainly has the experience to prepare her for the complexities of the job. She has a reputation as a uniting force around the council chamber, something desperately needed in Peel after several controversies that have fractured trust among the local elected representatives and staff.
Baker will have to present options to manage Peel's neglected affordable housing crisis, other social services which are under increased stress, while juggling a ballooning, unsustainable police budget that went from $290 million in 2010 to $490 million in 2020. One particular challenge will be the public health file, which she is now responsible for in the middle of a global pandemic, with Peel, and Brampton in particular, posing unique problems in the fight against the killer virus.
But perhaps Baker's most critical task will be managing the rapidly growing region. Her appointment to the role, which will earn her a salary likely in the $300,000 range, comes as Peel recently concluded an official plan review, a document that will decide how and where it grows in the years ahead.
Caledon has pursued a disastrous approach to growth, with Thompson and Innis closely tied to developer interests, as proven by their position on a number of land-use issues. Thompson entered into an agreement to sell family farm land to a subdivision developer for $9.4 million and has faced widespread criticism for pushing development in and around areas where builders have assembled property, instead of considering smart growth practices that focus on density and anti-sprawl planning principles.
They are aggressive supporters of the 413 Highway being pushed by the Doug Ford PC government, which revived the controversial project after it was scrapped by the previous Liberal government, which determined through the work of an expert panel that the GTA West Corridor would be an environmental disaster, create more sprawling development and increased congestion.
Baker will now have to manage the Region's position on the highway and the growth pattern it will force, which analysis has shown will cost Mississauga and Brampton hundreds of millions of dollars because of lost land-value, poor employment returns and expensive far-flung infrastructure.
Developers and those landowners who sold their property to them stand to gain from the highway, but how Baker and the Region make a case for Peel's best interests and those of local taxpayers, will be a crucial test of her skill.
In Mississauga, she played a significant role in moving the massive suburb away from its sprawling bedroom community roots toward a modern, dynamic urban plan. Her tenure there ran parallel with the city's transformation into the diverse, cosmopolitan economic engine it is today, with almost 80 Fortune 500 companies and a projected $45 billion in construction value expected within the next two decades around some of the biggest urban developments in North America, including Lakeview Village, Port Credit and the massive downtown Oxford Properties plan, to name just a few.
Her leadership helped turn the city toward high order transit, heavy white-collar job creation in finance, technology, pharmaceuticals and other high-return sectors while embracing modern planning.
This knowledge and approach is desperately needed for the region north of Mississauga that has continued to follow sprawl and attracted mostly low-wage, land gobbling warehousing as its main target.
Caledon is particularly crucial, as poor land management could lead to encroachment on the protected Greenbelt, instead of a more sustainable, economically prosperous, smart growth approach. The remaining areas of Brampton and Caledon where growth has yet to be seen face a tipping point in their development. With the impacts of climate change looming in the coming decades, the choices of local decision makers are more important than ever. The Intergovernmental Panel on Climate Change (IPCC) has stressed that local and regional land use planning and policy are significant drivers of greenhouse gas emissions, and if Baker is able to apply her progressive decision-making to the regional agenda, it could have wide-reaching benefits for future generations.
She will be up against a number of councillors who have shown in their decision-making an alignment with the interests of developers, rather than what is best for Peel or the environment.
Councillor Michael Palleschi expressed concerns with Baker's appointment, noting that while he was on the committee responsible for finding the new CAO, he was not given a chance to interview her or ask questions.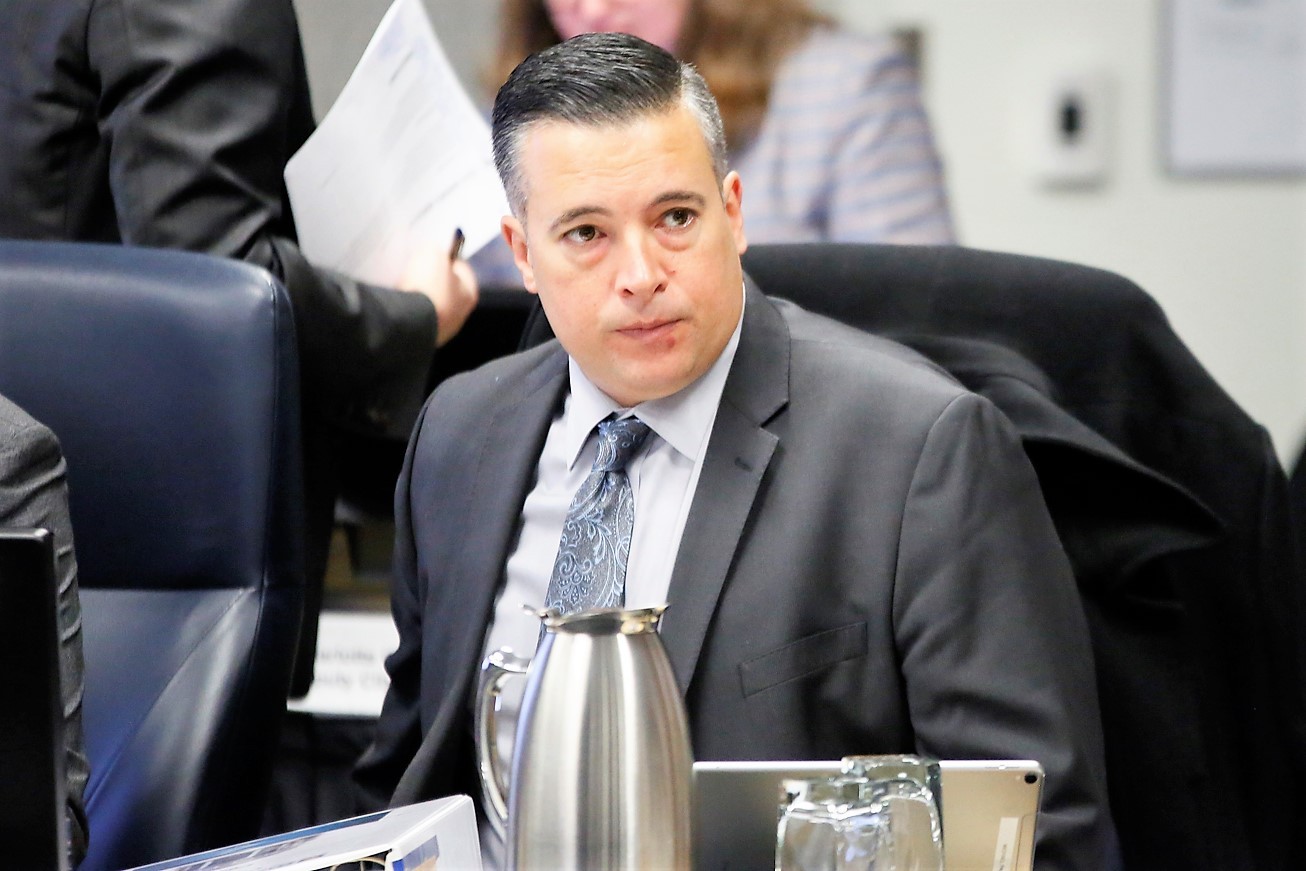 Brampton and Regional Councillor Michael Palleschi expressed concern over the process used to hire Baker
"I think that we just didn't follow the way that procedurally the way we should have done," he said, noting it was "extremely disrespectful" to members of council. "This is one of the, if not the biggest decision, this council this term has made, and not awarding that opportunity I think is pretty disappointing."
While Councillor Palleschi may not have been able to interview Baker ahead of time, it's safe to assume that with Baker in her role as Mississauga city manager for the past 15 years, and Palleschi a regional councillor since 2014, he would have been well aware of her past experience and expertise.
Palleschi and his late father Paul, who chaired Brampton's planning committee for decades, have been strong supporters of the development industry. The senior Palleschi received the lion's share of his campaign contributions from builders. A look at Councillor Palleschi's 2014 and 2018 campaign contributions tells a similar story, with dozens of his donors having direct connections to some of the GTA's largest development companies.
Thompson and Innis, who have also consistently voted in line with developer-driven policies, also voted against Baker's appointment. In the previous term of council, both of them were joined by their Caledon colleagues in a walk-out from Regional Council, when Mississauga and Brampton members led a push to curtail the smallest municipality's developer-driven planning approach that was costing taxpayers in the two larger municipalities tens of millions every year because the sprawling, unsustainable expensive growth had to be subsidized by Mississauga and Brampton. This did not follow the planning mantra that smart growth more than pays for itself.
For much of the last decade, Caledon has been chastised by other levels of government for not following smart growth principles. Currently, the town is in the midst of an official plan review, something that will dictate where future growth occurs. Baker, at the helm of the Region, could be a strong voice against poorly planned, disconnected subdivision growth pursued in the past, and may not be a friend to Caledon councillors looking to approve the same type of sprawling subdivisions developers were allowed to build across Peel for decades.
These poor growth decisions in Caledon will have a significant impact on the regional coffers Baker will be responsible for. She knows the infrastructure to support sprawl and subdivisions requires long, extended networks of water and waste water lines to every home, fire and paramedic stations, policing, pumping stations and storm-water costs, not to mention all the roads and bridges and buildings that typically cannot be covered by property taxes from single family homes spread out across vast expanses. It is up to the taxpayers of Peel's two largest municipalities to make up the lion's share of the difference for these poor growth decisions.
A major sore spot for Brampton has been its lack of proper representation around the Regional Council table. Despite a population close to Mississauga's, the smaller city only has seven members at the higher-tier, while its larger neighbour has all twelve of its council members voting at the region. Caledon, despite having only about five percent of Peel's population, has 21 percent of its council votes, with five members. Both Mississauga and Brampton have long called for this imbalance to be corrected. A more representative mix would see Brampton get all 11 of its council members up to the higher tier, and Caledon reduced to one or two regional councillors.
It will be another complex issue Baker will have to manage.
She starts a two-year contract on October 19.
---
Email: [email protected]
Twitter: @JoeljWittnebel
---
COVID-19 is impacting all Canadians. At a time when vital public information is needed by everyone, The Pointer has taken down our paywall on all stories relating to the pandemic and those of public interest to ensure every resident of Brampton and Mississauga has access to the facts. For those who are able, we encourage you to consider a subscription. This will help us report on important public interest issues the community needs to know about now more than ever. You can register for a 30-day free trial HERE. Thereafter, The Pointer will charge $10 a month and you can cancel any time right on the website. Thank you.
Submit a correction about this story