The Pointer file photo/Screengrab YouTube/Graph Region of Peel
Brampton sees its highest daily COVID case count yet
A major setback in the local pandemic situation is the latest bad news in Peel. Brampton had its worst day yet in the fight against the novel coronavirus. On Friday, 89 COVID-19 cases were reported in the city, the highest number seen to this point.
It raises concern that the city could be descending into a dangerous point in the pandemic, while flu season arrives and children are back in the classroom.
The previous daily high in the city was reached twice, on April 19 and May 23, when 83 cases were reported in Brampton on each of those days.

Brampton's daily COVID-19 case chart maintained by the Region of Peel shows Friday was the worst day yet
The 89 new cases on Friday represented 22 percent of Ontario's total of 409, with Brampton only accounting for 4.5 percent of the province's population.
After local and provincial officials, including Dr. Lawrence Loh, Peel's chief medical officer, Brampton Mayor Patrick Brown and Naveed Mohammad, CEO of William Osler, the city's hospital health system, along with Premier Doug Ford and Health Minister Christine Elliott, all failed local residents for months, more permanent action was finally taken last week.
Until then, Brampton only had one full-time COVID-19 assessment centre. A second one, with reduced hours, only open during working hours Monday to Friday, was finally brought online. Residents can now visit the drive-through location at South Fletcher's Sportsplex, open evenings and weekends as well as weekdays, or the new walk-in site at the Greenbriar Recreation Centre. The Province had set up pop-up testing sites but those usually only operated for a day or two.
Osler, which manages the drive-through location, did not open a second screening facility despite the city's glaringly low testing rates since the beginning of the pandemic. Mohammad said it was the provincial government's responsibility to create more testing capacity. Osler was only conducting an average of 635 daily tests at the city's lone facility, over recent weeks. Brampton will need to do about 2,300 tests a day to meet Elliott's target of 50,000 a day across Ontario, which she hopes to reach in two to three weeks, as rates of infection continue to climb rapidly. It's unclear how many tests will be done daily at the new Greenbriar screening facility, which the Province set up.
The Pointer has asked local and provincial officials since May why Brampton only had one assessment centre, despite being one of the country's worst hotspots since early in the pandemic. Officials pointed at each other, instead of taking responsibility themselves to ensure adequate testing to keep Brampton residents safe. On September 4, Ford called the city "broken" and called out Mayor Brown, who then blamed residents from Pakistan and India returning from those countries, as well as international students from the subcontinent and multigenerational households, as reasons for the city's alarming rates of infection. Meanwhile, Brown once again claimed, after being singled out by Ford, that testing levels in Brampton were excellent, using screening figures from Etobicoke and presenting them as Brampton's, even though the city had among the worst testing rates per capita in the province, which is the opposite of what Brown has falsely suggested.
Osler ran two testing sites in Etobicoke, which has a little more than half Brampton's population, through the end of July, and Mississauga has had three assessment centres, compared to the lone one in Brampton, until a second site was opened last week. Ford and Elliott have failed to explain why more permanent testing capacity was not created in the hard-hit city.
On Saturday, Ontario reported 435 new COVID-19 cases, and on Thursday there were 409, the same total as the day after. Brampton had 65 new cases on Thursday, the 24th.
Peel's latest numbers overall are not nearly as bad as its second largest city, but are still higher, over the past ten days, than any point since the last two weeks of May, largely because of Brampton, which has been a hotspot for the last five months.
Peel recorded 88 cases on Thursday and 130 on Friday, with Mississauga accounting for 48 of the combined two-day total, while Brampton had 154 new cases. Caledon reported 10 cases in total over the same two days.
Numbers for Peel have not been updated on the Region's dashboard since the Friday totals were posted.
Premier Ford is warning that parts of the province may have to be shutdown again, if the COVID-19 case counts continue to hit levels not seen since the worst of the pandemic's first wave. Brampton has been in a second wave since mid-August and could jeopardize the whole region. Businesses are desperate to stay open and 55 schools in the region's two main boards have reported cases of COVID-19 in less than three weeks since classrooms were reopened; one classroom, in the PDSB's Edenrose Public School in Mississauga, remains closed due to a case in the building.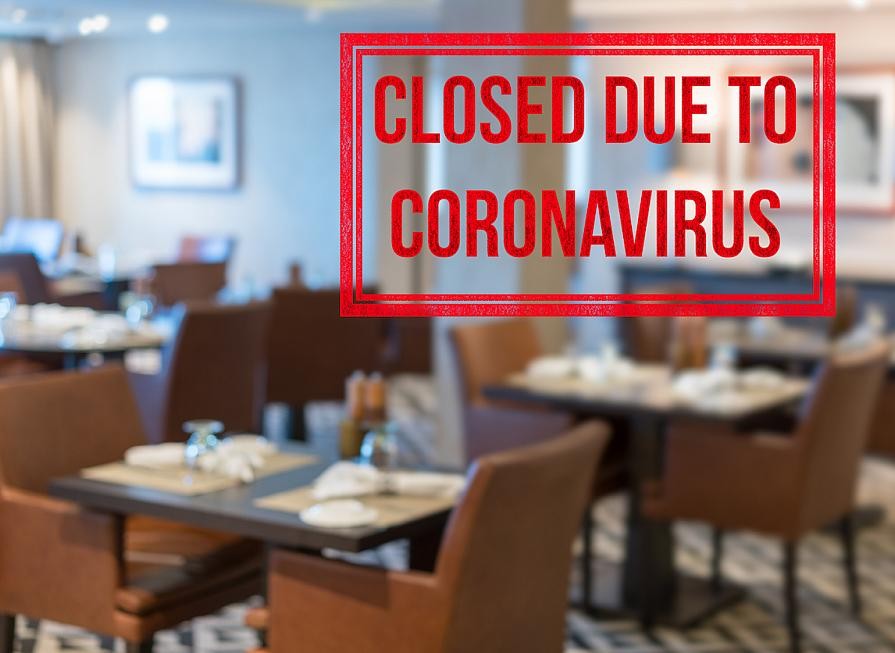 A restaurant that had to shut its doors early in the pandemic; shutdowns could return to Peel if recent high infection rates continue
All of the gains made since the spring, through testing and tracing, and social distancing measures as well as the wearing of masks and constant hand washing, practiced by many but not all, could be washed away.
Public health officials across the country, including Canada's chief medical officer Dr. Theresa Tam, have reported that large social gatherings, indoors and outdoors, have been a major cause of the increased viral spread since early August, after most of the country loosened restrictions.
In Ontario, where Peel, Toronto and Windsor-Essex were held back in Stage 2 later than other regions, trouble spots could be plunged back into more restrictive conditions.
People under 40 have, for the past three weeks, accounted for about 60 percent of the province's new cases, a sharp contrast from early in the pandemic when a majority of those with COVID-19 were seniors.
Parties and other large gatherings attended by younger residents and post-secondary students have been blamed for the shift in demographic patterns toward younger people getting infected, many who have not followed social distancing and other safety measures.
Ford announced last week that alcohol sales in bars and restaurants will be prohibited after 11 p.m. "We've seen a few outbreaks at nightclubs," Ford said last week. Establishments now have to close by midnight, under the new rules. "We've seen doubling of cases in a very short period of time and it's very concerning." He also said that problem areas in the province will be shutdown if case rates in those places are not brought down.
The recent problems have already forced a reversion to stricter social gathering limits, with indoor events now capped at 10 people, from 50 previously, and outdoor gatherings limited to 25, from 100. Properly staffed bars, restaurants and other event-venues are not part of these new restrictions.
Screening at COVID-19 assessment centres is now restricted to those with symptoms of the disease or with certain underlying conditions or in particular risk of exposure.
To help test everyone else, the Province announced 60 private pharmacies in the worst hit regions will now take appointments to conduct COVID-19 tests; 17 of these are in Brampton and Mississauga. But it remains unclear if this will significantly help meet adequate screening capacity, which has not happened in Brampton since the start of the pandemic, as the city continues to see worrying rates of viral spread.
---
Brampton pharmacies offering COVID-19 tests:
Shoppers Drug Mart, 11965 Hurontario Street, Brampton, ON, L6Z 4P7, (905) 495-0311, https://stores.shoppersdrugmart.ca/en/store/1177/?utm_source=G&utm_ medium=lpm&utm_campaign=LPM_SDM
Shoppers Drug Mart, 160 Main Street South, Brampton, ON L6W 2E1, (905) 451-0111, https://stores.shoppersdrugmart.ca/en/store/705/
Shoppers Drug Mart, 10665 Bramalea Road, Brampton, ON, L6R 3P4, (905) 793-2011, https://stores.shoppersdrugmart.ca/en/store/1447/
Shoppers Drug Mart, 34 A Avondale Boulevard, Brampton, ON, L6T 1H3, (905) 793-4444, https://stores.shoppersdrugmart.ca/en/store/701/
Shoppers Drug Mart, 366 Main Street North, Brampton, ON, L6V 1P8, (905) 456-0167, https://stores.shoppersdrugmart.ca/en/store/1353/
Shoppers Drug Mart, 10048 McLaughlin Road, Brampton, ON, L7A 2X6, (905) 846-4444, https://stores.shoppersdrugmart.ca/en/store/1199/
Shoppers Drug Mart, 1 Kennedy Road South, Brampton, ON, L6W 3C9, (905) 454-4464, https://stores.shoppersdrugmart.ca/en/store/1058/
Shoppers Drug Mart, 3938 Cottrelle Boulevard, Brampton, ON, L6P 2R1, (905) 794-7071, https://stores.shoppersdrugmart.ca/en/store/1326/
Rexall, Unit A01 – 545 Steeles Avenue West, Brampton, ON, L6Y 4E7 (905) 453-1625, https://www.rexall.ca/storelocator/store/980
Mississauga pharmacies offering COVID-19 tests:
Shoppers Drug Mart, 6975 Meadowvale Town Centre Circle, Mississauga, ON, L5N 2W7, (905) 826-7112, https://stores.shoppersdrugmart.ca/en/store/779/
Shoppers Drug Mart, 101 – 5602 Tenth Line West, Mississauga, ON, L5M 5S5, (905) 858-4618, https://stores.shoppersdrugmart.ca/en/store/1147/
Shoppers Drug Mart, 1 – 5425 Creditview Road, Mississauga, ON, L5V 2P3, (905) 858-8711, https://stores.shoppersdrugmart.ca/en/store/791/
Shoppers Drug Mart, 7070 Mclaughlin Road, Mississauga, ON, L5W 1W7, (905) 696-9791, https://stores.shoppersdrugmart.ca/en/store/902/
Shoppers Drug Mart, 579 Lakeshore Road East, Mississauga, ON, L5G 1H9, (905) 278-5506, https://stores.shoppersdrugmart.ca/en/store/1275/
Shoppers Drug Mart, 3980 Grand Park Drive, Mississauga, ON, L5B 4M6, (905) 566-9600, https://stores.shoppersdrugmart.ca/en/store/908/
Shoppers Drug Mart, 2470 Hurontario Street, Mississauga, ON, L5B 0H2, (905) 896-2500, https://stores.shoppersdrugmart.ca/en/store/776/
Shoppers Drug Mart, 700 Burnhamthorpe Road East, Mississauga, ON, L4Y 2X3, (905) 279-1812, https://stores.shoppersdrugmart.ca/en/store/774/
---
Email: [email protected]
Twitter: @JoeljWittnebel
---
COVID-19 is impacting all Canadians. At a time when vital public information is needed by everyone, The Pointer has taken down our paywall on all stories relating to the pandemic and those of public interest to ensure every resident of Brampton and Mississauga has access to the facts. For those who are able, we encourage you to consider a subscription. This will help us report on important public interest issues the community needs to know about now more than ever. You can register for a 30-day free trial HERE. Thereafter, The Pointer will charge $10 a month and you can cancel any time right on the website. Thank you.
Submit a correction about this story