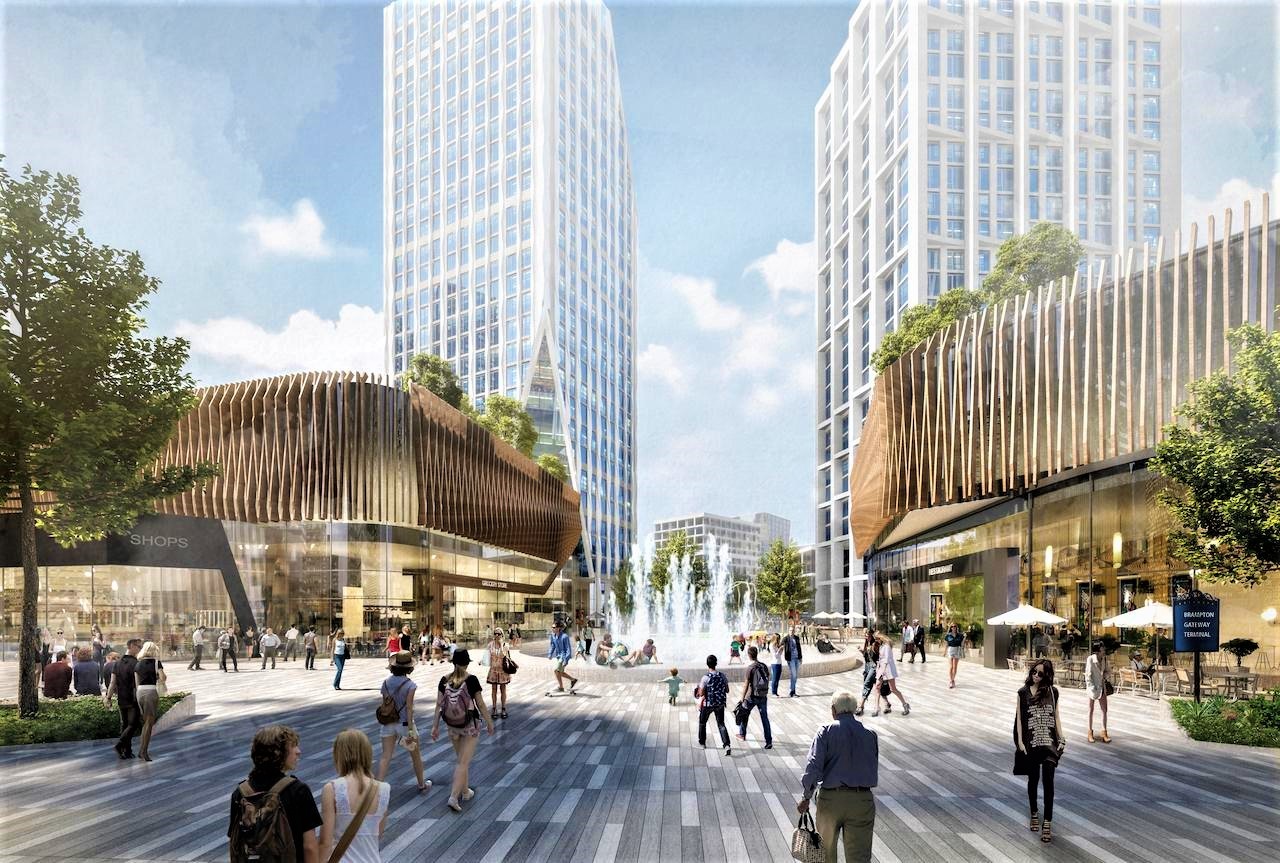 Renderings RioCan/City of Brampton/Maps TRCA/City of Brampton/Metrolinx
Brampton wants to design a post-pandemic city; Doug Ford wants a giant highway instead
Would you build a city in the shadow of a volcano? The Romans did, and Pompeii arose beside Mt. Vesuvius – which was about to blow its stack. When it did over 2,000 years ago, and more than 17,000 died, many were literally caught in mid-step after being buried alive under tons of ash and rock. Tourists get to visit this ghoulish tomb today, a testament to the time-worn real estate truism that the sale of buildings and the founding of cities should be based on location, location, location.
Brampton's forefathers were almost as imprudent as the Romans. They built the city in a hole, on the spongy floodplain of the Etobicoke Creek. The long lens of history shows there was a steep price to be paid. Weather's after-effects – especially biblical-like rainstorms – resulted in constant flooding in Brampton's downtown core. A decision to bury the creek under Main Street tied the city's future to the vagaries of rain and snow melts and stymied any chance of constructing a modern-day metropolis, the kind replete with office towers, hotels, substantial retail and all the fine-grained elements that set one city core apart from another.
Past administrations never resolved these issues, then doubled down when it came to developing its 'burbs. They unleashed a free-for-all and residential developers left Brampton with one of the worst land-use mixes in Canada, dominated by single-family houses. The consensus says sprawl (low-slung development on greenfield sites, and an over-reliance on cars and highways) is a demon child in the city-building family. Yet, this ill-conceived orthodoxy was embraced by Brampton's top apparatchiks during its hyper-growth years of the 1980s, '90s, and into the 2000s.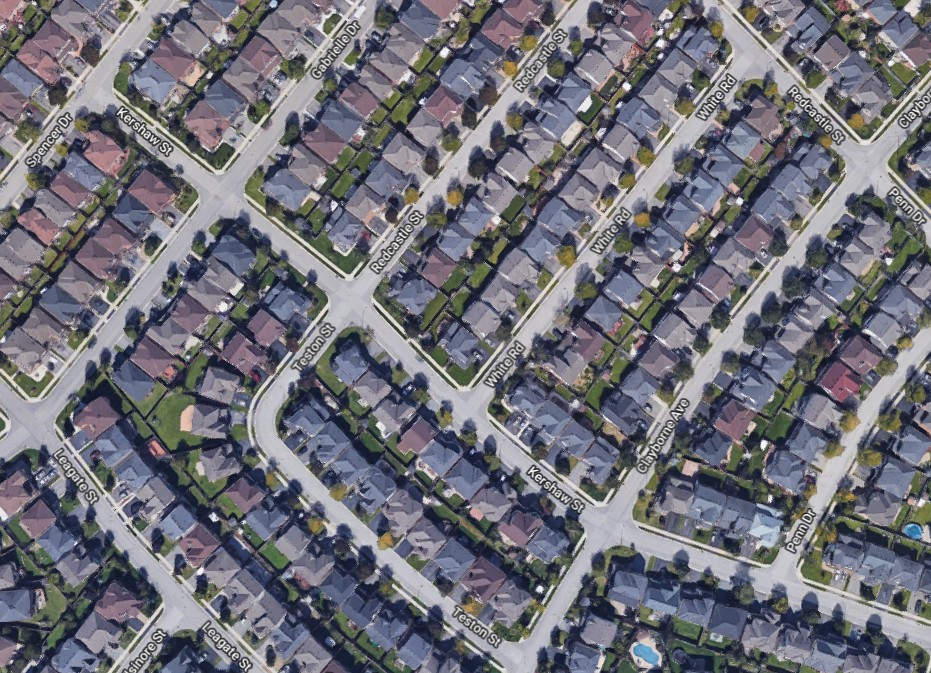 The isolating sprawl built across Brampton, forcing people into cars
Founders of the "new urbanism" architectural movement, characterized the suburbs as "less a community than an agglomeration of houses, shops, and offices connected to one another by cars". This, they concluded, wasn't quite the fabric of human life, but the "last word in privatization, perhaps its lethal consummation".
This residential overkill must be reined in, said the ruling Liberals in Queen's Park, and in 2005-06, they passed 'Places to Grow' legislation. It concluded that sprawl and gridlock was unbearable, unsustainable, and would lead to massive fiscal and infrastructure shortfalls.
Over a decade ago, a study conducted by McGill University's department of civil engineering for the Federation of Canadian Municipalities showed its cross-Canada effects. It estimated a cost of $123 billion to shore up the aging infrastructure that had to be built for sprawl.
In last year's cross-province commission on possible realignment of regional government, Mississauga councillor Carolyn Parrish mockingly called Brampton's land planning the "scourge of the earth". (Her own city followed the same path until Hazel McCallion found religion late in her career and embraced modern urbanism.)
This week, one long-time Brampton downtown landowner estimated it would take at least $4 billion to fix the city's infrastructure needs, he told The Pointer. This has left a sizable hole in its tax base, he says, and has turned it into "a civic embarrassment".
Others whose hearts and minds are attuned to the well being of the city centre, have shared similar sentiments recently, and a number of them have written letters to the Region of Peel, asking for help, above and below the surface.
Brampton's Downtown Reimagined, a multi-tiered plan to fix its broken water main and storm sewers' problems, while beautifying streetscapes on and around Main Street, is now on hold because the City, in its partnership with the Region on the project, doesn't have the money to complete it. The Region of Peel decided the danger of not paying attention to its responsibilities is too great. In June, a $7 million, multi-year plan was approved and work around the Four Corners area will see the Region's underground infrastructure finally replaced.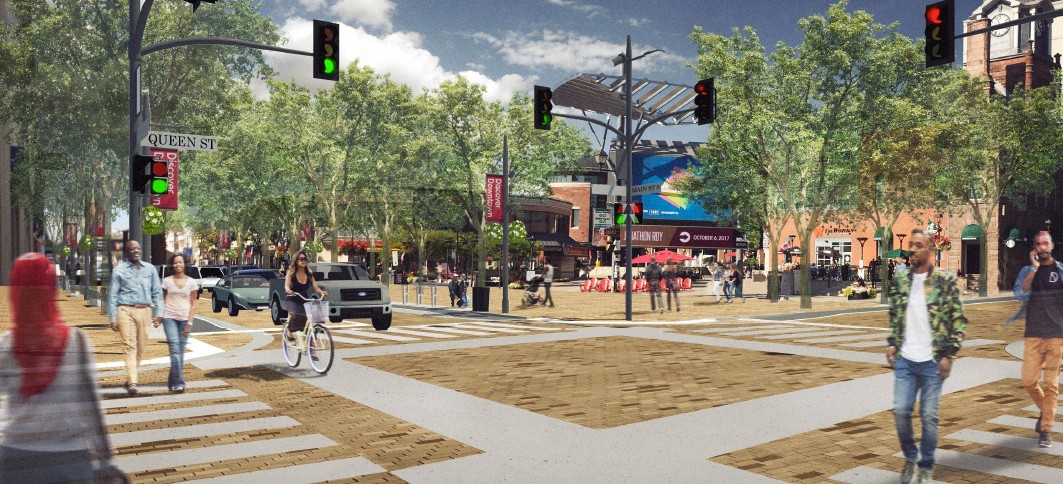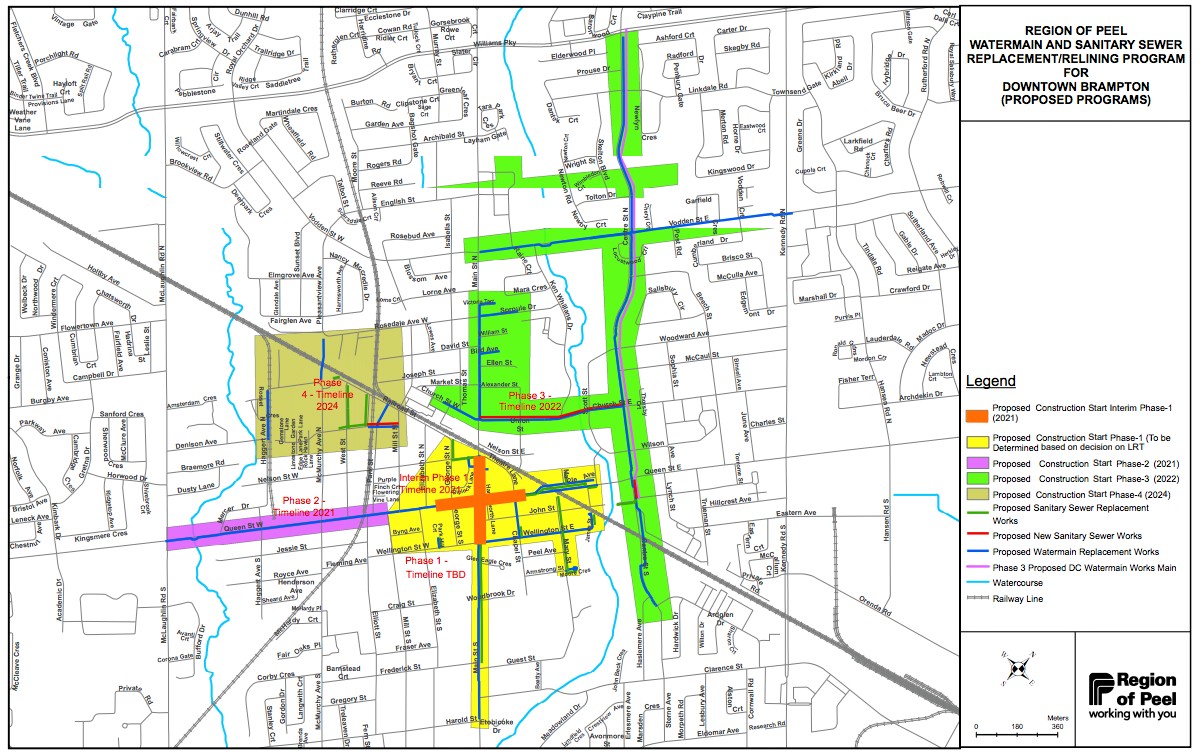 The Downtown Reimagined project (top) was postponed; Mayor Patrick Brown has kicked badly needed capital projects down the road for politically popular tax freezes; instead, the Region will do needed underground work in the coloured areas on the map
But the surface improvements, including streetscape revisioning, the razing of broken-down structures and the overall beautification of Brampton's withering downtown, is still on hold under Mayor Patrick Brown, who prefers not to raise taxes, even if desperately needed work to improve the city's fortunes is left unfunded.
A more permanent solution, the massive Riverwalk project, to completely reimagine the downtown once the flood threat is resolved, is still in its incubation stage (environmental assessments and other engineering-design elements) and there are no guarantees Ottawa will earmark the hundreds of millions needed to complete the overhaul.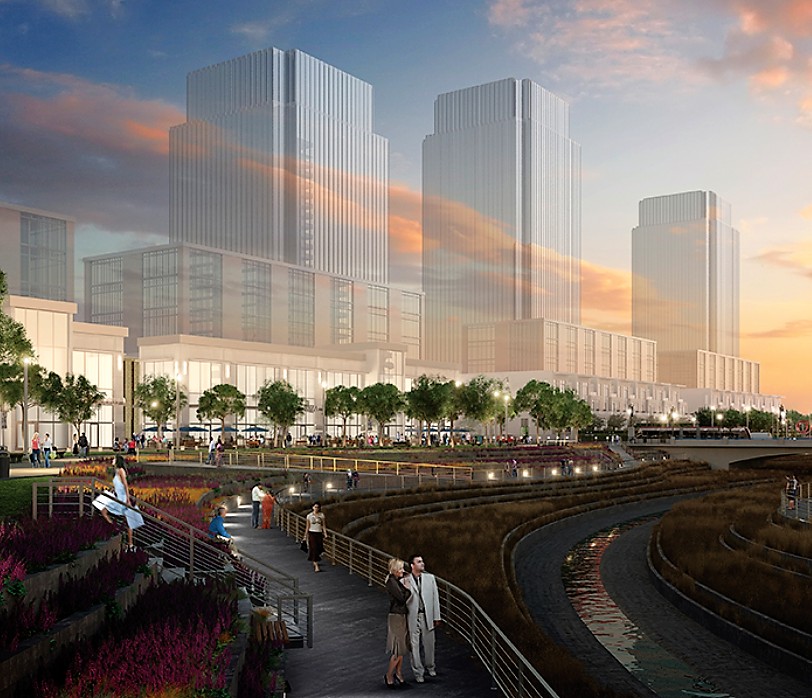 The Riverwalk plan
Getting an infusion of cash from the ruling Liberals is like waiting for pandas to mate at the zoo. Despite going 10-for-10 in electing Grits to Parliament Hill since 2015, Brampton gets breadcrumbs and not its "fair share" of funding. This is as much a fault of local leaders who have failed to approve projects and budget for the City's share of infrastructure funding. Typically, elected officials in both levels of government have pointed at each other, when the lack of funding for Brampton is raised.
When it was pointed out to the city's Liberal incumbent candidates last year during the federal election, citing the example of Edmonton, which received about $1.9 billion from the federal government's infrastructure fund for municipalities during the 2015 to 2019 term, compared to $42.4 million allocated to Brampton over four years, Ruby Sahota said there's little MPs can do if City Hall fails to get projects and funding applications ready.
But another impediment – the biggest one – reared its spiky head recently, the COVID-19 pandemic. It hit Brampton hard, and it now faces unparalleled fiscal, healthcare, and post-pandemic development challenges. This cognitive dissonance is nothing new for the sick man of Canadian cities, the ninth largest, but in the bottom tier when it comes to livability standards, rates of violent crime, employment opportunities and downtown investment.
And yet, in this city's most challenging times, a positive energy has emerged, a sense that change is in the offing.
A talented team of urbanists, unmarked by the scarring effects of past administrations, is poised to re-right many of these serious wrongs. Over the past few months, this team, led by Yvonne Yeung, the new head of urban design (under the direction of Bob Bjerke, director of policy planning), is working hard to implement a futuristic building program driven by a new design philosophy called "complete communities". This, she says, fits nicely inside the city's 2040 Vision, a citizen-led rubric that is now designated as its official master plan.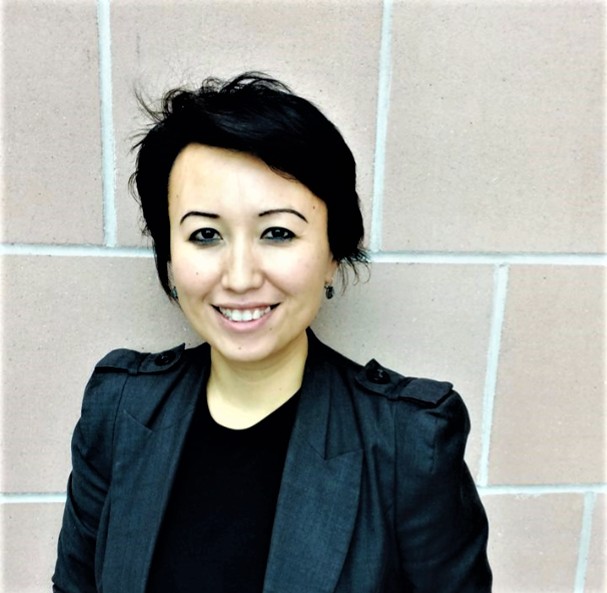 Yvonne Yeung is trying to re-think Brampton's development approach
This new cross-pollination of ideas and timelines is best exemplified by a private/public-sector plan called the Shoppers World hub, slated to complete construction by 2027. It will be positioned to feed off the Hurontario light rail transit line which is scheduled to arrive at the Gateway Terminal (Steeles-Hurontario) in the fall of 2024.
This hub will radiate outward as far as the 410 Highway in the east and McLaughlin Road in the west, and include over 100,000 residents. It will create a "20-minute community," with other hubs (and precincts) popping up in other far-off locations – uptown, downtown, and along the Queen Street corridor.
Or so the thinking goes.
Fifteen years after 'Places to Grow', Brampton's plan is to connect to a new provincial policy promising that all future public service facilities be aligned with hubs.
This was welcomed by the Association of Municipalities of Ontario (AMO), which hopes Brampton's hub will be the poster boy for all post-COVID designs that feed off Major Transit Station Areas (MTSA), like Gateway, which have a radius up to almost a kilometre (any point within an 800-metre radius of the station at the centre is within a 10-minute walk).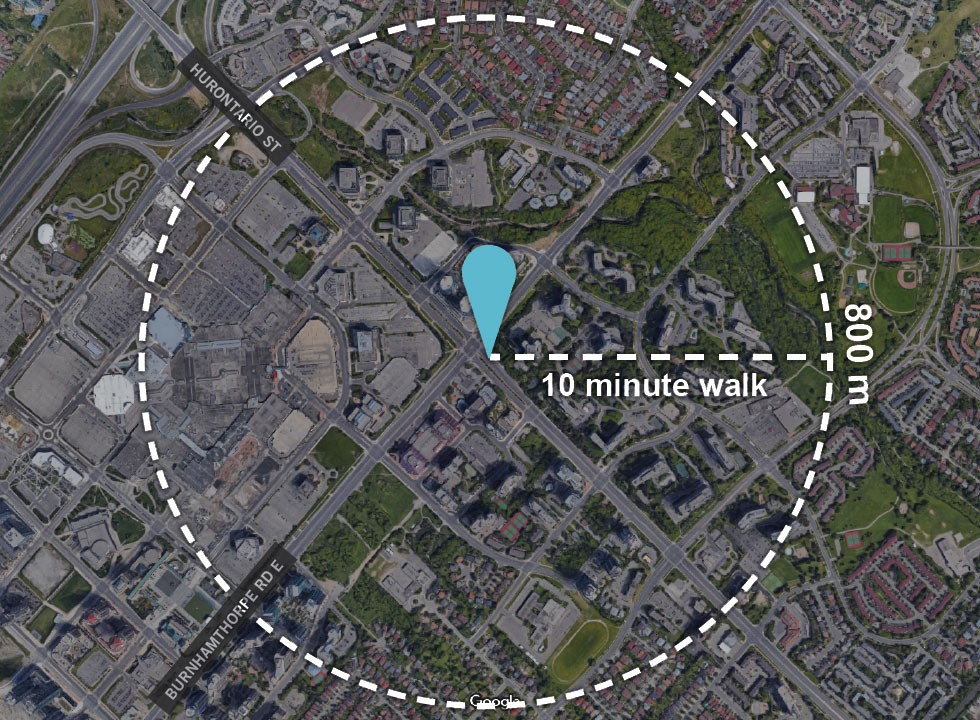 An example of an MTSA complete community concept centred by a transit hub
If we don't grow partnerships between professional organizations, academics, residents, public officials and business, the AMO says our cities might end up like Pompeii, a pile of ruins.
But can Brampton become a blueprint for 21st Century Ontario, driven to modernity from a wayward past by a "human centred" design approach?
Yeung's job is to climb up to the crow's nest and take a long-range view of Brampton's ill-designed past, then re-imagine and present its future.
But she insists, this isn't another theoretical exercise in city-building, doomed to failure, like the damnable Brampton Downtown Development Corp. (BDDC), a public/private partnership that cost a ton to run, did nothing to infuse the city with progressive re-development (its mandate), and piddled off into irrelevancy a few years back after the whole concept had become highly politicized by elected officials and certain stakeholders who saw it as little more than a vehicle to prop up their reputations or personal interests.
Mismanagement and petty City Hall gamesmanship simply can not be afforded. Leadership more interested in personal promotion and brand building, for future political plans, at the expense of the city, will put the final nail in its downtown coffin. Brampton is running out of time.
This current drive for change is driven by need and numbers.
The GTA will explode from about 7 million currently to about 10.5 million by 2050 (that's twice the population of Glasgow moving into the region in three decades), and Peel will take in the largest share of this growth, at least a million new residents. Brampton is already adding 20,000 residents per year, says Yeung, and that will continue to multiply over the next three decades. Seventy-six percent of these new residents are immigrants, and she estimates that half of them simply won't be able to afford to buy a single-family home when current price tags are topping out at $1 million for a mid-town bungalow. These new arrivers aren't tied to the suburban ethos of owning one or two or three cars, either, and there's also a generational dynamic at work here, too. Millennials are less hard-wired to the past suburban experience. They like transit, not cars. They do not need housing options with 100-foot backyards. But the space and opportunities around the core of major metropolises, like Toronto, are limited.
It simply does not make sense to continue developing under the past urban-suburban model: situating jobs and cultural amenities in the centre with highways feeding in and out of the constantly distancing suburbs that serve as bedroom communities.
The obvious alternative: create similar modes of public/private life in the places where growth is being accommodated and where the vast majority will settle, hopefully around all the amenities of a vibrant social/cultural space and the employment and housing choices now in demand. And, if the work-from-home trend continues permanently, there will be huge demand for retail/commercial/social/cultural activation in places like Brampton.
As urban icon Richard Florida wrote, in this age, people will demand quality of life, and "expect more from the places they live. We want to feel that our city offers up everything – from open civic squares, to lively open markets, to plentiful parks, to striking buildings with great streetscapes. We increasingly want to act like tourists in our own city."
Brampton residents will still have to get to the foot of Bay Street for a live Raptors game, but few would go by car if there are better alternatives, and the city can provide most other types of experiences, if it embraces the complete community concept.
---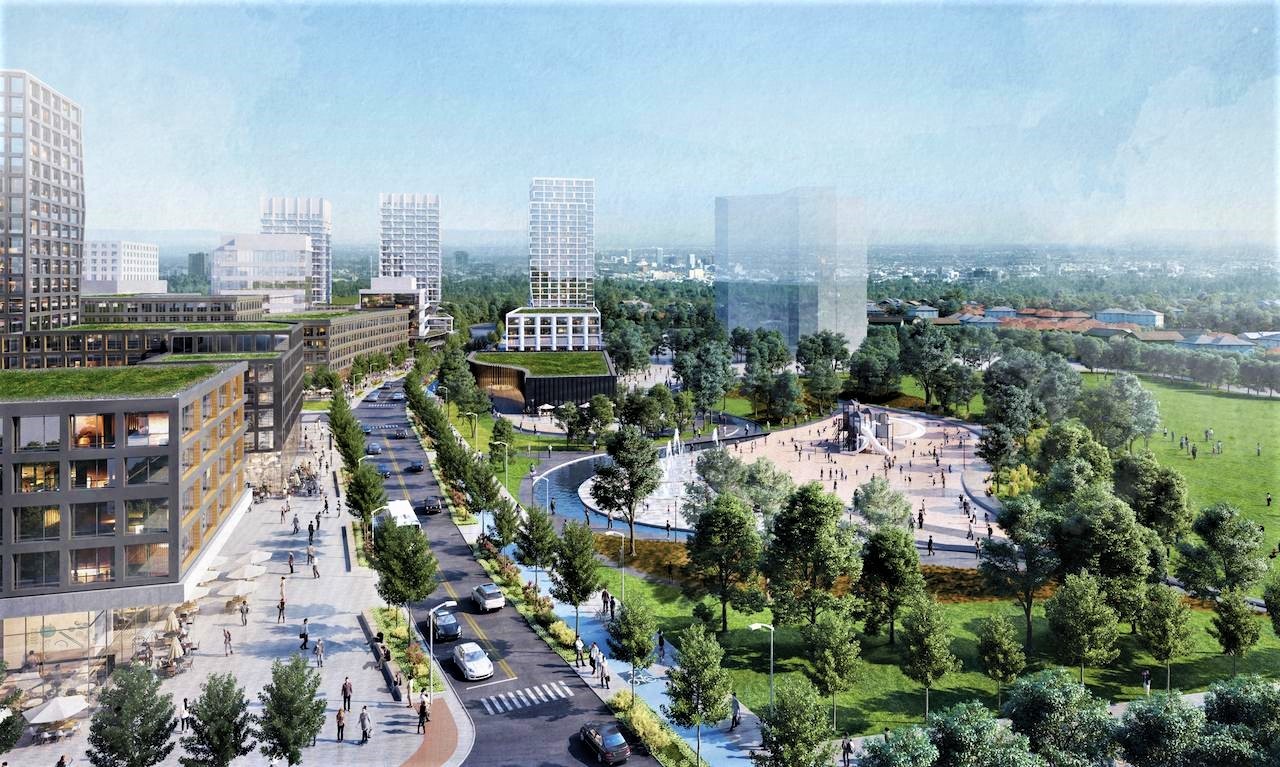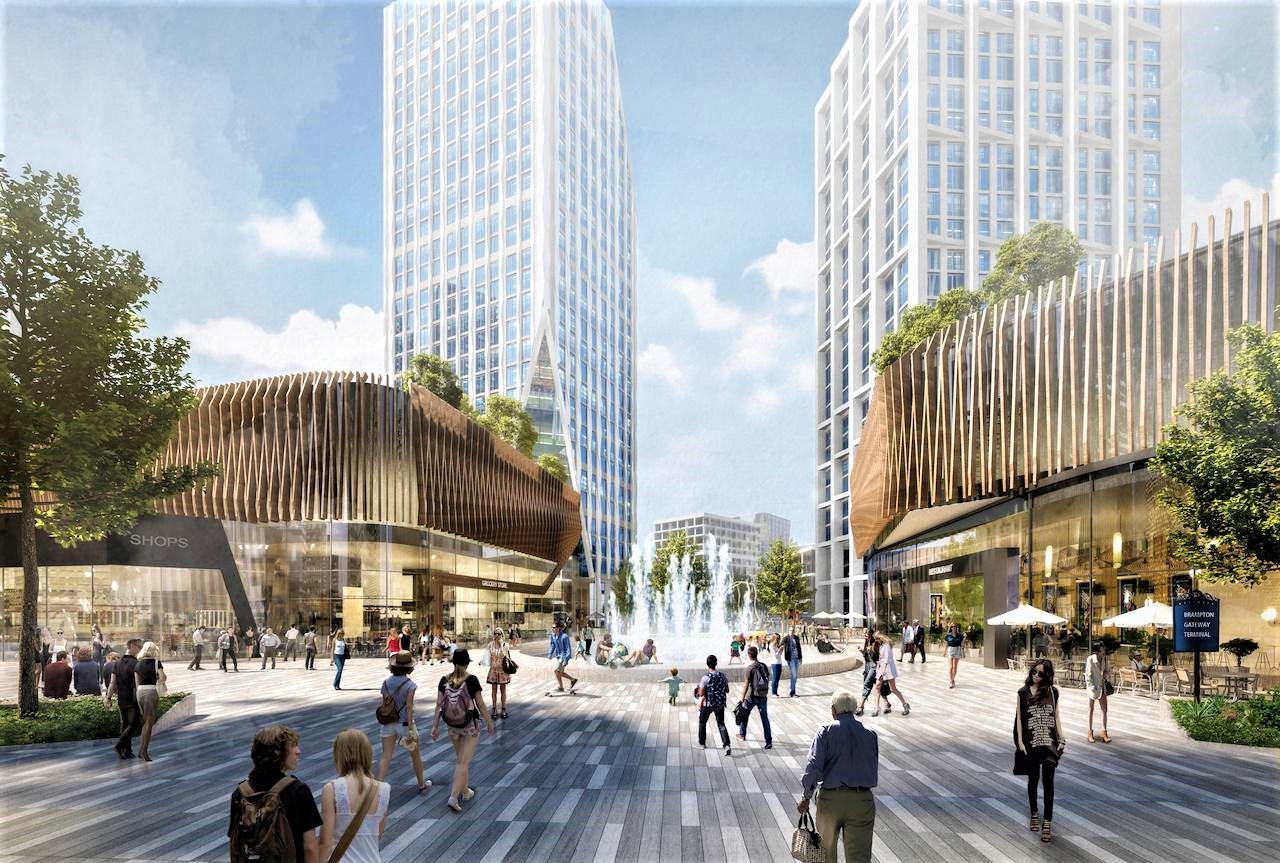 Renderings of RioCan's plan for Shoppers World
---
Yeung has some serious credibility as an urbanologist and executive member of the Urban Land Institute (ULI), the international think tank that is driving change across the planet.
She says we live in troubling, but hopeful times. The pandemic era has exposed the fault lines that stratify our urban experiences, but hubs seem a natural way of responding to this shift to future living. Everything, it seems, is on the table: smaller homes, prefabricated pods, even shipping containers stacked up to create new and flexible retail stores. The drive to flexible buildings that can be added to or broken down at a moment's notice is happening right now.
Remember how the Jacob Javits Center in New York City was reworked to handle the massive influx of COVID-19 patients during the worst days of the healthcare crisis in the Big Apple this past spring?
It quickly folded back into itself and became a model of modernity. The drive to a Healthy Building Movement is also the result of present-day circumstances, and while the future is still unclear, there will be no going back to the past norm.
Yeung has a restless eye for change, an ear attuned to the details needed to make this happen. During a one-hour conversation with The Pointer, she said that when opportunity knocks, cities have to answer. She helped lead a startling turnaround in Markham, including its urban design review of developments within the Yonge Street Subway Extension Regional Corridor, and the west portion of the Highway 7 VIVA Rapid Transit Corridor. The urban designer, planner, and landscape architect is a specialist in neighbourhood development, and hopes some of that will rub off in Brampton.
She is also a consensus builder, and has over the past few months, reached out to different stakeholders, like the Business Improvement Association (BIA), New Brampton (made up of local business leaders), academia (Ryerson, Algoma, Sheridan College) and other private-sector players, like RioCan Investment Trust.
Urban Community Hubs are enablers to deliver a number of Term of Council Priorities (TOCPs), including:
• Urban community hub concepts under the 2040 Vision; including complete community concepts
• Sustainable Growth; a departure from the alienating sprawl of the past
• Healthy Citizens; incorporating active lifestyles and active transportation into the city's design
• Affordable Housing; preventing local residents from slipping through the cracks
• Prioritize Jobs within Centres; no more mass commuting out of the city, taking money away
• Attract investment and employment; compete with surrounding cities currently surging ahead
• Collaboration and Advocacy; bring stakeholders and elected officials together for the city
---
The Shoppers Hub was unveiled by RioCan Real Estate Investment Trust last year, and it will serve 23,000 existing residents plus future growth to 50,000-plus, all within a 20-minute walk. The owners recognized (as did others) the shopping mall concept needs a major make-over, and hubs are a natural follow-up to the so-called "retail apocalypse" caused by online shopping and accelerated by COVID-19 which put some iconic high-end retailers into bankruptcy. Malls are taking advantage of their large land holdings to re-make the model, turning parking lots into mixed-use housing.
The RioCan Hub will be richly served by the giant Gateway bus terminal at its doorstep, and the now-under-construction Hurontario LRT line which will make its final stop there.
While Council remains engaged and hopes to find funding to extend the route to the city's downtown GO station, completing a north-south, and east-west provincial transportation link, the Shoppers Hub will almost immediately re-order Brampton's lousy land-use mix.
Yeung noted that the RioCan hub dovetails with the City and Province's intention to expand economic opportunities, and livability standards.
Remaking malls for profitably and smart growth arrives just in time to prepare us for a post-pandemic reality. Communities offering walkability to healthcare facilities, or schools, or shops and a vast array of services, will be that much more in step with the future, says Yeung. "We have the mechanisms in place to do this, and the idea is trying to find creative solutions."
The hub model will include every amenity needed to live and work, plus be close to housing, secondary employment, schools, healthcare facilities, libraries, community centres, stores, parks, bike trails, walkways and transit.
Yeung says it's all about "creating a new eco-system, more holistic, more attuned to our times."
Brampton's moribund past was based on greenfield development, which left homes far-afield, and eventually gutted the city core. It was simply an unsustainable growth model. "This is an opportunity for the local community, the businesses, to use a self-organizing principle to service different programs," says Yeung. "In a crisis, design and buildings themselves have to be flexible, and multi-purpose."
While the hub concept of city-building has a longer timeline, Yeung's team of urbanists want to offer some short-term solutions, too.
This is being called the city's "Meantime" strategy.
In the meantime, before major development takes place, teams of designers are intent on fixing problems like the dwindling number of people who visit the downtown. New pop-up patios were erected on Main Street this past summer for residents to stop, sit, enjoy a drink, and simply hang out. It's about grooming community power and offering up residents tangible reasons to visit the core. "People don't want to be a desert," Yeung says.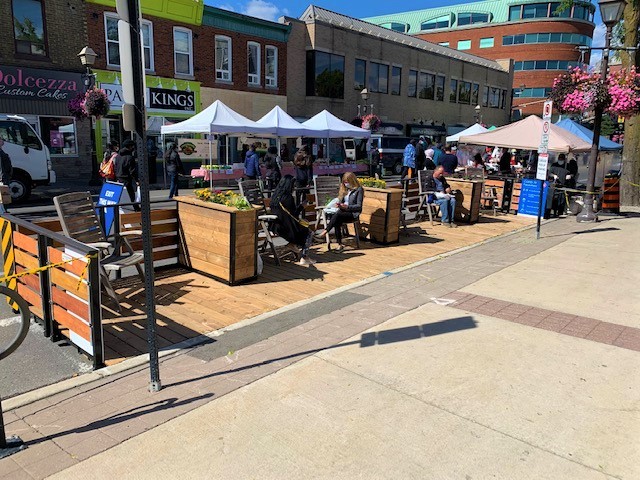 Brampton's downtown pop-up patios
Meantime has spawned Brampton's "Winter Strategy," which is also a collaboration between all the stakeholders, and one new partner: Ryerson's team of undergrad students at the School of Urban and Regional Planning. Under the supervision of Professor Zhixi Zhuang and the Downtown Brampton BIA, the semester students will deliver a final report, and like other winter-bound cities around the world, the idea is to keep residents interested in visiting the downtown through a series of events.
Yeung's team is working backwards to identify goals, then fix a time and place when they need to get done. Nothing is more pressing than the Downtown Reimagined project – a transformational upgrade on streetscaping, and replacements below-grade to utilities like water mains and sanitary sewers. When the costs came in by late 2018, the new council, particularly the mayor, was struck with sticker shock, and he directed staff to cancel the plans, which are still on hold. Brown had been elected on a promise of holding taxes in line. And, other than his own excessive spending inside the mayor's office, he doesn't seem to understand that the city whose voters salvaged his political career, needs major investment in things like its sputtering downtown.
Brown is likely feeling the heat now, especially after the failed Conservative Leadership candidacy of Peter MacKay. The Brampton mayor worked to help get his former federal colleague elected, signaling his interests and attention were not with the city he's supposed to be running. But now, with issues like the failing downtown pressing in on him, and his options for political life beyond the mayor's seat closing, Brown might finally be forced to drop his opportunistic line on taxes, and direct badly needed investment into Brampton.
Plans and projects in the core have been modified, or pushed back, and the estimates that the downtown population will grow to 55,000 people and 26,000 jobs by 2040, are now in jeopardy.
Cities like Kitchener, Belleville, Peterborough, and even a town like Oakville, have already completed their downtown re-dos, leaving Brampton searching for ways to begin, knowing redevelopment of the aging city centre could take years, especially in the absence of downtown flood mitigation infrastructure, which the unfunded Riverwalk project is supposed to take care of.
Why can Oakville do extensive research, offer up public consultation to identify broader opportunities to improve traffic, beautify streets, create a new retail landscape and improve pedestrian/cycle ways in the downtown, as part of its Vision 2057?
Because it had the money.
Ditto Kitchener (LRT), Vaughan (subway and hospital) and Burlington (boardwalk).
In the "Meantime", hopes to focus on the need for investment and eliminate draconian rules (red tape) so solutions can be found now, like ways to pretty-up boarded up buildings in the core. Toronto re-opened derelict buildings in Parkdale by lending them to artists, who used them to enliven streets, improve atmospherics and pump-up business interests.
A container program to install and stack them up in city parking lots, creating instant craft malls in an inert downtown, is another example of "Meantime" solutions – although Brampton is still in the planning stages.
---
A need for federal funding
Brampton is one of the few major cities in Canada without federal buildings, a surprise since every seat in the city has been filled with Liberals sitting on Parliament Hill since 2015. Yeung's team hopes to leverage its size and representation, and its 650,000-plus residents, to make sure it has shovel-ready projects to pitch to Ottawa in the aftermath of the pandemic. Infrastructure Canada is currently accepting and sifting through applications from non-governmental, not-for-profit organizations interested in supporting community responses to COVID-19. This is driven by the Canada Healthy Communities Initiative. Those selected will receive upwards of $31 million in funding over two years to identify and fund local solutions that can be put in place quickly to improve the lives of Canadians suffering before and during the pandemic.
The big question, of course, is how will current local leadership respond to all the pressing needs and help create funding mechanisms. The current council is comprised of many members with little experience in the complex tasks of economic governance. Some have never even held down jobs in the private sector (or any relevant employment at all) and seem more interested in personal promotion than city building.
The options in front of them run alongside issues of building ownership, investment opportunities, creating incentives for the private sector and long-term prospects for major collaborations with the healthcare sector, post-secondary education, innovation and technology players and even the two higher levels of government, which are largely absent in the city.
Existing ideas for post-secondary expansion and investment in innovation/technology have featured a number of setbacks, along with vague pitches but little concrete action, and next to no funding commitments. This council, led by Brown, seems to think Queen's Park and Ottawa are jumping at the opportunity to back a Brink's truck into their city. Even any potential help has been greatly disrupted by the financial crisis deepening with every case of COVID-19.
The possibilities for creative funding run the gamut, from general municipal borrowing, to still-available senior government grants, density bonuses/land-value capture that incentivizes the private sector to contribute to local investment because of the huge profits reaped from public projects, municipal borrowing against project-specific future municipal revenues, cash in lieu, private borrowing against project-specific revenues, private co-development in community hubs, and community benefit agreements with builders.
Borrowing rates for municipalities are at historic lows, but it remains to be seen if Brown and some of the other councillors will shed the myopic thinking of past leaders, who refused to use smart borrowing opportunities to invest and create massive returns, simply because people like former mayor Susan Fennell had one campaign slogan: I will keep Brampton debt free.
Meanwhile, cities around the GTA took advantage of lending rates that made borrowing the best alternative, as projects in surrounding municipalities came with financing that was locked in at the beginning of the life-cycle of the infrastructure, at a very low rate that allowed other revenues to gain interest and investment returns above the borrowing cost. It's a much fairer way to pay for needed features, as the debt is paid off over 25 to 30 years, typically, meaning all those who use the infrastructure over that span, pay a share for what they benefit from. But people like Fennell, and now Brown, fail to concern themselves with what's best for the city, if it doesn't fit their political brand.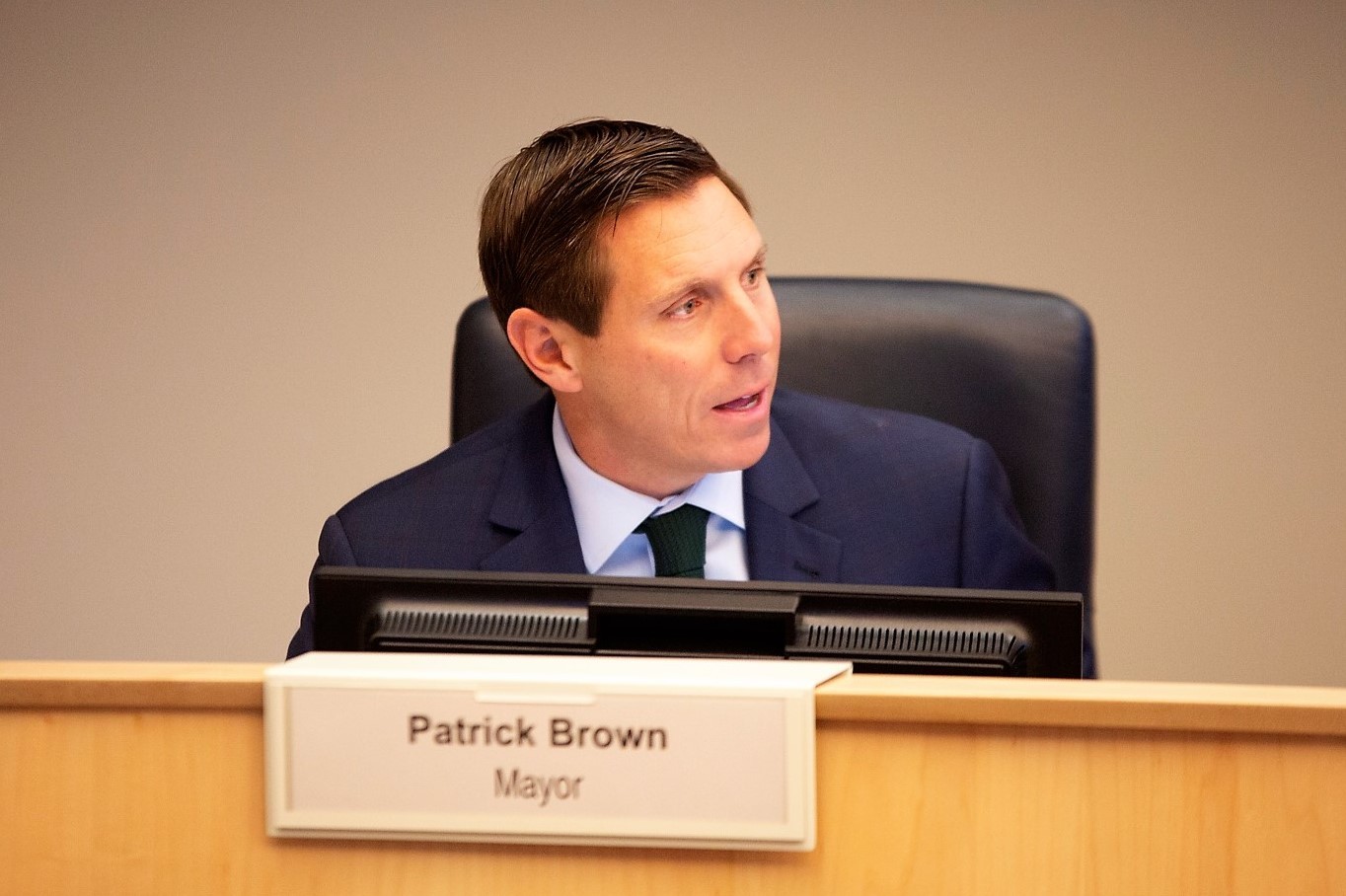 Mayor Patrick Brown has supported the 413 Highway
For Yeung's team, it's all about seeking a new aesthetic, a more livable city – a standard Brampton was at a loss to emulate during most of its history. The 20th-century movement to streetcars and rail, led to the Manhattanizing of cities, which quickly changed when the post-war baby boom shifted focus to the suburbs, and a near universal addiction to the car. It was the gas guzzlers that s-p-r-e-a-d everything out – and created huge challenges, especially today, in light of the ongoing angst created by the pandemic.
Successful transit in the future won't be so much about creating "supply," but how to build "demand". That means non-traditional ways of thinking. This new city-building ethos is tied to hubs. Yeung thinks we're on the edge of a new, more authentic civic life.
Here's what we know: the pandemic didn't initiate this new land-use plan, but accelerated it, she says. This will change our management of natural resources and put added emphasis on public health and safety concerns – complementing any response to COVID-19.
"Urban hub development" is the latest design buzzword, describing 20-minute communities where shops and services are located within easy walking distance. It also operates 24/7, with the idea of keeping plenty of eyes on the street. But there are loftier goals, too, like creating what Yeung calls "25 or 26-hour communities." Through compact design, and cozying up to transit and other services, this will create big givebacks to residents in terms of time, at least an extra hour or two saved each day, she says.
It's likely much more for many.
The GTA has the dubious honour of having the longest average commute time in North America, almost 100 minutes each day, on average (based on a 2018 study by Expert Market). The GTA, at 96 minutes, had the sixth worst average commute time in the world, worse than Los Angeles, Tokyo, Mumbai, London and many other larger metropolises.
For those who travel from parts of Brampton, the daily commute can easily reach four hours.
Yeung specializes in neighbourhood development, and the metamorphosis of Shoppers World into a mixed-use community could be the model used throughout Ontario in the near future. This prototype "community within a community" will shore up the design flaws in city-building that have dogged the suburbs for two generations.
The hub will feature everything needed for a full-on urban life – healthcare, transit, parks, stores, arts, homes, community centres, dining, entertainment etc. It's largely based on a European model, or what's referred to in Brampton as the "Helsinki effect." Last year, a large contingent from Finland's capital spent a week in Brampton, studying the community, discussing new plans for land-use, and offering up a template for creating compact communities to battle against sprawl and gridlock. The governance model in Helsinki is transparent and targeted – not riddled with politics. Once Helsinki's civic elections are over, the mayor and council stop playing petty politics, and get busy looking after the needs of present and future generations of residents. Yeung calls it "the most functional city on the planet", and that's the reason why many of those same officials who visited Brampton last year, have been invited back later this year to offer up more guidance on future builds.
Yeung and City advisor Ken Greenberg, hosted the initial event, along with the Urban Land Institute (ULI), and Ryerson University. A forward-looking plan for renewal was passed by City Council in January, and a council workshop was held on June 29, unveiling the urban hub design, both in broad, and narrow terms. The council workshop featured an eclectic group of urban designers who were conscripted by Yeung to piece together the puzzle that had its skeletal outlines in the 2040 Vision, a futuristic plan put together during the previous council term with input from thousands of Brampton residents.
Still, questions remain. Will Brampton's Downtown Reimagined get its much-needed funding restored, now that Brown will likely have to answer to business owners and residents? Will Riverwalk remain a half-promise, or become reality? Will the LRT designed to stop at Shoppers World, find a way to connect with the downtown GO? Can the city ever get all-day, two-way GO service, creating a north-south/east-west pan-Ontario transportation network that delivers future employees and investment to the city? How can the city hope to shuck off its dependence on the car and create hubs and complete communities when council, led by Brown's support, embraced the environmental assessment for the developer-driven 413 Highway that will cut right through one of the major urban hubs envisioned under the city's 2040 plan, effectively killing the complete community strategy? Will the hub concept, and the 2040 Vision be a catalyst to stop the daily drain of nearly 60 percent of the citizens from living here but working elsewhere? Will Brown, specifically, reverse his support of the developers who want the 413 Highway built, creating more sprawl, sending more workers out of the city and killing any momentum to attract high-value, white collar jobs, which would be replaced by low-wage, blue-collar work in warehouses and fulfillment centres along the highway? Will Ottawa or Queen's Park take Canada's ninth largest city seriously, and become full partners in its re-do? How will the city help with funding for what's needed, when the current regime, under the mayor, is stubbornly tied to an unsustainable tax policy?
Downtown Brampton was marked as a Provincial Urban Growth Centre under the growth legislation passed a decade-and-a-half ago, in hopes of capitalizing on its young population and evolving transportation system to support redevelopment and revitalization.
The flood problem has been the biggest roadblock.
Although a 1980s intervention transformed parts of the natural riverbed into a diversion channel, it still poses a flood risk upstream and downstream. That formed the basis of an existing Special Policy Area designation by the Province that drastically restricts development in the city centre and the Downtown Brampton Flood Protection Environmental Assessment.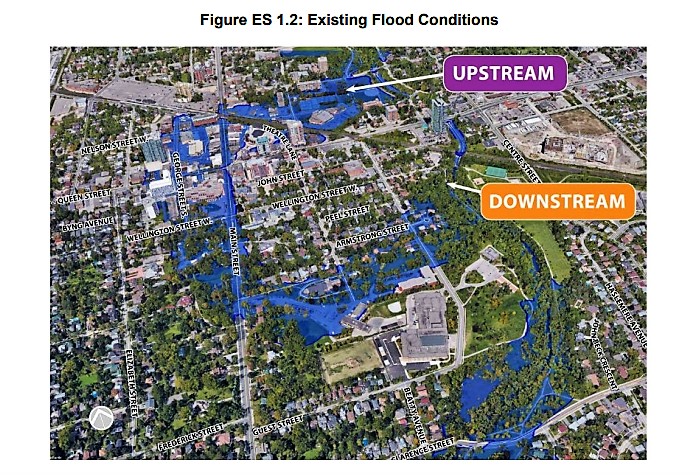 A TRCA map illustrates Brampton's downtown flood risk
The timeline of the Riverwalk program's approval, to create flood mitigation infrastructure and get the growth restrictions lifted, was approximately 10 years, starting with the Special Policy Area Amendment in 2014, the Flood Protection EA in 2018, an Economic Impact Study in 2019, an Urban Design Open Space Master plan to be finalized this year, an EA addressing the needed downtown flood-mitigation infrastructure completed by the Toronto and Region Conservation Authority this past June, all pointing to a potential start of construction no earlier than 2024. But only if funding is secured. Currently, the City has no money set aside to build the massive project, and Brown had more than $200 million removed from this year's capital budget, creating an even bigger infrastructure deficit, so he could push through another flat budget with no tax increase in a city that simply cannot afford to have more projects cut or postponed. If Brown is now forced to run for another term, he better realize the damaging tax freeze stance that might be good for his fanciful political dreams, is not good for the city he's supposed to lead.
A Riverwalk Project Analysis Session was one of the three programs the ULI Toronto Outreach Committee prepared with local municipalities for its Spring Conference 2020, that was postponed because of the pandemic. It eventually ended in a half-day virtual session calling on panelists from around the world to feed information to the city. The five volunteer panelists' backgrounds combined academic, development and consulting expertise to provide objective recommendations and was led by Alan Razak, principal at AthenianRazak LLC in Philadelphia, a development consultancy that specializes in density, sustainability and environmental stewardship. The other panelists came from Boston, Washington DC, Detroit and the Netherlands. The ULI staff organizing the meeting, and Yeung and Brampton's new urban design team continues to feed off its ties to ULI Toronto and its international parent body.
Yeung says what seem like insurmountable odds, especially with the added layer of a pandemic, are not hindering the ability to plan ahead, or push for much-needed change.
"Brampton is a blank canvas," she says, and under the right circumstances and with the right stakeholders working in concert, the city can "paint a masterpiece of design."
The irony is this: none of this is really new. The hub concept comes from a bygone era when cities were compact. In the pre-war time, people lived close to work, transit, healthcare, parks, community centres, schools, churches and retail. They didn't need cars because transit was close and plentiful and because distances were compact.
This expansion by contraction, says Yeung, will ensure that much of the vital greenfield sites will be left untouched, and can be filled by high-end industrial-commercial development, thus improving the city's land-use mix, and engorging its tax base. Yeung says the fact Brampton butts up against Pearson International Airport is a gift of location that can't be understated.
Her team has run the numbers, and studied the demographics, and foresees the future challenges and prospects, and hopes the province's embrace of hubs means it will become an active partner to re-making Brampton for future generations.
However, almost all of the progressive growth and land-use policies enacted at Queen's Park were under previous Liberal governments, which took the management of future population across Southern Ontario very seriously, unlike provincial governments in the past that saw land as an endless commodity and allowed municipalities to be controlled by developers who made billions between the '60s and early 2000s by building sprawl.
Unfortunately, the devastating environmental and growth-driven financial philosophy of the current Doug Ford PC government represents a complete reversal from the past 15 years, back to the decades of building subdivisions out to the horizon and beyond.
It's unclear if Yeung is aware, but her hope for the province's embrace of hubs in Brampton, received a major blow recently. The City has put forward a unique proposal for its massive development in the mostly open northwest corner, called Heritage Heights. The problem, the boulevard design for this area, where the 413 Highway would run, has effectively been rejected by the Province, which told The Pointer in August that Brampton's plan is not compatible with the PC government's vision for a 4-series highway that will run all the way down the city's western side, dividing the area completely, effectively guaranteeing more sprawl and killing any hope of an urban hub.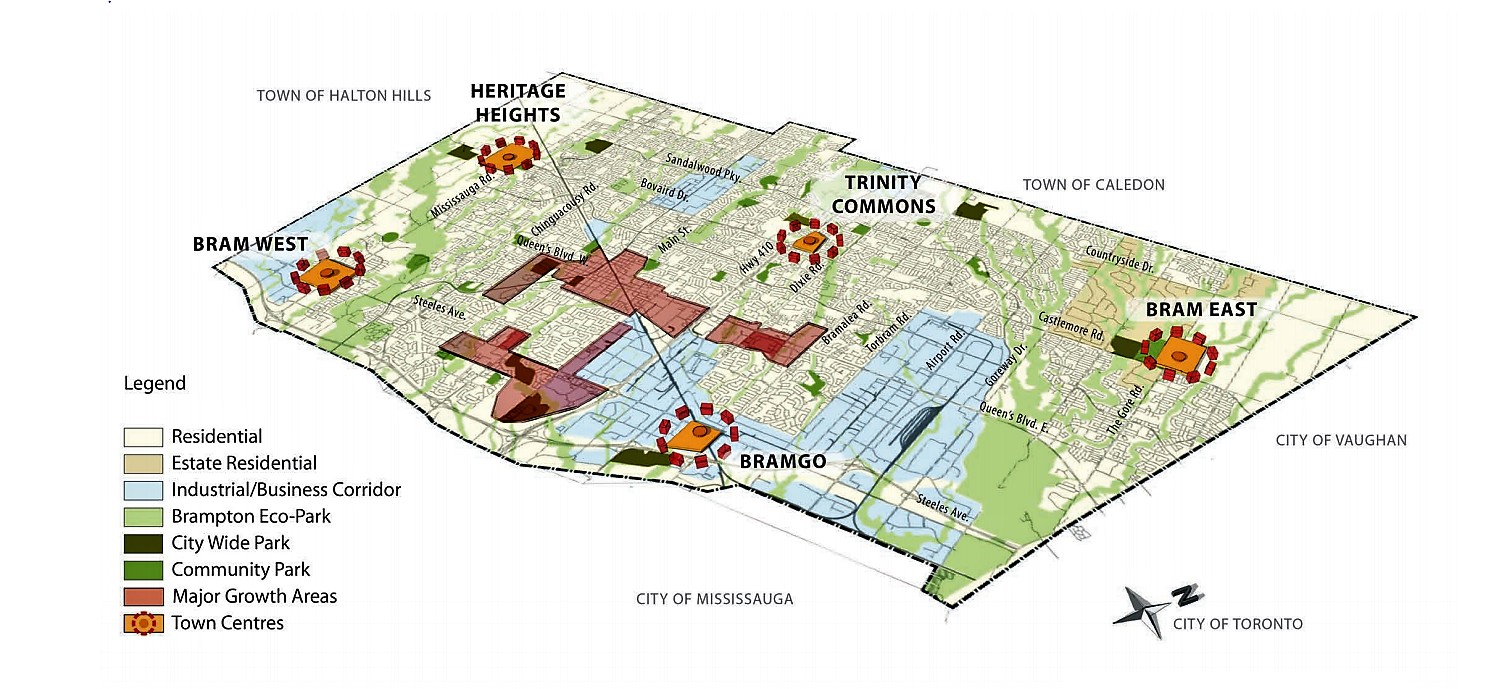 The Heritage Heights Hub can not be developed if the 413 Highway runs right through the city's western side
The City told The Pointer, in response to the province's position, that its 413 Highway is part of a traditional "transportation approach" that has created "urban sprawl" and "contributes to additional congestion".
So, what to do?
The hub and complete community approach for Heritage Heights is incompatible with the now-selected route for the 413 Highway, which will run right through the area where Brampton wants to create dense, compact neighbourhoods, local transit, retail strips and community features all within walking distance. Instead, a massive 4-series highway, with a giant corridor on each side, will see a steady procession of commercial trucks and commuter vehicles packed on a massive swath of asphalt with cut-off subdivisions and car-dependent residents on either side.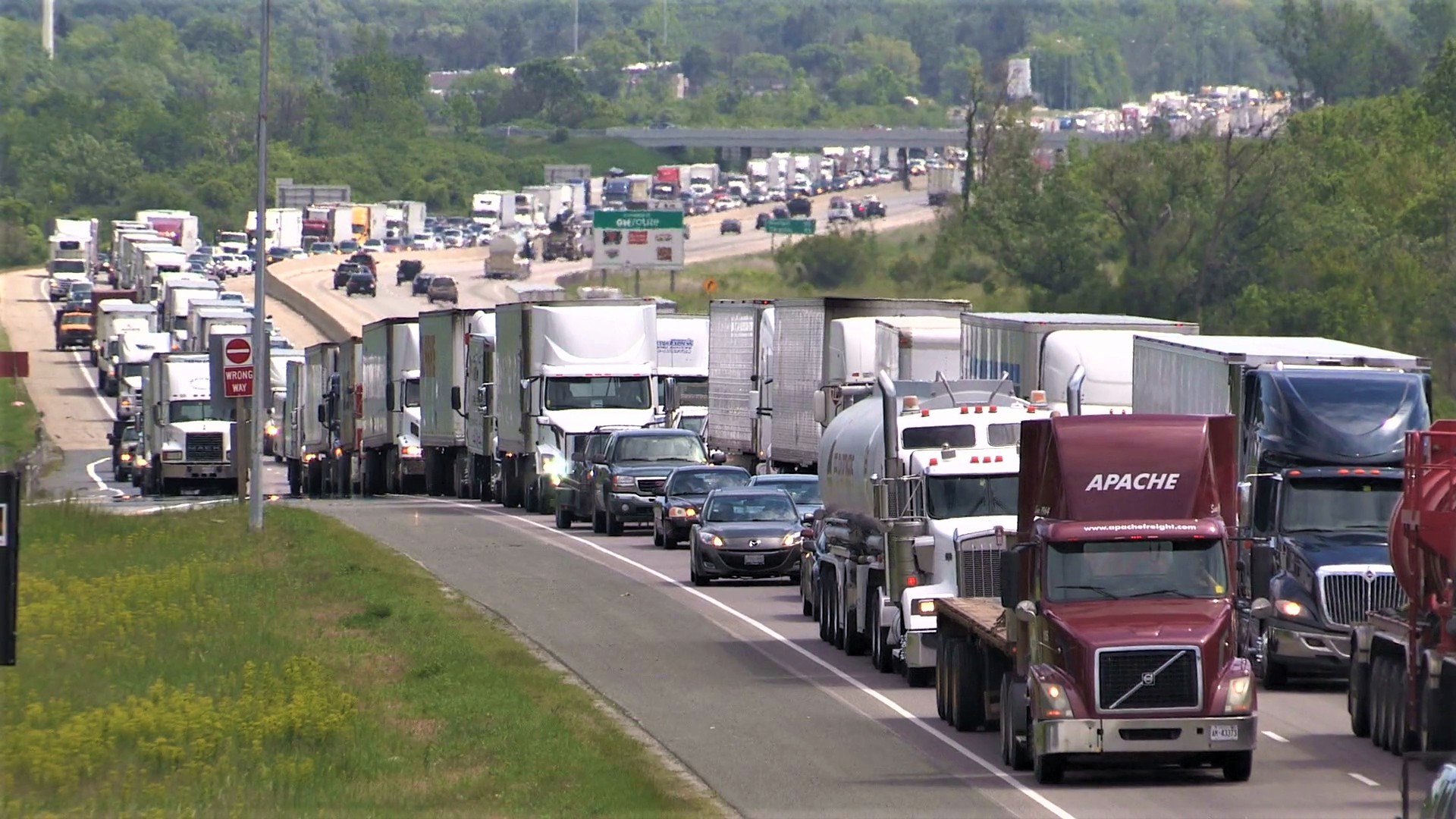 This is what Doug Ford and Patrick Brown want in the west side of Brampton, instead of this...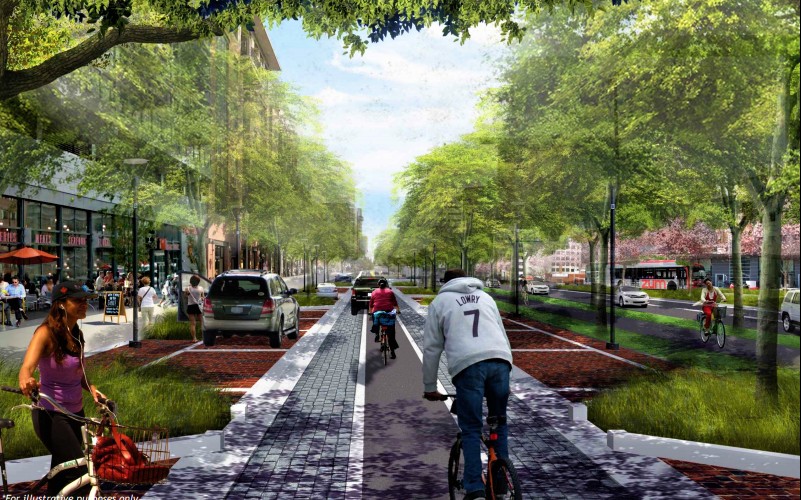 The boulevard design proposed by The City of Brampton for Heritage Heights, instead of a highway.
The idea in the bottom rendering is what Yvonne Yeung signed up for, not the vision of sprawl and congestion above it that Ford and Brown want.
Why not make the giant area and its coming population the hub in the wheel of a new development orthodoxy that has already turned cities like Helsinki into powerful urban icons?
---
A microcosm for future planning
The Shoppers World Hub is a microcosm of what is needed in the future: complete communities. Even world-renowned projects like Toronto's Canoe Landing, which had a 30-year timeline, has shown its shortcomings lately because of the pandemic. It, like other projects that size, didn't have the missing element that the Brampton project will feature: schools. Yeung says all communities will need to have schools within easy walking distance.
The Team Brampton approach proposed by Mayor Patrick Brown during his 2018 campaign was, in theory, the embrace of a non-partisan approach to city building, the Helsinki model. Whether this will work after years of bickering on council, is still debatable, and whether the province or Ottawa can be brought onboard as non-partisan partners, is very much a work-in-progress, a leveraged buy-in.
Brampton isn't short on ideas, but the same can't be said for political will, or funding. A mid-September press release from the City seemed to capture the starkness of the challenges ahead, even of its naivety. It was entitled: City's transformative Riverwalk project moves closer to implementation, and said: "It is expected to unlock 3.6 million square feet of residential, commercial and retail space in the downtown, creating more than 23,000 jobs and a $1.4 billion impact on the GDP." Tucked at the end of a sentence, was the kicker, nothing will happen if the City can't find the money. The release is typical of leaders like Brown, lots of sparkle, to be used for future campaigns to show his dedicated work (all done long before his arrival) and an underlying prod in the side of higher governments to pony up. But there is no mention of when, how, or if the city will receive funding. There is no mention of what Brown is actually doing to secure any money, either through alternative financing or through local revenues collected by City Hall, and there is never any mention of how he plans to win over higher levels of government, who generally aren't in the habit of rewarding irresponsible municipalities that demand a helping hand, while sitting around doing nothing for themselves. Brown trumpets tax freezes himself, then asks other governments to dip into their tax-generated revenues to bail him out. For a Conservative politician, one would think Brown would understand the hypocrisy of his approach.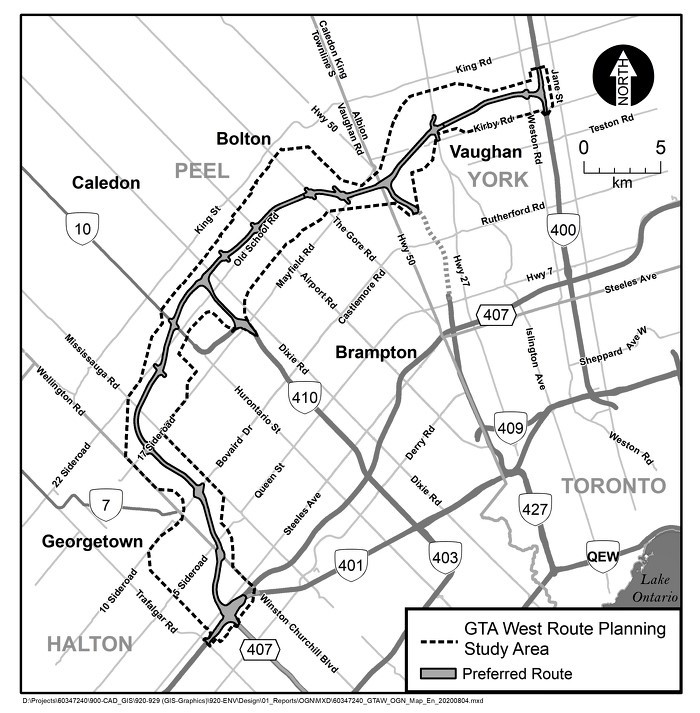 The recently approved 413 Highway route
Still, Yeung remains undaunted, and insists that what's right for Brampton, is right for the province, and the country.
The Shoppers World Hub will be in part, pandemic-proof, because it will be driven by flexible design and adaptable to changing circumstances. It will even extend its reach to include the new master plan for Sheridan College's Davis campus (McLaughlin and Steeles), which is married to the concept of building within a 20-minute walk of a giant mobility hub, like the Gateway Terminal. If the extension of the LRT to the downtown hooks up rail service to Toronto, all the better.
Yeung isn't blind to Brampton's history, or naïve about the multitudinous challenges which come with trying to find funding, at any time, but particularly in a pandemic era.
The mindset of the moneyed set (developers) has changed over time, and the Shoppers World Hub has the backing of four, including RioCan's progressive CAO Ed Sonshine. He thinks a new urban orthodoxy is needed, and building communities with all the added amenities, like being near schools, hospitals, retail, community centres, parks and transit, only enhances a vertical place to live. It's an easier sell.
Yeung is from the new school that believes the old model for development, the post-war one, was an aberration, and unsustainable. Suburban sprawl is like any virus that needs a vaccine. That would be building complete communities.
The new way has academic currency and practical implications, but it needs a buy-in from the big public-sector players, Queen's Park and Ottawa. One seems to be on board, the other, not so much.
Yeung laid out the 'Urban Hub' concept at the council workshop in late June, and a team of expert consultants added their insights. They included Ken Greenberg, the internationally known principal of Toronto-based Greenberg Consultants; Karen Pitre, president of the Lonsdale Group; Don Schmitt, principal, Diamond Schmitt Architects; Matti Siemiatycki, interim director of the University of Toronto's School of Cities; Reza Pourvaziry, chair of the Urban Economy Forum; and Eduardo Moreno, director, head of innovation and knowledge, UN-Habitat.
Pitre is a community builder who was special advisor to former premier Kathleen Wynne on Community Hubs between 2015-18, and has expertise in developing a Community Hubs Strategy Framework and Action Plan. It included 27 recommendations which were eagerly adopted by the province and helped formulate past government policy.
Yeung recently added a new staffer to her Brampton team, Jeffrey Humble, the former Peterborough planner, and she also reinforced the City's partnership with the 4th year program at the Ryerson School of Urban and Regional Planning, led by Professor Zhuang, who once worked for the Region of Peel.
---
"Flexing" their fiscal muscles
Yeung foresees hubs that are rich in technology (intra-active networks), arts and culture, housing, schooling, transit, retail, and parks – with easy links to other hubs.
The response to the council workshops was heartening, she says, and the lessons learned from years of sprawl can be applied now to the tightening of future building. The hubs will be compact, complex, and malleable.
This mixed-use model design is, at its core, based on building everything to human scale, she said.
Yeung pointed to Brampton's inherent advantages – a young, and diverse population – as a positive asset in any move forward. RioCan has already started to market its Shoppers Hub, and Sonshine talked to media in February about the urgent need to build livable communities.
Yeung admits that funding is short for driving change, especially in light of the costs of running a city during a pandemic, "but that forces us to be creative and make the best use of our time." The draw for private sector partners is to offer incentives like lower development charges. This is "still in the works," she said, but the City has already trimmed charges on projects like the new Symphony Condo being built by Brampton's Inzola Construction along the Queen Street corridor.
Cutting red tape and involving different levels of government is also important, as is the use of green tape – the ecological side of building – to create complete, transit-oriented, intergenerational communities that are fueled by collaboration. By community asset-mapping, and an ongoing demographics review, and policy realignment, a crisis like a pandemic can also drive the opportunity for creating a new model of living.
In the end, it will take political will and private and public sector partners and community leadership from Brampton Library, Sheridan College, United Way, Urban Land Institute (ULI), Urban Economic Forum, Evergreen, Future Cities Canada, Dufferin-Peel Catholic School Board, Region of Peel, Peel District School Board, and the U of T, among many other stakeholders already participating.
---
Changing the course of history
The willy-nilly development that made Brampton a discordant mess, is a dusty remnant of our past over-build, and just seven months after the pandemic struck, it seems even more abhorrent.
The pandemic of 1918 created another "new canvas" for cities. Yeung says today's urban designers have to quickly unlearn habits. "The idea is to build better," she says, "and that means build differently. We are very laser focused and purposeful in what we're doing. There's a lot of positivity and the senior staff is working with the province to find creative solutions."
Many of those were laid out in a virtual meeting from August 17 to 19, when a delegation from the City of Brampton participated in the Association of Municipalities of Ontario's 2020 Virtual Conference. Members of Council and City officials connected with key stakeholders across the province on Brampton's most pressing needs.
Two big subjects: high-order transit, and hubs.
A special "Meet the Chiefs" of urban design was held pre-pandemic and laid out much of what Yeung and Brampton and the AMO has in mind going forward. It requested that the Urban Community Hub model for the 20-minute walkable, healthy neighbourhood with a new growth model to foster "Transit-oriented Communities (TOC) be adopted by the province, just like the made-in-Brampton model.
Is this all naïve?
It sounds fabulous and so forward-thinking on paper, but the Doug Ford government has made clear, through separate legislative moves, that sprawling growth and the developers who continue to profit from it (and donate handsomely to politicians like Ford) are the priority. Even if the current provincial government listens to people like Yeung, how can its words be taken as anything other than lip service?
After all, its big plan for growth is building another giant 4-series highway corridor, despite the evidence that it would be an environmental disaster, create more sprawl, worse congestion and kill plans for complete communities. It's no wonder the previous provincial government cancelled the ghastly initiative from a bygone era of transportation and growth planning, only to see Ford put it right in the middle of his legislative agenda in 2018.
Brown has backed the plan since he was elected mayor the same year.
It's seldom revealed how people like him, with no background in urban planning or growth management, deal with the experts behind the scenes.
Yeung, for her part, maintains an inspiring outlook.
The Shoppers World urban hub seems to be widely supported and will lead to economic recovery, and the four developers taking part will help transform the area into a high-density, mixed-use, family-oriented, healthy and walkable community. It presaged the pandemic, and in the end, will sit in an 800-metre radius of Gateway Terminal, welcome 75,000 residents, create 30,000-plus jobs, offer 26,000 new residential units plus new offices and retail, and be split 50/50 between affordable and rental housing. The 13-million square feet of new mixed-use redevelopment through seven active building sites will call for the rezoning of 4-million sq. ft. of mixed-use redevelopment in 2020 at Shoppers World, with 1-million sq. ft. of mixed-use development to break-ground in 2021.
The multi-use enclave will include an elementary school, daycare, community centre, library, arts and culture hub, technology and entrepreneurship hub, community kitchen and urban agriculture zone.
It will also offer a higher-than-average household size, while, as part of the city's overall plan, moving away from the current higher-than-average accommodation of those working in manufacturing by being part of a new urban approach that is more competitive. By offering the amenities and lifestyle options desired by professionals in an increasingly cosmopolitan world, technology and those in other innovation industries will be a larger part of the mix, all integrated into a healthier way of living. This will fulfill Brampton's 2040 Vision to guide large shifts from car-dependence to a transit-oriented city structure, all of which is now demanded by younger generations shaping the near and not-so-near future.
On October 2nd (by invitation only), a Virtual Walkshop will be held by the City of Brampton from 9 a.m. to 1 p.m. and called "How to Capture the Value of a '26-hour city'?"
It will include a who's who of urban planning experts from Ontario and beyond.
On October 8 a public town hall, will talk about "Getting to Transit-oriented Initiatives." The experts will include Helsinki officials, and a special showing on Kalasatama, the smart city district in the Finnish capital.
All this is promoted on the City of Brampton website.
Cities like Brampton built on a flood plain, are metaphorically speaking, drowning in their own history. The lack of a vibrant core, and sprawling 'burbs, makes them incomplete, and unsustainable.
The new-look design team at City Hall should be held accountable for what it is proposing, and what it does. Lofty goals, indeed. But Yeung believes they are more than do-able.
The downtown property owner who commented earlier, made one more point. Brampton has to "elevate its voice, and speak singularly about its future. We have to be repetitive and loud if we hope to make much-needed changes that will fix the fortunes of this city for years to come."
It doesn't help when elected leaders speak mostly to promote themselves.
The bubonic plague inspired urban improvements during the Renaissance because the push to clean up cities was accelerated. The Spanish flu of 1918 prompted urban slum clearance, waste management improvements, and the creation of more airy spaces. It also separated residential and industrial areas and saw the advent of cleaner surfaces like glass and steel. This pandemic proved that our buildings, especially the public-sector ones, have to be flexible, multi-purposed. It's all about being adaptive and focusing on health, physical and mental. The growth in tele-commuting, tele-medicine, tele-schooling, and e-commerce, has changed the way we live, work, build cities and interact. We have to make community hubs better, safer, tighter, and cleaner.
Brampton's folly was its give-over to sprawl and gridlock and the developers who controlled the politicians. It left many in the city isolated and lonely, and travelling great distances to get the amenities that should be only a short walk away.
The new hub design is bold, and the team of urban designers is both aware but not crippled by the mistakes the city has made in the past.
As Yeung finishes off her interview, she speaks unhurriedly, as if time had suddenly stopped. She wants to emphasize one more point, the key one: "Brampton can't afford to revert back to normalcy, because normal didn't work."
Submit a correction about this story