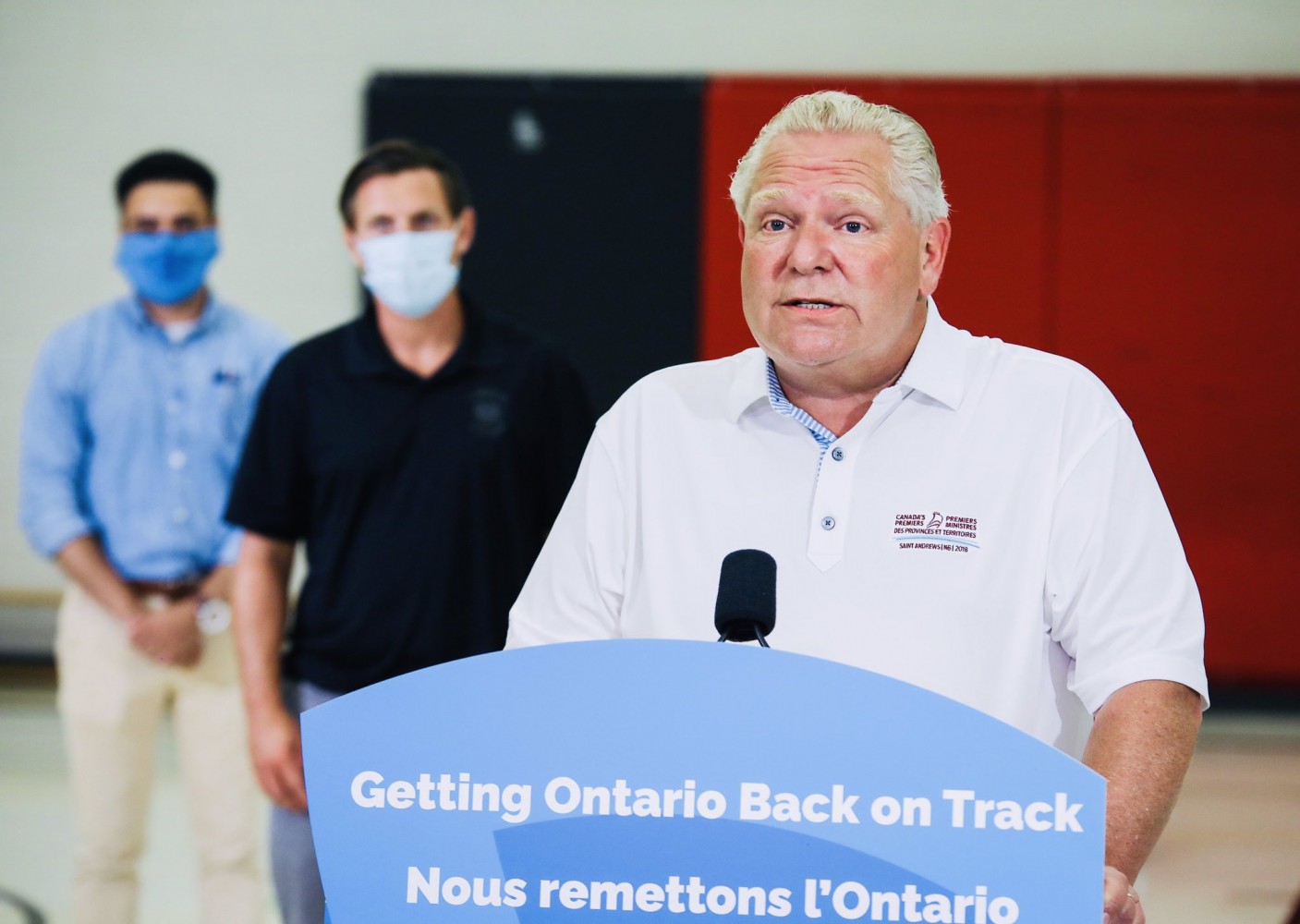 Photos from the Government of Ontario/Region of Peel
Ford commits an extra $1B for COVID testing & tracing; Brampton has less than half the lab capacity of Mississauga
Prime Minister Justin Trudeau reminded the nation of a reality that epidemiologists have been pointing to for more than a week: the second wave of the pandemic has already rolled into four of the country's largest provinces, including Ontario.
"We're on the brink of a fall that could be much worse than the spring," he said in Wednesday's throne speech.
Perhaps more than anything, to avoid a public health crisis, testing will be the key.
It's the focus of medical experts and the politicians who take their cues from those who understand the science best.
Premier Doug Ford on Thursday committed an extra $1.07 billion for extra testing and contact tracing in Ontario. In hotspots such as Brampton, the lack of adequate screening capacity has meant many who contract the virus are not identified, contact tracing cannot be done to identify others who might be exposed, and then community transmission can occur with little ability to stop the rapid spread.

Premier Doug Ford
Brampton, up until last week, was only conducting about a quarter of the tests it needs to meet its share of the 50,000 daily target for Ontario (a goal to be met within a month), based on the per capita screening numbers provided by William Osler, the health system that manages the original testing site in the city, which was the lone permanent COVID screening facility in Brampton, until the province set up another one on the weekend.
In addition to a second assessment centre finally operating, with limited hours, Brampton will have eight Shoppers Drug Mart pharmacies and one Rexall pharmacy where people can get tested, come Friday, under the PC government's work with the private sector to expand capacity. Mississauga will have eight Shoppers pharmacies for COVID-19 testing.
---
Brampton pharmacies offering COVID-19 tests:
Shoppers Drug Mart, 11965 Hurontario Street, Brampton, ON, L6Z 4P7, (905) 495-0311, https://stores.shoppersdrugmart.ca/en/store/1177/?utm_source=G&utm_ medium=lpm&utm_campaign=LPM_SDM
Shoppers Drug Mart, 160 Main Street South, Brampton, ON L6W 2E1, (905) 451-0111, https://stores.shoppersdrugmart.ca/en/store/705/
Shoppers Drug Mart, 10665 Bramalea Road, Brampton, ON, L6R 3P4, (905) 793-2011, https://stores.shoppersdrugmart.ca/en/store/1447/
Shoppers Drug Mart, 34 A Avondale Boulevard, Brampton, ON, L6T 1H3, (905) 793-4444, https://stores.shoppersdrugmart.ca/en/store/701/
Shoppers Drug Mart, 366 Main Street North, Brampton, ON, L6V 1P8, (905) 456-0167, https://stores.shoppersdrugmart.ca/en/store/1353/
Shoppers Drug Mart, 10048 McLaughlin Road, Brampton, ON, L7A 2X6, (905) 846-4444, https://stores.shoppersdrugmart.ca/en/store/1199/
Shoppers Drug Mart, 1 Kennedy Road South, Brampton, ON, L6W 3C9, (905) 454-4464, https://stores.shoppersdrugmart.ca/en/store/1058/
Shoppers Drug Mart, 3938 Cottrelle Boulevard, Brampton, ON, L6P 2R1, (905) 794-7071, https://stores.shoppersdrugmart.ca/en/store/1326/
Rexall, Unit A01 – 545 Steeles Avenue West, Brampton, ON, L6Y 4E7 (905) 453-1625, https://www.rexall.ca/storelocator/store/980
Mississauga pharmacies offering COVID-19 tests:
Shoppers Drug Mart, 6975 Meadowvale Town Centre Circle, Mississauga, ON, L5N 2W7, (905) 826-7112, https://stores.shoppersdrugmart.ca/en/store/779/
Shoppers Drug Mart, 101 – 5602 Tenth Line West, Mississauga, ON, L5M 5S5, (905) 858-4618, https://stores.shoppersdrugmart.ca/en/store/1147/
Shoppers Drug Mart, 1 – 5425 Creditview Road, Mississauga, ON, L5V 2P3, (905) 858-8711, https://stores.shoppersdrugmart.ca/en/store/791/
Shoppers Drug Mart, 7070 Mclaughlin Road, Mississauga, ON, L5W 1W7, (905) 696-9791, https://stores.shoppersdrugmart.ca/en/store/902/
Shoppers Drug Mart, 579 Lakeshore Road East, Mississauga, ON, L5G 1H9, (905) 278-5506, https://stores.shoppersdrugmart.ca/en/store/1275/
Shoppers Drug Mart, 3980 Grand Park Drive, Mississauga, ON, L5B 4M6, (905) 566-9600, https://stores.shoppersdrugmart.ca/en/store/908/
Shoppers Drug Mart, 2470 Hurontario Street, Mississauga, ON, L5B 0H2, (905) 896-2500, https://stores.shoppersdrugmart.ca/en/store/776/
Shoppers Drug Mart, 700 Burnhamthorpe Road East, Mississauga, ON, L4Y 2X3, (905) 279-1812, https://stores.shoppersdrugmart.ca/en/store/774/
---
Help can't come quick enough. Brampton has been in a second wave since late August, and accounted for about 20 percent of the province's infections between the middle of last month and the first week of September.
On Monday, Brampton reported its highest number of COVID-19 cases since May 29, with 61 infections, out of the 425 in total across Ontario.
Since Ford called Brampton "broken" on September 4, after the city accounted for 37 percent of Ontario's cases two days earlier (and again two days after he made the remark) it has been pointed out that Osler can only process 150 local tests a day in its Brampton Civic Hospital lab.
How quickly people receive a test result is crucial in stopping potential viral spread, something health officials stressed Thursday. According to Ashleigh Tuite, an epidemiologist and professor at the University of Toronto, a lag in processing can significantly increase the risk of the virus spreading. "Case notification and contact tracing can't start until local public health units have that information," she told U of T News. "COVID-19 spreads very quickly, so we need the testing and tracing system to be even faster to interrupt chains of transmission," she said.
According to Peel Public Health's (PPH) latest epidemiological update, between September 8 and 14, 40 percent of positive tests were reported to PPH within one day. This was a poorer performance from the week prior. Between September 1 and 7, 67 percent of positive tests were reported to the public health unit within 24 hours. These numbers represent testing in Mississauga, Brampton and Caledon.
When the local health system reaches its lab processing capacity each day, the rest of the samples have to be sent to Toronto, which slows the turnaround time for informing those with a positive test that they are infected with the virus. This gives the potential killer more time to do damage to its host, before proper treatment is undertaken, and more time for it to be spread to others in the community every time contact is made with unwitting residents. For those who are asymptomatic but are carrying the virus, a lag in testing could potentially put dozens more at risk, and each of those individuals could do the same to everyone they come in contact with, and so on.
It's unclear why Osler only has the ability to process 150 tests for the novel coronavirus a day in Brampton; this number has not been confirmed but has been commonly cited, including by Mayor Patrick Brown.
William Osler's facilities, including Brampton Civic and Peel Memorial in Brampton and Etobicoke General Hospital in Toronto, all have labs. Late last month on Twitter, Dr. Naveed Mohammad, Osler's CEO, celebrated the 6.8 million lab tests, for a range of screening needs, conducted at the three sites last year.
"The province has expressed support for Osler's request to increase COVID-19 laboratory testing capacity and we anticipate being able to provide more details on the outcome of our discussions in the time ahead. Processing COVID-19 tests in-house will help Brampton residents receive their results more quickly," an Osler spokesperson told The Pointer this week.
Ontario Health told The Pointer the process to build testing capacity within its labs across Ontario, including at Osler which is part of the COVID-19 lab network, is ongoing. "Lab capacity building is a process that involves the securing of equipment, key supplies, technology, and human resources," a spokesperson said.
Neighbouring Mississauga can process 400 tests in-house, and if numbers exceed capacity, samples are shipped to Sinai Health's lab in Toronto, a spokesperson from Trillium Health Partners told The Pointer. Within THP's own facility, test processing priority is given to in-patients, surgery patients, high-risk outpatients (such as oncology and renal), as well as staff, the spokesperson explained.
"Early in the pandemic, THP took on the initiative of developing an in-house test for COVID-19. The 'laboratory developed test' was worked on by THP's genetics and microbiology teams and in partnership with Hamilton Health Sciences."
Ontario's lab capacity has seen a 350 percent increase since early March, and plans to expand it further are ongoing, Matthew Anderson, president of Ontario Health, said Thursday. He detailed three important components to increasing lab capacity: the need for enough equipment; human resources; and supplies that are accessed through the global supply chain, which is a challenge as everyone is competing for the same testing materials, he said.
Ford has also publicly advocated for private corporations, such as pharmaceutical companies or post-secondary institutions, to assist with the process by providing unused labs and technicians, including students, that are available to be trained. "It's everyone, all hands on deck," he said Wednesday.
Currently, 40,000 tests can be processed within a day, Health Minister Christine Elliott, said Thursday. Anderson said the province is "very close" to reaching the 50,000 testing goal Elliott is pushing for. "We are struggling a bit with some of our supply chain challenges. We continue to build that capacity out and do expect that we will be in that range within the next couple of weeks," he said. The test processing system is made up of commercial labs, hospital labs and labs from Public Health Ontario.
Anderson said a "certain path" for those not displaying symptoms is also being developed to allow tests conducted at pharmacies to be analyzed at locations outside of "main labs that we're already using" to process tests from assessment centres. This could involve sending tests to other provinces or even across the border he said, but nothing is confirmed at this time as the planning process is ongoing. The reason for separating the two tests is to "do better measurement and understand the impact that we're having [with asymptomatic tests]."
To make testing and contact tracing more effective, directions from the province are shifting. Ford, Elliott and other officials are no longer asking everyone to visit an assessment centre, whether or not they display symptoms.
The new approach is for only those with symptoms to get tested. Others are still allowed to get screened but those who do not have symptoms of COVID-19, or do not meet particular criteria, are being asked not to visit an assessment centre, as of now, as the second wave in the province needs to be brought under control as fast as possible. Focusing testing on those with symptoms will allow public health officials to zero in on those who are infected and get the contact tracing done to limit the potential community spread.
In an updated testing plan released by the province Thursday, priority screening at assessment centres is now given to people who have COVID-19 symptoms, have been exposed to a confirmed case, reside or work in a setting that has an outbreak, or those who work in a "risk setting," such as long-term care homes or shelters, Ford said.
The changes were accompanied with an announcement to invest $1.07 billion to expand testing and contract tracing within the coming months. This is the third consecutive day of announcements outlining the province's fall second-wave strategy. Previously introduced plans include prioritizing flu shots and allowing people to get tested at pharmacies.
In a media briefing Thursday, Dr. Barbara Yaffe, Ontario's associate chief medical officer of health, said the province is learning from its previous decisions. When testing centres were opened for all in the summer, they did not find many positive cases.
At his daily press conference, Ford backed up the underlying message, saying some hospitals the province spoke with have said upward of 80 percent of people tested didn't have any symptoms at all. As cases in the province continue to rise, they want to focus on people who really need a test, which prompted the province to allow 60 pharmacies in hotspots to start screening asymptomatic people with prior appointments, including the nine in Brampton and eight in Mississauga, as of Friday.
Ford came under fire for comments made this week on private COVID-19 assessment facilities popping up across the province. "I think it's a free market society," he said, when asked for his thoughts on these private screening operations. According to the Ontario Health Coalition (OHO), each private test can cost upward of $400. Many people, including NDP leader Andrea Horwath, have spoken out against this.
The OHO warns against the use of resources to service the wealthy, at the expense of the general public.
"The idea that the wealthy would buy their way to the front of the queue in a pandemic, that patients out of desperation be forced to pay outlandish costs for those tests, or that needed nurses would be used by private companies to waste time on home-delivery of unnecessary tests is abhorrent," Natalie Mehra, executive director of the OHC, said in a press release.
---
Email: [email protected]
Twitter: @nida_zafar
Tel: 416 890-7643
---
COVID-19 is impacting all Canadians. At a time when vital public information is needed by everyone, The Pointer has taken down our paywall on all stories relating to the pandemic and those of public interest to ensure every resident of Brampton and Mississauga has access to the facts. For those who are able, we encourage you to consider a subscription. This will help us report on important public interest issues the community needs to know about now more than ever. You can register for a 30-day free trial HERE. Thereafter, The Pointer will charge $10 a month and you can cancel any time right on the website. Thank you.
Submit a correction about this story