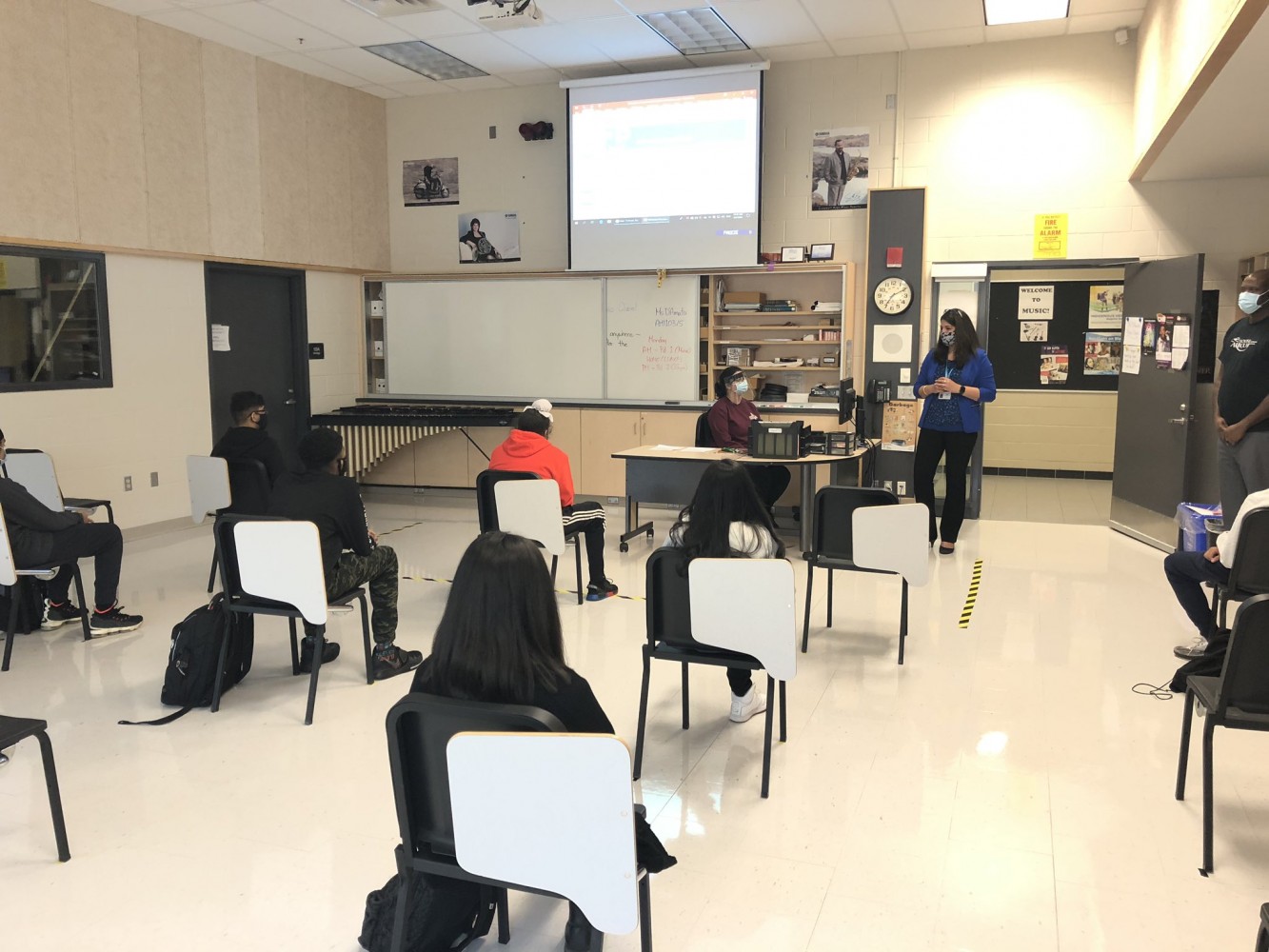 Photos from The Pointer files/Twitter-Balbir Sohi/Wikimedia Commons
Almost 50% of PDSB elementary students have moved online; more than 50 Mississauga and Brampton schools with COVID-19 cases; NDP demands class size caps
Calls are growing for the province to reduce elementary class sizes as school cases of COVID-19 pop-up across Brampton and Mississauga. More and more families with elementary-age children in the Peel District School Board have seen enough, with 49 percent of students now avoiding the classroom.
The NDP, with three seats in Brampton, is calling on the provincial government to cap class sizes at 15 students in elementary schools to offer parents reassurance. But it would be too late for thousands of families. The reduced class limit would allow for improved physical distancing and bring elementary class sizes in line with high schools across Peel.
"Parents in Brampton are watching anxiously as COVID-19 cases show up in more and more schools in our community," said Gurratan Singh, NDP MPP for Brampton East. "They're worried that if the virus doesn't show up in their child's school today, it could tomorrow."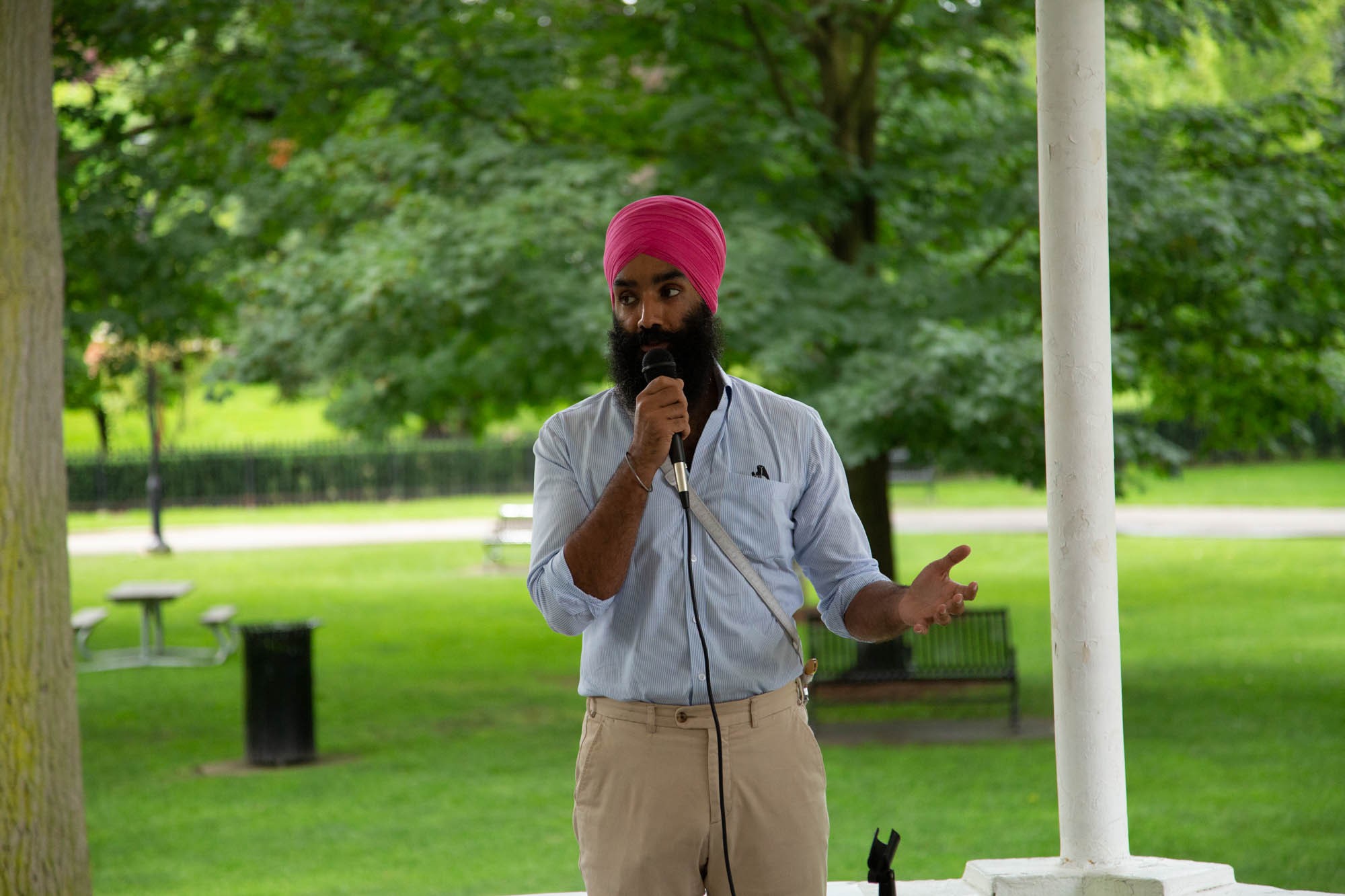 Brampton East MPP Gurratan Singh
According to data from Peel's two largest boards, there were 55 schools in Mississauga and Brampton reporting cases of COVID-19 as of 11 a.m. Friday. Lester B. Pearson Catholic School, located in Brampton, has reported three separate cases. Peel Public Health has not declared an outbreak at the school and all classrooms remain open.
You can view the COVID-19 picture around your school using the map below.
View COVID-19 Map of Peel Schools in a full screen map
Under its back-to-school plan, the Ministry of Education capped secondary school classes at 15 students with attendance on alternative days for 24 boards (including Dufferin-Peel Catholic District School Board [DPCDSB] and PDSB). The Ministry set targets for elementary classes, but did not apply caps, with some parents reporting oversized classes.
To remedy this, the Toronto District School Board worked with its local public health unit to identify elementary schools in areas with particularly high rates of COVID-19. In total, the board found 81 schools under their criteria and capped their classes at 15 students in JK and SK and 20 from Grades 1 to 8.
But in Peel, despite the high per capita case rates, particularly in Brampton, the same rules have not been applied and the TDSB precedent has not been copied.
Instead, targets of 22 (SK), 20 (primary) and 23 (junior/intermediate) have been issued. PDSB told The Pointer its classes were below these targets in a general statement, but it is unclear if that represents school averages or every single classroom. Unverified claims have been made on social media, suggesting as many as 25 students in PDSB elementary school classes. The board has not released actual class-size lists for each of its schools.
DPCDSB also does not have a list of class sizes, but told The Pointer its elementary school class averages were 22.08 students in Kindergarten (target: 22), 19.34 in primary classes (target: 20) and 22.41 in junior/intermediate (target 23). The use of averages means some classes may be under the targets and others may be above.
"Public health and Sick Kids have clearly indicated it is almost impossible for children to socially distance if we have more than 15 in a classroom," NDP MPP for Brampton Centre, Sara Singh, told The Pointer, as she and her colleagues push the government to cap elementary classes to mirror high schools. "A lot of parents, students and educators are realizing that 27 plus [or] 30 students in a classroom just isn't feasible."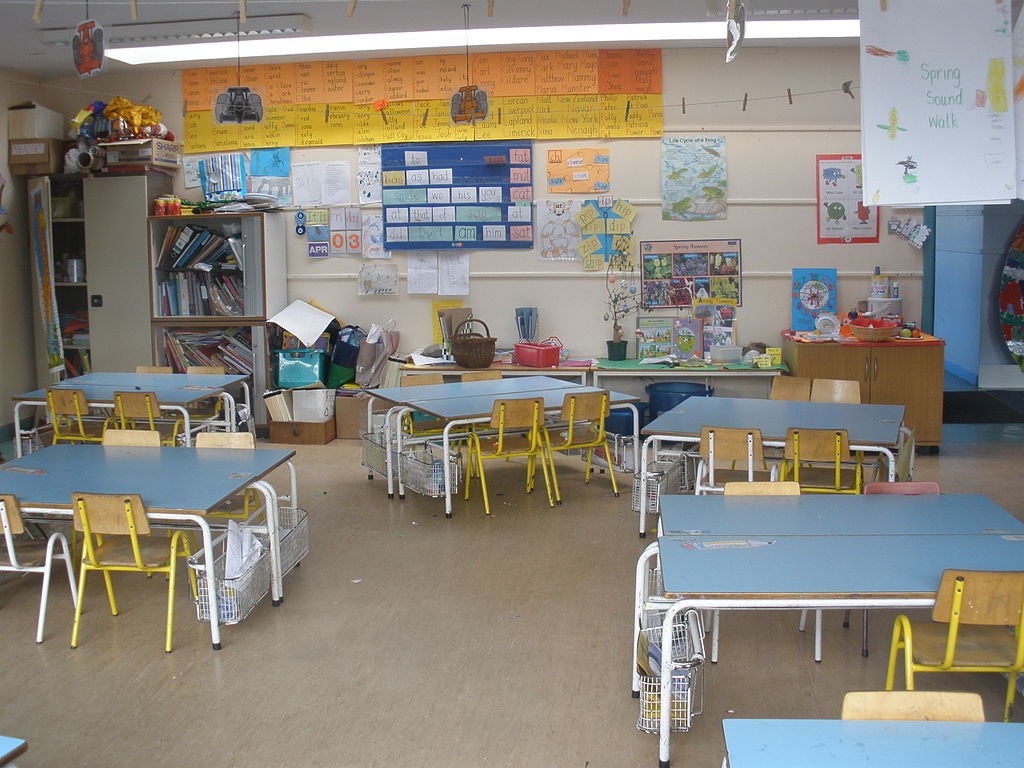 The provincial NDP are calling for the PC government to cap elementary school class sizes at 15 students.
Last week, NDP leader Andrea Horwath tabled a motion to implement the cap around the province. It was defeated at Queen's Park, with Brampton PC MPPs Amarjot Sandhu and Prabmeet Sarkaria both voting against it, despite the reality for many of their constituents. It's the latest example of the two Brampton PC MPPs voting with their party and not in solidarity with many of the voters who put them into office. Brampton has been identified as a provincial COVID hotspot since early June.
The NDP has renewed its calls for the cap after the province introduced new rules last week reducing the size of unsupervised indoor gatherings from 50 to 10 people (outdoor gatherings were limited to 25 from 100, also returning the caps to earlier levels). In order to curb the spread of COVID-19 as the virus' second wave gathers pace, the Government of Ontario opted to reduce the size of outdoor events, and indoor gatherings not taking place at properly staffed establishments like restaurants and bars.
Speaking when the move was originally rolled out for hotspots (Ottawa, Peel and Toronto), before the government applied the same restrictions across the whole province a few days later, Ottawa Mayor Jim Watson cited crowds he saw at school gates and students interacting with one another after leaving buildings, most without masks, he said. Watson said it made little sense to limit public gatherings indoors, but maintain the same back-to-school plan.
The sentiment has been echoed across the province, with critics accusing Premier Doug Ford and his government of ignoring the safety of school children.
"On the one hand we have the Premier limiting the number of folks that can gather in private settings, why not the same for our classrooms?" MPP Singh asked. "That's really where the concern comes from for us."
PDSB Interim Director of Education Colleen Russell-Rawlins praised her board's back-to-school plan, but said she "would be supportive" of extra funds to "further lower class sizes" in elementary schools.
It is unclear exactly how Peel's school boards are going about lowering class sizes.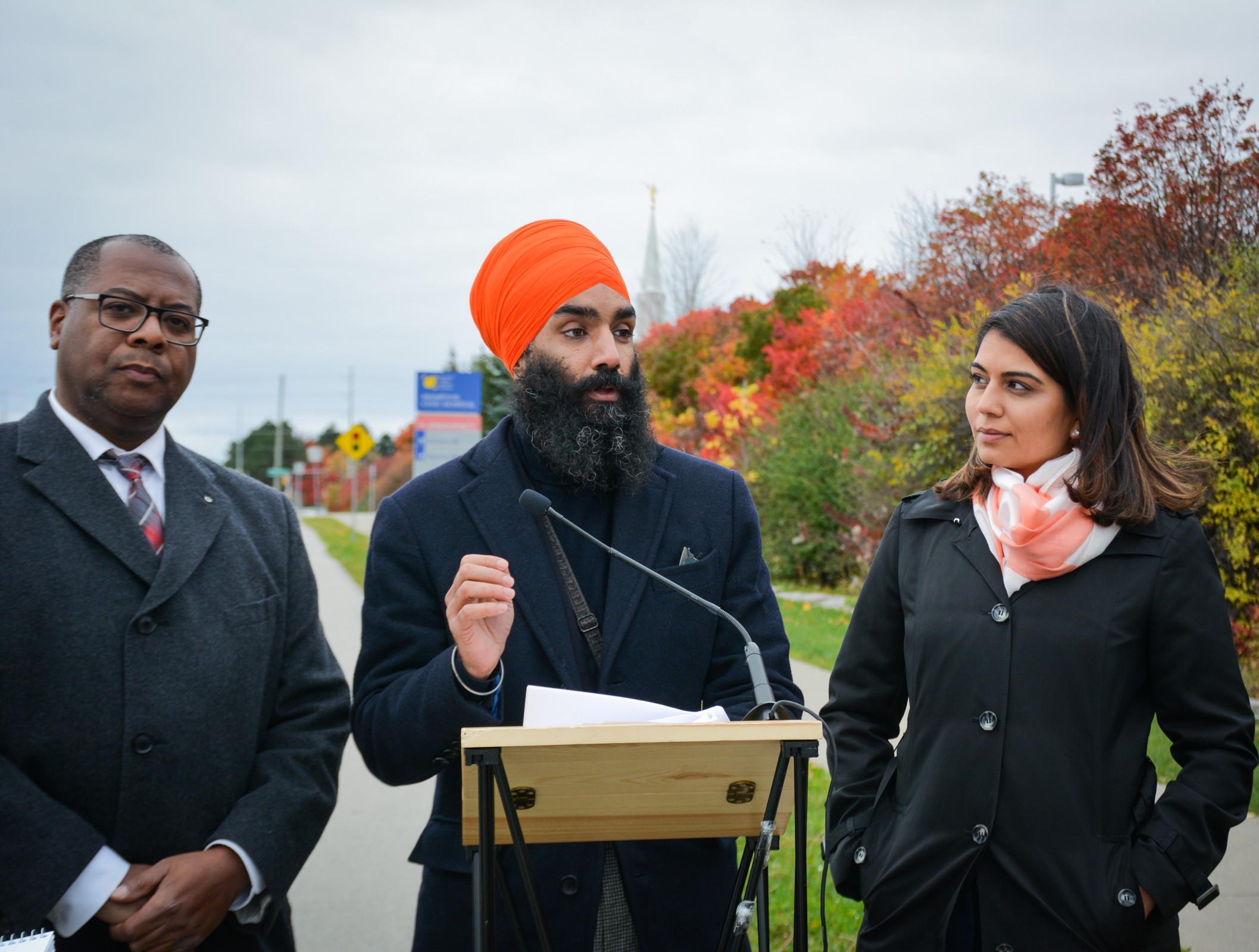 Brampton NDP MPPs (from left to right) Kevin Yarde, Gurratan Singh and Sara Singh.
A spokesperson for PDSB told The Pointer 32 schools had been given additional funding because they were in high-risk areas. In a follow-up, the board was unable to confirm the schools that had benefited. No details were provided on how the resources were used or what the class sizes in these schools currently sit at.
DPCDSB said it is not targeting its investment based on risk. A spokesperson said the board was using funds to lower class sizes "across the board at elementary level" to improve physical distancing. The board did not suggest lower-income areas or higher-risk schools would be targeted, despite the approach of TDSB in August and now PDSB.
In early September, concerned about transmission of COVID-19 in classrooms, Peel parents opted to remove 10,000 students from in-person learning in PDSB schools. The move led to a delay in online learning as the board rushed to redraw its staffing plans. Overall, 49 percent of elementary students are learning online and 25 percent of high schoolers within the board.
Remote learning has been less popular at DPCDSB, with 30 percent of elementary students opting to learn from home. A quarter of secondary school students have chosen online teaching.
For parents with elementary school children, online learning can be a challenge. Parents able to work from home will have the privilege of weighing the perceived risk in their child's school and deciding if they would like them to work at home or study in the classroom. In single-parent families, or homes where both parents work, that luxury may not be on the table and parents could be forced to send their children into the classroom regardless.
"This is another example of how those perhaps with privilege and the ability to keep their children home will do so, but those who can't will be forced to send their children to school," Singh said.
For parents who have sent their children into the classroom, but are worried about the novel coronavirus, Thursday brought another blow. Attempting to respond to long line-ups at testing centres, Ford amended the list of those eligible for testing. It shrunk from a universal testing system to one just open to those who may have been exposed to the virus or are displaying symptoms. It's a move the NDP are describing as "rationing".
Where previously parents could get their child tested randomly for peace of mind, the new rules only allow screening at assessment centres for those students, or others, who have come into contact with a positive case, have other risk factors or clearly display COVID-19 symptoms. The government announced 60 private pharmacies in hotspots will now conduct tests for anyone with an appointment, including nine in Brampton and eight in Mississauga.
Ford was asked about testing for students at a Thursday press conference, but skirted around the question. Health Minister Christine Elliott, responding for the Premier, simply said public health nurses funded for schools as part of the province's reopening plan would be instrumental in ensuring children who need to get a test receive one.
The Ministry of Health told The Pointer testing would be "available and easily accessible" for symptomatic students. They said local health units would contact any student who needed to get tested in the event of school outbreaks.
"If I were Premier, I would be hiring thousands more teachers and education workers and lining up temporary spaces for classrooms," NDP leader Horwath said in a media release.
---
Email: [email protected]
Twitter: @isaaccallan
Tel: 647 561-4879
---
COVID-19 is impacting all Canadians. At a time when vital public information is needed by everyone, The Pointer has taken down our paywall on all stories relating to the pandemic and those of public interest to ensure every resident of Brampton and Mississauga has access to the facts. For those who are able, we encourage you to consider a subscription. This will help us report on important public interest issues the community needs to know about now more than ever. You can register for a 30-day free trial HERE. Thereafter, The Pointer will charge $10 a month and you can cancel any time right on the website. Thank you.
Submit a correction about this story