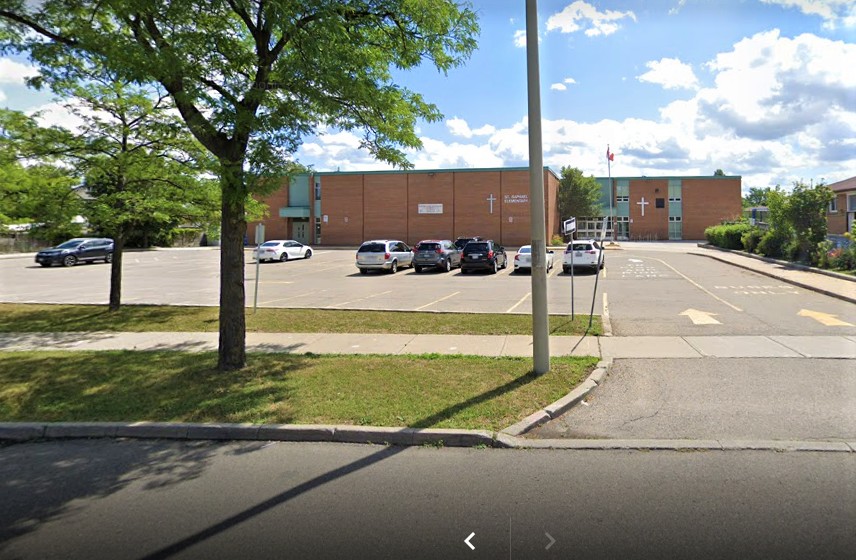 Images Google Satellite
Peel schools with COVID cases more than double; 29 now on list including one in Malton with multiple infections
COVID-19 cases reported in Brampton and Mississauga schools doubled in a single day as numbers remain high while students return to the classroom. The latest update includes Peel's first school with multiple infections: St. Raphael Catholic elementary in Mississauga's hard hit Malton neighbourhood has two confirmed cases.
According to numbers posted by the Dufferin-Peel Catholic District School Board (DPCDSB), St. Raphael's two reported cases of COVID-19 do not meet the provincial criteria for declaring an outbreak. In medical and long-term care settings an outbreak is defined as just one case, but that definition was changed for education spaces which require two, however, only if certain connections link multiple infections.
"An outbreak in a school is defined as two or more lab-confirmed COVID-19 cases in students and/or staff in a school with an epidemiological link, within a 14-day period, where at least one case could have reasonably acquired their infection in the school (including transportation and before or after school care)," the province's definition reads.
According to the board website, no classes at the school have been closed and the school remains open.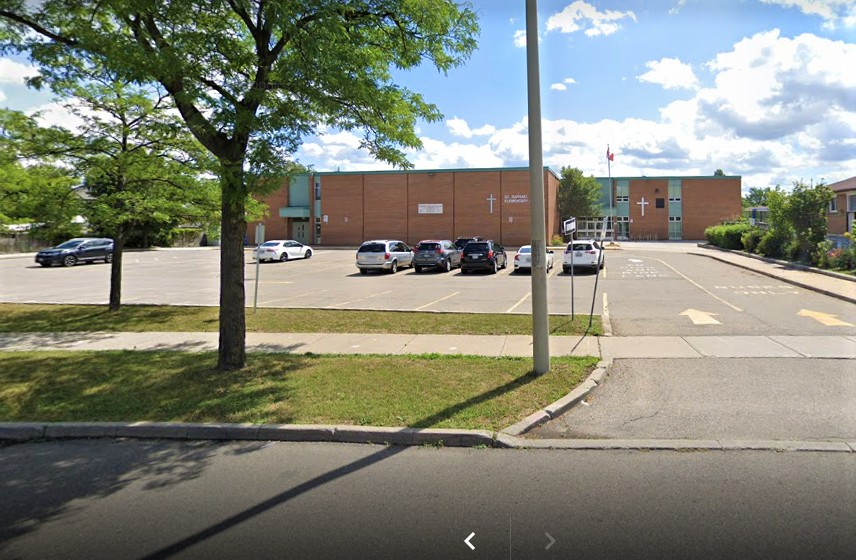 St. Raphael Elementary School in Mississauga's Malton neighbourhood remains open despite two reported COVID-19 cases
It only took a week, since orientations began last Tuesday, before Peel saw its first school with multiple cases.
As of 4 p.m. Thursday, 29 schools in Peel's two boards have now confirmed cases, more than double the number from Tuesday.
Figures for the morning of September 17 show the Region of Peel in the spotlight for school cases. In total, at 10:30 a.m., Ontario reported 21 new cases of COVID-19 in schools, 14 of them in Peel. Of the 62 infections reported in the province's schools, Brampton and Mississauga are responsible for roughly 45 percent.
Peel's vast over representation among new provincial school cases is reflected in its general COVID-19 numbers as well. Thursday, Peel was responsible for 21 percent of Ontario's new cases, up from 17 percent the day before and 17 percent Tuesday as well. The region makes up about ten percent of the provincial population.
Beginning Friday, under new rules handed down by the Ontario government, private gatherings in Peel, Ottawa and Toronto will be restricted, but all three hotspots will remain in Stage 3. Outdoor events will be capped at 25 people, down from 100, indoors the limit will drop from 50 to 10. In both situations physical distancing measures should remain in place between people attending. Fines for organizers of events not meeting the new rules will be as high as $10,000.
The changes have not been applied to properly staffed settings like gyms or restaurants.
Reacting to the new rules, Ottawa Mayor Jim Watson on Thursday cited crowds he saw at school gates and students interacting with one another after leaving buildings, most without masks according to him. He questioned the Queen's Park decision that impacts his city, as well as Peel and Toronto. Why is the provincial government reducing public gathering limits, but ignoring the risk of viral spread in schools?
In Mississauga, The Pointer has seen groups of high school students making their own way to school by MiWay bus. Many have been in close contact at bus stops and on board, without masks, meaning the cohort system may be rendered useless if interactions outside the classroom involve close contact with those not within their cohort, often without observing social distancing and other safety measures.
The majority of new school cases reported are located in Brampton, at the heart of the province's current surge in cases. Twelve of the 15 schools reporting new infections are located in the city, and the remaining three (reporting four cases between them) are in Mississauga.
Ten of the 12 schools in Brampton with new cases sit in high or medium risk areas. The risk categories are based on determinations by The Pointer using data from Peel Public Health, with high risk areas having infection rates of COVID-19 well above the regional and provincial average.
High risk areas are where the rate of infection was 716 per 100,000 people or higher, between February 23 and September 5 (the most recent date for available data), more than double the average for all of Ontario. Medium risk is where the rate of infection was between 317 and 715 per 100,000 people.
Central Peel SS, HF Loughin PS, Jean Augustine SS, Madoc Drive PS, Tribune Drive PS and St. Daniel Comboni Catholic School are all Brampton schools in high-risk areas that recorded new cases of COVID-19 Thursday. Nelson Mandela PS also has a new case, but is located in a low-risk Brampton neighbourhood. Williams Parkway PS, Arnott Charlton and Worthington PS, with one new case each, are located in medium risk areas of Brampton.
Edenrose PS (low), Ingleborough PS (medium) and St. Raphael School (medium) recorded four cases between them in Mississauga.
At 4 p.m. on Thursday, two new schools were added to the list. Folkstone Public School (Brampton, high risk) and Saint Cecilia Elementary School (Brampton, medium risk) both reported new cases which will be reflected in the provincial school cases at 10:30 a.m. on September 18.
"I think school is going to be shut down by the end of September," Romana Siddiqui, a Mississauga mother and parent advocate, laughed nervously. "I am concerned, but I am still sending them [her children] … if there was a case at [their school] I would probably keep them at home for a few days until I got some information," she added. She has been at the centre of local initiatives to ensure a safe school reopening plan.
According to PDSB, the largest school board in the region, stringent measures are followed when a case is reported. The student or staff member infected is sent home immediately if they are on school property when the positive result is returned. As with any infection, Peel Public Health is called in to complete contact tracing and break the chain of transmission.
It is not clear how the school leadership discovers a case and if that relies on parents or teachers informing them they tested positive for the virus.
Areas frequented by the person carrying the infection are cleaned and the local health body, which has the power to shut schools and classrooms, completes a risk assessment to decide if a deep clean will suffice.
The case is then also reported on the board's website and in a letter to parents and staff.
You can see more details and information for your local school using The Pointer's interactive map.
View COVID-19 Map of Peel Schools in a full screen map
The high case counts will concern school leadership, with the new academic year barely underway. Students who are attending in-person learning returned to regular school days Wednesday, following orientation last week.
The total of 16 new infections in 15 more schools come on top of 14 cases already reported in 14 Peel schools. As of September 17, 22 schools within the Peel District School Board, and seven in the Dufferin-Peel Catholic District School Board have had students or teachers test positive for the novel coronavirus.
The majority of those schools are located in Brampton, with 20 north of the Steeles Avenue divide. Prior to Thursday, school cases were evenly distributed between the two cities.
PDSB and DPCDSB do not make it clear on their dashboards if a new infection is a student or staff member. Cases among students could cause higher concern for parents as they are more likely to be mixing with other students compared to teachers, who are isolated, wear masks, plastic face shields and often sit behind plexiglass.
The new cases in Peel come as PDSB announced it would be reorganizing its plans for elementary schools. In an attempt to take into account changing decisions by parents, removing their children from in-person learning en-mass in Peel, schools and classes are going to be shifted to even out class numbers.
"Given the recent significant shift to online learning, we have determined that another reorganization will be required to meet mandatory Ministry of Education class size regulations and to ensure we have enough teachers for each class," Colleen Russell-Rawlins, Interim Director of Education, wrote to parents, explaining PDSB would aim to keep in-person class sizes below the provincial targets.
It is not yet clear if the reorganization will prioritize schools in high-risk neighbourhoods to reduce their class sizes further.
Changes will be in effect from Monday and parents will be informed directly by their school.
The move is in response to roughly 10,000 students who switched their preference from in-person to online learning the week before school returned. It suggests a school board on the back foot, being forced to react to events it could have planned for. The decision by concerned parents was made in the context of rising numbers of COVID-19 cases in Ontario, spurred by a rash of recent infections in Brampton.
On the most recent day for which Peel Region data is available (September 15), Brampton made up 18 percent of all cases reported in Ontario. Twice already this month the city has accounted for 37 percent of total daily infections, despite being home to only 4.5 percent of its residents.
So far, no classrooms have been closed in Peel by either DPCDSB or PDSB.
---
Email: [email protected]
Twitter: @isaaccallan
Tel: 647 561-4879
---
COVID-19 is impacting all Canadians. At a time when vital public information is needed by everyone, The Pointer has taken down our paywall on all stories relating to the pandemic and those of public interest to ensure every resident of Brampton and Mississauga has access to the facts. For those who are able, we encourage you to consider a subscription. This will help us report on important public interest issues the community needs to know about now more than ever. You can register for a 30-day free trial HERE. Thereafter, The Pointer will charge $10 a month and you can cancel any time right on the website. Thank you.
Submit a correction about this story