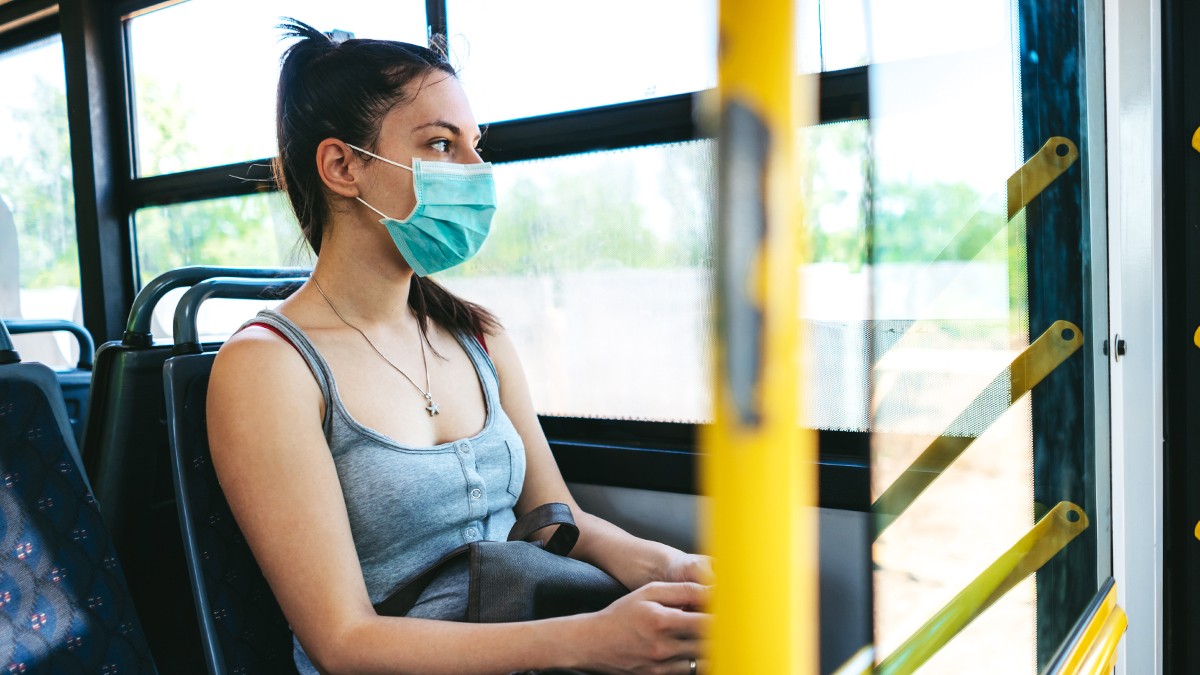 Photos from Twitter/City of Brampton/Region of Peel/ABACUS Data
Brampton Transit unable to enforce mask rules despite frustration
The World Health Organization has repeatedly stressed the proper do's and don'ts of mask wearing. On paper, the rules are simple: don't wear your mask under your nose, don't remove it when in close proximity to others, and make sure the face-covering fits tightly.
According to Brampton Transit riders who spoke with The Pointer, these rules are frequently ignored by transit users on local buses. It has many people who rely on transit to get to and from work concerned that they could be watching the second wave of COVID-19 unfolding before their eyes. The startling reality is that Brampton Transit can't do much to change it.
Due to the nature of exemptions offered to mask wearing rules for medical or other reasons, "Brampton Transit is unable to directly enforce that masks be worn," a City spokesperson told The Pointer.
"I use Brampton Transit from time to time, and I still see quite a few passengers not adhere to the mandatory mask measure even though that mask mandate has been started (for) a few weeks already," transit user Naomi Sim told The Pointer over Facebook. "What [does] it take for Brampton Transit to enforce this mandate? Some passengers had their masks on while boarding the bus, but once they're seated, masks come off," Sim said.
A quick search on social media shows numerous similar complaints. "It should be no mask, no ride, with the exception of health," one Twitter user wrote on July 10.




Many Brampton residents and transit users have taken to social media to express their frustration about the lack of proper mask wearing and social distancing on Brampton Transit buses.
Mask use became mandatory on Brampton's public transit system in July in an effort to help reduce the spread of the novel coronavirus. The decision came after the city was named a "hot spot" for COVID-19 by Premier Doug Ford. Since this admission in May, the city has seen a decrease in cases. But in more recent days, larger case numbers are starting to reappear and one resident fears improper mask use will contribute to a second wave of the virus.
"I can't tell you how many times I see people, even when they wear the mask, they'll take it off once they're inside which defeats the whole purpose of why we got this protection on a bus in the first place," said Brampton resident Ryan Raden. While he doesn't believe such behaviour on transit is the sole reason for the increased case numbers, it may be playing a role.
Raden relies on transit to get to work in Mississauga and takes two buses that get busy quickly. He fears this behaviour will only get worse as schools open up and people return to work after the summer.
The uncertainty from transit riders is particularly concerning for the City of Brampton which is trying to reassure residents and get them back taking public transit after the pandemic took a large chunk out of expected revenues.
Transit was a hard hit area for the city, with the loss of $35 million in revenue by July 1. Brampton received $24 million in relief funds from a partnership between the federal and provincial government to put towards transit last month. The remaining deficit may be addressed through additional funding, or during budget discussions, a City spokesperson told The Pointer.
The significance of masks in the effort to halt the spread of COVID-19 has been stressed by governments and public health agencies for months. Non-medical masks, such as cloth masks, can trap droplets when people talk, cough or sneeze, according to the Mayo Clinic. "Cloth face coverings are most likely to reduce the spread of the COVID-19 virus when they are widely used by people in public settings," the agency's website states.
Questions to Peel Public Health (PPH) asking specifically about concerns on transit did not yield any answers. PPH did acknowledge cases related to travel outside the country have increased. In its weekly epidemiological update released August 28, there were 426 confirmed cases of COVID-19 resulting from travel. In the prior update, released August 21, there were 385 cases resulting from travel. The highest rate of transmission is continuing to come from within households with a known exposure, representing an average of 30 to 40 percent of the cases, PPH told The Pointer.
A majority of Peel's new cases originate in Brampton. Between August 26 and September 1, the city saw an average of 26.2 cases a day. Mississauga's average sat at around 7 new cases daily for the same time period.
While Brampton Transit is unable to enforce these rules, the City's bylaw officials do have avenues to ensure compliance. Not wearing a mask without a valid reason or removing it while on public transit is in violation of the Brampton COVID-19 Mandatory Face Coverings By-law, and can lead to fines between $500 and $100,000.
"Every Person shall wear a face covering before entering onto and while riding in a Brampton Transit vehicle," the by-law says. An enforcement officer may ask an individual to leave the transit vehicle if compliance isn't followed.
Since the by-law came into effect , 93 people have been charged, largely customers or employees not wearing face-coverings in public spaces or non-compliant businesses, the City spokesperson said. No charges have been laid in connection to public transit.
Exemptions include young children, if the mask wearer can't remove or wear the mask on their own, or if they have difficulty breathing with a mask on. The majority of the City's efforts focus on educating transit users to wear masks, "relying on the good judgement of passengers to ensure that they are following the rules," the spokesperson said.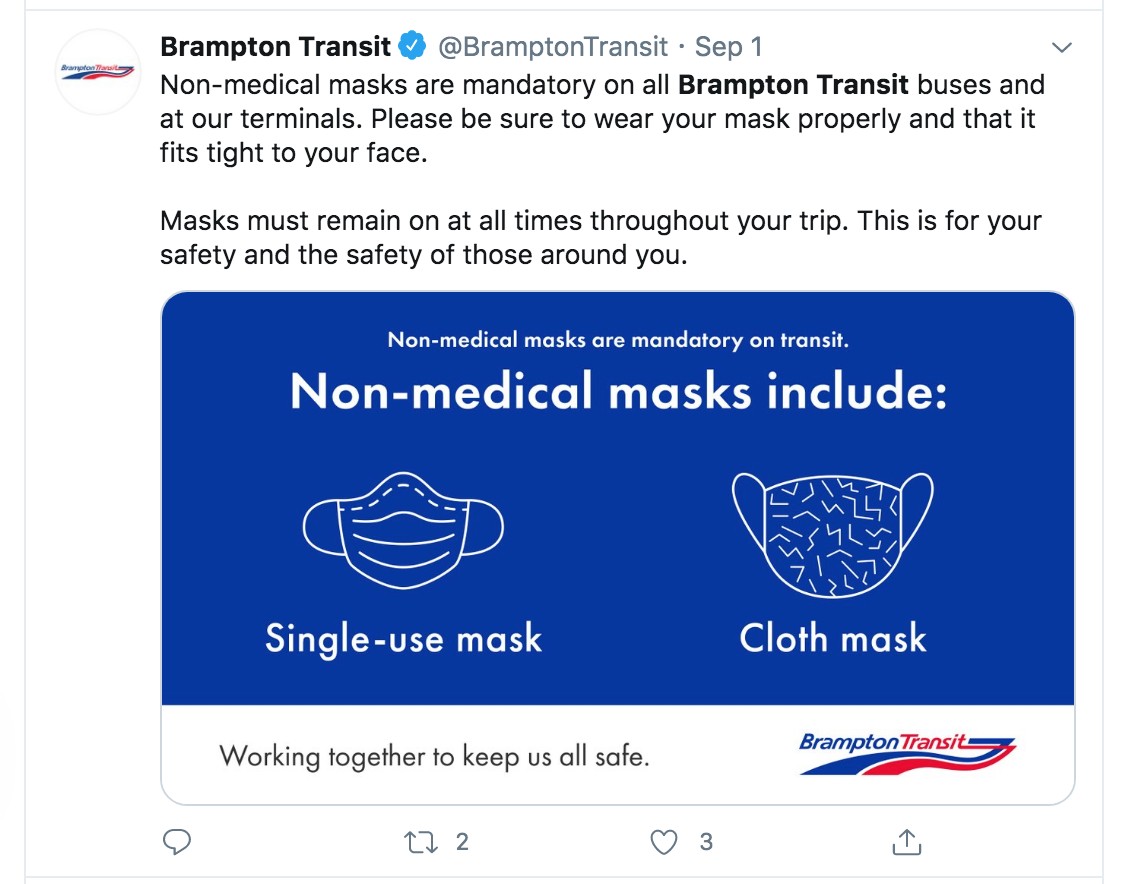 Brampton Transit has made efforts to educate riders about the mandatory mask policy.
Cleaning of Brampton buses is another concern for Raden. At this time, buses are cleaned every 48 hours as part of an enhanced cleaning regime. In late June, the province announced public transit agencies across the province will split $15 million for enhanced cleaning. Brampton's share will be $602,038 and Mississauga will get $743,937, but it remains unclear when that money will start to flow.
"We hope to start signing Transfer Payment Agreements as soon as possible. We are asking municipalities to provide us with their reporting in the new year, and we will start to flow funding out to municipalities upon receipt and review of their reports," a spokesperson from the Ministry of Transportation told The Pointer.
With transit restrictions like rear boarding and restricted capacity now lifted, it opens the possibility of more people using public transit in close proximity to one another. The question remains, can public transit play a role in furthering the spread of COVID-19?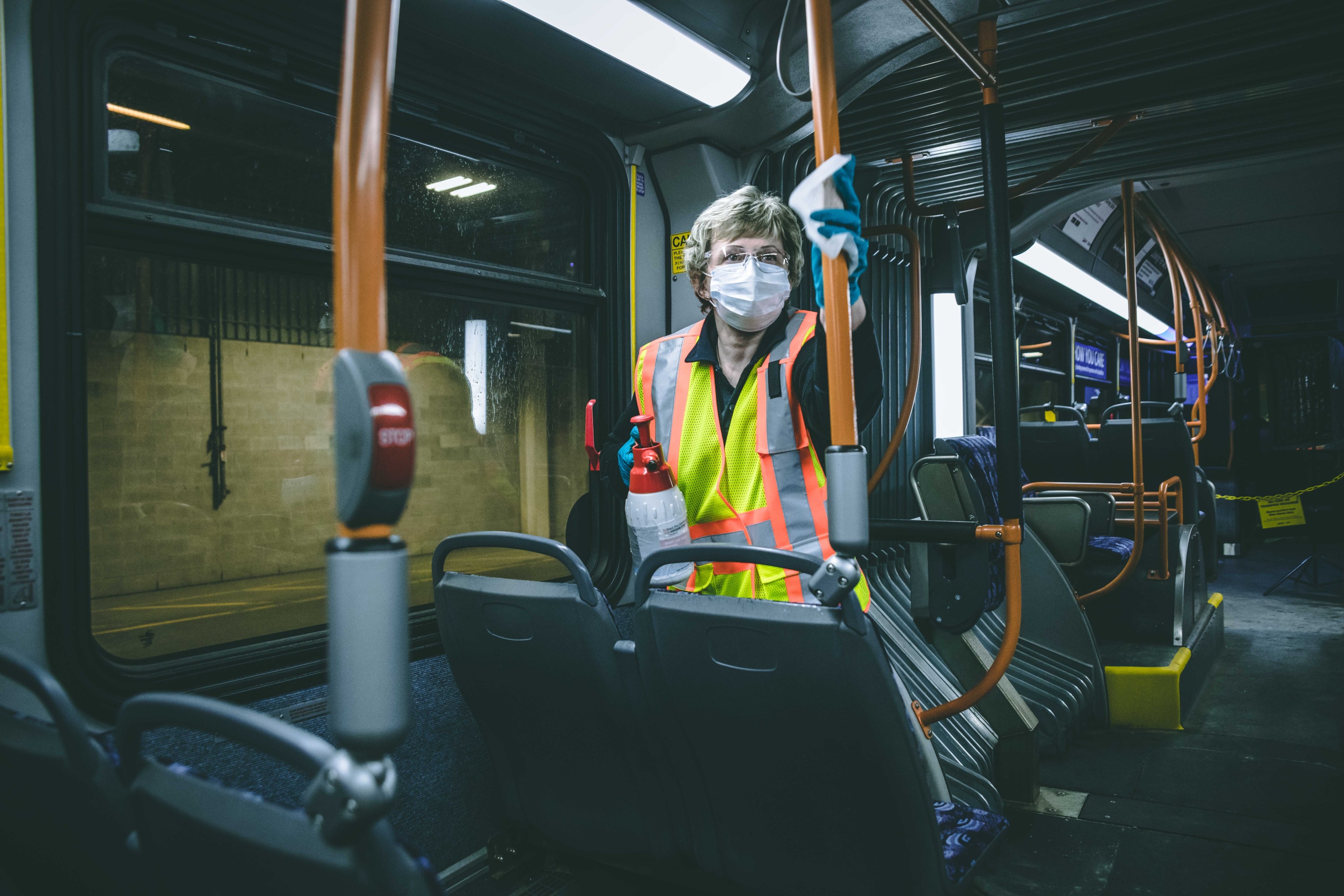 While Brampton Transit has implemented enhanced cleaning practices, some riders feel these efforts don't go far enough.
In February, before the City declared a state of emergency, 2.5 million riders used Brampton Transit. While it's unclear what ridership numbers look like now, it only takes one infected person, a super-spreader, not following the rules to spread the sickness widely, as seen through numerous examples across the world. In early January, reports of a single patient in Wuhan, China infecting 14 healthcare workers made international headlines. In February, 40 people attending the same church service in South Korea were infected with the novel coronavirus. Closer to home, 53 people attending choir practice in Washington back in March were infected with the virus, with two people passing away. All three cases started with one infected individual.
In cities across the country, attitudes around the use of public transportation have changed. A survey completed by ABACUS Data, and referenced in a June City of Brampton staff report, found only 7 percent of regular transit users are comfortable taking public transit. A further 24 percent of respondents won't take transit until a vaccine is available. The remaining respondents want to see enhanced practices, such as increased cleaning, space to physically distance and a reduction to the maximum number of people allowed on a bus.
Brampton's transit recovery plan, which took effect July 2, doesn't cover all these needs. The number of people on a bus is limited to the numbers of seats: a 40-foot bus has 35 seats and a 60-foot bus has 55, with people choosing to stand or sit, a press release from the City says. But as someone who uses transit frequently, Raden said it's common for people to stand close to one another.
When asked if the City will consider reinstating transit restrictions, including rear only boarding and free rides, in the case of a second wave, a definite answer was not provided.
"The City closely follows the direction of Peel Public Health and will respond based on their recommendations. Safety is a priority," the spokesperson said.
---
Email: [email protected]
Twitter: @nida_zafar
Tel: 416-890-7643
---
COVID-19 is impacting all Canadians. At a time when vital public information is needed by everyone, The Pointer has taken down our paywall on all stories relating to the pandemic and those of public interest to ensure every resident of Brampton and Mississauga has access to the facts. For those who are able, we encourage you to consider a subscription. This will help us report on important public interest issues the community needs to know about now more than ever. You can register for a 30-day free trial HERE. Thereafter, The Pointer will charge $10 a month and you can cancel any time right on the website. Thank you.
Submit a correction about this story