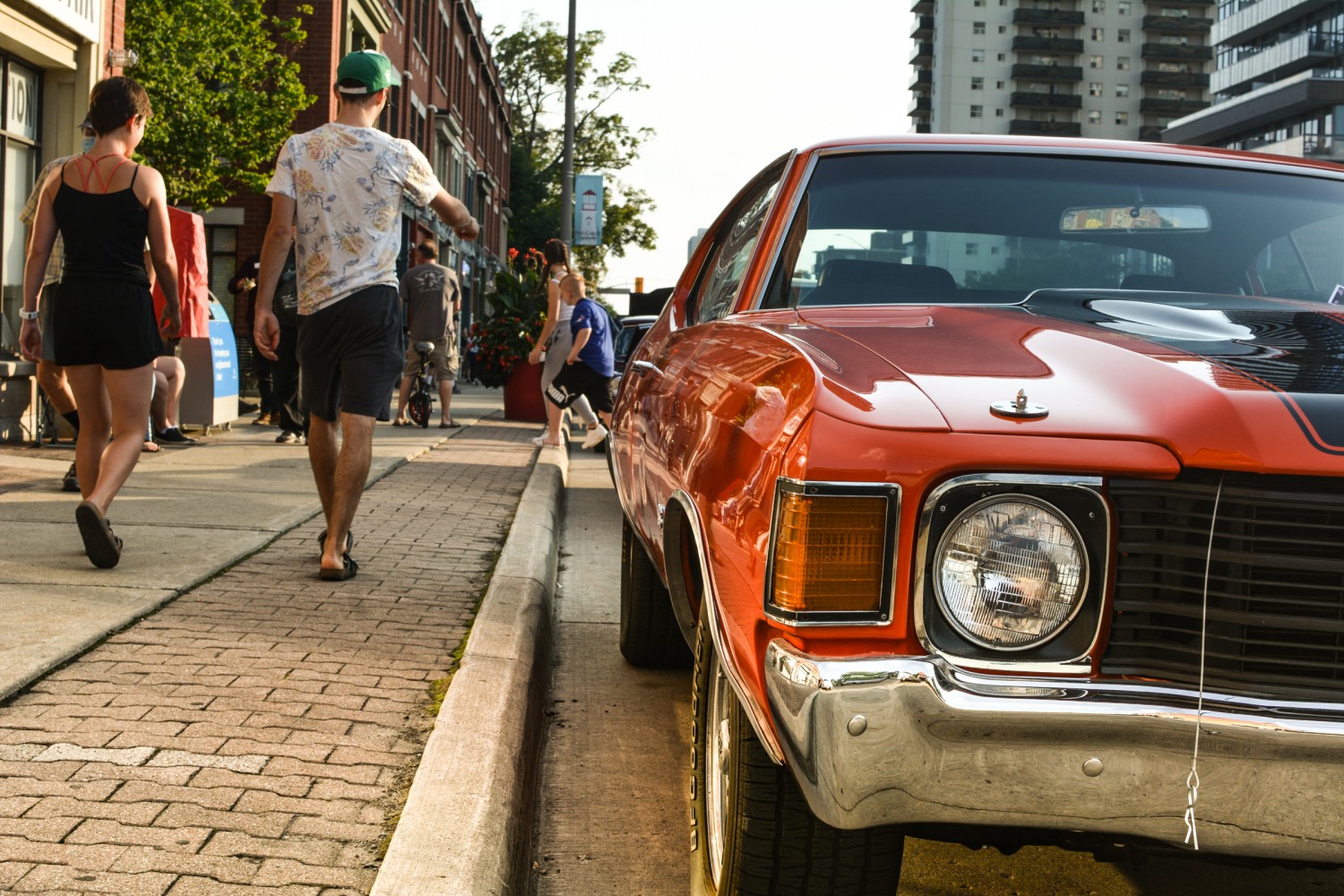 Photos by Joel Wittnebel
A flashback to the past has brought Port Credit businesses much needed relief 
Lakeshore Road has been transformed to a time when Mustangs rumbled through the neon thoroughfare and low-profile Corvettes turned heads up and down one of Mississauga's main drags.
Thursdays in August once again became a spectacle along the Mississauga waterfront. After months of bottled up energy the human spirit poured out across the streets of Port Credit.
Classic Cars Thursdays has brought the waterfront community some much needed energy and excitement, a turbo-charged boost to the local economy and the mood of so many who have struggled for months.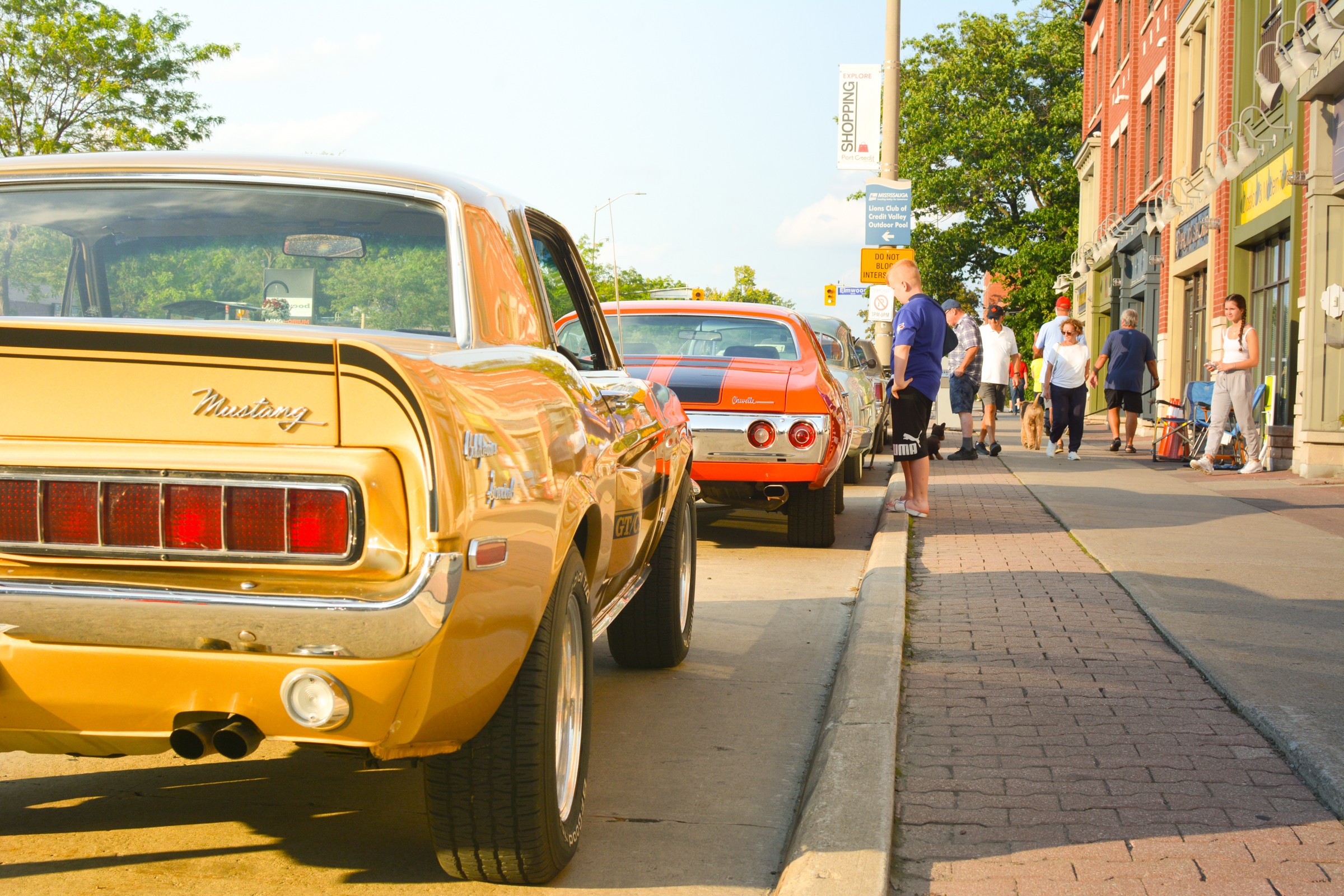 Every Thursday, patrons, store owners and car enthusiasts have been transported back to an era when cruising the strip was the singular form of entertainment. Shimmering chrome, whale tails, blowers rising from the hoods and miles of heavy metal used to dominate the city's streets. The '60s and '70s are back, glinting in the glow of summer nights when testosterone filled the sky. Shelbys, Panteras and classic Dodge Chargers park along Lakeshore Road, while the young and old criss-cross the teeming streets.
This was not the picture at the start of a bleak summer.
Vanessa Giammarino, a Port Credit business owner, opened Mane Boutique Salon on Lakeshore Road in November, with her cousin, Jessica Natinozzi.
The timing couldn't have been worse, but who could have predicted a global meltdown caused by a microscopic virus.
As the summer has unfolded, and thanks to the classic car event, clients have returned in uplifting numbers.
"Business has been really good, actually, since we're in the middle of a pandemic," Giammarino told The Pointer outside her store. "I feel like this end of the street is getting really busy. I feel like a lot of people don't know that we're here, so [thanks to the event] there has been lots of traffic."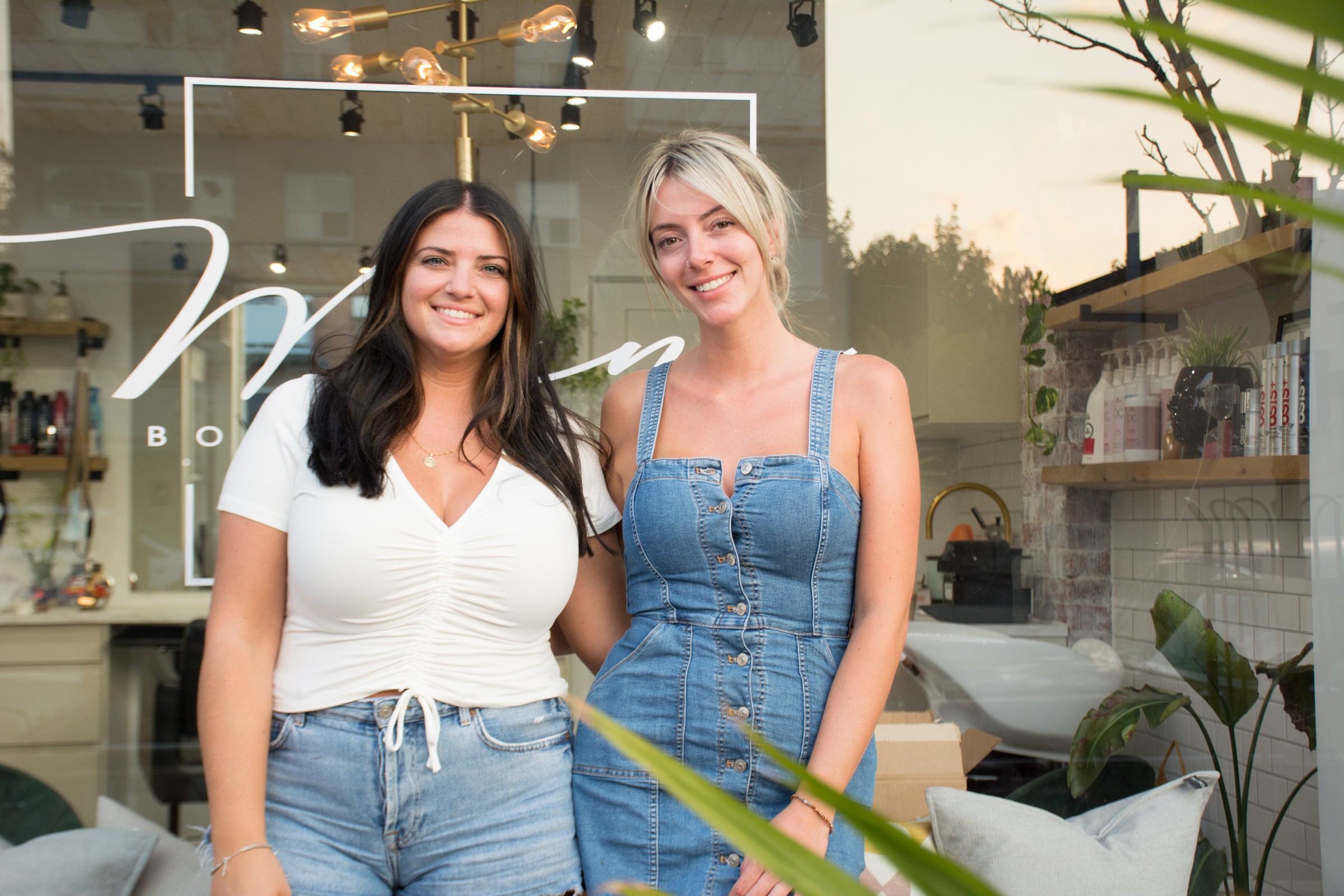 Vanessa Giammarino (right), opened Mane Boutique Salon on Lakeshore Road in November 2019 with her cousin, Jessica Natinozzi.
Spearheaded by local Ward 1 Councillor Stephen Dasko and the area's BIA, the Thursday night flashback to the past was originally planned long before the pandemic, but was put on hold. When the city entered Stage 3 at the end of July the concept was reimagined as a marketing campaign to attract physically distant visitors to Port Credit, instead of staging an official event.
Originally scheduled to end in August, two more Classic Cars Thursdays will roll out for the next couple weeks.
Unused money has also allowed the area's BIA to hire musicians who perform along the heaving street. Dasko says it's been a lifeline to local artists who were "starving on the vine".
Central to the attraction are the hundreds of classic cars parked along Lakeshore Road, the pride and joy of a tight-knit GTA-community of owners who show off the lines and curves of some of the most iconic automobiles crafted in Motor City USA, when cars were the symbol of a place whose time had come.
It's a total escape. One that so many need.
Musicians play along the rows of vehicles. Their melodies rise into the night. Couples and families soak in the sight of automobiles built for fun, in a time that seems so much lighter. They step into mom and pop boutiques, record stores or restaurants.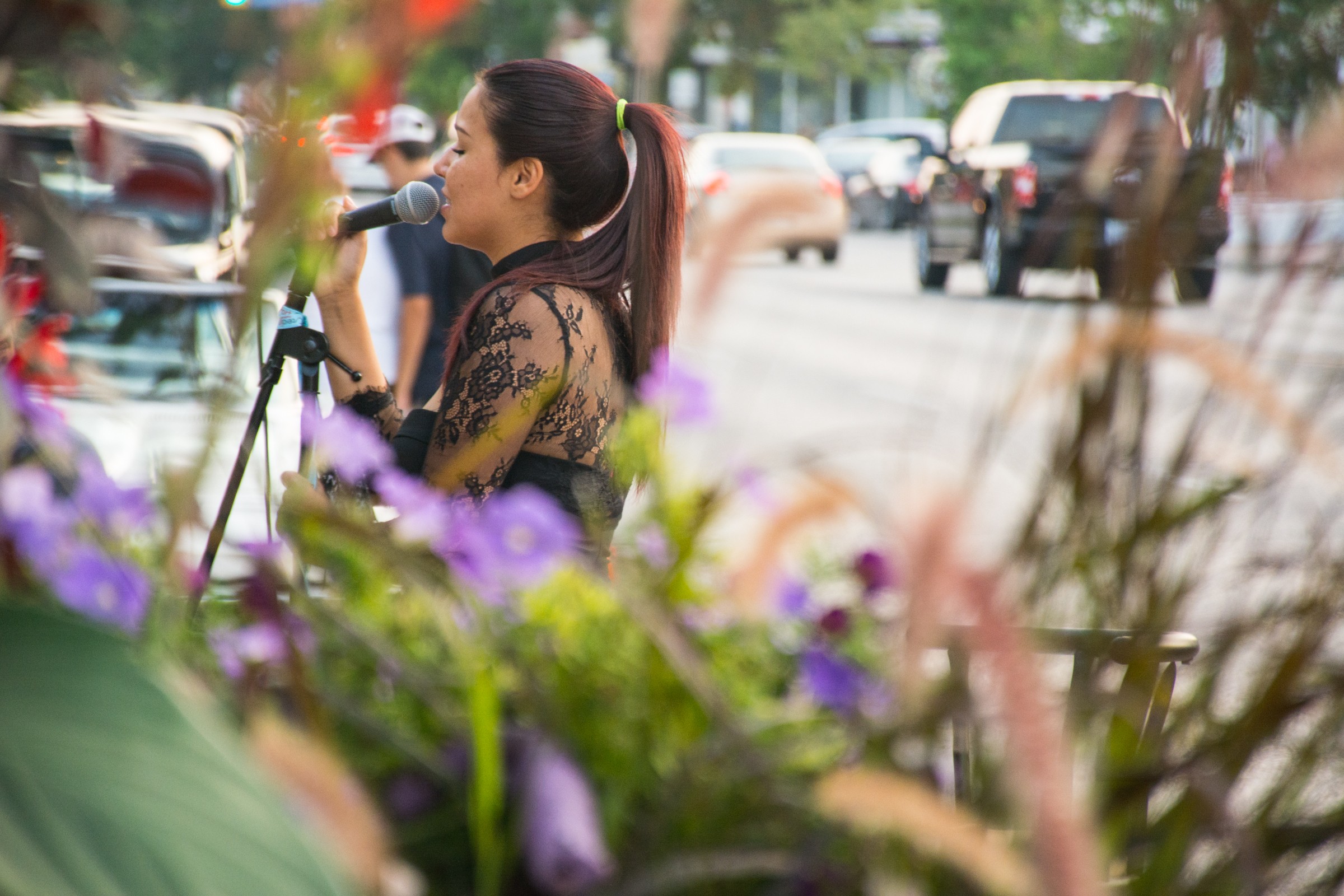 The crisp, cool air off Lake Ontario is like a beachfront resort. A warm sense of community fills the street. This is how humans, social creatures, are supposed to live.
This is what draws people to Port Credit.
"The immediate effects on people coming into the shops or the restaurants aren't necessarily there, but all of a sudden people know it's a destination. A place to come. A lot of them come back," Dasko tells The Pointer. "Quite often people will find they come back a week or a couple of weeks after… it helps to put us on the map."
Mary Theresa Corrado, owner of Quaint & Paint, agrees.
"The classic cars [event] is bringing a lot of people down." Her store, hung with hand-painted homewares, is drawing a particular demographic back to Port Credit.
"Typically people will come down in the evening, a husband and wife, it's pretty funny to watch. You'll see the husband walking along the street, he'll be looking at the cars, then the wife will come in this door," she says. "She'll be leaving in a hurry and mouth, 'I'll be back' and then, a few days later, she comes back on her own."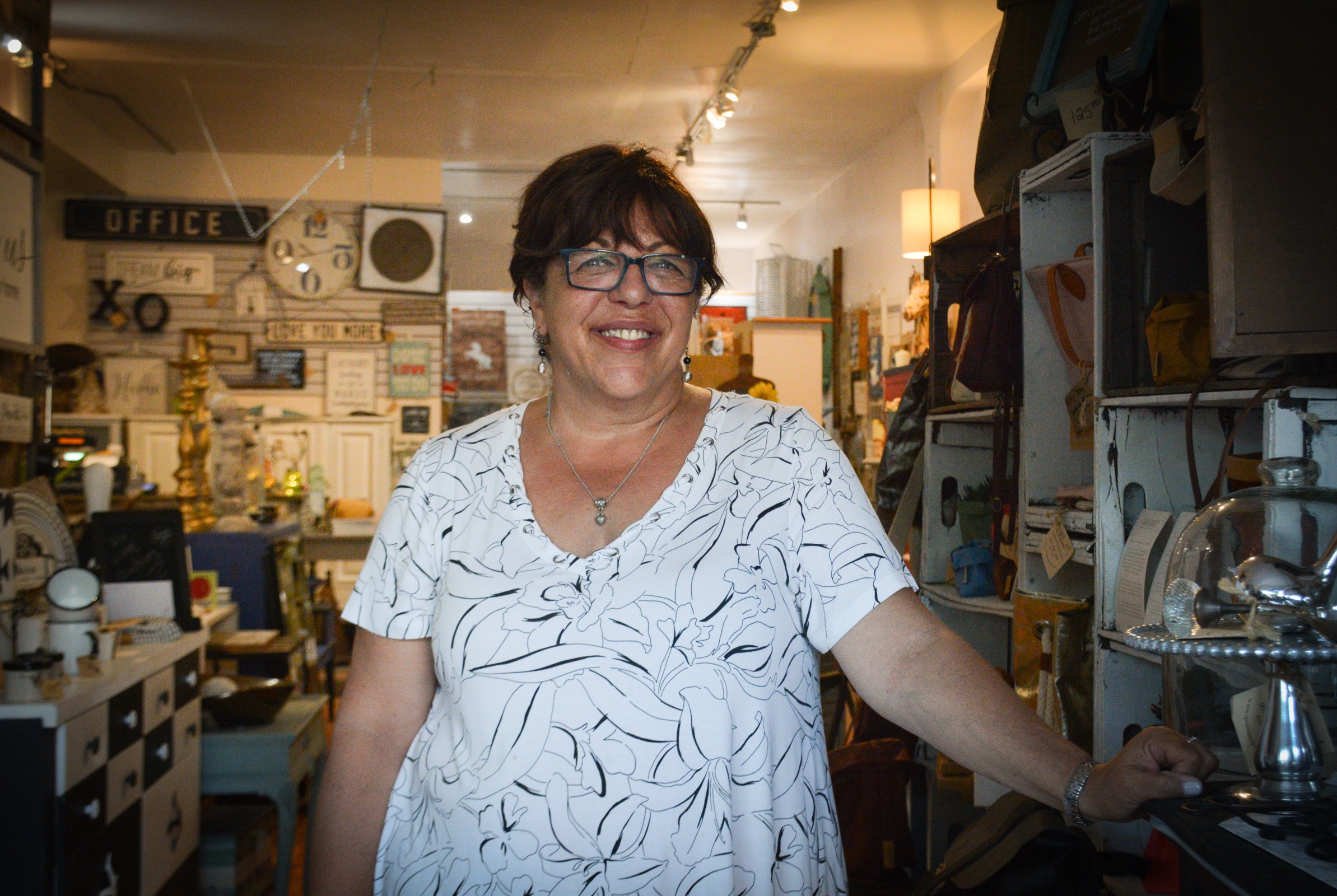 Mary Theresa Corrado, owner of Quaint & Paint
The event is designed to attract locals and visitors back into the unique vibe of Port Credit, and hopefully draw out their wallets at a time when businesses have been battered by economic upheaval.
"You can count on Port Credit to come up with something creative like this to stimulate the businesses in the town as well as to employ the arts, which is rad," Chris Woolley, the lead singer of the Pink Leather Jackets, says between performances on Lakeshore Road.
Before the pandemic, the group was gigging two to three times a week, while Woolley slotted in additional solo shows on the side. He's usually a successful, full-time musician.
"It's gone from totally full calendars, to non-existent, to starting again on these Thursdays," he says.
Pink Leather Jackets aren't the only ones struggling.
Down the street, Ric Cooper owns one of Canada's oldest record stores. The veteran businessman, in the industry for 28 years, believes he was once one of just two vinyl sellers left in the country. His legion of loyal customers has seen him through the pandemic, but it hasn't been easy.
"My regular customers phone up, they say 'do you need money? We'll come down and buy a few records'," he tells The Pointer. "That's pretty cool."
Even with his staying power, Cooper has been hit. Record Store Day, an international celebration of vinyl when most music stores are wiped clean of stock, was cancelled because of the pandemic. Instead of the one event — originally set for April — three smaller days were planned, one this past Sunday and two at the end of September and October.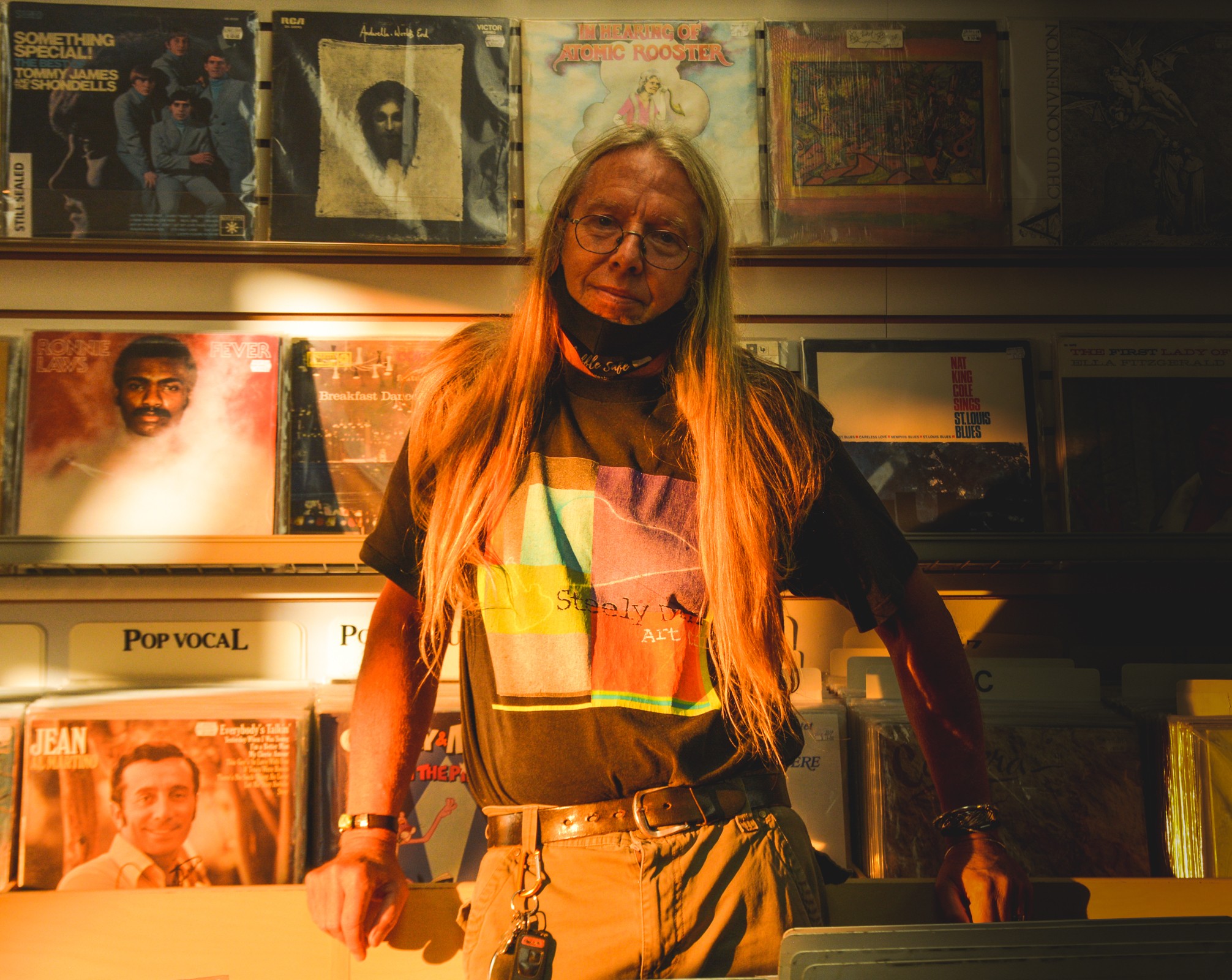 Ric Cooper, owner of Ric's Recollections in Port Credit.
"It was going to be a real gang buster, my busiest day of the year – COVID wiped it out," Cooper says. "It's not going to be the same. When they have everything together, there are literally hundreds of records to choose from. As you can see," he added, gesturing to a modest bundle, "I've got two boxes. That's not hundreds."
---

Back on the street, the calming effect of a perfect summer evening conjures memories of a time before COVID. Security hired by the BIA patrol the area to ensure residents maintain a safe distance, but the feeling of festival fills the entire space. The vacation atmosphere along the animated sidewalk squeezes out the noise of trucks and buses that rumble past. The modified drag racing cars that thunder by the boulevard only add to the feel of a bygone time.
At Colossus Greek Taverna, things are getting busy. The restaurant has been a staple on the Port Credit strip for decades, but took a hit like everyone else. The new reopening rules have allowed them to serve customers inside, but the space is just "an overflow for the patio" when it gets particularly full at weekends.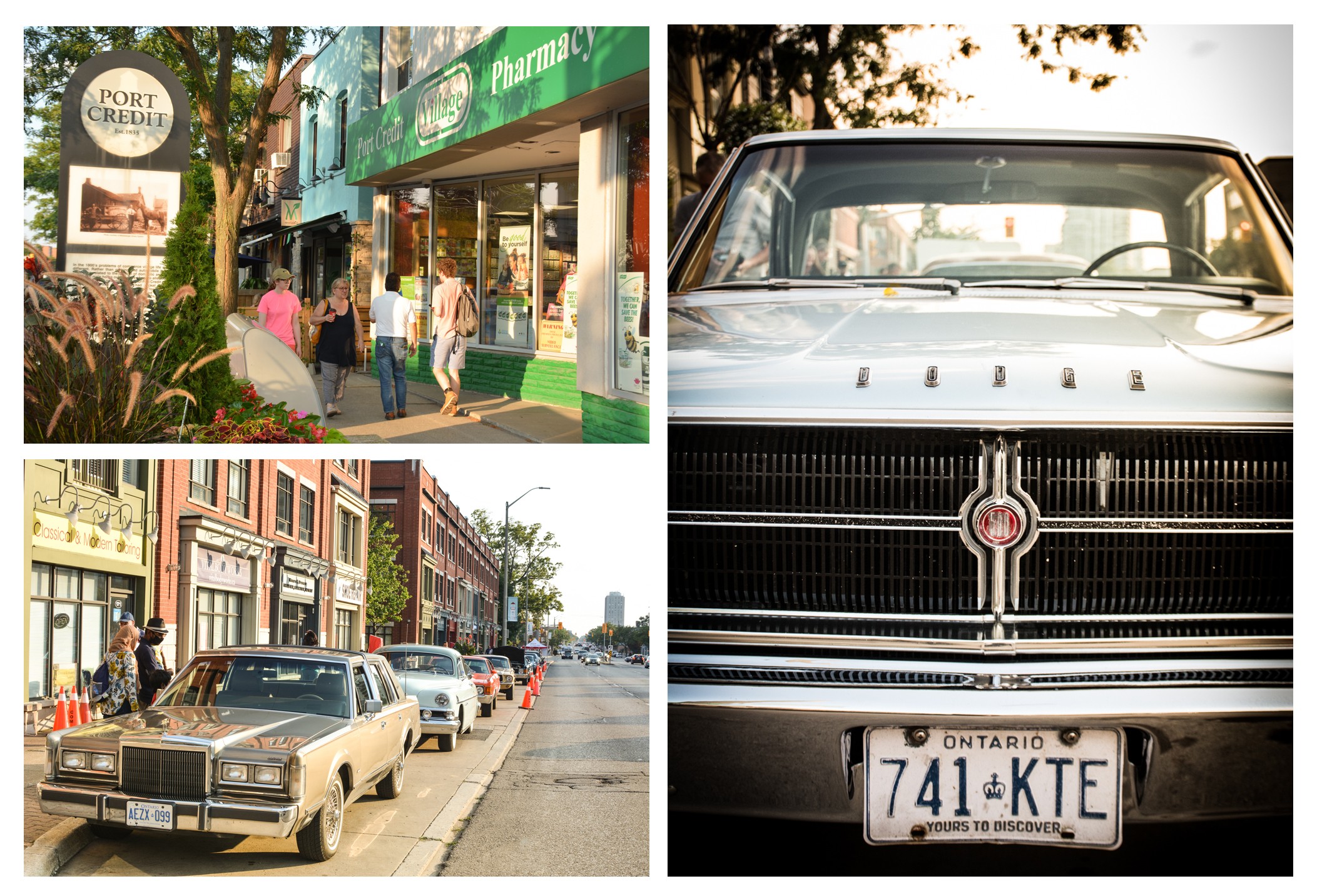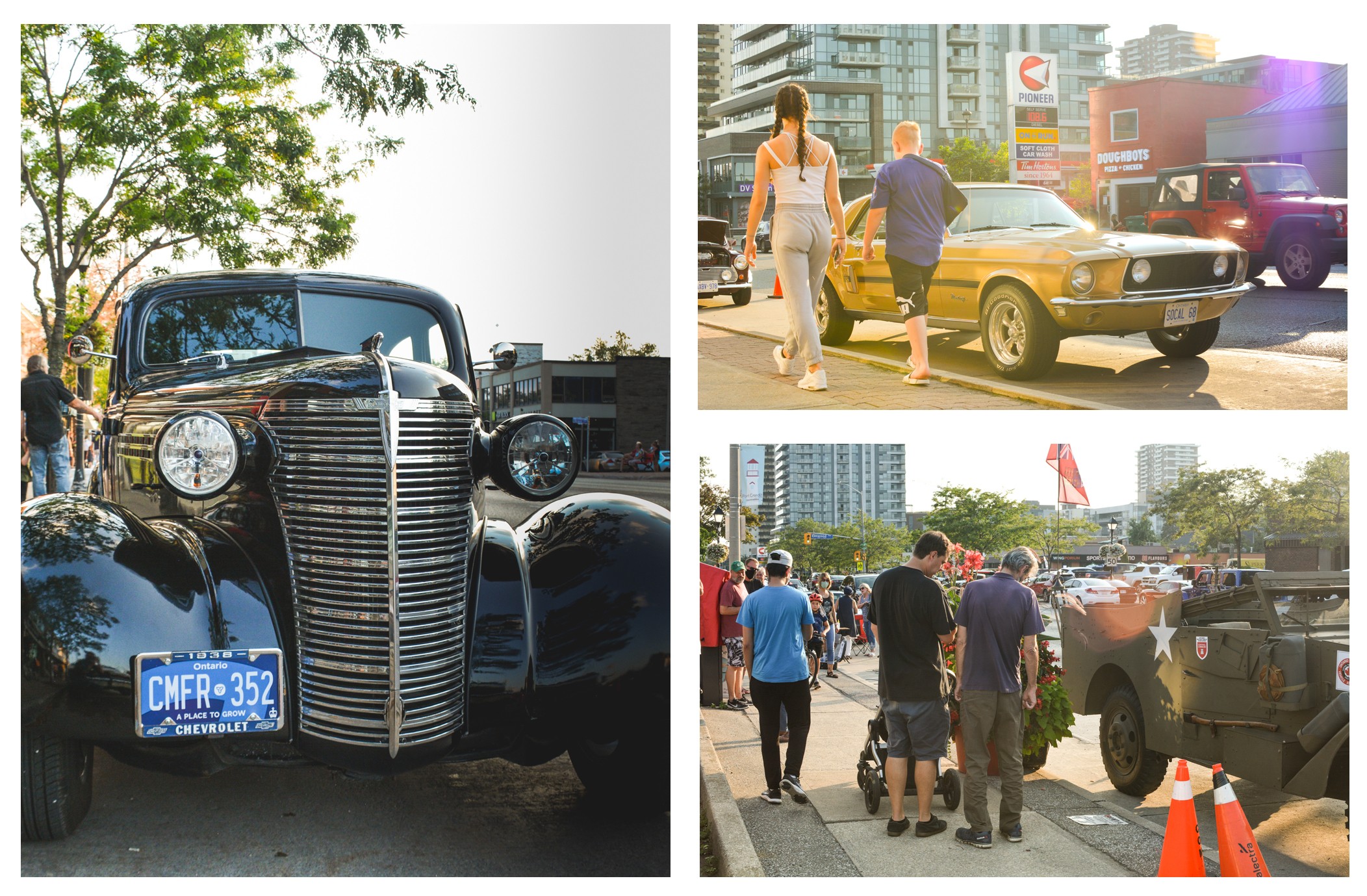 As the sun begins to set on Lake Ontario, earlier each day as fall nears, everyone is conscious the summer is ending and the time left to recoup months of lost earnings is rapidly dwindling.
"We are [starting to see a return to good times], but the problem is once the weather gets cold, things are going to change," Dimitri Fraggs of Colossus Greek Taverna, says. "We're happy, but we're also very cautious."
Woolley echoes the same fears.
"We can take advantage of the weather right now, but we've only got six weeks left at best," he says. "Once we go inside, as far as we know, the capacities are still limited, so most bars … won't be able to afford music. That's if they can even survive the last five or six months. It's going to be tough."
Port Credit, like all other neighbourhoods, has had casualties of the pandemic; businesses for whom the late-summer boost is simply too late.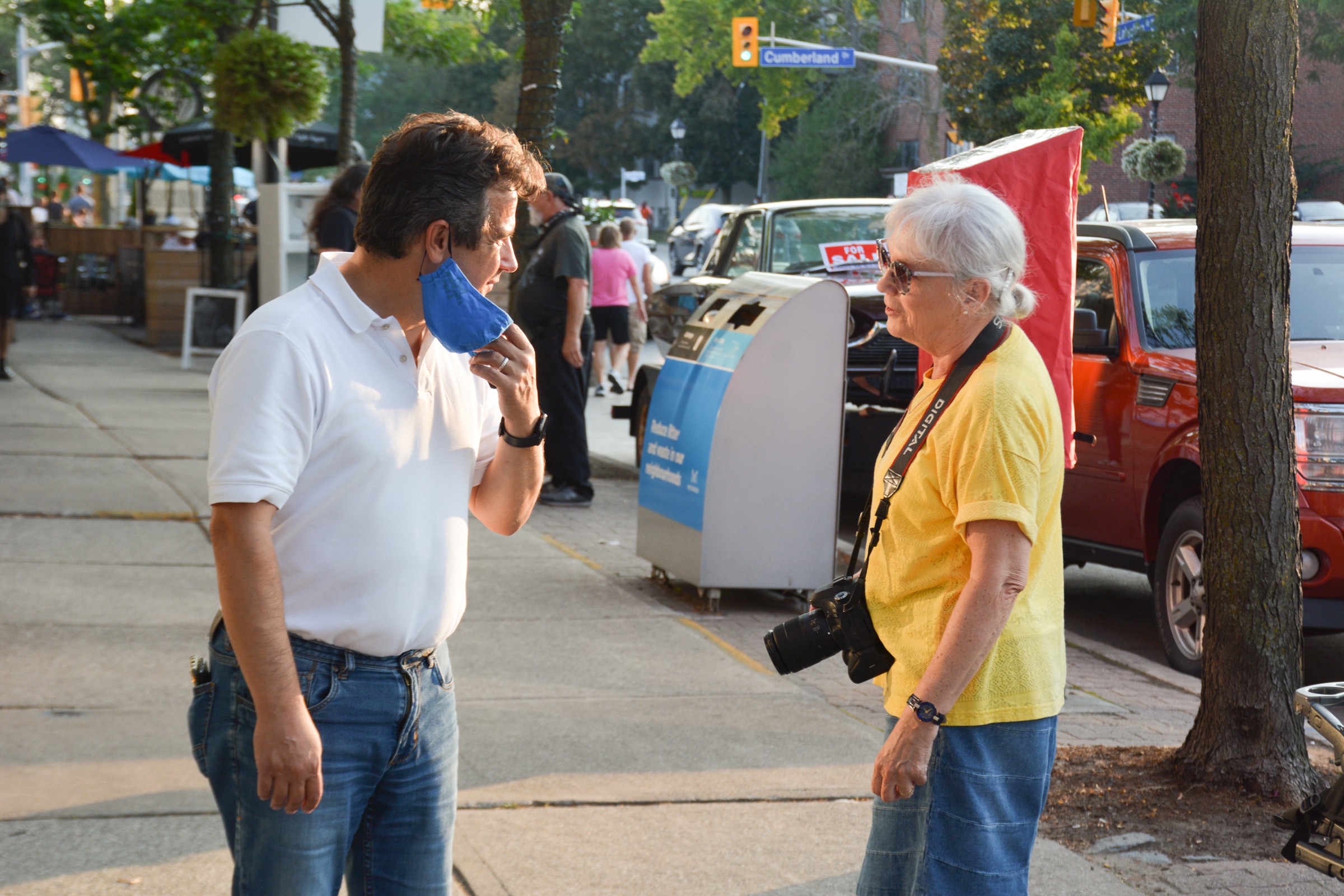 Ward 1 Councillor Stephen Dasko chats with a resident along Lakeshore Road.
"Unfortunately, we did lose some businesses," Dasko says. "We've lost a few on the west side of Hurontario [Street] along the Lakeshore [Road] corridor. And then more than a few on the east side… everybody has suffered really. There's very few people that haven't."
Of those that remain, the owners are hoping for the best. As the days get shorter, business opportunities — especially for restaurants with patio customers who may be wary of dining inside — shrink too.
In Port Credit, the first signs of revival are beginning to return. The fantastic success of Classic Cars Thursdays is a reminder that the human spirit won't be kept down.
Before the season comes to an end, two more glorious nights on the city's lakefront will transport visitors back to a classic era, long before a nasty virus spoiled the fun.
---
Email: [email protected]
Twitter: @isaaccallan
Tel: 647 561-4879
---
COVID-19 is impacting all Canadians. At a time when vital public information is needed by everyone, The Pointer has taken down our paywall on all stories relating to the pandemic and those of public interest to ensure every resident of Brampton and Mississauga has access to the facts. For those who are able, we encourage you to consider a subscription. This will help us report on important public interest issues the community needs to know about now more than ever. You can register for a 30-day free trial HERE. Thereafter, The Pointer will charge $10 a month and you can cancel any time right on the website. Thank you.
Submit a correction about this story