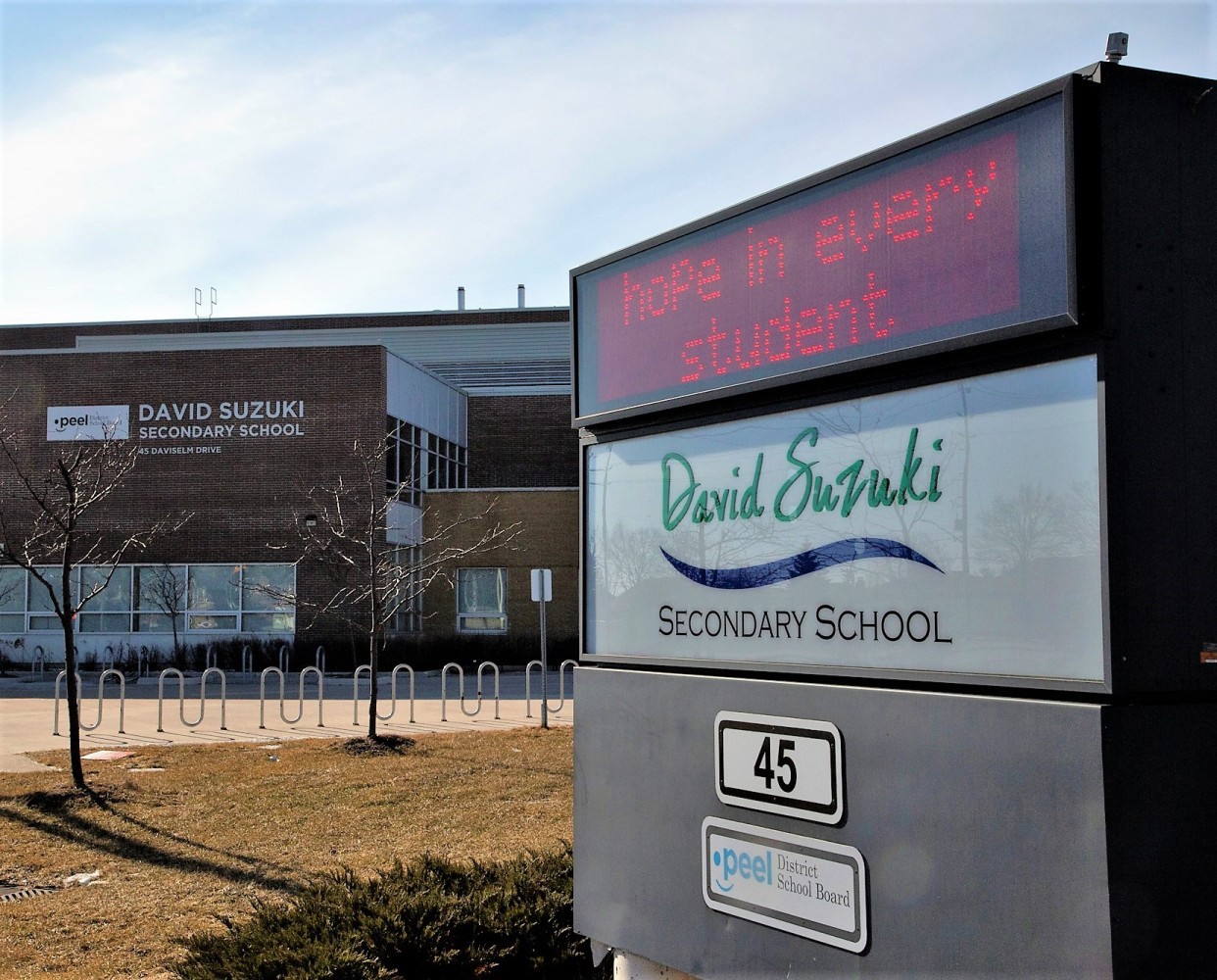 Photos from The Pointer files/Twitter/Government of Ontario
PDSB won't disclose finances, creating uncertainty around board's ability to deal with pandemic 
The Peel District School Board refuses to reveal the total amount of money accumulated in its reserve funds, a figure that has been freely shared by other large Ontario school boards.
This raises a number of concerns.
Under the province's back-to-school plan announced this month, local boards can use the equivalent of 2 percent of their operating budget to cover the additional costs that will arise from reopening schools this fall. This includes the potential for additional space in local community buildings to ensure proper physical distancing, and the hiring of additional staff.
For PDSB, with a $1.8 billion operating budget to run its 257 schools, it allows the board to take approximately $36.6 million from reserves to cover these costs. That is, if the money is there in the first place.
The total amount of money in PDSB's reserves remains unclear, raising the possibility that the board may not have enough funds to cover the needed costs in September and beyond, until the pandemic is over, as well as subsequent school years when the new normal in schools will be vastly different because of COVID-19.
"We are currently working through our budgets and numbers for the coming school year so are reluctant to share a number at this time," said PDSB director of communications Carla Pereira in an email. It's unclear why the board won't share its current reserve balance, which should be made public, and is often included in annual budget documents presented by boards across the province so taxpayers and elected trustees know exactly how their money is being spent.
The Dufferin-Peel Catholic District School Board (DPCDSB) has told The Pointer there is approximately $60 million in its reserve accounts. The provincial plan allows it to spend $18.4 million of this on reopening costs, but the board has not disclosed how much it plans to use this year. Other GTA school boards have also been much more transparent.
When the province announced this "unlocking of rainy day funds" Toronto District School Board (TDSB) publicly stated it has $131 million in reserves. It can use up to $60 million of this but is choosing to only spend $20 million to reduce class sizes.
To do this the board needed to shorten the school day, but the province rejected this plan forcing TDSB back to the drawing board. Recently, the board has said it will focus funds to cut class sizes in higher risk neighbourhoods.
The Ministry of Education has stated that $11 million has been set aside to support those boards in the province that do not have enough in their reserves to cover reopening plans. It remains unclear if the PDSB will be accessing any of this additional funding.
School boards are scrambling to figure out how to keep students and teachers safe with a virus that is still spreading. Many school boards, especially in Peel, are severely underfunded by the province, a reality that has been exacerbated by the pandemic.
The reopening of schools raises many questions, and when not planned properly, leads to dangerous situations that could allow COVID-19 to spread, something seen in schools in the United States.
In Peel, 30 percent of students in elementary school and 17 percent in high school have told the board they will be choosing to learn exclusively online come September.
Overall PDSB will have 26 percent of students (approximately 40,000) doing online learning with approximately 116,000 pupils having some form of in-classroom education.
PDSB has updated its reopening policy to include masks in grades one to three and is strongly recommending them in Kindergarten. All other grades had already been mandated to use them come September.
As per Peel Public Health's recommendations, the board will be reducing class sizes by hiring more teachers for both elementary and secondary classes. The numbers haven't been released for how many students will be in classes or how many new teachers will be hired.
On Twitter, PDSB stated it will be reducing class sizes for schools in COVID-19 hotspot areas and will also be looking at doing the same across the region.
In order to accomplish this, the PDSB will need to use the unlocked reserve funds as existing provincial funding is not enough to reduce class sizes in all elementary schools. With the total of PDSB's reserves still unknown, it remains unclear whether the board will have enough funds to cover these additional costs.
Premier Doug Ford and Minister of Education Stephen Lecce have been defending their school reopening plan since it dropped July 30.
Of the $309 million in funding the province initially announced, PDSB will be receiving $7.8 million and the Dufferin-Peel Catholic District School Board (DPCDSB) will be getting $2.7 million.
PDSB has $3.8M for additional custodial staff, $700,00 for health and safety training and $500,000 for special education, while mental health support will get an additional $300,000. There will be $1.1 million for remote learning and $1.4 million to hire additional teachers.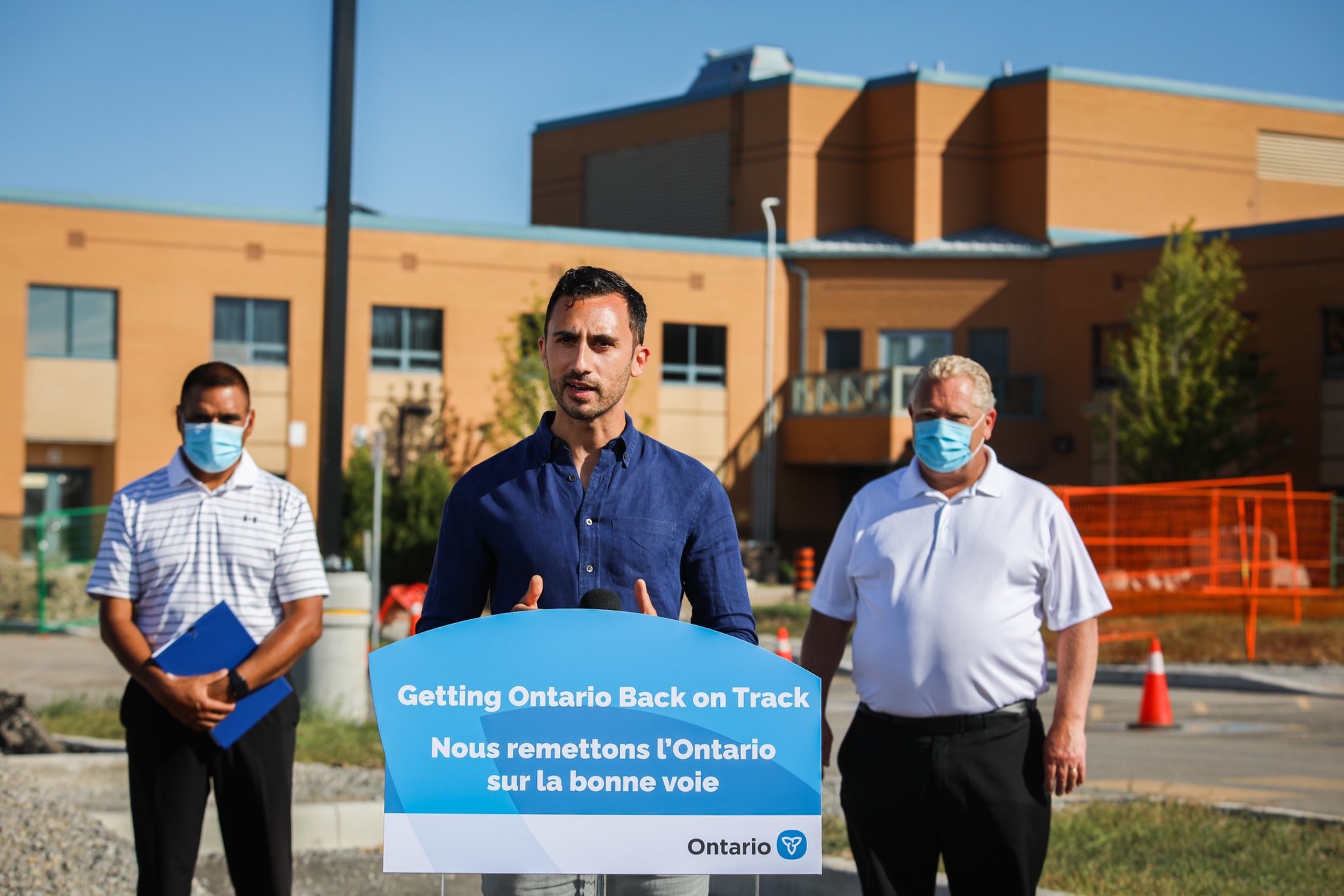 Education Minister Stephen Lecce
Dufferin-Peel Catholic District School Board's (DPCDSB) breakdown of the provincial funding is $1.9 million for more custodians, $353,000 for health and safety training, $275,000 for special education and $203,000 for mental health assistance.
DPCDSB will have approximately 75 percent of all students attending school in-person both at the elementary and secondary levels.
---
Email: [email protected]
Twitter: taasha__15
---
Because of reduced incomes as a result of COVID-19 and the importance of the PDSB story to the communities of Brampton and Mississauga, the editorial team at The Pointer made the decision to make this article free to view. Traditionally, The Pointer operates on a paywall model of journalism and we do not carry advertisements, meaning our journalism is supported entirely from subscriptions. You can register for a 30-day free trial HERE. Thereafter, if you are able to continue subscribing, The Pointer will charge $10 a month and you can cancel any time right on the website. Thank you.
Submit a correction about this story