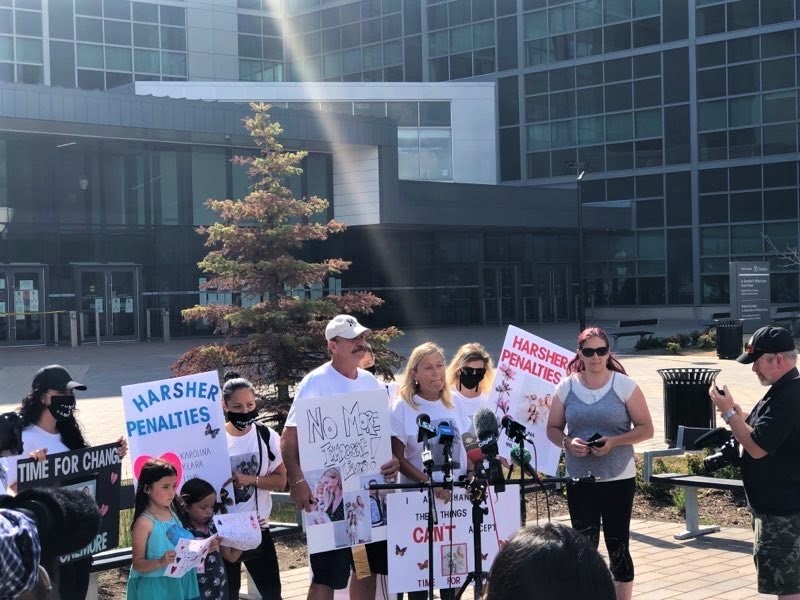 Photos Mara DeCamara-McLeish Orlando LLP/Facebook/Twitter
'A huge sigh of relief': 20-year-old denied bail after dangerous driving charges following death of four Caledon family members
Outside the A. Grenville and William Davis Courthouse in Brampton, a small group of people were celebrating a decision Justice of the Peace, Karen Jensen, made Friday afternoon.
The young man, 20-year-old Brady Robertson of Caledon, who is charged with four counts of dangerous driving causing death, was denied bail after a horrific crash that occurred in Brampton on June 18. He will now remain in custody until the next court date for the case.
Those gathered outside included the family and friends of 37-year-old Karolina Ciasullo and her daughters, 6-year-old Klara, 3-year-old Lilianna and 1-year-old Mila, the Caledon residents who were killed in the crash.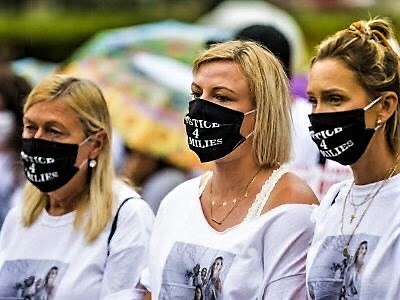 Friends and relatives wore t-shirts Friday with a photo of the Ciasullo family members killed in the crash
"This decision is a warning for other drivers, not only for Brady, because maybe the law will be a little bit more harder," Ciasullo's mother said to the media outside the courthouse Friday afternoon shortly after the decision was delivered. "We're going to fight [and] change the law," she said.
Under a publication ban, details of Jensen's decision denying Robertson bail cannot be published. Under section 517 of the Criminal Code, a publication ban may be ordered for bail hearings to cover what is said in court by all present parties and is in place until a preliminary inquiry (where a judge decides if enough evidence is present for a trial) takes place, or until the trial is complete.
"The purpose of the ban is to preserve the rights of the defendant to a fair trial, and the presumption of innocence. Further, the ban prevents public dissemination of information or evidence so that jurors make their decisions based only on admissible evidence presented during the trial. It is also intended to maintain the integrity of the evidence of any potential witness who may be called to testify in the case," Ontario's Ministry of the Attorney General states.
The senseless accident on June 18 sent shockwaves through social media and prompted messages of condolences from politicians and other officials all across the province. International media coverage illustrated just how devastating the news was to people around the world shocked by the loss caused by an utter disregard for human life.
Robertson was charged with dangerous driving after slamming his car into the young family's vehicle. Allegedly speeding, Robertson hurtled into the SUV near the intersection of Torbram Road and Countryside Drive. He also faces a dangerous driving charge in an incident that occurred two days before the fatal crash, when he drove onto a sidewalk and then tore away as stunned bystanders tried to stop him, all of it captured on a video that has been widely circulated. In it, Robertson appears to be passed out at the wheel until he snaps to after violently riding onto the sidewalk before he races away.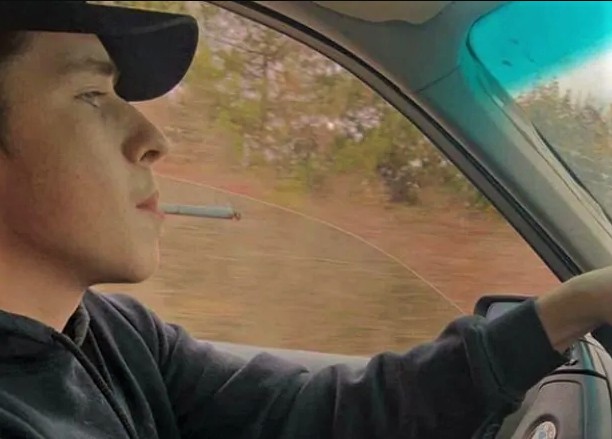 Brady Robertson
The loss of the Ciasullo family is not the first time such an incident has occurred in the GTA. In Brampton and Mississauga particularly, street racing and dangerous driving are common. It's often a topic of discussion at city council meetings with many voicing their concern around the all too familiar trend.
Getting the dangerous driving law changed is part of Jillian McLeod's mission. Days after the violent crash took place, the Brampton resident started a petition calling for stricter penalties for impaired, stunt and dangerous driving. As of Friday, the petition had 88,000 signatures.
"It's a huge sigh of relief," McLeod told The Pointer after the two-day long bail hearing. She expressed both happiness and sadness about the decision to deny bail. Happy because this was considered "a win." "This is the moral victory for the good side. This is a moral victory for the family, for everyone who supported them, their friends, their family, Karolina's colleagues. It's a win," she said.
But at the same time, McLeod couldn't help but speak of the negative side. A family lost their loved ones, and there was nothing that could change that. McLeod said she and the family have become very close in a short period of time.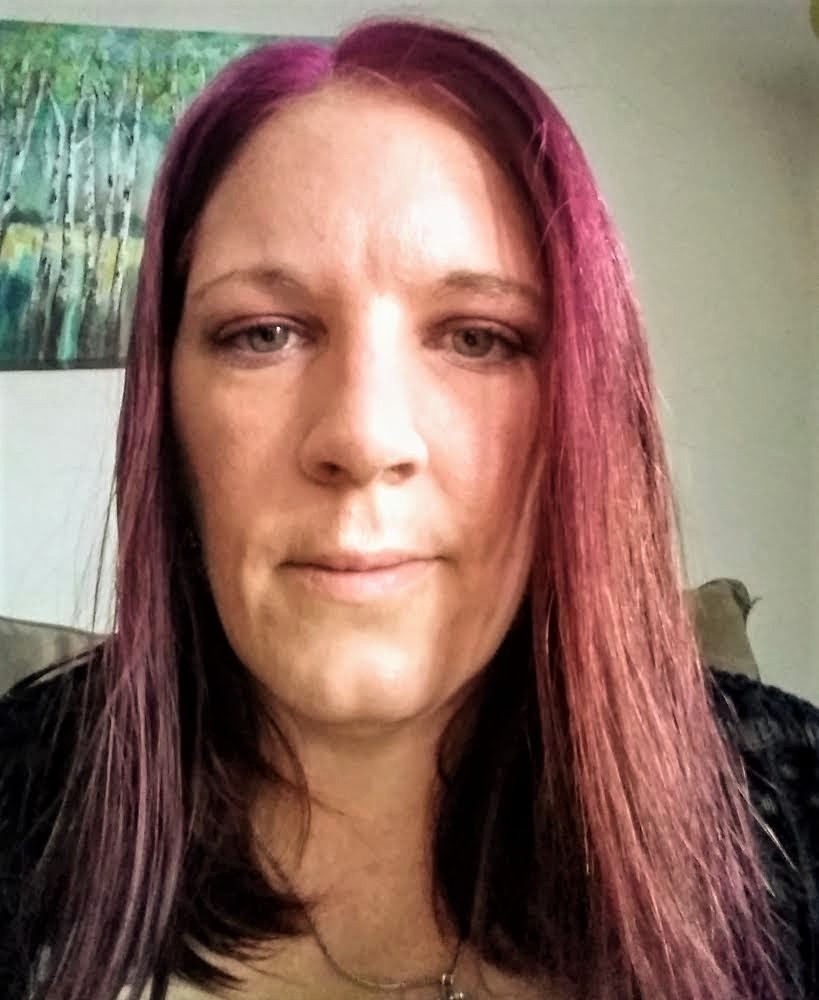 Brampton's Jillian McLeod is fighting for tougher dangerous driving laws
"It's heartbreaking at the same time because I'm listening to [Karolina's mother] sobbing [in] my arms, knowing there's nothing I can do to bring her daughter and her grandchildren back," McLeod said. "At the same time, wanting to give her that hope and wanting to know that I stand with them, unequivocally, through this whole thing."
The virtual hearing allowed people to call in to listen to the proceedings. Many of those present were the victims' family members. Soon after the Justice of Peace announced her decision to deny bail, loud cheers erupted.
Vincent Chiao, an associate law professor at the University of Toronto, said a public display of action can be effective in bail hearings. Not speaking specifically to Robertson's case, but in general terms, Chiao said there are three reasons, listed under Section 515 of the Criminal Code, for why bail can be denied.
One of those, he said, is if there's a belief the defendant won't show up for trial. Another is if the person may commit further crimes or intimidate witnesses if out on bail. A third reason, he said, is people could lose confidence in the administration of justice if a defendant is released. "That's essentially if the judge thinks, look, the community is just going to be in complete uproar" if the defendant was to be released.
Last weekend, McLeod took her cause to Queen's Park. While she received initial support from provincial officials, including PC MPP Prabmeet Sarkaria (Brampton South) and NDP MPP Sara Singh (Brampton Centre), she hasn't heard from them in recent days. Singh's office told The Pointer she has not signed the petition yet. "There is no change to MPP Sara Singh's position," Suzanne Nurse, a constituency assistant for Singh's office said. McLeod said NDP MPP Faisal Hassan (York South – Weston) has expressed his support in presenting the petition to the provincial government.
There has also been support from federal officials, McLeod said. She aims to make the punishment tougher, and for that, the criminal code must be addressed, which falls under federal regulation.
A week before the rally at Queen's Park, McLeod said she got a call from Liberal MP Maninder Sidhu (Brampton East) voicing his support for her position once again. "He absolutely supports what I want to do." She said Sidhu was not able to attend the Queen's Park rally because of concerns he had for his young kids during the spread of the novel coronavirus.
The Pointer reached out to Sidhu, asking if the petition would be presented in the appropriate setting once Parliament is back in session this fall, but no answer was received before publication. "He wanted to see how high the numbers got so I think he's more interested now that the numbers are much higher," McLeod said. Conservative MPs Kyle Seeback (Dufferin-Caledon) and Michael Chong (Wellington-Halton Hills) have also backed her petition.
In order for any changes to become law, a bill, outlining the new rules, has to be presented to the Senate or House of Commons, and pass through various stages of public input and "readings" where MPs debate and vote on parts of the bill. After a third reading, a bill must receive royal assent, and be approved by the Governor General, before it becomes law.
There are plenty of examples of petitions that have started online and won the support of thousands of Canadians, before going on to be presented for consideration as a bill to the federal government. In 2018, Conservative MP, Rachel Harder, backed a petition to discard Bill C-71, the federal regulation amending regulations of firearms and presented it to her fellow MPs.
Robertson's next court appearance is September 18. He will be held in custody until then.
---
Email: [email protected]
Twitter: @nida_zafar
Tel: 416 890-7643
Submit a correction about this story