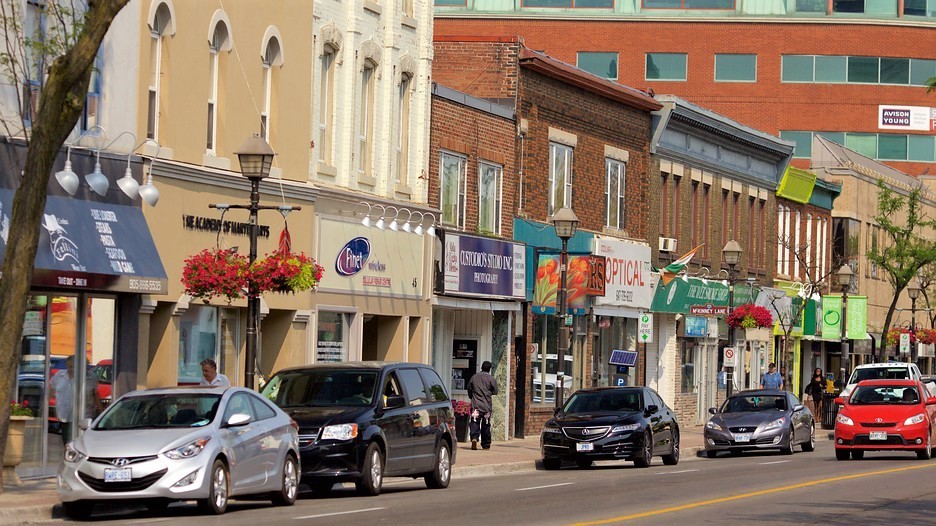 The Pointer file photos/Facebook/Andria Barrett/Graph Statistics Canada
Visible minority-owned businesses face unique struggles during COVID-19 crisis
Permanent closures, pay cuts, layoffs, high rents, and reduced hours – businesses across the globe are in shambles trying to make it through this pandemic. While some are adapting to the new normal, many are devastated by the effects of the economic lockdown. In Peel, where the vast majority of customers are visible minorities, many of the businesses owned by the same people are struggling to survive.
Netflix, PayPal and Amazon may be booming as a result of everyone staying at home, but restaurants, shops, studios, salons and a range of service-based companies are reeling after being forced to close their doors for months. Many of these businesses survive with margins too slim to last more than a month without revenue.
For many visible minority-owned businesses the struggle has been particularly difficult.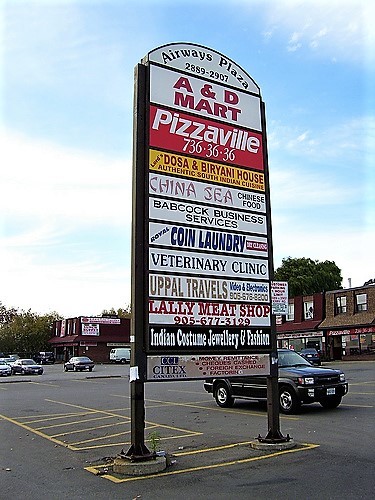 Tania Marisa, a yoga studio owner in Pickering, feels things have always been more difficult for her as a Black woman, trying to draw clients who might struggle with unconscious biases. Trying to get extra funding or government-backed loans to keep the business running during the pandemic has only made things even more challenging.
She said her studio shut down on March 16, but her landlord still expected her to pay full rent even though she had zero revenue coming in. She felt hurt and disappointed, as the studio had been there for 10 years and never had any issues, otherwise.
She was able to get benefits from the Canada Emergency Commercial Rent Assistance (CECRA) program when she applied for the second time after the federal government lowered the eligibility criteria. But the overhead at her studio is above $40,000 a month, and the support she received dried up quickly.
The landlord is still expecting August rent.
"I don't have that. I feel like it's going to be a lot of back and forth. I don't know what's going to happen. I don't even know if we're going to be able to remain open," she said.
For entrepreneurs like Marisa, it's not that the government's rent program or its commercial loan plan being administered by banks has necessarily discriminated against them, the problem is much more complex. She does not have access to the same types of guarantees or collateral that many more established businesses do. Even personal connections established by many entrepreneurs are harder to rely on, as many immigrants and other visible minorities simply do not have deep ties that can act as a safety net.
She does not have any family members to help her with the financial shortfall, unlike those who either have personal funds to use or easy access to loans and capital.
"It's been hard because I really don't have anyone that I could ask for even $5,000," she said in an interview with The Pointer.
Yoga studios were allowed to reopen as part of Ontario's Stage 3 strategy. But according to Marisa, some clients are still skeptical about doing indoor workouts. But the bills are piling up.
Since the start of the pandemic, the Canadian Black Chamber of Commerce (CBCC) has been helping Black owned businesses across the country, trying to find supports for many in desperate need of assistance.
Through a survey, the organization found many businesses could not qualify for the federal government's aid initiatives. Many of them could not receive the help they needed because of the way the government programs are structured.
Andria Barrett, President of CBCC says the history of systemic discrimination, which has been pervasive throughout education, healthcare, banking, and other sectors, makes staying afloat even more challenging for Black business owners.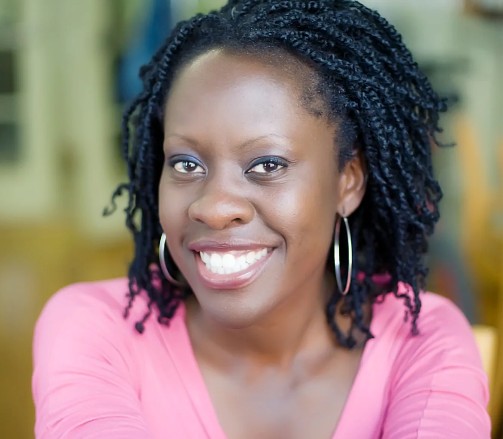 Andria Barrett, President of the Canadian Black Chamber of Commerce
"One of the major problems is sometimes getting access to capital when you start your business. A lot of business owners weren't able to get loans from banks to start with, it was harder for us to start so everything is just exponentially more difficult," she said.
In June, the CBCC asked Ottawa for $165 million in emergency funding to create loan programs for entrepreneurs who did not qualify for the Canadian Emergency Business Account (CEBA) loan program administered by banks, but no announcement by the federal government has been made.
Barrett said the lack of representation in executive positions, boards, and in elected positions, means visible minorities do not have connections or advocates at levels where decisions are made. These individuals often do not have relationships with entrepreneurs who don't look like them and do not understand the plight of Black and other visible minority-owned businesses.
"I see things through a Black lens and an economic lens. If you're not a person of colour, you're going to miss that, not intentionally, you're just not a person of colour," she said.
The CBCC is working hard with financial institutions to create awareness through workshops so that bankers can understand their products and funding opportunities, as well as help them make better investments.
"We had a workshop with the federal government on procurement. We see procurements as one of the best ways to help a business in terms of recovery; the government can be the biggest and best customer," Barrett added.
She said her organization has been invited to roundtables with the mayors of Mississauga and Brampton, Bonnie Crombie and Patrick Brown, who she says recognize the value of listening to the voices of visible minorities.
But action is what these business owners need.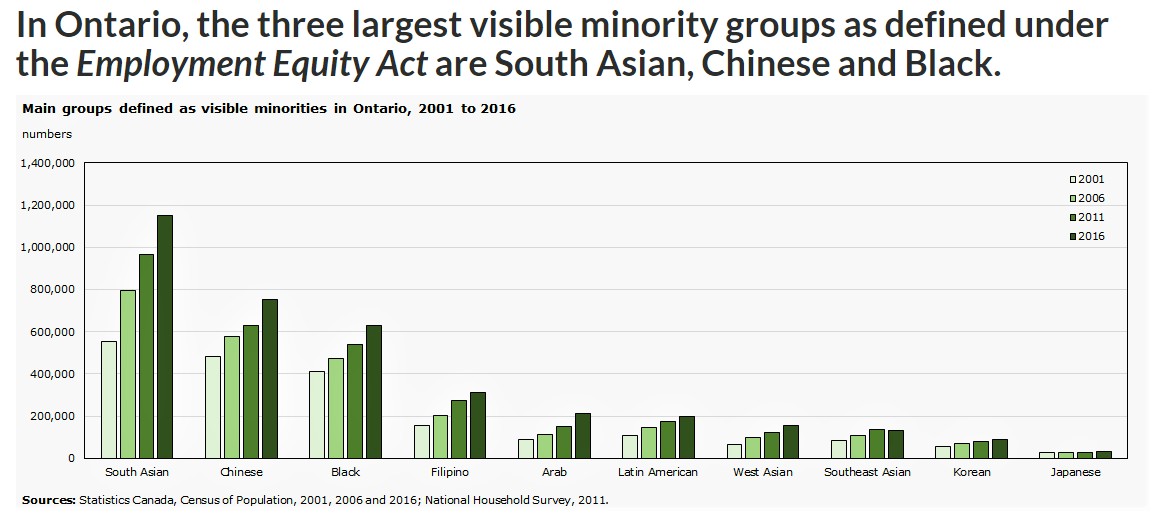 The Visible Minority population in Ontario has dramatically increased but many small businesses owned by these residents face unique challenges
Rocco Rossi, CEO of the Ontario Chamber of Commerce (OCC), spoke to The Pointer about their initiatives to help local and small businesses including their 'CanadaUnited' fund which is raising money to provide $5,000 grants to struggling entrepreneurs.
He said there are multiple issues that businesses are facing, the huge revenue loss from COVID-19 closures being the most significant. Trying to reopen is not like flipping a switch. The additional costs that come with social distancing and pending payments to cover mounting overhead burn through most of the money businesses may receive to keep them afloat.
He emphasized that the government needs to continue supporting small businesses in the months ahead, as many of them cannot instantly get back on their feet. For example, a small restaurant in a downtown centre that is used to lots of foot traffic, might not see those old levels for many months as people remain hesitant and employers continue to allow staff to work from home until a vaccine is widely available.
"That means those businesses are not going to have the same volume of foot traffic and that's going to make it very hard for them to be profitable this year without some kind of support," Rossi said.
For a lot of businesses owned by visible minorities, accessing any capital to survive the ongoing reality is a challenge.
Rossi also believes the federal government's rent subsidy program needs significant changes, because rent is the highest cost faced by small businesses. Much of the rent subsidy program has essentially been left to landlords, who have to apply for the assistance on behalf of commercial tenants, which is not proving to be effective.
"We're asking all levels of government to get back at the table and fix this so that the money gets to the tenants so that they can pay their rent and not continue to incur even more costs because, at a certain point, a person will add up all of the bills that they've accumulated over these months," he said.
The federal commercial rent relief program is wildly confusing, the upside is that both the tenant and the landlord get something from the program. The tenant has to pay only one quarter of their normal monthly rent and the landlord gets 50 percent of the rent covered by the taxpayer-funded government program. Property owners cover the remaining 25 percent.
The downside is that landlords are still short 25 percent of the rent. Small businesses may also not be able to demonstrate a 70 percent loss of revenue which means they cannot qualify for the CECRA.
The program required property owners to cut the rent to 25 percent for the period of three months from April to June. Property owners can apply for a loan under the program to cover the remaining 50 percent.
The loan will not have to be repaid if eligibility requirements are met but if they are not met the government will not forgive the loan.
Many small businesses have fallen through the cracks because landlords have decided not to participate in the program.
Mandating that landlords have to apply for the benefit and not the tenant takes power away from small businesses to get support they need.
"That's not fair, that's not appropriate, so it is far better that the money somehow gets directly to the tenants to help them pay rent," Rossi said.
Other business groups that represent visible minorities have voiced concern that property owners might not treat all tenants equally, and have also raised the issue of the loan program which is administered by banks that could possibly treat applicants differently.
Until the loan and rent programs are closed out and analyzed, it won't be known if decisions are being made using an equity and diversity framework. It's not clear if race or ethnicity is even being recorded when business owners try to participate in the publicly funded aid programs.
OCC has been working closely with the Canadian Black Chamber of Commerce, Canada-Pakistan Business Council, and the Chinese Business Association on advocacy programs to help create better representation of visible minority communities in decision making situations.
One group that has received direct support from the federal government is Indigenous business owners.
Early in the pandemic, in March, Ottawa pledged $306 million to assist small and medium-sized Indigenous businesses during the COVID-19 pandemic.
Short-term, interest-free loans and non-repayable grants were distributed through Aboriginal banks offering capital and business support to First Nations, Inuit and Metis businesses.
---
Email: [email protected]
Twitter: @dudha_aishwarya
---
COVID-19 is impacting all Canadians. At a time when vital public information is needed by everyone, The Pointer has taken down our paywall on all stories relating to the pandemic and those of public interest to ensure every resident of Brampton and Mississauga has access to the facts. For those who are able, we encourage you to consider a subscription. This will help us report on important public interest issues the community needs to know about now more than ever. You can register for a 30-day free trial HERE. Thereafter, The Pointer will charge $10 a month and you can cancel any time right on the website. Thank you.
Submit a correction about this story