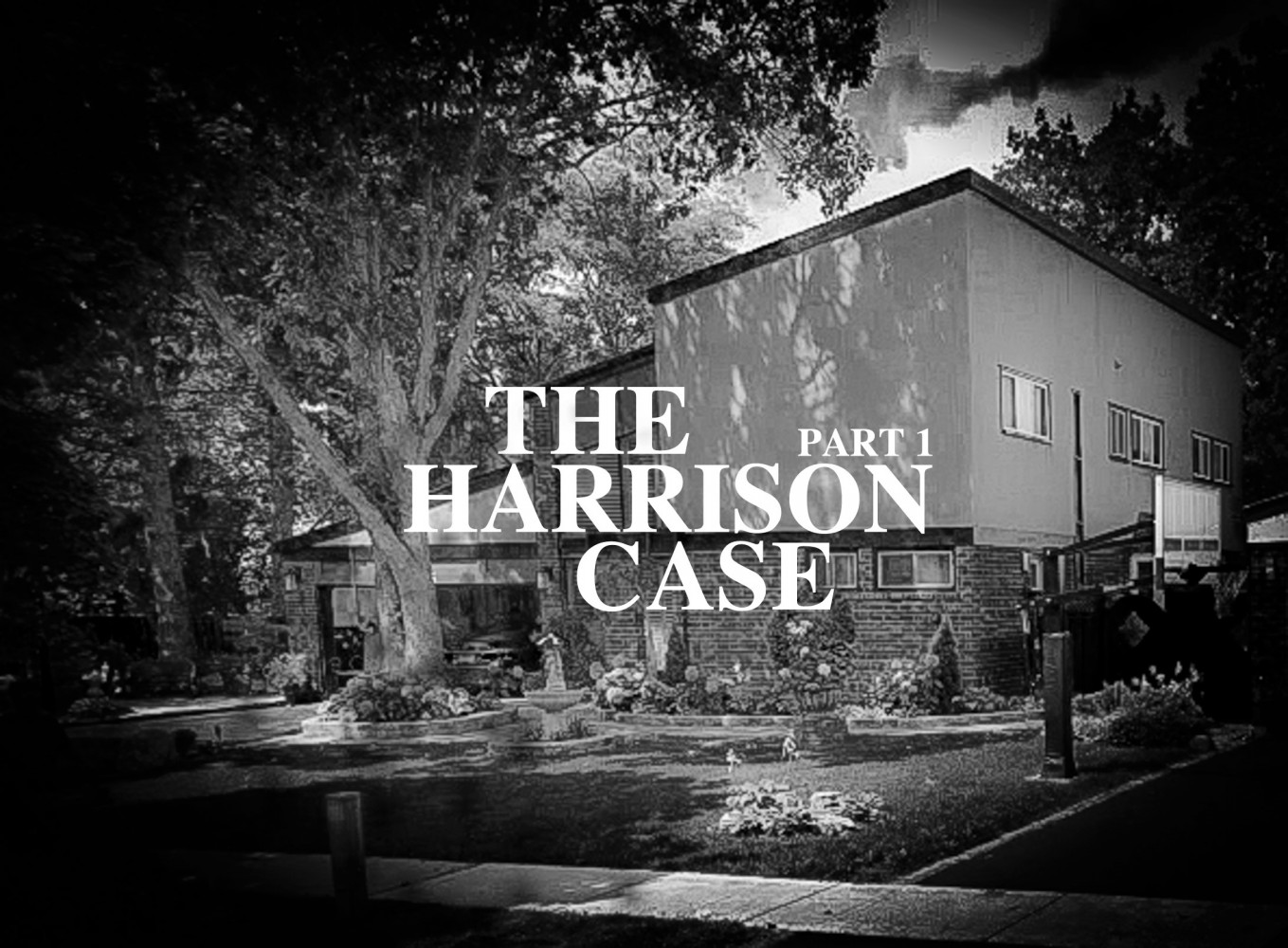 The Pointer file photos/Facebook/Graphic illustration Joel Wittnebel
PART 1 - The Harrison murders: How did Peel Regional Police investigators miss the obvious?
On April 16, 2009, Bill Harrison didn't know he was about to die.
He was a healthy 64-year-old man with no history of heart problems.
After his body was found inside the bathroom of his family home at 3635 Pitch Pine Crescent in Mississauga, it was believed the cause of death was a sudden interruption of his regular heart beat, an acute arrhythmia. There were signs of foul play, including strange markings on his neck and a fractured sternum.
Things didn't add up.
A year later his wife, Bridget, was found dead at the base of the home's main floor staircase with signs that she had been strangled.
Investigators ruled out homicide and determined it was most likely an accident.
Before their deaths the Harrisons had been drawn into an ugly custody battle involving their two grandchildren and their son, Caleb, who was embroiled in an escalating feud with his ex-wife who eventually abducted the kids and fled on the same day Bill Harrison was found dead.
Even to an amateur detective or fan of true crime novels, all the evidence clearly pointed to foul play. But trained homicide detectives inside the Peel police force, one of the largest law enforcement departments in the country, failed to connect any of the obvious clues.
On August 23, 2013, Caleb Harrison was found dead inside his bedroom at 3635 Pitch Pine Crescent. He was 40.
Four years, one house, three dead members of the same family.
The latest crime scene was clearly staged to look like a robbery gone wrong. The injuries to Caleb's neck and unavoidable signs of defensive wounds on his hand that pointed to a premeditated murder, finally triggered a full homicide investigation and raised questions about evidence that had been ignored in Bill and Bridget Harrison's deaths.
All of it begged one searing question: How did Peel Police miss so many clear signs of wrongdoing?
In May, Peel police released its 123-page administrative review of the entire Harrison investigative file to the public. Pulling apart threads from three cases that had been crudely stitched together, the result is an alarming indictment of the force and its culture.
While a family has waited patiently for justice, the internal review essentially admits what they have known for years: Peel police did little to provide the Harrison family the answers they deserved.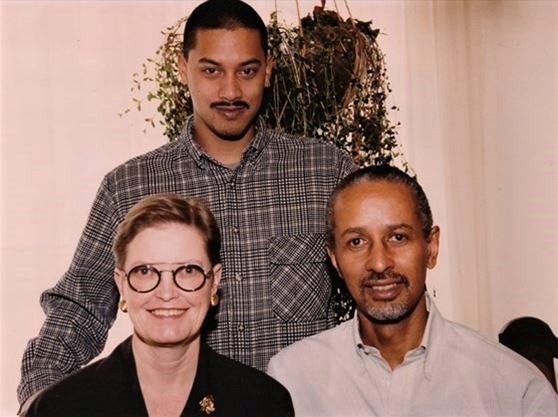 Bridget and Bill Harrison, bottom, and their son Caleb
Intricate workings of a murder investigation are usually carried out inside a sealed box. Tactics, evidence, and theories are tucked away from the prying eyes of the public to avoid spooking any suspected parties.
But the probe into the Harrison family murders wasn't a typical homicide investigation. Police couldn't seem to see the forest for the trees. Three family members were found dead inside their Mississauga home over a span of four years.
The first two homicides remained unsolved due to incompetent police work by Peel officers. Like a plot twist from a Hitchcock film, Caleb's murder changed the police's understanding of the entire saga. By ruling Caleb's death a homicide, would this bring into sharper focus the investigations from three and four years prior?
The Harrison family murders stemmed from a vicious custody battle between Caleb and his ex-wife Melissa Merritt over the couple's two children.
During a lengthy murder trial in 2017, the disturbing story emerged of how Merritt's partner, Chris Fattore, killed both Bridget and Caleb. A step-by-step account – in every gory detail – showed two people bent on destroying an entire family.
Both Fattore and Merritt were eventually found guilty of first degree murder in Caleb's death. Fattore was also guilty of Bridget's death, but the jury was hung on whether Merritt was complicit.
Neither were found guilty in the death of Bill Harrison.
Fattore and Merritt could spend the rest of their lives behind bars. The pair are appealing the convictions.
Burning questions remain: why did it take so long to arrive here? Could Harrison family members have been saved if police delved deeper in 2009 and 2010?
After the trial, Peel police launched an internal review to analyze what went wrong in the investigations and identify how to prevent it from happening again.
The result is a patchwork probe of a badly bungled series of connected murders after Caleb's killing forced police to finally roll up their sleeves.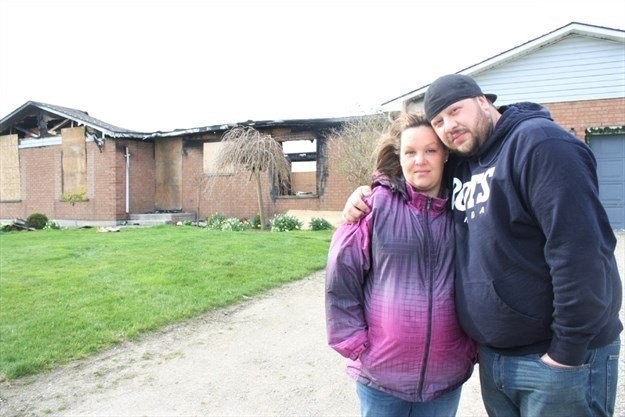 Melissa Merritt and Chris Fattore
The review opens the box of the murder investigations and shines a light inside. Its brief summary identifies several "areas of concern" around the investigations into the three deaths.
The first problem: Peel police's report was authored by two members of the force, and it's understandable it would use understated language when describing the failings of their colleagues.
These "areas of concern" include atrocious lapses in the investigatory practice, breakdowns in communication, and incompetent or improper use of police practice that one judge labelled a "cover up".
This led to a murder going unsolved for years, and allowing a killer to strike again.
---
It was close to 9 a.m. on April 16, 2009. Belinda "Bridget" Harrison said goodbye to her grandchildren outside their Mississauga elementary school. She may have taken a few extra seconds to soak in their young faces before they hopped out of the car. It would be nearly a week, she thought, before she would see them again. They were scheduled to return to their mother's house after school as part of a contentious custody arrangement.
The children's mother, Melissa Merritt, had made it clear she wanted Bridget and the entire Harrison clan out of the kids' lives. There had been near constant tension and feuding since Bridget's son Caleb, the children's father, and Merritt ended their relationship four years before. Their bond strained when police were called to the couple's Georgetown home. Caleb was charged (and later convicted) of domestic assault. There were competing accounts of what happened. Caleb said he was only defending himself from Merritt's attacks.
Since then, custody exchanges were anxiety inducing, sometimes leading to verbal abuse and threats.
One particularly callous exchange in July 2006, is noted in Bridget's diary: "Melissa was very agitated and raised her voice. 'You think the children (these kids) are happy when they come to you? They hate you. I have to put them in the car because they hate coming to your house.' Bill and I were speechless. All of this took place in front of the children."
The presence of Merritt's new partner Chris Fattore seemed to aggravate the situation, he was a volatile substance added to an already combustible situation. The diary entries detail a list of threats.
"You'll pay for this you fucking bastard," Fattore yelled through the window of his car, Bridget wrote in 2006.
"You'll burn in hell for the lies you've told," he said another time, also captured in her diary.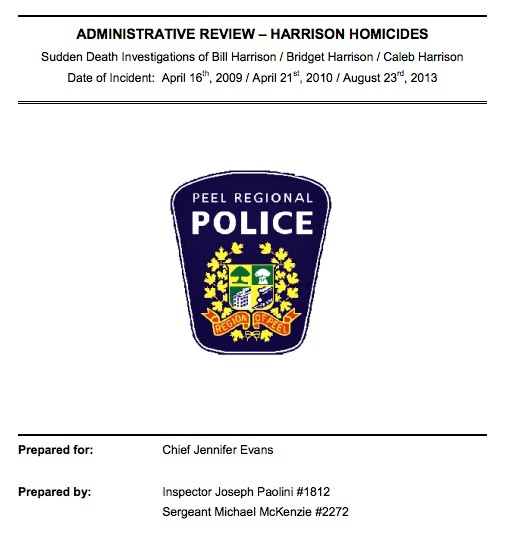 The internal Peel Police review released in May
It was a heavy mental burden. With the kids dropped off at school, Bridget went about her day, not returning back to 3635 Pitch Pine Crescent until later that evening.
Two hours after she walked through the door, a coroner would analyze her husband's body, his notes pointing out partial rigour, faint bruising on Bill's nose and some odd wounds on his neck – two linear marks that "may" have been caused by his box chain necklace. A detective's notes stated the marks were "possibly" caused by the necklace. Aside from that, there were no obvious signs of trauma.
Bill's corpse was wheeled out of the front door on its way to Credit Valley Hospital for a post-mortem examination.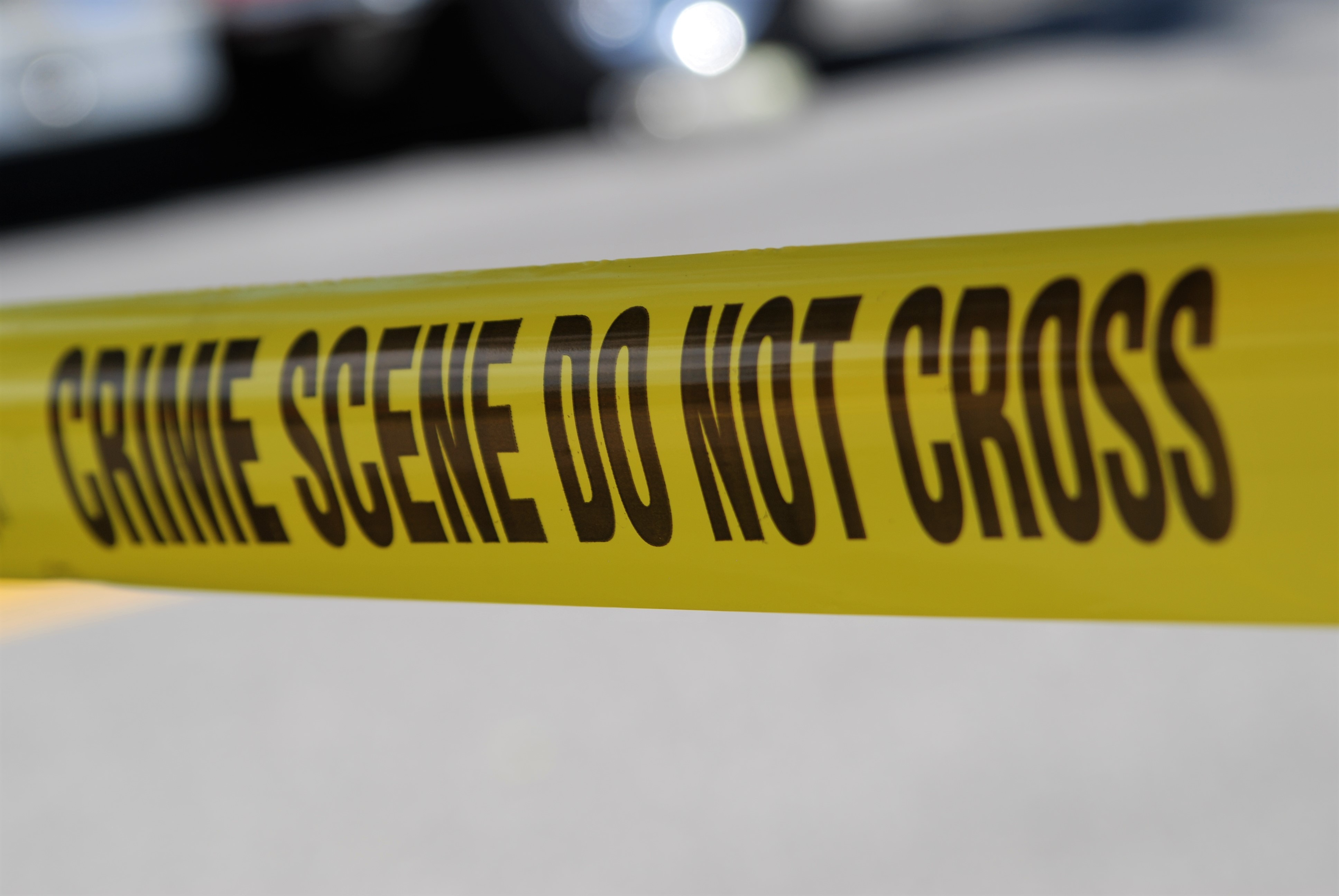 Around midnight, while speaking with detectives, Bridget said she had no reason to believe her husband was the victim of foul play. The same result was duly noted later that morning, just after 4 a.m. when 11-Division police officers uploaded the report on Bill's sudden death to the electronic records system. The report was sent to the PRP Homicide Bureau for "information purposes". Oddly, the notes explaining the markings found on Bill's neck were left out. It was never explained why.
During the post-mortem the next day, the pathologist noted contusions — bruising — on Bill's forehead and the right side of his nose. An underlying hematoma was also found at the front of his scalp.
Though the bruising was serious, there were no skull fractures or trauma to the brain, which would have pointed to a violent physical attack as the cause of Bill's mysterious death.
"Injury is compatible with the victim striking his head during a sudden collapse," the pathologist noted.
He also discovered that Bill's sternum was fractured. Again, this could have happened during a fall to the bathroom floor after an event such as an acute arrhythmia.
None of his injuries were serious enough to cause his death. So, the pathologist concluded it must have been his heart.
An acute cardiac arrhythmia occurs when signals in the ventricles of the heart get crossed causing muscle tissue in the vital organ to misfire, sometimes causing death.
There were no Peel Regional Police officers present for the post-mortem.
In the afternoon of April 16, the day of Bill's death, one of Harrison's grandchildren, perhaps unable to contain themselves, put up a hand in math class to share some exciting news. His family was going on a surprise trip, somewhere far; so far it would take 24 hours to drive there. It was another piece of evidence that was eventually ignored.
---
Inspector Joseph Paolini and Sergeant Michael McKenzie, the two officers behind the extensive review of the Harrison murders, noted a number of concerning issues with the way the investigation of Bill's death was handled by officers and detectives in 2009.
To avoid blunders in police work, policies and best practices are followed rigidly, especially in cases of death, in order to avoid cutting corners or missing crucial pieces of information, no matter how small.
In 2009, it was considered a best practice for police forces to follow-up on post-mortem investigations of suspicious deaths. The practice wasn't introduced into Peel police directives until January 2013. The absence of this protocol in 2009 had possibly contributed to the lack of attention around key evidence in Bill's death.
Along with the injuries to his face and neck, the pathologist found further injuries to Bill's scalp and a fractured sternum. While not ruled serious enough to cause his death, they might have warranted further investigation.
"It appears that the information regarding the unexplained injuries, involving scalp bruising and a fractured sternum were not discovered by police until…April 2010. During his interview, Detective E. Cranna advised that if he had known about the fractured sternum he would have returned to the scene and taken further investigative steps," the review states.
At the completion of the administrative review, 19 "areas for change" were noted, three of which had already been implemented ahead of the review – two were completed while it was underway and 14 are now being considered by Peel Regional Police.
Among those implemented as a result of the shortcomings in the investigation of Bill Harrison's death there is now a requirement for approvals from senior ranking officers in order to close sudden death investigations, and all photos from the scenes of sudden deaths are now shared with the Ontario Forensic Pathology Service (OFPS) in case any questions arise during the post-mortem.
The hasty conclusion that Bill's death was a result of natural causes blinded police from considering glaring signs that foul play might have been involved.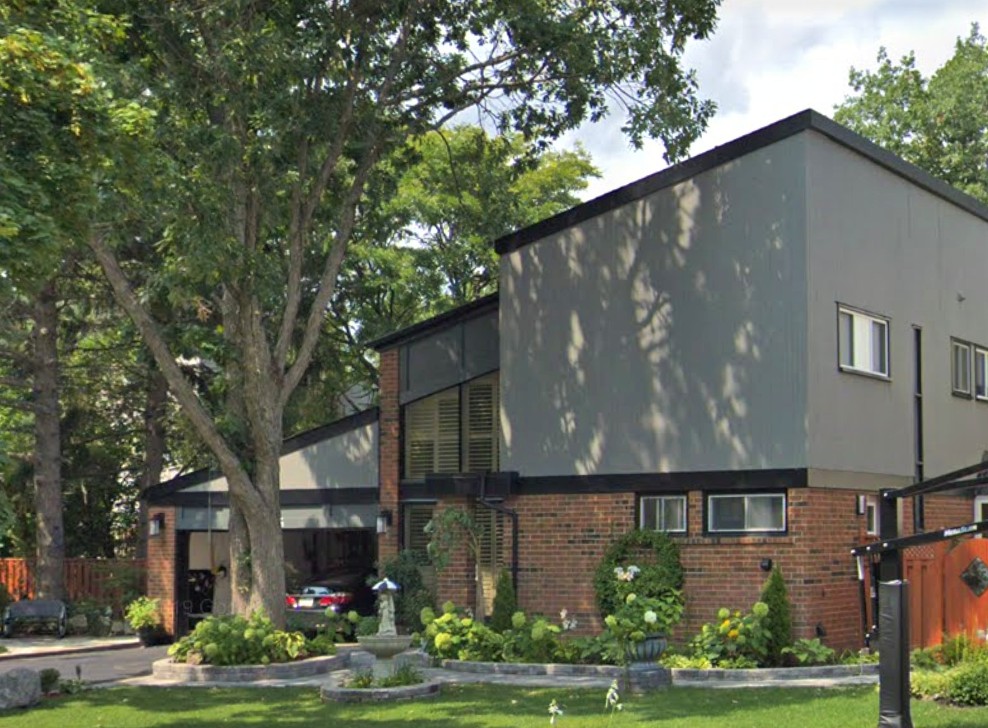 The Mississauga house where the Harrison family lived
Five days after her husband's death, Bridget walked into a Peel Police division to report that she could not find her grandchildren. It was April 21, and as per the custody order, she was supposed to get them back that day, but had yet to hear from their mother.
Without a proper custody form, Peel police turned her away.
Two days later, after Bill's body was cremated, Bridget returned to the police division with the proper forms to initiate an investigation into the potential abduction of her grandchildren. It started almost immediately.
The first stop for police was Merritt's doorstep. It turned out the apartment was empty. Merritt's parents were contacted as well as Fattore's employer. There was no sign of them or the children. Only because of Bridget's action to find her grandchildren under the terms of the custody order, did police contact Fattore's boss. They learned he had called into work on April 16, the day of Bill's death, saying he wouldn't be there that day. He had not been seen since.
Despite the obvious connection, police did not link the disappearance of the grandchildren with Bill's sudden death the same day Fattore told his employer he was not coming into work.
The failure to make the connection is harder to fathom when considering it was the same officer involved in both incidents. The internal review concedes that with the same officer attending to both investigations, "This may have been a missed opportunity for a nexus to have been made between Bill Harrison's sudden death investigation and the parental abduction."
It was obvious to Bridget that the children's mother and her boyfriend had taken them. She told Peel officers that Merritt may be driving a Chevy van and thought she and Fattore may have taken the kids out of the country, perhaps to Florida.
The hunch quickly turned to certainty that Merritt and Fattore were behind the abduction.
Along with the clue offered up by one of the children in math class on April 16, which was passed on to officers on April 24, police canvassed Merritt and Fattore's apartment complex, confirming they had moved out. Then, on April 26, Bridget contacted police with an email she'd received from Merritt. In the communication, the mother claimed she fled with the children after getting "threatening letters from an unknown party."
Caleb Harrison, who was dealing with the events from the Maplehurst Detention Centre in Milton while serving a sentence for impaired driving causing death, received a similar letter on April 20. The note to him was postmarked April 17, the day after Bill's death.
By the first week of May, 2009, the children had yet to be found and Bridget again visited the police department to provide a video statement for the investigation. She didn't hold back. While explaining the dark history between her son and Merritt, she also told officers that the mother had a history of telling false and misleading stories.
The search for the children lasted weeks, and came up empty. When a warrant to obtain cell phone records for the pair failed to turn up any new leads the case went cold for the next month and a half.
It wasn't until police were granted approval to seize and review banking records for Merritt that they were able to determine she had fled to Nova Scotia with Fattore and the children.
Despite immediately starting the intricate process to issue a Canada-wide warrant for Merritt's arrest, she would not be taken into custody in Bear River, Nova Scotia until the end of November that year.
Bridget flew to Nova Scotia to reunite with her grandchildren.
Her husband's death still consumed her.
After tracking down the kids' mother and her boyfriend, Bridget didn't realize how little time she had before they would come for her.
---
Email: [email protected]
Twitter: @JoeljWittnebel
Submit a correction about this story