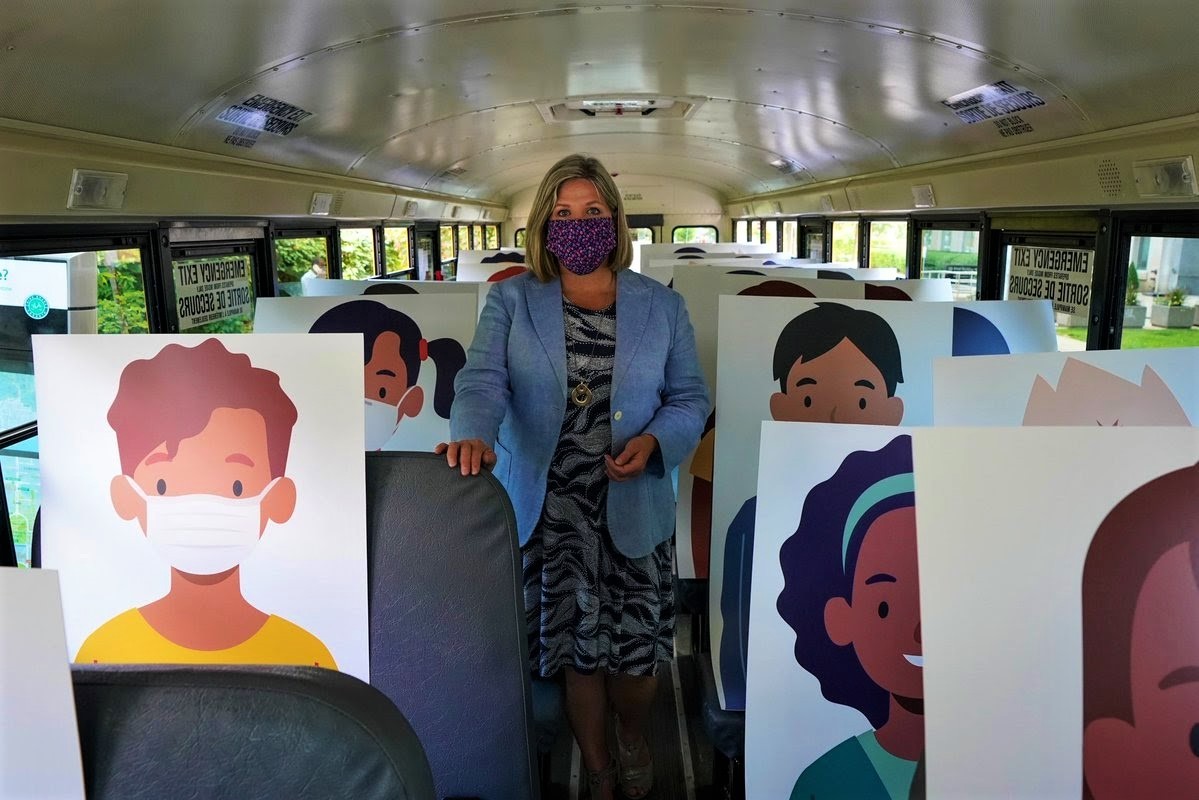 The Pointer file photos/Twitter-Andrea Horwath/Naureen Rizvi
For students taking a school bus in September, parents face another layer of anxiety
In three weeks, thousands of students across Peel Region will start a new school year unlike any before. For parents relying on school buses to get their kids to class on time the lack of a comprehensive, safe transportation plan is causing added concern.
Before students get to their designated bus stop, parents will be responsible for completing the Government of Ontario's self-assessment for COVID-19 for their children. While waiting at the pick-up spot, parents will also likely ensure their children are practicing physical distancing before their bus arrives. But that's where some physical distancing measures might stop.
According to the framework being followed by Peel District School Board and Dufferin-Peel Catholic District School Board, buses will be at "full capacity". This means 74 students will be on a bus, sharing seats in a similar manner seen before the spread of the novel coronavirus shut schools down in March.
"Parents do not want to jam their kids with 73 other students on a bus. They don't want to do that," Unifor's Ontario Regional Director, Naureen Rizvi, told The Pointer. Unifor represents thousands of school bus drivers, including 470 in Peel Region, Kathleen O'Keefe, a union spokesperson said.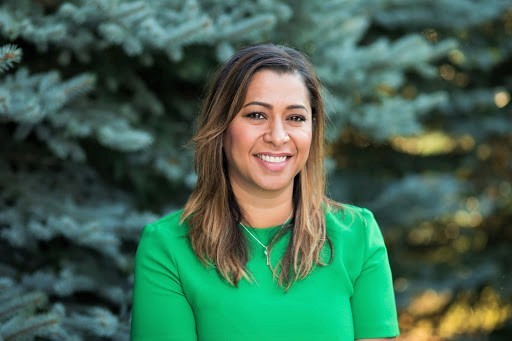 Unifor's Naureen Rizvi warns that numerous problems will arise because of improper planning for school bus use
At a Tuesday press conference, Premier Doug Ford muddied the waters, when he mentioned "pulling out all the stops" for the school reopening plan, including $1 billion in student transportation. "We're doing transportation. We're spending a billion dollars on transportation alone getting the kids home from school," he said.
But this is not new money.
Money for transportation services is provided to school boards from the Ministry of Education through the Student Transportation Grant. The same $1 billion was provided to school boards through the grant for the 2019-2020 school year. While this was an increase from the 2018-2019 school year, there is no increase for 2020-2021, despite dramatically increased costs associated with transportation during the pandemic.
It remains unclear how boards will fund extra cleaning costs for buses and increased need for transportation because students will be staggered at school, in cohorts, meaning at some schools there could be the need for twice as many bus trips. This will drive up costs for bus drivers, fuel, maintenance and other expenses that will likely pile up quickly.
In July, the province announced $4 million is being allocated towards cleaning school buses. It's not clear at this time how this money will be divided and how transportation partners will get this money.
The websites for both boards also state students will be seated in cohorts or with members of the same family. According to information on the Student Transportation of Peel Region's (STOPR) website, all seats will be numbered and all students will be assigned a specific spot. STOPR provides student transportation for both school boards in the region.
At a press conference Monday, Ontario NDP leader Andrea Horwath brought a bus to Queen's Park filled with paper cut-outs of students mimicking what a full bus will look like. It's what Zayba Butt, a parent with kids attending PDSB fears; children in close quarters without the use of dividers or other methods to help students practice physical distancing.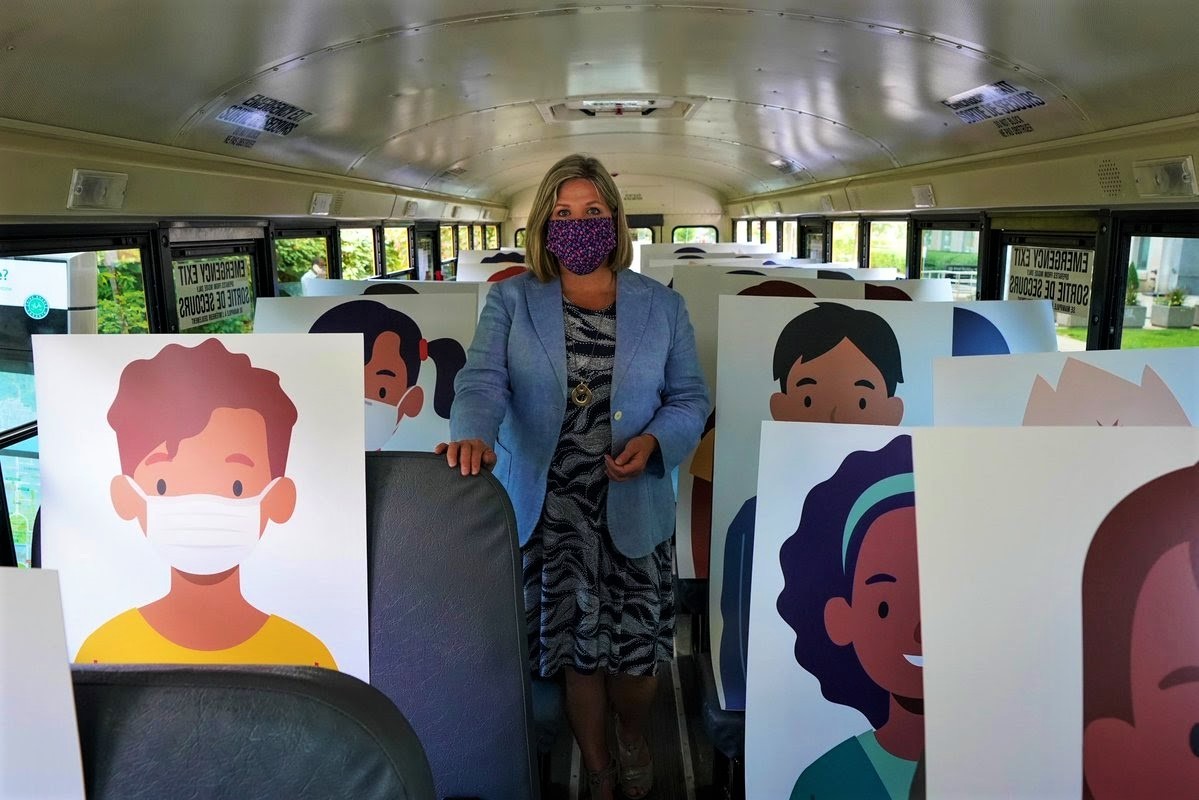 NDP Opposition Leader Andrea Horwath has raised concern about the lack of a safe plan for school buses
"There's no plan that is clear. We're coming very close to the school year opening," Rizvi said.
Butt has two daughters who rely on bus transportation to get to school. While she is concerned for both of them, she has more questions about how seating arrangements for her younger daughter, entering grade eight, will work. She will be attending a school that teaches kindergarten to the eighth grade. Under provincial guidelines, students from kindergarten to grade three won't have to wear masks, including on school buses. She fears if children on the bus vary in grades, there could be some students wearing a mask and others who won't, leading to a possible spread of the novel coronavirus.
"My daughter, when she gets to school, she's going to be kept in [a] cohort. But everyday she's taking a bus with a whole bunch of other kids," Butt, a Caledon resident, told The Pointer.
Information on how any route or seating arrangement will work is not clear. "Given the complexity of the cohort planning, families will not likely receive bus route information until the week before school starts," PDSB's website states. An update on STOPR's website says seating plans will be developed "during the last week of August and first week of school."
The lack of information is making it difficult for Butt to determine if she wants to send her daughter on a school bus this year, a theme she has seen throughout the school reopening process. "I have all of these questions, but I'm not provided with this information." Questions around in-class learning, transportation and the cleaning of bathrooms are just some of what has gone unanswered. Butt said she wants her children to go to school because kids need social interaction, but she fears it's not being done in a safe way.
Ongoing concerns throughout the province over large elementary school class sizes, with the possibility of close to 30 students in some rooms, have been the largest cause of anxiety among parents and educators.
Contacting officials, including her local MPP Sylvia Jones, has not led to any clear answers. Announcements from the school board, Education Minister Stephen Lecce and Premier Doug Ford are all parents have to go on, Butt said, and she believes the government is putting a priority on the economy over health. "They're using [school] as a daycare system because parents need to go back to work so that the economy can get up and running," she said.
Utilizing the school bus is one of the only options Butt has. As a single mother working in a different city from where her kids attend school, attending back and forth between work and her kids' new transportation schedules would be difficult. Her only other option is her 67-year-old mother, who may be put in a vulnerable position if asked to pick her grandkids up from school.
These concerns are shared by many bus drivers who are retirees.
Rizvi says the demographic of those who drive school buses was not taken into consideration when deciding how trips can be made safely. She has heard from many people who are scared to go back to work in fear of getting sick, as seniors are more vulnerable to contracting COVID-19, and the subsequent effect. "You can't compromise your own health, or the health of somebody that you come home to," she said.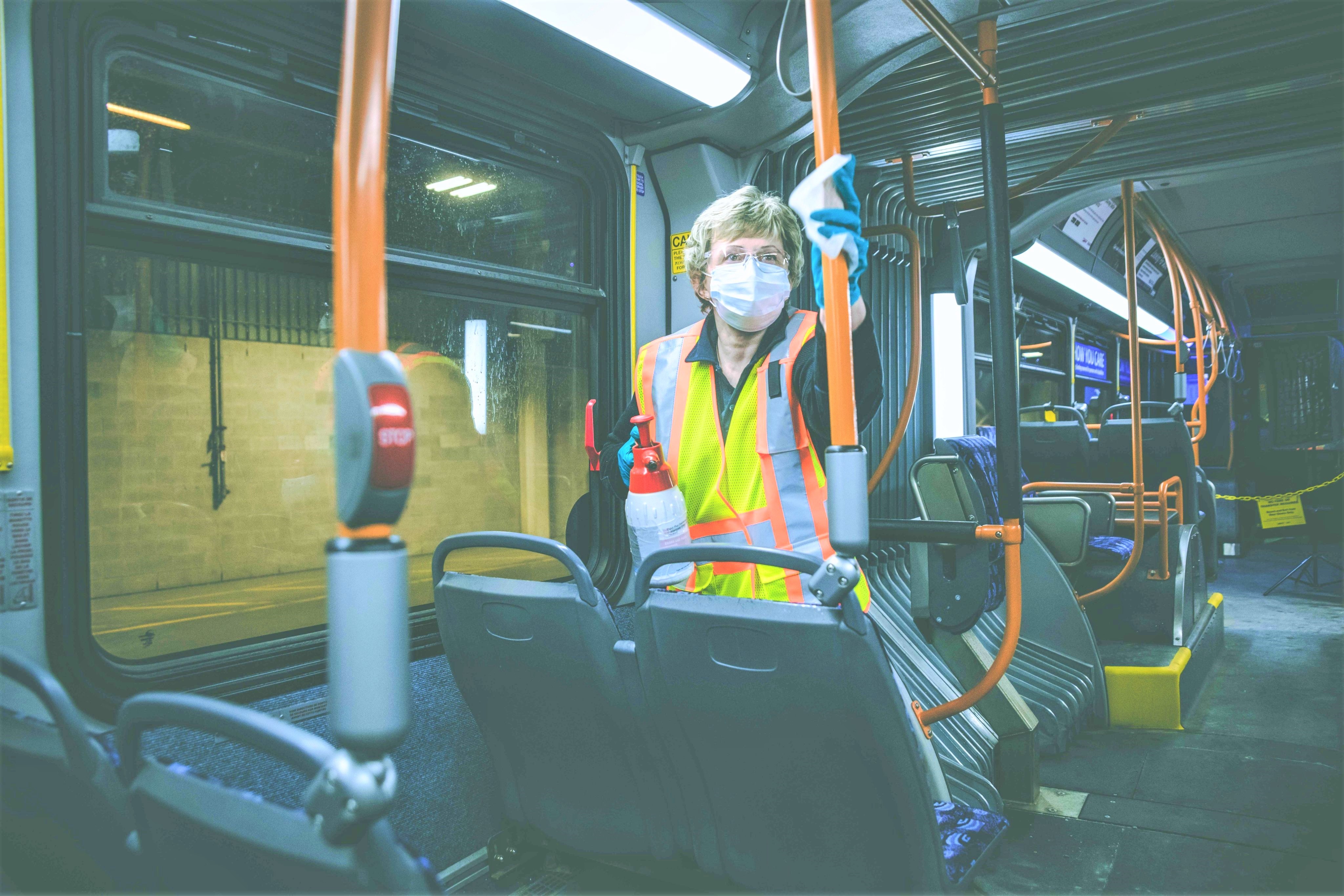 Unlike strict protocols for municipal buses cleaned by trained staff, it's unclear how drivers will keep school buses clean
There is also no clear picture to what sanitation on buses will look like. Unifor is pushing for professionals to be hired to clean the buses, a responsibility that will fall to bus drivers under current rules. "They're not cleaners. You actually need somebody who understands how to properly clean and sanitize a bus," she said.
Rizvi believes this, and other important points for safe travelling, could have been addressed if proper consultations took place. "Unifor is disappointed at the complete lack of consultation with drivers and warns that safety concerns may prevent some drivers from returning to their routes," a recent press release states.
According to Rizvi, Unifor expressed its interest to be at the table early on, sending a request back in June when the province was still in Stage 1 of its reopening plan. The "last minute" consultations with the provincial government that did take place didn't address any of the concerns Unifor raised for school bus drivers, Rizvi said. "They did not touch… the school bus driver's transportation…they didn't even consult with us on that."
Excluding proper consultations isn't specific to school bus drivers, Rizvi said, offering her opinion that every union or community group has had difficulty sitting down at the table with the government. "They don't consult to ask 'what do you actually need on the job?'"
An example of this can be seen with class sizes, she said. While the recommendation from doctors at Sick Kids was to have smaller classes, it wasn't something that was addressed by the provincial government in a way that would ensure safety. "Which means the consultation, you didn't actually take any of the feedback into consideration. It was just part of going through the motions of it."
Health and safety are topics not considered for bus rides, Rizvi said, arguing it shows the government isn't concerned about the seating arrangement and interaction between students on the bus. She's worried such activity could contribute to the second wave of COVID-19.
After consultation with STOPR, both boards in Peel have indicated there will not be a shortage of bus drivers this school year, a significant issue of concern every year, as schools have reopened previously with not enough drivers. "Although we do not anticipate a driver shortage, school bus operators are continuing to train new drivers throughout the summer months to assist in this regard," Bruce Campbell, the communications manager for DPCDSB told The Pointer.
Rizvi says a shortage of bus drivers could be inevitable if the province doesn't change current rules that allow 74 students on one bus, with few safety protocols in place.
---
Email: [email protected]
Twitter: @nida_zafar
Tel: 416 890-7643
---
COVID-19 is impacting all Canadians. At a time when vital public information is needed by everyone, The Pointer has taken down our paywall on all stories relating to the pandemic and those of public interest to ensure every resident of Brampton and Mississauga has access to the facts. For those who are able, we encourage you to consider a subscription. This will help us report on important public interest issues the community needs to know about now more than ever. You can register for a 30-day free trial HERE. Thereafter, The Pointer will charge $10 a month and you can cancel any time right on the website. Thank you.
Submit a correction about this story