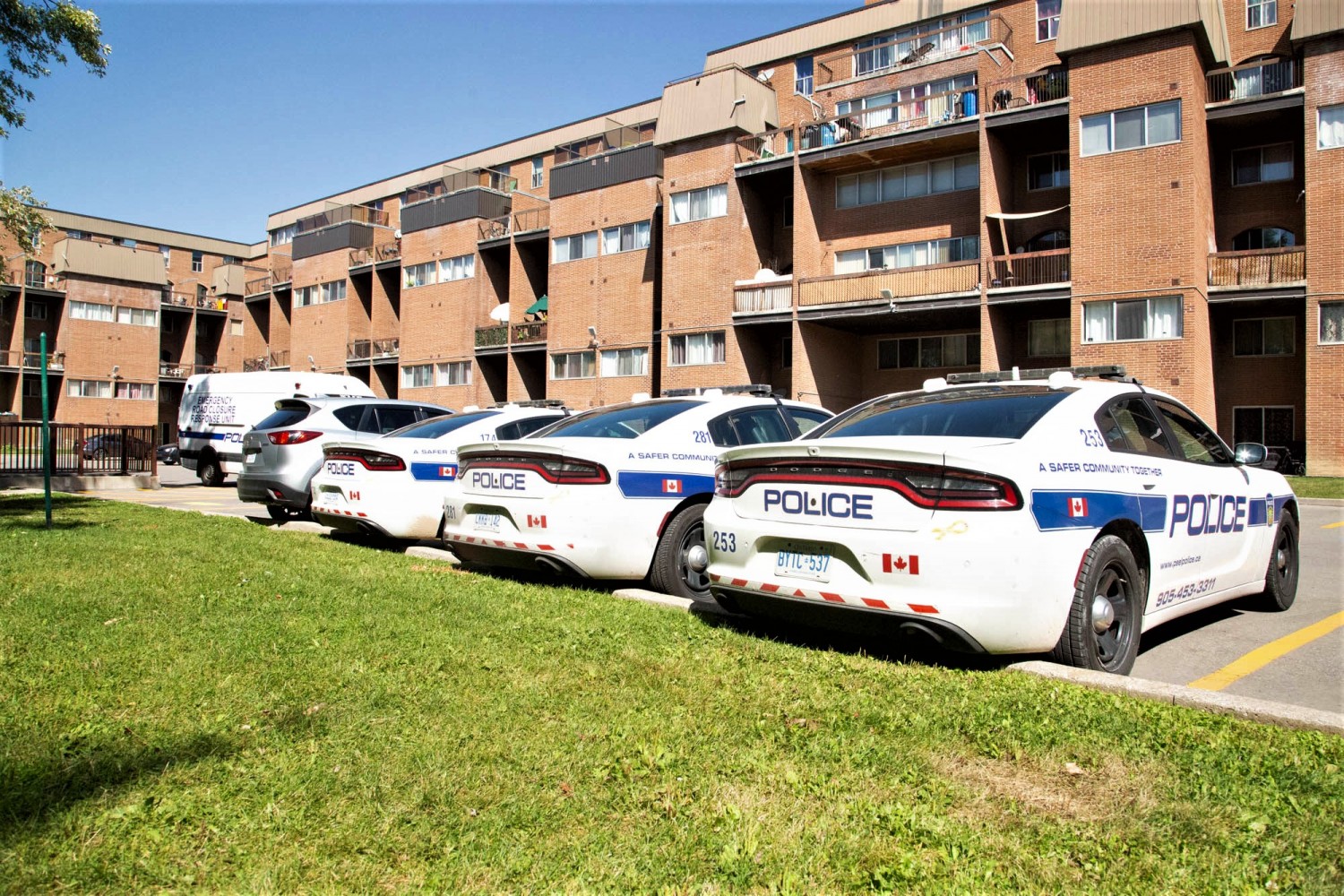 The Pointer file photos/Peel police
Peel saw an increase in gun crime yet again, while the illegal trade of street weapons thrives
A recent press release by Peel Regional Police contained an image that, without proper context, could be mistaken as a prop on a TV crime show.
It showed a rifle and shotgun along with a table holding piles of money, drugs, ammunition and other items seized from a Brampton man's home. The image depicts a small sample of a large problem in Peel – more guns are showing up here, and they're being used more frequently.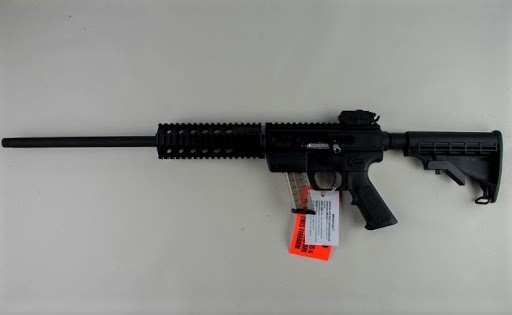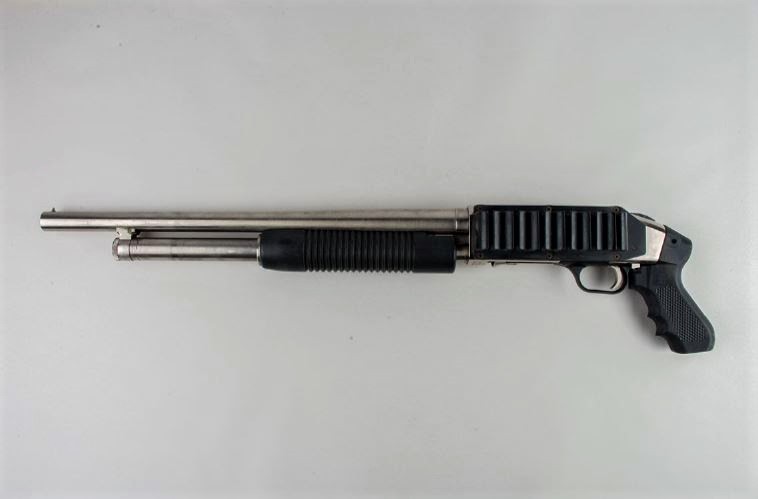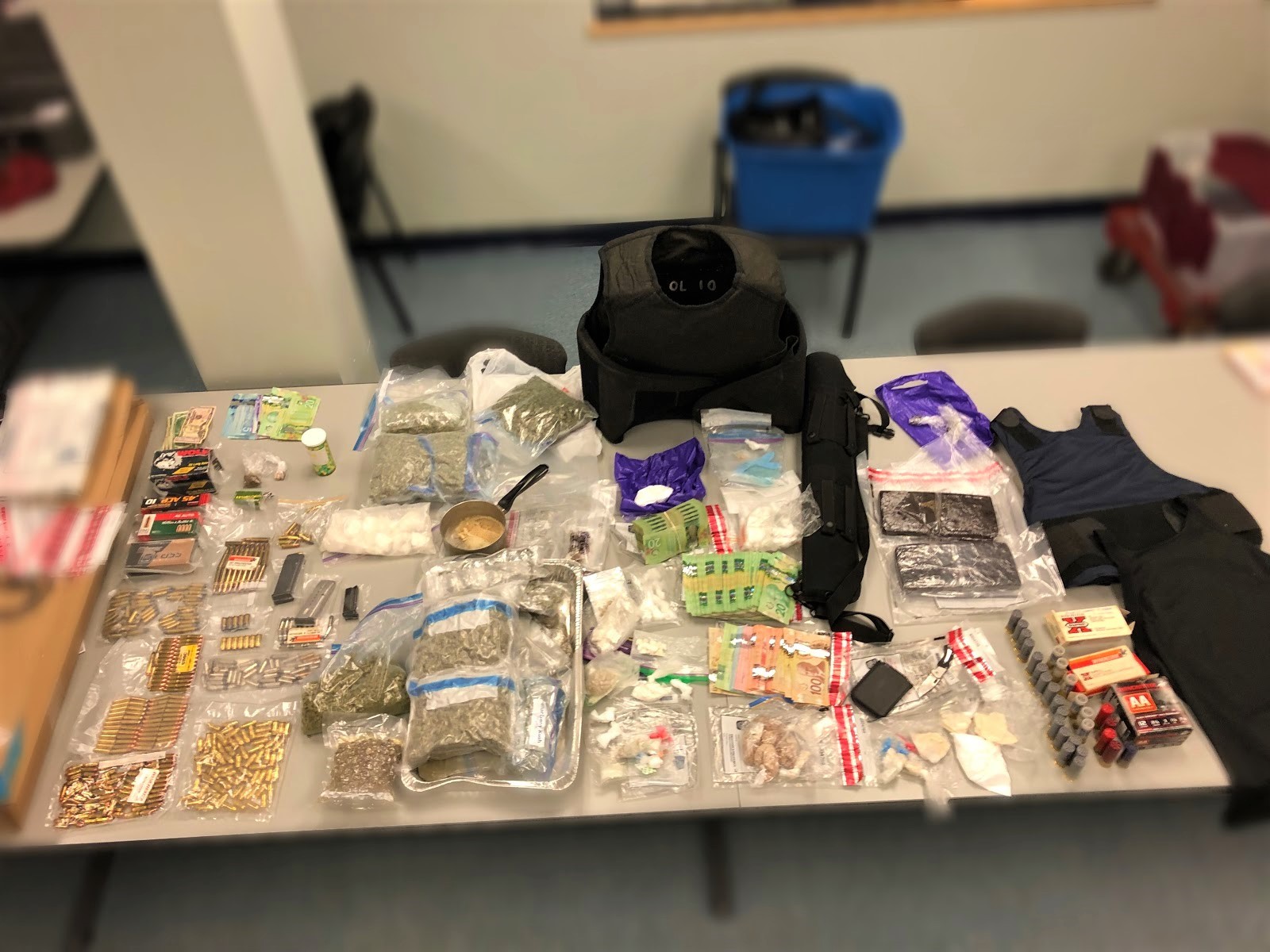 Weapons and ammunition recently seized in one bust by Peel police
"Possession of illegal firearms and drug trafficking is a dangerous combination and poses a significant risk to our communities," Nick Milinovich, Peel Police Deputy Chief of Investigations and Emergency Services said in a press release.
Illegal firearms typically come from two sources; either smuggled or stolen from legal gun owners, Wendy Cukier, president of the Coalition for Gun Control told The Pointer. "You take someone who has a clean record, they get the license, they buy the guns and they give them to someone who doesn't have a clean record," she said.
It's a problem many know exists, yet the true number of illegal firearms on the streets of Peel remains a mystery, which poses an extreme danger for residents and local law enforcement officers. A 2019 presentation by former interim Peel Police Chief Chris McCord to Brampton councillors said there were 15,970 restricted firearms and 1,760 prohibited firearms in Brampton and Mississauga. These weapons, which can be legally owned with the proper licenses, can't be used for hunting and sport and can only be used at certain target ranges.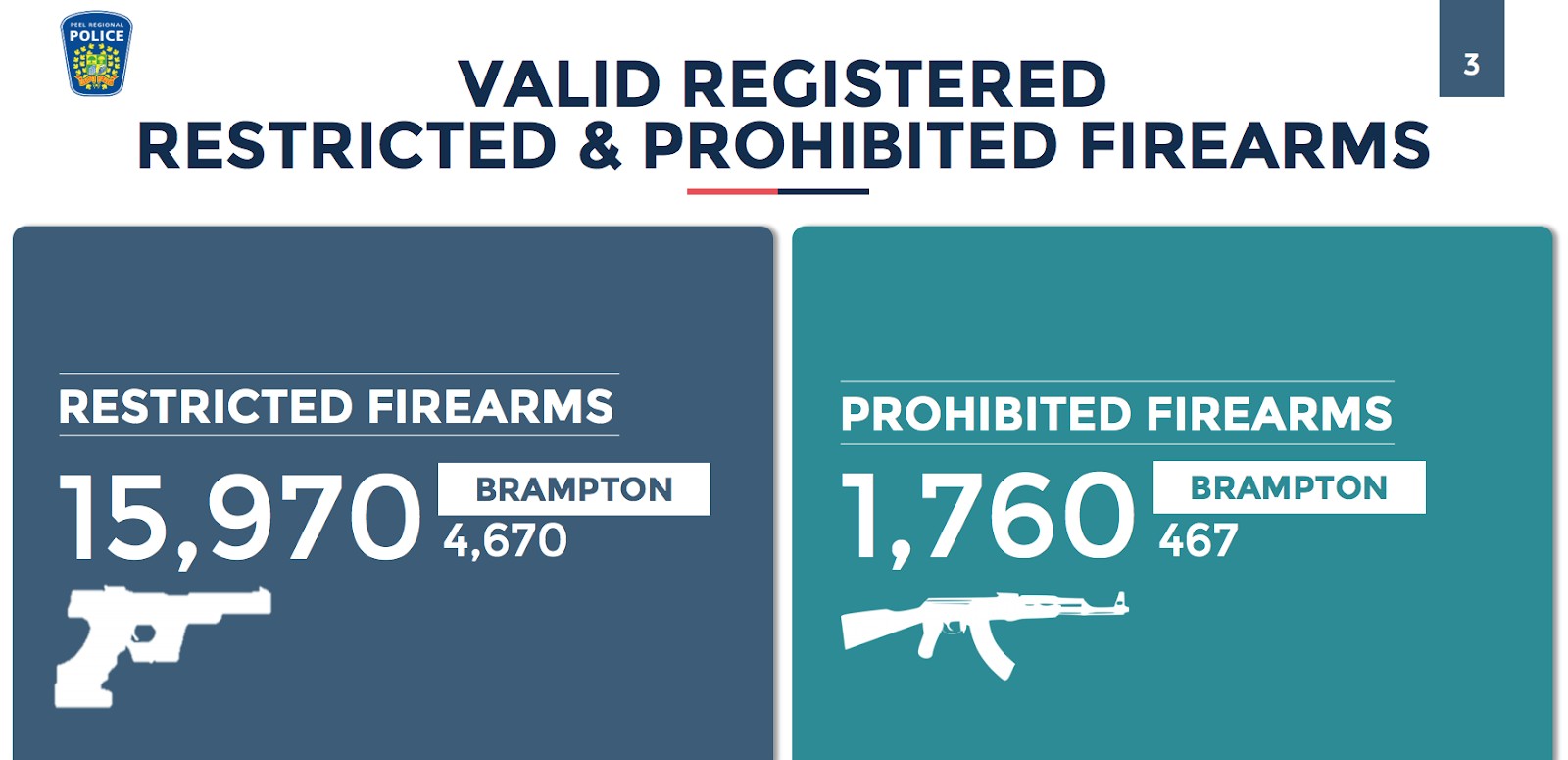 But as Cukier points out, any firearm can be used for unlawful activity, even if it's legally owned.
When weapons are used in crimes, seized guns are not always traced back to where they came from, making it difficult to determine how some firearms get into the wrong hands. "Information is the lifeblood of policing," she said.
Statistics Canada has recently started a project to increase the collection of such information. A lack of resources could be to blame for why jurisdictions haven't done so in the past, Cukier said. "It takes time and if they've got other priorities, often they don't [trace it]."
As of May 1, the federal government prohibited more than 1,500 assault-style firearms, not including handguns.
The ban came after the April 18 massacre in the community of Portapique, Nova Scotia, when 22 people lost their lives to one man weilding illegal firearms he did not have a licence for. The swift response from the Liberal government to take a stricter stance on firearms owned by residents didn't do much to examine how people get firearms illegally.
In Toronto, where a lot of Peel's gang activity is criminally linked, there are likely two smuggled guns for every legal gun in the city, Cukier said. A spokesperson with Public Safety Canada said the federal government will work with provinces and territories to explore options around dealing with handguns being used for crime.
To address ongoing concerns around the border, a number of investments, including $51.5 million to the Canada Border Services Agency to increase its ability to fight the flow of illegal firearms into the county, are being made.
"The Government remains committed to reducing the threat posed by trafficking and smuggling of firearms and intends to introduce stronger penalties for trafficking and smuggling offences and will continue to make important investments by providing additional resources to the CBSA and the RCMP to further strengthen border controls and reduce the number of guns being smuggled across borders," the spokesperson told The Pointer. No specifics on possible penalties were provided.
Cukier wants more time and resources spent to curb gang activity inside the country and the legal ownership of guns. While the border has been closed to a majority of people during the pandemic, she said no one has been able to explain why gun violence hasn't gone down. "That to me suggests we have a lot of domestically sourced guns, fueling the illegal use of firearms as well," Cukier said.
In Peel, the use of firearms by gangs and the growing prevalence of these criminal enterprises in the region has become a priority for Peel police.
Last year, in what is being labelled Peel's most severe incident of gang violence, a group of men opened fire behind a Malton apartment complex, leaving one innocent teenager dead and five others injured in a shocking daylight shooting while children and other family members gathered around a parkette in the early evening on a late summer day last September.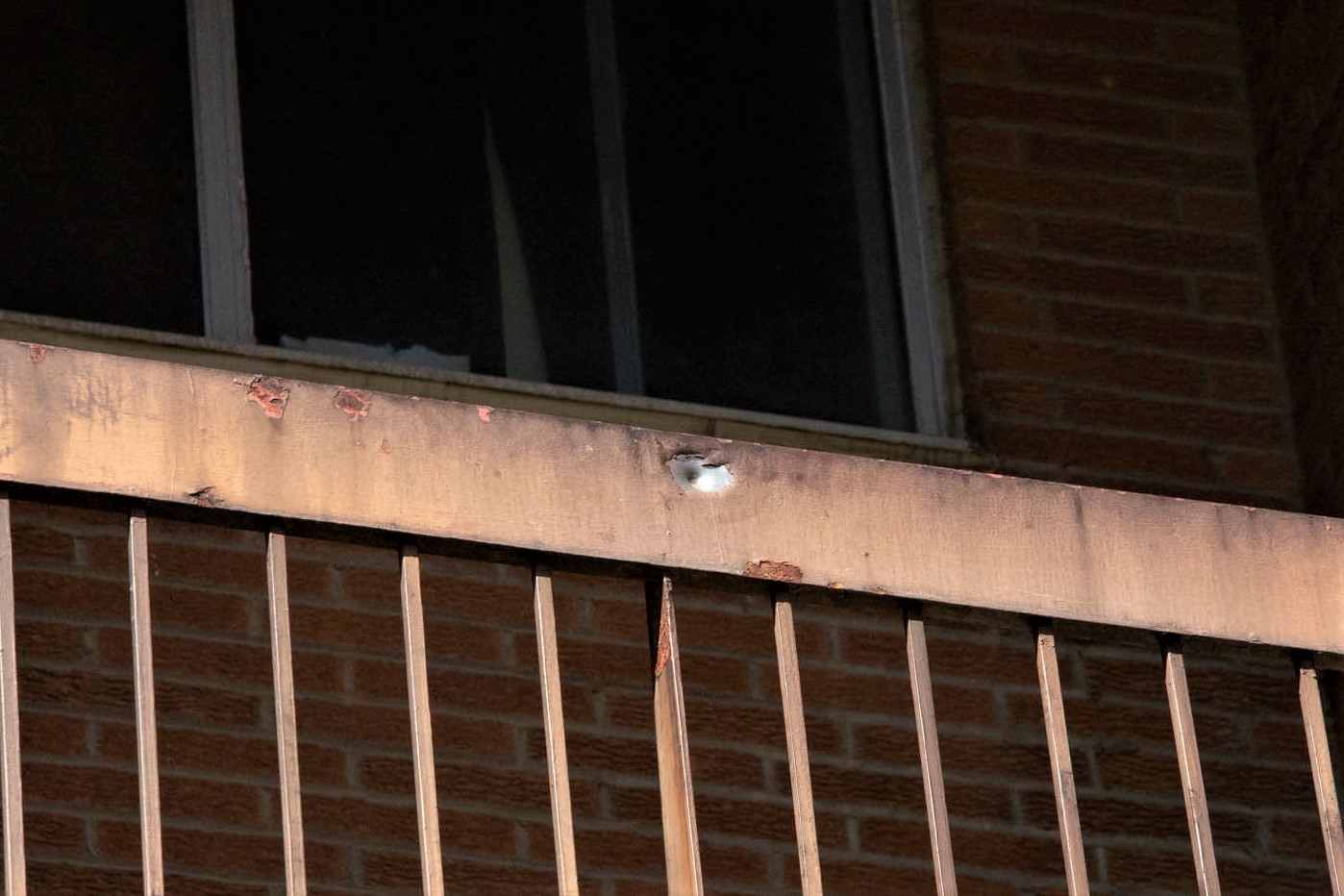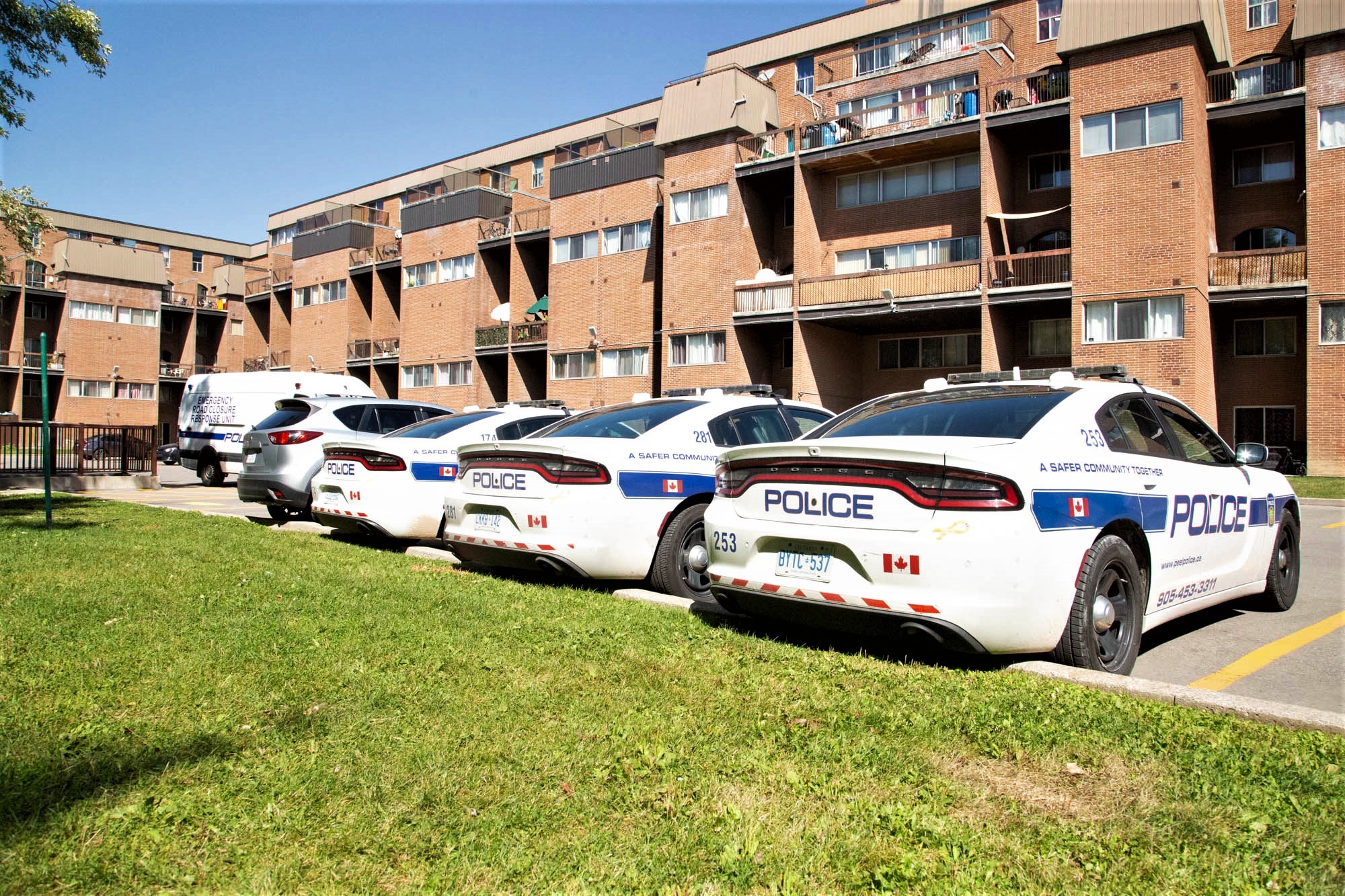 Days after last year's mass gang-shooting in Malton, Peel police still had a heavy presence at the apartment complex, which was riddled with bullet holes
According to PRP's recently released 2019 Annual Report, there was an 11 percent increase in shooting victims and 24 percent increase in the number of homicide victims in the region compared to 2018. These increases come despite PRP's gun amnesty program which removed 129 guns and 269 rounds of ammunition from the community last year, a 279 percent increase from 2018. The amnesty program allows legal gun owners to surrender unwanted firearms and ammunition, which reduces the risk of these weapons falling into the wrong hands. But with more legal weapons being handed over in 2019, alongside the rising number of shootings, it suggests the firearms used in Peel's criminal activity are coming from another source.
Figures at the national level show the number of homicide victims with a link to organized crime or street gangs has gone up throughout recent years. In 2014, that number sat at 497 homicides, it jumped to 666 in 2017, and slightly dropped to 651 in 2018. For those victims with no known affiliation to such activity, the number from 2014 (26 homicides) saw a slight drop by 2016 (23 homicides). Data on 2017 to 2019 is not available.
Gaining access to a gun can be easier than one might think. Toronto resident Segun Akinsanya was a part of this lifestyle in his youth, and had access to a shotgun himself. "Everybody's process will be different," he told The Pointer. For example, if an individual is looking for a wedding photographer, they're likely going to ask a friend who's passionate about photography if they know someone. "Maybe that artist's friend might not be able to find you, but he might refer you to somebody else. It's just like business," he said.
Explaining the rise in gang activity in parts of Peel, Akinsanya, who was part of gang culture for much of his life, says the massive wealth creation in Toronto's general population plays a significant role. "A lot of people that are in Brampton and Mississauga were moved out there from Regent Park, and other places in Toronto that were gentrified." One of Toronto's oldest housing projects, the area has in the past been associated with gun and gang violence; some organized criminals trace their roots to the neighbourhood just east of downtown, where large public housing projects were built in the late '40s and weren't demolished for more than 50 years.
But since 2005, Regent Park has gone through waves of urban renewal. Akinsanya says that as gangs are forced to leave areas of Toronto because they have become too expensive, many have moved to places such as Peel. Brampton Mayor Patrick Brown, who sits on the Peel Police Board, echoed the observation last year, when he publicly questioned why Toronto received anti-gang funding from the provincial government while Peel did not, even though much of the activity was crossing the border into his city.
Shortly after, Ottawa provided $54 million over three years to Ontario so the province could get a handle on rising gun and gang crime. Much of that money will end up in Peel, for projects including the expansion of a firearms prosecution team in the region.
Akinsanya originally shared his story with Toronto Life, documenting how he got involved with crime and what led him to turn things around and create the Bright Future Alliance. The non-profit organization is geared at youth in and around Toronto, focused on reaching young people before they might be swept up in gang life.
According to Public Safety Canada, youth join gangs for prestige, a need to make money and a sense of belonging. Poor parental supervision and a "limited attachment to the community" are part of numerous risk factors. Akinsanya himself entered "that world" the summer before Grade 9.
For Peel Region, eradicating the trade of illegal weapons, which are used to lure people into gangs and to carry out the brazen crimes being committed on the streets, is a key to fighting organized criminal activity.
---
Email: [email protected]
Twitter: @nida_zafar
Tel: 416 890-7643
---
COVID-19 is impacting all Canadians. At a time when vital public information is needed by everyone, The Pointer has taken down our paywall on all stories relating to the pandemic and those of public interest to ensure every resident of Brampton and Mississauga has access to the facts. For those who are able, we encourage you to consider a subscription. This will help us report on important public interest issues the community needs to know about now more than ever. You can register for a 30-day free trial HERE. Thereafter, The Pointer will charge $10 a month and you can cancel any time right on the website. Thank you.
Submit a correction about this story