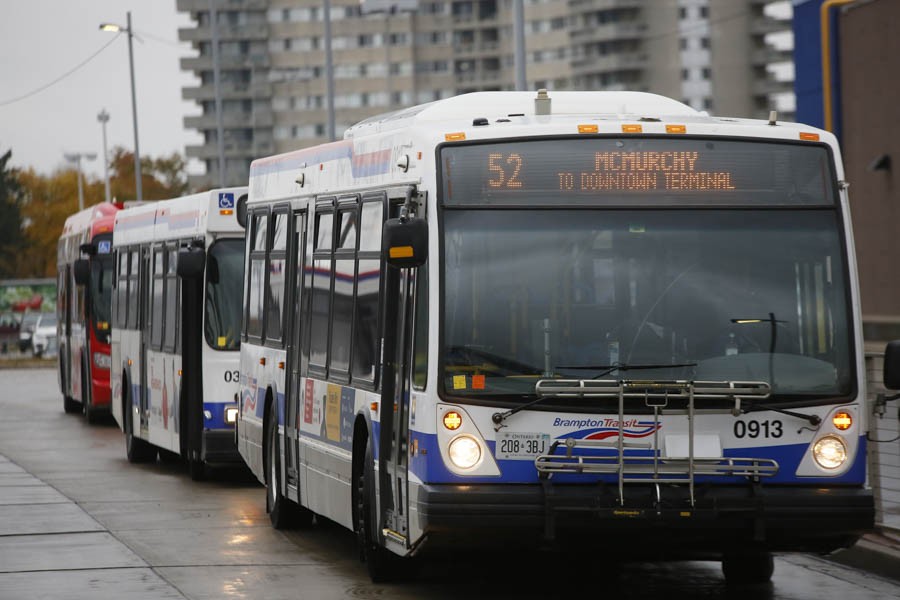 Photos from The Pointer files/Twitter/Triplinx.ca
Riders claim Brampton Transit ignores legislation meant to prevent dangerous overcrowding
Many public transit users in the Greater Toronto Area have likely experienced one of the most dreaded aspects of a commute during rush hour, being wedged in – shoulder to shoulder – practically on top of other passengers.
Before the spread of the novel coronavirus forced the City of Brampton to reduce transit operations, this was a norm for many transit users in the city.
Transit advocates refer to people stuck in this situation as sardines – riders are packed so tightly on a bus, the resemblance to a bunch of small salty fish is uncanny. The common occurrence, in some cases, violates a rule in the Public Vehicles Act (PVA).
Section 22 (1) states "no driver or operator shall allow passengers to ride on the fenders or any other part of a public vehicle other than the seats thereof, except that a vehicle may carry as standing passengers in the aisles thereof not more than one-third the number of persons for which seats are provided."
The PVA doesn't apply to transit agencies that operate within the boundary of a municipality, a spokesperson from the Ministry of Transportation told The Pointer. The rule only applies to "trips crossing a municipal border," a City of Brampton spokesperson said.
But readers have told The Pointer that this is the problem, because overcrowding is common on routes that travel outside the city.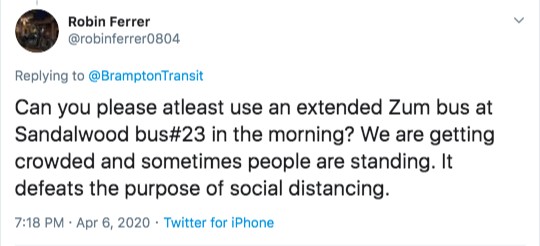 Transit users have been raising concerns about overcrowding on Brampton Transit for months.
Züm buses in Brampton either have 34, 39 or 56 seats, depending on the model of the bus. For a bus leaving Brampton with 34 seats, not more than 11 people (one-third of total seats) can be standing under the PVA. For buses with 39 or 56 seats, not more than 13 or 18 people can be standing if all the seats are full. Buses exceeding each capacity and traveling outside of the city are in violation of the legislation.
This is an experience Mark Sebamaalai, a Brampton resident, knows well. Prior to the pandemic, Sebamaalai would take routes 5 and 502 to his workplace in Mississauga. He recalled route 502, which he said was a 60 foot bus with 56 seats, often being full. "Whenever I would take the bus to work, every day was packed." When asked if it was common to see more than 18 people standing, Sebamaalai said, "it was normal." The bus would usually be over its limit before it arrived at Hurontario and Steeles Avenue, he said. The third stop after this intersection is in Mississauga. Readers have also told The Pointer the 511 route routinely faces the same problem.
Brampton Transit's 502 bus route crosses the municipal boundary into Mississauga.
The Pointer forwarded details of the complaints to the City and asked if concerns were being brought forward before the spread of the novel coronavirus. The Pointer was told no "recent" complaints about the problem have been made. It's unclear what "recent" means. Transit ridership has reduced dramatically since the beginning of the pandemic, so if the City had been receiving complaints up till March, that would reflect what The Pointer has been told by a number of readers.
"Brampton Transit works hard to ensure all buses adhere to all health and safety requirements," a spokesperson for the City said. But according to Sebamaalai and other readers, the rule has commonly been broken.
If a public vehicle is found to be overcrowded, a fine of $200 will be issued to the driver under the PVA.
The City spokesperson said once capacity has been reached, drivers will "operate on closed doors" and call into transit control for additional resources. The Pointer was unable to find information on how a driver is able to determine if capacity is reached. Unlike some train service, where the number of tickets sold is in compliance with available space, no such system appears to be used by Brampton Transit. It's unclear how drivers can determine if overcrowding violates the rules without procedures to indicate when capacity has been reached.
The first time Sebamaalai knew what it meant to be "sardined" was when a bus he was on broke down. He and his fellow 50 passengers had to get on a different bus which was already half full. "I can guarantee for anybody that has a very low threshold for comfort zones, rules are being violated, 100 percent." Overcrowded buses lead to numerous safety concerns, especially when there is no ability to hold onto anything inside the bus in the event of an accident or sudden stop. In extreme heat, overcrowding can also cause people to faint or feel other symptoms related to increased temperature or the inability to move.
Sebamaalai doesn't believe the issue is a difficult one to address; an increase in service will decrease the number of people standing on a bus and help alleviate the issue of overcrowding. "Service is really just the most basic thing [Brampton] needs to do to get people moving," he told The Pointer. While he believes Brampton Transit does the best it can with the budget it has, it could improve with more funds. "If they had more to work with, they could easily have more service and they can do so much more."
Mayor Patrick Brown has in the last two years pushed for zero tax increases, limiting the ability to raise Brampton Transit funding, in a city that continues to see explosive population growth.
Overcrowding on transit was an issue residents raised during budget deliberations earlier this year. The impact of it was also clearly communicated through a survey conducted by Forum Research that showed overcrowding on transit was a key concern for residents. Transit services did not see an increase in the budget to address this. The initially proposed hiring of 81 extra drivers to meet projected needs dropped down to 12 new hires for 2020, after Brown made his budget demands clear. The construction of a much needed transit facility (priced at $135 million) was also pushed off the 2020 budget. To assist with this project, the City is applying to the Investing in Canada Infrastructure Plan (ICIP). The original application was mishandled, revealed in a June staff report that admitted the City failed to present "a full Metrolinx business case" which it was supposed to.
While the report stated the City since commissioned an outside group to complete the business case, it's not clear if this delay will result in the application falling through.
A recent partnership between the federal, provincial and municipal government also didn't address the issue of overcrowding on buses. The $113 million investment is not adding any additional buses to city streets, only replacing and repairing older buses that are part of the current fleet.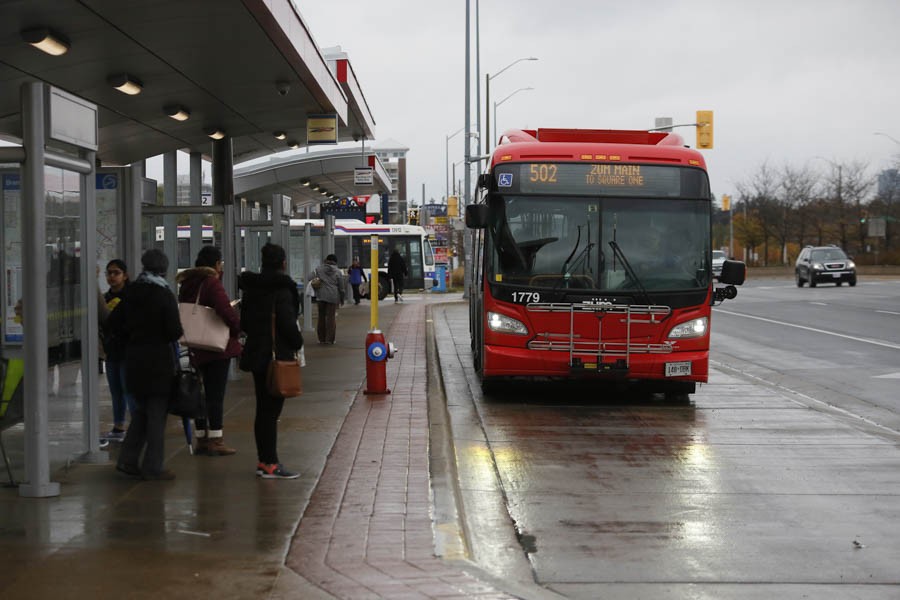 City budgets in recent years have offered little investment to fix the overcrowding issues on Brampton Transit raised by residents.
It's not clear if overcrowding and the possible violation of provincial legislation are being addressed. The spread of the novel coronavirus has impacted both the financial standing and service levels of transit. With the city waiving bus fares between March and July, an already overburdened system will have even less revenues to work with, once ridership levels return to normal. A major boost was announced, when Ottawa and Queen's Park pledged $4 billion to Ontario municipalities to help with deficits caused by the pandemic. It's not clear what Brampton's share will be or if it will cover the approximately $55 million gap the City has projected by the end of the year. During a press conference Wednesday, Mayor Brown said he was optimistic the relief from the federal and provincial government would cover the city's projected losses in 2020.
---
Email: [email protected]
Tel: 416 890-7643
Twitter: @nida_zafar
---
COVID-19 is impacting all Canadians. At a time when vital public information is needed by everyone, The Pointer has taken down our paywall on all stories relating to the pandemic and those of public interest to ensure every resident of Brampton and Mississauga has access to the facts. For those who are able, we encourage you to consider a subscription. This will help us report on important public interest issues the community needs to know about now more than ever. You can register for a 30-day free trial HERE. Thereafter, The Pointer will charge $10 a month and you can cancel any time right on the website. Thank you.
Submit a correction about this story