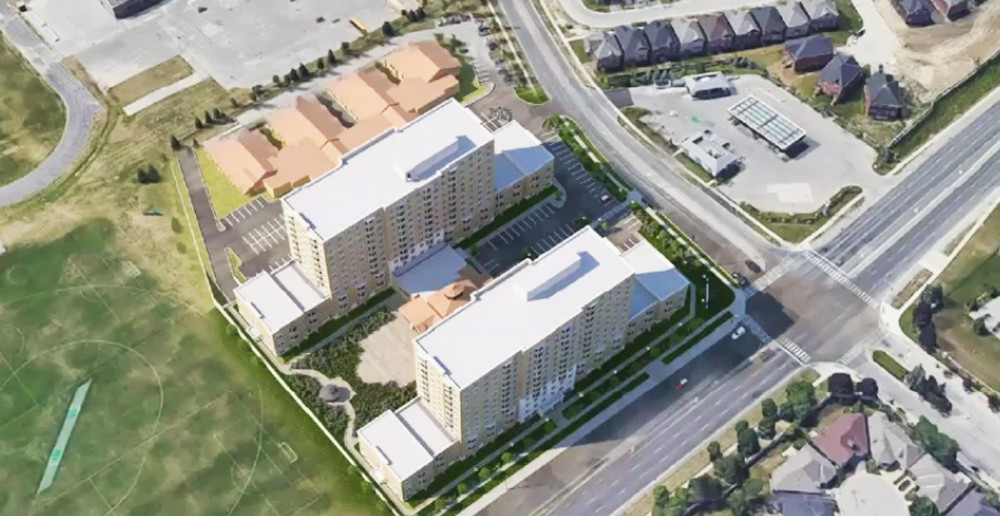 Renderings from the City of Brampton
Proposal for seniors apartment towers labelled an 'abomination' by local residents 
Reading the rhetoric from municipalities during the COVID-19 pandemic, it would be easy to believe they hold no power. Over the past few months, local leaders have pleaded with the federal and provincial governments for funds to cover deficits, improve transit or build affordable housing.
On the financial side, cities are certainly limited. User fees from transit or recreation, development charges and the property tax base make up the majority of their revenue.
But in many other areas, particularly planning, they hold significant power.
The decisions regarding development and growth reach significantly further than just the size of someone's lot or how many residents will fill a newly developed subdivision.
In 2018, the Intergovernmental Panel on Climate Change released a report that compiled research from over 6,000 scientists around the world. It drew an undeniable link between the decisions made around local Planning and Development Committee tables and global warming.
The scientists implored local leaders to stop sprawl. Single-family homes require more energy to heat and cool per person than denser living, while a reliance on the car contributes to emissions from congestion.
Climate change is just one area planning impacts.
A recent development proposal in the City of Brampton exemplifies the far reach of planning and the challenges Brampton faces in its quest to become a more environmentally friendly, dense place to live.
The application has been filed by Schlegel Villages Inc, a company that builds retirement communities. It asks to build two 12-storey towers on the site of its current Village of Sandalwood Park (located at 425 Great Lakes Drive), creating 518 retirement suites and seniors apartments. The plan includes retirement care suites, retirement apartments and seniors independent living apartments.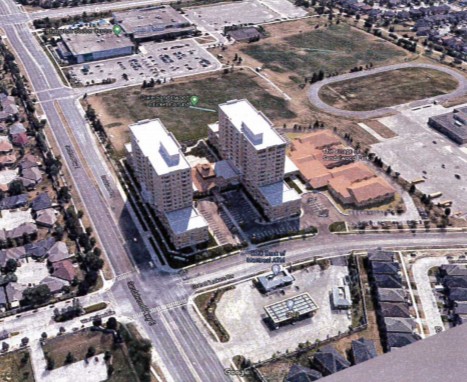 A site plan of the proposed apartment towers.
As the dust continues to settle from the first wave of the ongoing COVID-19 pandemic, the construction of new retirement residences offers an interesting challenge. The most devastating impacts of the novel coronavirus affected the province's older population, sweeping through long-term care and retirement homes at a terrifying rate.
In Ontario, 64.6 percent of all deaths from the virus have taken place in long-term care homes.
"There are epidemics every single year that we need to make sure that we're building new homes to reduce their impact. As you're thinking about the pandemic, there are even some further steps that we can take," Laura Tamblyn Watts, CEO of CanAge, a group advocating for seniors, told The Pointer. She explained the pandemic had sharpened lessons already known about disease control. Those lessons can be reflected in the built form developers use for elderly accommodation.
In particular, all new rooms and senior apartments should be equipped with air conditioning. The requirement is one Ontario Premier Doug Ford has taken to heart and made part of a recent campaign of improvements he plans to bring to the long-term care sector.
"When building, we need to make sure that all resident rooms are air conditioned. We know that we have heat epidemics every single year and a significant number of rooms are not air conditioned," Watts added. "That matters, not just because of heat, but because if we need to isolate people in their rooms [it is important they are a manageable temperature]."
Additionally, an increase in outdoor space for residents to be visited by family members at a distance is key.
The Pointer approached Schlegel, the group behind the new Brampton proposal, to understand if the tragic lessons of COVID-19 would be reflected in its towers.
"The lessons from COVID-19 are still be[ing] learned but we definitely want to ensure we are designing to the very latest standards. Detailed design for this particular project has not yet commenced but we will be involving subject matter experts from various disciplines within our organization, and working with the Public Health Authorities, to gather input into our current design to see where improvement can be made," Brad Schlegel said, expressing optimism for the project.
A map depicting the area around the site of the proposed towers.
The potential neighbours for the two 12-storey towers do not share Schlegel's excitement.
"This is a very residential area and buildings of that height would definitely be an abomination," local resident Cathy Field wrote in a letter included in the Planning and Development Committee agenda for July 27, when the application was discussed. "To keep it in line with the surrounding areas I think a maximum of 3 to 4 stories would be adequate."
Field was one of 29 residents who wrote to the City complaining about the development. Across a variety of different letters, locals complain the towers are too high, the roads in the current area would be unable to handle additional traffic and parking for the facility is too low.
At the heart of the contention is the fact Brampton's Official Plan and zoning does not allow for such height, requiring an amendment by council. Local residents are aghast the developer paid little attention to the policies already in place and is instead pushing for 12 in each tower.
"The construction of two 12 storey apartment buildings would not conform to the neighbour(ing) structures," Maria and Eugenio Isabella wrote.
Schlegel said he was confident the height of the proposal was the correct decision.
"There are several reasons for proposing an increase in the size of The Village of Sandalwood Park. There continues to be an increase in the demand for seniors housing in the province and the Region of Peel and we are attempting to meet some of that need," he said. "We have also found that many seniors in other communities have found our model of a continuum of care within a Village design to be an attractive choice in which to live and receive necessary supports."
He added the site has been licensed under the Ministry of Long-Term Care since 2003 and the new towers would be licensed and marketed exclusively to seniors.
Many in the surrounding area, filled with single-family homes and backyards, fear the new structure will overshadow their lots and destroy the privacy afforded to them by the consistent lowrise the area currently represents.
"We are concerned about these towers overlooking the yards of those homes in Rosedale Village and robbing residents of their privacy," Kenneth and Marilyn Benson wrote. "Also there would be blockage of light and shadows from such tall buildings would be cast everywhere."
The concern represents the major challenge Brampton faces in its attempts to reset its footprint and build for a transit oriented, environmental future. The city's 2040 Vision (Living the Mosaic), sets out what Brampton could look like by 2040, a plan very different to the current reality.
According to the Vision, the city is expected to grow to approximately 306,000 dwelling units by 2040 (up from 170,000 in 2016) and the population is expected to surpass 1 million residents. New arrivals and aging seniors need to live somewhere and an ever growing number of urban planning studies have shown density instead of subdivisions is the way forward.
In much of Brampton, local opinion is a barrier to this change.
Few buy single-family homes expecting high rises and apartment blocks to spring up next door. They are naturally outraged when plans are proposed, with such developments threatening the very benefits identified by those who choose to enjoy a classic suburban life.
Brampton's reliance on the car means there is a danger of putting the cart before the horse. Simply building densely without providing the transit services, local shops and bars within walking distance does not solve the problems of sprawling suburbia. Instead it attracts significantly higher traffic volumes to roads not built to handle it.
"You almost can't just say density, you have to say density, diversity and amenity," Larry Beasley, author of the 2040 Vision, previously told The Pointer. "The density package by itself can be brutal, it can be as anonymous as anything else. When you add to the package diversity … and the amenity, which means that density is not oppressive, it's not crowding, it is delivered with the qualities that you need, then you have the package of success."
The danger is, without the city investing billions it does not currently have into rapid transit expansion and other changes, local residents will always oppose the changes required for Brampton to evolve.
In December, a group were outraged when councillors approved a series of townhouses in a neighbourhood previously zoned exclusively for executive homes. They complained the infrastructure in the area was simply not designed or maintained to handle the influx of residents the new development would bring.
With fears of increased traffic, congestion and dangerous driving, residents near Sandalwood Park feel the same.
Terry Miller, a Brampton councillor in the 1970s, was one of the residents to voice concerns. He said he felt areas of low-density should be left in peace as the city transforms, with intensification reserved for corridors like Queen Street, with the capacity to support new growth and higher order transit.
Referencing a previous council decision to create density in specific spaces, he said, "We have a corridor for intensification, the Queen Street corridor, where we intend to put our apartments because we have the services to look after them. There are bus services, wider streets and grocery stores. Intensification is a real issue, but even in Toronto you don't put a high rise in Forest Hill."
"You put intensification where you have the services for that," he added.
---
Email: [email protected]
Twitter: @isaaccallan
Tel: 647 561-4879
---
COVID-19 is impacting all Canadians. At a time when vital public information is needed by everyone, The Pointer has taken down our paywall on all stories relating to the pandemic and those of public interest to ensure every resident of Brampton and Mississauga has access to the facts. For those who are able, we encourage you to consider a subscription. This will help us report on important public interest issues the community needs to know about now more than ever. You can register for a 30-day free trial HERE. Thereafter, The Pointer will charge $10 a month and you can cancel any time right on the website. Thank you.
Submit a correction about this story