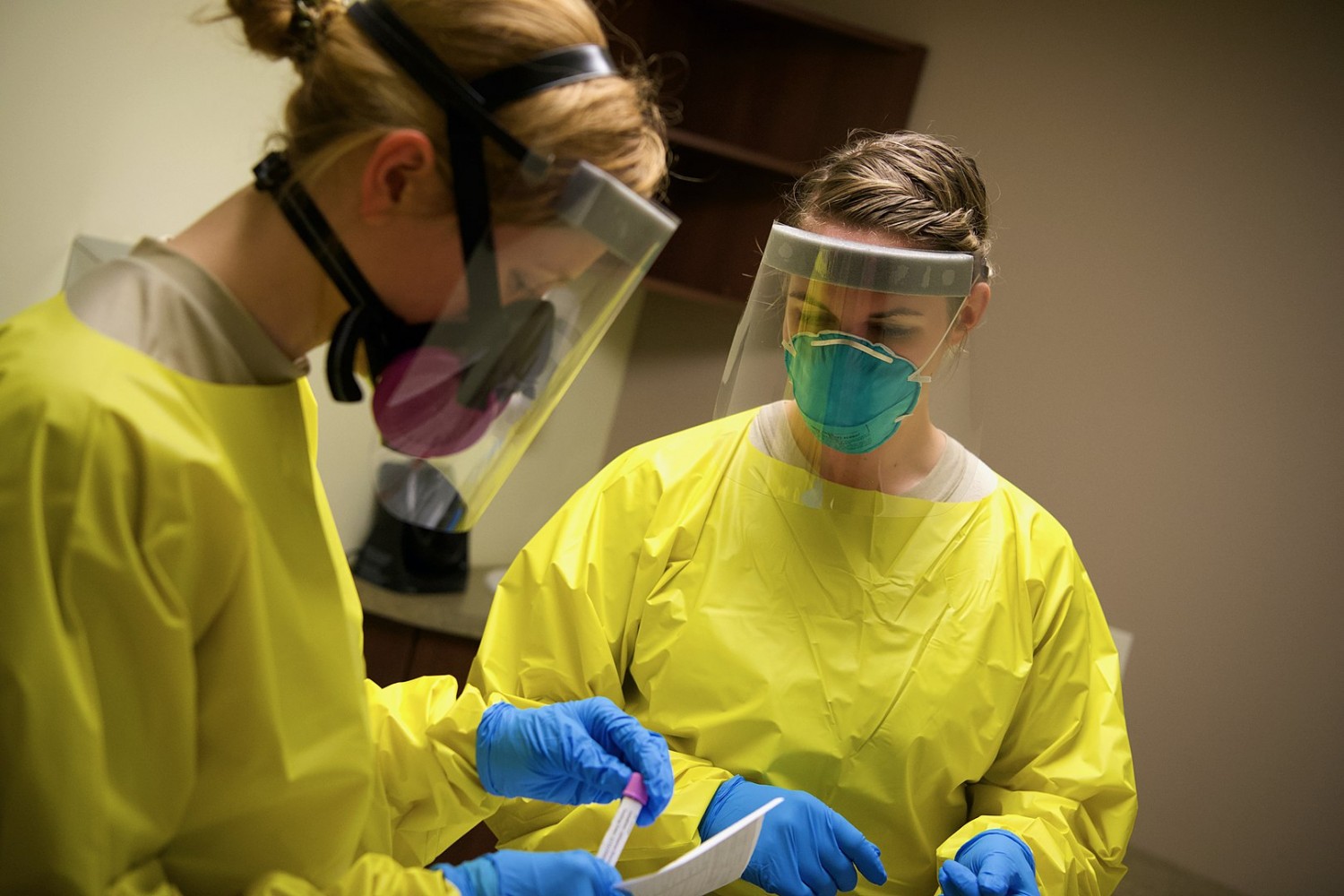 Photos from The Pointer files/Region of Peel/Canadian Armed Forces/Minnesota National Guard
Not much has changed in Ontario's long-term care sector as second wave of COVID-19 looms 
The staffing crisis in Ontario's long-term care homes has only gotten worse during the COVID-19 pandemic, a new survey from the Ontario Health Coalition shows. Vulnerable seniors are not getting the care they require, including basic needs like assistance with meals and bathing, and without help from the province more could be at risk.
Natalie Mehra, the executive director of the OHC said the survey findings released last week are "deeply disturbing" and prove that life inside Ontario's long-term care homes has only deteriorated further during the pandemic.
A total of 150 long-term care staff working in both private and publicly funded homes across the province filled out the survey. Somewhat surprisingly, 95 percent said their homes were still operating short-staffed, and 53 percent said this is occurring on a daily basis.
In December 2019, OHC released the results of a study of all long-term care and retirement homes in Ontario and found staff shortages were happening in nearly everyone one of them, 63 percent of recent survey respondents said that things have only gotten worse since then.
This short-staffing is not just a matter of increased pressure on Personal Support Workers (PSWs) and nurses who arrive for their shifts, it puts residents at risk because staff are rushing to provide care and carrying out tasks alone despite the need for help. There simply are not enough staff hired at facilities, which have come under fierce criticism for putting profits ahead of safety.
"It means that basic care can't happen," Mehra said during a press conference. "They do not have enough staff to get through a second wave."
In the Region of Peel, COVID-19 has decimated the lives of numerous families with loved ones in long-term care.
Since the first outbreak of COVID-19 at Tall Pines in Brampton on March 11, 191 residents have lost their lives to the novel coronavirus in 35 outbreaks in long-term care and retirement homes in Peel. Camilla Care Community in Mississauga has been hit the hardest with 182 residents contracting the virus leading to the deaths of 67 seniors.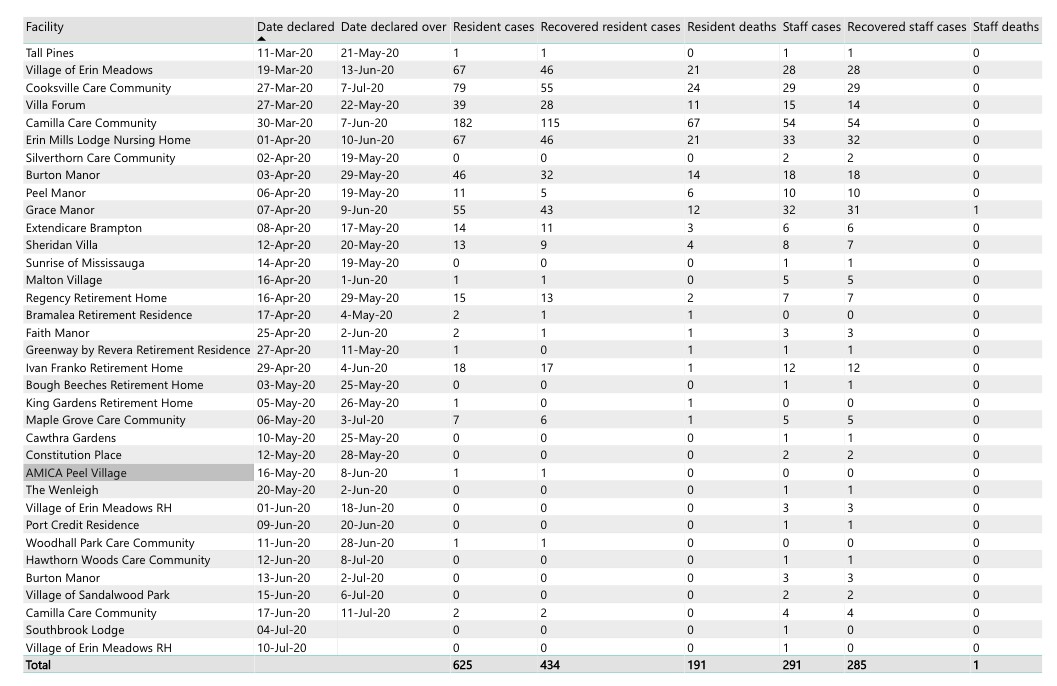 A breakdown of past and current outbreaks in long-term care and retirement homes in Peel.
"This is so repulsive, I don't understand how this is allowed to happen," said Shelley Smith, a Unifor local president in Windsor who has worked as a PSW for over 30 years. Smith pointed to numerous government reports, commissions and inquiries and studies that have illustrated the scale of the problem facing Ontario's long-term care sector.
"It's all fallen on deaf ears because what results do we have to show for it?" she said.
Staff shortages, abuse and neglect, poor living conditions, all of it has been documented in the past by both stakeholders and the government's own inspectors. While these reports have been left to sit in the dark for years under successive governments, COVID-19 has hauled them into the spotlight.
It became clear early on in the pandemic that long-term care and retirement homes could be hit hard by the virus. Early data out of China showed COVID-19 to be especially virulent in older populations and those with pre-existing medical conditions. After focusing all of its attention on hospitals, preparing for a battle with ICU capacity and ventilator numbers, when the province realized it had a crisis in long-term care, it was already too late, the virus spreading quickly through these vulnerable settings.
Grace Manor in Brampton, without enough staff to handle the calls from families about their loved ones, posted a notice on its website noting the phones would not be answered, and advised families to prepare for the worst. The virus took up residence in the home for just over two months, infecting 55 residents and killing 12 of them. Grace Manor, which has been COVID-free since June according to the Region of Peel's website, is the only care home in the region to lose a staff member to the virus.
Without enough staff to handle the growing problem, the province was left with little option but to approach the federal government and the Canadian military for assistance.
The troops walked into a living nightmare. Residents left bed-ridden for weeks creating festering bed sores; fungal infections; improper feeding (in one case leading to a resident's choking death); and a complete disregard for proper use of personal protective equipment (PPE), were all documented in the Canadian Armed Forces' report that shocked the country.
The lack of staff available at Grace Manor was also creating problems, including some moving from COVID positive units to other units without changing their contaminated PPE, staff not following proper hygiene practices, and wearing the same PPE for multiple tasks. The CAF also noted issues with the level of care being provided to residents, including observations of food being left in residents mouths while they were sleeping, aggressively repositioning residents, not using lifts properly and not assisting frail residents during meals.
"Staff would rather write [that] the resident refused to eat, rather than helping them," the CAF report reads. These issues were brought to the attention of Holland Christian Homes, the operator of Grace Manor, which stated it was working to address the alarming treatment of its residents.
While the CAF report brought many of these issues to the attention of the respective care facilities and the government, nothing has been done to fix the underlying issues, advocates say.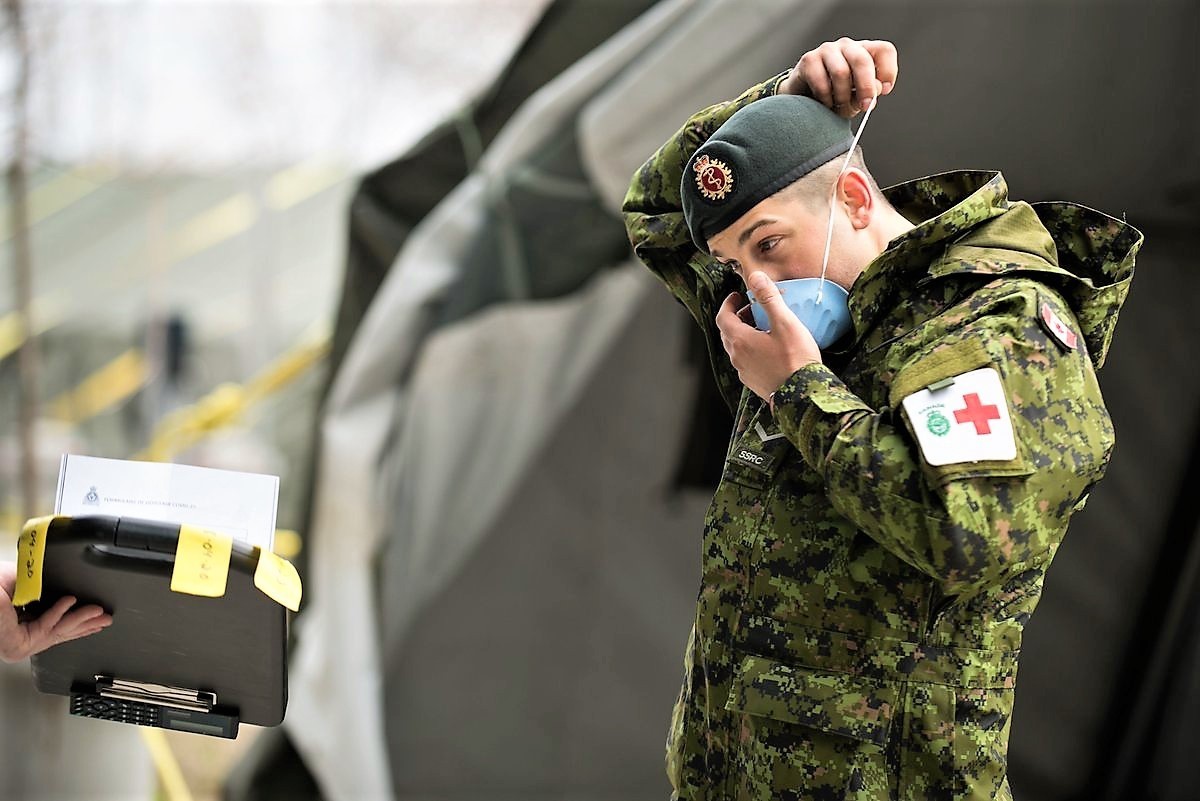 The report from the Canadian military detailed a disturbing list of problems in the long-term care homes visited by members.
The staff remaining in these homes are still frequently skipping lunches and breaks, and working double shifts and overtime in order to fill gaps.
"Staff report levels of short staffing that range from one or two staff missing on a unit or floor, to multiple staff missing on every unit, every department and every shift," the OHC report states.
This means that basic care, like bathing, room cleaning and emotional support are either severely delayed or don't happen at all.
"It was a crisis before COVID-19, the conditions are unspeakable now," Mehra said.
This not only leaves residents uncared for and alone, cut off from their families, but overworked staff are burdened with compassion fatigue and the guilt of not being able to provide proper care to everyone.
"Anxiety is through the roof," Smith said. "I had someone say to me, 'why is my life so undervalued?'"
Joadel Concepcion, a registered nurse working in long-term care in York Region says anxiety attacks among staff are common, often triggering employees to break down mid-shift, left in tears.
"It's not just now, it's just getting worse now," she said at the OHC press conference. "It's very, very sad, and very, very scary."
Since the start of the pandemic, 2,527 healthcare workers in long-term care in Ontario have contracted COVID-19 (including 219 in Peel), Concepcion was one of them.
"We really need to ensure that [Premier Doug Ford] hears us," she said. "I hope that one day this doesn't happen to him."
The OHC is urging the province to improve wages for personal support workers — which are currently limited by provincial legislation — in order to attract more workers to the sector and bolster staff numbers. Currently, staff in private, for-profit homes receive an average of $22/hr (which works out to $42,900 for a 37.5 hour work week) and that's only after working in the sector for years. The wage is slightly better, at $26/hr, in homes run within the public sector. For the complexity and demands of the job, it's not nearly enough to keep up with the cost of living, and many who enter the industry, exit fairly quickly.
Many new recruits are unprepared for the reality of the job and the stress that comes with it, leading to high turnover rates. Opportunities for full-time work are also inadequate, with some people waiting ten years before they're offered such a position. PSWs also lack benefits and are sometimes denied vacation days because there is no one to fill in for them while they're away.
For the OHC, the hope is the province will mandate a minimum care standard of 4 hours per day per resident, something that is practically impossible right now with existing staff levels. The Coalition made a similar request in an open letter sent to Premier Ford at the end of May, which has not resulted in any action.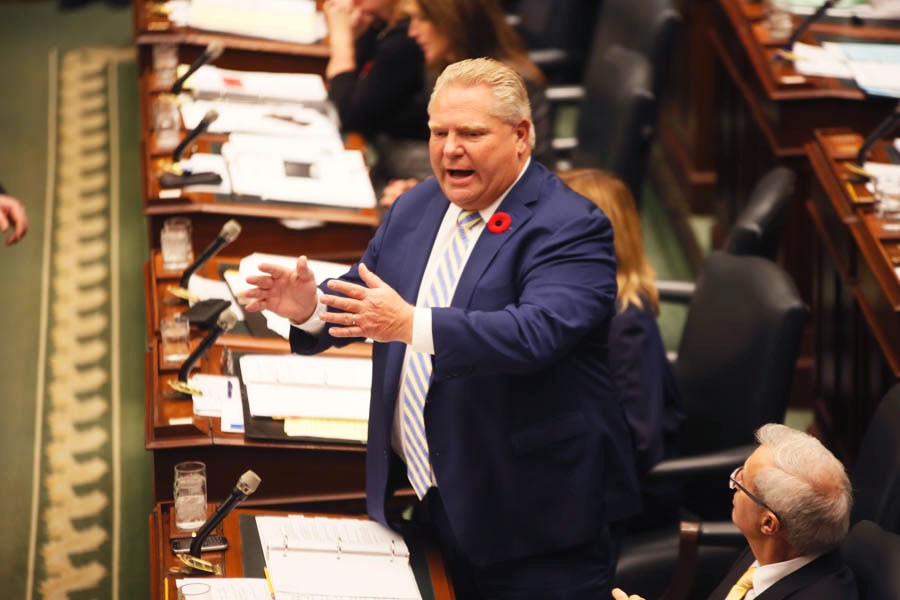 Premier Doug Ford
The PC government has said it will create an "independent commission" to look into the problems that plague the long-term care sector. Critics have said this move doesn't go nearly far enough, with many, including the OHC and the Ontario Long-term Care Association (OLTCA) supporting calls for a full public inquiry into how COVID-19 was handled in these homes across the province.
Public inquiries are seen as a completely impartial process, free of government influence. Previous inquiries include the nearly 2-year long investigation into the Walkerton tainted water tragedy and the commission that was formed after the SARS outbreak. Most recently, a public inquiry was concluded into the long-term care sector after nurse Elizabeth Wettlaufer was convicted of eight counts of first degree murder of residents under her care. The mandate of that inquiry was to determine how such a thing could have happened. It delivered its final report in July of last year.
It found that Wettlaufer's horrific crimes would never have been noticed had she not turned herself in.
Without systemic changes — included in the report's 91 recommendations — the same crimes and brutal treatment of elderly care home residents would go undetected in the country's failed system that has been allowed to look after Canada's most vulnerable residents, the inquiry concluded. Practically nothing was done in Ontario between those findings and the dawn of the pandemic. However, the PC government did cut back the inspection regime for care homes after taking office in 2018.
On Wednesday, the same government announced the official launch of the commission, to be chaired by Associate Chief Justice Frank N. Marrocco, who was a part of the public inquiry in Walkerton.
"I want to get down to the bottom of this, I really do," Ford said. "It was a crisis decades in the making… our seniors deserve better."
Any eventual investigation or public inquiry will pick apart a system that has been left to deteriorate by successive governments, but will do nothing to help those staff trying to hold it together right now.
The province recently announced a new Accelerated Build Pilot Program for long-term care homes in Mississauga, adding up to 640 beds by 2021.
The "bold and innovative" move championed by Minister of Long-term Care Merrilee Fullerton and Premier Ford will again do nothing to alleviate the immediate stress. Additionally, while Peel is in need of more long-term care spaces, these new homes will still need staff to work inside them, something the new pilot project does not address.
According to the This Is Long-Term Care 2019 report from the OLTCA, Ontario has committed to 15,000 new long-term care beds within five years, which will require an increase of 8,500 full-time staff, made up of PSWs, registered nurses and registered practical nurses.
"We need a coherent plan from your government to stop the spread of COVID-19 in long-term care homes, including concrete measures to improve PPE supply, workplace safety, and infection control, and to stabilize the workforce," the OHC's open letter reads.
With case numbers declining, the outbreak situation in long-term care homes is declining, with less and less homes declaring new infections. In Peel, as of July 28, only two long-term care homes were experiencing active outbreaks, both with a single staff member testing positive. No residents have been impacted. As Peel and Toronto enter Stage 3 of reopening tomorrow (Friday) the pressure could return to the long-term care sector as family members once again begin to visit loved ones more often — on July 15 the province announced homes can start accepting two visitors at a time if they are outbreak free — and staff begin to move more freely while not at work, factors that can increase the risk of COVID-19 slipping into these facilities once again.
It's critical that the province gets a handle on the situation before a possible second wave, Mehra said.
---
Email: [email protected]
Twitter: @JoeljWittnebel
---
COVID-19 is impacting all Canadians. At a time when vital public information is needed by everyone, The Pointer has taken down our paywall on all stories relating to the pandemic and those of public interest to ensure every resident of Brampton and Mississauga has access to the facts. For those who are able, we encourage you to consider a subscription. This will help us report on important public interest issues the community needs to know about now more than ever. You can register for a 30-day free trial HERE. Thereafter, The Pointer will charge $10 a month and you can cancel any time right on the website. Thank you.
Submit a correction about this story