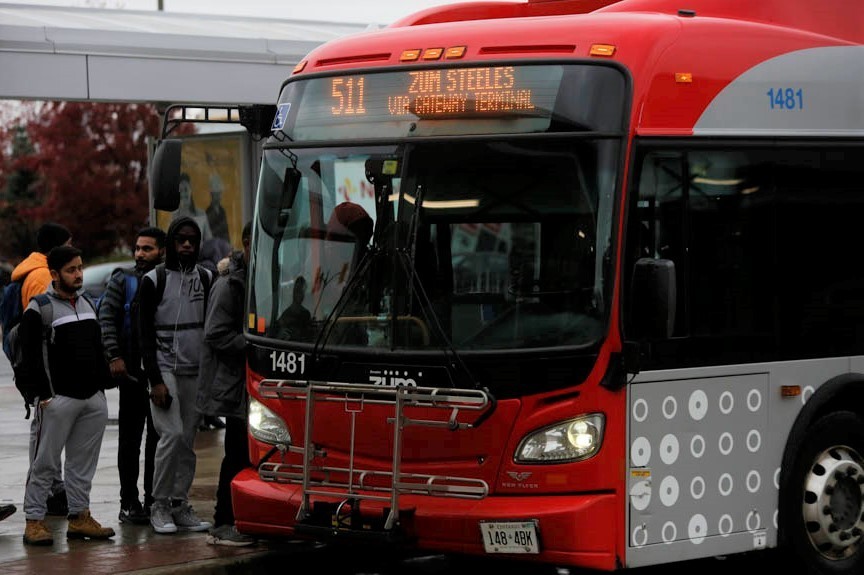 Photos from The Pointer files/Nida Zafar/City of Brampton
Will $113M in new funding reduce overcrowding on Brampton buses?
For many people living in the Flower City, taking public transit is a part of their daily routine, whether out of choice or necessity.
For those who can't afford a personal vehicle or eschew the trappings of car culture to live more sustainably, Brampton's transit system is their lifeline to the outside world. During the height of the pandemic thousands who had to perform essential work rode free on the city's buses. Students also routinely cram in on their way to school, college or university.
Financially, public transit provides the city with substantial revenue, but the system still has to be substantially subsidized by taxpayers. For the 2020 budget, it was estimated 47 percent of departmental revenues would come from transit user fees and service charges.
The city's transit system has seen rapid ridership growth in recent years, reflecting the continued ascent of Brampton's mushrooming population and transit has become a point of pride for many.
In a survey gauging residents' quality of life, they ranked public transit second on a list of city features they are most proud of, behind parks and naturalized areas. Completed by Forum Research, the survey was conducted between August 20 and September 21, 2019 and had a sample size of 1101 people. A similar survey in 2015 ranked transit third.
Canada's Minister of Infrastructure and Communities, Catherina McKenna, further echoed the trend in Brampton Tuesday. "Public transit allows Canadians, it allows the residents of Brampton, to get around in faster, cheaper and cleaner ways," she said. Exactly a year ago, McKenna stood in the same spot at the Brampton Transit Sandalwood Facility, announcing $11 million toward the use of electric buses and charging stations to be tested in Brampton.
This time she was part of a large group of politicians usually not seen together. Along with Brampton's Liberal MPs, there were local Conservative MPPs and Mayor Patrick Brown. The group announced its commitment to improving transit in Brampton through four projects. The federal government committed $45.3 million, the provincial government $37.8 million, and the municipal government $30.2 million. "This is a very significant investment in our community," Mayor Patrick Brown said at the press conference. Projects include the replacement and refurbishment of existing buses, the creation of a new transit hub, and changes to cameras on board.
Federal Minister of Infrastructure and Communities, Catherina McKenna was in Brampton this week, announcing a $45.3 million investment into Brampton Transit.
For transit users, the message may come with a sense of relief. Many people in the city are reliant on public transit, and with the population continuing to grow beyond the ability to accommodate some of the demands, the funding might provide badly needed assistance to alleviate overcrowding on certain routes at peak periods.
Of the handful of items residents listed as needing improvement in the Forum Survey, overcrowding on transit was one of them. For many, this may include increasing the amount of service that runs throughout the city, especially where new housing has not been met with proper transit support. According to numbers published by the city, ridership grew by 18 percent in 2017 and 14 percent in 2018. Ridership numbers for 2019 only saw 2 percent growth, the city's lowest figure since 2015. Comparatively, the ridership in the rest of the province increased by less than one percent in 2017 and 2018.
The 2020 budget did include a 14 percent increase for the transit budget, making up for the province not doubling the gas tax this year, which was expected to boost transit investment. The budget also pushed funding for some transit projects to the 2021 budget and eliminated the hiring of 81 extra drivers, reducing that number to 12 new full time hires for 2020, despite demand for far more drivers than that.
The city previously explained the reduced investment in 2020 was a result of ridership numbers that fell short of initial projections. "Anticipated growth in 2020 over the 2019 actual ridership results will be accommodated within current service levels," the city said.
One project covered by the new funding announcement made Tuesday is the exchange of 32 buses between 2020 and 2021. These are not additional buses to expand the city's existing fleet, but replacements that will help maintain current service levels. Other projects include bus refurbishments, replacement of on-board cameras and the creation of a transit mobility hub downtown. No details on the creation of the hub were shared.
By comparison, a similar funding announcement made Wednesday in Oakville will replace 57 buses and add 16 new electric buses to expand the city's fleet. Brampton was only promised 8 electric buses last year. While more money is going to Brampton, less is being invested per person. In Oakville, the federal government is investing $136 per capita and the provincial government $114 (based on a population of 193,832). In Brampton, the federal government is giving $69 per capita and the provincial government $58 (based on a population of 650,000).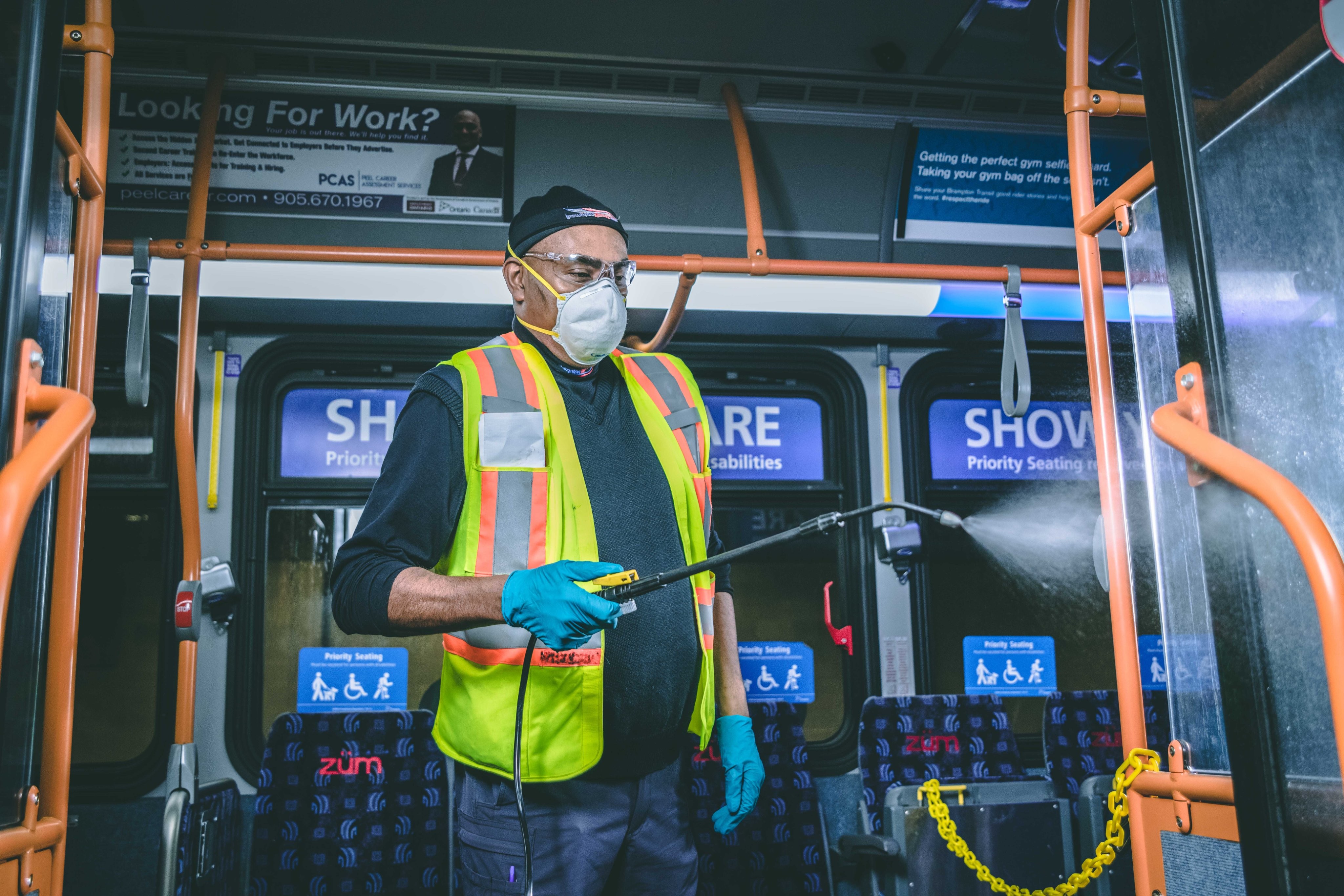 COVID-19 has forced Brampton Transit to implement an enhanced cleaning regime while transit revenue has dropped due to decreased ridership.
The funding requests for the projects in Brampton were sent to the federal government last summer, MPP Prabmeet Sarkaria (Brampton South) said, under the Investing in Canada Infrastructure Plan (ICIP). "Today, we're celebrating the approval of these projects that will renew and enhance Brampton and improve the quality of life of the residents in the entire region," he said. The application process took place in the same season the Forum Research survey showed overcrowding on transit was an issue. It's unclear if the municipal and provincial government discussed this issue before the application was submitted.
It's also not clear if the city will increase service hours in the new year, given the spread of the novel coronavirus created financial shortfalls that have yet to be fully grasped.
When the city declared a state of emergency, capacity was reduced, bus fare was not collected and boarding was only completed from the rear in an effort to keep drivers safe. On July 2, the city began to collect payment again and capacity has also increased since, but the final financial implication is still not clear. According to projections by the city, emergency measures were set to lead to a $38.3 million loss in transit by July 1. While Ontario municipalities are set to get $4 billion in relief, it's not clear what Brampton's portion will be and if increasing much needed transit service levels will be put on the back burner for another year as overcrowding on transit goes unaddressed.
Investment remains uncertain because of COVID-19, but the use of transit is not expected to be hurt too much by the virus. According to a survey conducted by ABACUS Data that included numbers from transit riders across the country, 24 percent of regular transit users will discontinue use until a vaccine is available, while 69 percent of riders are open to transit use if stepped-up cleaning, reduced numbers of passengers and mandatory mask use are in place.
"Temporarily, right now, we're looking at people avoiding transit or transit having reduced service because we all reacted to an immediate crisis," Josipa Petrunic, President and CEO of Canadian Urban Transit Research & Innovation Consortium (CUTRIC), previously told The Pointer. "But over the long term, even by the end of this year, we're going to see a return of riders to transit," she said.
Other projects like the LRT or a much needed maintenance and storage facility were not discussed at the announcement. The storage facility was one of the projects deferred in the 2020 budget. It was recently revealed that an application for federal funding under the ICIP, that could have aided the project, was mishandled.
McKenna hinted at the possibility of funding for more projects down the road. "I want to recognize that there are other opportunities going forward that we will continue to invest in Brampton to build infrastructure like public transit, like wastewater, like affordable housing, because that matters to residents," she said.
---
Email: [email protected]
Twitter: @nida_zafar
Tel: 416 890-7643
Submit a correction about this story