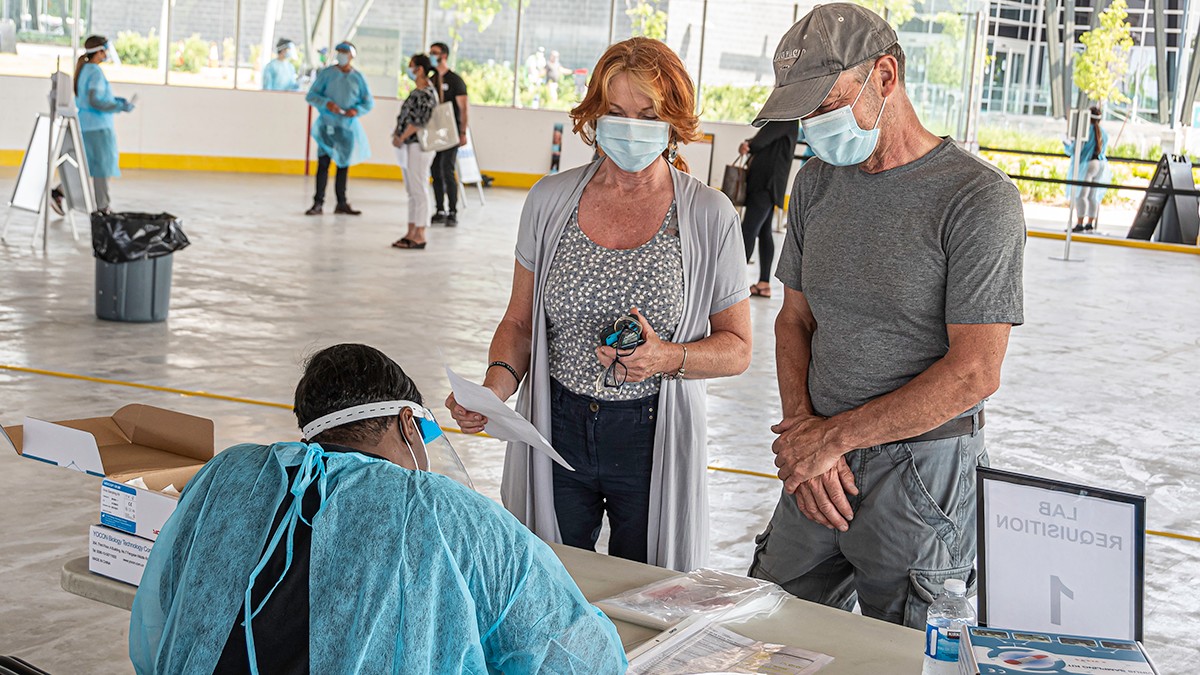 Photos from the Region of Peel/City of Brampton
In the shadow of illegal Brampton house parties Peel will advance to Stage 3 Friday
Just after midnight at the start of Friday, the rules for residents in Brampton and Mississauga will change once again. After delaying a decision on reopening until Wednesday, the provincial government has given the greenlight to Toronto and the Region of Peel to enter Stage 3 of its reopening plan.
The move means Brampton and Mississauga have entered what is currently the latest reopening stage in the province. It allows bars and restaurants to serve customers indoors, gyms and movie theatres to reopen, alongside gatherings of up to 50 people inside and 100 people outside as long as physical distancing measures remain in place.
The news means only Windsor-Essex, the last region to enter Stage 2, is not ready for Stage 3.
Rules around physical distancing, limits on gatherings and other COVID-19 measures are still in place for Stage 3. The extremely contagious nature of the virus (and continued absence of a vaccine) means Stage 3 could be the closest to a new normal Ontario gets for quite some time. Ontario has not yet outlined a Stage 4 or its plans beyond the current options. It could be a long time before we see the return of concerts, sporting events and other gatherings or massive commercial and recreational settings that allow thousands to be in the same place at the same time.
Elsewhere in the province, the move to more liberal measures has been problematic. In Ottawa, a city boasting significantly lower case counts than Peel or the rest of the GTA, Stage 3 brought a surge in positive cases of the novel coronavirus. In June, Ottawa Public Health reported 132 cases of COVID-19, jumping to 387 between July 1 and 29.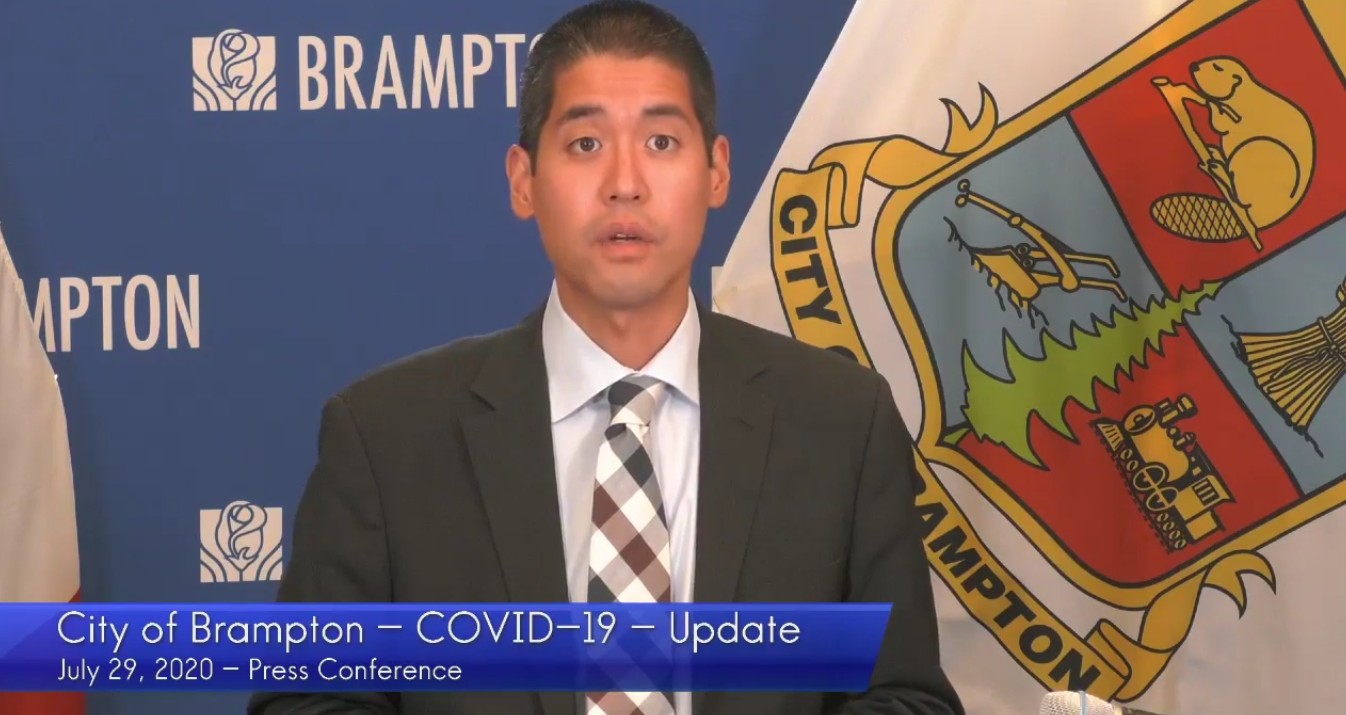 Dr. Lawrence Loh, Peel's chief medical officer of health is confident the region has the resources to handle any increase in cases in Stage 3.
The increased use of indoor spaces, where the virus travels more readily, and more relaxed rules mean aggressive testing and tracing is important. Low numbers of active cases and smaller gatherings allow any public health unit to stay in control of the situation.
In Peel, the announcement of Stage 3 coincided with a week of lower cases. Between Friday, July 24, and Tuesday, July 28, daily case counts ranged from 9 to 19, with Brampton reporting consistent single-figure daily case counts for the first time in months; the city had been averaging around 20 or more cases a day for most of the previous six weeks. The recent reduced case numbers are a sign of progress in the city, though provincial officials have said that even lower rates, around 5 cases or less a day for entire regions, is what they are looking for if further reopenings are to be green lighted. In Brampton, the daily case counts between July 24 to 28 were: 10, 5, 8, 6 and 8.
Serious questions were raised in June about Brampton's readiness to proceed to the next stage at the time. At no point in the two weeks prior to its Stage 2 entry on June 24 did the city see a steady decline in its case numbers.
There were 373 new cases in Brampton over the two weeks prior to the decision to move into Stage 2, including June 22 (when the call was made), with an average of 26.6 cases each day over those two weeks.
The following two days, including the 24th of June, when the city officially moved into stage 2, saw 25 new cases and 35 on the Friday that Brampton and the rest of Peel moved into stage 2.
The daily new-case totals for Brampton from June 9 to June 24, the two weeks immediately prior to its Stage 2 entry, were as follows: 28, 25, 17, 19, 20, 24, 25, 22, 37, 41, 22, 26, 38, 29, 25, 35.
Approaching Stage 3, Brampton's cases look much better, but the city (and region) is by no means out of the woods yet.

"While more restaurants, theatres and businesses can hang up their Open for Business sign, we're asking everyone to follow public health advice and act responsibly," said Premier Doug Ford in a media release announcing the news. "We have made tremendous progress that allows us to return to something a little closer to our normal lives this summer, but we are not out of the woods yet. This virus is still among us and we have to be extra cautious to avoid sparking a surge or an outbreak. I strongly urge everyone to continue following public health protocols."
Despite the positive trend in recent days, Peel Public Health's own epidemiological reports show the seven day average of new cases has not trended down significantly over recent weeks. On July 24 (the most recent data available), the regional average of non-institutional cases sat at 29, up one from 28 the week before. On July 10, the average was still at 28, showing, for three weeks, cases have refused to go down. The reason for the dramatic difference between the total weekly case counts and these figures is because a very large portion of infections have been in institutional settings such as long-term care facilities.
The majority of other indicators on Peel's own charts are positive, a factor the region's Medical Officer of Health, Dr Lawrence Loh, says makes it possible to proceed to Stage 3. It seems that outside institutional settings, including large places of employment, the spread of the virus in most parts of the region is being better controlled compared to even a month ago. Ramped up testing in Brampton, including more focused screening in areas of outbreaks launched last month by the province to help the city and other hard hit areas, could be a factor.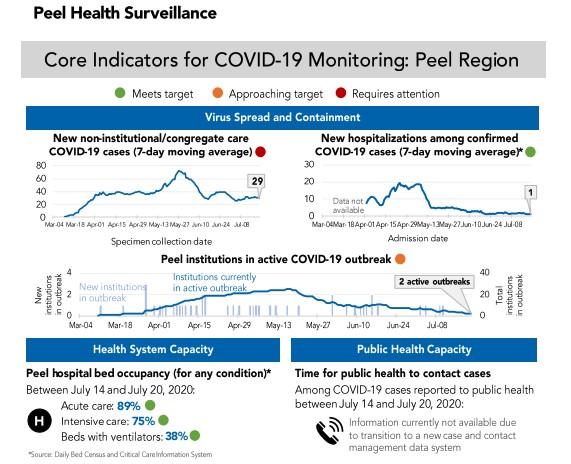 "It is very important for me to clarify that the decision is made on the overall picture of all the indicators," Loh told The Pointer at Mississauga's pandemic press conference on Wednesday. "As long as you have the capacity to respond, the idea is that you need to go forward because, ultimately, you are trying to reduce the other impacts that are associated with closures [including mental health, employment or fitness]."
Peel's move to Stage 3 signals a confidence from Loh and his team that they will be able to respond to outbreaks and flare ups as they occur.
Epidemiologists and scientists around the world agree one thing: the key to controlling the virus is testing. An active and aggressive testing and contact tracing regime means authorities can respond proactively to the virus instead of retroactively scrambling to quash the outbreaks. High-level testing can allow contact tracers and public health officials to identify those who have been exposed to the virus before they come into contact with more people.
As The Pointer has previously reported, Brampton has fallen behind per-capita on testing. Numbers shared by William Osler Health, the hospital system responsible for the majority of testing in Brampton, showed the city testing around half the number of people it should have in June, based on provincial testing targets and Brampton's population.
When asked about increased testing and the potential addition of a new facility to help manage Stage 3, Mayor Patrick Brown said there was no demand to expand. "Right now we have the capacity to test as many people as [are] willing to be tested, we're using city facilities to allow for that," he said. "I know other areas may be declining their testing because of decreased case counts, we haven't done that, we continue to move full steam ahead with our testing and I'm grateful for the resources."
Brown did not cite specific examples of where testing might be declining. According to Health Minister Christine Elliott's daily COVID-19 update summaries on Twitter, the province has been consistently processing between 26,000 and 30,000 tests per day.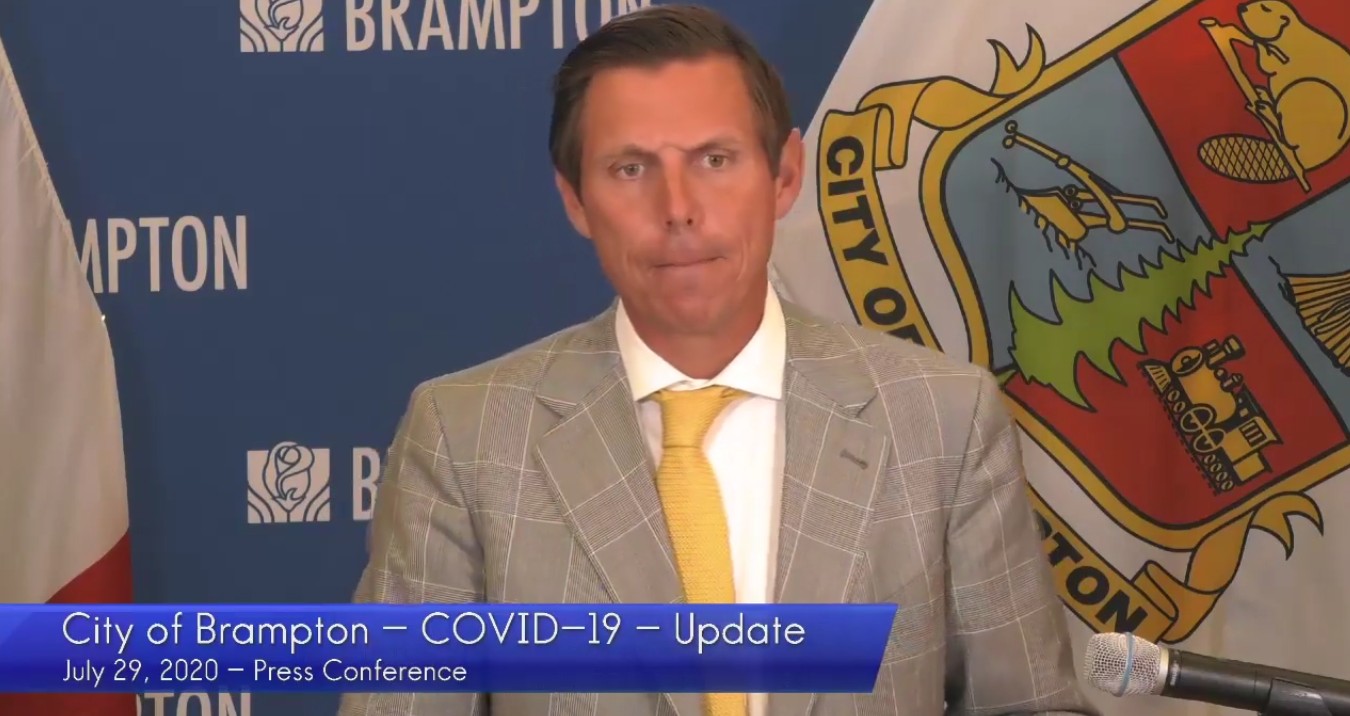 Brampton Mayor Patrick Brown
With the entire province, aside from Windsor-Essex, now in or on the cusp of Stage 3, it is unclear how much testing rules will change. Current criteria allow anyone to seek a test for the novel coronavirus if they would like, but the rhetoric still places priority on those who may have been exposed or are experiencing symptoms. It is not clear if testing will advance to random tests or blanket testing of significant groups to weed out cases of asymptomatic transmission that may be slipping through the cracks.
Brampton's test and trace project has been made harder still by events in recent days. Over the weekend, the Peel Regional Police and City bylaw officers broke up several house parties, including one with a reported 200 attendees and private security to park cars for guests and keep the event under wraps.
Ford, Brown and other government figures have been quick to criticize the event. It is a blight on the city that throws a wrench in its test and trace plans. With fines in Brampton for parties, not wearing a mask indoors and potential nuisance charges on the line, few are likely to admit to being present at the event even if contact tracers were to ask. If any of the attendees had COVID-19, it could act as an uncontrollable catalyst.
Speaking at Brampton's weekly press conference on Wednesday, Loh said clandestine parties were "practically impossible" to trace.
"It's really important for people to remember you need to [be] stopping transmission in the first instance and making sure you're not necessarily participating in it. It'll make my job easier, it'll make everyone's job easier," he said, imploring the few residents who continue to break the rules to play ball.
Recently, Brown has combined with Mississauga Mayor Bonnie Crombie and their counterparts across the Greater Toronto and Hamilton Area to ask for stricter rules around indoor dining and fitness centres. They hope to keep patrons from lingering at the bar and enforce earlier closing times among other changes.
Premier Doug Ford has already said he will not apply the measures across the province, but encouraged them to seek a local solution either through Dr Loh in Peel Region or introduction of a bylaw. Crombie said Mississauga was seeking legal advice about applying a bylaw which could enforce changes in the city.
"We would prefer… this [to] be [a] province wide [rule], so there is uniformity and continuity — consistency — right across the province, she said. "[Then] people in Toronto, people in Markham, individuals in Brampton, Mississauga, Oakville, know the same rules apply to them… As such the Premier wasn't willing to go forward with the policy, so he left it in our hands."
Loh has said he is not able to enforce the rules under his powers as they apply to situations like individual businesses instead of whole sectors. As a result, city bylaws appear to be the only way Mississauga or Brampton will be able to introduce stricter measures.
Through the day on Wednesday, as the announcement was made, leaders — from Ford to Brown, Crombie and Loh — stressed Stage 3 does not mean the virus has gone and preventative measures remain paramount.
---
Email: [email protected]
Twitter: @isaaccallan
Tel: 647 561-4879
---
COVID-19 is impacting all Canadians. At a time when vital public information is needed by everyone, The Pointer has taken down our paywall on all stories relating to the pandemic and those of public interest to ensure every resident of Brampton and Mississauga has access to the facts. For those who are able, we encourage you to consider a subscription. This will help us report on important public interest issues the community needs to know about now more than ever. You can register for a 30-day free trial HERE. Thereafter, The Pointer will charge $10 a month and you can cancel any time right on the website. Thank you.
Submit a correction about this story