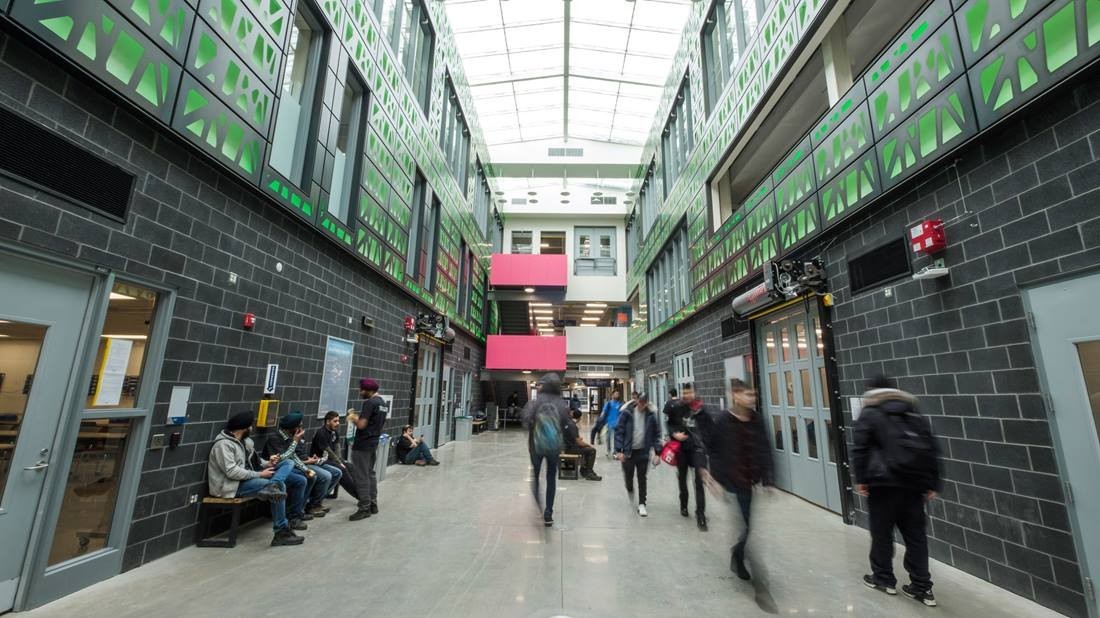 Photos from The Pointer files/Twitter/Sheridan College
International students falling through the cracks in a post-secondary world scrambling for answers
For a six-week period near the beginning of the pandemic, Abhishek Hastir was in a hard place. The Brampton resident was laid off and had an expired work permit, preventing him from accessing the Canada Emergency Response Benefit when it first became available.
The process to gain approval took a couple of extra steps, resulting in hours on the phone. In the end, he was thankful he didn't slip through the same cracks many who arrived here as international students did.
Hastir is technically no longer an international student, but is in line for his post-graduate work permit (PGWP). After a student arrives in the country and completes their education, they can access this permit allowing them to work full time for a maximum of three years. After this, a couple of options are on the table, including applying to become a permanent resident. There are specific guidelines that must be followed under the PGWP, such as the holder working in their field of study.
Before Hastir finally got some support he struggled like many of his friends and fellow international students. "Things were quite difficult," he told The Pointer.
He had to borrow money from a friend to pay rent for March and April. His mother, who came for a visit from India just before the spread of the novel coronavirus got serious, had to stay put and Hastir had to support her. "It was quite difficult for me maintaining those expenses," he said. Actively looking for work, he even contacted his previous employer to ask for some hours, but nothing worked out. "I was feeling like my future was not in good hands."
Ontario houses tens of thousands of international students at the post-secondary level, 169,689 in 2018. Many of them, specifically those in their early years of post-secondary education, likely face similar dilemmas to Hastir's, Gurpreet Malhotra, the chief executive officer of Indus Community Services told The Pointer. To qualify for CERB, an individual has to show they earned at least $5,000 in the 12 months prior to their application, something difficult to prove, especially for those who recently arrived in the country, Malhotra said.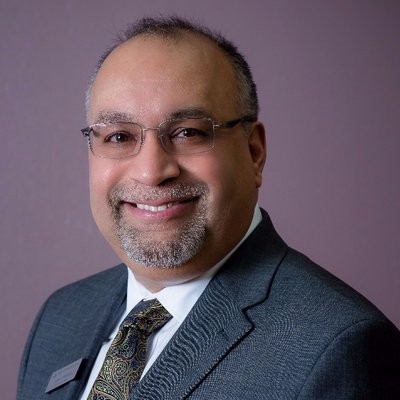 Gurpreet Malhotra, the chief executive officer of Indus Community Services
As international students are only allowed to work 20 hours a week, it's often barely enough for them to pay all of their expenses. While many might feel CERB grants serve as a handout to people who aren't even Canadian citizens, these students play a key role in the country's future success. Those who stay and put down roots here will help the economy compete and create even more jobs in a labour market that simply cannot survive without the help of immigration, including highly educated international students.
"They need more money than that in order to survive. This is not a cheap country to live in," Malhotra said. In some cases, international students do work more than their 20-hour limit in precarious positions. But a lot of these cash jobs in factories or restaurants have dried up, he said, cutting students off from much needed income. The rise of alternative revenue sources, as students get desperate, makes it even more difficult to declare where they are earning their salary from.
International students also aren't eligible for the Canada Emergency Student Benefit (CESB), which gave post-secondary students $1,250 each month. Malhotra said Indus also advocated for international students to gain access to Ontario works, which he dubs "a safety net" designed to assist those in an emergency. Their attempts fell on deaf ears at the provincial level. With no money coming in, a lot of international students were left with food banks or handouts as their only option, Malhotra said.
Ganapathi Sridhar, a former international student who now holds a PGWP, explained finances are the main source of concern for these students.
"They're not able to do anything without money," he said.
He told The Pointer about a recent conversation with a young international student, who had a job lined up but was not able to start because of the spread of the novel coronavirus. The student is now working precarious jobs and broke down mentally because of the stress.
"It's like life and death," Sridhar said. A lot of students are working to support themselves, keep a roof over their head and food in their stomachs. It's a lot of pressure. "[The student] asked 'what's the point of all this?'"
Hastir also recalled the mental health issues his friends are now facing. One incident involved a concerned mother from India calling Hastir's mom, asking them to check on her son. When they did, they were concerned with what they saw. "He had a blank face and was not talking at all." Hastir was unsure if his friend reached out to anyone for help.
Housing also seems to be a major issue. Some of Hastir's friends were kicked out of their homes because they worked two jobs, and the landlord was worried they would bring the virus into the house. Malhotra recalled a recent incident where 23 people were evicted from a home in Brampton, as there were too many people residing there.
The density in the city's illegal housing market has been cited as a possible reason for high rates of infection.
When evictions happen, people disperse into other homes, leading to more residents in cramped living quarters, which poses even more of a risk, as well as poor mental health for those forced into poor conditions, Malhotra said. "Every time you [reduce tenants in an] overpopulated one, you create a bunch of other overpopulated ones."
Throughout all of this, assistance from the government has remained scarce.
Hastir believes the only positive step the federal government took was to allow international students to work more than 20 hours a week in essential jobs, such as at grocery stores or working as cleaners. But as Malhotra explained, essential doesn't mean safe or consistent and often involves precarious work.
All the while, students continue to face pressure from their post-secondary institutions. Hastir, who held a student council position at Sheridan College before he graduated, and still hears from students, said lost tuition money was not reimbursed. Students were given some money from a COVID-19 relief fund that Sheridan created on its own, but he said it probably only offered temporary relief. "There was no one to help them. No one was listening to them," Hastir said.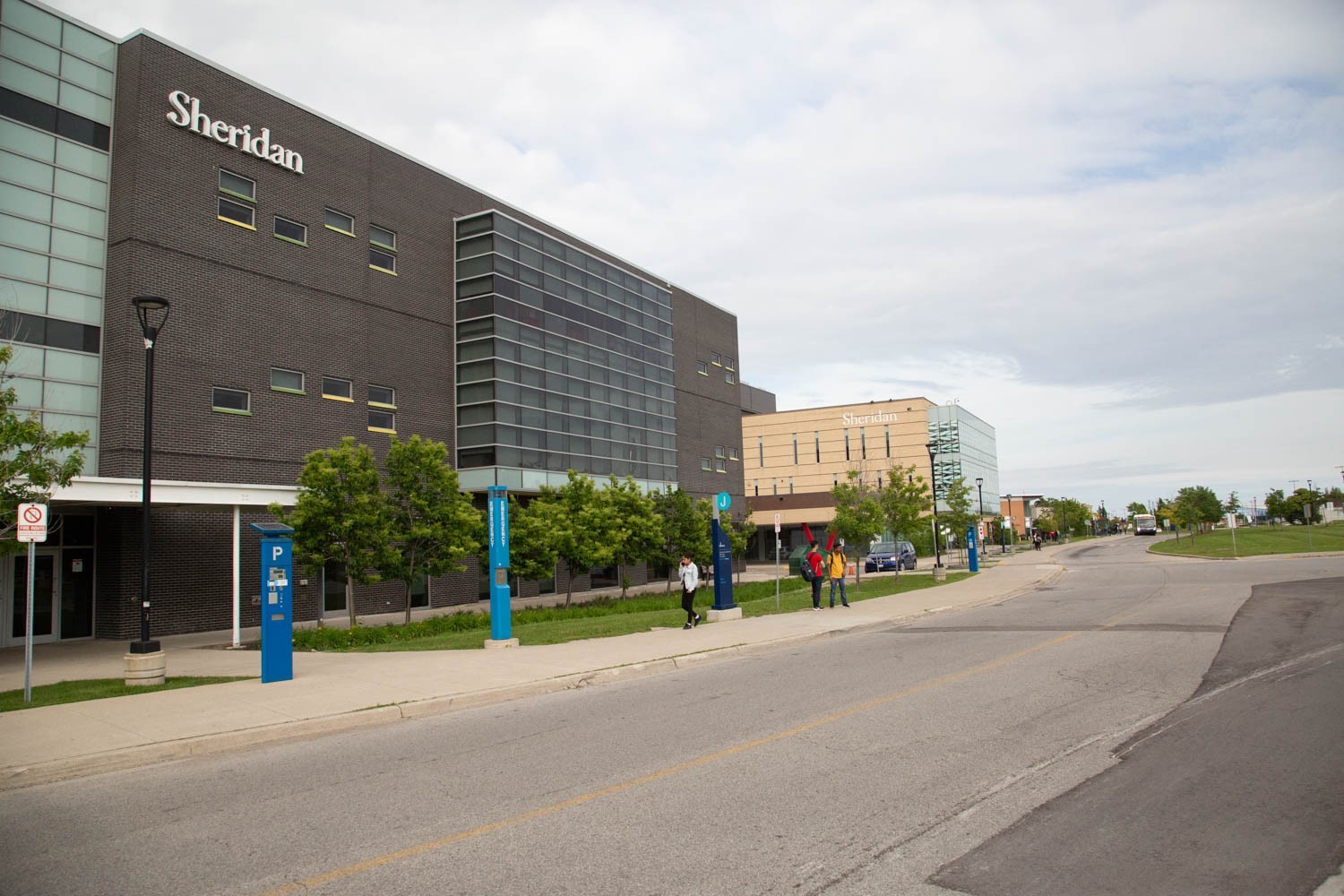 The Sheridan College campus in Brampton
Some post-secondary institutions across the country are also considering increasing tuition for this group of students, including the University of Guelph. "Our percentage increases for international student tuition are similar to the percentage increases for international tuition adopted this year by our peer institutes," a spokesperson for the university told the Toronto Star recently, suggesting the decisions of others are a rationale to adopt seemingly unreasonable increases by all institutions.
The Pointer reached out to the province's Ministry of Colleges and Universities, to ask if it will advocate for such fees not to increase. "Minister Romano has been in constant contact with Ontario's colleges and universities, and over the past month has participated in virtual roundtables with representatives from the postsecondary sector to guarantee our students' academic success and to identify a path to recovery," a spokesperson from the Ministry told The Pointer. The issue of tuition increases for international students was not addressed. The Ministry said it's continuing to engage with Global Affairs Canada and Immigration, Refugees and Citizenship Canada (IRCC). The Pointer sent questions to IRCC, asking if any support for international students was in the works. "In February, around 40 percent of students in Canada were working, which included international students. This indicates that a significant number of students are in fact eligible and are receiving the CERB," a spokesperson told The Pointer. The response did not make clear how many post-secondary students collecting the CERB are from outside the country, and it did not address the tuition question or any other possible support for international students.
International students are a big source of revenue for the country. According to The Varsity, U of T's student run newspaper, the university receives more revenue (30 percent) from international students than it does from provincial grants (25 percent) or domestic tuition (24 per cent). On average, international students pay four times more for tuition than their domestic counterparts, an analysis by One Class found. The Toronto-based organization is a student-life platform backed by private investors that offers collaborative educational resources and publishes its own research on post-secondary issues across Canada and the U.S.
On a larger scale, education services for long-term international students contributed $8.6 billion of GDP to the Canadian economy in 2016, the government's website states. "On the one hand with the colleges, the province and the federal government benefited by these people being here. But during COVID-19, they were each not able to stand by the young person," Malhotra said.
Hastir also wishes the government interacted more with international students, asking them what they would like to see. Instead, he argues, they look at the money first and then the needs of international students, essentially using them as a stepping stone to their next dollar, a cash cow of sorts. "I feel the government is being selfish for the money involved in it," he said.
Sridhar also acknowledges the harsh reality surrounding the situation. "I understand, at the end of the day, higher education with universities is a business and international students are the biggest contributors to that," he said. While he knows that these students are not citizens or permanent residents, they are in a country they've been invited to and Canada holds some responsibility. "[International students] deserve the same respect," he said.
Malhotra believes the lack of support is because the government is able to hide behind the rules. He said because international students are closer in status to a visitor, they don't get a lot of support. "But not many visitors pay $16,000 tuition a year and knock themselves out in precarious employment (now essential to keep the economy running during the pandemic) in order to one day hopefully become a permanent resident."
Malhotra explained students come here to gain academic experience and to make an effort for a better future. It's something the government should acknowledge, especially during the current crisis. "I believe the country that's benefiting from not only their tuition and their economic contributions, but their work in their role as a potential future citizen, we should be more supportive now than we have been – COVID has just highlighted their plight," Malhotra said.
---
Email: [email protected]
Twitter: @nida_zafar
Tel: 416 890-7643
---
COVID-19 is impacting all Canadians. At a time when vital public information is needed by everyone, The Pointer has taken down our paywall on all stories relating to the pandemic and those of public interest to ensure every resident of Brampton and Mississauga has access to the facts. For those who are able, we encourage you to consider a subscription. This will help us report on important public interest issues the community needs to know about now more than ever. You can register for a 30-day free trial HERE. Thereafter, The Pointer will charge $10 a month and you can cancel any time right on the website. Thank you.
Submit a correction about this story