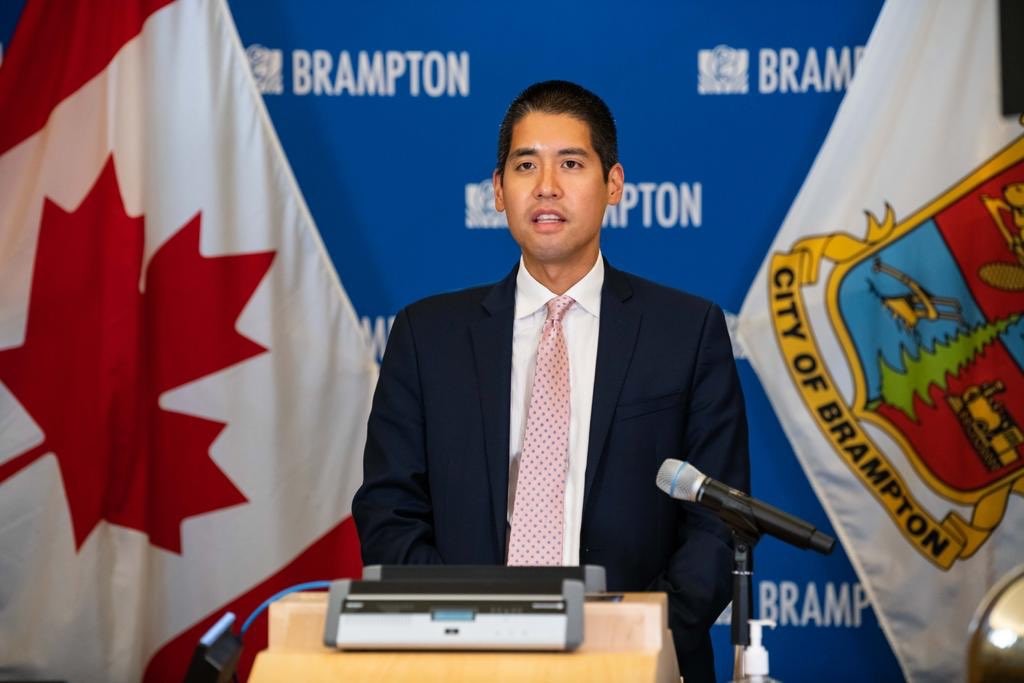 Photos from the City of Brampton/Region of Peel/Nitin Mohan/Janet Martin
Shift to Stage 3 'sooner rather than later' chief medical officer says as COVID-19 continues to spread in Peel
When Premier Doug Ford announced Toronto, Peel and Windsor-Essex were not moving onto the third stage of reopening plans, it likely didn't come as a major surprise for many. Last month, when the rest of the province moved into Stage 2, the three regions were the last to do so.
Now, Dr. Lawrence Loh, the region's chief medical officer of health says he hopes Peel will be allowed to shift into Stage 3 "sooner rather than later". His words come as Brampton continues to see a steady number of new COVID-19 case numbers, and Peel still doesn't have a strong set of data to determine how shifting to Stage 2 of reopening in late June has truly impacted the region.

Brampton continues to lead the region in new COVID-19 cases on a daily basis.
Loh said he will not advocate to hold Brampton in Stage 2 if there comes an opportunity for Mississauga and Caledon to move ahead. "I support Peel Region moving into Stage 3, sooner rather than later," he said Wednesday, adding that even though Brampton has the highest numbers in the region, there is capacity to respond.
Several factors need to be considered before Peel can move on. Dr. Janet Martin, a professor in the anesthesia, perioperative medicine and epidemiology department at Western University, said that quite simply, the region needs to start seeing fewer COVID-19 cases as opposed to more.
"If regions are at a case count that's low, and continuing to be low and not trending upwards then that first stage, I think that that really is crucial," she told The Pointer.
This is not being seen in Peel. A total of 32 new cases were reported on July 21, another 22 on July 20 and 38 on July 18; a large majority in Brampton.
There also has to be a data set showing a decline in cases for a two to four-week period after a region moves into its current stage. Peel has only now been in Stage 2 for four weeks.
"The reason why these stages have been offset by at least a month is to give adequate time between declaring a stage and all the criteria that go with it, allowing for the impact of those gradual openings to play out in the community in a way that can be measured by case counts," Martin explained. Peel moved into the second stage on June 24.
Dr. Janet Martin, a professor in the anesthesia, perioperative medicine and epidemiology department at Western University.
Over the last several weeks, Peel has become a contradiction. While case numbers in Mississauga decline, Brampton has continued to see an increasing or steady number of new cases every day. According to experts, there are multiple reasons to explain the fluctuating case numbers.
Dr. Nitin Mohan, a physician epidemiologist and professor at Western University, said population density is a factor that must be examined, given areas with higher populations will move up the ladder to reopen slower than smaller municipalities.
The City of London, which was among the first municipalities to enter the latest phase, shut down congregation settings and other public spaces early on in the pandemic, Martin recalled. Having fewer restaurants and nightclubs, compared to a larger city like Toronto, also contributed to it moving onto Stage 3. The City of Brampton put emergency measures in place only a couple of days behind London. How the region, and Brampton in particular, can reduce the numbers isn't a simple fix, and can not simply rest on frequent hand washing or staying six feet apart from others. The solution lies deeper and involves socioeconomic challenges of the city's residents.
"Socioeconomic status is everything," Martin told The Pointer. Those on the frontlines of essential services are the ones who most likely had to continue working, putting themselves in direct exposure of being infected, she said.
"If you take a look at essential workers, oftentimes…their modes of transportation are more reliant on public transit, the types of jobs to do, whether it be food service, or labour or factory work. They have a higher risk of exposure," Mohan said. Looking at the socioeconomic status of Brampton and where individuals tend to work may be an indication as to why case counts are higher, he said. Jobs in food production, agriculture, transportation and sanitary services could fall into this category, Martin said.
Mayor Patrick Brown has referred to Brampton as the "food processing capital of Canada," numerous times during the pandemic. Ontario is the top food processing area in the country and the region surrounding Toronto has the largest cluster of such companies, the Government of Canada's website states.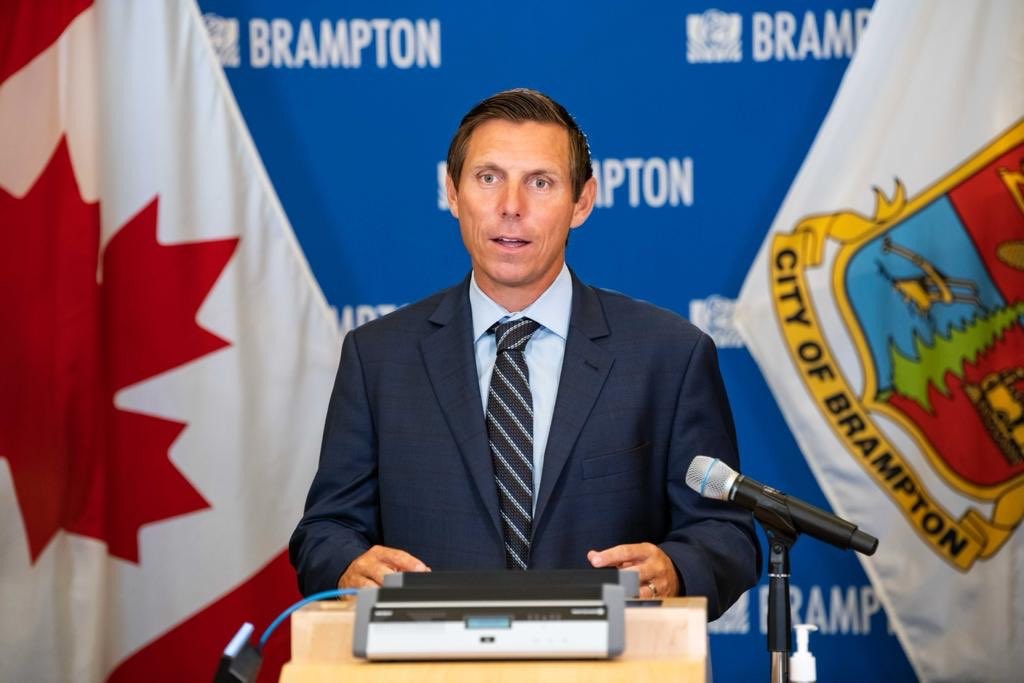 Brampton Mayor Patrick Brown
These jobs also have less flexibility on work schedules and require employees to complete a job in person, making working at home an impossible task. "We rely on these services continuing so that we still have a healthy environment to live in. But it requires a large group of people in order to make sure that those things happen," Martin said. She dubs it a "painful trade off" as the government tries to figure out how to keep essential jobs running while also keeping people safe. "Governments have programs but it's not enough because there's a lot of people falling through the cracks."
To address the risk to essential workers, and the potential for them to contract the virus while on the job and continue to drive case numbers up in communities, conversations need to be held and the essential workers need to have a voice, she said. This is a hard task as many essential workers may not be accessible, between their work in large production and processing spaces and their hectic daily routines in between, often without the luxury of a car. Many also live in more dense living spaces, either in large family units or apartment buildings. Martin said all of these dynamics pose a challenge for Brampton, compared to areas of the province where many are able to self isolate inside a house without having to go out to work everyday.
At Wednesday's press conference, Dr. Loh said 90 percent of the new cases are linked to clusters within households and workplaces. He asked everyone who isn't feeling well to stay home from work and complete tasks virtually. But as Martin alluded, many jobs held by those in a lower socioeconomic bracket make staying home difficult.
Loh asked all businesses to create a work safety plan, including the use of a visitor log and physical barriers to enforce social distancing. Martin said the province is in such a fragile situation now, with reopening taking place across Ontario, that it will only take a few super spreader events before the virus is out of control.
For Mohan, a Brampton resident himself, the argument of the region moving onto the next stage without Brampton is complicated. "Brampton has to be viewed independently. If you take a look at the social pull and push factors on realizing why the case counts are the way they are and I think, there's an onus on public health as well as governance to… continue to help our members understand what needs to be done to curb transmission," he said.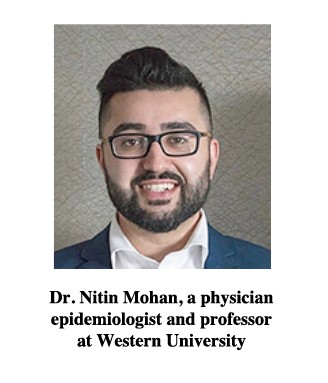 While Mohan said he believes moving between stages slowly is the better option, compared to how quickly everyone entered Stage 2, he understands the reasoning behind progressing to the next level of reopening more quickly. The long shut down not only impacted businesses economically, but has harmed the mental health of thousands of Ontarians who were not able to attend regular appointments or take part in certain scheduled surgeries, while others are suffering in isolation.
People need to think about the situation cautiously and understand the virus still exists, he said. "Nothing has changed on that end. Essentially, what we've done is bought our healthcare workers more time, specifically our hospitals and our ICU space." He calls COVID-19 a "we issue" that must be handled by the entire community.
Loh has said the worst has been averted, but strict measures need to continually be taken. While Mohan agrees caution must be the approach to use, he thinks some confusion around messaging exists as health officials are often left scrambling to understand a virus they have never dealt with before, learning on the fly as an incredibly fluid situation continuously evolves.
"Our messaging may change, which is sort of commonplace in science, and I think it's hard for the general population to understand that," Mohan said, with caution fatigue possibly playing a role as well.
The term, coined by Jacqueline Gollan, a professor at Northwestern University's Feinberg School of Medicine, refers to people relaxing their approach to health measures to combat the novel coronavirus after months of strict lockdown measures.
For Brampton, letting down the guard might just prolong the fatigue many are feeling.
---
Email: [email protected]
Twitter: @nida_zafar
Tel: 416 890-7643
---
COVID-19 is impacting all Canadians. At a time when vital public information is needed by everyone, The Pointer has taken down our paywall on all stories relating to the pandemic and those of public interest to ensure every resident of Brampton and Mississauga has access to the facts. For those who are able, we encourage you to consider a subscription. This will help us report on important public interest issues the community needs to know about now more than ever. You can register for a 30-day free trial HERE. Thereafter, The Pointer will charge $10 a month and you can cancel any time right on the website. Thank you.
Submit a correction about this story