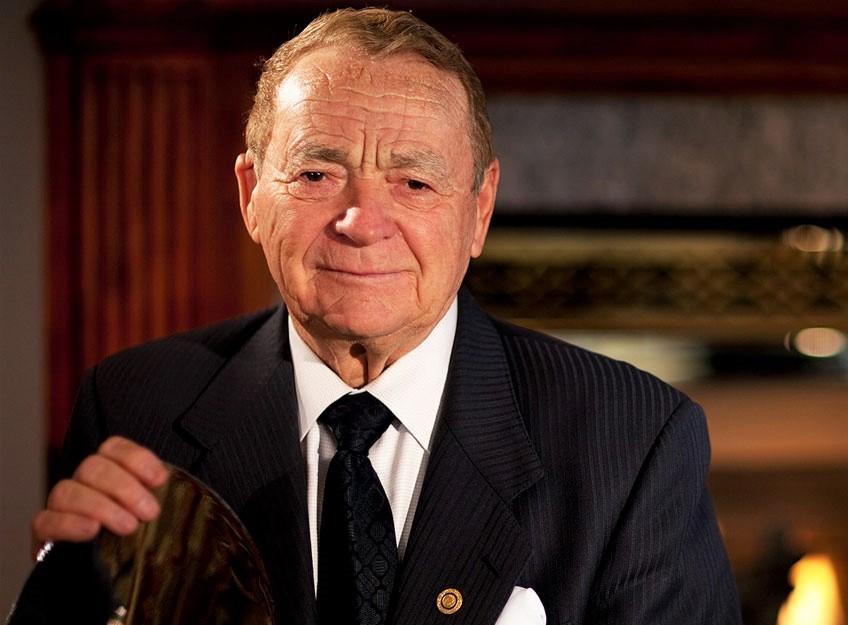 Photos Courtesy Kaneff/Screengrabs YouTube
Ignat (Iggy) Kaneff: 1926-2020
This article was originally published in July 2020 following the passing of Ignat (Iggy) Kaneff. The Pointer is republishing it here following the decision by the City of Mississauga to honour him and his legacy with the renaming of Camilla Park to Iggy Kaneff Park.
---
What you need to know about Ignat (Iggy) Kaneff is this: he never set out to become a billionaire, or to be heralded as one of the most powerful and decorated leaders in two business sectors, the developer/building trade, and golf.
He never thought of himself as Plutus diffusing his wealth, using it to fund charities, schools, churches, and help the regular Joes and Janes in his home country of Bulgaria, or his adopted one, Canada.
He never conceived receiving four honorary doctorates, the Order of Canada and Ontario, or being held up as the epitome of civic responsibility in the two cities in which he lived or worked, Mississauga and Brampton.
He was named Business Person of the Year in both, and Mississauga's top citizen.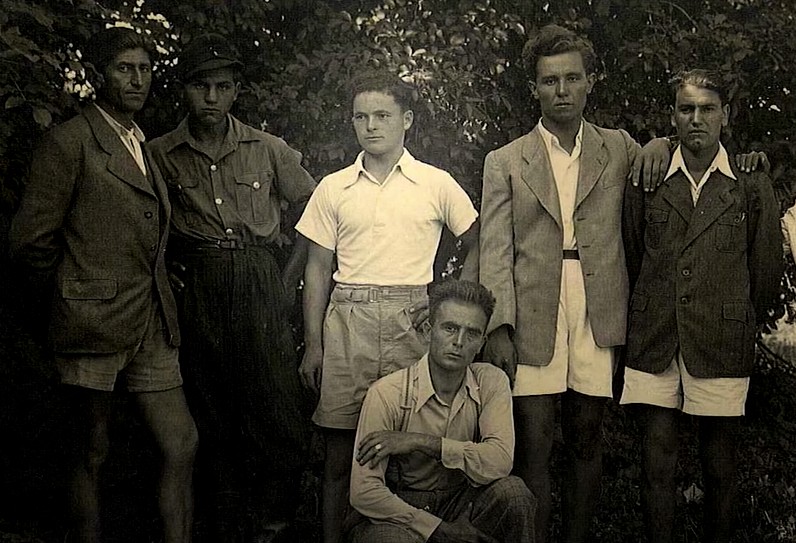 Ignat Kaneff, centre, in Bulgaria before leaving for Canada
Pundits have tried explaining his incredible successes and point to his unshakeable belief in self, or a work ethic that would exhaust a Navy Seal. He lived by a moral code driven by faith, family, work and giving back to the communities that made him.
What's perhaps most stunning about his life is that when he arrived in Canada in 1951, the Bulgarian-born 24-year-old had exactly $5 in his pocket. The person who was supposed to meet him at Union Station in Toronto didn't show, so he had to spend his last fiver on a cab.
He eventually found his friend, was given temporary lodgings (in a garage), then found a menial labouring job working for Shipp Corporation, a home builder dipping its toe into a new, but rich and expanding housing market in the Township of Toronto – a community of small communities (later Mississauga) sitting on the western shoulder of Canada's largest city.
Kaneff was a wafer thin 5-foot-5, 135 pounds, and his job meant throwing around cement blocks that often weighed as much as he did.
The work honed his body, and his new country alerted him to its possibility that getting ahead would be based on merit. So began his "immigrant experience".
The English language mystified him then and late in life, and it took time to adjust his mind to this new business paradigm, and a much freer social order. He was sickened by the communism that was practiced in Bulgaria, or the Nazism he toiled under as a young boy when he was sent to work as an itinerant market gardener in Austria, which was aligned with Germany during the Second World War.
The business started there by the middle son of seven children was able to support the family, but he wasn't allowed to move proceeds from the sale of his company outside the country, and even the funds from the eventual disbursement of his enterprise to the anti-communist government in Bulgaria that were supposed to arrive in Canada, never did.
He hated isms, and the air here, in this mystical northern land was pure, as if it was distilled through the pine branches of freedom. It was all so intoxicating. He was now on the other side of the Cold War, too, the better one, the one where a person could shuck off allegiances to political parties and ideologies that limited a person's potential.
On the boat to Canada, he met a Croatian couple and told them how he planned to settle in a place called Thunder Bay, and this is where he would find work in the building trades.
If the building trades was the goal, then Toronto was the place to be, and they urged him to settle there instead. It was caught in the grip of post-war expansion. The GTA was filled with returning soldiers, eager to marry, busting to start families, and ready to put down a grubstake and buy a house. The lure of home ownership and a little slice of green land was the faint outlines of suburban lifestyle being drawn out in real time. Kaneff changed plans. He practiced the name Tor-on-to over and over again.
He now stood on Front Street and kept looking around for his friend, who never showed. He hailed a cab, and used the last fiver to pay. He was taking him on a trip into his future.
In Canada, immigrants were given a fresh canvas on which to paint their own destiny. By the time Kaneff died this past week at age 93, he had produced a masterpiece: founder of a major building/development company (Kaneff Properties); owner of Kaneff Golf; a certified billionaire; and owner of a castle-like home in the toniest area of Mississauga. He had raised one family, daughter Heidi and his son Daniel (who predeceased him) then started a second one, and in the next go-round, he and "his best friend and the love of his life" Dimitrina (Didi), became parents to two more daughters, Anna-Maria and Kristina.
They are keepers of the Kaneff flame, overseeing the family's foundation.
In his lifetime, Kaneff sent millions of dollars back home to Bulgaria, but left the bulk of his givebacks right here. He was a tireless promoter of Community Living Mississauga which helped those with intellectual disabilities. Through his annual golf tournament, he raised millions, and sent millions more to construct new buildings at the University of Toronto at Mississauga, York University, the University of Ruse (Bulgaria) and Sheridan College. This ensured his legacy would impact generations of students.
Kaneff said spending money on education was like pouring cement, once hardened, it created a solid foundation.
He impacted a multitude of people and associations during his long life, and the tributes in the wake of his death ran the gamut, from friends/family, political leaders, academics, those in building trades, charities, former employees, the golf world and the men and women on the streets.
His name will reverberate for decades to come, said Mississauga Mayor Bonnie Crombie, who thinks Kaneff's business accomplishments will impact her city for generations, but it was his philanthropy that is his greatest legacy, now a part of the city's DNA. Few in Mississauga have not "been touched by Iggy's legacy," she said.
Her Brampton counterpart concurred. He called Kaneff a "business legend" and a philanthropist par excellence, and "I will greatly miss his friendship and advice," added Patrick Brown. Prime Minister Justin Trudeau said he was always known for his work ethic and his "kind heart." Ontario and Canada "are better places because he chose to live here."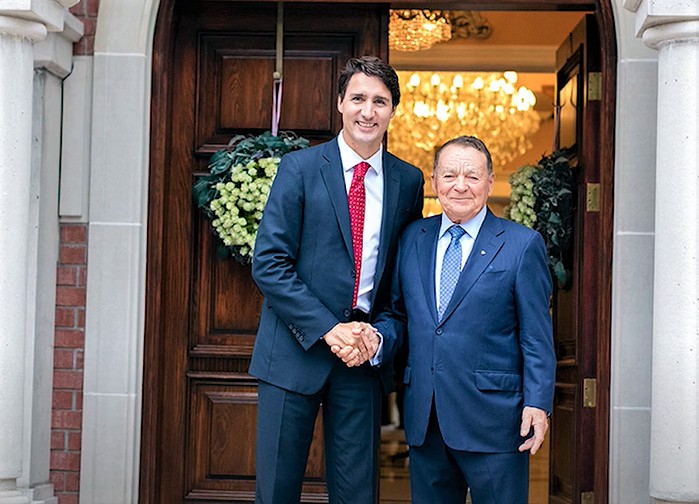 Kaneff with Prime Minister Justin Trudeau
That sentiment might be Kaneff's truest legacy, the work of all immigrants who shape the places they mould into better nations.
Kaneff Properties' wide diversity of product offerings – rental apartments, homes and condos, commercial properties, and a six-course golfing empire – was brilliantly conceived, and would gird the company against the vagaries of the markets. If one department slumped (single-family or condo sales) another (rental units, commercial, golf) would act as a check, and vice-versa. The Kaneff empire was immune to failure.
Mike Parsons, 56, a Mississauga realtor and son of the former chair of the Region of Peel, Lou Parsons, said his long-time friend and mentor lived a life that he literally "dug out of the dirt".
He arrived right in the middle of three younger and three elder siblings, born in 1926 in the agrarian village of Gorno Ablanovo in northeastern Bulgaria. The family was poverty stricken, and the middle child was sent to Austria at age 14 to find work. He toiled in the market gardens of this Nazi-occupied land, and it wasn't long before the two traits emerged that would be the ruling passions of his soul – an enterprising spirit, and a willingness to give back. He sent most of his earnings home to support his family, and he also started his own market garden business.
Later in life, Kaneff told an interviewer his recipe for success was simple: "Roll up your sleeves, get your hands dirty."
Parsons was right; his life was a metaphor.
"Mr. Kaneff later told me that success was the result of preparation meeting opportunity," explained Parsons. "If you're not ready, it won't come."
Kaneff dragged behind him a general air of assuredness his entire life, and he admired anyone with talent, intelligence, energy and integrity. He especially liked to help young people, said Parsons, who remembers the early days of his realtor career when he was trying to find his footing in the burgeoning Mississauga market. Kaneff hired him to sell his house, then used him time and again to handle more Kaneff properties.
Later in life, when Parsons talked to his mentor, he expanded on his advice.
Said Parsons: "He talked about being fair, and often said in business you have to leave something on the table for the other person."
Parsons' father worked with Kaneff in assembling the farmland needed to build Brampton-based Lionhead, the gem in the six-course crown that was his golf empire. Built in the late 1980s, Lionhead was a revolutionary concept: a high-end public course. Kaneff cleverly attached this golfing factory to the GTA West business community, and through its meeting rooms and corporate golf tournament offerings, it became an assembly line for players who were unaffiliated with a private club up their game on a world-class course. Companies that weren't attached or chose not to be closely aligned with the more staid, traditional country clubs, and community organizations that could not always afford or weren't as welcomed by some of the established private courses, gravitated to Kaneff's open arms approach to growing the game, in both the corporate event sector and just for the everyday enthusiast.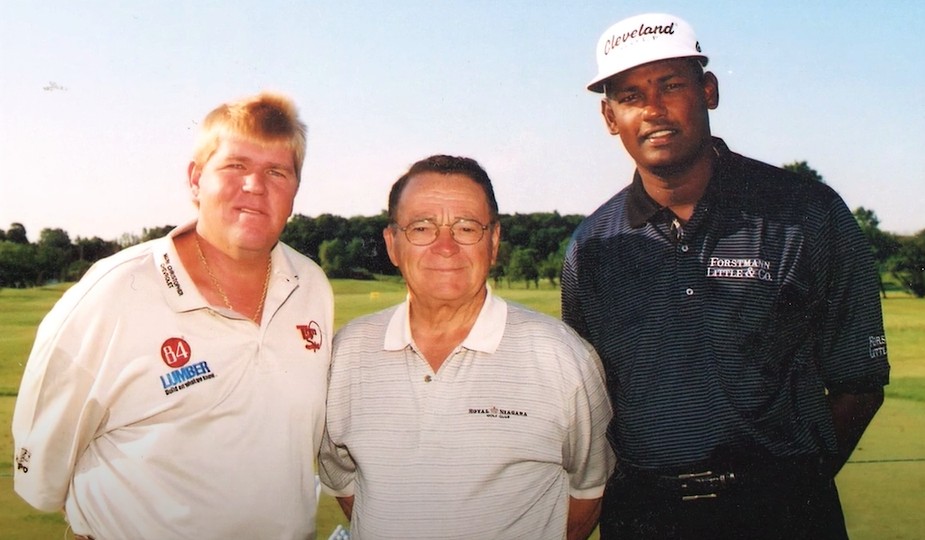 Kaneff pictured at one of his golf courses with two professional golf stars, and outsiders, John Daly and Vijay Singh
Kaneff first built an empire of steel, and then like any good builder, reinforced it with significant add-ons.
His legacy was not intended to divvy up Mississauga's and Brampton's greenfields into suburban sprawl; he wanted to provide good homes, parkland and recreational options in Canada's greatest gift, its natural beauty, to everyone who called this place theirs.
For a man who grew up impoverished in the shadow of Nazism, building these dreams for others became a relentless mission.
Political leaders like Hazel McCallion (Mississauga) and Peter Robertson and Susan Fennell (Brampton) allowed builders who had the determination and energy to shape their future cities.
While some saw this as unsustainable, the urbanologist Joe Berridge, author of Perfect City (2019) said many builder/developers were simply fulfilling the wishful fantasies of those drawn to the independence and limitless possibilities of a new life in the suburbs.
Home ownership, and a stake in the Canadian dream for the classes who could not afford life in the posh parts of downtown or elsewhere in the big city (often reserved for the same generational elites who hung out at those unwelcoming country clubs) was made possible by a group of immigrant builders just like Kaneff.
The suburbs, to this day, are where many of these families choose to live a life defined not by their connections and inherited advantages, but by their own dreams and ambitions.
Kaneff once quipped: "If sprawl is so bad, why are 3.7 million people queuing up to move here over the next 25 years?"
Perhaps Kaneff's death marks the end of this era of the larger-than-life builders/developers, who flourished in Peel Region in the decades of expansion. But those who pigeon-hole them as mere prospectors seeking the main chance, haven't studied their history of Peel. They were an eclectic bunch – a Harvard-educated boy-wonder, a swashbuckling futurist who wanted Mississauga to become a new urban-suburban model, a father-son team that were patricians by birth but suburbanists by design. Then there was Kaneff, the immigrant outsider, the last entry into the club.
History tends to bunch and synthesize, and after Kaneff's death we can now bring closure to this postwar period of expansion. Kaneff's legacy might be the most interesting puzzle piece.
Who were these men (yes, they were men) and where does Kaneff fit in this pantheon we can call, 'The Builders'?
THE SHIPPS
The early 1950s saw construction of the new Queen Elizabeth Highway (QEW) which connected the lands of the west with downtown Toronto. The Applewood Acres area of Toronto Township (later Mississauga) ran parallel to this new highway, and featured farmland, orchards and a light dusting of houses. The Shipps (father Gordon, son Harold) recognized that a new era in building and social interaction had arrived. They got the lands rezoned, built 853 homes and changed the area forever. The company kept building more homes, apartments and commercial buildings, and even hired a tiny immigrant from Bulgaria because he had a pathological work ethic.
MACKLIN HANCOCK
Mississauga born, and Harvard educated at its School of Design, he was just 27 when millionaire mogul E.P. Taylor gave the reins to design what would become the internationally recognized planned community of Don Mills, Canada's first corporate suburb. It was 1952, and this 'new town' model would become standard fare. Everything was interconnected: neighbourhoods, pedestrian paths and parks, schools, churches and town centres. The buildings were modern, and housing was single-family, low-rise apartments and townhouses. Then in 1970s Mississauga, Hancock turned his genius to designing Meadowvale and Erin Mills. Meadowvale filled 11,000 acres, and housed 70,000. Despite his revolutionizing urban planning, Hancock remains a virtual unknown in his own home town.
BRUCE McLAUGHLIN
The same can't be said for the next developer/builder icon, Bruce McLaughlin. He was the young knight on the white steed who, as a crusading futurist, tilted at windmills. He imagined transforming farmers' fields in the Highway 10/Burnhamthorpe Road area into a vibrant, modern-day city core. He bought 4,000 acres along Hurontario Street, including a nearly 300-acre farmer's field where Mississauga Civic Centre now sits, and conjured up a City Centre Plan (adopted by Council in 1969 before Canada's sixth largest city even existed). He proposed land swaps to create a mixed land-use model which would feature pedestrian walkways, leafy people places, and everything would be built to human scale. It never quite materialized. Outside forces and political expediency bastardized his plan, and the new core was overrun by cars and parking lots. McLaughlin stayed long enough to create the Mississauga Valley neighborhood before trundling off to the United States. He often checked the city's growth in his rearview mirror, and saw it as a lost opportunity to create a new-look urban-suburban city model. The McLaughlin plan was re-enacted by council, long after his passing, and today's embrace of urbanism in the suburbs was first unfolded by him.
IGGY KANEFF
The Kaneff storyline is rooted in Mitteleuropa, and his impoverished upbringing. But the Shipps chapter is a key one in his life. Urban legend has it that each day he worked for the Shipps, he'd take one brick home, quickly compiling a pile which he used a year later after he quit to start his own company. Did he use those bricks to construct his first home in the Lakeview area of Mississauga? The story might be true or false, but it's too good to leave out here, and either way, helps define Kaneff's career. After that first home, he built another, then another, and by 1956, Kaneff Properties was born. It was also the year its founder made his first charitable donation ($2,000 to South Peel hospital on Queensway). The boring part is how Kaneff Properties multiplied into a development juggernaut, making its founder ultra-rich. Over the last few years of his life, some people saw Kaneff and his money, his castle-like home, his golf clubs, as the playpens for the newly rich. But we forget that building-of-his-brand part, when he worked non-stop, and never missed a deadline. His company employed hundreds, built the Huron Heights community, and all those rising white towers with the Kaneff logo emblazoned on the outside.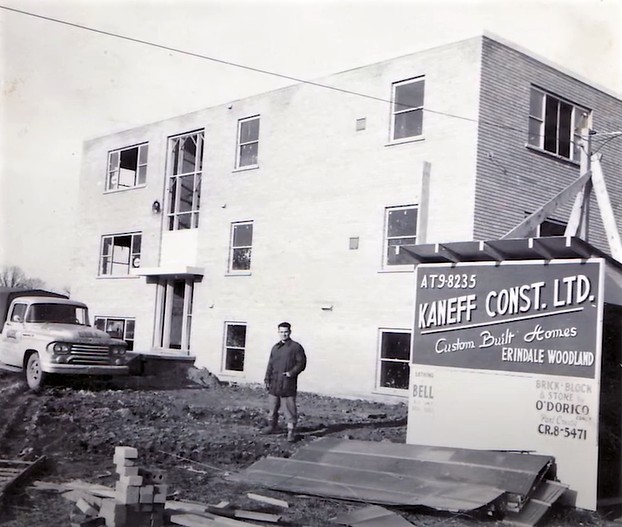 The owner before he turned his fledgling company into an empire
Kaneff enjoyed the trappings of success, but never forgot the struggle to get there, and unpacking some of his money for good causes became the most valued cost of civic responsibility.
Kaneff mixed preparation with opportunity and timed his entry into the building trades perfectly, creating a company that was the sum of his considerable parts. Canada was good to him, and he was good to Canada.
There are plenty of "Iggy stories" to be drawn from his life, and this author wants to share one now. It was mid-summer 2006, and after receiving a special invite from Kaneff himself, Lionhead Golf Club's clubhouse was the backdrop to conduct a one-on-one interview with Michael Ignatieff, the Harvard professor turned politician who was running for leadership of the Liberal Party of Canada, ahead of his bid to become prime minister.
The chance to interview the brainy academic was too good to turn down, and besides, there were some spooky connectors at work. Both Kaneff and Ignatieff were nicknamed Iggy, and both had deep ties to immigration. Ignatieff's father was a Russian émigré and the subject of one of his most popular books. The two men were separated by education: Kaneff had little, and Ignatieff a ton, too much in fact. His detached, academic manner was a turn-off to voters who he simply could not relate to, but Kaneff always admired those who reached the top rungs of academia. He was a voracious reader, always playing catch-up to those with formal education.
The interview with the Liberal leadership hopeful went well. Ignatieff was articulate, sliding easily between subjects, showing off his big brain. When it came to an end, he was asked this: Can you define the Canadian psyche?
The question was slightly esoteric, but the younger Iggy liked it, shifted his eyes, then pointed at his 80-year-old host sitting close by. He's the reason why our country works, he said. He's the reason why Canada is a great country. He represents everything that is good about the Canadian experience. He was the Canadian psyche – writ large.
Iggy the Younger said Iggy the Elder was the star in a made-in-Canada movie – with Bulgarian subtitles.
Ignatieff didn't win the Liberal leadership that year, but did a few years later, only to get trashed by Stephen Harper in the 2011 election – which sent him scurrying back to academia.
But the younger Iggy was right; Kaneff had forced a change in the Canadian archetype: hard-charging, fearless, driven. Upper Canada's legacy had been moving in a boring, predictable pre-war convention that still marks many of the more urban institutions of modern city-formed life in this country.
If Toronto was for the WASPs and son's of the empire, Mississauga was where outsiders like Kaneff would shape an entirely new version of Canada. Those who live off trust funds or think stock markets are how you build economies could never appreciate the dirt underneath a man like Kaneff's fingernails. They see it as the unsophisticated mark of a person who works in toil; he was reminded of the labour that provided a deeper happiness, possessed by those who build and shape and create things.
If he ruled his company by fiat to design his dream, and was often accused of having too hard a shell, there was always the charitable giving central to Kaneff, his soft underbelly.
The first home he built still stands on Third Street in the Lakeview section of Mississauga. So does a nine-unit building on Paisley Boulevard. Anything with the Kaneff name on it oozes quality, and will stand the test of time.
Berridge said the great urban engine that moves relentlessly outward, is driven by unknowable forces more powerful than we are capable of understanding. Other builder/developers have made names for themselves in Mississauga-Brampton over the past number of years, but in the highly caffeinated age of expansion in our postwar world, Kaneff's name loomed large.
So does his death.
It might bring to an end the great suburban experiment.
There's no doubt, we will never see his likes again.
Iggy Kaneff lived through the Great Depression, Nazi occupation, the first days of communism in Bulgaria, and lived long enough so that his mourners had to wear masks to visit his body that was laid out this past week in the clubhouse of his beloved Lionhead.
There were pictures of his life, and his family welcomed all. Iggy stories were swapped readily.
When Kaneff hailed that Toronto cab upon his arrival in Canada in 1951, it carried him off to his future, a bright one that he carefully constructed, brick by brick.
Doling out his last fiver was also the first lesson he learned in his adopted country.
There would be no free rides.
Submit a correction about this story