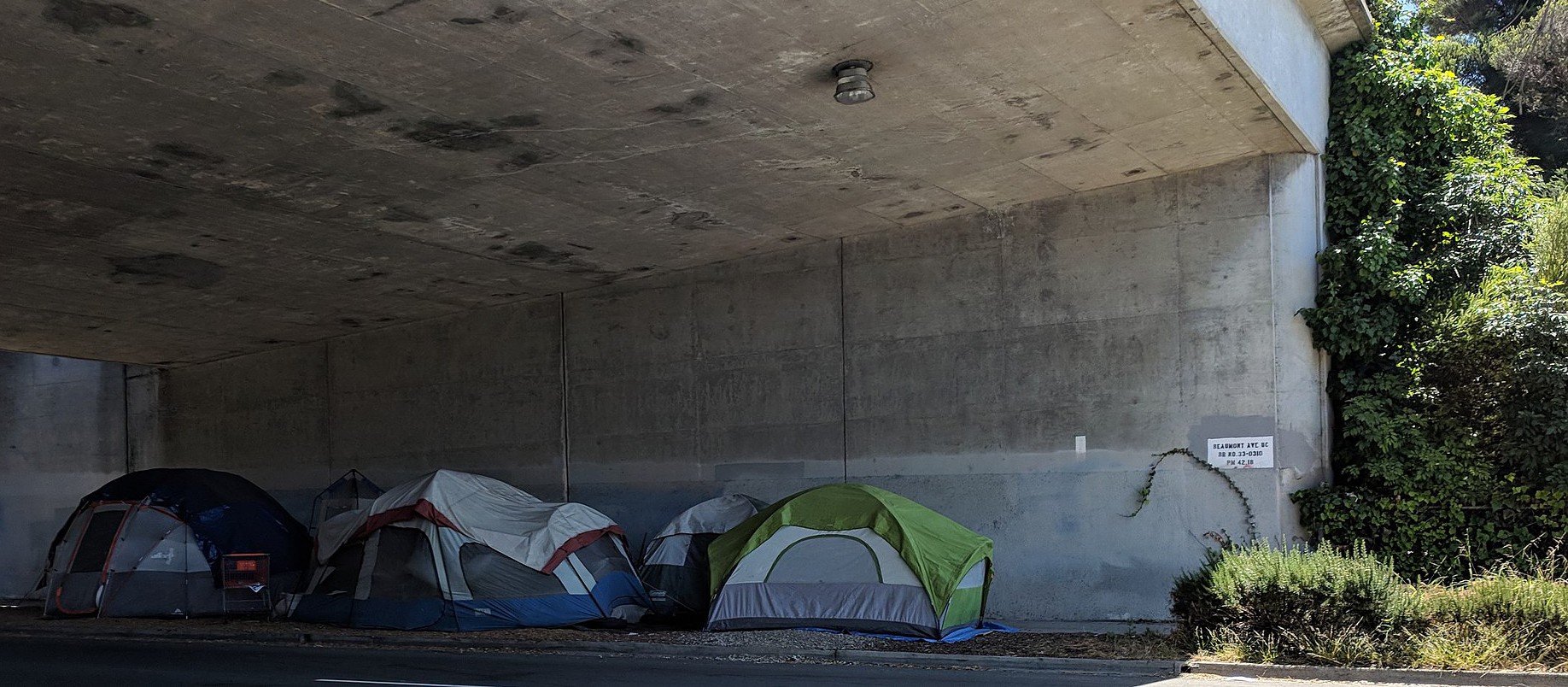 Photos from The Pointer files/Wikimedia Commons
Tent encampments are popping up across Peel in the age of COVID-19; a recent UN report says Canada is failing on the issue
Lining up like little towns of their own, tent encampments are starting to appear in Brampton. It's a sight seen most summers, as the warmer weather allows homeless individuals to reside outside, after a winter of finding shelter indoors.
But the increased number of makeshift homes this year has doubled the cause of worry; with the spread of the novel coronavirus, concerns around possible spread are compounding the problem, as many homeless individuals might not want to stay in regional shelters. For many living in these encampments, they feel it's the safest option.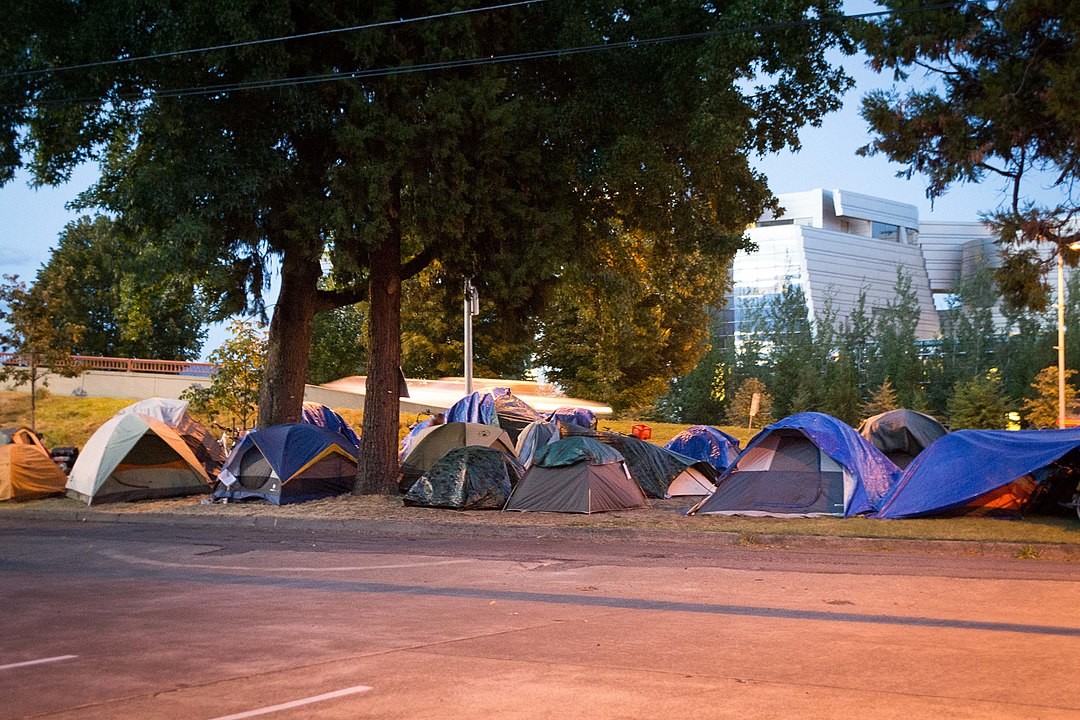 While many homeless individuals fear contracting COVID-19 by visiting the region's shelters, the threat is also very real inside tent encampments where people often live in close quarters.
"Once in a while we also get a refusal of help, and the person/persons would prefer to be on their own, as they fear crowding in Regionally supported rooms or hotels may result in a larger chance of exposure to COVID-19 than where they are," Councillor Jeff Bowman (Wards 3 and 4) told The Pointer.
This fear may be a reason why the Region announced in March it wouldn't take down any encampments that are set up.
In order to provide space when the virus was spreading quickly, the Region of Peel offered hotel rooms to aid physical distancing guidelines for shelters; 375 homeless individuals have been housed by the Region since emergency measures were put in place, 275 of them in hotel rooms, Leslie Moreau, manager of client services for the Region told The Pointer. Personal freedom and flexibility may also be reasons why people reject access to hotels, she said.
Many local residents have raised concerns that garbage is left behind when people decamp and some have noticed a lack of social distancing within the encampments, igniting concerns the virus will spread from these temporary communities.
Dr. Lawrence Loh, the Region's medical officer of health, told The Pointer he was not aware of any cases of the virus in encampments at this time. "I think the more important thing is just really ensuring that regardless of who it is in the community, that we are all taking diligence and care in trying to practice the core four behaviors as much as possible," Loh said at the weekly press conference.
"Our outreach team has been educated on screening encampments for COVID-19. They are focused on providing straightforward communication and awareness to people sleeping outside," Moreau said. The team provides communication on recent information of the spread of COVID-19 in the area, teaches residents to recognize symptoms of the virus, and how individuals can isolate themselves if they show signs of infection.
Bowman and Regional Councillor Rowena Santos (Wards 1 and 5) co-chair the Social Support Task Force in Brampton, focusing in part on the homeless population. Razim Said, the task force's team lead, said there have been 43 reports of encampments since April 2, and as of July 15, there are only two active encampments that the City is aware of. "We have been working closely with Peel Outreach to get people Regional support by offering the option of transitioning into safe shelters such as hotels; this has proven to be very successful so far," Said told The Pointer.
In Mississauga, there were 20 reported incidents of people living in tents on public spaces between May and July 16, Dean Hagger, the Acting manager of security operations and transit enforcement, told The Pointer.
"If officers come across a small, single tent set up due to a person or couple being homeless, officers try to address it with help from crisis outreach and homeless intervention services," Hagger said.
Brampton's social support task force gave out food and other necessities while also recording the number of encampments that exist and those residing in them. It's a hard task to figure out the exact number of people who are homeless in the city, Bowman said, as some refuse the help that's being offered.
The fact that the encampments are rising up year after year shows Bowman there's a lack of adequate social support. "It indicates to me that the social services required to ensure proper health, safety, hygiene, mental health assistance and food etc. are not sufficient to cope as the problems are growing," he said.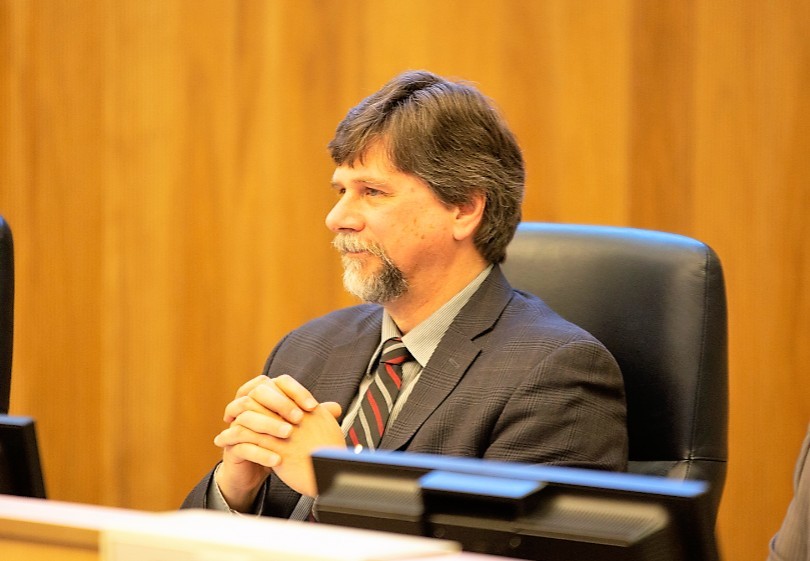 Councillor Jeff Bowman
It's a growing concern that has been increasingly hard to ignore over recent years, as Peel's housing crisis has intensified. The Region's shelter system has been operating in overflow capacity since 2016 and last year it had to spend $2.55 million to accommodate people in hotels because local shelters were full.
There can also be problems accessing other services, for example, in order to get medical care, a health card is needed. Some homeless individuals may not have this as they lack a permanent residence, with an address required to access OHIP. In some cases, organizations such as Regeneration Community Outreach in Brampton, have programs that allow care providers to act as an individual's place of residence. But the process can be long and tedious for a lot of people, especially those without computer access or transportation to places where help can be found.
All of this adds to the growing number of encampments, and with current access to hotel rooms only a temporary solution, there is concern that if the virus comes back in a second wave, one of the only options besides tented homes will be the overflowing shelter system. As of March, the Region had access to 264 shelter beds and 60 units in the Peel Family shelter, which contains several beds per unit. Aileen Baird, director of housing services for the Region of Peel, previously told The Pointer that with shelters in constant overflow, other options are needed.
For now, more and more people are using tents.
A shortage of affordable housing has also aided the problem. The average cost to own or rent a home is out of reach for 80 percent of Peel's households. The Region's plan to address the issue, the 10-year Peel Housing and Homeless Plan known as Home For All (2018-2028), states 10 percent of all newly built homes must be affordable for low-income families. But since 2018, less than one in 2,600 new homes met the criteria. With more and more people arriving in the region every day, the problem is sure to get worse.
Funding for housing fell under the responsibility of the federal government until it downloaded it to the province in the late 90's, which subsequently put it on the back of municipalities.
According to recent work by a team from the United Nations, the federal government has failed to create "adequate housing," and the tent encampments that rise across the country every year, including the ones in Peel, are a reflection of this failure.
"Encampments constitute a form of homelessness, and thus are a reflection of the violation of residents' right to adequate housing," the UN report on the situation in Canada, released in April, states. "People living in encampments typically face a range of human rights violations and profound challenges with respect to their health, security, and wellbeing. Encampment conditions typically fall far below international human rights standards on a variety of fronts, often lacking even the most basic services like toilets. Residents of encampments are also frequently subject to criminalization, harassment, violence, and discriminatory treatment."
The report further stipulates it's unethical for residents of encampments to be served with eviction notices unless they are provided sound options for other living arrangements, given encampments may be their only option to create a space where residents feel safe. "For people without access to adequate housing, the availability, accessibility, appropriateness, and adequacy of shelters plays a significant role in determining whether or not a person chooses to reside in a homeless encampment," the UN document states.
The report also criticizes municipalities, citing their failure to understand their responsibility around the practice. "Municipal authorities are often unaware of their legal obligations under international human rights law including with respect to the duty to ensure the dignity and security of encampment residents."
To assist with the situation, the Region has started a pilot project aimed toward those residing in encampments. Residents are offered access to hotels/motels and are then supported by the Salvation Army and Housing Services to access long term housing. Eight people have taken part in the program so far, Moreau said.
Some legal challenges in Canada have been successful in forcing governments to provide adequate shelter, but the UN report found there is little recognition around the legal obligations toward those who end up choosing to live in an encampment.
"While it is clear that the (Canadian Charter of Rights) provides some protection from forced evictions and sweeps of encampment residents, the extent to which it requires governments to address the crisis of homelessness that has led to reliance on encampments remains unresolved," the report states. "The Supreme Court of Canada has yet to agree to hear an appeal in a case that would clarify the obligations of governments to address homelessness as a human rights violation."
While encampments in Brampton and Mississauga are not being disturbed at this time, this has not been the case in surrounding municipalities. In Toronto, tent encampments across the city have been met with eviction notices. It's an approach Premier Doug Ford seemed to endorse, when asked about the issue last month. "I understand you want to stay outside in tents, it's probably better living quarters. But that's an ongoing issue. Just don't hang out in the parks. Simple. I wish I could tell you where to hang out," Ford said. He followed with vague comments that municipalities have already been given money to deal with the issue and that the province is "going to be giving more money to the municipalities to help out."
The lack of coordination between governments and the inability of officials to understand the issue from a rights perspective, were highlighted in the recent UN report.
"Provincial, territorial, and federal governments have historically left engagement with encampments to city officials, who receive little (if any) guidance and support… Further, accountability mechanisms with respect to the right to housing remain weak in Canada, meaning that people living in encampments have limited avenues through which to claim this right."
Without a permanent roof over one's head, and a housing crisis in Peel that gets worse by the day, people only have so many options when desperate to find a place to live. Permanent changes that could reduce tent encampments may take some time.
Bowman believes the work of the City's task force was successful and says perhaps such support should become permanent, with funding from the Region needed to address a reality that likely isn't going away, especially if the novel coronavirus is here to stay.
---
Email: [email protected]
Twitter: @nida_zafar
Tel: 416 890-7643
---
COVID-19 is impacting all Canadians. At a time when vital public information is needed by everyone, The Pointer has taken down our paywall on all stories relating to the pandemic and those of public interest to ensure every resident of Brampton and Mississauga has access to the facts. For those who are able, we encourage you to consider a subscription. This will help us report on important public interest issues the community needs to know about now more than ever. You can register for a 30-day free trial HERE. Thereafter, The Pointer will charge $10 a month and you can cancel any time right on the website. Thank you.
Submit a correction about this story