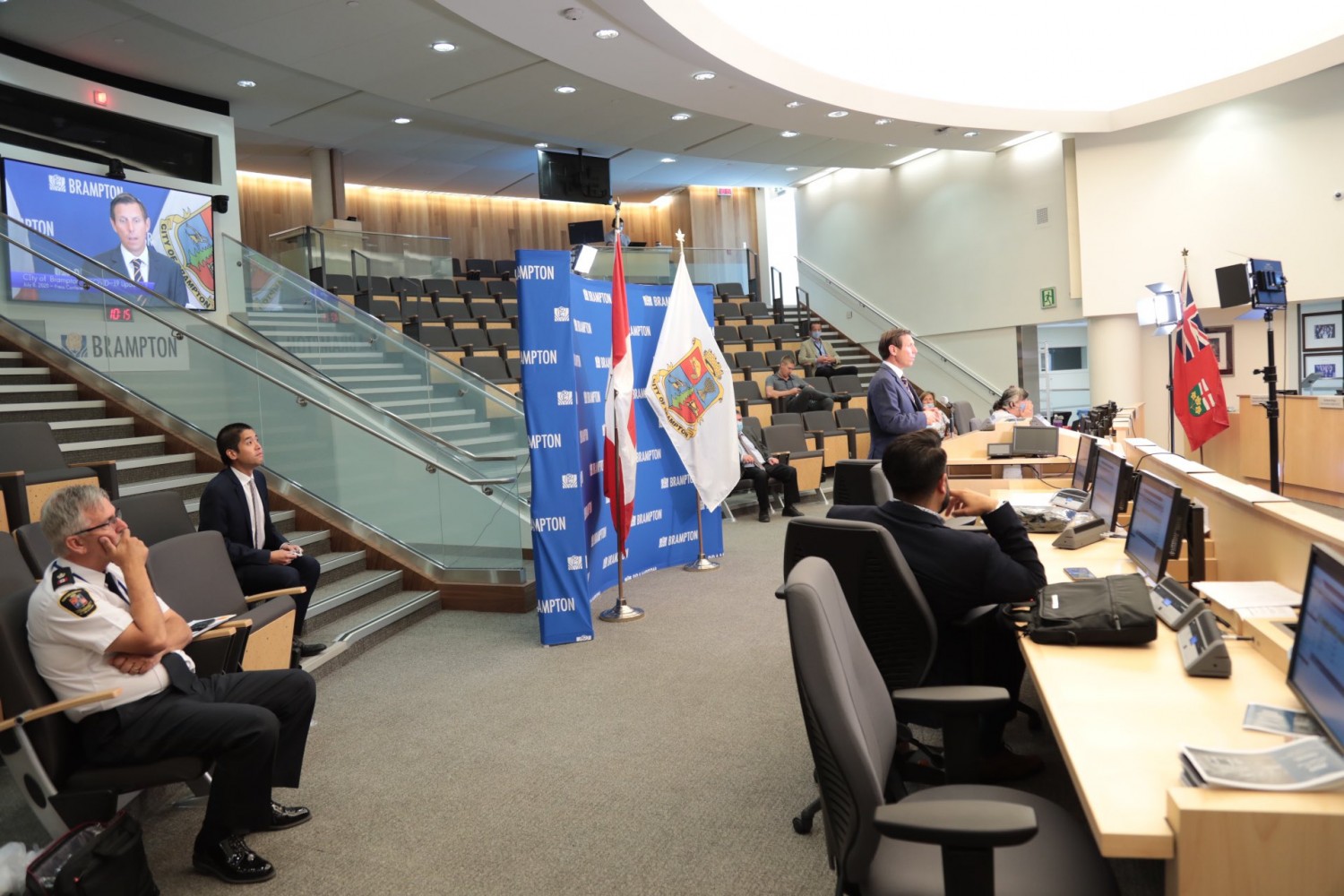 Photos from the City of Brampton/Region of Peel
Brampton has about 70% of Peel's new COVID-19 cases, will it be held back if the rest of Peel moves to Stage 3?
The Region of Peel and most of the GTHA have been held back by the province from entering the next stage of reopening as they continue to see higher rates of COVID-19.
In Peel, much of the blame falls on Brampton, which has continued to see the vast majority of the region's new COVID-19 cases in recent weeks.
Peel was delayed from entering Stage 2 with the majority of the province in June because of Brampton's high case numbers, and this time is no different as the city continues to go in the opposite direction of its neighbours.
Over the last week, Brampton has seen an average of about 26 new COVID-19 cases every day, peaking at 39 on both July 11 and 12. Throughout the month of July, Brampton has maintained an average of 23 new cases every day. This accounts for about 69% of Peel's daily average of 33.5 new cases.
Comparatively, Mississauga has seen a daily average of 10 new cases over the past two weeks.
COVID-19 Cases by Report Date in Brampton
COVID-19 Cases by Report Date in Mississauga
Data from the Region of Peel clearly shows the majority of new cases of COVID-19 continue to be confirmed in the City of Brampton.
When analyzing case numbers for all of Peel Region, it allows Brampton's cases to be diluted by lower numbers in Caledon and Mississauga, potentially disguising a spike in infection. In fact, while Brampton recorded a daily average of 19 new cases during the first week of July, that number has increased to 26 new cases daily over the last week.
This begs the question, should Brampton be held back if the rest of the region is prepared to shift into Stage 3? What does that mean for a region that is incredibly interconnected with residents moving between cities for work?
At today's press conference, Dr. Lawrence Loh, the region's chief medical officer, said that it would be up to the province to allow the two cities to enter Stage 3 without Brampton. He doesn't believe this will happen because of the interconnected nature of the region.
"I could be convinced otherwise if there are other factors and an ability to contain (it) in the City of Brampton if it were to come to that," said Loh
Loh did advise, "our own move is on the horizon in Peel."
Peel's Chief Medical Officer of Health Dr. Lawrence Loh
Whether that is with a proper decline in cases for all cities or not, remains to be seen.
Mayor Patrick Brown said Stage 3 is a "significant departure" from Stage 2, and shared his worries about moving Brampton forward too quickly.
In Stage 3 of the province's reopening plan it allows residents in qualifying cities to hold gatherings of 50 people indoors and 100 outdoors, as long as physical distancing is still in place.
Fitness centres, gyms and studios, guided tours, museums, theatres, outdoor play structures, and dine-in restaurants are all allowed to reopen.
Along with Peel and the rest of the GTHA, Haldimand-Norfolk, Niagara and Windsor-Essex are all staying back in Stage 2 for the time being.
"Many of the GTHA Mayors felt strongly that we couldn't rush into Stage 2 and I feel the same with Stage 3," Brown said.
With the delays in reopening, Brown stressed that municipalities are desperate for assistance from upper levels of government. Since municipalities aren't legally allowed to carry deficits, Brown commented that service delivery may soon suffer in Brampton the longer reopening is delayed and if financial assistance does not arrive soon.
"It's frustrating that municipalities aren't getting help," he said.
Brampton's case numbers may not paint an encouraging picture for the region, but Peel has improved on many of its other key health indicators that could pave the way to reopening. In the region's epidemiological report from July 3rd, the acute care bed occupancy was not meeting the target of 87 percent available. According to the July 10 report, the occupancy percentage was now exceeding the target at 88 percent.
Intensive care occupancy increased during the same weekly period from 69 to 77 percent, but occupancy of beds with ventilators decreased from 41 to 33 percent.
In total, the region is reaching all but two of its targets, lagging behind in institutional outbreak control with 6 reported on July 10, and the region is still seeing too many cases not linked to long-term care or other congregate settings.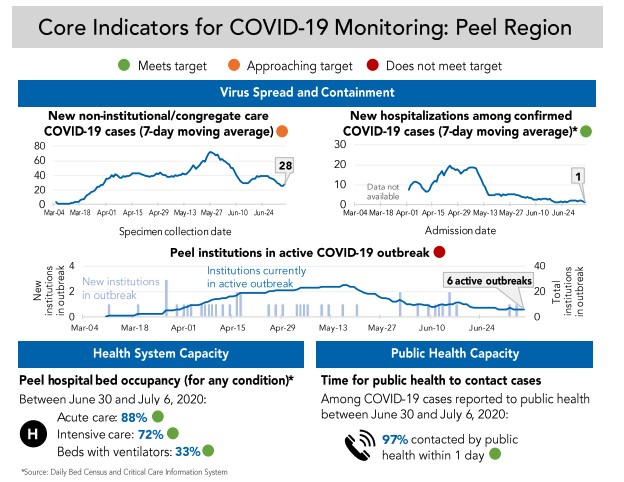 The level of testing also continues to raise questions in Brampton. Previously, data given to The Pointer by Osler showed that the testing rates were extremely low in the city.
Setting a conservative daily goal of 20,000 tests per day in Ontario (a number the province now regularly exceeds), Brampton should test about 950 people per day, based on a population of 650,000.
Between June 16 and June 28, a total of 6,950 tests were completed in Brampton, while its per capita target based on the figure used by the province was 11,700 over that period.
Mayor Brown has repeatedly praised Osler for its testing rates, and muddling Brampton's testing numbers by including those for all of the William Osler Health System, which includes two hospitals in Etobicoke.
During Wednesday's press conference, Brown again praised Osler's testing figures, but clarified its numbers, confirming they include testing completed at the two Etobicoke sites. This effort to clarify his previous position on testing could go a long way to assist local residents in their understanding of the true picture of COVID-19 in their city, with a need to boost flagging screening rates.
"We continue to be very aggressive on testing in the City of Brampton," he said, noting that Osler has tested a total of 86,000 residents since the start of the pandemic.
The mayor also urged everyone to go and get tested for COVID-19.
"You don't have to have symptoms to get tested, please get tested, it's one of the key tools that we have," he said.
To assist with more adequate testing in Brampton, the province has set up another mobile assessment centre on July 22 at the Brampton Curling Club from 10 a.m. to 6 p.m.
Last week The Pointer asked Osler why they continue to have two testing centres in Etobicoke and only one in Brampton.
"Brampton residents may be served at all of our assessment centres, including those in Etobicoke, as testing centres do not discriminate based on a patient's place of residence," an Osler spokesperson stated.
Osler did not provide a reason in its emailed response, and appeared to offer contradictory advice from that provided by the Ministry of Health.
Along with the inconvenience for potentially infected residents having to travel to Etobicoke from Brampton, especially for those who do not have a car, the advice rubs against Queen's Park's recommendation that symptomatic individuals avoid travel between cities.
---
Email: [email protected]
Twitter: taasha__15
---
COVID-19 is impacting all Canadians. At a time when vital public information is needed by everyone, The Pointer has taken down our paywall on all stories relating to the pandemic and those of public interest to ensure every resident of Brampton and Mississauga has access to the facts. For those who are able, we encourage you to consider a subscription. This will help us report on important public interest issues the community needs to know about now more than ever. You can register for a 30-day free trial HERE. Thereafter, The Pointer will charge $10 a month and you can cancel any time right on the website. Thank you.
Submit a correction about this story