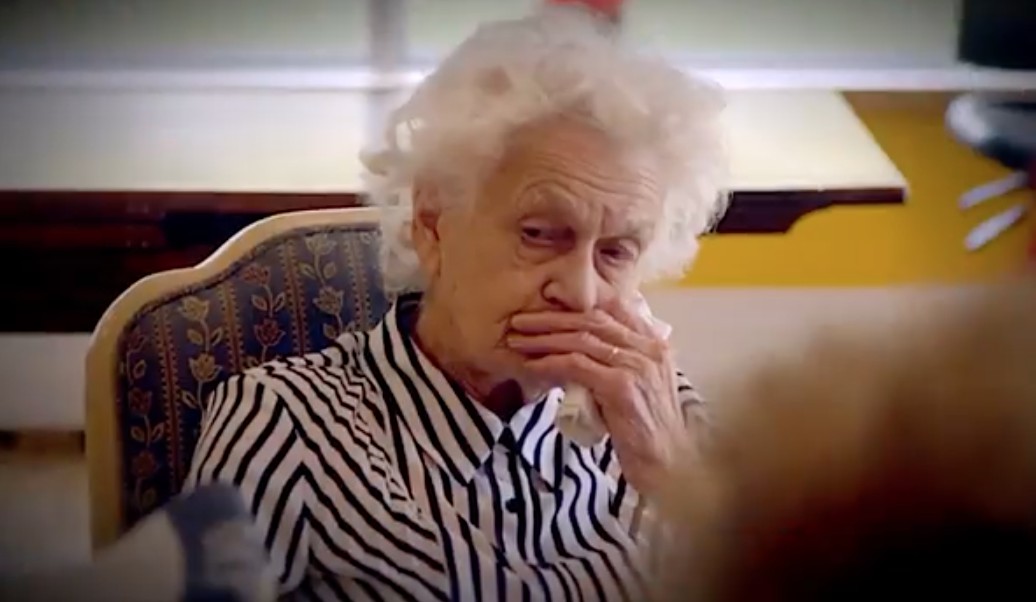 Photos from the Region of Peel/Twitter-Gurpreet Malhotra
Almost 2,000 cases of elder abuse investigated in Peel last year, a 110% spike; how do you fix a problem nobody wants to talk about?
On June 15, the world marked Elder Abuse Awareness Day. The commemoration of this dehumanizing issue captures the collective voice of everyone around the world fighting to stop the mistreatment of seniors, a growing menace in Peel.
Between 2018 and 2019, the number of cases of elder abuse dramatically increased, according to a recent report by Peel police, which showed a 110 percent spike between 2018 and 2019, with the force investigating 1,955 cases last year. In total, 238 of these cases led to charges, with 50 percent of them involving assaults.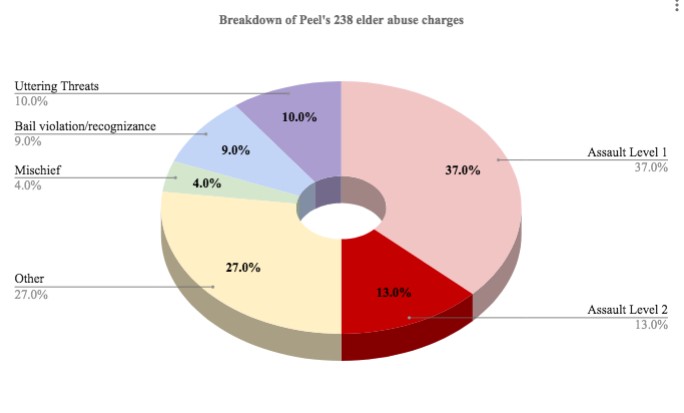 Marking an "awareness day" can allow more people to learn about a particular issue, but it can create a false sense of action and accomplishment for politicians, the public and policy makers, who then behave as if the problem doesn't exist during the remaining 364 days of the year.
"While that's a day, most people don't really care about it," Barry Everatt, member of the Peel Elder Abuse Prevention Network (PEAPN), told The Pointer. He believes it's hard to get people to pay attention if they don't know someone impacted by it.
This is one of the main deterrents of hauling this problem out from the shadows. Many family members may not even know their loved one is facing abuse because victims often find it extremely difficult to speak about the issue. This unwillingness to confront their own abuse can be fuelled by fear of getting their abusers, who are often family members or other caregivers, into trouble.
The Canadian Association for Retired Persons states only 20 percent of cases in Canada are reported to someone who can help. The number comes with a caveat: the fear of reporting abuse is so severe, researchers have been unable to provide a consistent number of actual cases, with many in the field of elder care lamenting the reality of much higher rates of abuse.
Gurpreet Malhotra, the chief executive officer of Indus Community Services (ICS) said the feeling of shame plays a large role in victims staying quiet. No one wants to say that the child they raised is the one calling them names, belittling them, neglecting them, or even physically hurting them, he said.
Both Malhotra and Everatt say the situation is likely getting worse as the COVID-19 pandemic has forced seniors to stay indoors to protect themselves from getting sick. When people are isolated at home, it takes away the opportunity for interactions or attempts to reach out to agencies and the police for help. The forced isolation can also prevent seniors suffering with physical signs of abuse from being observed by others who can notify another family member or doctor about the potential harm.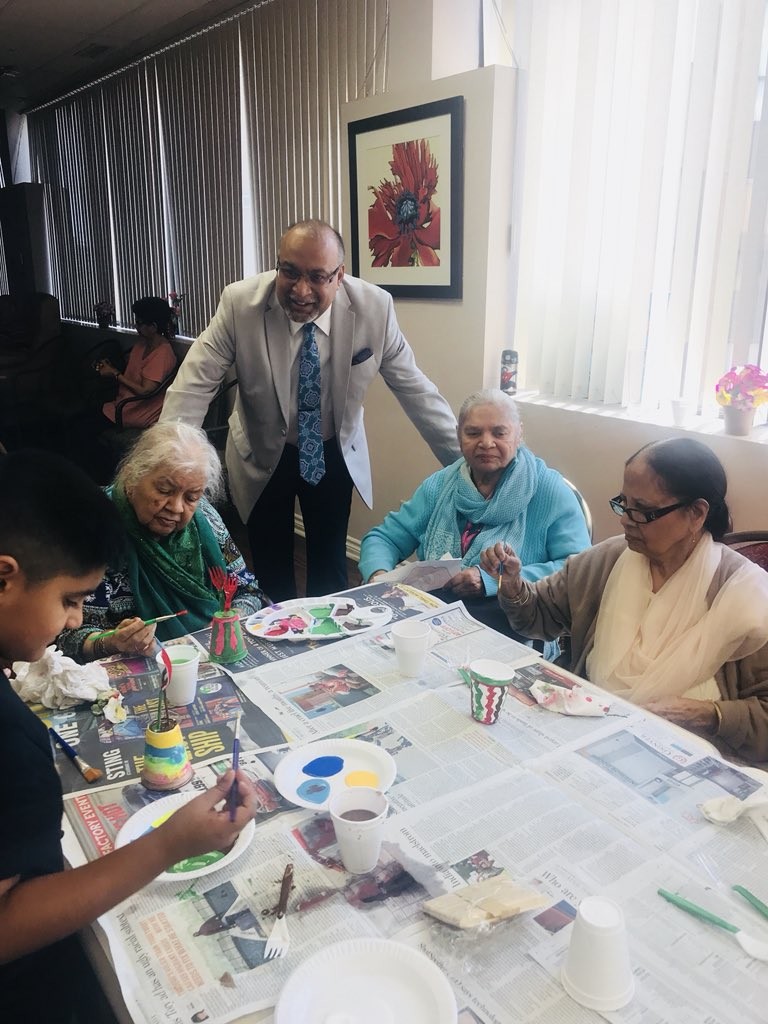 Gurpreet Malhotra (centre), the chief executive officer of Indus Community Services (ICS)
But even before the COVID-19 pandemic turned the world upside down it was rare for an elderly person to admit, "I'm isolated." Malhotra recalls a research project ICS was involved in a couple of years ago that focused on isolation among the senior population. A quote from that study has stuck with him ever since.
"If abuse is taking place in the household, the fearer would rather die than admit to the community that their own son or daughter is harming them," he said, as voicing such a reality is a deep source of embarrassment and shame for many. Within Peel's huge South Asian-Canadian communities and many other groups, cultural traditions involve expectations of keeping silent to avoid community embarrassment and the so-called dishonouring of the family name, above all other concerns. Silence and pain born by the abused is commonly accepted, in order to protect the reputation of the family, which is usually complicit in the harm.
There's also a lot of shame that comes with cognitive impairments as one gets older, Malhotra said. This is something people can't control. An older person gets blamed for things like forgetting the way home or taking their pills three times a day instead of following directions for twice a day.
"The underlying reason is that cognitive impairment is beginning to show as it does in all humans. The longer we live, the more of that we will see," he said.
But in most cases, organizations such as PEAPN, Peel Family Services, or the police can only do so much, Everatt said, as organizations often have their hands tied. In Ontario, adults can't be forced out of an abusive relationship, and even when they do seek help, they have few options moving forward if they are almost completely dependent on their children. A common reality across Brampton and Mississauga sees grandparents and other seniors who have left their homes in other parts of the world, and now live with their adult children. Many do not work and don't even have adequate english language skills. They often suffer in isolation, largely dependent on others for their day-to-day needs.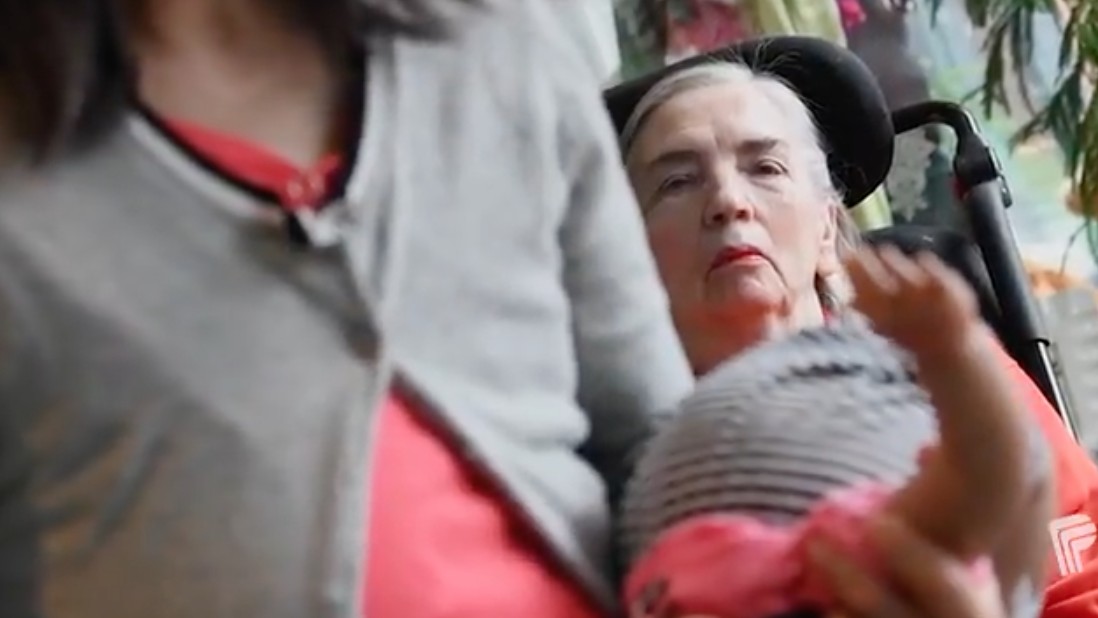 There are a number of underlying factors that keep elder abuse from being reported.
Elder abuse encompasses a range of categories including physical, psychological, financial, sexual abuse and neglect. Experiences that originate from outside of the home, such as phone scams targeting older individuals, are also considered a form of elder abuse.
Sandra Rupnarain, the director of Family Services of Peel, told The Pointer the most common forms of elder abuse in Peel are financial abuse and fraud.
"Because of the growing population of seniors in our country, and because the fastest growing region [is] Peel, the issue in Peel is sort of really big in a sense," she said.
As of 2019, 20 percent of Brampton and Mississauga's population (282,399 residents) were considered elderly (60+). Over the next 20 years, Brampton will see almost 165,000 people enter into this age category with Mississauga seeing upwards of 217,000, according to demographics from the 2016 census.
The increase in cases of elder abuse reported to Peel Police has roots in a number of issues. In late 2017, the force changed the way cases of elder abuse were coded so that all domestic cases involving an elderly person were categorized as elder/vulnerable adult abuse (an adult who depends on others for their daily needs). Increased educational awareness and the aging population of residents also played a role in the increase.
Both Malhotra and Everatt believe more education is needed, which they cite as the key for people to understand what they can do to help those in need. Both PEAPN and Indus are focused on awareness projects, but they have run into problems of their own.
PEAPN, which falls under the umbrella of Family Services of Peel, does not have any funding attached to it. Rupnarain says the organization was able to secure some emergency aid during the pandemic to create "social tables" to get seniors engaged with others and help those dealing with isolation, but they lack a permanent source of funding. The organization is working on collecting data from these tables to show potential funders how such social activities can help prevent abuse. In Everatt's eyes, the notion may be a hard thing for people to invest in given the stigma attached to anything rooted in abuse, especially when it involves family.
Such concepts about the roots of senior abuse are hard for people to grasp and many don't pay attention. Unfortunately, it's often people who think they would never harm or manipulate their parents, who often end up doing just that. In Peel, it has been increasingly reported over the last decade that seniors have had their own financial assets mismanaged or taken over by family members, including siblings and children. Some South Asian media outlets have reported that government supports including old age security assistance, are routinely taken by children who don't allow parents to handle their own finances. Pensions are also commonly controlled by other family members, according to reports.
Financial hardships that children land in, are often the reason for abusing their parents economically, according to reports.
Trying to educate the public about such practices can be difficult when most either deny they are happening or don't acknowledge they might be prone to such behaviour in the future.
As one of the few providers offering services geared toward South Asian-Canadian communities, ICS doesn't have enough staff to meet the need. There are only six members on staff who can help with elder abuse issues, and some of those have already been reassigned from other priority areas of assistance.
"It really makes a difference for those who we do connect to and we do support and we're proud of that work, but there are many others that suffer in silence. So the more that we talk about this, the more important it is," Malhotra said.
In many ways, elder abuse may be a bubble about to burst, similar to what is being seen in long-term care and nursing homes across the province.
"People that have power seem to take advantage of the disadvantage, and maybe nobody will see and that's what's happening," Everatt said.
Before the spread of the novel coronavirus hit some of the most vulnerable people in our community, problems in the long-term care sector ran deep. Poor sanitary conditions, unqualified and overworked staff, low wages and overcrowding were problems that existed for decades, and the cuts to inspections of these homes made by the PC government in its current term likely made the problem worse. It was something many people were aware of, and there was plenty of time and opportunity to fix the issues before catastrophe struck. But that wasn't the case. Instead, members of the Canadian Armed Forces had to assist several nursing homes in the province and expose much of the harm taking place.
"I think the entire nation has woken to the plight that our seniors find themselves in, not just socially and medically, but their emotional wellbeing as well as the need for support, as so many deal with abuse," Malhotra said.
---
Email: [email protected]
Twitter: @nida_zafar
Tel: 416 890-7643
---
COVID-19 is impacting all Canadians. At a time when vital public information is needed by everyone, The Pointer has taken down our paywall on all stories relating to the pandemic and those of public interest to ensure every resident of Brampton and Mississauga has access to the facts. For those who are able, we encourage you to consider a subscription. This will help us report on important public interest issues the community needs to know about now more than ever. You can register for a 30-day free trial HERE. Thereafter, The Pointer will charge $10 a month and you can cancel any time right on the website. Thank you.
Submit a correction about this story