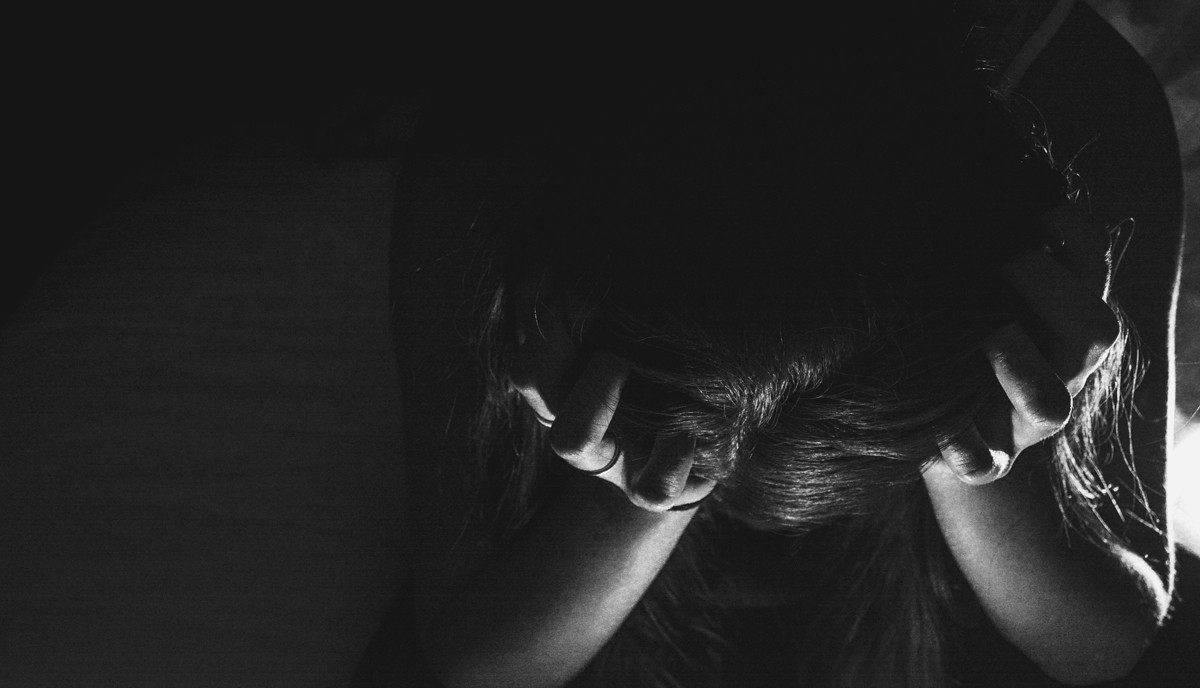 Photos from The Pointer file/Statistics Canada/Peel Regional Police
Human trafficking flourishes alongside COVID-19, while services for survivors have to close
On June 23, Statistics Canada released data indicating in 2018, police-reported incidents of human trafficking declined for the first time in nearly a decade.
Over the last 10 years, the Stats Can data shows there have been more than 1,700 cases of human trafficking in the country, and instances dropped from 348 in 2017 to 315 in 2018. The number comes with a glaring footnote.
"Official statistics on human trafficking provide important information about the nature of this problem in Canada. However, human trafficking can be subject to underreporting in official data because it is difficult to detect and can be influenced by police practices, resources, and priorities," the Stats Can report reads. "Criminal court data can underrepresent the volume of human trafficking-related cases heard in Canada, due to the fact that prosecuting human trafficking charges can be challenging and prosecutors sometimes use other charges when addressing human trafficking in the criminal justice system."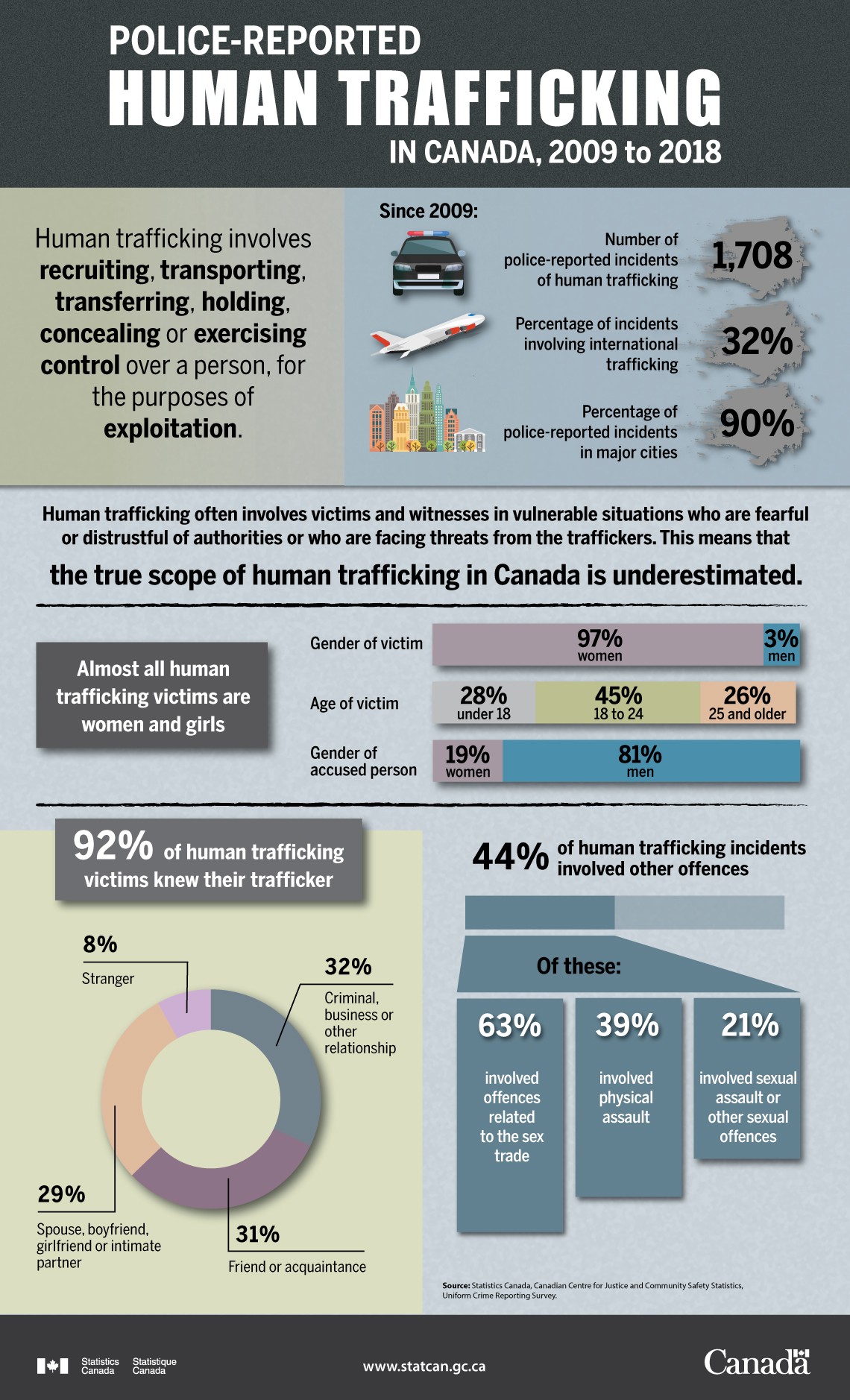 A look at the last three weeks provides a glimpse of this underreported problem across the globe.
On June 12, Spanish police arrested 12 people and dismantled a human trafficking ring that was luring victims from Sub-Saharan Africa into Spain, to then be shipped off to France, Germany and Belgium. It's estimated the criminal enterprise brought in around 1,000 people, including children and pregnant women.
The same day, Italian police detained 10 Nigerians accused of running a human trafficking ring that was bringing victims to Nigeria from Libya with the promise of jobs. Approximately 20 victims were then forced to work as prostitutes. The gang, including five men, five women and four others who are still on the loose, was estimated to have earned about $1.4 million.
At the same time, in Toronto, police arrested one of their own, 49-year-old Constable Peter Roberts, who has been accused of obtaining sexual services for consideration from someone under the age of 18. The 11-year veteran of the Toronto Police Service was arrested as part of Project One Six, a human trafficking operation that took place between March and May in the area of Pape and Cosburn avenues in downtown Toronto. Police arrested 9 others as part of the sting.
The same week, in Baltimore, 64-year-old multi-millionaire Charles Nabit, the wealthy owner of the Westport Group LLC, faced charges after allegedly spending $90,000 to have sex with women identified as human trafficking victims. He was arrested on June 10.
On June 16, police in Nova Scotia, culminated Operation Hush, arresting three men in Pictou County for allegedly trying to recruit young women into prostitution.
The same day, a 26-year-old Georgia woman was arrested for allegedly trafficking two young girls, aged 15 and 16, from Atlanta to Alabama for prostitution.
The list goes on.
On June 17, a 38-year-old motel manager in Midland, Ontario was arrested by the OPP for human trafficking-related charges.
On June 18, in Malaysia, Johor Baru police arrested 18 people – 13 policing personnel and five from the armed forces – for allegedly helping multiple criminal syndicates that run human smuggling operations.
On June 21, in Kuwait, police moved to freeze the accounts of a member of parliament on charges of money laundering and human trafficking.
Last week, 24 people were arrested in Atlanta after a two-day operation around the trafficking of a single victim. The victim's captors are still at large.
And today, July 2, Ghislaine Maxwell, who allegedly conspired with Jeffrey Epstein to lure under-aged girls for sex with wealthy men, including the now-deceased former financier, was arrested by the FBI in New Hampshire.
All of these incidents happened in less than three weeks.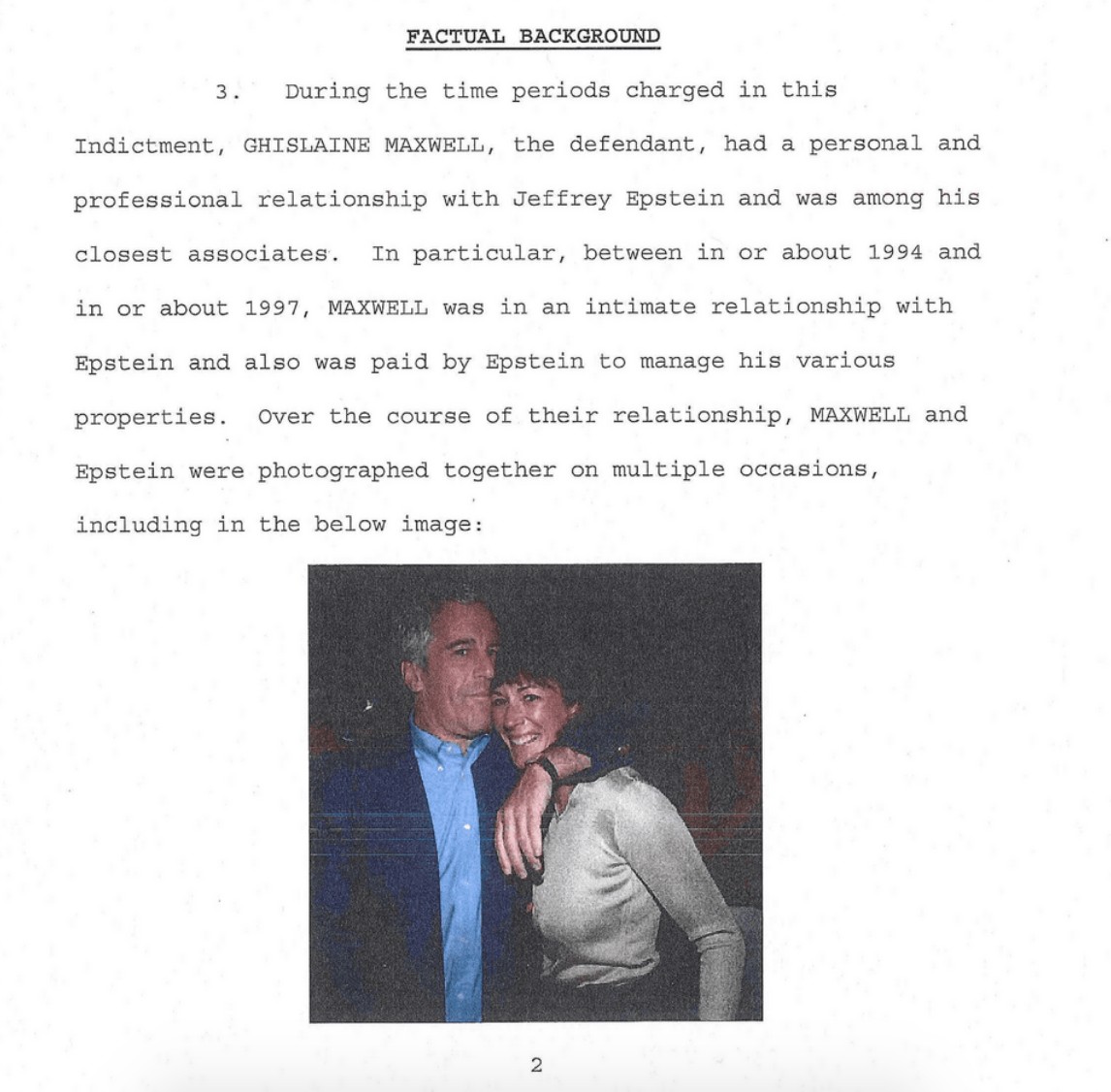 A page from the fedeal indictment, unsealed Thursday, following the arrest of Ghislaine Maxwell, for her alleged role in recruiting under-aged women to be sexually abused by Jeffrey Epstein.
While the COVID-19 pandemic has disrupted many forms of criminal enterprise, the illegal drug trade in particular, due to travel restrictions and border closures, domestic and international human trafficking both for purposes of sex and labour, appear to be continuing and possibly flourishing because of the decreased awareness and preoccupation with pandemic-related issues. The movement of individuals, even across borders in some cases, could possibly be made easier because of the need to keep products and even certain essential services flowing.
"While some of the preventative measures have effectively hindered certain criminal opportunities in the short-term, smugglers and traffickers, as well as their victims, have sought and found ways to overcome them," reads a press release from Interpol.
"The COVID-19 pandemic has not blunted the determination of organized crime groups to prey on the vulnerable and make a profit from these crimes, which all too often cost the victims their lives," Interpol Secretary General Jurgen Stock said in the same release.
Closer to home, it's much harder to determine the impact COVID-19 on human trafficking operations in Peel. The cities of Brampton and Mississauga are the connective tissue in human trafficking networks that span across Canada, mostly due to their proximity to main transit corridors like the 400-series highways and Pearson International Airport. The Pointer was unable to locate any studies in Canada that have tried to gauge the impact the pandemic has had on human trafficking in the country.
If Canada is seeing similar trends to those in the United States, then its safe to assume the COVID-19 pandemic has not slowed down traffickers, but instead has forced the closure of those service providers looking to help survivors.
An analysis completed by Polaris in the U.S. studied two 30-day periods before the shelter-in-place orders were enacted on March 15th and compared them to one 30-day period after the emergency orders. It discovered crisis calls to the Human Trafficking Hotline increased almost 50 percent from approximately 60 in a typical 30-day period before the pandemic, to 90 during the emergency declarations. Crisis situations include anything from someone in desperate need of shelter to escape a trafficker, to transportation help or police assistance.
The number of situations in which people needed immediate emergency shelter nearly doubled, rising from around 29 in a usual 30-day period before the pandemic to 54 in April. While the number of people in need skyrocketed, the services available to them plummeted. Polaris found that of 80 service providers polled in March 2020, half of them were "either considering or already implementing measures that would limit receiving referrals (for clients)." A further 4 percent had already stopped taking on new clients.
A number of Peel's organizations that offer services to vulnerable or at-risk populations have been forced to close their doors in response to COVID-19.
Punjabi Community Health Services, which offers mental health, addictions, newcomer and domestic violence supports, is not taking walk-in clients nor holding in-person sessions.
Interim Place, one of Peel's shelters offering support to those fleeing domestic violence, has halted all of its support groups, which includes those assisting people who have experienced sexual violence, those dealing with addictions, and support for transgender women. However, the shelter is still keeping its doors open for those trying to escape an abusive relationship with new screening procedures being put in place to detect COVID-19.
Hope 24/7, the only provincially designated Sexual Assault/Rape Crisis Centre in Peel Region, stopped all sexual clinic operations and other supports when its offices had to close for weeks after the pandemic was declared.
Other organizations offering counselling and mental health supports that have reduced services include the Canadian Mental Health Association (CMHA), Peel Dufferin branch, Catholic Family Services of Peel and Indus Community Services.
With Peel shifting to Stage 2 of Ontario's reopening framework last week, it remains unclear whether this could allow service providers to begin offering in-person services again.
It's also impacted the ability of police to investigate these complex crimes.
"In many countries, law enforcement is mobilized in implementing the state of emergency or other restrictive measures, which limits their capacity to investigate human trafficking cases and identify victims," reads a statement from the United Nations Group of Experts on Action against Trafficking in Human Beings. "Similarly, other actors who can detect victims of trafficking, such as labour inspectors, social workers, health-care staff and NGOs, are currently dramatically limited in their anti-trafficking action. At the mercy of their traffickers and exploiters, many victims are invisible, and the risks that they remain undetected and unprotected are heightened as attention and resources are geared towards curbing the spread of COVID-19."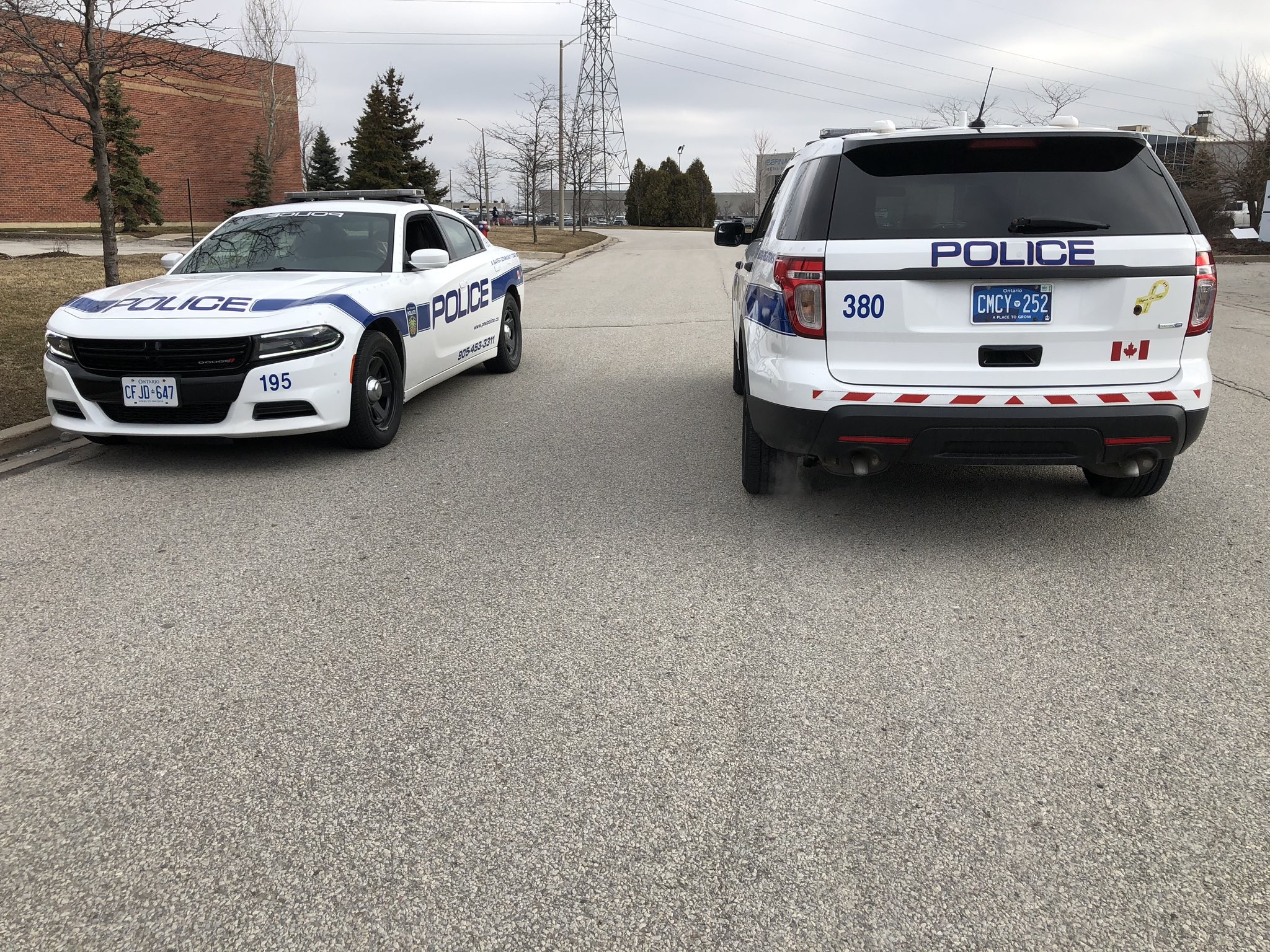 The closures and changing responsibilities due to the COVID-19 pandemic has impacted the ability of many police organizations across the globe to effectively investigate human trafficking operations.
At the Region of Peel, its own efforts to battle human trafficking in the region have also been hampered by COVID-19, with several planned training and public awareness campaigns cancelled due to the pandemic. However, the Region was able to move ahead with plans to open emergency shelter spaces for human trafficking victims in Peel. Opened on April 15, and operated by the Elizabeth Fry Society, the six beds offer immediate space for survivors looking to get out of the sex industry. Along with offering a safe place to live, the survivors are also provided with specialized programming and supports to assist them as they deal with the complex trauma that comes from being trafficked and trying to return to a normal life. The program has already helped four victims since April, but due to physical distancing restrictions, the house is only operating at half capacity.
The emergency shelter beds are one piece of a three-pillar pilot, human trafficking strategy launched by the Region of Peel in 2018 to try and address the growing needs of human trafficking survivors in Peel, a hotbed for the crime in Ontario. Peel's strategy comes with $1.8 million of annual investment from the regional budget — the lion's share going toward housing — and will also result in a small number of transition shelter spaces for survivors, which will allow them to stay longer than the emergency spaces as they transition out of being trafficked, to be opened in the fall of 2020.
A Services Hub, designed to offer all the supports a trafficking survivor could need in one place, is also planned to open this fall, offering case management and trauma counselling, among other services. Operated by the Catholic Family Services of Peel-Dufferin, the service hub will host community partners in one space to provide free basic healthcare services, addictions support, legal aid, education, life skills and employment support. Renovations, staff training and service identification are all underway in anticipation of the hub opening in late fall.
Regional Councillor Johanna Downey says she is thrilled with the pace at which the region's human trafficking strategy is moving, and that Peel has proven it is doing more than just giving lip service to the issue of human trafficking, but has actually completed real action with the shelter spaces and services hub. She admits there is a lot more to do.
"I think just shelter and housing across the board will be what has to be addressed," she says.
But when asked about the end of the three-year pilot project next year, and further investment from the region, she expresses uncertainty.
"That's a really hard question, especially in times of COVID and we know we're going to be going into some very unchartered waters in terms of how we manage our budgets," Downey says, referring to the potential multi-million deficit Peel is facing as a result of the pandemic. "That money is set aside for the three-year pilot, but moving out of that it's a little bit scary, you never know what's going to be on the chopping block."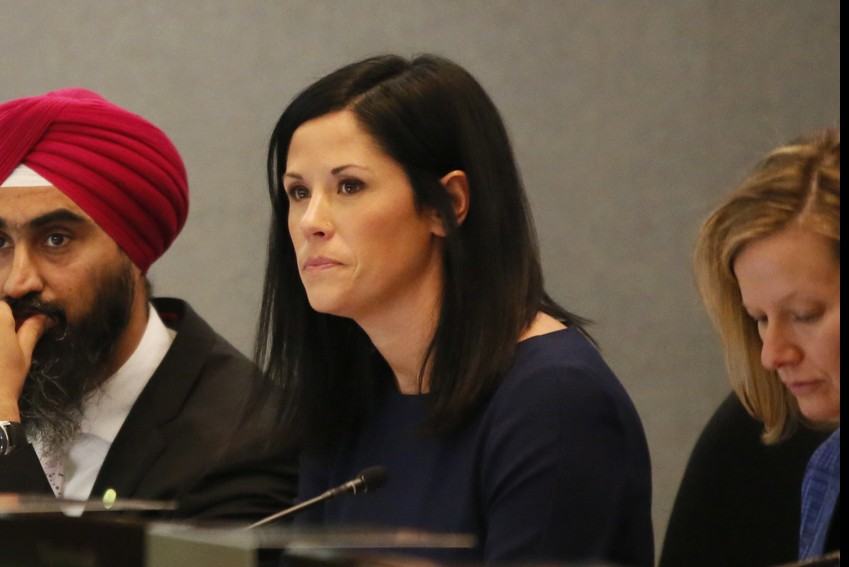 Regional Councillor Johanna Downey
There is some hope that Peel could see assistance from upper levels of government on the human trafficking file. The federal government is working on a new national strategy, and the province of Ontario has launched its own strategy. Just last week, the province announced a $46 million investment over the next five years for an Anti-Human Trafficking Community Supports Fund "to increase community-based and Indigenous-specific supports for child and youth victims of sex trafficking." The Region of Peel estimates it and local service providers could be eligible for approximately $6 million of that money. Applications for the program are open until the end of July. The investment is part of the province's $307 million commitment over the next five years to combat human trafficking.
"They're casting their net wide and really listening to the sector and that gives me a lot of confidence that they are not just paying lip service to the issue, that they are really, really getting down to the meat and getting things done," Downey says.
Unfortunately, a common theme in Peel is the region not getting its fair share. Everything from general healthcare, to court services, sexual assault centres, mental health and addictions all receive much less per capita from upper levels of government when compared to other jurisdictions in Ontario.
A discussion between regional councillors earlier this month on the topic of mental health and addictions exposed a bit of a Catch-22 for Peel. By making do with the low levels of funding for so long, which suggests a high-level of efficiency at the region, it leads the province to believe Peel doesn't need further funding. However, one only needs to look at the services that are not being provided to realize this "doing more with less" attitude is doing more harm than good.
For mental health, due to a lack of funding, the Canadian Mental Health Association Peel Dufferin branch estimates it reaches approximately 10 percent of the nearly 276,000 people dealing with mental health issues in its jurisdiction. There is a similar dearth of services for human trafficking survivors.
"There is a vast gap between the services which are being provided by various service providers and the services which are needed by the survivors," reads a recently completed study by Family Services of Peel (FSP).
These gaps in care exist across the spectrum, from mental health services to housing and legal support.
Based on results of a detailed survey by 22 service providers in Peel, 94 percent of survivors require mental health services as well as social service coordination. Despite this, only 61 percent of organizations offer such coordination, while 72 percent give mental health support.
The gap is even wider for things like housing and shelter services; 76 percent of survivors say they require such help, but only 44 percent of service providers give this assistance.
Things are even worse when it comes to legal support. Again, 76 percent of survivors need help, but only 28 percent of organizations provide it. And when it comes to court management and legal support (cases are usually retraumatizing for survivors) 65 percent need help, but a mere 22 percent of providers offer it. Some 70 percent of survivors fear for their safety and only 11 percent of Peel service providers can assist in this manner.
It's clear that Peel's efforts to add further shelter spaces for human trafficking survivors are working to fill a wide gap, but it's not nearly enough.
---
Email: [email protected]
Twitter: @JoeljWittnebel
---
COVID-19 is impacting all Canadians. At a time when vital public information is needed by everyone, The Pointer has taken down our paywall on all stories relating to the pandemic to ensure every resident of Brampton and Mississauga has access to the facts. For those who are able, we encourage you to consider a subscription. This will help us report on important public interest issues the community needs to know about now more than ever. You can register for a 30-day free trial HERE. Thereafter, The Pointer will charge $10 a month and you can cancel any time right on the website. Thank you.
Submit a correction about this story