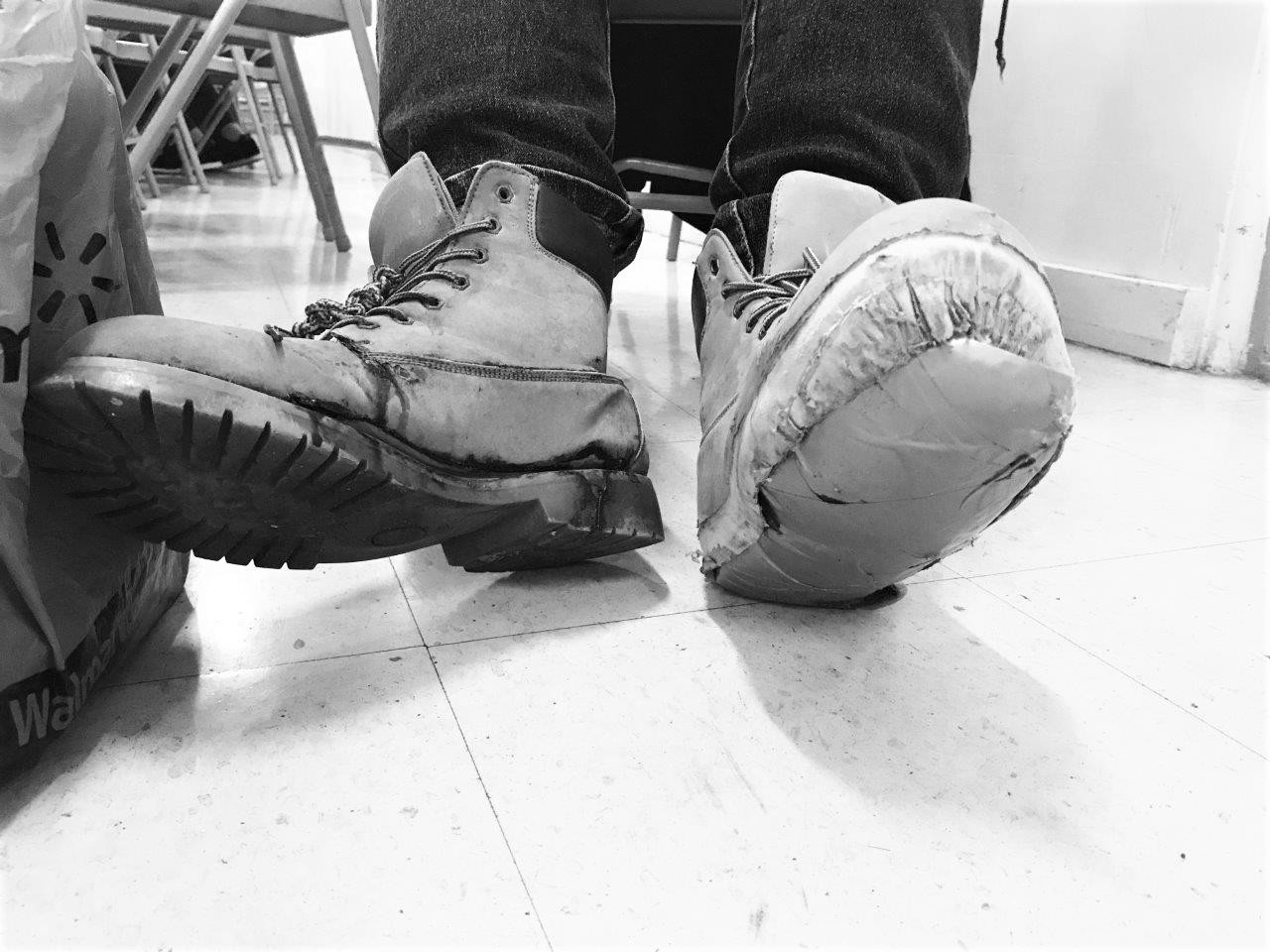 The Pointer file photos/Twitter/Flickr
COVID-19 highlights something many missed: the medical needs of homeless individuals
When most people get sick or need to visit a doctor, they can easily pick up the phone and make an appointment. But it's not that easy for everyone, particularly those living in the margins of society.
The spread of the novel coronavirus has put the issue of access to care, along with many others, into the spotlight; raising questions about why chronic problems faced by vulnerable members of our communities weren't addressed before.
The list of gaping holes in our public systems seems to grow by the day, as the virus exposes many shortcomings. Officials knew the state of long-term care homes was in trouble before COVID-19 spread through these facilities like wildfire, yet they were never addressed.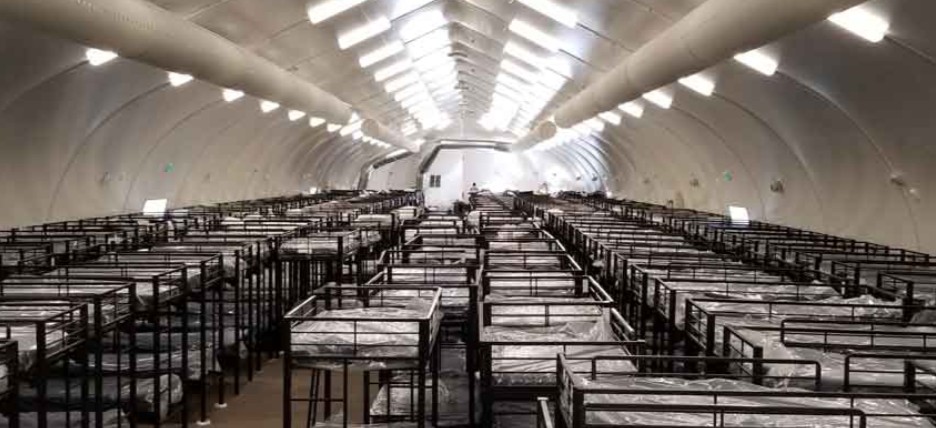 Temporary homeless shelters like this one have been erected in cities across North America, but there is a high risk of infection spread if the virus slips inside
Similarly, the lack of social and medical support for the homeless has long been an issue; we know they face barriers to accessing care, but the problem was either ignored or addressed in hushed tones.
This is something Regeneration Outreach Community, a Brampton-based organization serving vulnerable individuals, hopes to help change.
The organization is playing a big role in Peel Region's isolation and recovery program, aimed at assisting homeless individuals during COVID-19. The isolation program opened March 21 and provides homeless people a safe place to self-isolate after they get tested for the virus.
Congregate settings such as homeless shelters have been a major concern of public health officials, with a high risk of infection spread inside, once the novel coronavirus is introduced. It's a similar dynamic as that seen inside long-term care facilities, where tight quarters and the inability to properly isolate have led to the ongoing crisis in dozens of these facilities.
But while the province and local public health units, even the military, have stepped in to assist in the sector, there has been very little help for the homeless.
Regeneration's recovery program began in mid-April, providing space and assistance for people if their test comes back positive. The program has a doctor and nurse practitioner to provide medical assistance and oversight for those hired to provide care.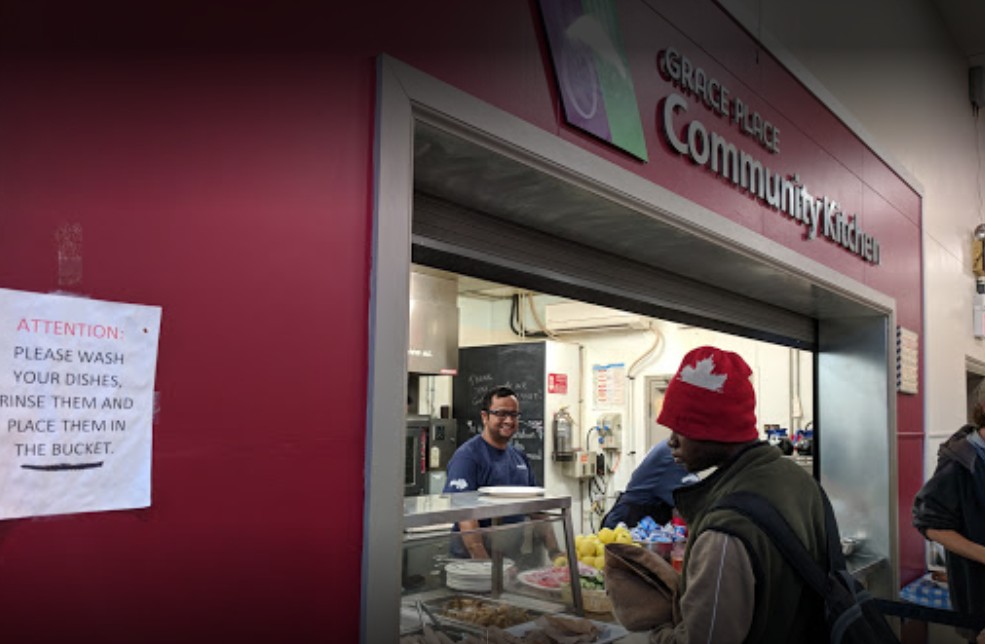 Regeneration's community kitchen and cafeteria usually serves free hot meals, but has been closed since the start of the pandemic because of physical distancing requirements
Regeneration is primarily funded through the Region of Peel and from donations raised using a variety of charitable campaigns.
Individuals can go to the isolation program after being tested at an assessment centre, where they stay for 14 days. But people can also reach out to the street outreach line to get assistance, Jenna Dewsbury, Regeneration's Director of Operations, says. The Region of Peel said clients can also be referred to TransHelp for transportation assistance to reach these programs.
While the situation has improved recently, about a month ago, congregate settings, including homeless shelters, led the COVID-19 case count, forcing the province to provide priority testing to people in such situations.
As of May 26, 18 people were in the isolation program and three in recovery. The Region told The Pointer many of the people coming into the program were treated for conditions beyond COVID-19. These include addiction withdrawal, untreated mental health issues and undiagnosed chronic illnesses such as diabetes.
After their recovery and/or isolation related to the virus is complete, patients are also provided aftercare to ensure a connection between a primary care provider is established, whether that's connecting them with an existing provider or helping them find a new one.
The Region admits such a process is hard to complete at times, given many medical facilities are not accepting new patients during the coronavirus pandemic.
It's also extremely difficult to ensure transient populations are being cared for, as most do not have a fixed address, have no reliable method of communication and have mobility issues.
The various other forces that press in on them constantly – drug and alcohol dependency, mental health issues, criminalization – also make it incredibly hard to ensure proper care.
Barriers to regular assistance go far beyond finding an available healthcare practitioner.
Homeless individuals have been affected by COVID-19 in many ways, Dewsbury said. Many people used to visit walk-in clinics to get the medical assistance they needed, something they can no longer do. And while some may have access to a family doctor, connecting with them to make an appointment and then physically get themselves to a practice is often a challenge. Another barrier exists around access to an Ontario health card, which many homeless individuals do not have.
Ted Brown, the CEO of Regeneration, and Dewsbury are hoping the current situation, and renewed awareness of these gaps in the system, leads to positive changes.
"Part of our hope coming out of this is that the healthcare of homeless individuals be more equitable and easier to access. We want to help facilitate that," Brown said.
This is being planned through an expansion of services the organization's health clinic provided before the spread of the novel coronavirus, including medical assistance through a nurse practitioner, who at this time, is providing prescription refills for those who relied on walk-in clinics. A health card is not needed to access the service.
The most common, often untreated, chronic problems the organization sees are heart conditions, diabetes and cellulitis, a bacterial skin infection that causes swelling and can lead to serious complications.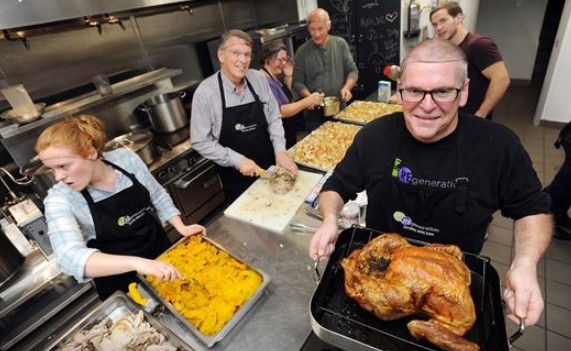 Ted Brown, Regeneration's CEO (holding the turkey), is trying to provide a bridge so that access to healthcare for clients can be developed
The goal is to provide some stability, something that can be partially achieved through accessing a health card, which many homeless individuals do not have, making it difficult for them to get even basic supports that are in place.
As a registered agency with Service Ontario, Regeneration can provide the connections to obtain health cards for those who require them.
A lack of identification and mailing address are two big reasons people may not have, or have been unable to obtain, a health card, Dewsbury said. "That's difficult for a lot of our guests." Regeneration provides assistance by filling out specific paperwork, with the organization acting as a mailing address, and having their client take it to the flagship Service Ontario location at Queen Street and Airport Road, with assistance to get there. In order for this to be completed, the person has to be homeless and has to be working on securing identification. Regeneration has another similar program that helps people with Canadian birth certificates.
The paper work for the health card alone can secure one that is valid for a year. If they have a copy of their birth certificate as well, the health card is valid for five years. While there has been a program to secure identification around for more than a decade, the current, broader assistance only started last summer. So far, 22 people have been helped, Dewsbury shared.
The program faces its own barriers. In some cases the travel involved to the flagship Service Ontario location is daunting, in others, what seems like an overwhelming process for people who are just not used to any administrative requirements can prevent them from following through, Dewsbury said.
The isolation and recovery programs are not the only examples of Regeneration's work with Peel Region during the current state of emergency. The organization previously received funding from the Region's emergency fund to create a safe drop-in centre with cots and some temporary furniture. Plastic shielding between rooms allows people to rest, speak with one another and seek other supports, while respecting the rules of physical distancing. About 95 percent of the people who visit the centre and use a cot, are guests experiencing homelessness.
As the problem increases across Peel Region, due to income insecurity, a rise in mental health issues and the lack of affordable housing, it will be critical to ensure individuals have proper access to healthcare. Otherwise, the system could become overburdened, and with the pandemic still very much a threat, this could become another layer of risk that can be prevented.
---
Email: [email protected]
Twitter: @nida_zafar
Tel: 416 890-7643
---
COVID-19 is impacting all Canadians. At a time when vital public information is needed by everyone, The Pointer has taken down our paywall on all stories relating to the pandemic to ensure every resident of Brampton and Mississauga has access to the facts. For those who are able, we encourage you to consider a subscription. This will help us report on important public interest issues the community needs to know about now more than ever. You can register for a 30-day free trial HERE. Thereafter, The Pointer will charge $10 a month and you can cancel any time right on the website. Thank you.
Submit a correction about this story