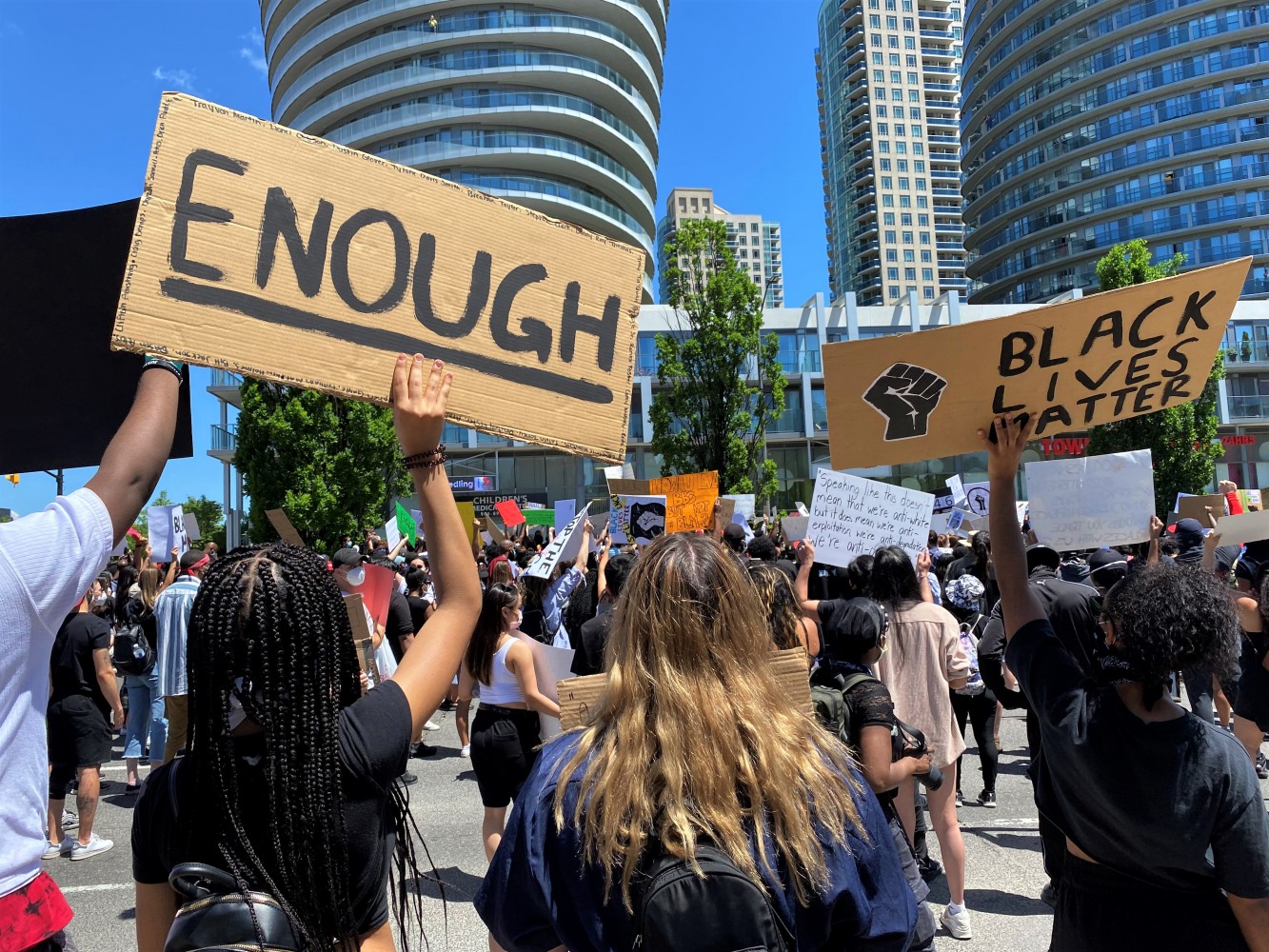 Photos by Aishwarya Dudha/Photo of Paul Fromm courtesy of Facebook
In a city with its own legacy of racism, Mississauga's Black Lives Matter demonstration offered a dose of reality and hope
In 2010, a man named Paul Fromm ran for the mayorship of Mississauga. In his various efforts to win public office in the city over a quarter century, he openly stood on his platform of white supremacy.
He had honoured Ku Klux Klan leaders and for decades extolled the virtues of racial cleansing, to rid Canadian society of impurities.
The longtime Mississauga resident was a school teacher here for more than two decades with the Peel District School Board and enjoyed alarmingly wide support when he ran for election, first as a trustee candidate (successfully), then as a federal candidate in Mississauga East (unsuccessfully) and then again when he was defeated in 1997, but won ten percent of the vote in the municipal election to select PDSB's trustees.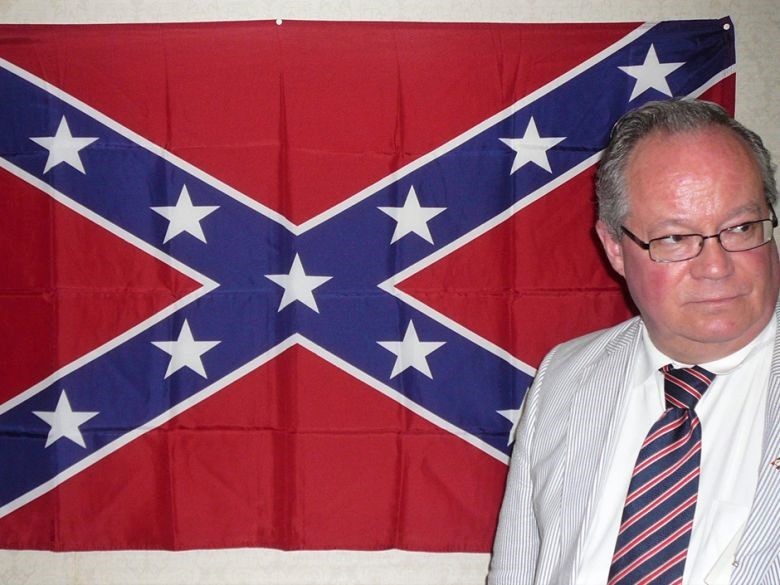 Longtime Mississauga resident and white supremacist Paul Fromm
He was even elected treasurer in 1981 of the Ontario PC's Metro wing, which oversaw 31 Toronto-area riding associations.
He once infamously told The Globe and Mail his views on creating a "supreme race" through selective breeding.
Fromm was a prominent member of the same white supremacist group that influenced the man who murdered nine Black people in a South Carolina church in 2015.
That a man with such extreme hatred was able to not only live openly as a racist in Mississauga, but thrive within the city's education and political cultures, offers a portrait of a young, predominantly white community before it matured into a vibrant cosmopolitan mix of identities.
Remnants of that darker side of Mississauga's legacy still exist.
And that's why so many gathered on the weekend.
Thousands of people came together in downtown Mississauga to protest against anti-Black racism and systemic police brutality on Sunday.
The peaceful demonstrations began at Celebration Square where supporters held banners emblazoned with the words, "Canada is not innocent" and "Silence is compliance."
"This is long overdue, us Canadians we forget that this happens here too," said Shaina Ellis.
"My skin colour is not a reason to be targeted."
---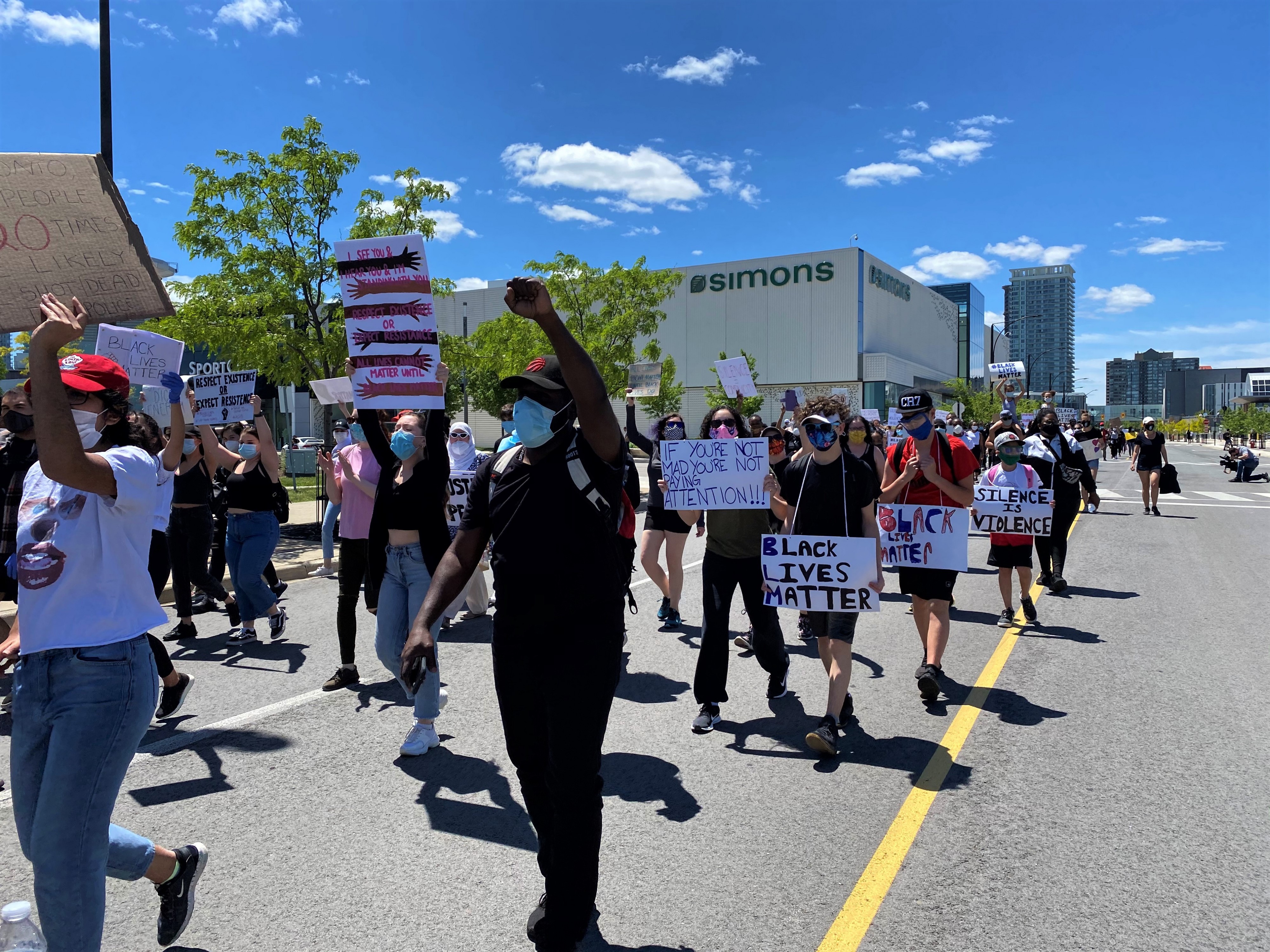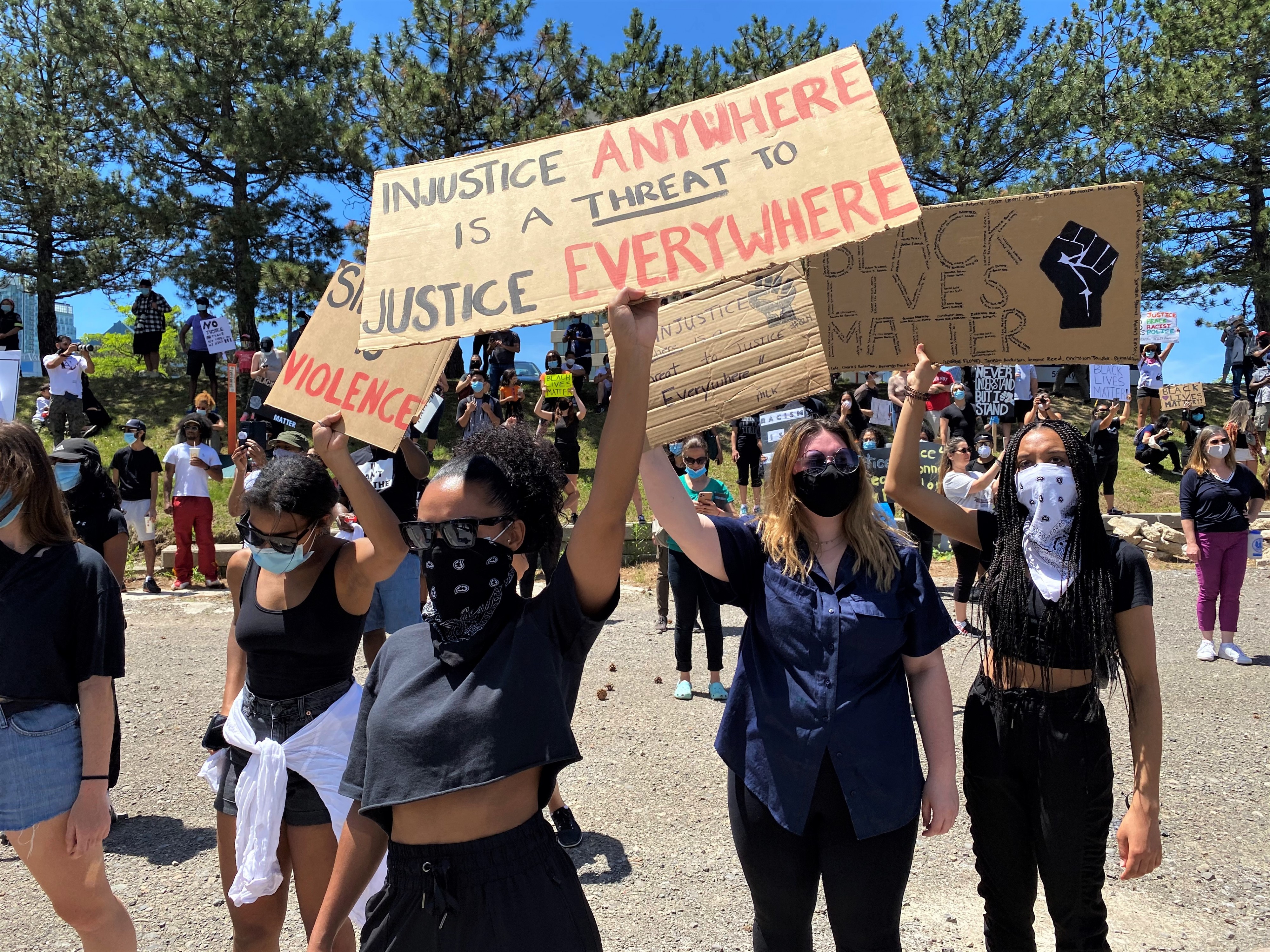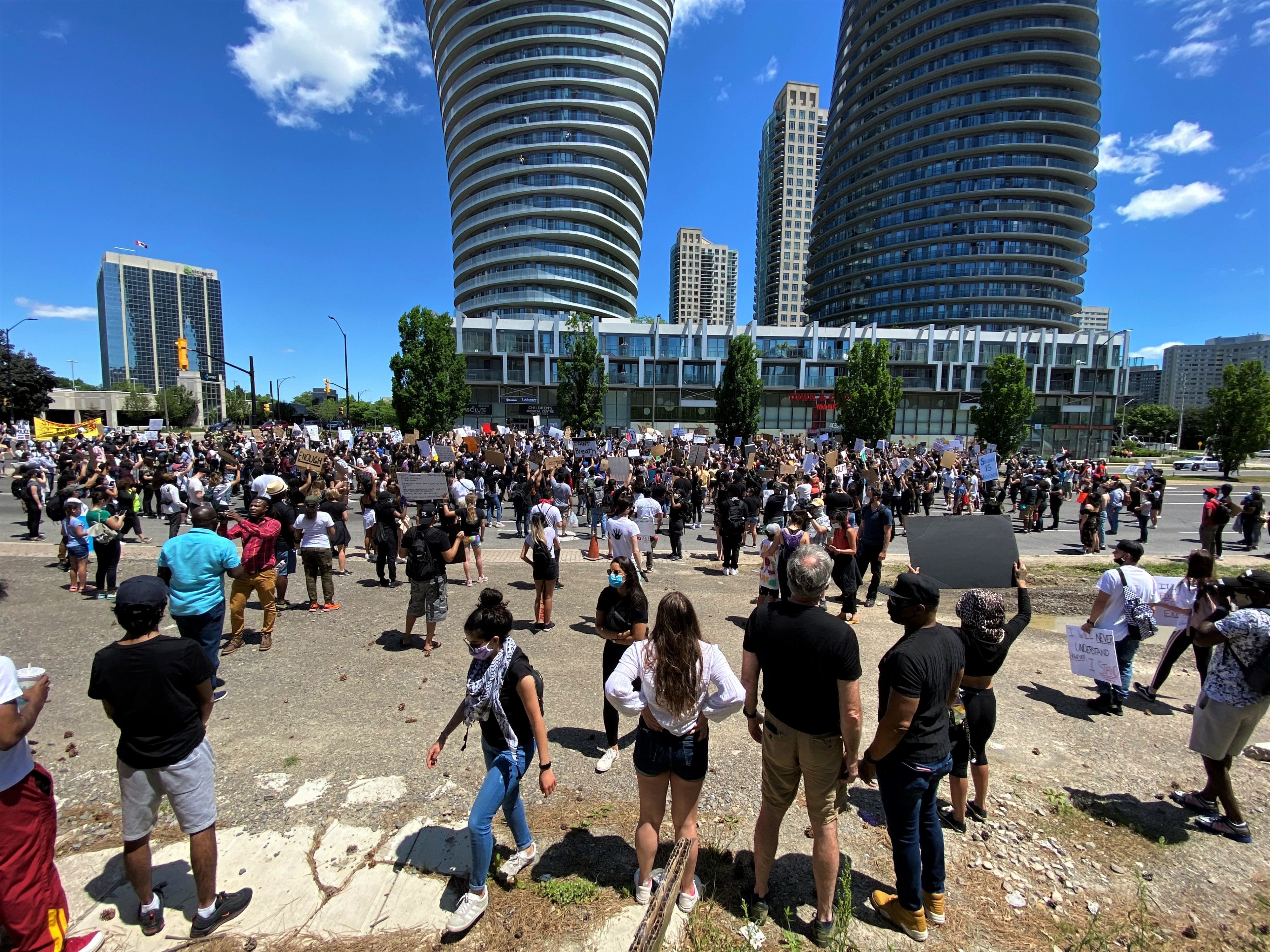 ---
One of the organizers of the march, who simply goes by Marcel, was glad to see the outpouring of supporters but found himself questioning the constant refrain many commentators and public figures have repeated, that Canada is not a racist place to live.
Last week Premier Doug Ford said there is a distinction between America and Canada, when asked to comment on the Black Lives Matter protests. He said, for the most part, people in Canada get along.
"Thank God we're different than the United States and we don't have the systemic, deep roots they've had for years," he said. The difference between the countries, he claimed, is "night and day."
His comments drew major criticism.
He later changed his words during a session at Queen's Park. "Of course there's systemic racism in Ontario, there's systemic racism across this country, I can tell you these issues are deeply rooted."
Marcel feels that Mississauga is a diverse city with a strong understanding of togetherness and that is what differentiates it from many others.
But it has also seen its share of ugly incidents.
In 2004, the city made national headlines when Toronto Argonaut linebacker Orlando Bowen was accosted in a Mississauga parking lot by two undercover Peel police officers. They forced him to the ground where he was beaten until barely recognizable, ending his pro career at age 29.
It also hosts the headquarters of the Peel District School Board, an institution whose systemic anti-Black racism has become so intolerable that the provincial ministry of education looks poised to take over to prevent any further damage to Black students.
The crowd on Sunday marched toward the Marilyn Monroe Towers in the heart of the city around noon and took a knee for eight minutes and 46 seconds in honour of George Floyd. His neck was compressed, squeezing the life from him, for the same amount of time as Derek Chauvin grinned while ignoring Floyd's hopeless pleas for mercy.
Various demonstrations took place across the GTA after a series of protests in Toronto, other North American cities and many around the world on Saturday.
People chanted "Black lives matter" and "this is what democracy looks like" as they marched peacefully through the city.
Peel Regional Police officers took part, which was a welcome sign from a force that has its own set of problems to resolve. A diversity audit report last year described the police force as change-averse as it struggles to represent the rapidly evolving and diverse community it represents.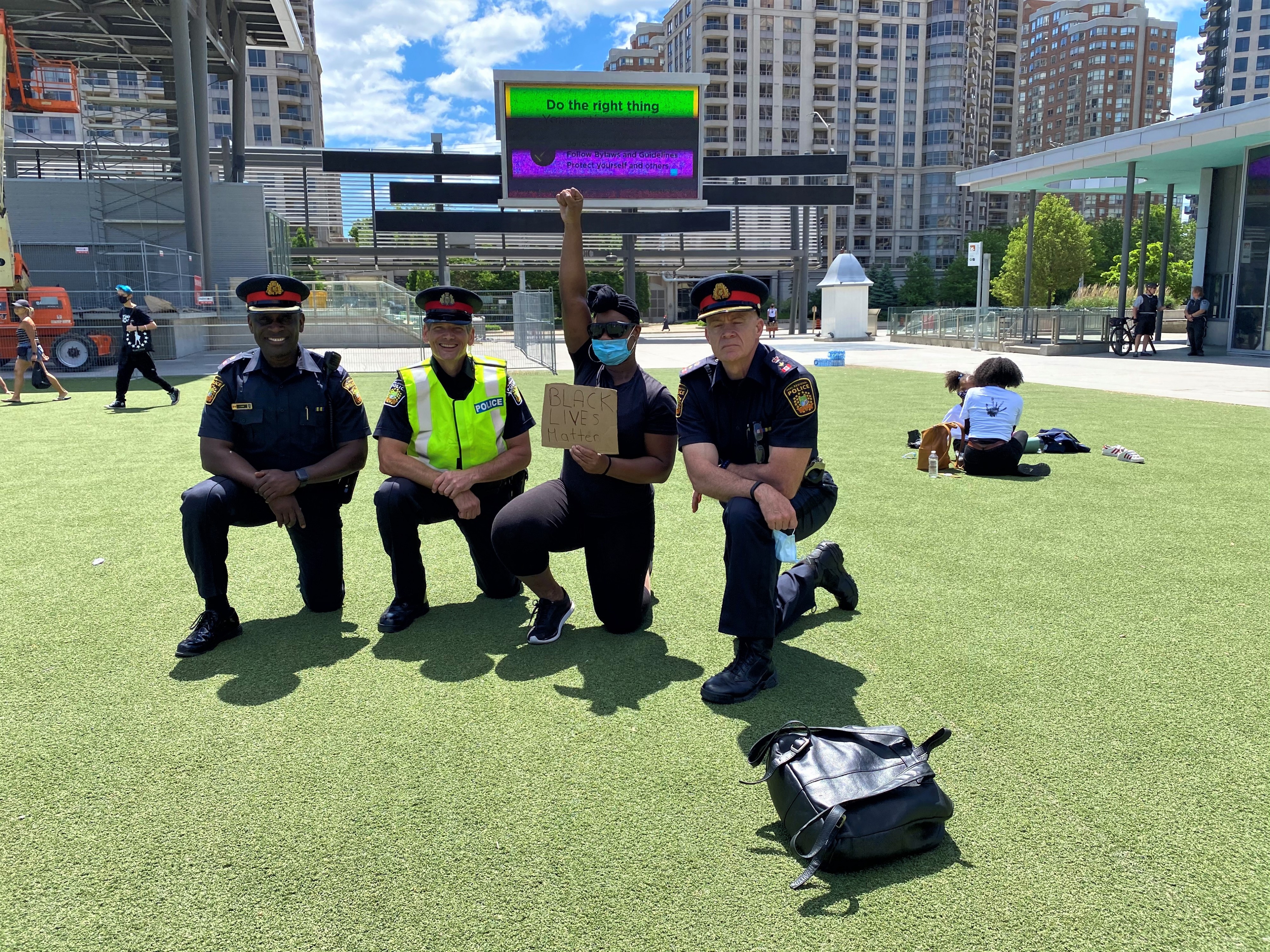 Members of Peel Regional Police take a knee with a peaceful protester Sunday
The report highlights barriers for members of the force who identify as racialized minorities, it shows that people who speak up against systemic barriers have been met with silence and that the force has traditionally turned a blind eye to deep-rooted issues around race and discrimination.
On Monday, the PDSB was again in the spotlight.
Lawyer Arleen Huggins, appointed by the education ministry, released her independent investigation report which paints an ugly picture of dysfunction in the school board, which seems incapable of overcoming anti-Black racism that has infected the organization for years and has done generational harm to Black students and many in the city's Black communities.
Education Minister Stephen Lecce issued a statement after the scathing report was made public, calling out the board's leadership. "This is unacceptable and must change," he said.
Grace, a mother of two who did not want her last name used, said she came out on Sunday to stand in solidarity with her brothers and sisters who are calling for change because it is time for change.
"I am a mother. I have a son and a daughter who have been looked at differently because of the colour of their skin," she said. She doesn't want them to grow up feeling unsafe and unwelcomed.
Peel police Sergeant Jeffrey Jensen was also there. "We support the message and hope for a peaceful protest."
Mississauga Mayor Bonnie Crombie joined the rally as well, tweeting, "I am an ally and I am listening."
Peaceful protesters called for concrete legislative policy, other tangible changes within institutions to fight systemic racism, including the use of body-worn cameras by Peel police officers.
Last week Brampton Mayor Patrick Brown, Crombie and the rest of the Peel Police Services Board instructed Chief Nishan Duraiappah to begin the process of implementing body-worn cameras for patrol officers.
Kyle Jodhan was touched by the sight of thousands who joined the protest. "It brings a tear to my eye to see this in the city of Mississauga, really brings me joy and happiness," he said.
Another rally is planned for Wednesday, June 17, and will lead marchers to the headquarters of Peel District School Board, to protest its treatment of Black and other racialized students who have suffered from systemic discrimination for decades.
---
Email: [email protected]
Twitter: @dudha_aishwarya
Submit a correction about this story