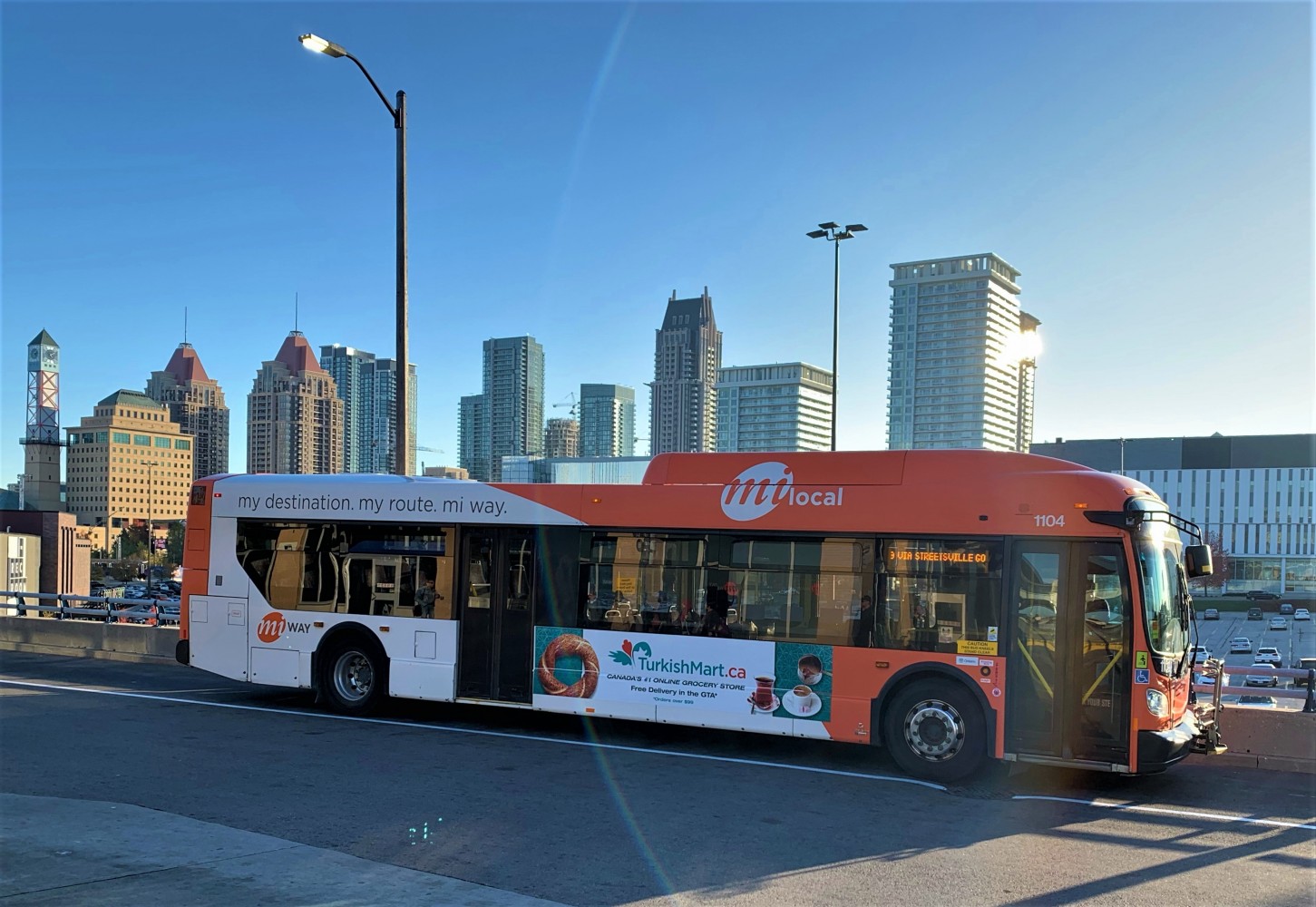 The Pointer file photos/Screen grab City of Mississauga/Chart Region of Peel
Mississauga COVID-19 cases finally 'stabilizing'; Crombie says city could move to phase 2 of reopening in two weeks
In the early days of the COVID-19 pandemic, it was a case of all hands on deck.
Ontario Premier Doug Ford declared a state of emergency to speed up the shuttering of the economy, followed quickly by local leaders. On March 23, Mississauga Mayor Bonnie Crombie declared an emergency within her city and was given additional powers as a result.
The actions put structures in place for the city's COVID-19 response to enter the long haul.
But, even as the city now settles more comfortably into the reopening phases, Crombie says she will keep her emergency powers until Premier Ford relinquishes his.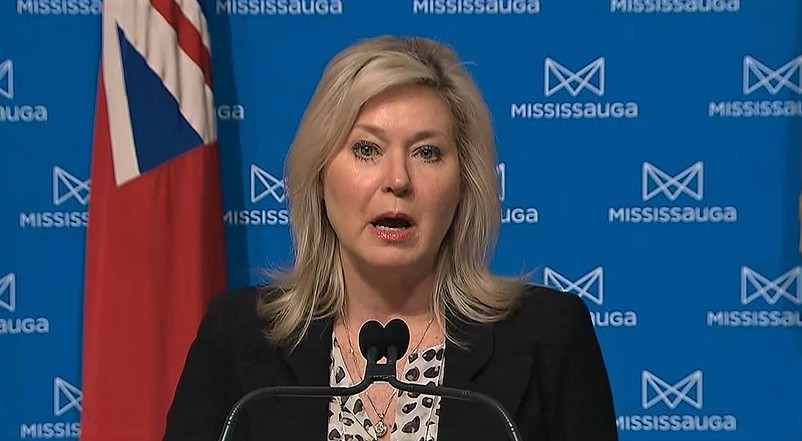 Mayor Bonnie Crombie signalled on Tuesday that the light at the end of the tunnel can be seen
"While much of the province will proceed to stage two on Friday, we will wait a little longer to ensure it's safe to do so," she said Tuesday, following Queen's Park's decision to keep the GTA behind in its plans for moving into the next stage of reopening. The region, which has about 45 percent of the province's population, has seen more than 60 percent of its COVID-19 cases.
Crombie said that Dr. Lawrence Loh, Peel's top public health doctor, believes cases in the city "are likely on the backside" of the local pandemic curve.
It's a dramatic shift from just three weeks ago, when infection rates in the city were not reducing at nearly the rate compared to other hard hit parts of Ontario and Canada.
Peel Region has been one of the hardest hit areas in the province, but between June 4 and June 9, Mississauga has only reported an average of 38 new cases a day.
That might seem high compared to reports from other provinces, such as B.C. and Manitoba that are hardly seeing any new cases, but it's much lower than the rate Mississauga was experiencing just over two weeks ago. For example, in the three days between May 23 and 25, there were an average of 82 cases reported each day in the city.
Overall, Mississauga sits at 38.45 total infections since the start of the pandemic per 10,000 residents, based on a population of 750,000. Ontario's rate is 21.44 per 10,000.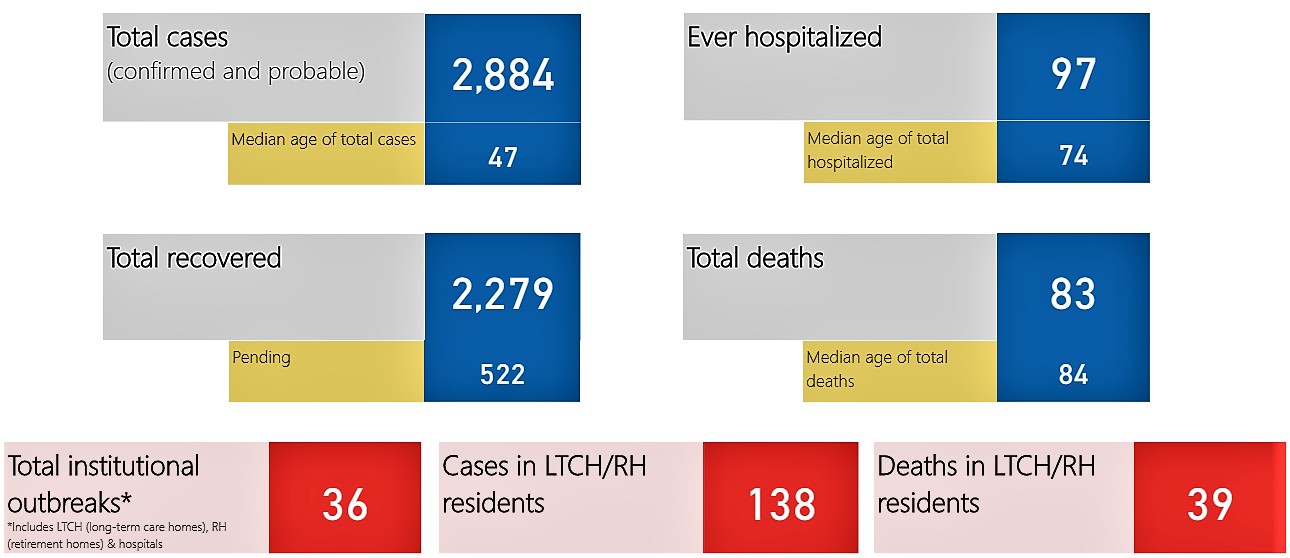 Mississauga COVID-19 cases as of June 9 with Peel institutional numbers at the bottom
Early on, Crombie used her powers to close Kariya Park for Cherry Blossom season and to close car parking at city parks, according to a spokesperson. The aim of the additional powers bestowed upon her was to allow her to move nimbly in the face of a devastating pandemic.
"Our process is working well and we are responding to this crisis effectively. When the emergency ends, we will have to work together on recovery," the Mayor's office said to The Pointer on April 9.
To see a full list of the City's reopening and closure chart, with dates, click here.
Alongside emergency orders from the mayor, Mississauga councillors endorsed some drastic moves. Council met virtually using video conferencing software and committees, including the Planning and Development Committee (PDC), were suspended. Fares were also waved on transit services to ensure physical distancing for drivers and to limit the spread of COVID-19. The City is currently considering a return to collecting MiWay fares next month.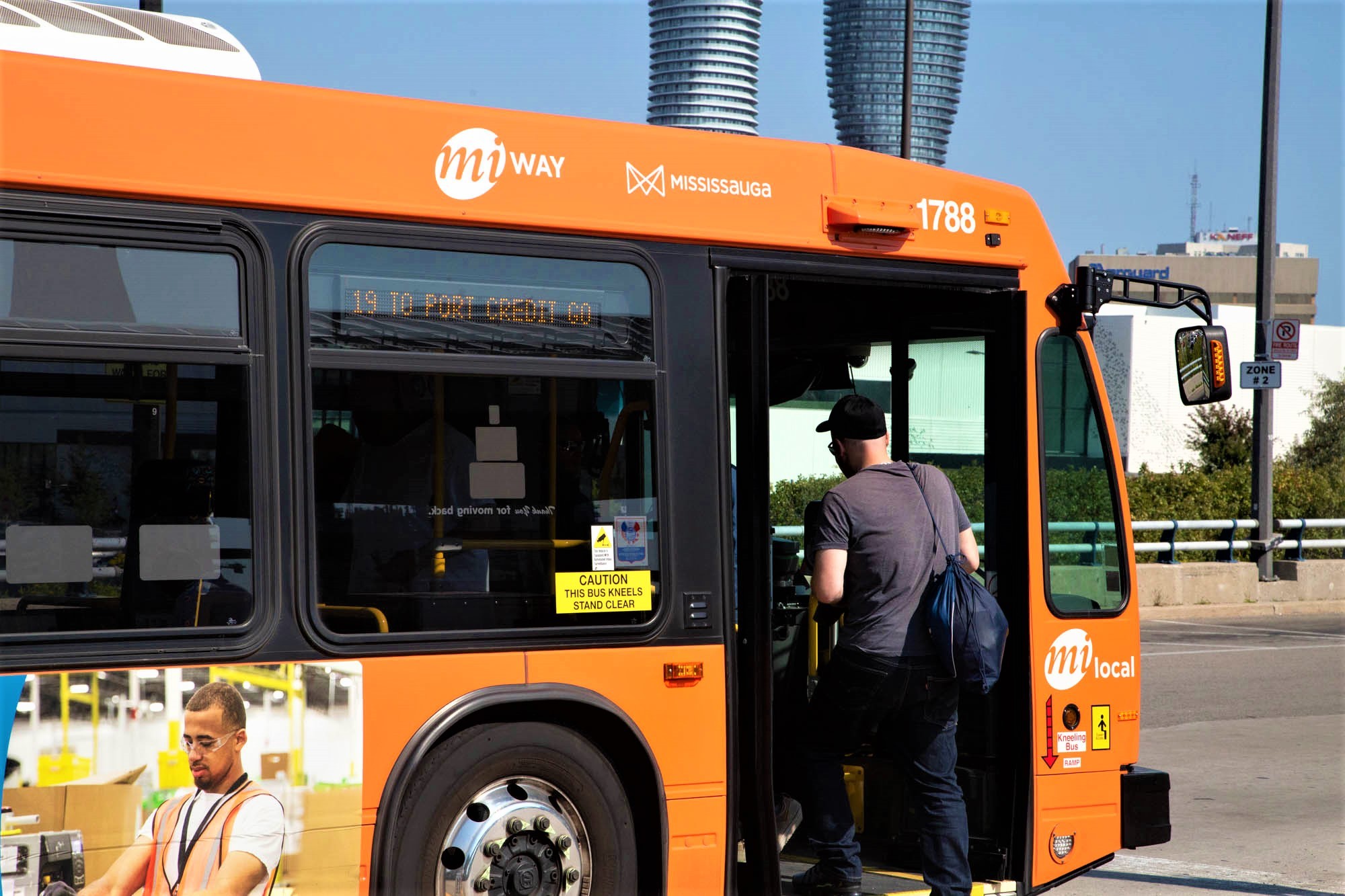 MiWay could begin front boarding and collecting fares again in July
Now, as Peel Public Health (PPH) say the peak has passed even while the virus remains, the City is putting structures in place to allow for a semblance of a new, virtual normal.
Over the past two weeks, decisions were made to cancel events throughout the summer to offer stability and predictability to residents, while some key committees are returning virtually and a decision on when exactly fares for bus rides will be charged again will be made soon.
The emergency phase of the city's pandemic is slowly waning and systems are being put in place that may reflect a version of normality for some time to come.
"We are starting to see a light at the end of the tunnel, there seems to be the beginning of a stabilization here for us," Crombie said at a June 3 press conference, offering residents an idea of what the future will look like.
Today, she dialed up the positivity for the first time since the pandemic began.
She said "over 60 percent of all cases are right here in the GTA", the type of reminder she has offered throughout the crisis in what can be characterized as her extremely steady hand in leading a more cautious approach; she even criticized Premier Doug Ford in early May for what Crombie felt was a premature show of optimism, and was proven right when people suddenly began ignoring social distancing.
"However, I am hopeful that we will move to stage 2 in Mississauga within the next two weeks," she said Tuesday.
While that would come as welcome news, it won't change decisions already made to keep people safe.
Councillors recently took the first step toward making the city's near-term more predictable. Having already voted to cancel all events until July 3, including in-person Canada Day celebrations, the City decided to extend its ban by pulling the plug on events until at least the Labour Day weekend.
Before the announcement was made, roughly 30 event organizers had already pulled the plug, including Italfest, Rib Fest and the Terry Fox Run. In total, the decision sees curtains come down on approximately 180 festivals, events and large gatherings organized around Mississauga, including those that had been planned at Celebration Square, the Living Arts Centre and Paramount Fine Foods Centre. The LAC and Paramount remain closed.
Festivals previously scheduled to take place in Celebration Square include Japan Fest, Muslim Fest, Portugese festival, Philipine Fest and Latin Fest. With large diaspora communities behind many of the events in a city as diverse as Mississauga, organizers will be considering ways to continue to celebrate their traditional festivities virtually.
"Even when life returns to normal, we will not likely be encouraging large gatherings like the ones we used to see in our beautiful Celebration Square or in our parks," Crombie said at a May 27 press conference. "This is not a decision we take lightly and we know, unfortunately, that it will have a huge economic impact on our tourism sector, we believe it is the right decision in these circumstances."
The move is in line with other cities, including Toronto, which suspended events until the end of August.
As events are brought to a close, in acknowledgement Mississauga is in this for the long haul, councillors accepted a staff recommendation to restart the Planning and Development Committee and Committee of Adjustment virtually. The PDC, previously shutdown when city hall closed its doors, has ultimate authority to accept or decline development plans within the city's borders and its approval sets developers on a path to construction.
For a number of weeks now, all construction activity in Ontario has been allowed to take place, making the absence of the PDC the final blockage in a development bottleneck. The committee was originally suspended after disagreement over how to allow people to contribute virtually to meetings (a key part of the development approval process) and concerns that some projects are simply too controversial to risk the accusations that could be levelled if technology failed or some stakeholders felt locked out of decision making.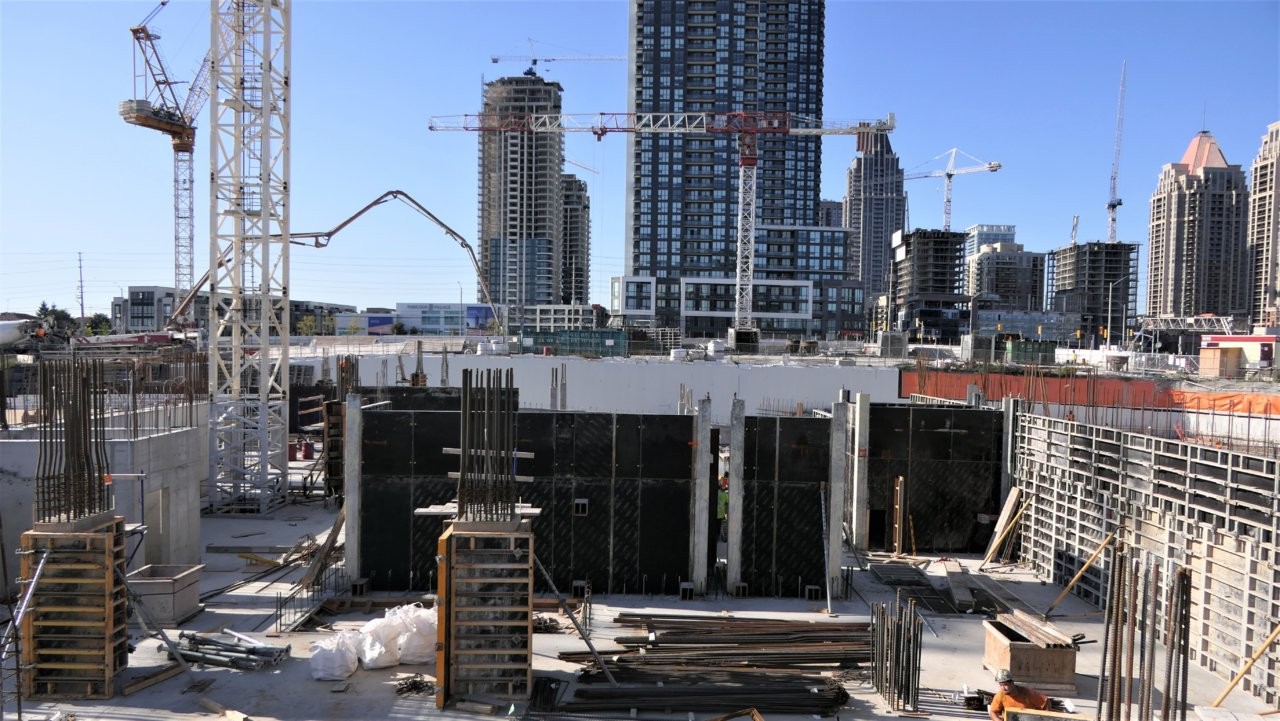 Mississauga development applications are piling up
George Carlson, council veteran and chair of the PDC, previously said he thought making the committee virtual would not work as development is always a controversial topic.
However, in the months since that conversation took place, applications have continued to come in and the pile of work awaiting the committee has grown. The Planning and Building Department at the city is processing 94 official plan amendments, rezoning and draft subdivision applications. There are 34 proposals waiting for a public meeting (required by law), 25 information reports and 9 recommendation reports ready to come forward in the next few months.
"In the absence of scheduled Planning and Development Committee meetings, the backlog of applications for Committee's consideration continues to increase," a staff report cautioned.
Generally, councillors were in favour of the idea, with no prospect of opening city hall to the public in the near future. Councillor Stephen Dasko, whose Ward 1 area is set for a significant amount of the city's development, expressed opposition and fears about those who do not have access to a computer and how they might take part.
Ultimately, Carlson indicated he was in favour of the move and it was accepted by council. Applications that local councillors know to be controversial or prove to stir up serious debate during virtual sessions will be postponed indefinitely until the public can attend meetings in person again.
"I think we should give it a try… and if it doesn't work out, we will have to stop it, that's all," Carlson said.
At the same Wednesday council meeting, staff said MiWay would be ready to start charging bus fares again by early July. In March, the City's transit service implemented rear boarding to protect its operators and, as a result, ended fare collection.
As previously reported by The Pointer, Mississauga has been fitting its buses with plexiglass shields to protect drivers and allow them to begin to charge fares again. The work was expected to take some time and staff are now confident it will be finished by July.
The move will allow the city to offset the cost of transit slightly with additional revenue, but with ridership down as much as 75 percent compared to pre-pandemic levels, it is unclear exactly how much this will offset city losses.
Even with the new structures beginning to take place and May's uncertainty dissipating, Mayor Crombie continues to hold emergency powers. As reopening continues, she says she will hang onto them as long as Doug Ford keeps his at Queen's Park.
"I think the Premier is thinking of extending the emergency order to the end of June, maybe the beginning of July, and I'm very hopeful that I will … give up my emergency declaration at the same time the Premier does," Crombie added.
---
Email: [email protected]
Twitter: @isaaccallan
Tel: 647 561-4879
---
COVID-19 is impacting all Canadians. At a time when vital public information is needed by everyone, The Pointer has taken down our paywall on all stories relating to the pandemic to ensure every resident of Brampton and Mississauga has access to the facts. For those who are able, we encourage you to consider a subscription. This will help us report on important public interest issues the community needs to know about now more than ever. You can register for a 30-day free trial HERE. Thereafter, The Pointer will charge $10 a month and you can cancel any time right on the website. Thank you.
Submit a correction about this story