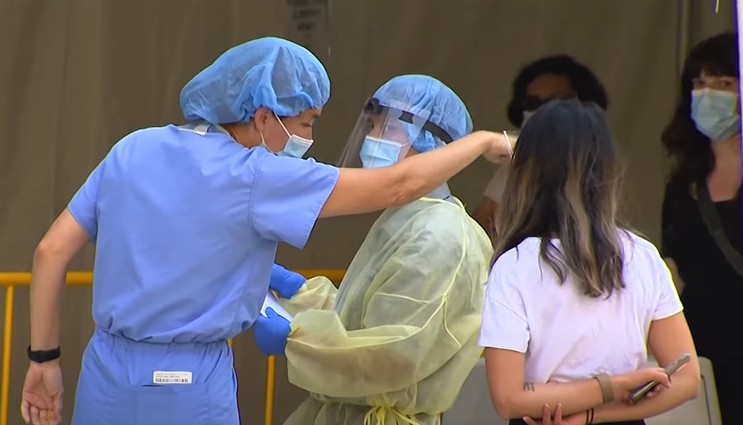 Screen grabs YouTube/The Pointer file photos/Twitter/Map Region of Peel
Ontario's new screening strategy holds the key to reopening while Peel sits in limbo with news that residents who tested positive might not have been informed 
The provincial announcement to enhance woefully inadequate testing across Ontario likely came with a sigh of relief for many across the Region of Peel.
Ontario, in recent days, has reported higher rates of new infections than any other part of the country, and Premier Doug Ford's PC government finally seems to be taking action to get more testing done to help stop the spread of the novel coronavirus.
Testing centres in Brampton and Mississauga last week revealed a crush of demand since Ford began exhorting everyone to get screened, and there were worries of overwhelming the limited local capacity for testing.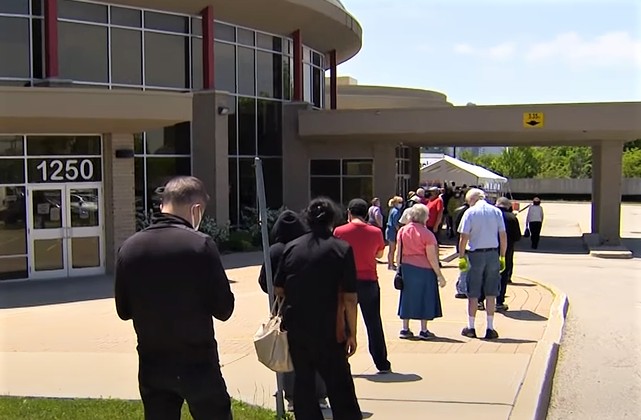 Long lines Tuesday at one of Scarborough's brand new pop-up testing sites, which might be coming to Peel
Brampton's only assessment centre at Peel Memorial faced long wait times and Cara Francis, director of public relations at William Osler, told The Pointer people had to be given a ticket to come back the following day.
Mississauga Mayor Bonnie Crombie also highlighted a similar fear over the lack of capacity at her press conference last week. Cases in Peel continue to represent an outsized portion of the overall numbers in Ontario.
Out of the 323 new cases reported by the province on May 29, 89 were in Peel, of the province's 404 new cases reported May 31, 92 were in the region. This represents recent infections in the region that are occurring at more than twice the rate of the whole province.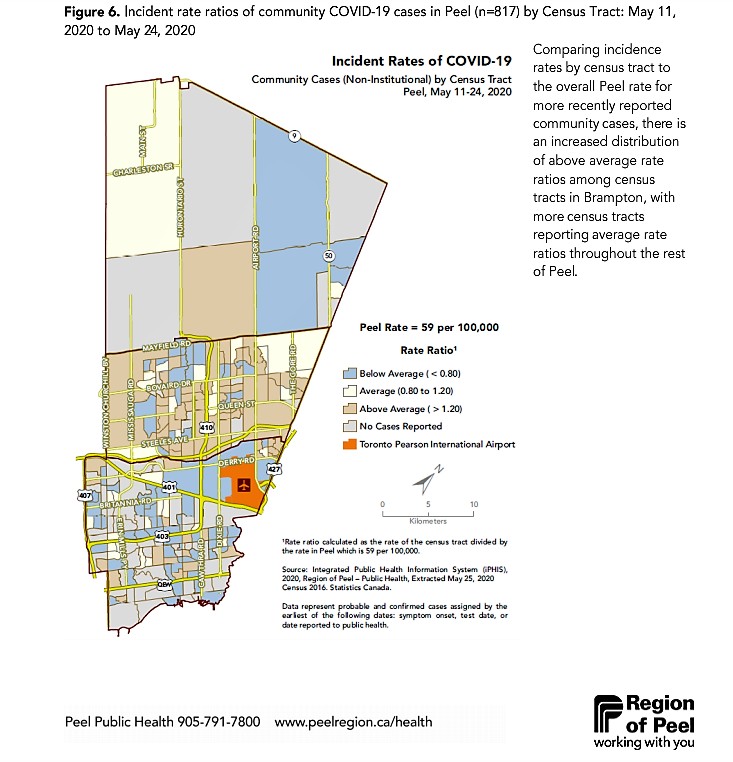 The Region released a neighbourhood map Friday that revealed high recent infection rates across Peel, particularly in Brampton
At the end of last week, the Region released a neighbourhood map that revealed recent high rates of infection across Brampton and in many areas of Mississauga.
Now, with Queen's Park heavily committed to testing (which critics have said should have happened in March), to get Ontario's troubling situation under control, the news is welcomed, but what the new strategy will mean for residents remains somewhat unclear.
"Peel will be following the provincial strategy of symptomatic testing and asymptomatic risk-based testing with the goals of 1. identifying, containing and monitoring new cases and monitoring spread; 2. Supporting the opening of the economy and public confidence, and 3. Ensuring testing is accessible and available," Peel Public Health staff told The Pointer Tuesday.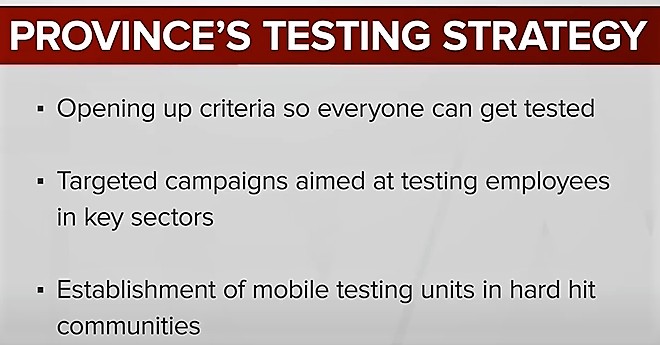 Many of the details for the new testing program are starting to fill in. For example, enhanced testing will focus on specific hot spots and known outbreak areas.
"Peel Public Health is actively engaged in outbreaks in workplaces and is facilitating widespread testing to control these outbreaks," staff said.
"Mobile testing is one of the approaches that may be used in Peel in the near future. Our focus right now is on ensuring that workplaces that have employees who have tested positive have access to testing, and that these results are available as soon as possible. Doing this helps to minimize spread in the community as well as keeps businesses open."
In response to a question about whether specific businesses can request to have employees tested, Peel Public Health indicated this would not be the most effective way to conduct more targeted testing in places where risk is highest. Staff said that with more than 200,000 businesses in the region, the strategy has to be based on priority. With highly detailed infection data, PPH can best determine where targeted testing needs to occur.
"Surveillance in the population more generally, as well as targeted campaigns where the risk is highest, are parts of an overall strategy for testing. At this time randomly testing Brampton residents is not something we are considering in the short term."
But residents are still allowed to be tested on their own, however, public health officials have stressed that people should only get tested if they think they might have come in contact with the virus, if they are showing symptoms such as high temperature and persistent coughing, or if they have underlying risk factors that might put their safety in jeopardy if exposed to the virus.
Another concern in Peel comes as news was released that William Osler, the health network that runs Brampton's hospitals and the testing centre at Peel Memorial, failed to report 485 positive cases, possibly as early as April. The province said Tuesday that it's possible some of the infected individuals were never informed, but it's believed most found out either through their own doctor or an online database with their test results that they had access to.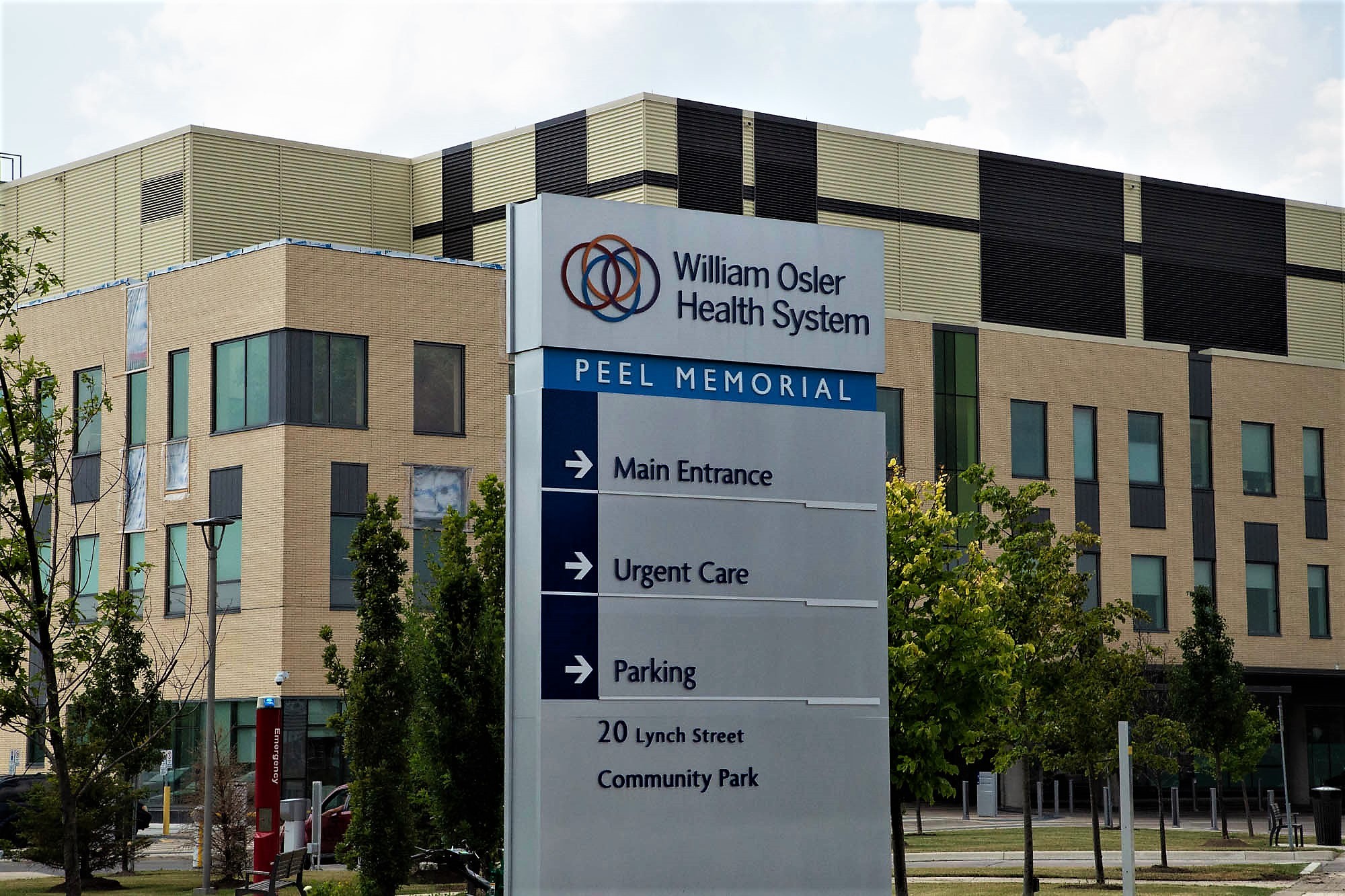 William Osler failed to report 485 positive test results
The province said most of the mishandled tests were conducted at a drive-through facility Osler runs in Etobicoke, but many of those whose tests were not reported live in Peel. No contact tracing was done to determine who might have come in contact with the 485 individuals, which creates more risk that the virus has spread in parts of the region, unchecked.
The province announced the next step of its testing strategy last week. Beyond targeted testing through its campaigns, such as at workplaces, there will be more outbreak management, such as providing temporary clinics in communities with a high number of cases. These new approaches will be alongside testing already being done in assessment centres to help hit the province's daily target of 20,000 tests.
Parts of Peel will specifically see work through the outbreak management stream, given the high number of cases occurring in areas of the Region. It would likely imitate pop-up testing centres that the province has begun to open in partnership with local health networks.
Wednesday morning, Dr. Lawrence Loh, the region's interim lead public health doctor, was asked by The Pointer during a press conference if such pop-up testing will be done in Peel, after three of these spaces were opened in Scarborough Tuesday.
"Stay tuned," he replied.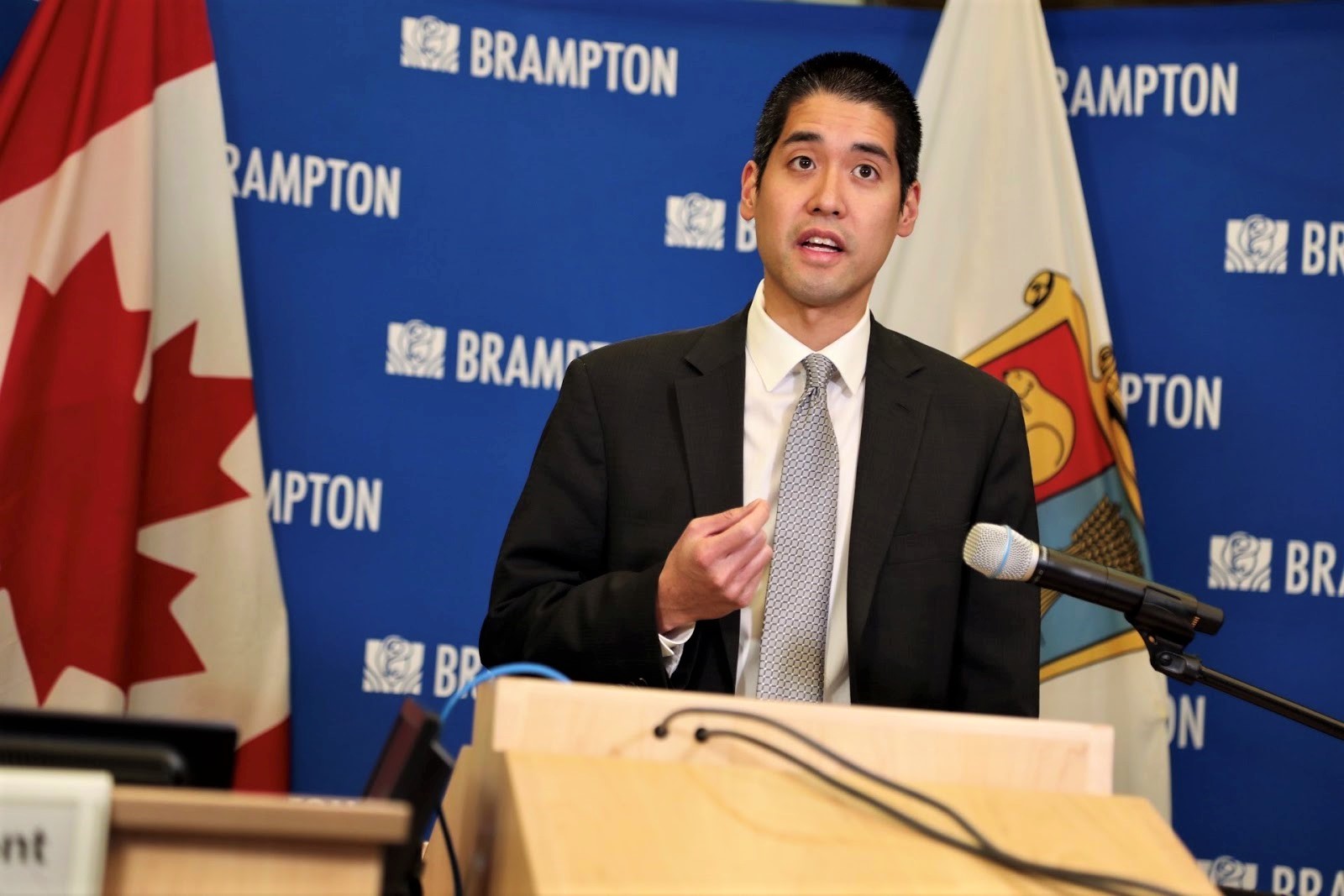 Peel's top public health doctor, Lawrence Loh, says "stay tuned" to find out if the region will get pop-up testing centres
Yesterday saw long lines in Scarborough at the new sites, with people anxiously waiting to get tested. Scarborough was named along with parts of Peel, including one particular area of Brampton, as being "hot spots" of the novel coronavirus by Premier Ford last week. He did not specify which part of Brampton he was referring to, but stressed that local officials should be providing this detailed information to the public so residents know what is happening in their own backyard.
The Pointer has reported that Osler and other local officials have done a poor job of providing detailed, localized data since the start of the pandemic, even though it is available to them.
Osler also took no responsibility for failing to report the 485 positive tests to health units and has refused to answer questions about it.
Just under 70 percent of Peel's cases between February 25 and May 28 came from community spread, according to the Region's weekly epidemiological report. In the report prior, the number for community spread sat at just 2.8 percent, with 2,112 cases still pending to be confirmed. A map in the weekly report also shows large parts of Brampton shaded with a tan colour, representing above average infection numbers. While the same colour is also present in Mississauga, neighbourhoods marked with tan are in closer clusters, indicating more concentrated outbreaks likely happening within fewer areas, as the overall numbers for both cities since the start of the pandemic are quite similar.
However, between May 11 and May 24, 543 community cases were reported in Brampton, compared to 254 in Mississauga. But the question remains: what is leading to the spread?
Part of the answer could lie within the dynamics of certain communities as they present ideal conditions, especially indoors, for the spread of the novel coronavirus, Dr. Sumontra Chakrabarti told The Pointer. "The most likely place for this to occur is in a household. Other places of risk are in long-term care facilities, jails and places where multiple people share an office all day," the infectious disease physician for Trillium Health Partners said. Last week, an investigation from PPH found an increase in cases connected to outbreaks that happened within homes and workplaces.
A factor in Brampton linked to this is the high number of people, on average, living in each household. Brampton has the most people per residence in Ontario, with many families whose culture traditionally promotes extended, or multi-family living under the same roof. Immigrant households make up the majority in the city.
The province's public health officials indicated further answers as to why local infection rates are high would also be revealed with increased testing. It will allow officials to learn more about communities experiencing high rates of new infections.
Such information can be used to form policies, create educational strategies, target future testing priorities and for a range of other decisions. It's likely that the virus is going to be present for a long time, even permanently, so understanding it is crucial if we want to create effective public health strategies to keep our society functioning.
Increased testing holds the key. But capacity issues need to be dealt with. So far, based on per capita figures, since the beginning of the pandemic Brampton has only conducted about one fifth the number of tests the province set out as a target, while Mississauga has done less than half. This makes effective contact tracing nearly impossible and prevents future strategies from being developed.
Eligibility of testing has been widened and now anyone who has one mild symptom of COVID-19 or believes they may have been exposed but is asymptomatic can be tested.
The Region could also see testing happen through mobile clinics, with vans or buses traveling to different areas, public health officials shared Friday. The City of Montreal has already implemented the practice, using buses from its local transit system to conduct tests in specific communities. Each bus has the capacity to conduct 200 tests every day.
Such clinics could also be provided to specific workplaces under the targeted campaign stream. While it's not known which work areas might see this or when it could happen, the Amazon warehouse location in Brampton, as well as Maple Lodge Farms could be likely candidates. Both of these locations fall under essential workplaces and both have seen cases of COVID-19.
While the spread continues, Dr. Chakrabarti reminds people to remember the basics: wash your hands, avoid touching the mouth and nose, and stay away from others if you're not feeling well. Other best measures, he said, will change as the situation remains incredibly fluid.
---
Email: [email protected]
Twitter: @nida_zafar
Tel: 416 890-7643
---
COVID-19 is impacting all Canadians. At a time when vital public information is needed by everyone, The Pointer has taken down our paywall on all stories relating to the pandemic to ensure every resident of Brampton and Mississauga has access to the facts. For those who are able, we encourage you to consider a subscription. This will help us report on important public interest issues the community needs to know about now more than ever. You can register for a 30-day free trial HERE. Thereafter, The Pointer will charge $10 a month and you can cancel any time right on the website. Thank you.
Submit a correction about this story