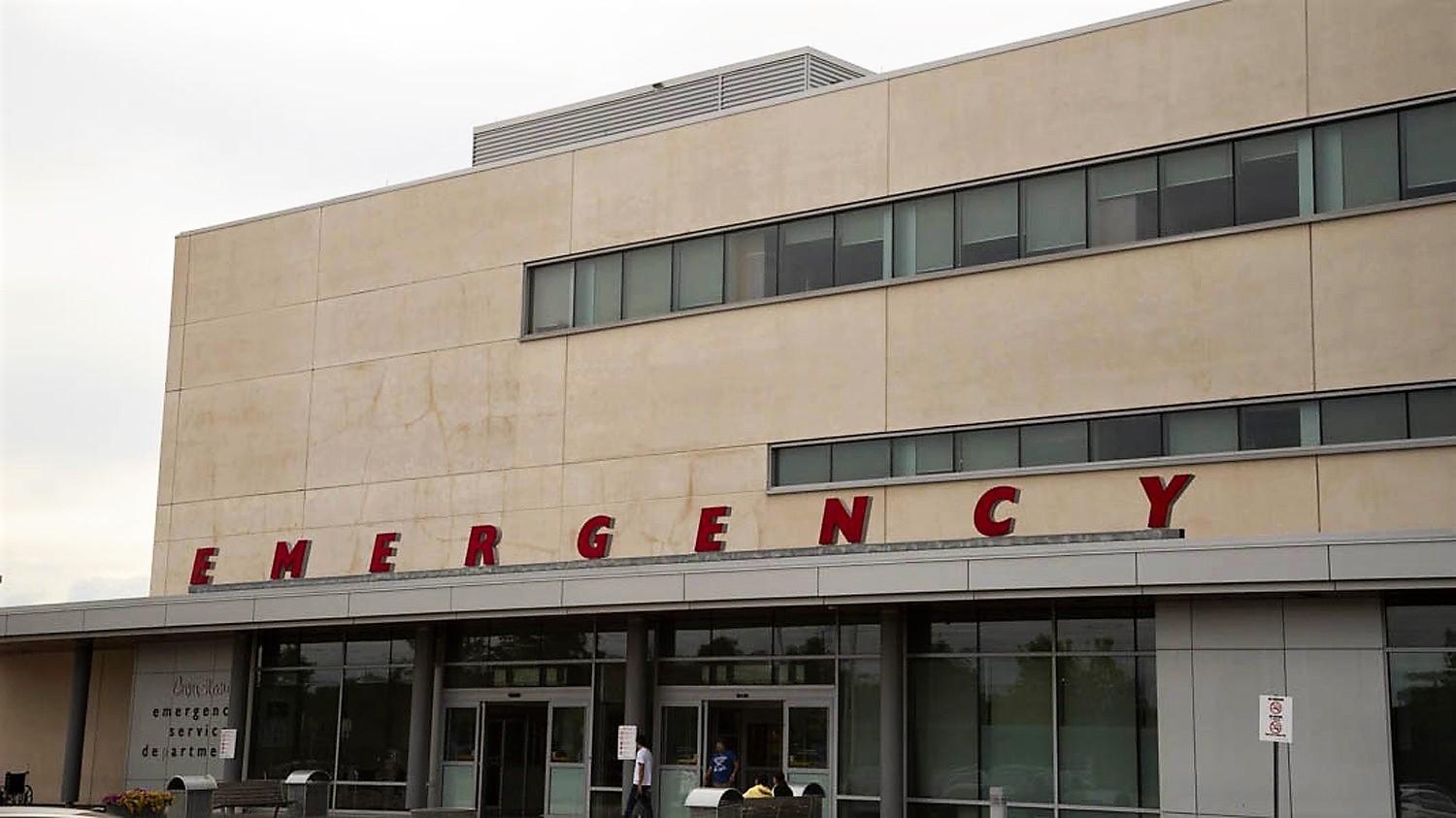 The Pointer file photos/Maps Region of Peel/Screen grab province of Ontario
Peel targeted in province's new testing plan as maps show high neighbourhood infection rates across Brampton
As the novel coronavirus continues to spread and no solid timeline is attached to the creation of a vaccine, improving the way people are tested is the current line of defence and Peel Region is one of the areas Queen's Park will focus on.
Premier Doug Ford outlined this strategy as a better way to understand trends on the spread of the virus. "The more data we have, the better we understand what is happening on the ground," Ford said Friday. He said earlier in the week that he had spoken to Brampton Mayor Patrick Brown about ramping up testing in the city, which has been hit hard and where testing has been woefully inadequate.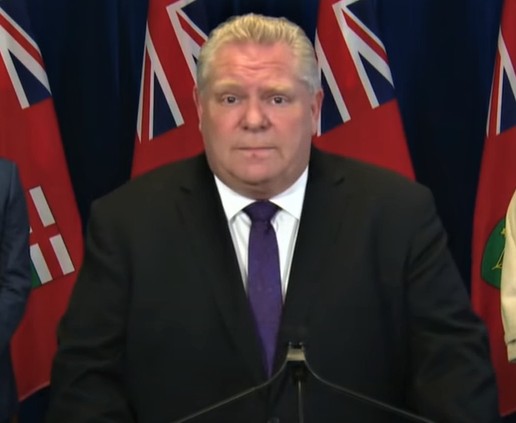 Premier Doug Ford has outlined a new testing plan and has targeted Peel
Details for the province's revised plan were outlined by public health officials Friday, and will lead to the introduction of two approaches that will be implemented alongside the existing 131 assessment centres across the province.
This includes outbreak management, with more focussed testing conducted in areas where outbreaks are declared, such as hospitals. The presentation outlined a testing calendar with community based testing for highly active COVID communities to begin today, June 1.
Details for how this will be shaped depend on the specific conditions in each community where the concern exists. For example, in areas that host large numbers of businesses, employees could be directed to assessment centres, like LCBO employees recently were.
Another approach would see mobile teams going into places of business to ensure all those employed are tested.
The Region of Peel was one of the areas specifically mentioned Friday by provincial officials who outlined the new testing regime, but no information on what the specific community response will look like is available.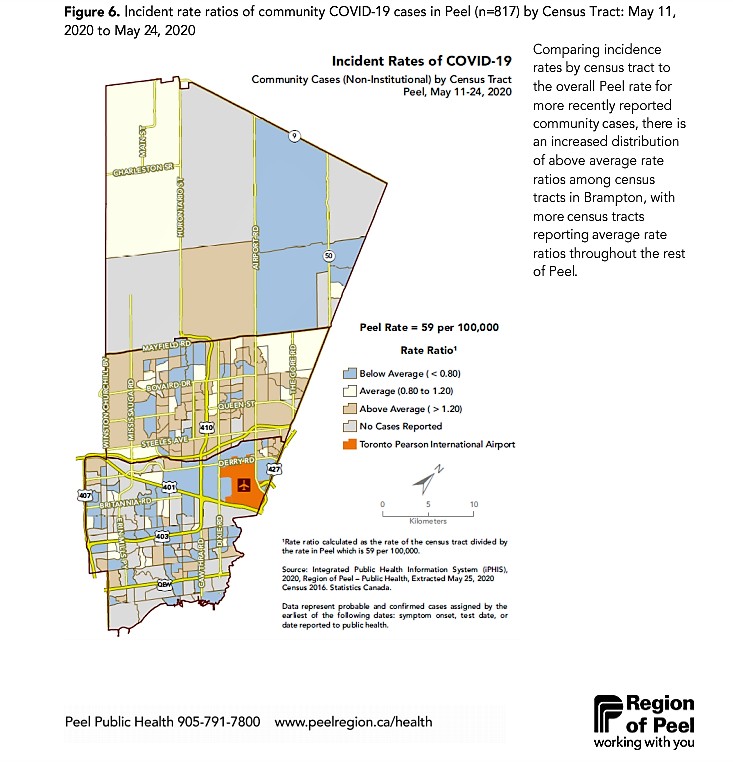 A recently released map of cases in Peel shows neighbourhoods across Brampton have high infection rates, while Mississauga's are more concentrated
With significantly higher rates here than in Ontario as a whole, Peel Public Health (PPH) told The Pointer the possibility of mobile testing is being considered but no information on a timeline was provided.
In Brampton, as of May 31, there had been 35.75 confirmed and probable cases of COVID-19 per 10,000 residents (based on a population of 650,000) since the beginning of the pandemic. In Mississauga the rate sat at 34.05 (based on a population of 750,000). The rate for the entire province was 19.21, so if you remove the two cities from the overall Ontario figures, they have had about double the rate of infections as the rest of the province since the beginning of the pandemic.
New maps released Friday by the Region of Peel breakdown case numbers by census tract, offering a more localized neighbourhood picture. Large parts of Brampton have experienced higher than average rates of infection, while in Mississauga, the areas hit hardest are more concentrated, suggesting larger infection clusters in particular neighbourhoods.
To target cases in both cities and stop those who are infected from spreading the virus to others, another testing strategy will focus on a targeted campaign, which will zero in on specific groups of people considered to be in a higher risk. These plans are currently being put together with a schedule for when the targeted testing will begin and how it will continue. While these individuals may not have symptoms, officials said such testing will be purpose driven based on data and help provide a better understanding of what is going on in specific neighbourhoods.
Health officials only have a two-week plan for how they will start testing specific groups of people, and hope to expand the strategy into a four-week rolling calendar that will be shared with the public to display where priority areas are, so residents in these specific places can ensure they are tested. The presentation Friday highlighted dozens of examples of groups that are either currently being tested, such as staff at nursing homes, or will be tested in the near future. The briefing stressed this list can change in a matter of hours, as the need for testing in specific areas remains very fluid.
Such developments would be beneficial to Peel. Last week Premier Ford highlighted hot spots that existed in parts of Peel Region and he specifically mentioned Brampton as a concern.
An investigation by PPH found outbreaks were occurring in family clusters and workplaces, specifically food processing facilities, manufacturing plants, warehouses and delivery companies. These outbreaks were largely responsible for the recent increase in the rate of cases in Peel, after numbers had looked promising about a month ago.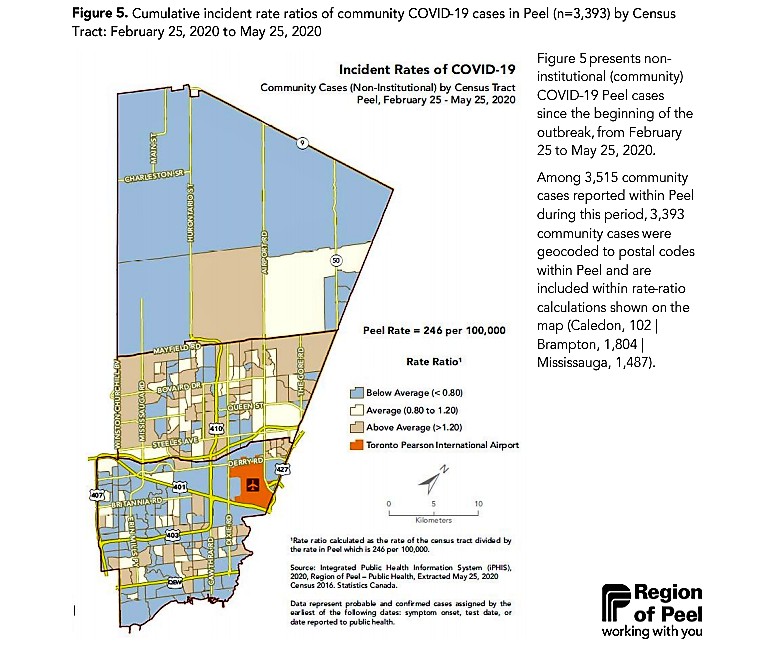 Another map released by the Region Friday shows high infection rates in many neighbourhoods since the beginning of the pandemic
Sofina Foods reported one positive case at its Mississauga plant on May 8. Single cases have also appeared at an Amazon warehouse in Brampton and the city's Fiat Chrysler Assembly plant, which employees about 3,300 workers and re-opened on May 19. Maple Lodge Farms in Brampton has experienced a more widespread outbreak.
With more facilities, businesses and public spaces opening up, there is widespread fear, not just in Peel, but across Canada, and even in other parts of the world, that a hasty return to normal life, will just lead to increased viral spread and a return to square one in this ongoing global ordeal.
The combination of mobile tests and those occurring in assessment centres will help the province's daily goal of conducting 20,000 tests. In recent days, this target has been met, for the first time, as a number of factors, from backlogged labs to a lack of certain testing materials, had prevented public health agencies across the province from meeting targets.
Officials say the backbone of the testing infrastructure is the network of 20 labs that process the tests and get the information out to the public. Increasing output would require more lab capacity and supplies.
Epidemiologists around the world have stressed that wide scale testing and contact tracing, used once testing is done to identify those who are infected and isolate them while making sure all others they have contacted are also isolated, is the key to controlling the novel coronavirus.
There was no mention last week if there are enough provincial resources in specific assessment centres to ensure the maximum number of people are tested, an area of concern echoed at testing facilities across Peel. Brampton currently has one assessment facility at Peel Memorial Health Centre and Mississauga has three under Trillium Health Partners: one at the Mississauga Hospital and two at Credit Valley Hospital (including a drive through).
Concerns about meeting the current need for testing have been swirling.
At a Wednesday press conference, Mayor Bonnie Crombie said capacity issues at Mississauga's assessment centres is a problem. "We're waiting to hear from the premier, what they will do and what the plan is from the province to increase our testing capacity because as it is to date…if all police officers went in to be tested, it would drain the system," she said.
As of May 30, THP had completed 25,344 tests at its locations. That is well below the per capita testing target that the province has outlined, of 20,000 tests per day. This would mean, at that rate, Mississauga would need about 25,000 tests in 25 days, so Trillium has, in roughly the last two months, done less than half the number of tests needed to reach the target, based on per capita figures.
In Brampton, the assessment centre at Peel Memorial often involves long wait times. Cara Francis, director of public relations at William Osler, said Peel Memorial is currently experiencing high volumes. "Our health care teams are doing their best to test as many people as possible every day. Given the high volumes, some people may receive a ticket with a timeslot for testing the following day," Francis told The Pointer.
Since the centre opened on March 11, more than 9,000 tests have been conducted, which is about one fifth the testing rate that has been set as a target by the province.
It's unclear, with similar populations, why Osler is only operating one assessment centre in Brampton, while Trillium is operating three in Mississauga, and why Osler is operating a drive through facility at Etobicoke General Hospital, which it also runs, but not at Memorial in Brampton.
It's also unclear why there is no testing facility at Brampton Civic Hospital, which Osler also runs.
The busiest day of testing came Thursday, with 371 tests conducted. While it's not clear how many people Osler has capacity to handle in the city, no one will be denied, but they might have to return another day. Francis said Osler will continue to test anyone that falls under the guideline outlined by the ministry, which includes those with at least one mild symptom of COVID-19, and risk-based testing for anyone who believes they may have been exposed to the virus, even if they don't show any symptoms.
Gary Collins, Mayor Patrick Brown's director of communication, told The Pointer Osler did consider expanding testing on its own. The City was approached by the organization a couple of weeks ago, he said, asking for assistance to make this happen, in a similar manner to the mobile testing centre set up at the Humber College Site in Etobicoke.
With recreation centres closed, the option to open a joint Osler-City site at one facility, South Fletchers Recreation Centre, was addressed. But a day later, the idea was turned down.
Collins said a lack of resources from Osler could have been one of the reasons, among others. It still raises more questions. Was the matter addressed by council publicly? Was a staff report produced? And why did it not go before council, which ultimately decides on the use of public funds?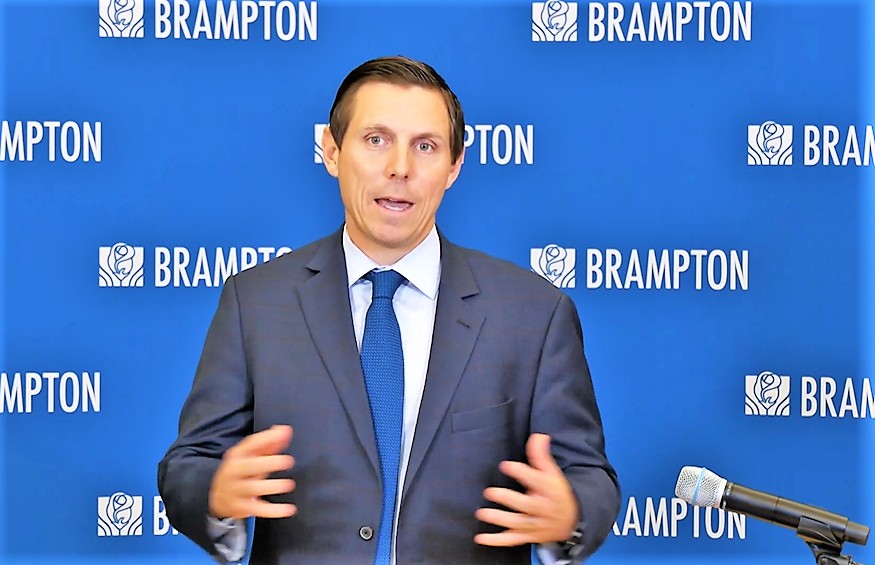 Mayor Patrick Brown has held numerous press conferences but offered few key details, while his city is experiencing high infection rates and is not providing nearly enough testing
With lives on the line and the dire need for testing, Mayor Patrick Brown has had very little to say about why testing levels in his city are so low, and why the idea of an extra testing facility funded by the City was turned down.
While Brown claims he will do everything to keep residents safe, the alarmingly low local testing rates does the opposite.
Issues in Brampton's health system existed long before the novel coronavirus arrived here. Capacity for patients was woefully inadequate at Brampton Civic, the city's only full service hospital, where hallway healthcare had become a crisis. The city has less than half the number of hospital beds per capita, compared to the Ontario rate, and one third of the national rate.
Proper testing in Brampton would give health officials more information about what's happening in specific areas that could be targeted for contact tracing to prevent further outbreaks and identify infection clusters. Provincial health officials stated at the briefing Friday, that a much more localized understanding is needed to understand how to fight the virus community by community.
This information can then be used as evidence for future decisions, health officials said. Premier Ford said 20,000 contact tracers are available to do the crucial work to slow the spread, especially now that people are becoming more active, and many are ignoring social distancing safeguards.
Now, more than ever, the province needs to ensure testing is as successful as possible, Andrea Horwath, Leader of the Opposition NDP, said. "Testing in Ontario has been woefully inadequate from the beginning of this pandemic. It should never have taken this long to get a coherent community testing strategy on the table," she stated in a press release Friday.
Meanwhile, Ford is already thinking about the next step of the province's reopening plan. On Friday, he announced the possibility of using a regional model, which would likely see Peel reopening many facilities later than other parts of the province.
The challenges around the proposed approach are widespread, including the worry people will simply travel to other regions that are open, to do what they want.
Ford replied to the concern. "It's an option that we're looking at. I know other jurisdictions have done this and, again, everything's on the table."
---
Email: [email protected]
Twitter: @nida_zafar
Tel: 416 890-7643
---
COVID-19 is impacting all Canadians. At a time when vital public information is needed by everyone, The Pointer has taken down our paywall on all stories relating to the pandemic to ensure every resident of Brampton and Mississauga has access to the facts. For those who are able, we encourage you to consider a subscription. This will help us report on important public interest issues the community needs to know about now more than ever. You can register for a 30-day free trial HERE. Thereafter, The Pointer will charge $10 a month and you can cancel any time right on the website. Thank you.
Submit a correction about this story