The Pointer file photos/Screen grabs City of Brampton
If Brampton is a 'hot spot' why isn't City Hall developing a tailored reopening plan?
Earlier this month, the province outlined the first phase of its reopening plan, setting a guideline for municipalities to follow. With the plan now in its third week, it's still not clear what page Brampton is on.
The lack of clarity stems from confusing information provided by City leaders and staff.
Last week, the Mayor demanded the reopening of Brampton come at the discretion of the City. "As much as the province is giving permission to have a gradual return to normal, we are not going to be able to return as fast in Peel Region because we have to put public health first," he said at a press conference last week.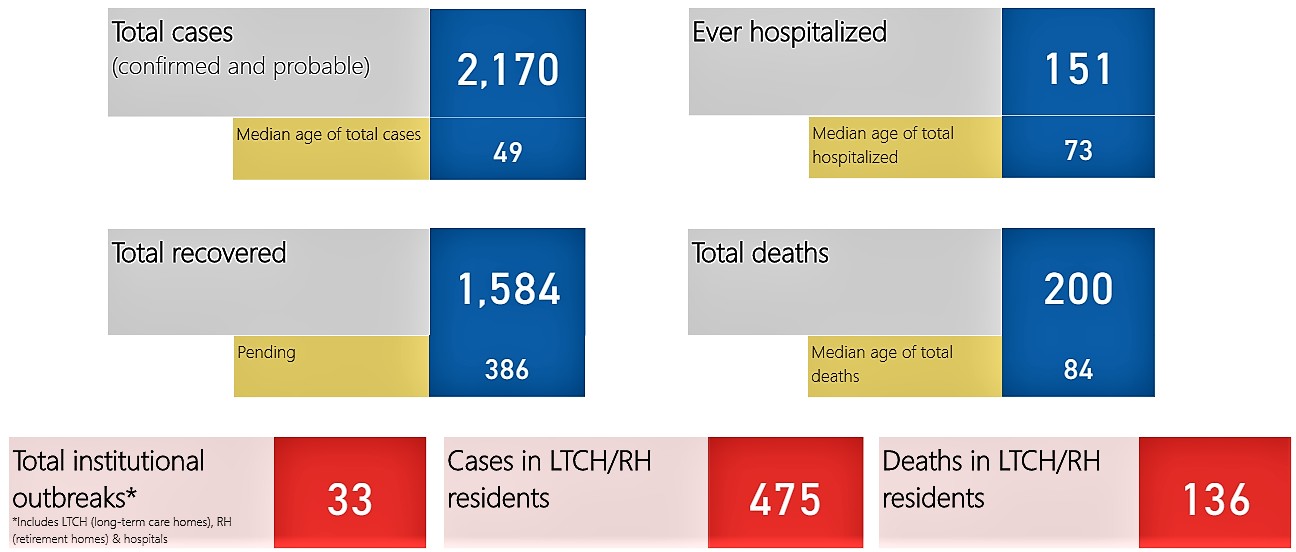 Brampton COVID-19 cases as of May 27, with outbreaks and institutional data for all of Peel
The strong reaction came from the revelation many did not want to hear: rates of new infections in Peel are going in the wrong direction, then a warning from Premier Doug Ford on Monday that Brampton is a problem.
Two weeks ago, more than 20 percent of the confirmed COVID-19 cases in Ontario were in Peel Region, Dr. Lawrence Loh, Peel's Interim Medical Officer of Health, said.
It's a trend that continues to see an increase. In Brampton, as of May 27, the number of confirmed cases since the beginning of the pandemic represents a rate of 33.40 per 10,000 residents (based on a population of 650,000), compared to 18.26 across all of Ontario.
While the mayor's response seems like a positive answer in a scary situation, it contradicts other information and actions the City has already implemented, including allowing some businesses to open along with certain outdoor amenities, while Mississauga, which has a lower rate of infections, has held off reopening spaces such as parks and tennis courts (the City announced Wednesday that some of these will reopen June 1). Unlike Mayor Bonnie Crombie, whose words have matched her actions, Brown seems to want the impression of putting safety first, while also trying to appease the growing number of residents demanding a wider-scale reopening under provincial guidelines.
"The City has followed through on elements of the Province's reopening framework," Brown told The Pointer. He has been criticized for opening park spaces, tennis courts and golf courses, inviting people to violate social distancing requirements, which has been witnessed in many cities where residents have been ignoring restrictions.
In the same email, Brown highlighted the City's priority to protect the health and wellbeing of the public by monitoring the current situation and consulting with Peel Public Health on the next steps of reopening.
At a press conference last week, Dr. Loh revealed that 20 percent of cases likely came from an uptake in activity with the reopening of retail locations. His recommendation to not open some outdoor facilities until at least May 25 seemed to contradict the City's decision to open tennis courts and other spaces for outdoor activities last week.
When provincial officials labelled parts of the city as "hot spots" this week, it cast further doubts about the way Brown has handled the crisis and his lack of transparency on specific, localized infection information that residents need.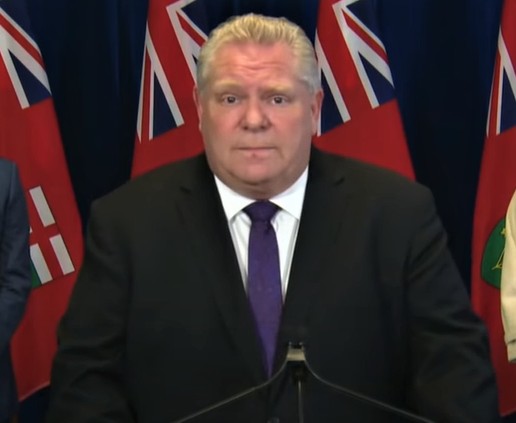 Premier Doug Ford said this week that parts of Brampton experiencing infections are a problem
On Monday, Ford said parts of Peel Region, including one specific area of Brampton, were a concerning issue, but he did not provide details, which should be made public by local officials.
"We measured by postal codes and like I mentioned some areas are lighting up like a Christmas tree," Ford said. "I've reached out to Mayor Brown and we're really going to drive the testing, get people out where the hot spots are, get them tested. It's absolutely critical at the end of the day and I've got to make sure we're fully ramped up."
But Brown seemed to deflect the local problem and the lack of information.
"I think transparency is the best recipe. We're dealing with a pandemic and so I'm glad there's a move afoot to release what areas in the GTA have a higher circulation of the virus. I have a good sense from my conversations with the Premier for where they are in the GTA, but I would love for the entire community to know," Brown said in response to a question from The Pointer.
It's unclear why the Mayor of Brampton would refer to the "GTA" and not his own city, when Premier Ford said he specifically spoke to Brown about the problem here, and said there is at least one hot spot in Brampton.
News from the Region's top health official Wednesday only made Brown's lack of clarity more disconcerting.
"Peel's seven-day moving average in new cases has trended upwards over the last week and I want to be clear, that is not the direction that we want to see things go in," Dr. Loh said Wednesday.
At Wednesday's press conference, Brown said conversations with health officials have led them to determine that more localized information will be available to the public "as soon as possible."
But it remains unclear what Brown has been doing with the information he has been receiving up till now, why outbreaks are occurring and why he has not taken the same approach as Mississauga, which has a lower infection rate.
With outbreaks being reported, retail locations could have played a role in the cases and it's unclear why the city is following through on certain plans. When asked by The Pointer if the city will stop the reopening under Stage 1, the City said Brampton has no restrictions. "We are aligned with the Province on the decision made to allow businesses to open. By-law officers will continue to enforce proactively and in response to calls," an email response from the City stated. Stage 1 of the plan allows for certain workplaces to reopen and some small gatherings to take place.
Brown said there are only three exceptions the city is not following at this time:
Opening/use of recreation facilities which would have more than five people in a 500 square foot area (i.e. change rooms)

Any activity which will bring people within less than six feet from each other, like basketball courts, soccer fields, etc.

Opening of libraries
The reopenings under the province's plan for Stage 1 outline more than a dozen services, a majority of which the City of Brampton is implementing at this time. The inconsistent approach by Brown and the City comes in the face of mounting pressure from the business community to reopen, while claims of following a stricter path appease those more cautious residents who would like the city to take a safer approach in slowing the spread of the virus.
The lack of clear information and a tailored local plan can lead to confusing messaging and dangerous actions.
An example was illustrated at Toronto's Trinity Bellwoods Park last weekend, when a reported 10,000 people at the park jammed the space. Crowds mirrored those seen in summer music festivals, with people sitting shoulder to shoulder and not following physical distancing guidelines. The massive gathering came as the City of Toronto decided to open its parks, despite an increase in positive cases.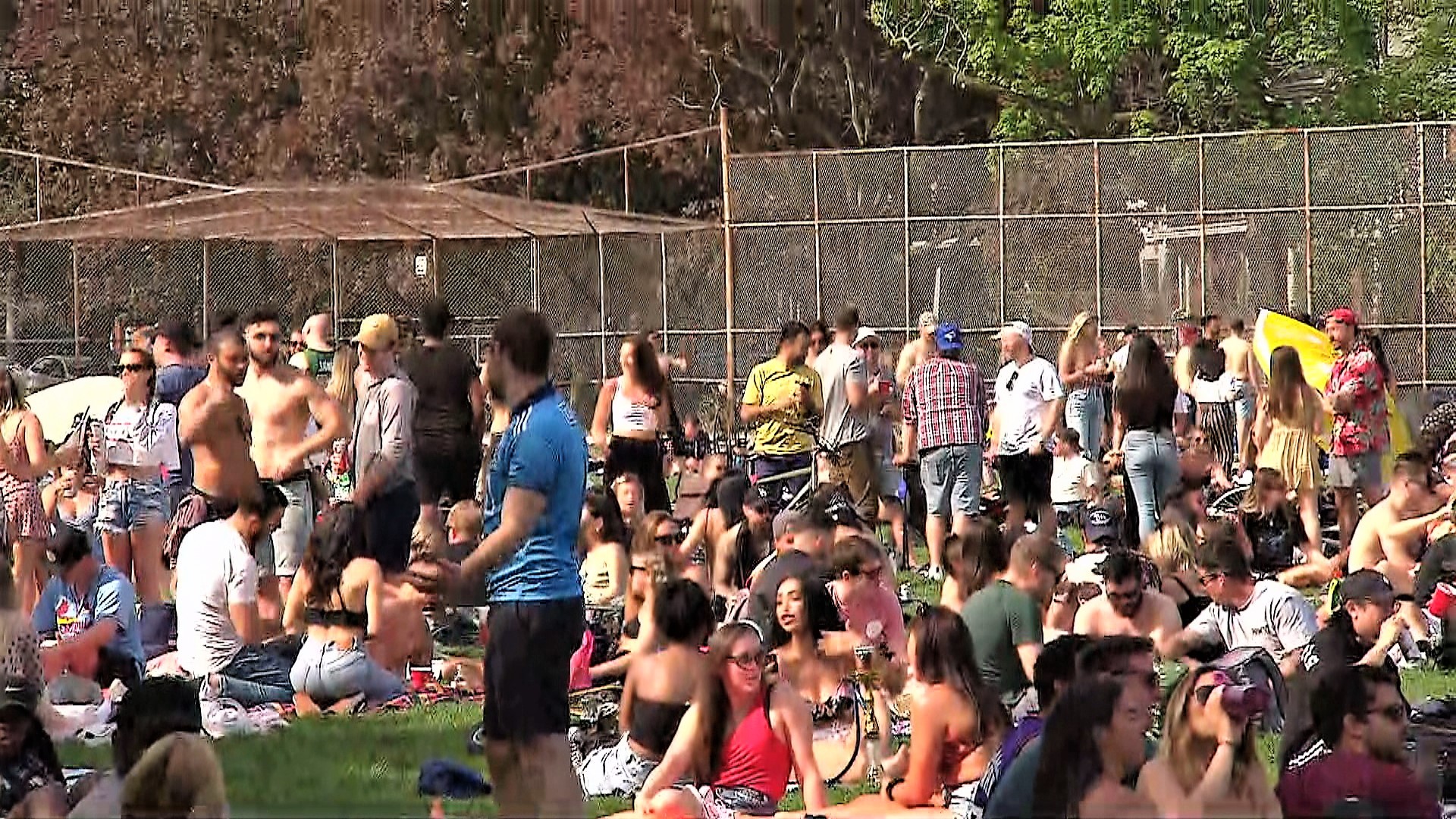 Last weekend's crowds at Toronto's Trinity Bellwoods Park
Ford was furious and there are now questions about whether those who showed up en masse will now need to be tested.
It's clear many people are itching to taste a sense of normality again, especially with the summer weather after spending nearly three months in restrictive conditions.
But health officials across the country have said the premature opening of businesses could be dangerous, especially for places like Brampton, which is already seeing a larger increase in new infections than most other parts of Canada. It also leads to questions around fines and enforcement. While the city has said physical distancing will be enforced, it's not clear if there are enough by-law officers to patrol every situation.
It's also unknown when other facilities and businesses will reopen in Brampton. At the provincial level, a decrease in new cases has to be seen for two to four weeks before Queen's Park allows the next stage. A City working group, responsible for the reopening plan, is currently consulting with various agencies and organizations on measures to reopen, City staff told The Pointer.
Brampton's current tone highlights actions taken by neighbouring cities. The City of Toronto has taken an open approach, following the province's allowances very closely. Dog parks, outdoor amenities, golf courses, tennis courts other park and trail spaces, specialized services such as dog groomers and many other businesses such as Ikea and other retail outlets in Toronto are now open.
Mississauga has not taken a similar approach, as leash free dog parks, tennis courts and park benches all remain closed at this time, until June 1, and many businesses also remain temporarily shuttered.
With municipalities having the freedom to set and implement their own rules, it raises questions about inconsistencies between cities that are right next to each other, and whether people will simply travel across borders to do what they want, which could create more risk for local, community transmission. For example, some of those gathered at Trinity Bellwoods could have been from outside Toronto.
As of May 22, only 2.8 percent of verified cases in Peel have come from community spread. But with the cause not known for 58.5 percent of infections, the number of cases from community spread is likely much higher.
In an effort to further assist provinces with tracking such information, the federal government announced an investment in contact tracing Friday. The process identifies people who may have come in close proximity with an infected person, allowing them to isolate and reduce further spread.
Testing remains another problem in Brampton, where inconsistent information and a lack of capacity has led to the mounting frustration as residents want to remain safe, while also wanting to get back to normal life.
---
Email: [email protected]
Twitter: @nida_zafar
Tel: 416 890-7643
---
COVID-19 is impacting all Canadians. At a time when vital public information is needed by everyone, The Pointer has taken down our paywall on all stories relating to the pandemic to ensure every resident of Brampton and Mississauga has access to the facts. For those who are able, we encourage you to consider a subscription. This will help us report on important public interest issues the community needs to know about now more than ever. You can register for a 30-day free trial HERE. Thereafter, The Pointer will charge $10 a month and you can cancel any time right on the website. Thank you.
Submit a correction about this story