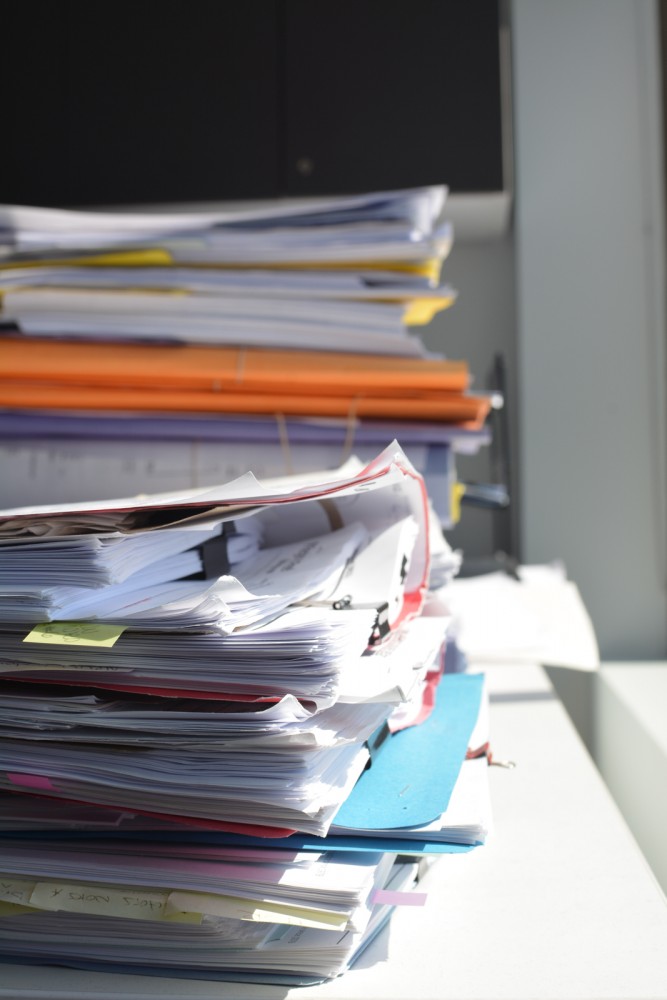 Photos from The Pointer files/Flick/Mann Lawyers
COVID-19 could finally haul Ontario's chronically backlogged court system into the 21st century
Obtaining court documents can be a complicated scavenger hunt.
In the belly of the Brampton courthouse, files, folders and documents sit lined row on row, holding testimony, evidence and other pieces of paper deemed critical to ongoing and past cases.
In general, the majority of this cache of court missives are available for public viewing, if you're willing to take the steps involving searchers, slips of paper and, of course, zen-like patience.
In our interconnected world, where reams of documents can be shared in a matter of seconds via AirDrop or DropBox, and many businesses, including local councils, are pushing a path toward a paperless existence, why does Ontario's court system continue to hang on an outdated and inefficient paper model?
Since the COVID-19 pandemic forced the shuttering of Ontario's 74 courthouses and 673 courtrooms, the province's justice system has had to adapt to an unfamiliar virtual world to prevent the entire judicial process from crumbling to the ground.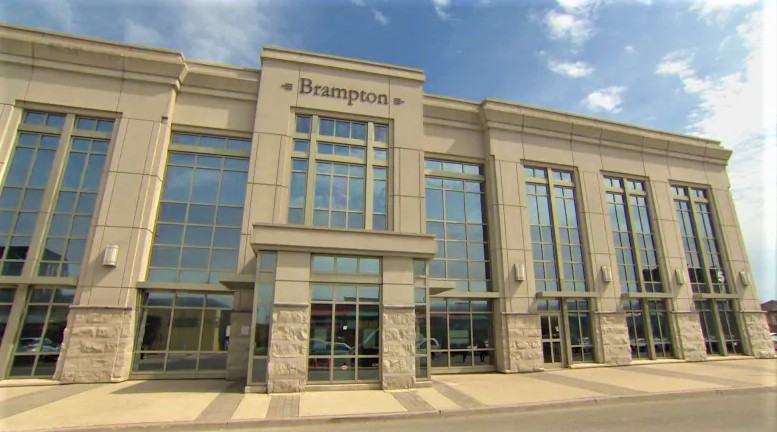 Brampton's provincial offences court.
Starting March 17, anyone with business before courts in Ontario was notified that hearings and trials had been postponed until further notice. This encompasses matters before the Superior Court (which typically handles the most serious criminal and family law cases) and the Ontario Court.
For the Superior Court in particular, a notice from the Chief Justice, citing the uncertainty created by COVID-19, has said in person hearings will be suspended until at least July 6. Jury trials, and jury selection for criminal and civil cases will not restart until September at the earliest. Initially, the Ontario Court, which handles the vast majority of criminal cases in the province, planned to resume in-person operations on May 29, but this has been pushed back to July as well.
"The Court will soon provide a detailed notice to the profession and to the public about all proceedings in the Ontario of Justice," a statement on the court's website reads. "The Court is also working closely with its justice partners, including the Ministry of the Attorney General, to adopt technology that will increase participants' ability to access the Court's services using remote means, such as by the electronic filing of court material, remote scheduling processes, and remote hearings."
As the threat of COVID-19 spreading among the halls of justice forced all of the province's courts to close, officials promised that virtual alternatives were on the horizon. In principle, those promises have been kept, but how successful these new methods have been is still up for debate among lawyers.
"COVID-19 has certainly forced the legal system to implement significant change in short order," says Chris McLeod, the head of commercial litigation with Mann Lawyers in Ottawa. "In a matter of weeks the system has been thrust ahead to the cutting edge. This has certainly created challenges."
The entire court system is designed for in-person interaction. Physical documents are handed from lawyers to Crown attorneys, from Crown attorneys to court clerks and judges. Motions are heard orally and lawyers are provided the opportunity to interact discreetly with their client about strategy, simply by leaning in and whispering a few words in their ear.
Shifting this court procedure from the physical to the digital space throws up a series of roadblocks to much of this operation, and while there is an inevitable learning curve for any new change, court delays have significant implications in Ontario's court system. This is not just a matter of a delayed project, timely access to justice is built into Canada's Charter of Rights and Freedoms, and even before COVID-19, the staggering delays in Ontario's overwhelmed court system, which because of a lack of funding has failed to keep up with explosive population growth across the GTA and other regions, were already creating more instances of accused individuals seeking to have their charges quashed for unreasonable delay. Across Canada, reports show that as of last year, approximately 800 criminal convictions — including for things like murder and drug trafficking — were thrown out because of delays over the last three years. In 2016, a Supreme Court of Canada decision — R v. Jordan — after years of numerous criminal and civil cases crawling their way through the court system, placed new, strict timelines on the length cases are allowed to languish in legal limbo, mandating deadlines for cases to be heard in 18 months for provincial court trials, and 30 months for superior court.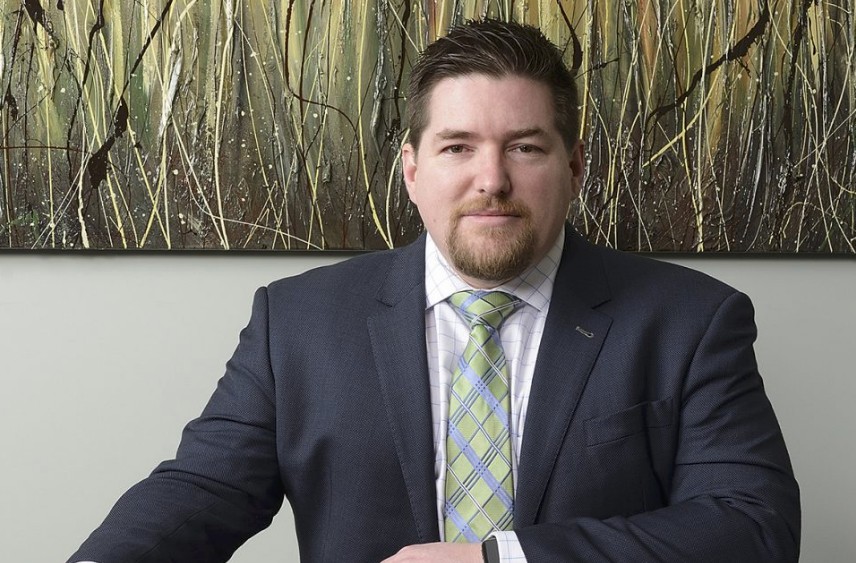 Chris McLeod, the head of commercial litigation with Mann Lawyers.
"I can only imagine the pressure that judges are feeling right now to keep the wheels of justice turning while protecting people from getting caught under them. While judges are often looked at for solutions, it's an effort that everyone who participates in the justice system needs to take up," McLeod states.
It only took three days after the state of emergency was declared in Ontario on March 16 for the province to release a tentative plan to keep the court process moving along during the pandemic. A March 19 press release notes priority matters would be heard by video conference while other options, like written and telephone hearings will also be considered "where possible."
"Justice partners are working collaboratively to develop and deploy technology solutions and other innovative tools across the province to ensure urgent matters can be heard without needing to appear in person," the release reads.
Many of those who work on a daily basis within the justice system probably cracked a laugh when reading those words.
It's true that COVID-19 has forced the province to implement new technology in the court system, but the province's own auditor general has been calling for this modernization for more than two decades.
Looking at audits dating back to 1997, Ontario's auditor general's office has found "serious backlogs" in the system, mainly due to a process that is outdated and inefficient, and relies "heavily" on paper in a digital world.
In the latest audit of the court system completed last year, Bonnie Lysyk wrote that "the overall pace of court modernization remains slow" and that despite raising these issues in the late 90s, and 2000s, the province has only taken "cautious, incremental steps" toward fixing the problems that plague the system.
For that reason, many stakeholders in the legal realm do not give much credence to the province when they toss out words like "technology solutions" and "innovative tools" as it has shown for decades the inability to grasp the importance of these concepts. It's safe to say the province has been surprised by the effort required to adapt the court system.
Earlier this month, Attorney General Doug Downey announced the PC government was axing the Halton Region Consolidated Courthouse project. Construction was slated to begin this spring on the new courthouse that was expected to cost between $200 million and $499 million.
Instead, "this investment will be repurposed to transform and update Ontario's severely antiquated justice system," Downey stated.
"This innovative new approach will allow Ontario to take concrete action for the first time in recent memory to support a truly reimagined justice system. It will move Ontario's justice system forward by decades and allow it to emerge from this public health crisis more resilient and better positioned to face future challenges," he adds.
Future challenges aside, in Peel, the courthouses in the region are already struggling to keep up with the growing workload. The impending tidal wave of cases postponed by the pandemic could potentially be too much for it to handle if the province doesn't extend a helping hand.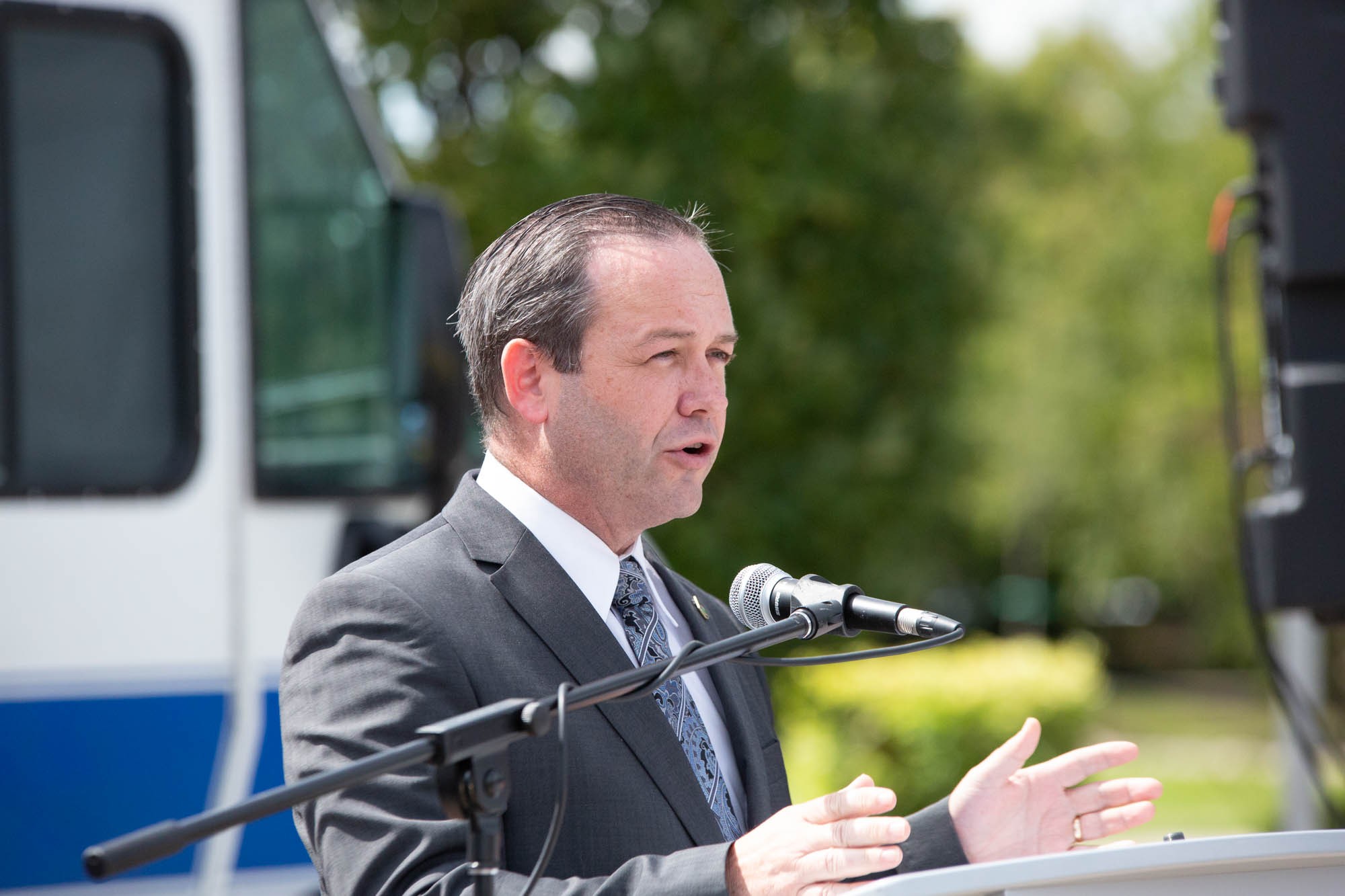 Attorney General Doug Downey.
A 2019 staff report from the City of Brampton — which operates the Provincial Offences Court (5 Ray Lawson Boulevard) under an agreement with the province — showed how looming courtroom closures were going to cripple the city's system. The culprit being a lack of Justices of the Peace appointed to hear cases. Justices are appointed by the province.
In 2019, the number of instances a courtroom was forced to close because there was no judge available to preside increased one-third over the year before, and these situations are only expected to become more common.
The Central West Region — which includes Peel, Halton, Niagara, Haldimand County, and Norfolk County — is operating with about 20 percent fewer justices needed to meet its capacity. Currently the province has 52 Justices of the Peace allocated to the region, but there are approximately 41 available to actually sit in court right now.
This has led to a cascading effect of courtroom closures, with a number that has increased since 2017. That year, the Brampton POA court had 125 closures, and that number had increased to 177 in 2019. Before COVID-19 turned the world upside down, Brampton staff expected that number to balloon to 355 in 2020.
According to a City spokesperson, Brampton has done its best to shift court business online. For parking tickets, screening review meetings (assessing whether someone has a valid reason to challenge a ticket) is being done via email, and hearings are being done over the phone. Overdue fine payments are processed by email as well and can be forwarded to a Justice of the Peace for review.
While these changes keep certain processes moving along, it remains unclear just how badly the city's court system has been impacted by COVID-19 and whether these new electronic tasks will make a difference.
"It is not possible to provide an estimate of the current operating capacity," a city spokesperson said, adding that court staff are working in two weekly shifts "performing basic office functions" with no more than 10 to 12 people. "The City is working to ensure an efficient re-opening of the Court. In addition to the actions and changes implemented to date as noted above, the City continues to receive and process requests for disclosure and to review pending matters in preparation for the re-opening of the Court. The City also continues to work with its various partners to identify additional means of enabling enhanced service methods."
Adding further strain to the city's system once it is able to reopen again, is the inevitable challenging of tickets issued to individuals during the pandemic for not following physical distancing restrictions in the city. As of May 15, the city had issued just over 200 of these charges.
With the entire justice system in need of a revamp, COVID-19 appears to be what will haul it into the 21st century.
And while these changes will be welcomed by many in the sector, McLeod warns that there is definitely a risk of doing too much too fast.
"I have no doubt that it will also present an unprecedented opportunity to identify ways to make the system more efficient," he said. "Where there is a will there is a way, certainly, but getting it right is fundamentally important when it comes to the court system because at the end of the day, Ontarians' rights hang in the balance."
There are many questions in the front of McLeod's mind: in the technologically enhanced court system of the future, what happens to those who don't have access to such technology? What about security? Are the available video conferencing platforms secure enough to use when publication or privacy is at issue?
"When does an open courtroom become too open?" he asked. "Our system is meant to be open to the public, yet broadcasting from the courtroom is extremely rare in Canada. Now, our courts are operating on systems where participants can record video of the proceedings. These are just a few of the significant issues that will need to be considered as we find our way."
According to the attorney general's office, consultations on updating the province's court system will begin this summer, when some of these questions could be answered.
---
Email: [email protected]
Twitter: @JoeljWittnebel
---
COVID-19 is impacting all Canadians. At a time when vital public information is needed by everyone, The Pointer has taken down our paywall on all stories relating to the pandemic to ensure every resident of Brampton and Mississauga has access to the facts. For those who are able, we encourage you to consider a subscription. This will help us report on important public interest issues the community needs to know about now more than ever. You can register for a 30-day free trial HERE. Thereafter, The Pointer will charge $10 a month and you can cancel any time right on the website. Thank you.
Submit a correction about this story