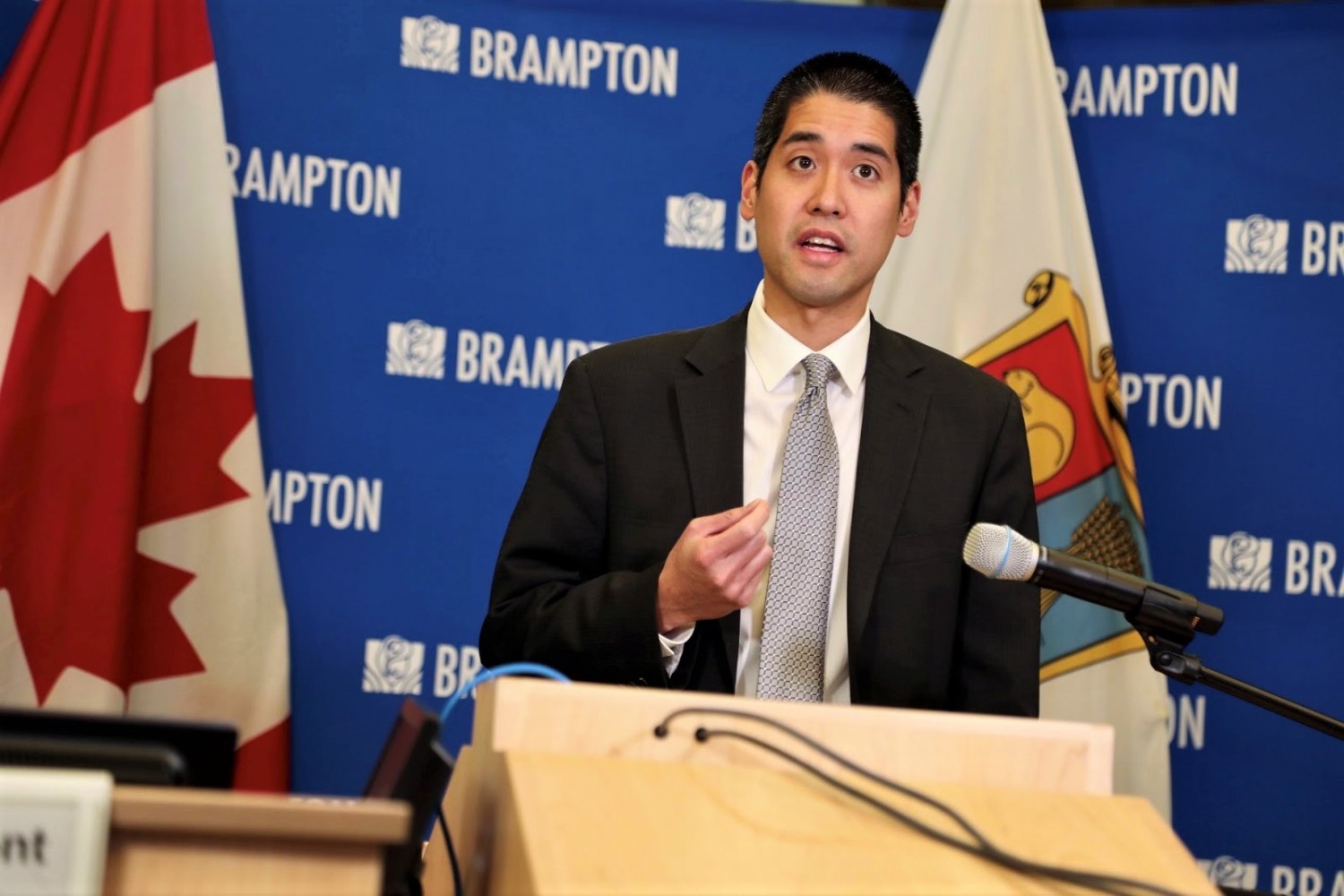 Screen grabs and graphics Region of Peel
Almost a quarter of Ontario's new COVID-19 cases last week happened in Peel, raising concern about reopening too soon while testing is inadequate
Two and a half months ago, the Region of Peel followed through on a choice that had to be made.
All non-essential businesses in Peel were forced to shut their doors as a state of emergency was declared by the Province and municipalities within the Region. The measure was to control the spread of the novel coronavirus by limiting the number of people leaving their homes and gatherings where infection could have easily spread among large numbers of residents in close quarters.
As the Province sees it, the strict measures have been successful. In a sense of a reward, a plan to reopen the economy has been formulated.
But the same level of confidence is not seen in the Region of Peel. Community spread here is now far outpacing other parts of the province and Peel Public Health officials along with municipal leaders are raising concern about following the same timeline for reopening as the province.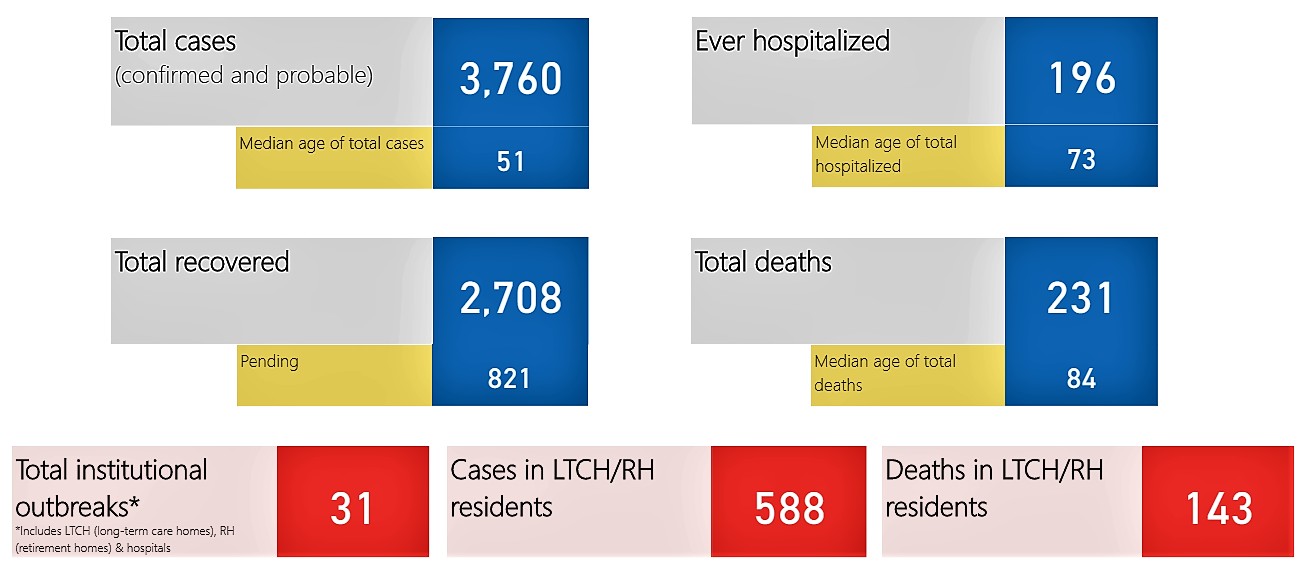 Peel Cases as of May 20
In the City of Brampton, officials admit the curve of new cases is not as high as it once was. Yet, it also has not lowered to a safe enough point, Dr. Lawrence Loh, Peel's Interim Medical Officer of Health, said during a Wednesday press conference.
"We have not seen a decline in new cases in line with the Province's own framework for reopening," he said. In fact, more than 20 percent of all new COVID-19 cases in Ontario from the past week occurred in the Region of Peel, Dr. Loh pointed out. "Dozens of COVID-19 patients still remain on the wards and in the intensive care of our hospitals in Brampton."
Recent cases in the Region have been reported at an alarming pattern, with current infections mirroring the level of new cases that were seen in March, when emergency orders were first put in place, Dr. Loh said. For example, March 30 saw the Region report 84 new cases of COVID-19. In comparison, 76 new cases were reported on May 18.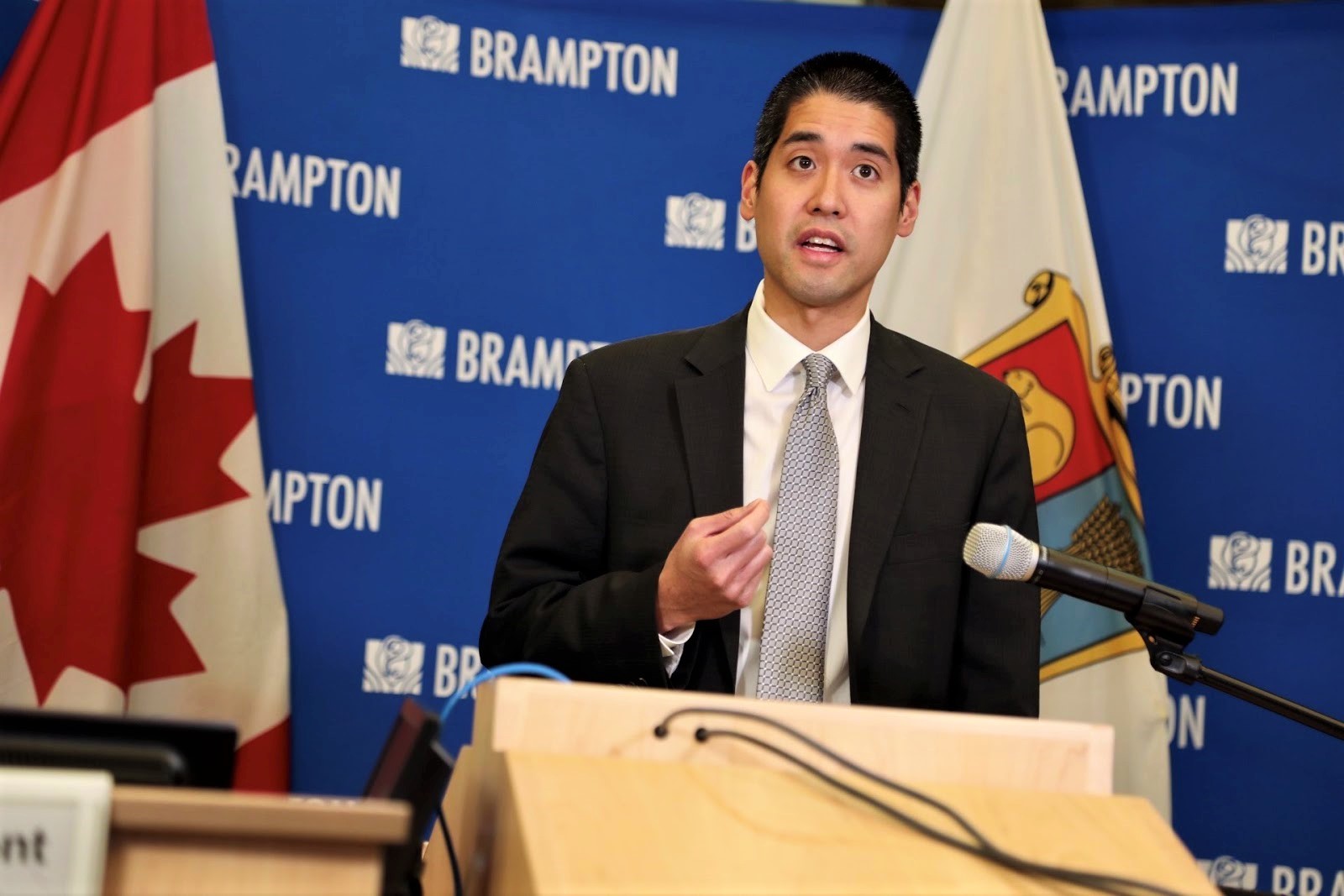 Dr. Lawrence Loh, Peel's Interim Medical Officer of Health, says more testing is needed here
The reopening framework from the Province indicates measures only be loosened after a decrease in daily COVID-19 cases are seen for a period of two to four weeks. New cases in Peel have recently fluctuated but overall have seen an unsteady increase throughout the last two weeks.
A concern voiced by Dr. Loh in recent days focused on cases spreading through the community. Data on the cause of infection for each case is still not good enough to determine how people are contracting the virus, but community transmission in Peel is a major concern of officials.
It's possible that a large portion of confirmed cases listed as pending, meaning the cause of infection is unknown, are due to community transmission, as this spread is much harder to trace, compared to individuals who were known to be travelling when they contracted the virus or were in an institutional setting when they picked it up.
Of the 3,157 cases between February 25 and May 14, 1,909, or 61 percent, do not have a known origin, as of now. Of the roughly 40 percent of cases whose infection cause has been determined, only 2.7 percent contracted the novel coronavirus from interactions in the community, while 30 percent were infected in an institutional setting such as a long-term care home or hospital and 4.5 percent originated from close contact with someone who had already been infected, such as a family member or friend. Another 2.5 percent of the known-origin cases were a result of travel.
The novel coronavirus thrives in community settings as it easily spreads through close contact, even in the air around an infected individual when they sneeze or cough (researchers have suggested the virus might even aerosolize from talking or perhaps even breathing, but experts have said the the threat of infection from these normal acts is likely very low, or possibly non-existent).
Because close to 20 percent of cases worldwide, which researchers have studied, involved asymptomatic infection, the possibility of people carrying the virus without knowing is a significant problem.
Institutional settings remain the leading cause of exposure in Peel. There have been 24 outbreaks in long-term care homes and retirement homes to date, according to information from Peel's COVID-19 dashboard. These have led to 588 positive cases among residents and 143 deaths.
In response to a question by The Pointer during the press conference, Dr. Loh said he believes the 20 percent rise in recent cases may be due in part to the reopening of certain businesses, allowing closer contact within the community. "I think a lot of the openings that happened in the early parts of May, may have a bolstering effect in terms of continuing to push the cases up."
Around the beginning of the month, when data released by the province showed significant reductions in the number of new cases, and Premier Doug Ford held a press conference on May 2 telling Ontario residents that the emergency measures could be lifted a lot earlier than originally feared, reports immediately following the news detailed much larger gatherings of people in public spaces, such as parks.
Brampton ramped up some of its transit service, which had been curtailed and other restrictions across the province began to loosen.
But now, in Peel, there are questions about the wisdom in following overall Ontario data, when the local reality in parts of Mississauga and Brampton might be vastly different than in other parts of the province.
The failure of many to continue to follow physical distancing guidelines could have also been a factor in the recent high numbers here.
Between May 12 and May 18, 55 charges were laid in Brampton under the physical distancing by-law, as reported at the Wednesday press conference. This is in addition to numerous complaints received by city staff as some non-essential businesses continue to flout the rules by staying open.
Despite the concern seen in Peel, and Dr. Loh's recommendation to not open outdoor facilities until at least May 25, some external facilities are opening for public use. In Mississauga, some golf courses have already opened up with restrictions in place.
In Brampton, tennis and pickleball courts were reopened on May 19 and the Peel Village Golf course will reopen May 22. Restrictions will include having courts available on a first come first served basis, having staff on site, and ensuring players stay six feet apart at all times. While these new openings do not involve any team sports at this time and strict rules will be enforced, in principle, it raises the question of why some openings are even being implemented if new cases are not decreasing to the satisfaction of officials at this time.
Regional Councillor Martin Medeiros (Wards 3 and 4) told The Pointer not opening these facilities will lead residents to go to cities that have opened them. It also allows the city to implement hours at facilities specifically for seniors, giving them a space to be active, he said.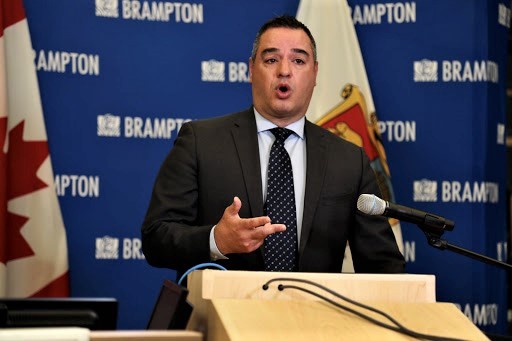 Brampton and Regional Councillor Martin Medeiros voiced concern over reopening too soon
Medeiros is leading a City working group tasked with laying out a plan to reopen the city.
But the reopening moves do create a level of uncertainty for him, with the possibility new cases could rise because of these measures and the many similar ones made throughout the province. He said the city will be tracking any new cases that might arise and will consider changes, including the closing of these facilities, if needed.
Around the world, as the economic and personal consequences of the pandemic wreak havoc on communities and families, debate has raged over when and how to reopen. One thing is clear, localized data and the reality in each community needs to be considered, not the overall picture in a vast place like Ontario, where the situation in parts of Peel is completely different than in other parts of the province.
Mississauga Mayor Bonnie Crombie has voiced criticism over the province's decision to begin reopening certain sectors and businesses, pointing out that her city is not yet through the woods. She and other officials have stated the city will make its own considerations when deciding what should open and when, and the special circumstances that will inform local decision making.
This is why local authorities need the best data from Peel's two health systems operating hospitals in Brampton and Mississauga. William Osler, which runs Brampton Civic, has not provided the type of detailed publicly available data that the province has demanded, and its failure to be properly transparent is an issue that continues to cause problems.
At last week's press conference in Brampton, Dr. Loh said he would like to see wider use of testing in an effort to reduce cases in Peel. Ford lashed out recently at certain public health agencies for not getting their act together on testing, but did not name which regional public health bodies were falling short. When asked at the time if the organization he is now responsible for was one of those Ford was angry with, Dr. Loh sidestepped the question.
The Pointer has reached out multiple times to Peel Public Health to learn what testing improvements could be made, and if enough testing is being done but did not get a response. It remains unclear what the current testing needs are and what the actual work being carried out is delivering. If there is a shortfall in testing across Peel that will only exacerbate the problems now being seen as new cases have recently spiked.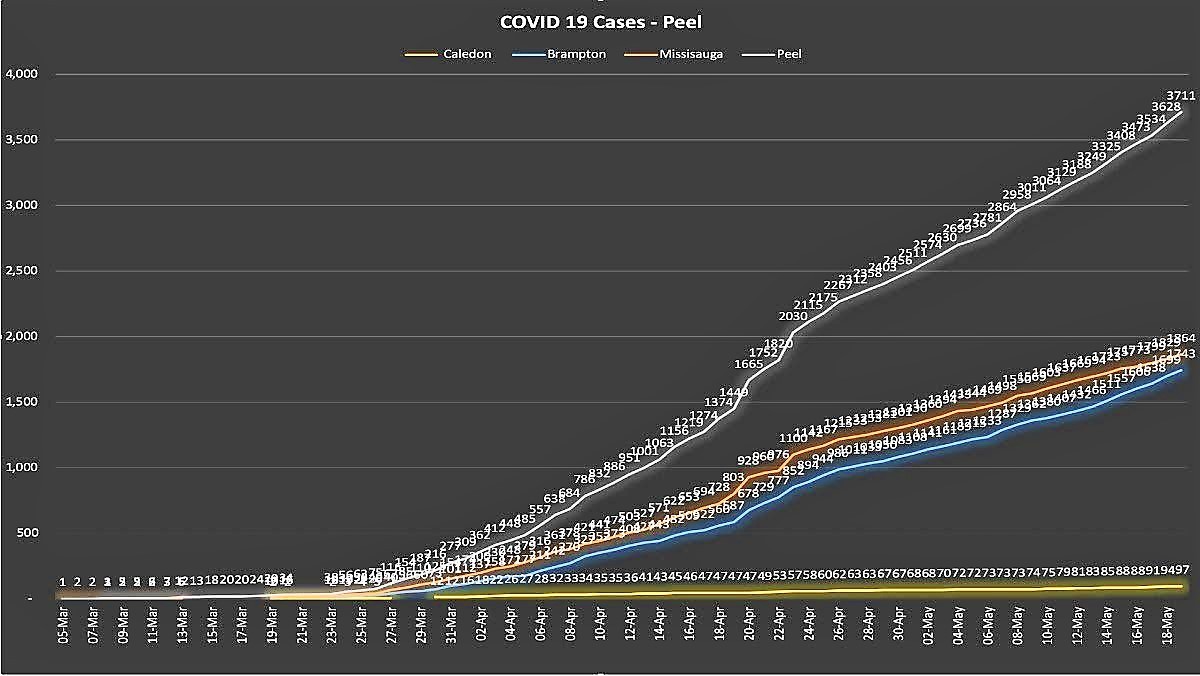 Cases in Peel have spiked recently, after they were slowing at a faster rate three to four weeks ago
Dr. Loh's comments suggest testing in Peel is not where it needs to be, but because of the lack of information being provided publicly it's not known why current testing levels are not where he says they should be.
His comment about the need for more testing echoed remarks made by Dr. David Williams, Ontario's Chief Medical Officer of Health, late last month. He raised questions many are probably wondering about: who are the people transmitting through the community and where are they getting it from? He wants public health units across the province to start collecting more detailed information to answer such questions.
Because of the nature of a highly contagious virus such as the one that causes COVID-19, controlling spread throughout a community is the key to fighting the disease. Once the virus transmits too broadly, all hope is lost and the likelihood is that most residents in a larger outbreak area will contract the virus. This has happened in parts of New York City, where almost 16,000 have died from the disease. Peel is nowhere close to that kind of rate, but if the community spread gets out of control, the local healthcare system will be overwhelmed and even stricter lockdown measures will have to be implemented.
Researchers in the UK and Singapore listed a number of measures that can be taken to stop such spread, with "community quarantine" being one of them. The measure is outlined as an intense version of physical distancing measures, with specific communities or institutions being put under collective quarantine.
The reopening plan throughout Ontario, since the provincial government released its phased approach, began the process of implementation a couple of weeks ago, and local officials have authority over how they will reopen their communities. New allowances under the province's guidelines permit certain businesses with street entrances to open as long as physical distancing guidelines are followed. Non-urgent and scheduled surgeries are also starting to take place again. The second stage will allow more spaces to open, including offices and retail stores. The final stage will see all workplaces open up and restrictions to public gatherings ease. The implementation comes in addition to new guidelines from the Ministry of Health, which is calling on people to wear face coverings in public areas where practicing physical distancing is a challenge.
---
Email: [email protected]
Twitter: @nida_zafar
Tel: 416 890-7643
---
COVID-19 is impacting all Canadians. At a time when vital public information is needed by everyone, The Pointer has taken down our paywall on all stories relating to the pandemic to ensure every resident of Brampton and Mississauga has access to the facts. For those who are able, we encourage you to consider a subscription. This will help us report on important public interest issues the community needs to know about now more than ever. You can register for a 30-day free trial HERE. Thereafter, The Pointer will charge $10 a month and you can cancel any time right on the website. Thank you.
Submit a correction about this story