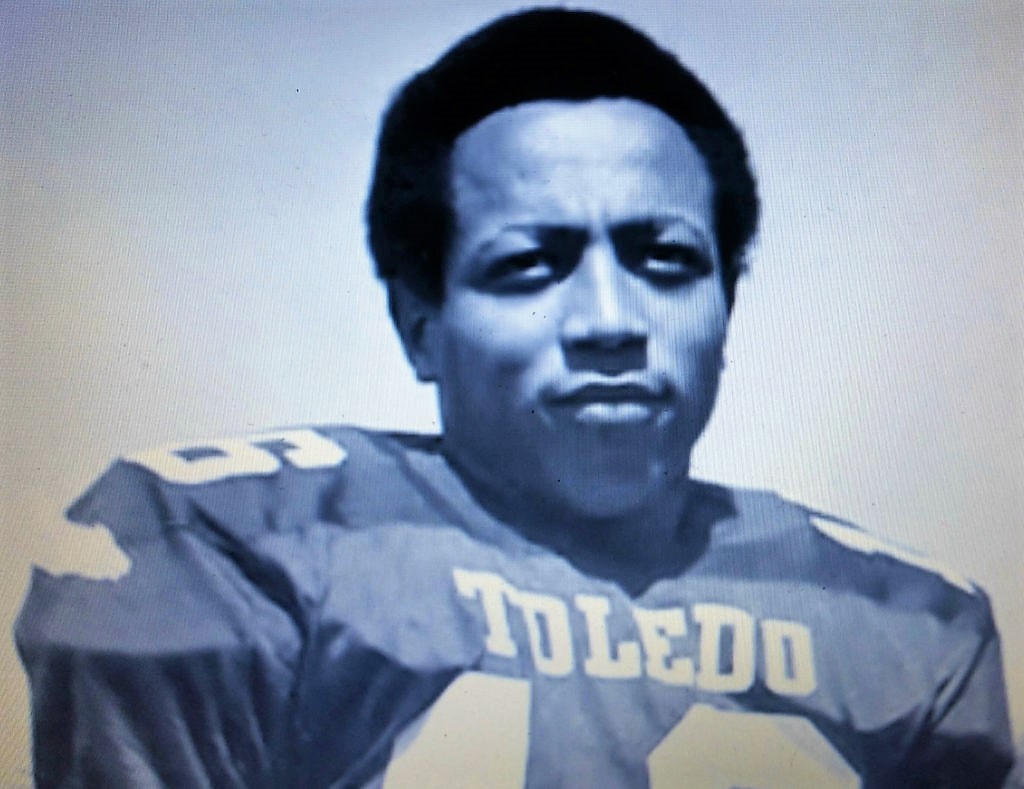 Chuck Ealey Foundation/FOLD/Linkedin/HistoryMysteryMan.com/YouTube
UNDEFEATED
Football is an apt metaphor for the life cycle.
It takes four quarters to complete: childhood, youth, middle-age and old age.
Each quarter propels you to the next, and that puts you in a good position to win. If you want to make an impact on the final outcome, it's a good idea to play quarterback.
People with talent and courage like to call their own plays, and that empowers them to overcome all other obstacles – even racism.
It was in a racist society that Chuck Ealey learned about the gaping divide between skin pigment and pigskin success.
The 70-year-old Brampton resident and long-time regional director for Investors Group, grew up in segregated Portsmouth, in southern Ohio, during the heyday of the civil rights movement of the 1950s and 60s.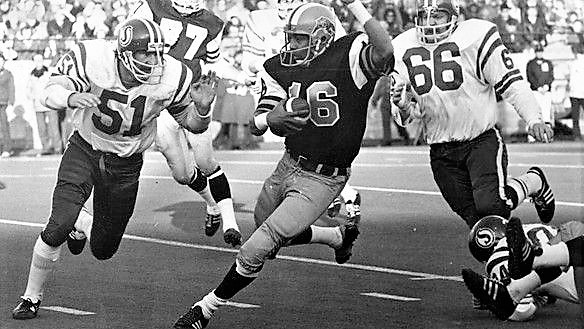 Chuck Ealey playing for the CFL's Hamilton Tiger-Cats in the early '70s
He was gifted with all the tools needed to become a top-notch NFL quarterback: off-the-charts leadership ability, world-class athleticism, and a gun for an arm. His early record of accomplishments was punctuated by this amazing stat line: he still holds the longest winning streak as a quarterback in amateur football history, 62-0 between high school and college. He ran off 27 straight at Notre Dame High School in Portsmouth, and then went 35-0 at the University of Toledo.
In his final year of college, he finished eighth in Heisman Trophy voting, for the best college football player in the U.S. He remains the only QB to win three consecutive bowl games and also hoist the MVP award.
The only superior feature missing from his game was his inability to be white.
In early 1970s America, being a Black quarterback was a game breaker.
NFL executives were pearly white, and to a man, they concluded that Ealey was missing that special something needed to be a pro QB. His name wasn't called during any of the 17 rounds of the '72 NFL draft, which included 442 players.
The reason wasn't athletic but anthropological.
The NFL brainiacs concluded that Blacks couldn't play QB because they were a) not smart enough, and b) lacked the leadership skills. Today's list of elite African-American signal-callers is a virtual who's who of the NFL: Patrick Mahomes (Kansas City), the last Super Bowl MVP; Russell Wilson (Seattle), a former Super Bowl champ; Dak Prescott (Dallas); Deshaun Watson (Houston), the league's heir apparent; Lamar Jackson (Baltimore); Jacoby Brissett (Indianapolis); Robert Griffin III (Baltimore); Kyler Murray (Arizona); Cam Newton (last played with Carolina) – plus a whole new crop drafted this year. That unwritten rule was made to be broken. But not when Ealey graduated from the U of T.
After digging his game out of the dirt in the sandlots of Portsmouth, and starring at Toledo, he eventually ran head-long into racism, America's original sin.
This wasn't new to sports. Golf had a "Caucasians Only" rule on the PGA Tour until 1961. Jackie Robinson broke major league baseball's colour barrier in 1947. Muhammad Ali was exiled from boxing because he was an uppity Black man who didn't know his place in society's pale-faced hierarchy. Ali's refusal to fight in Vietnam was the excuse used to ban him from boxing, when his unrelenting popularity spanned the globe.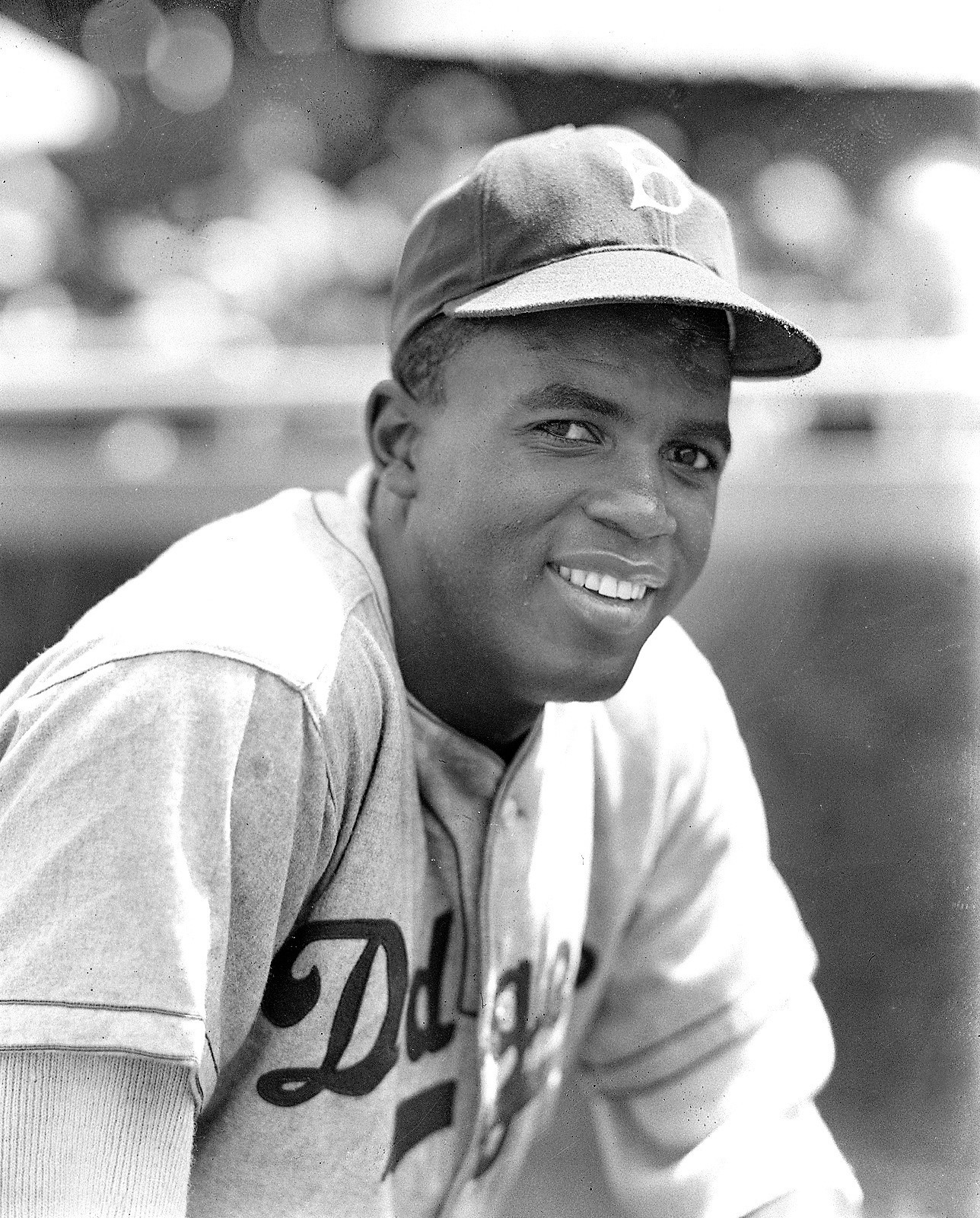 Jackie Robinson was the first athlete who transcended the colour barrier for many
Ealey was the son of a single mom who had an 8th grade education. Though denied opportunities herself, she valued learning above all, and instilled in her son a hunger for it – along with an abiding faith in Christianity. The Ealeys lived by the golden rule, "do unto others…"
Ealey's football talents were only surpassed by an ability to overcome obstacles, and that made him near impossible to ignore. But the NFL did so, with easy indifference.
Before the '72 draft, Ealey confidently sent a note to NFL teams letting them know he wanted a chance to play quarterback. When they shut him out, that put him in an uncomfortable position for the first time in his life.
He was staring down defeat.
But he was made of sterner stuff and followed his North Star to Canada.
He was recruited by the Hamilton Tiger-Cats of the Canadian Football League and entered a domain that was virtually colour blind. In 1972, he made perhaps the greatest debut in professional sports history by leading the 'Cats to an 11-3 record, and a 13-10 Grey Cup win over Saskatchewan on their home field. He was named the game's MVP and became the first African American to quarterback his team to a Cup, also picking up the league's outstanding rookie award. Later on, he told a magazine writer, without a hint of bitterness, "I came to Canada to live the American dream."
Ealey learned early on it is racism, not race that defines us.
So why is his story so poignant today?
Because his undefeated attitude has been passed on to his children. All three are high achievers, driven to right many of society's wrongs. And believe it or not, in the year 2020, they are fighting for those who still feel marginalized by either subtle or systemic racism.
Like their father, his children are comfortable quarterbacking change, and broadening out our definition of diversity. This is particularly important in Brampton (where they all live now) and Mississauga (where they all grew up).
Author Jael Ealey Richardson
Let's begin with Ealey's daughter Jael Ealey Richardson, the writer in the family, author of her 2012 memoir, The Stone Thrower. It has been adapted as a children's book, and she is a book columnist and guest host on CBC's q. She holds an MFA in creative writing from the University of Guelph and is also founder and artistic director of Brampton's Festival of Literary Diversity (FOLD). Her debut novel, Gutter Child, is scheduled to come out in 2021 with HarperCollins Canada.
Lawrence Hill, author of The Book of Negroes, penned a review of her memoir after its publication, and was touched by its honesty, humanity and blunt assessment of growing up Black in the relatively white world of 1990s Mississauga. Hill focused in on this evocative passage in her text: "For most of my life I felt watery like an ocean, my sense of self disoriented and bottomless, my blackness lost and out of place in a country known for cold winters, covered in whiteness."
Hill mined this duality for its meaning. He wrote: "Although both her parents are black [including mother Sherri], her own complexion is sufficiently light and curls sufficiently loose that black peers in her Mississauga, Ont., high school questioned and challenged her blackness in the 1990s. She received similar treatment from the white coach of her University of Guelph soccer team, who got a justified earful for trying to tell Ealey Richardson she wasn't really black."
Jael was born in 1980, and never saw her father play football because he had retired to become a successful businessman. The Stone Thrower was a meditation on her emerging sense of identity in Canada, and two separate threads in her life had become inextricably linked: her father's upbringing in the U.S. and her youth in Canada.
Portsmouth's segregation was perhaps less complicated than what was happening in suburban Mississauga, wrote Hill, who continued: "Although her father would never have had to question his own identity as a young black man coming of age during the civil rights era, Ealey Richardson found it difficult to establish a confident self-concept while growing up in Mississauga. In the cafeteria at Meadowvale High School in the 1990s, sitting at the table with black students meant that she talked about hip-hop and R&B, reggae and jazz music. No rock and no country. But in the white world, where she generally felt it was easier to create friendships, she watched hockey and followed baseball. 'I chose my black and white moments in high school based on convenience and circumstance,' Ealey Richardson writes. 'I was worried about what would happen when my two worlds collided'."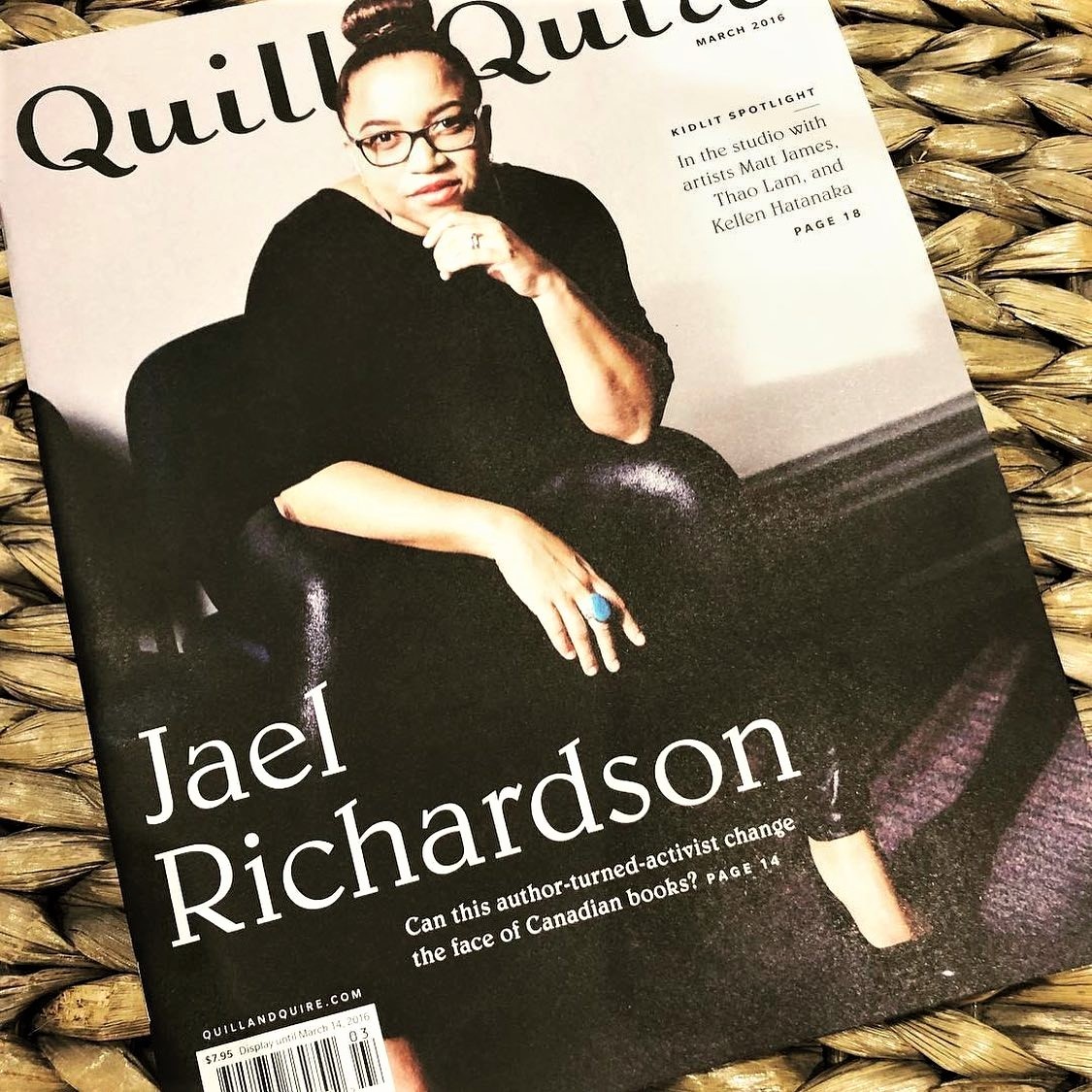 She inherited a philosophy of giving back directly from her parents. It compelled her to start FOLD. The festival of literary diversity ran head-long into the pandemic this spring, but she decided to carry on, even expanding its scope. This year's festival ran online on Zoom (April 30 to May 3), and the four days featured over 40 authors, publishing professionals, readings, panels, workshops and spoken word performances. It has even added a kids' platform.
In a time of duress, when people are physically and psychologically isolated, Ealey Richardson and organizers were more determined than ever to keep it going. She told ROOM magazine: "When everything started to fall apart – I think especially with the news that kids would be out of school until April 5 [a date that has now been extended] – I think that was the catalyst that made us all realize, like, whoa, what's going on. There was talk about cancelling or postponing. And neither of those felt really right to me."
She added: "Lots of organizers want to uphold diversity, on some level. But many don't know how. And they certainly don't want it to cost them anything (convenience, time, effort, funds/finances). And if there's no real sense of why it's important, and no personal commitment to that why, the how will always suffer as a result. You will do it, but only if it doesn't cost you anything and only if you can guarantee ticket sales and only if they're big enough names. And that is how the system continues to marginalize the marginalized. You have to stand by your why and get creative. Diversity and inclusion are the necessary next steps in a forward-thinking culture. They involve recognizing that the way we identify 'good writing' has always been flawed on a systemic level and that correcting those inherent biases through the involvement of authors with lived experience is critical to creating a new generation that's excited about Canadian literature."
The need to tell diverse Canadian stories, spills over into Ealey Richardson's presentations to classrooms. Tammy Wattier-Smith, an educator at the Peel District School Board, said an appearance in front of her class was positive and unforgettable: "Our school has had many authors visit our school, but I have never watched one connect so authentically with our kids. Jael's delivery and passion moved many to tears… The students spoke about her for weeks."
The classrooms are where many will find the other Ealey children, Damon and Skye, both teachers. Damon's upbringing is as complicated as his sister Jael's, and just as inspiring. Unlike his father, he was a good but not great football player. He starred at Meadowvale Secondary and won a partial scholarship to his father's alma mater, but never gained acclaim, or a star turn in pro ball.
His father was his first mentor, but so was Arnie Forde, the principal at Meadowvale Secondary. He was one of the first Black principals in the PDSB, and he was in parts, kind, tough, and set extremely high standards that he expected Damon to exceed.
The Ealey's only son has had a broad range of teaching experience which began at Central Technical School in downtown Toronto. He taught there for five years and added another five at Turner Fenton Secondary School in Brampton. He was also a teacher/principal at the Christian Academy in Japan for five years and spent another two more studying Japanese language and culture.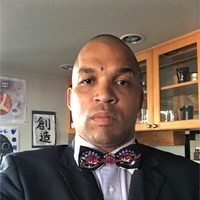 Damon Ealey
Few get to understand the international, inner-city, and the suburban teaching experiences, but Damon thrived at all three. At Central Tech, teachers engaged in the students' lives, and Ealey found the inner-city students much needier, more attuned to their socio-economic needs.
He loved the downtown buzz, and becoming a sounding board and a mentor was important, because the economic shortages always bubbled close to the surface – along with the pressures of trying to achieve when circumstances are stacked against you. At Tech, Ealey had an Indigenous student who was causing some trouble in class. Ealey thinks she was saying to him, "kick me out." He told her to cool off, take a walk, come back and let's talk. They did. And they kept at it. Together. Over time, her anger subsided, her attitude improved, and her grades got better.
It's problematic to suggest many teachers in the system simply can't identify and confront barriers that can prevent an individual from ever reaching their potential, but it's a reality that many in the profession who can't help but engage, see as part of their calling.
The thrill of seeing this turnaround is the great draw of teaching, said Ealey. He is happy to report that his former student is now a nurse fighting to save lives during the COVID-19 crisis.
Ealey learned from his former mentors that teachers play a pivotal role in offering succor and inspiration. This helps make the job even more meaningful.
Ealey thinks "it's important to listen to them," he said. "I mean really listen."
He is currently a teacher in the Intensive Behavioural Support Team at PDSB's elementary school level. Teachers and administrators help at-risk youth. His case load reaches outside the classroom, and each one can last six to eight weeks. "Ending relationships abruptly is never fun," he reveals, especially in these troubling times as schools are closed and pressure on at-risk students and their families has heated up.
Being father to his own kids helps him understand the pressures felt by young students in a system that brims with problems. The recent controversy surrounding charges of systemic racism at the PDSB, especially toward Black students, is a political hot potato he tries but almost succeeds in veering away from.
Let me say this, he said, "the province and unions need to provide mechanisms to allow good, qualified minority teachers to have a long-term influence on students."
His five-year career as one of the principals at the Christian Academy in Japan is what sets him apart from his peers in the Ontario education system. He has long been a fan of Japanese culture, and said, "there is a lot to write about there, both good and bad. But what I think is most valuable is a high expectation for all students. They boast a 99 percent literacy rate. There is a reason for that. That concept needs to be applied because that is one of the main problems [here]. Many people intrinsically believe that Black and White and Indigenous students can't achieve at similar levels to others, and that has to stop."
His goal is to be a principal again, either in Peel, or at another board, and his multitudinous experience has prepared him well for his next challenge.
Having two sisters who have accomplished so much, makes him feel blessed. He calls Jael's FOLD festival, and her advocacy for the marginalized in society, inspiring. He humbly suggests that his sisters "are much higher achievers than I am, and I am proud to live in their shadows."
Damon calls sister Skye a "fantastic teacher and advocate in Peel."
That advocacy is reflected in many ways.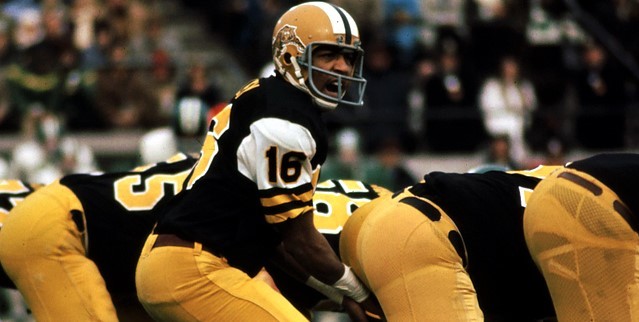 The focus and drive that made Chuck Ealey a winner at every level of football was passed onto his children
The purpose of a recent fitness class was to raise money to help children attend a SWOLE camp this summer in Brampton. SWOLE is an acronym meaning Self Respect, Work Hard, Overcome Adversity, Lead by Example and Excellence. The S.W.O.L.E. is a co-ed sports leadership camp for youth aged 7-13, where youth learn the five foundational principles and develop leadership skills each week. Proceeds from the Fuzion class will send children to a SWOLE Leadership Development camp scheduled for July at Cheyne Middle School in Brampton. It's all tied into One Voice One Team, a leadership organization run by Skye's husband Orlando Bowen, the former Toronto Argonaut who was brought up in Brampton. The family's three boys are also heavily involved in sport and giving back.
Skye is a wife/mom/physical education teacher/fitness enthusiast and like the rest of her siblings, passionate about equity and social justice. She recently rode 100 kilometres to honour Ahmaud Arbery the Black man brazenly gunned down in Georgia recently when he was out jogging and pursued by a white father and son. She recently tweeted out: "For those who have lost a loved one to racial profiling, or who have survived and press on like our family, we see you and pray that justice will happen for Ahmaud and his family."
She also said, reflecting on her own profession: "It takes the work of an entire community who sees the injustice and inequity of the educational structures that exist and have a desire to do something about it. It can't be the burden of a few. We are losing young people."
She heaps praise on FOLD, and hopes that in the future, more students and educators within PDSB will be encouraged to attend.
Her commitment to a society free from systemic racism is clear-eyed. "It is critical that we include the lived experiences of racialized leaders in this process to effectively engage in strategies to dismantle structural racism and allow deep and meaningful dialogue to occur in order to work towards healing and repair," she has said.
Bowen, who was born in Jamaica but raised in Brampton, and later played linebacker for the Argos, has endeared himself to the entire Ealey family. And in 2004, he experienced first-hand the same kind of incident even his father-in-law never suffered in southern Ohio. While waiting to meet friends, he was approached by two undercover police officers in Peel in a Mississauga parking lot. They accused him of dealing drugs. The officers didn't identify themselves and forced him to the ground where he was beaten until barely recognizable. The result: facial cuts, a major concussion, and the end of his pro career at age 29. One of the Peel officers, Sheldon Cook, who had already been convicted for attempting to traffic cocaine, was later charged and convicted on seven other criminal counts in another case. Bowen was fully exonerated.
His story was a media sensation, as was the picture of his facial wounds. He struggled to move on and find closure, but the Ealeys were always supportive.
Bowen's One Voice, One Team, runs leadership programs for youth that helps to build homes for Habitat for Humanity. It also helps to feed and care for the less fortunate. The idea is to empower and enlighten the hearts and minds of youth today so they can be positive leaders and have an impact on others. Bowen eventually released a letter to the officers who viciously assaulted him, which turned out to be an inspiration to others.
"This may sound very strange but in this game of life, we are on the same team. I want to courageously express the fact that I am thankful, grateful and forever in debt to you for this experience, as it has forever changed my life. It has made me a better father, husband, brother, son and a better human being."
The social environment when Chuck Ealey arrived in Toledo in the mid-60s was tumultuous following the assassinations of John and Bobby Kennedy and Martin Luther King Jr. The War in Vietnam was at its height and protesting students would be gunned down by National Guardsmen at Kent State University in Ohio, killing four and wounding nine in 1970, a little more than an hour away from the school Ealey attended.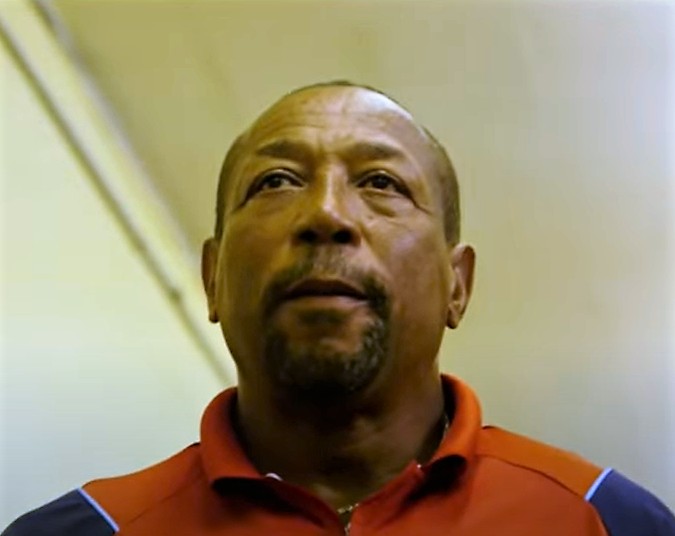 The Chuck Ealey Foundation continues to focus on youth mentoring
But because of his faith, focus and talent, Ealey became one of the most accomplished athletes in America.
His No. 16 sweater is now retired, and two years ago, marking the 50th anniversary of his first year at the school, he was invited to give the commencement greetings. He talked about love and unity and gave the grads three things to remember: Be Inward. Be Outward. Be Upward.
The main thing, he said, was to be resolved "to take control of your destiny. Don't be so busy that you forget to make a life. Decide who you want to be and what you want to achieve, and then stride boldly towards your vision. The most precious human commodity today is confidence."
He said team work goes beyond sports, into business and family. It's also important to be around different people. Living in Canada has had a profound effect on him, and he challenged students to become global citizens. That means being open to the cultures and influences of others, and different points of view. It means welcoming different opinions and becoming "a one-person champion of plurality."
His call to stay unflinchingly optimistic and see the opportunity in every difficulty, is a trait that has been passed down to his children. "We can get better or we can get bitter; it all depends on the lessons we draw from each experience," he said.
He told the Toledo grads to be habitually generous. "Success is not something you pursue," he said, "it's something you attract by what you have become. People have a deep-rooted drive to give back."
The Chuck Ealey Foundation does that and encourages people of all ages to discover and embrace their "Undefeated Spirit."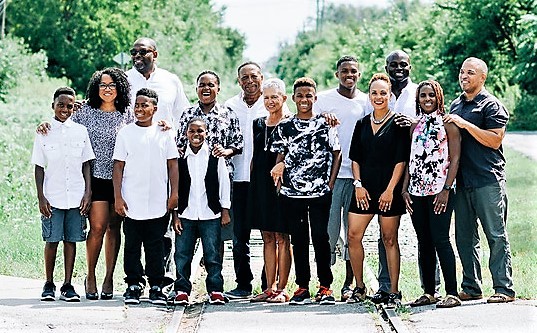 Chuck Ealey, centre, next to his wife Sherri and their family
Ealey has served on numerous charitable boards in Mississauga and is a past winner of the Herb Carnegie Community Leadership Award, given to those doing extensive community service, volunteerism, and contributing time to humanitarian causes.
He fulfilled his mother's dream for him, too – not to be a football star, but to get his education, and put his university business degree to good use. His career as a financial advisor and group leader with Investors Group is living proof.
But the best investment he and wife Sherri ever made was in their children, and that is now bearing fruit as all three have grown into leaders in society.
Ealey never allowed racism to kill his spirit, or block the path to a better life. The undefeated attitude he brought into the huddle at Toledo, was "passed" on to his children, who have drawn the metaphor inward and continue to move it outward and upward.
Submit a correction about this story