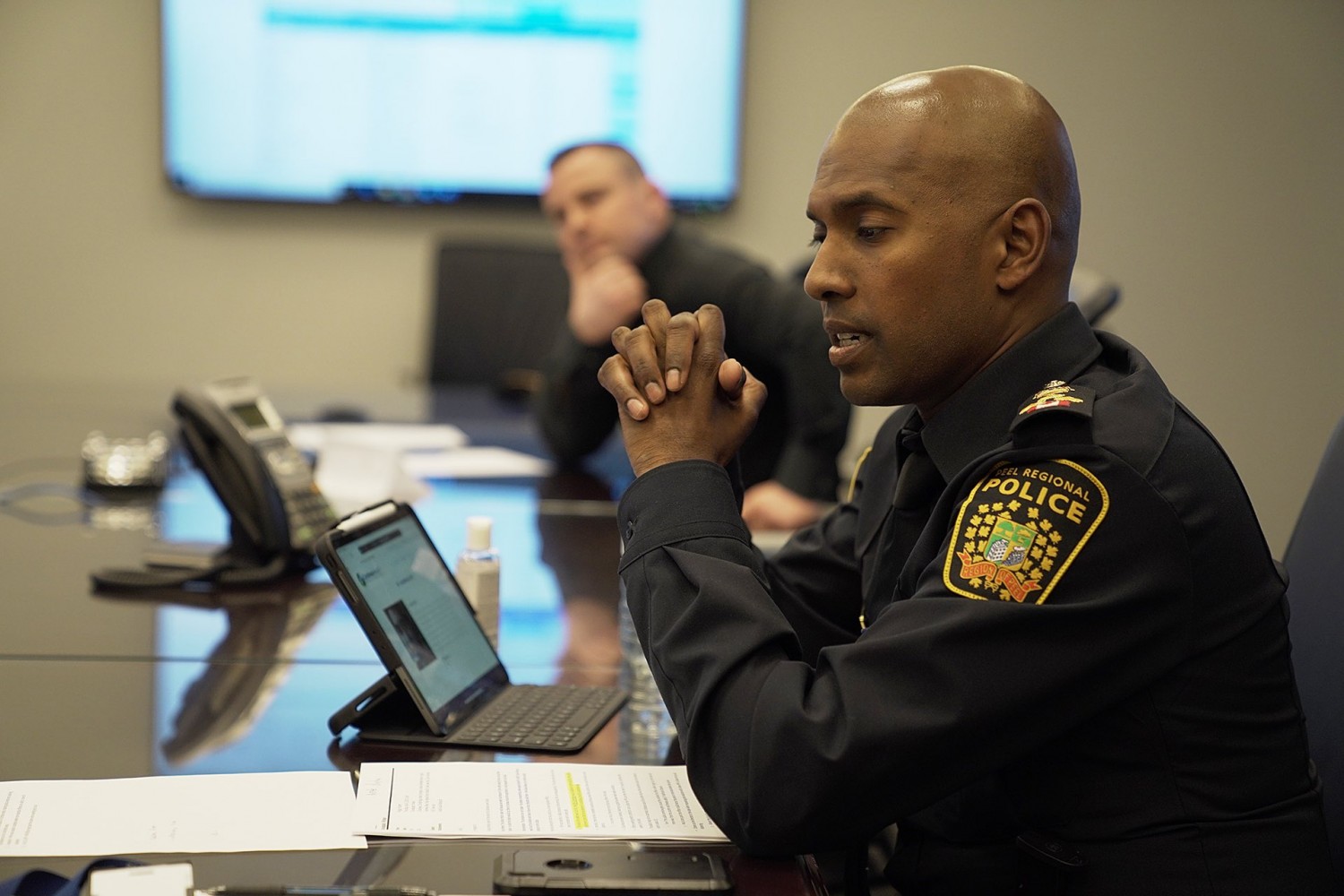 Photos from The Pointer files/Twitter-Nishan Duraiappah/Peel Regional Police
Chief recruits reinforcements from Halton to help fix issues that plague Peel police
When Nishan Duraiappah took over as chief of the region's struggling police force, he triggered a wave of change that has yet to crest.
Peel Regional Police had been tainted by a series of events over the past five years that led to the resignation of the embattled former chief Jennifer Evans, who called her early departure a retirement.
Calls for her to step down began when the media revealed freedom of information data that showed Black individuals had been targeted by the force in random street checks, or carding stops, at three times the rate compared to whites.
Evans had promised to find out why this was happening and address it, but she never did.
Simultaneously, a human rights case against the force revealed a highly decorated officer, Staff Sargeant Baljiwan (BJ) Sandhu, had endured constant racist and discriminatory behaviour since he joined the force in the '80s. After the ruling by the Ontario Human Rights Tribunal went against the force, Evans refused to apologize to the highly respected South Asian-Canadian veteran of the force.
Instead, she brought forward a petty internal Police Act charge against one of the senior officers who had testified in Sandhu's defence.
A series of disturbing high-profile cases also marred the force. The board that oversees it approved an external probe by a police watchdog into Evans' handling of the murders of three Mississauga residents, after three members of the Harrison family, two of whom were Black, were killed, one by one. Peel police determined the first two deaths, in the same house, were just coincidence, and it continued to botch the investigation even after a third member was murdered, leading to fierce public scrutiny.
Evans was then implicated in a $21 million lawsuit involving the shooting of an innocent bystander, after officers shot and killed a man, firing 11 bullets, including one that went through a kitchen window and struck a young woman.
An officer was also shot, by a colleague who was still on training when the incident occurred.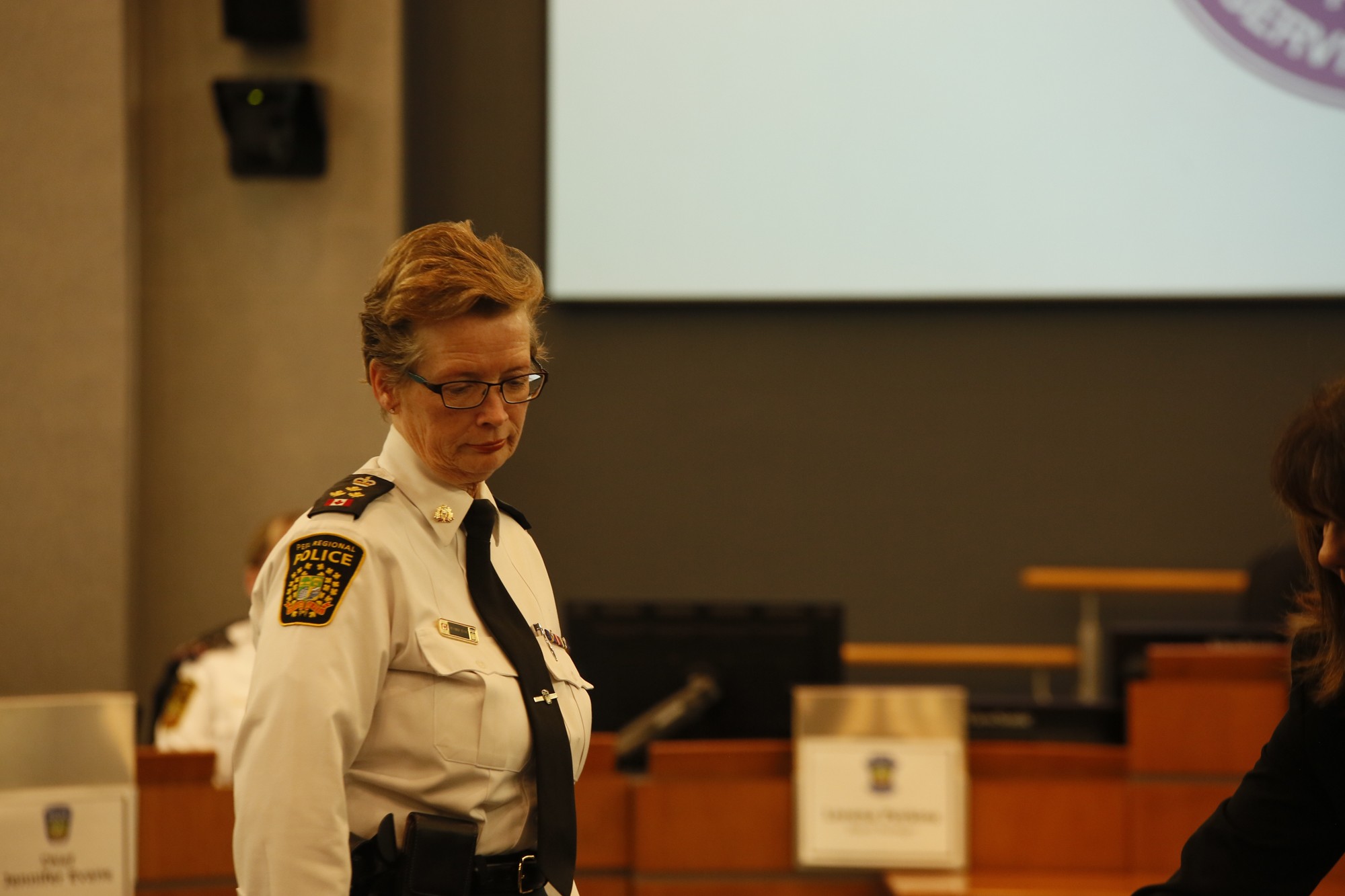 Former Peel Regional Police chief Jennifer Evans.
The bystander alleged Evans later visited her in the hospital, breaking proper protocol, and suggested she would get her a job with the force, a career the woman was already pursuing. Evans denied the allegation, but the force admitted the former chief did visit the woman in the hospital, violating procedure.
Internal disciplinary data was also released under freedom of information requests during Evans' tenure that showed Peel police had by far the worst record of officer misconduct in the province.
The force was a mess. And the board, including Mississauga Mayor Bonnie Crombie, knew it.
She and others, including Brampton Mayor Patrick Brown, who also sits on the board, hired Duraiappah to turn things around.
Earlier this month, the police force announced further change to its senior leadership, filling three deputy chief positions, two of which became vacant last month, as members who rose through the ranks under Evans left. The critical roles, which act as second-in-commands and close advisors to the Chief, were made vacant by the retirements of acting deputy chief Dale Mumby at the start of April, and deputy chief Ingrid Berkeley-Brown, a 34-year veteran of the organization, at the end of the month.
A Canada-wide search was announced on March 6 for replacements, with the organization eventually settling on an inside hire — former staff superintendent Randall Patrick who has been with Peel police since 1980 — and two high-ranking officers from the Halton Regional Police department, Anthony Odoardi and Nick Milinovich, recruited from the same organization Chief Duraiappah had made his name in.
"I am pleased to welcome the new Deputy Chiefs to the Peel Regional Police. They have worked in a variety of policing roles and are recognized as leaders provincially in specialty areas that align with the identified priorities for this police service and community," Duraiappah said in a news release. "They are strong police leaders who have the experience and standing in the policing community to integrate well with the members of the service, its various communities and our Police Services Board."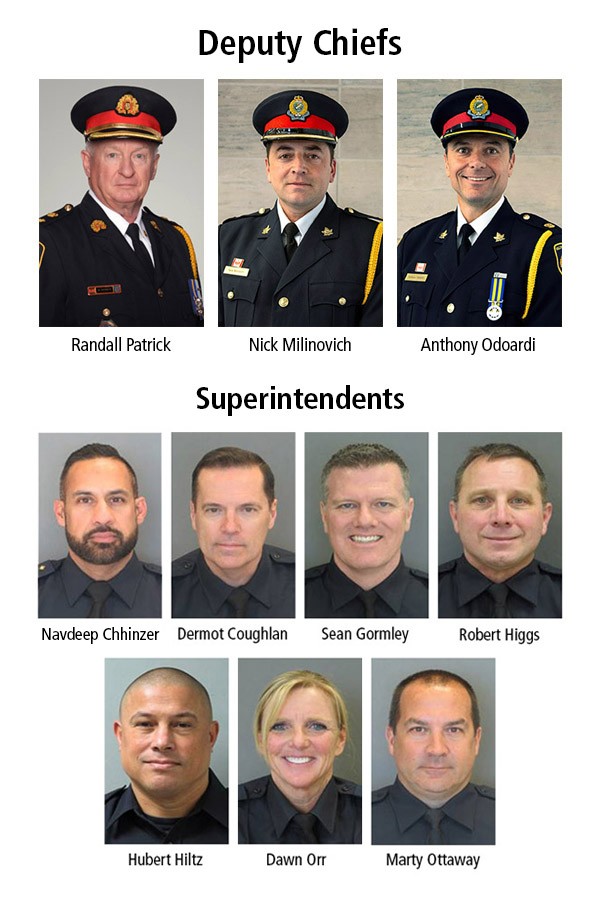 New hires and promotions within the Peel Regional Police
The new police brass enter their senior positions at a time of flux in the organization. When Chief Duraiappah was sworn in near the end of 2019, his mantra was to disrupt the status quo. It was an attitude welcomed by many in the Peel community who had been at odds with the PRP for years as trust with former chief Evans had been broken.
Between 2010 and 2016, a Toronto Star investigation found some 640 Peel police officers received discipline for misconduct, about one third of the uniform officers at the time, despite claims by Evans that only 2 percent of her officers would engage in misconduct during their career. Offences ranged from Detective Craig Wattier receiving a one-year sentence for secretly watching child pornography that had been seized as evidence to retired officer Mark Androlia charged with fraud and money laundering.
Most recently, Peel Regional Police Association President Adrian Woolley was charged with drinking and driving and received an eight-month demotion from Constable to Constable Second Class.
The controversial police practice of street checks — or carding — had destroyed the relationship between PRP and the Black community in Peel.
In Brampton and Mississauga, where Black residents were just 9 percent of the population, data from a recent five-year period showed that almost 25 percent of those carded were African-Canadians. Between 2009 and 2014, Peel police conducted 159,303 carding checks, with Black people at least three times more likely to be randomly targeted, compared to white people, in a given year. It's a practice that Justice Michael Tulloch, in reviewing the use of street checks in Ontario, said alienated entire communities and eliminated trust and cooperation between the public and police.
Evans refused to withdraw her support of the practice, and while chiefs across the province in much less diverse jurisdictions publicly denounced carding, she defended it till the end. While the community she served pointed to the mounting evidence that showed how destructive and counter-productive carding was, Evans claimed, without anything to back herself up, that limitations placed on the practice by the province had impeded policing and played a role in the increasing violent crime across the region in 2018.
The level of mistrust also went beyond the Black community in the region. A recent study completed by Family Services of Peel found the number one reason survivors of human trafficking do not come forward to report their plight was the distrust they had in the system. It suggests a deep-seated concern with the police that the new chief will have to address if he wants to turn things around.
Tulloch's report called for a ban on random street checks, as well as a long list of other recommendations, which are now under the purview of Chief Duraiappah and his new deputies.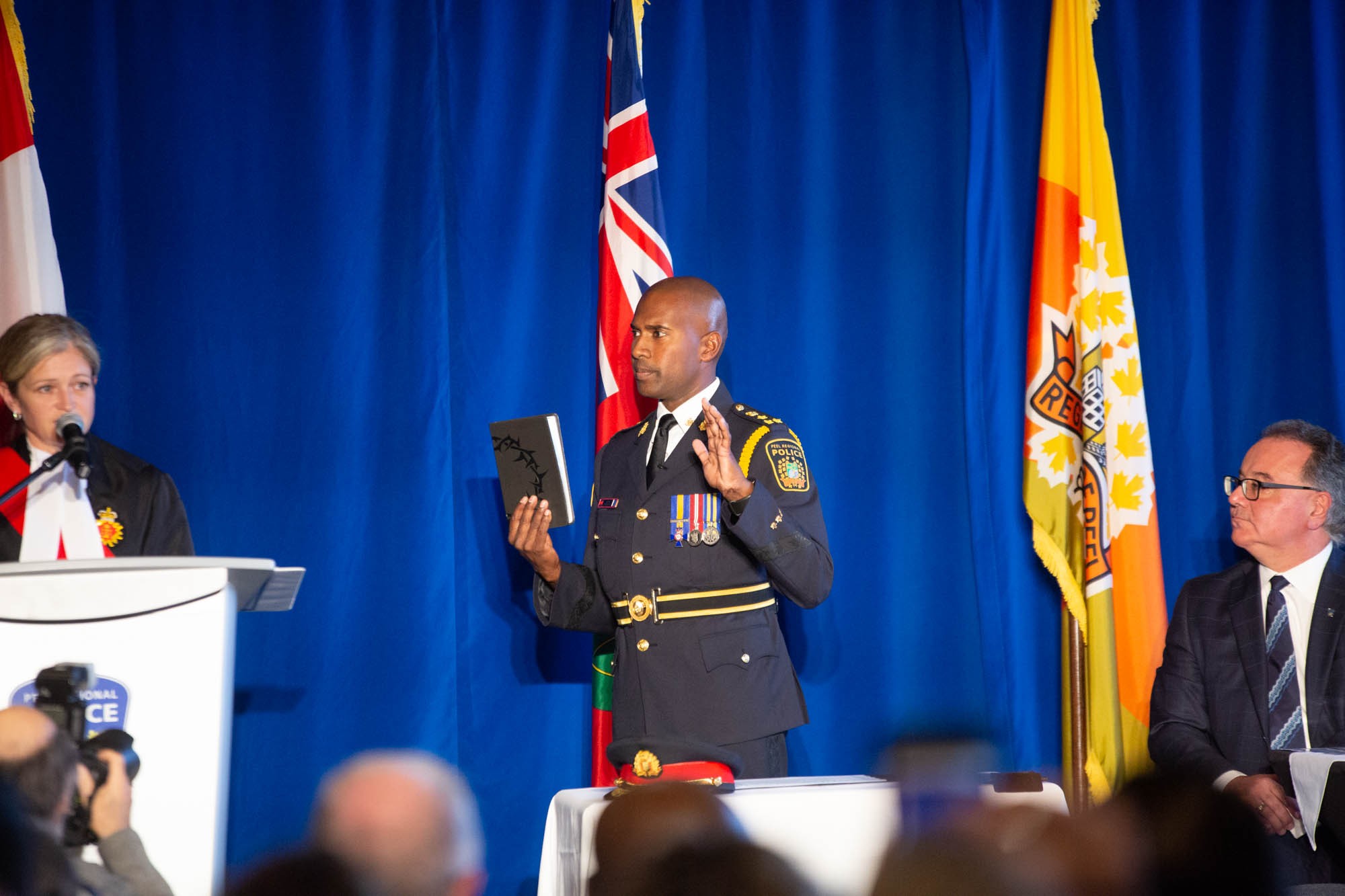 Chief Nishan Duraiappah was sworn in with the vision of repairing the relationship between the Peel Regional Police and the public.
Another of Tulloch's recommendations called for police organizations to work toward an internal "culture shift" and begin diversifying their officer complement.
The Peel police service has been criticized for its lack of diversity; only 20 percent of officers are visible minorities, while Brampton's population includes 74 percent of residents who are visible minorities.
Incidents in the force's history provide evidence of discriminatory practices internally, including the 2014 case of Staff Sgt. Sandhu, who the Ontario Human Rights Tribunal found was passed over for a promotion because of his "race, ancestry, place of origin, and/or ethnic origin."
Perhaps more concerning, the same ruling also found that Peel police "generally" devalued police work in Peel's large South Asian community.
These systemic barriers to proper policing did not just exist among the rank-and-file officers, an audit completed by the Centre for Diversity and Inclusion last year — before Chief Duraiappah was hired — found that senior leadership within PRP were incredibly out of touch with the issues being faced by their staff. While senior officers generally found no barriers for promotion or advancement in the organization, lower-level employees said they definitely existed.
The 142-page document is a scathing indictment of the police force which the audit found doesn't represent the fast-changing, diverse community it serves, raises barriers for racialized members of the force, punishes those who speak out, and has turned a blind eye to systemic discrimination.
The review also found a disturbing 79 percent of Peel police employees who took part voluntarily in focus groups reported experiencing harassment or discrimination within PRP, while 90 percent of participants reported witnessing such behaviour.
With these concerns in mind, the hiring of two experienced police officers from outside the Peel organization brings fresh eyes to problems that existing members of the leadership may be missing.
Bringing both of these candidates from Halton Region Police, who have more than likely worked with Chief Duraiappah during his long tenure with the organization, means there will be a level of trust already built between leaders who can begin fixing the force's issues right away. The promotion of Patrick also brings someone with institutional knowledge of the force, having been with the organization for nearly four decades, and a certain level of trust among those PRP employees who want to be a part of the change, but don't want to be on the defensive.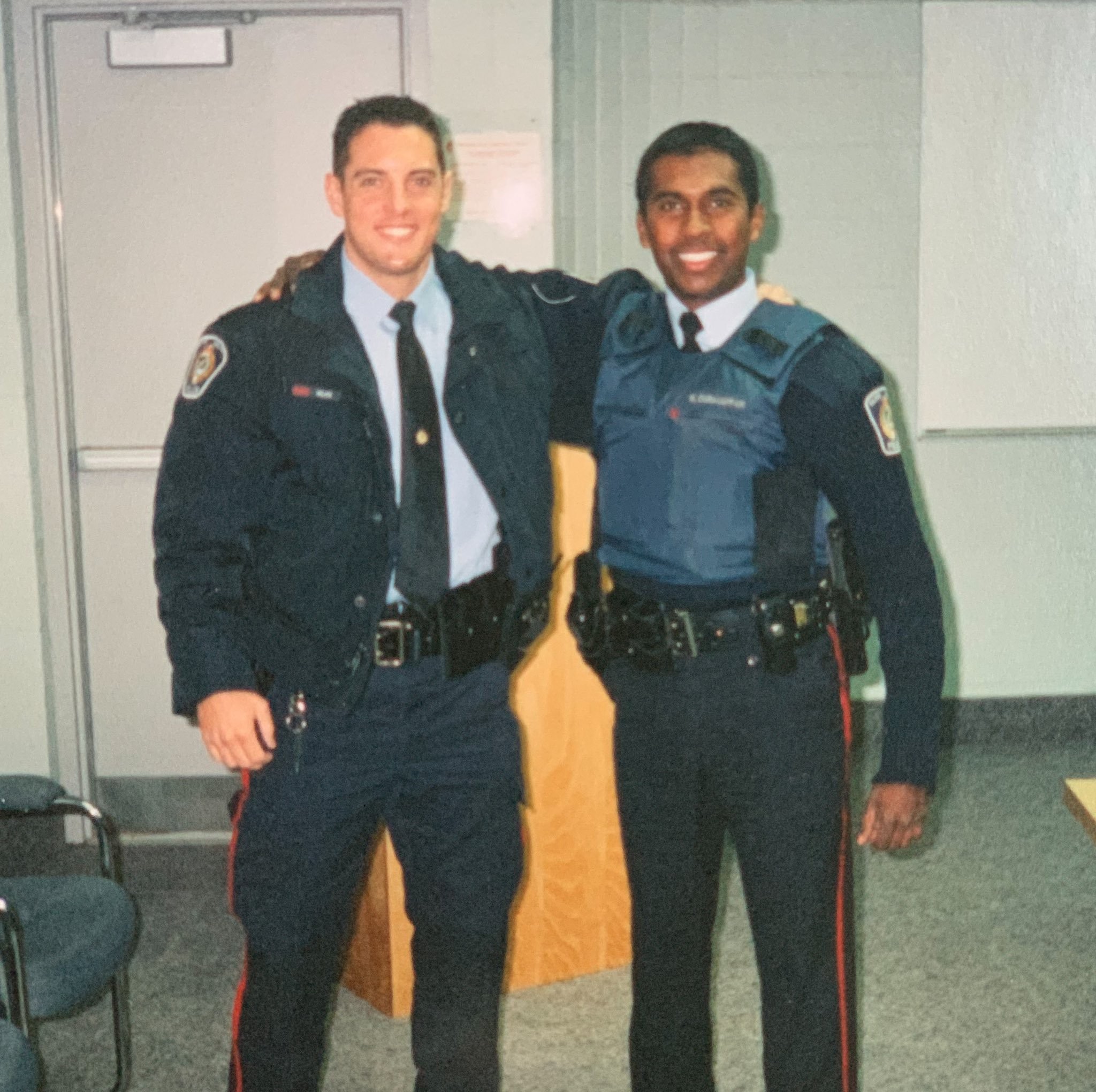 Chief Duraiappah (right) early in his lengthy career with the Halton Regional Police.
While solving the problems within the police organization will be essential to PRP's long-term success and to rebuilding trust in the community, the PRP and senior leadership also need to ensure the force is positioned to do what police do best, fight crime. It's a region where the criminal landscape is constantly shifting, and becoming more violent with increasing instances of gun and gang activity.
Cases of discharging a firearm with intent have increased from only three incidents in 2014 to 25 in 2018.
Sexual violations have been increasing in Peel since 2013 with drastic jumps of 21 percent between 2014/15 and 2015/16 and a further 34 percent increase the following year. The rise in these numbers, and the increasing awareness about how police have historically mishandled sexual assault complaints has led to a complete revamping of how these cases are handled by police organizations across Canada.
This is not the only change Peel police has had to grapple with. Human traffickers are increasingly calling Peel Region their headquarters, driving the number of these offences in Brampton and Mississauga to nearly twice the national average. Sexual crimes against children are rising at a terrifying rate — increasing 332 percent over the last five years, nearly three times the average rate in Ontario. These statistics become more startling when considering crimes like sexual exploitation, which Peel Police recorded zero instances of in 2014, to 20 cases in 2017 and 10 in 2018. Other sex crimes like sexual interference have increased from five cases in 2014 to 110 in 2018.
Peel's Internet Child Exploitation Unit has its work cut out, not only when it comes to addressing rising crime rates but also training officers to properly handle vulnerable victims, and investigate crimes that were practically non-existent in their jurisdiction several years ago.
Incoming Deputy Chief Odoardi, who began his policing career in 1995, brings a wealth of policing experiencing, including work with sexual assault survivors, and with child and youth. He sits on the board of directors at RADIU Child and Youth Services, an organization that provides counselling and other services to kids and families who are experiencing abuse.
Incoming Deputy Chief Milinovich, brings experience with mental health crisis and addiction services, both of which are critical issues in Peel with the ongoing opioid crisis and increasing prevalence of mental health calls to police. In 2017 there were 5,800 calls into the force for help in mental health crises, a 15 percent increase from the previous year.
"About 16 times a day, two officers each time, we are taking an individual under the mental health act to one of our local hospitals," Duraiappah recently stated. He pointed out that officers can have to attend at a hospital for as long as five hours to deal with each incident.
In addition to the new deputy chiefs, the force has also promoted seven other senior officers to the level of superintendent.
"These new Superintendents, new Deputy Chiefs along with new organizational changes represent overt commitment to collaborative risk-driven initiatives as well as strategic innovation and technology," Duraiappah stated.
---
Email: [email protected]
Twitter: @JoeljWittnebel
Submit a correction about this story