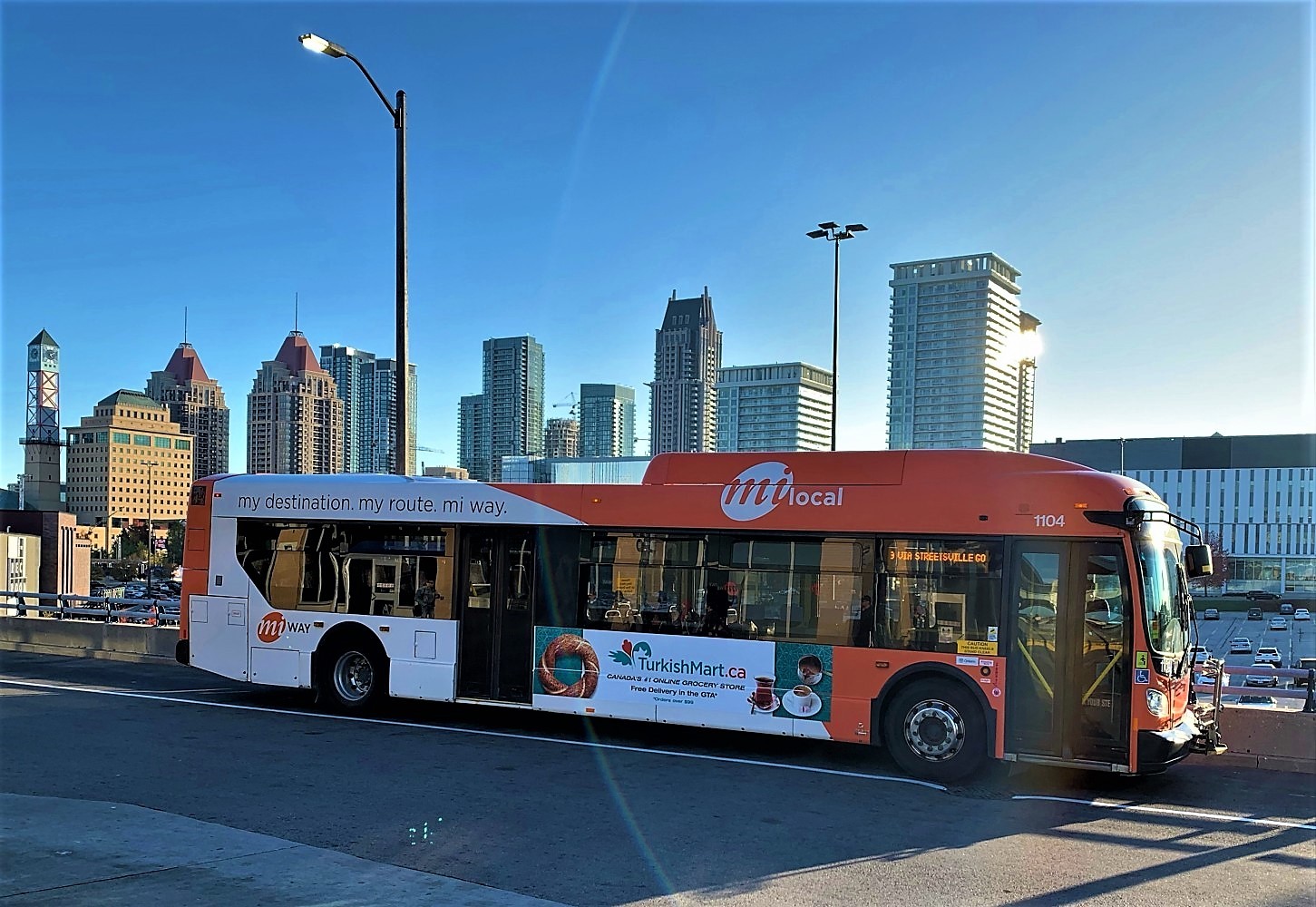 The Pointer file photos/Decks FCM/Rendering City of Mississauga/Twitter
A month of COVID-19 losses show Mississauga's projections are on track as city pleads for bailout
Mississauga is one of many victims of COVID-19's municipal massacre. For weeks cities around the country have been hemorrhaging hundreds of millions of dollars, desperate for a transfusion. So far, no one has stepped up to help.
Last week, Mayor Bonnie Crombie again called on the federal and provincial governments to help cities out. She told Prime Minister Justin Trudeau and Premier Doug Ford she didn't want a "bailout," instead what was needed was "an investment in our people."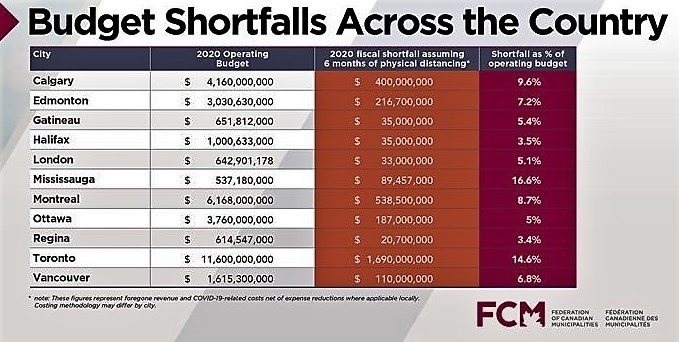 FCM's chart of the projected hit to major cities
It has long been the gripe of cities that they provide the majority of services with the fewest revenue collection tools. In Mississauga, 58 percent of all revenue comes from property taxes. The remainder is made up through user fees such as charges for recreation or transit fares, along with some grants, licensing and income from issuing a range of tickets.
In March, at the beginning of the pandemic, Mississauga joined many other cities across the country in offering a property tax deferral. Instead of demanding payments from locals in the midst of a global crisis, they offered a three month grace period without penalties. Last week, council voted to extend that deferral further, bumping July, August and September payments forward as well.
An unexpected 94 percent of taxpayers have taken the City up on its offer.
Mississauga's cash flow, as a result, won't be as high as usual during the summer. In July, for example, the City expected to collect $145.5 million. This year, it will collect $90 million instead.

Mississauga property tax revenues as a result of deferrals
Gary Kent, Commissioner of Corporate Services and Chief Financial Officer at the City of Mississauga, told The Pointer his city does not have cash flow concerns, as of now. Instead, he said Mississauga is focused on the future, making up for the losses and getting help for bigger cities that are experiencing issues in the short-term.
"We're okay from a liquidity point of view in the medium term. I would say that takes us into next year," Kent said. "I can tell you though that the larger cities across Canada are not in such a healthy position. They will have liquidity issues before Mississauga does, so that's really [where] the sense of urgency for the feds and the province to help them out [comes from]. We're okay this year."
Using organizations like the Federation of Canadian Municipalities (FCM), Big City Mayors' Caucus and the Greater Toronto and Hamilton Area Mayors, Crombie and her intercity colleagues are calling on the government. A unified message from cities around the country has gone out to Ottawa: we need your help.
So far it has fallen on deaf ears, or, if the federal government is listening, it has failed to act.
A report recently issued by FCM painted a bleak municipal picture. It predicted that six months of physical distancing would require staggering property tax increases if upper levels of government don't help out. Toronto, the report indicated, was facing a hypothetical increase of 56 percent, Vancouver 22 percent and Mississauga 17 percent.
Kent explained Mississauga's reliance on the property tax base, not normally a positive, limited the impact of COVID-19. While property tax is delayed, it will eventually be collected. Cities like Toronto, with more revenue collection powers and a greater reliance on user fees like transit, will be left with unsolvable holes in their budgets.
The fact the Region of Peel is also responsible for areas such as public health, policing and paramedic services also helps. However, most of those costs are still supported by taxes paid by Mississauga and Brampton property owners (Caledon does not pay for Peel Regional Police, as it is patrolled by the OPP).
As the FCM report explains, no bailout for cities will mean a dramatic cut in the quality of life and services they are able to provide for their residents. "Without emergency operating funding, municipalities will need to reduce planned capital expenditures in 2020 to make up for lost revenues," the report says. "This scaling-back is enormously counter-productive to the coming need to drive Canada's economic recovery through new capital investment in municipal assets, including core infrastructure and housing."
Housing, both subsidized accommodation and market-rate housing, is badly needed across the region, and any budgetary or operational delays in the sector caused by the pandemic will increase the dire insecurity already being faced by individuals and families desperate for housing in Mississauga.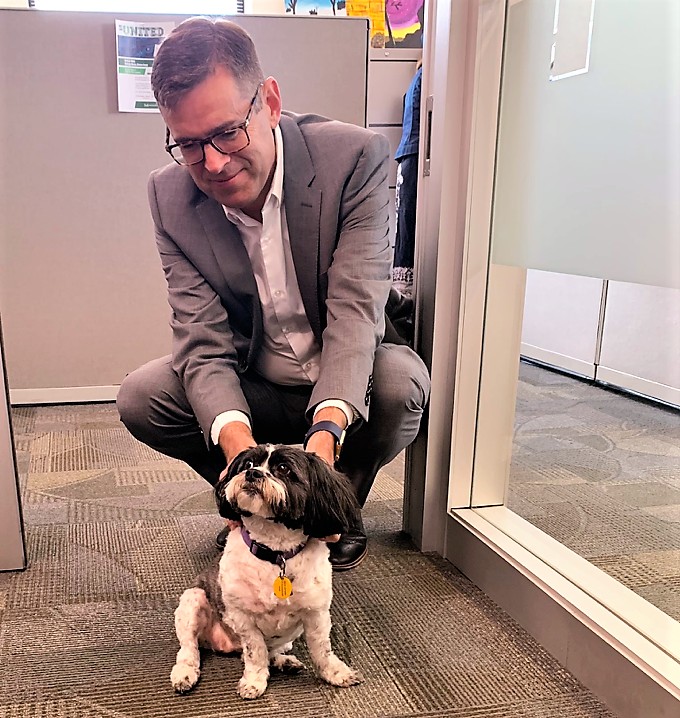 Gary Kent, Commissioner of Corporate Services and Chief Financial Officer at the City of Mississauga
Crombie's appeal last week was impassioned. She said it had been two weeks since she and her colleagues had approached the federal and provincial governments. In that time, the silence had been deafening. "Cities are the engine of the economy and we will be critical to our nation's economic rebuilding," the mayor said. "There is no one level of government closer to the people than us."
On April 8, councillors received a brutal financial report. It laid out how much money the city could lose if physical distancing remained in place until the end of April, May, June or December. The end of year losses varied from $43 million if distancing ended in April to roughly $100 million if most measures remain in place until the end of the December.
More than a month after the projections were put together, the City's chief financial officer says they remain on track. The calculations presented accounted for projected losses in transit, recreation centres, advertising revenue, fines and a variety of other revenue sources or services that have to continue operating. Such calculations involve a significant number of assumptions. Regardless, Kent is confident the math holds up and his numbers remain accurate.
"If we see any material deviation from our forecast, we'll come forward [to council]. Right now we think we're tracking within that range," he said.
Some areas, including building permits, are continuing business-as-usual and remain on budget.
Asked if there was a danger of underestimating losses and therefore receiving a smaller bailout than needed, if one materializes, Kent said he wasn't worried. Any bailout, he explained, would likely be a large sum that was audited afterwards to ensure all municipalities are covered.
This means staff inside city hall are working toward a June budget meeting cognizant of significant losses. Crombie has already implied raising the property tax by 17 percent next year is not a possible route, saying service reductions or capital project delays will be needed if her city doesn't get its bailout.
Assuming distancing ends on June 30, Kent said losses would roughly equate to losing a community centre with an adjoining park.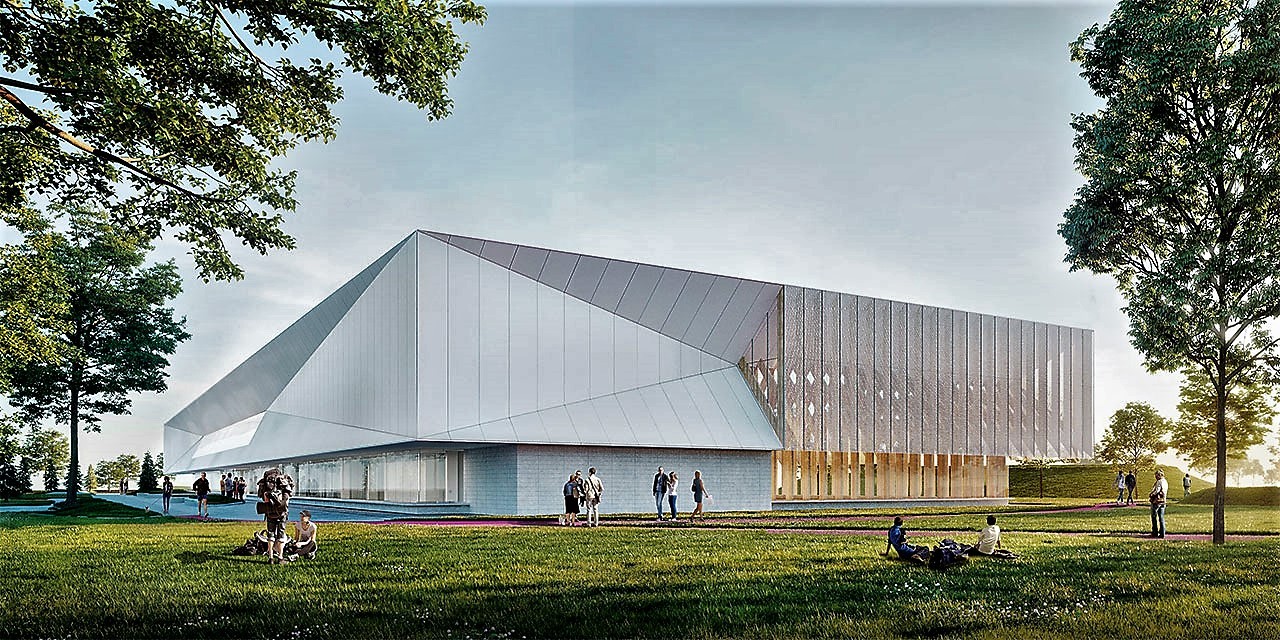 Residents looking forward to a new community centre and park, such as Churchill Meadows, which is opening in the fall, would not be happy if future plans get cancelled
"Let's say physical distancing ends at the end of June," Kent explained. "Based on the report that I took forward [to council] on April 8, that would mean the impact would be [a loss of] $59 million from COVID. We do have some natural savings in the budget, so overall there's a range. Let's work with $50 million [in losses]. The scale of that would be a community centre with a park. Churchill Meadows' budget is around that, though obviously we're not stopping that one." He emphasized that he was only using the facility, which will open late fall, as an example.
Council's hands are not tied in how they find the money, but tough choices will have to be made somewhere if no one swoops in.
"We're bringing together the ingredients right now, but we don't have the recipe, so we can't really bake the cake," Kent explained, of the information his department is gathering. "We're bringing together the data so that as it becomes more obvious, we can give council information to make informed decisions."
Whatever those decisions are, if no help arrives from higher levels of government, residents who lose services will likely be upset. Something will have to give.
According to Kent, cities across the country will be hoping for and expecting a formal response from the feds and province between mid to late May. Any later, whether the answer is positive or otherwise, could throw the budget process into difficulty.
In Ontario, cities are not permitted to plan for deficits in their operating costs and must pass their budgets by the end of March. The massive, detailed documents take months to pull together. In Mississauga, staff usually aim to publish the plan by late November or early December.
Last week, Prime Minister Justin Trudeau made that process more complicated, pouring cold water on the notion the federal government would bailout local transit networks. By June, Mississauga is estimating its MiWay transit system will be looking at losses of around $25.8 million as a result of temporary free fares and reduced ridership.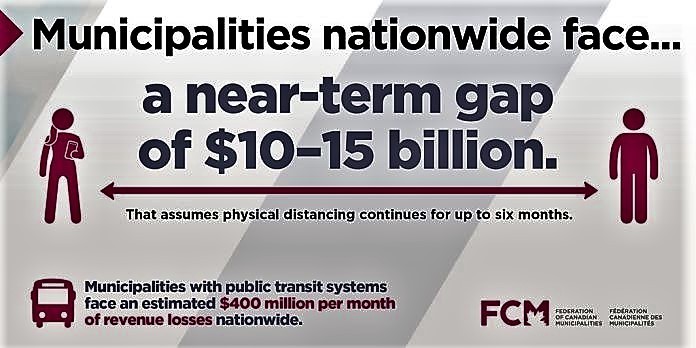 The city has begun fitting its buses with plexiglass screens to allow drivers to begin collecting fares again safely. However, ridership on buses is down roughly 75 percent, making it unclear exactly how much will be recovered, even if distancing measures are lifted and life begins to return to normal.
In the United Kingdom, the government just advised all workers returning to their jobs as society there begins to reopen, not to use public transit. It's likely many previous transit users in Mississauga will not get back on buses for an extended period of time. The reality is, until a vaccine is widely available, which could be as long as two years from now, services such as transit will probably be hit hard.
"This government has made historic investments in transit over the past years. We recognize that public transit is an essential part of growing the economy, of helping our cities, and mostly helping people to be able to get to work from home in a reliable way," Trudeau said on May 8. "Operation of transit is more of a municipal and provincial responsibility, and we hope to see provinces stepping up on supporting this essential element of the economic relaunch."
As May continues to creep on and the likelihood of a bailout appears to slowly diminish, cities will be working in the background to consider their next steps. Regardless of how probable a bailout may seem, mayors like Crombie will continue to call as loudly as they can for a helping hand. Their hope is that media scrutiny, public pressure and local MPs or MPPs will make sure they are heard.
"This country cannot allow cities or our people to fail," Crombie said. "Every other sector has been provided relief, except us."
---
Email: [email protected]
Twitter: @isaaccallan
Tel: 647 561-4879
---
COVID-19 is impacting all Canadians. At a time when vital public information is needed by everyone, The Pointer has taken down our paywall on all stories relating to the pandemic to ensure every resident of Brampton and Mississauga has access to the facts. For those who are able, we encourage you to consider a subscription. This will help us report on important public interest issues the community needs to know about now more than ever. You can register for a 30-day free trial HERE. Thereafter, The Pointer will charge $10 a month and you can cancel any time right on the website. Thank you.
Submit a correction about this story