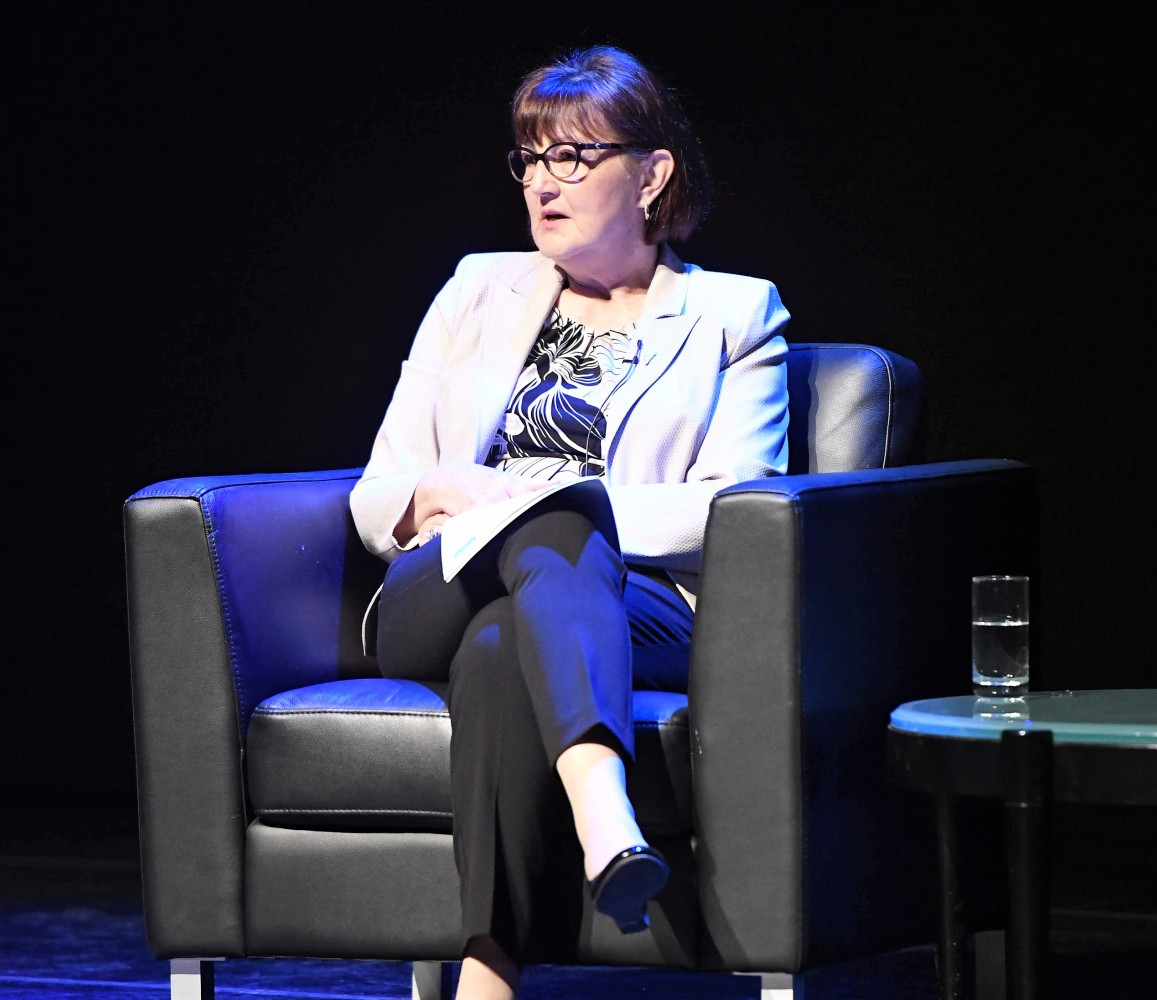 The Pointer file photos/Courtesy of the City of Mississauga/Twitter-Janice Baker
Reflecting on 15 years at the top of Canada's sixth largest city, Janice Baker prepares to step aside
In 1999, Janice Baker walked into Mississauga's iconic city hall for the first time. The sprawling municipality she went on to lead for 15 years was very different then.
A coal-based power plant sat on the edge of Lake Ontario covering the waterfront community in soot, while the 403 Transitway was just a half-plan on someone's shelf. A light rail system was little more than a dream and the voluptuous Absolute World towers that highlight Mississauga's skyline were still a drawing in Yansong Ma's sketchbook.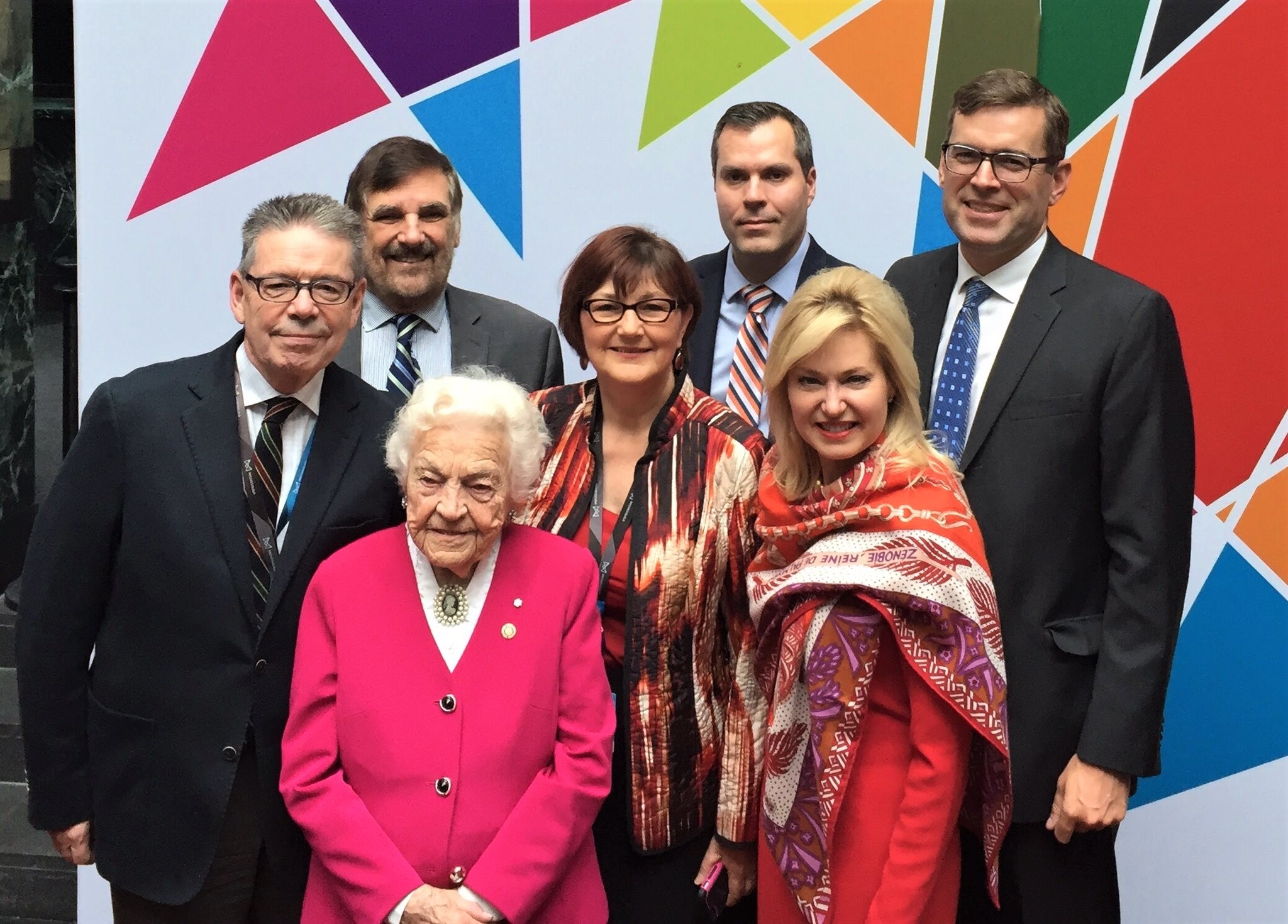 Janice Baker, with Mayor Bonnie Crombie and other past and present city hall leaders, has been at the centre of the picture for 15 years
Baker spent six years as Commissioner for Corporate Services, before taking on her current role as City Manager in 2005. Under her guidance, Mississauga has slowly but steadily transformed from a community near Toronto to one of Canada's most exciting and diverse hubs. A city that boasts the Canadian headquarters or regional offices of almost 80 Fortune 500 companies.
Baker will retire on May 15, with Commissioner of Community Services, Paul Mitcham, set to take her place and continue the projects she has overseen.
"I think the city was already transitioning when I became CAO," she told The Pointer. "We had put incentives in downtown to encourage higher density development [and] we were starting to understand from the community that we needed to look at the evolution and the growth of the city differently. When I took over in 2005, the one thing I think we lacked, that I was proud we were able to put together, was a really strong, coherent strategic plan."
In 2005, Mississauga had a "something for everybody" plan. Instead of clearly defining what the city could and should be, it muddled through a variety of half-compromises. "You could put almost any municipality's name on the front page and you could make it fit," Baker laughed.
Determined to make her mark on Mississauga (so the city could make its mark on the world), the newly promoted leader set out to define what residents wanted and what the city could deliver. Instead of saying yes to everyone and trying to hold the pieces together, the city resolved to proceed with a more defined purpose, shaping a future that matched the aspirations of its increasingly cosmopolitan residents with the national and global trends spreading across much of the world.
In 2007, Mississauga started asking questions. Unlike a lot of municipal feedback opportunities, the city wasn't asking people what they liked. They wanted the harsh, uncomfortable truth.
What do we do badly?
The answer came back loud and clear: transit. Roughly one in four respondents to a massive strategic survey said the city's bus network badly needed work, with an approval rating at the time hovering around 50 percent. Other key goals were on the to do list drawn up by residents and, in response, the city came up with five pillars. The philosophy, still at the heart of its planning and budget documents, was captured in a few guiding words.
Move, belong, connect, prosper and green.
Two years ago, the City of Brampton embarked on a similar exercise. They held feedback sessions and surveys with roughly 13,000 residents participating and hired renowned pioneer of the Vancourism movement, Larry Beasley.
Beasley and his team came up with almost 100 pages imagining what Brampton could look like in the future. Their document painted a picture of a dense, walkable city where everything was a 15 to 20 minute stroll from home. When Mayor Patrick Brown was elected in October 2018, he said the policy would guide his decisions, and staff at city hall are currently working on baking it into the city's Official Plan.
But, during his term in office, Brown has also wholeheartedly approved the GTA-West Corridor (Highway 413) connecting Milton to Vaughan along the edge of Brampton. The project is a sprawl-inducing nightmare of a road that will encourage subdivision development, not the density of the 2040 Vision.
In the two years since it was written, Brampton's 2040 Vision has been talked about a lot. Very little action has followed.
In 2007, Mississsauga's changes to its strategic plan didn't look as sleek as the 2040 Vision and they didn't come with the same fanfare. Yet, looking back 13 years later, the commitment to the policy is easy to track. By comparison, in its first two years Brampton's plan has been ignored in the face of Brown's support for the GTA-West Highway, save for some token bike lanes and the Queen Street corridor initiative, which has been offset by continued support for subdivision applications.
But where Brampton lacks true leadership in its upper ranks, with a controversial CAO, David Barrick, who has zero experience running any municipal department and was clearly a political hire by Brown, Baker began her place at the helm laser-focused on realizing the goals residents had helped define.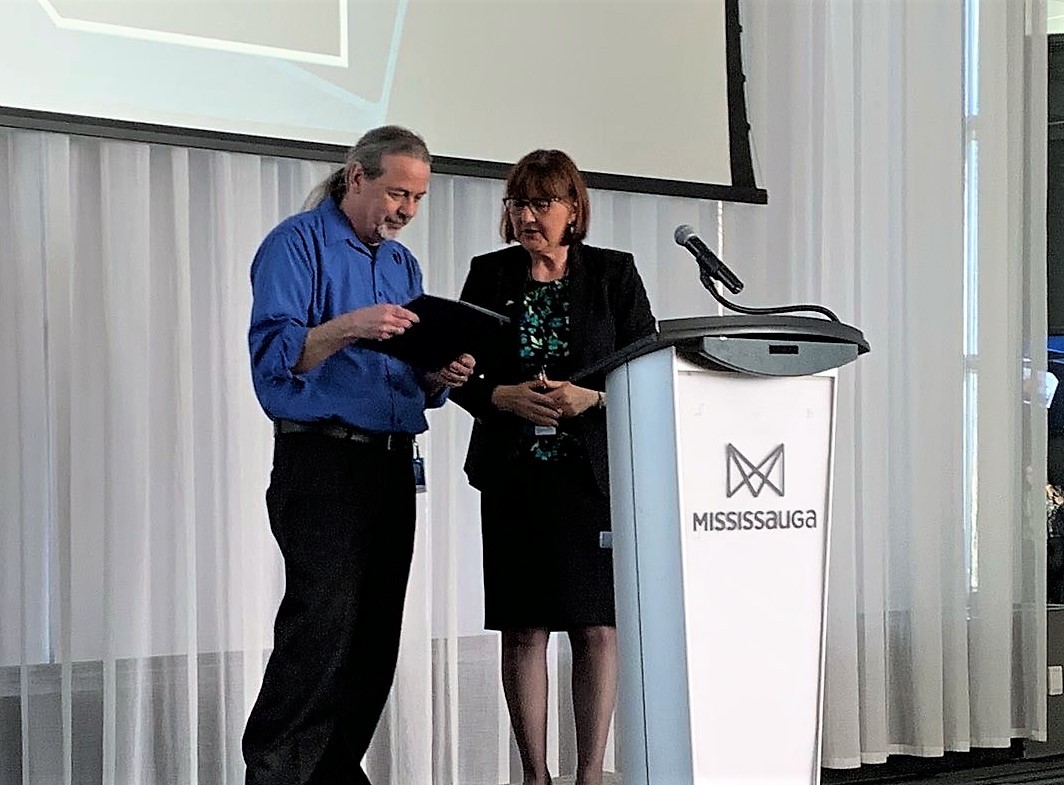 Baker has often been the person at the podium steering her city forward
"For me [2007] was really the point at which we understood and recognized those areas we had to put our foot on the gas and really push forward," Baker explained, referencing the broad community survey. "It can be a document that sits on the shelf and gathers dust. But that's really only because the organization has not made the commitment to it [or not] made it a priority. I was very determined, as was our leadership, which is why we structured the plan the way we did. We said tell us what we do badly."
One of Baker's success stories has been a significant improvement in MiWay. The service remains far from perfect, retrofitting suburbia with public transit is a tough task, but its improved service over the past decade and a half has been a game changer for thousands of residents.
Since 2007, approval ratings for the service have grown from 50 percent to 85. It's not just about moving members of the growing city from A to B, the transit system is vital to the flow of people, goods and services across the region, keeping thousands of cars off the roads, making commutes more productive, and helping attract some of the almost 100,000 businesses located in Mississauga.
"From there we really had a platform to move the agenda on MiWay," Baker explained. "We have heavily invested in transit, we have put aside anywhere between 1 and 2 percent of the tax increase annually into MiWay service growth. And that's in addition to some of the service growth that's come as a result of development charges."
One example of investment in the service is the construction of the Mississauga Transitway. While some question the utility of the route, parallel to Highway 403, and The Pointer has previously reported that inflated figures mask its problems, it still represents a major vote of confidence in transit by the city. This was mirrored by the 2015 confirmation of the Hurontario LRT and 2016 plans for a bus rapid transit corridor along Dundas Street, on top of plans for higher order transit along the Lakeshore, which is set to experience an explosion in growth over the next decade, all established under Baker's watch.
"We have certainly moved the needle in my view," Baker says proudly. "There will be changes that happen over time, what we're really trying to do is align those changes with that vision."
Mississauga's new focus on public transit came as part of a fresh, modern philosophy. The city began to take its first steps away from suburbia toward building a dense city that allows its residents to walk to their work or jump on a bus. Instead of spreading out homes across kilometres of suburban roads, the city has moved toward taller buildings and missing-middle housing.
According to a recent staff report, 80 percent of new development in Mississauga is in apartment buildings. Compared to its northern neighbour, which continues to invest in subdivisions, and many other North American suburbs, Mississauga has become the defining example of a former bedroom community that is now a net importer of jobs, sees heavy commuting into its city and has embraced modern planning to create its own unique identity. Lakeview Village, Brightwater, Square One, Rogers M-City or the Eglinton and Hurontario developments are just a few high profile examples.
The city no longer sees itself as a satellite. If anything, places like Milton are becoming its satellites.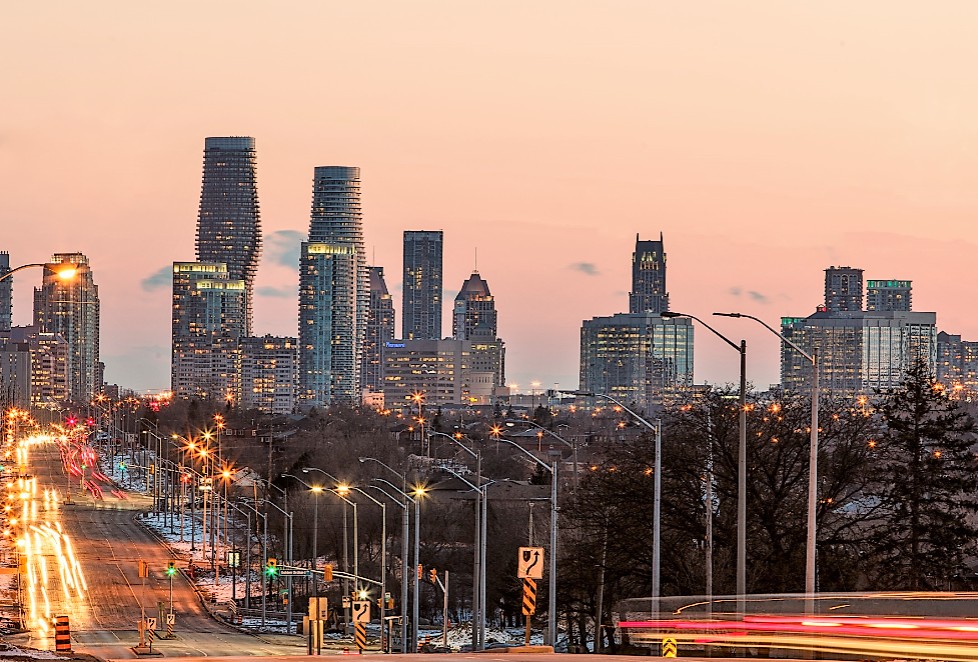 Mississauga has grown up under Baker's watch
"I think we've been sending signals out to the development community for many years of what our vision is," Baker explained. "I also think you need to have the strong planning policies and master plans behind it… You're never fully in control, some of it is market driven and very clearly you will have developers who will acquire land and come to you with projects that may or may not be in the excellent category."
In situations where developers aren't holding up their end of the bargain, Baker says the key is to have a strong planning policy to negotiate with. January's announcement of the Square One District showed why this is the case.
In a bold development plan, Oxford Properties proposed 37 towers in the parking lots around Square One Mall, which it owns, with 18,000 mostly-residential units. None of those new apartments will be subsidized or feature market affordable rates, as of now.
Normally, city staff and councillors would negotiate with the developer and offer them things like increased height in exchange for affordable units. But, weak planning policy in Square One (zoned for unlimited height at the turn of the century), left council with few bargaining chips. It illustrates why strong plans are key to the housing Baker says Mississauga is aiming to provide.
"Right now what's making housing affordable is making it smaller," she said. "It's price per square foot and if you want to bring the price down, the only lever we have right now is allowing smaller units."
"It has truly become the issue of our time," Baker added. "I would say back in 2008/09, when we were developing the plan, we weren't hearing that. It is an issue that has evolved and grown rapidly over the past four or five years. Now, this whole idea [of the lack of affordable housing] that we've created, regionally … is a conundrum."
Mississauga is a long way from where it wants to be, but the businesses lining up to get in and the thousands of residents flocking here each year for its quality of life would tell you it's on the right path. Many of the building blocks are in place.
It has a light rail system now under construction, between $40 and $45 billion of future private-sector building investment projected over the next 15 to 20 years, a variety of modern developments in the pipeline and has committed to an ambitious climate change plan.
Its waterfront plans along its canvass of properties along the lakeshore are the envy of every major city in North America. And, as the ongoing novel coronavirus pandemic has highlighted, its mix of space and density, unlike urban centres that lost their minds over out of control verticality these last two decades, has created an ideal style of living that could serve as a blueprint for the future.
A lot has been achieved under Baker's leadership. Hers was a style that can often go overlooked. Determined, yet steady. Focused, yet not on her own ego. A team player, who brought the table together, where many leaders inspire competition for their loyalty and approval, Baker seemed to simply want her team to pull in the same direction.
She knew how to deflate tension on council, instead of adding to it. But that didn't mean she wouldn't pull members in when they were going overboard on a controversial matter, she just handled it in her own quiet, understated but effective way.
While other large cities have had a revolving door in the CAO's office, with little ability to set a cohesive path forward, Baker has guided her city steadfastly for 15 years (Brampton has had eight people in the same position over the same period, often in "acting" roles).
Last year, Mayor Bonnie Crombie nominated Baker for the prestigious Vanier Medal handed out by the Institute for Public Administration of Canada, which has included a long list of some of the most highly regarded public servants in the country's history.
When Baker won, Crombie had this to say: "Through her leadership, our City has grown into an economic powerhouse and a sought-after destination for people and business to locate. Her commitment to public service and professionalism are without equal, and as a result, she has the respect of everyone who works for her. Janice exemplifies what it means to be a public servant and her legacy will be felt throughout this corporation for many years to come. We are lucky to have her as City Manager and our City is better as a result of her tireless work."
Speaking to The Pointer, a week before Baker steps down, while the CAO has been working tirelessly to help her city not only deal with the ongoing pandemic but to make sure it will be on a firm footing coming out of the crisis, Crombie couldn't contain her appreciation, or her admiration.
"Throughout her career, she has checked her ego at the door and worked every day to make the lives of residents better. It's why she was honoured with the Vanier Medal – the highest honour a public servant in Canada can receive," Crombie gushed.
Watching the two work together around the council table, the level of mutual respect has been clear to everyone present.
"She is thoughtful, principled, and incredibly honest," Crombie said. "You always know where you stand with Janice, and that is perhaps her most valuable trait. She's not afraid to have tough conversations or stand behind her decisions and her principles. I've been honoured to work with her the past eight years and have learned a great deal from her, as I know all of Council has. Janice knows the difference between being liked and respected, and because of this, she has the respect of all those she meets and works with."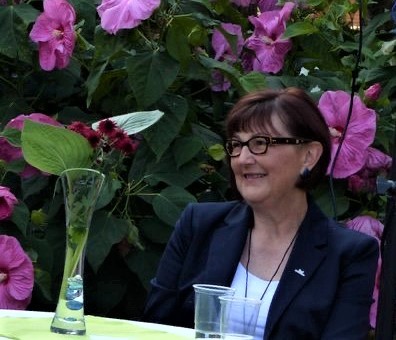 Janice Baker will retire at the end of this week
Crombie, like all the others The Pointer has spoken with about Baker, was quick to point out that elected officials would not have been able to move the city forward so quickly and dynamically without the woman who captained the ship.
"She will leave an indelible mark on our City, as she has been responsible for building the structures of our organization that make us such a well-run municipality, the envy of many others in Canada. While I will be sad to see her go, she has given more than most to the service of others and is deserving of a happy, healthy retirement. Her legacy will live on through the team she has built and the projects she has overseen. The City of Mississauga is forever in her debt."
The outgoing CAO says she hopes her legacy will be an invisible one within city hall.
"Quite frankly, my legacy is probably a legacy a lot of people wouldn't necessarily see: it's the culture of the organization. We have a collaborative culture at the City," she says.
"The culture of management is very important. People don't leave organizations; they leave lousy managers."
---
Email: [email protected]
Twitter: @isaaccallan
Tel: 647 561-4879
Submit a correction about this story