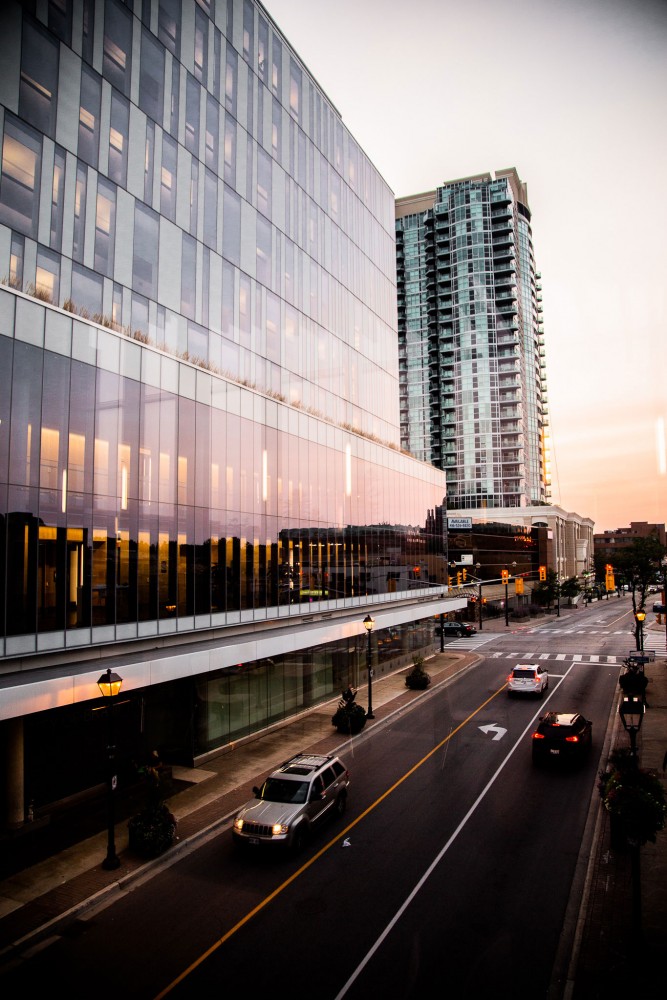 Photos from The Pointer files/Graphics from City of Brampton
If COVID-19 disrupts key Brampton projects, city's future vision could be set back for years
The City of Brampton's meeting schedule and to-do list are graveyards of lost hopes.
School Traffic Safety Council - cancelled.
Sports Hall of Fame Committee - cancelled.
Brampton Appeal Tribunal - cancelled.
Planning and Development, Brampton Heritage Board, Age-Friendly Brampton Advisory Committee, Committee of Adjustment - all cancelled.
And that's just the next week.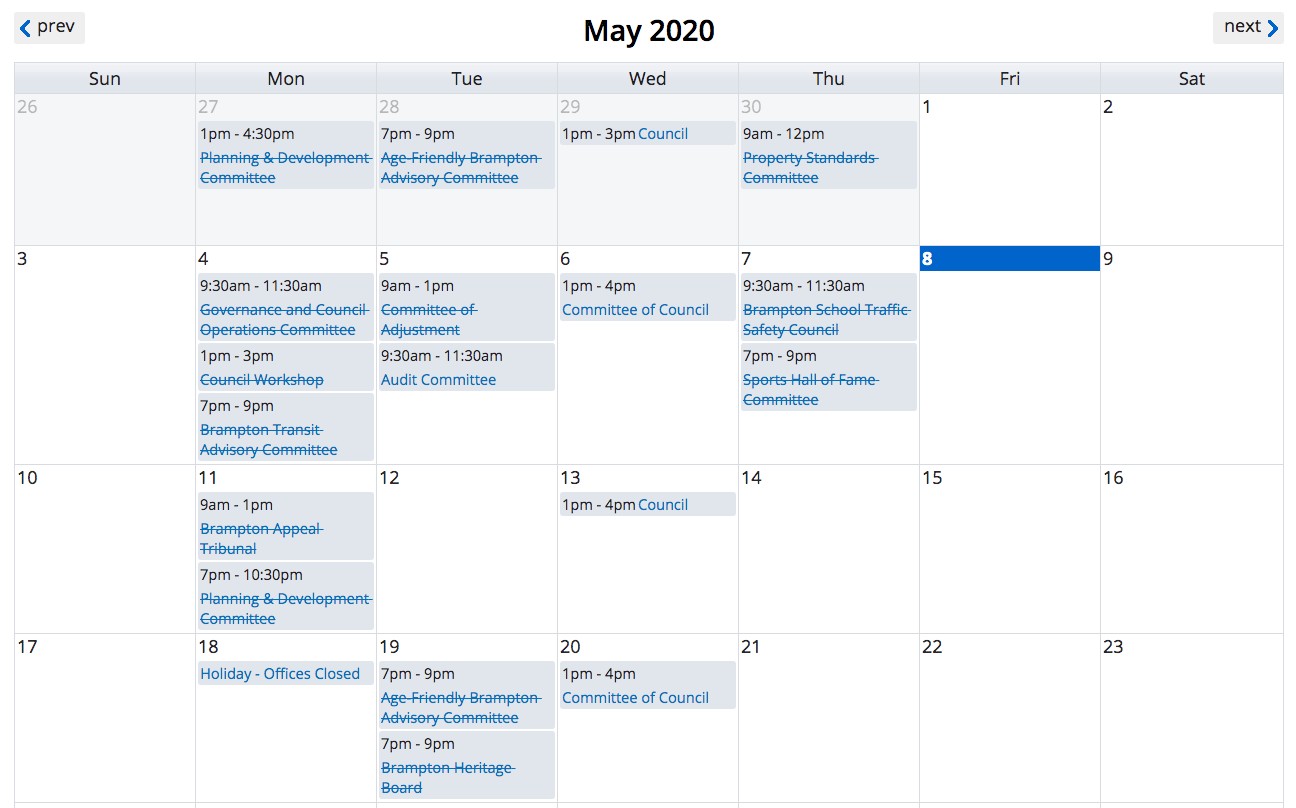 The COVID-19 pandemic has forced the cancellation of many city committees and tribunals, all of which play key roles in assisting council and municipal business.
As we're all well aware, the novel coronavirus has disrupted every aspect of daily life in cities across the globe. This has meant big changes for the municipalities responsible for operating these cities.
In some ways, the empty streets and office buildings have been a good thing. Fewer traffic accidents, less energy-use and fewer operations has meant money saved. However, any savings have been more than offset by the burden of handling a global pandemic. In Brampton, conservative estimates place the financial hit by year's-end at a $55 million deficit if physical distancing restrictions remain in place throughout the year.
It doesn't appear that will be the case, as new plans from the province of Ontario have certain businesses like garden centres and big box stores opening next week — with certain restrictions in place. It's the first step toward life returning to its normal hustle and bustle, but we're still a long way from offices being filled and work completely returning to business as usual.
For the City of Brampton, with a number of key projects up in the air, this uncertainty raises many questions.
COVID-19 has put a dent into the timelines for projects big and small across the city. It's not the fault of City staff. As the virus has spread across the city, battling the pandemic has been the top priority. Identifying the impacts of delayed work and prioritizing what the city needs most will be part of the return to normalcy.
A look through council's referred matters list — a to-do list that keeps track of ongoing projects and requests from councillors — shows most items have been shunted to the second quarter of 2020. Some of these have potentially significant impacts on the city's future.
For example, the establishment of the Institute for Sustainable Brampton. A key piece of Brampton's 2040 Vision is environmental stewardship, and crucial to that is the establishment of an advocacy group to ensure decisions are made with sustainability as a top priority. Plans to bring an update to council have been revised twice, since the original target of May of last year. Now, plans have been pushed even further, to the second quarter of this year, and it's possible even that won't happen because of ongoing restrictions.
A report on Brampton's downtown Mobility Hub and Metrolinx's downtown development strategy, initially planned for September of last year, has again been delayed until the third quarter of 2020. It's not the only downtown project to see delays, an effort to search for space in Brampton's "Downtown Innovation District" for potential partners to attract start-up companies to the city was first planned to go before council last week, it has also been pushed to the second quarter of 2020.
In recognition of the complete disruption COVID-19 has caused inside city hall, 40 of the 49 items on the referred matters list have been delayed until the second quarter of 2020 or beyond, including research into technology for the 2022 municipal election, the effectiveness of improved winter maintenance, a municipal ward boundary review and a student housing policy review.
Yet, Brampton's communications department assures residents there have been no delays to major city projects.
"The City is committed to doing everything possible to support staff, residents, and businesses through the COVID-19 pandemic and ensure their health and safety," states Brampton spokesperson Megan Ball. "There has been no decisions made to delay major City projects. Staff are monitoring and assessing projects on a case by case basis to determine the need for potential changes to timelines, and decisions will be made upon careful consideration of all factors."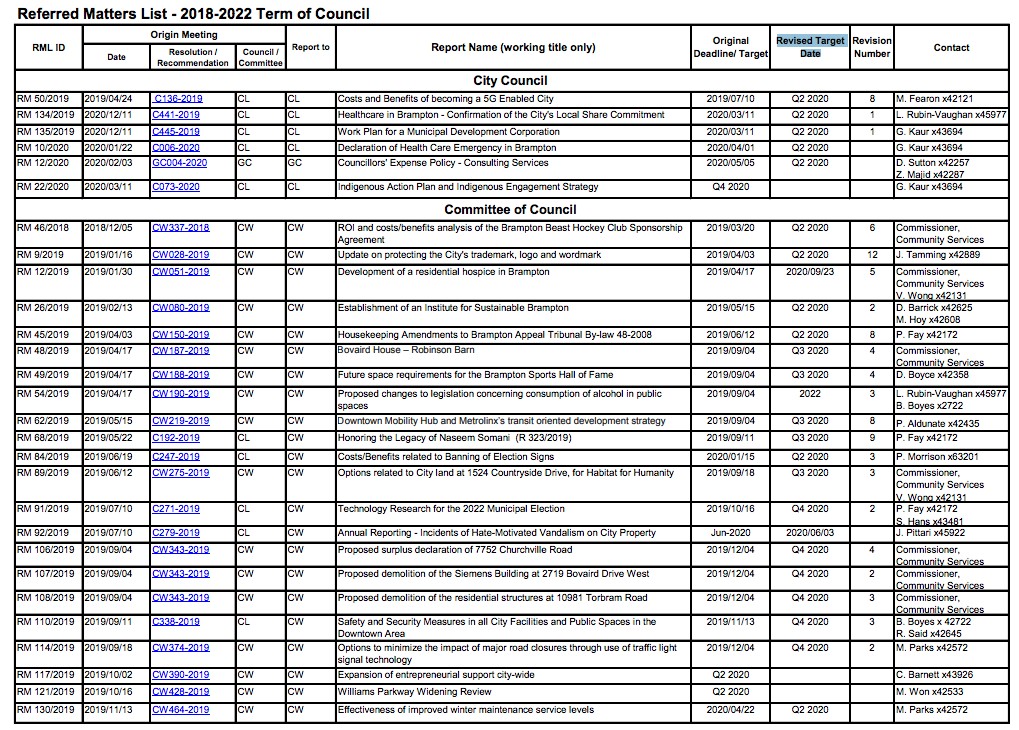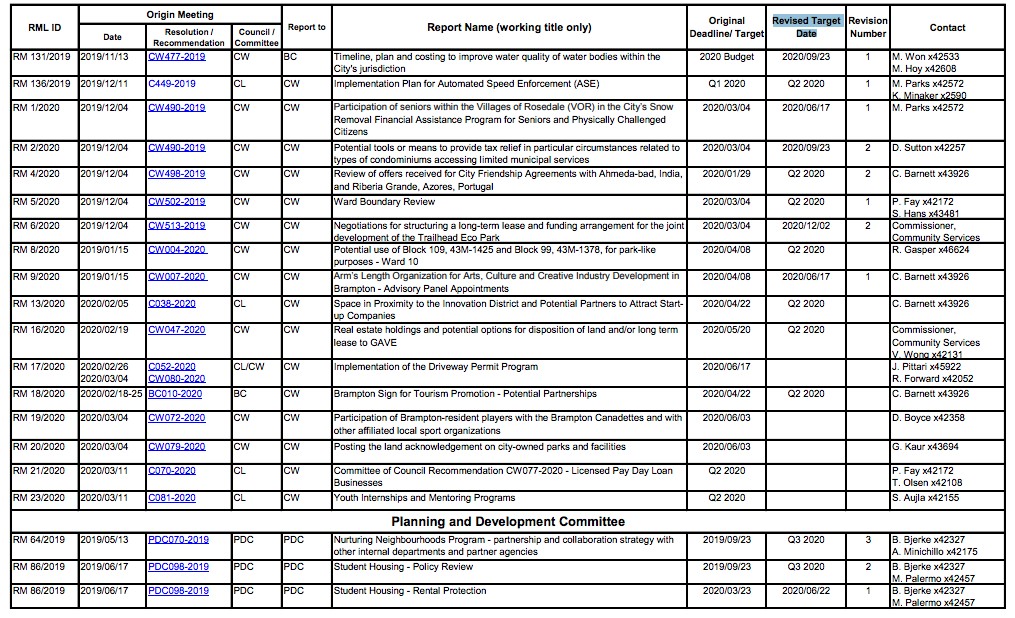 A look at Brampton council's referred matters list shows the delivery of many key items has been pushed back until later in 2020.
A report from the City of Brampton received by council at the end of April noted councillors had the option to delay certain capital projects in order to reduce the municipality's anticipated deficit, but it wasn't being recommended at that time.
By contrast, Mississauga has made clear that planned projects will have to be delayed if there's no other way to off-set mounting losses.
Without aid from upper levels of government, those options may be all cities have left and many municipal leaders, including Peel's two big-city mayors, have made it clear that aid from the upper levels of government is crucial.
While it's not clear what any stimulus package would look like, the Federation of Canadian Municipalities (FCM) has said cities and towns need $10 to $15 billion to help with the financial hit they have taken. But Ottawa has yet to signal it will give any money.
FCM's model for the federal government to provide emergency assistance focuses on two funding approaches: base allocation (for all municipalities) and supplementary allocation (for municipalities with their own transit system). The former funding need would require $7.6 billion distributed on a per capita basis. The latter is asking for $2.4 billion, with funds distributed based on 2019 ridership numbers.
Rough calculations based on per capita numbers show Brampton and Mississauga would get about $400 million to $600 million, or about $200 to $300 million dollars each (Mississauga would get slightly more because it has approximately 100,000 more residents).
The federal government has also hinted that when the time is right, it will be looking to push much needed infrastructure dollars out of government coffers to the municipalities that need it. Infrastructure Minister Catherine McKenna has said she's considering how to speed up the release of billions of dollars from the Investing in Canada Infrastructure Plan (ICIP).
In the past, the delivery of this $188-billion fund has been fraught with difficulties and delays, with all levels of government pointing fingers at one another for who is to blame. However, in a post-COVID-19 world, streamlining the release of these funds for shovel-ready projects, like transit and key infrastructure needs in cities across the country, could create a much-needed boost to the contracting economy, while helping keep related city plans afloat.
In Brampton, one key project that would benefit from such funding is the extension of the Hurontario LRT into the downtown.
Transit funding is an important issue in Brampton. As one of the fastest growing municipalities in the country, where ridership is matching growth, the city is playing catch-up to meet constantly growing demand and get ahead of deteriorating infrastructure. The city is expected to have an infrastructure funding gap of over $700 million by 2027, and that was only made worse when Mayor Patrick Brown forced a second consecutive tax freeze as the virus was already spreading in parts of the world. His move cut the planned capital budget for 2020 by $208 million. A badly needed transit storage and maintenance facility to support the system's growth was postponed and $135 million that had been allocated for it was removed from the budget so Brown could get his tax freeze.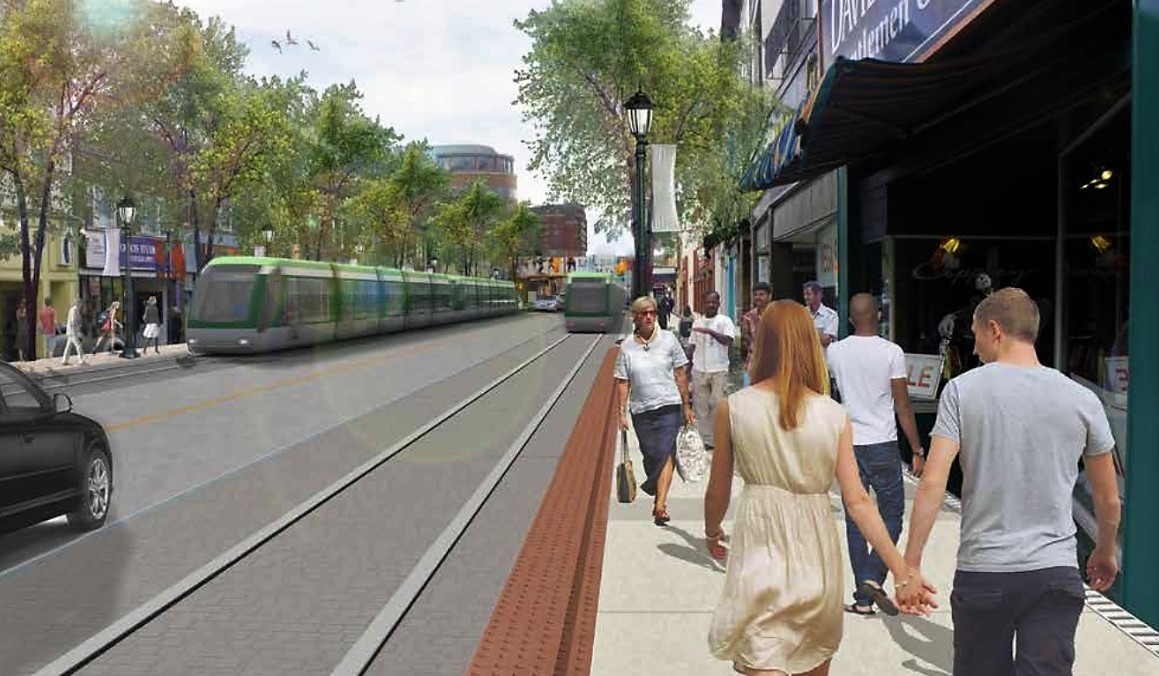 With concrete plans yet to materialize for Brampton's LRT, the chance of the city receiving stimulus funding to support the project is low.
Getting a funding boost for the LRT would be a dream come true for city officials, however, it may remain just a fantasy as the city has yet to complete the assessment to finalize the route into the downtown core. The project is nowhere near shovel-ready, as council still hasn't even decided on a controversial issue, whether to tunnel the LRT through the historic district or run it on the surface. This means it likely won't qualify for federal funding that Ottawa wants to push out to municipalities immediately to help kick-start the economy.
In November, a staff report that went before council showed there was still significant work to be completed on the LRT front, and much of that has now likely been delayed as social distancing measures prevent technical crews from working in groups.
The document issued in the fall revealed the project's environmental assessment (EA) won't be completed until summer of 2021, with the 2019 and 2020 stages of the work tasked to develop a long list and then a short list of "LRT routes", but that time line was before the pandemic hit. Brown's much more expensive preferred tunnelling option, which he says would be the easiest to achieve, has had no engineering study completed at all.
The federal government won't pony up any cash for the LRT as the plans have yet to get off the ground. It's not clear how much further the city has progressed on its work in 2020 as the ongoing public health emergency has required the majority of city staff attention in recent months and city hall has been closed since March.
"Understandably, COVID-19 will have an impact on Brampton resources as it will in all municipalities across Ontario," Ball states. "The City will assess project impacts of COVID-19 response and recovery efforts in the coming weeks and months, and will bring this information to Council, who will make any necessary decisions about future work at that time."
---
Email: [email protected]
Twitter: @JoeljWittnebel
---
COVID-19 is impacting all Canadians. At a time when vital public information is needed by everyone, The Pointer has taken down our paywall on all stories relating to the pandemic to ensure every resident of Brampton and Mississauga has access to the facts. For those who are able, we encourage you to consider a subscription. This will help us report on important public interest issues the community needs to know about now more than ever. You can register for a 30-day free trial HERE. Thereafter, The Pointer will charge $10 a month and you can cancel any time right on the website. Thank you.
Submit a correction about this story