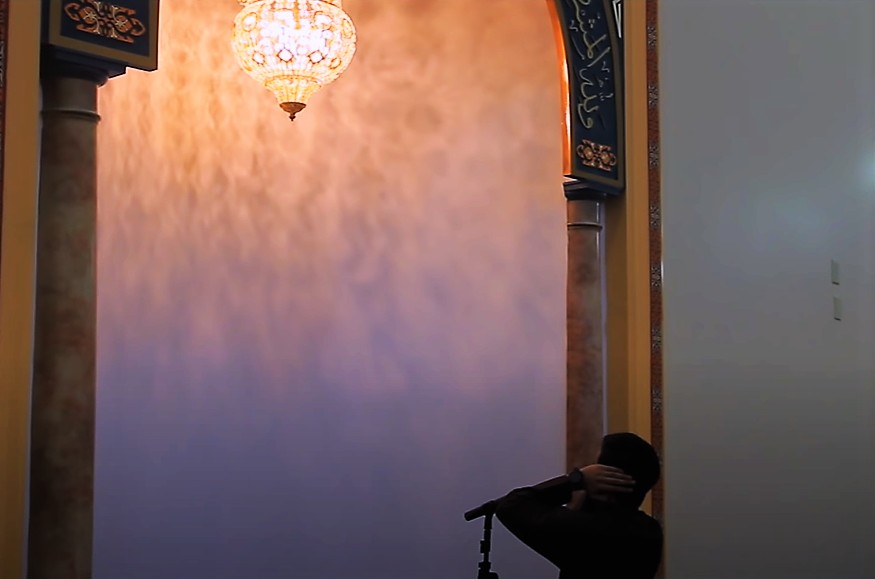 Photos from Twitter/Patrick Brown/Screengrabs from YouTube
'You can't hide behind a Twitter account' — Peel realtor and school chair fired after Islamophobic tweet
A realtor and school council chair in Peel has lost his job and been removed from the voluntary position following an Islamophobic message shared on Twitter.
Severe and swift action has sent a clear message to anyone in Peel who wants to spread Islamophobia, that people promoting intolerance will be shut down immediately.
On April 30, Brampton Mayor Patrick Brown tweeted to say Mosques in his city would be allowed to broadcast the sunset Azan, one of five daily calls to prayer. When Brampton first passed its noise bylaw in 1984, it included an exemption for Church bells, but not other religions. Now exemptions can include those for all faiths "within permitted hours and decibel levels," Brown said.
"Because it's 2020 and we treat all faiths equally."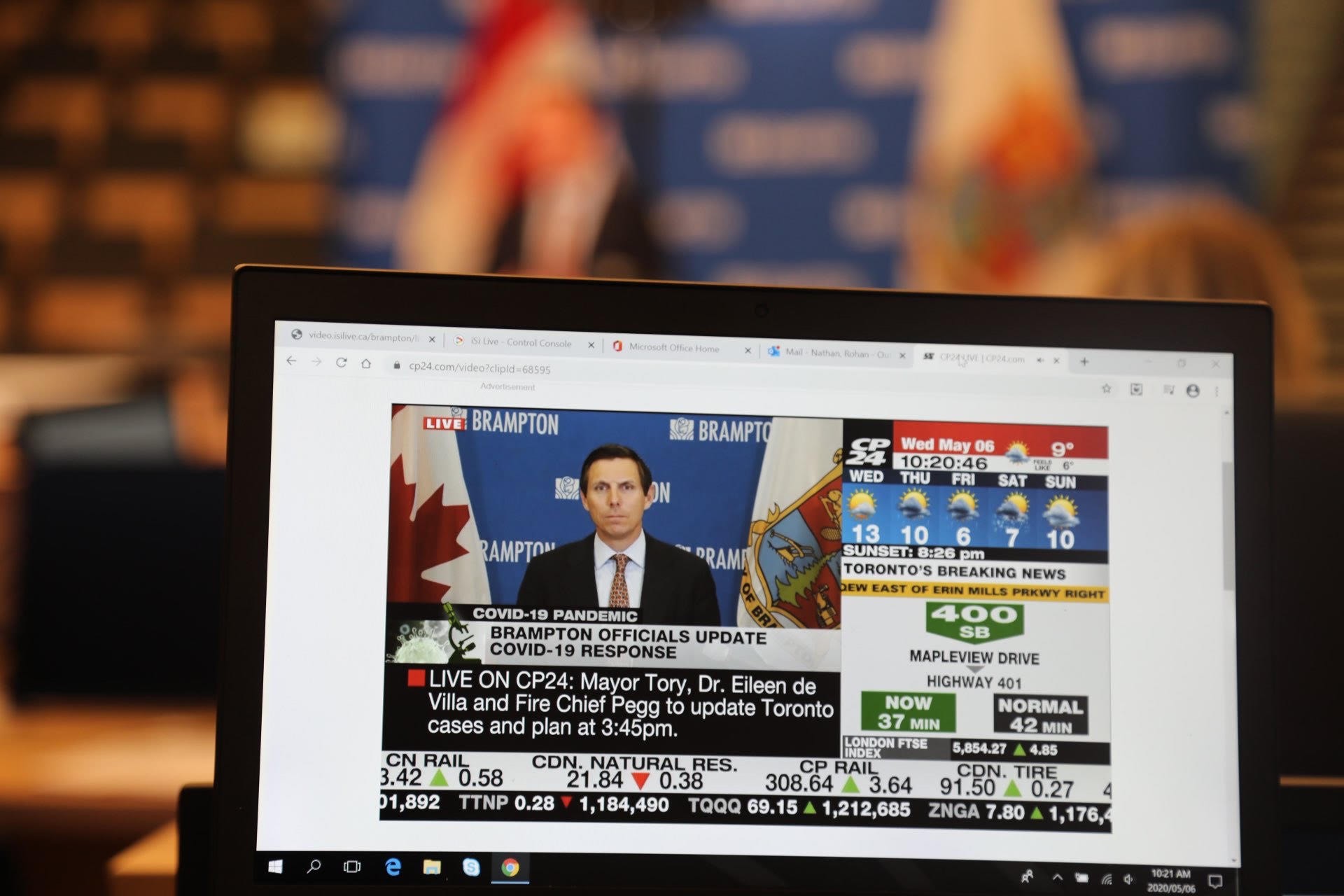 Brampton Mayor Patrick Brown condemned the hateful remarks.
Mississauga endorsed the same move last week and agreed to keep an exemption for Mosques in place until May 24, when Ramadan ends, as did the City of Toronto. Similar council decisions around the GTA were widely praised and welcomed by the Muslim community during the celebration of the holy month.
Traditionally the period is one where the Muslim community gathers in groups to break fast together after sunset and pray. As a result of COVID-19 restrictions, they can't do this and small gestures like the noise exemption have been broadly welcomed.
There was also some backlash. Faith Goldy, a well known far-right personality, shared the story about Mississauga's decision on her social networks and Brown's announcement received pushback. One particularly offensive response from a Brampton man shocked people and elicited serious repercussions.
"What's next? Separate lanes for camel & goat riders, allowing slaughter of animals at home in the name of sacrifice, bylaw requiring all women to cover themselves from head to toe in tents to appease the piece fools for votes," an account with the name Ravi Hooda replied to Brown's announcement.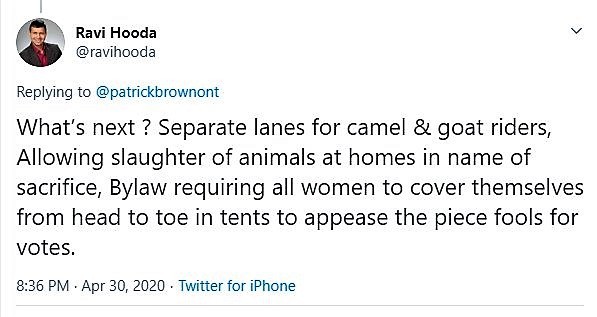 Condemnation was swift.
Hooda's real-estate employer distanced itself from the remarks and fired him. The school council he chaired in Caledon also acted swiftly, removing him from his position. Brown called him out at his weekly press conference Wednesday.
"Brampton is a mosaic of faiths, we believe in treating all faiths equally under the law," the mayor said. "In terms of some people who resort to hate-based language online, this is a good example. If you're spewing hate-based language online, you can be accountable for it. Some people conduct themselves in a manner they never would in person. Let this be an example for others: you can't hide behind a Twitter account or a Facebook account and spew hate."
The Canadian Anti-Hate Network, a group that monitors online bigotry, shared Hooda's inflammatory tweet. Following links in Hooda's Twitter bio, they concluded he worked for RE/MAX Canada as a realtor and they sent the tweet to his employer.
"@REMAXca agent and Registered Certified Immigration Consultant Ravi Hooda is upset that Brampton is giving Mosques the same noise by-law exemptions as Churches," the group tweeted. "In Mississauga, a nightly call to prayer during Ramadan has become a focal point for anti-Muslim hatred. Hooda doubled down when challenged, citing freedom of expression and saying his opinions are not 'some imaginary phobic.' We have filed complaints with the Real Estate Council of Ontario and the Immigration Consultants of Canada Regulatory Council, and contacted his employer."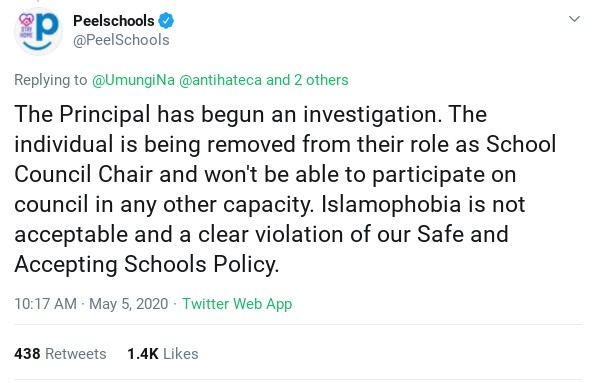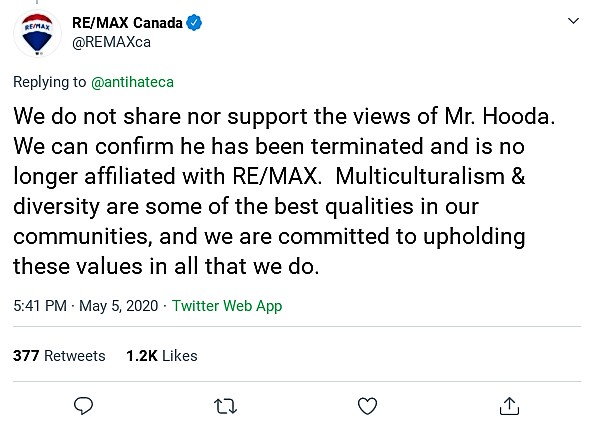 RE/MAX responded swiftly, confirming Hooda had lost his position with the company. "We do not share nor support the views of Mr. Hooda. We can confirm he has been terminated and is no longer affiliated with RE/MAX. Multiculturalism & diversity are some of the best qualities in our communities, and we are committed to upholding these values in all that we do," the company said.
Hooda's professional website still bears the company's logo at the time of publication.
Another user unearthed his position as a school council chair at Macville Public School in Bolton, in the eastern part of Caledon. Peel District School Board was included in the thread and, again, action was swift.
"The Principal has begun an investigation," @PeelSchools replied. "The individual is being removed from their role as School Council Chair and won't be able to participate on council in any other capacity. Islamophobia is not acceptable and a clear violation of our Safe and Accepting Schools Policy."
A statement shared on Macville Public School's website soon after, confirmed the decision. Principal Robin Perri said Hooda had been removed from his position and would no longer participate in school council "in any capacity."
Perri said the views expressed by Hooda do not reflect those of the school and board. "Comments like this do not help us create these inclusive and safe spaces," Perri added.
The Pointer contacted Hooda for comment, but did not receive a response. His Twitter account is now marked as private, meaning only approved users can view its content.
Peel District School Board's swift response comes during the ongoing fallout of a provincial probe into discrimination including Islamophobia and anti-Black racism within the board. The review was delivered in March and included 27 binding directives for the board to follow. Frustrated by perceived inaction by the end of April, Education Minister Stephen Lecce followed up his review with the appointment of an investigator to force the board to act quickly on the harrowing issues raised in the review.
A case filed at the Human Rights Tribunal of Ontario last year illustrates some of the issues the institution has faced with Islamophobia in the past. A case filed by Associate Director of Equity Instruction Poleen Grewal against the board and Director Peter Joshua outlined mishandling of previous instances of Islamophobia.
"After the Board was publicly raked over the coals in the handling of the Muslim Friday prayer situation a few years ago, we had the opportunity to re-build trust with a community that has been marginalized in our schools and in society in general," Grewal states in court documents. But she alleges that the board has repeatedly instead placed a priority on damage control, rather than addressing the central issue of equity within a board whose students are overwhelmingly non-white.
In its response to allegations regarding Peel's Muslim community the board stated: "Mr. Joshua did not 'take over' Ms. Grewal's portfolio. Ms. Grewal was not 'silenced and sidelined', nor was she 'thwarted' as alleged. It was entirely appropriate for Mr. Joshua to take the lead in dealing with communication issues of a public nature."
Compared to Grewal's account of the board's handling of Islamophobia in the past, the rapid decision by PDSB and Macville Public School to remove Hooda is a stark contrast.
---
Email: [email protected]
Twitter: @isaaccallan
Tel: 647 561-4879
Submit a correction about this story