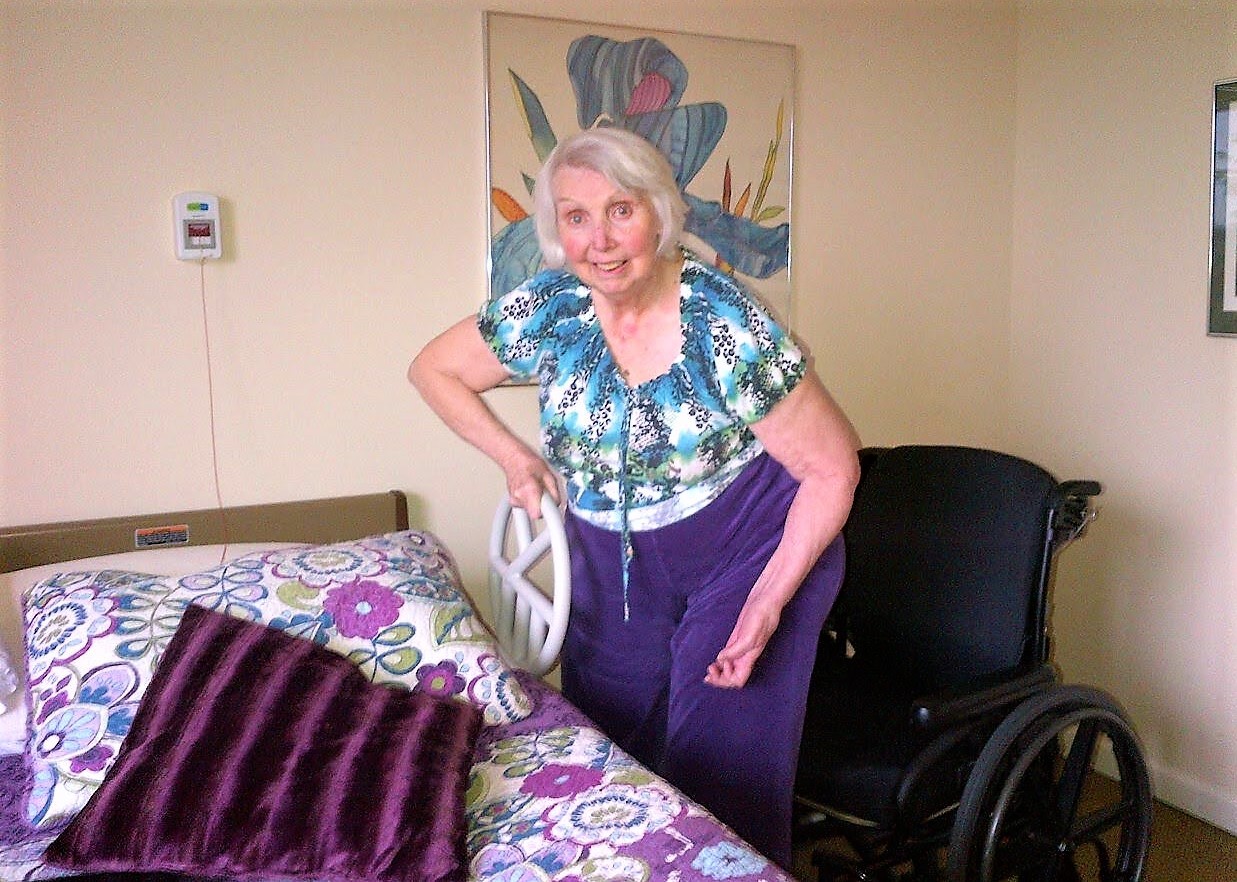 Photos from Paul Mathews/Sunrise Senior Living/Graphics from Region of Peel/Schlegel Villages
For families with loved ones in long-term care the slow drip of information is agonizing
Paul Mathews can barely sleep lately. News about COVID-19 has poured out of every television, radio or podcast for what seems like an eternity. Newspapers feature the pandemic on their front page and most people struggle to talk about anything else.
Even in silence, the issue dances around in Mathews' thoughts. For him, it's personal. His mother lives in a retirement home in Mississauga, where a COVID-19 outbreak was declared on April 15.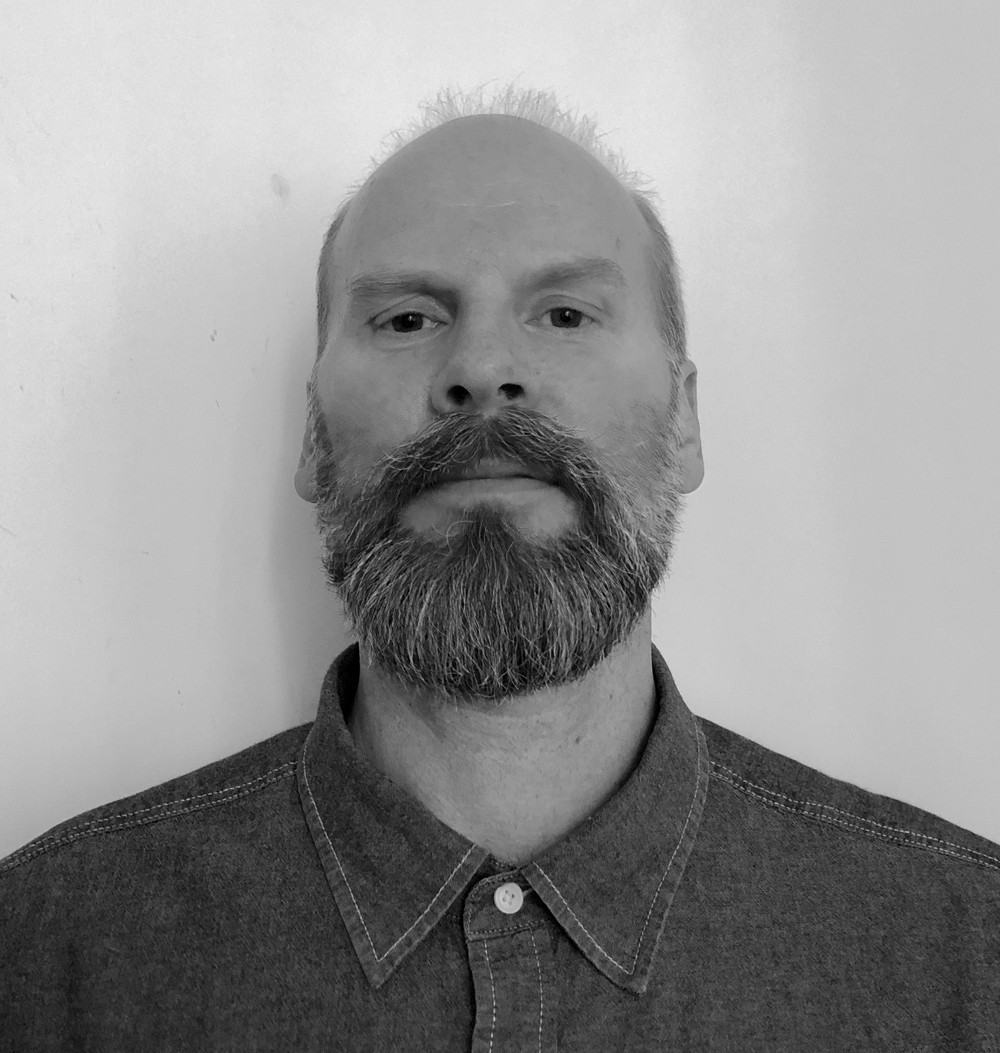 Paul Mathews, has struggled to get information from the retirement home where his mother lives.
At the beginning of the pandemic, all talk was of ventilator procurement and expanding ICUs. In the background, initially unnoticed, the novel coronavirus crept into long-term care and retirement homes, putting the most vulnerable population at severe risk. The number of institutions in Ontario with COVID-19 outbreaks creeps up almost daily, making senior residences the epicentre of the pandemic.
For Mathews the real plague is the lack of information and transparency. While newscasters and provincial officials share general numbers, the lack of information about individual homes where loved ones might be at risk is torture.
Family members are often in the dark.
For weeks Mathews has only been able to see his mother from the parking lot of Sunrise of Mississauga, where she has lived since the end of 2015.
Through her third floor window he looks up at his mother from the asphalt below, in silence. They have spoken on the phone to catch up, but even she knows little about what's going on outside her door.
Staff simply won't say.
"I feel that even though in their letters they say they're doing their best to support families, the opposite is true," Mathews told The Pointer. "I feel that what they're doing is their best to keep it as quiet as possible; we're not getting any information or any numbers. And the information that we have received seems to be shaky — back and forth, up and down with the numbers."
Care facilities are expected to keep families well informed of the situation, but not all of them are. Instead, Mathews has been forced to scour the crevices of the internet to find any information and understand what might be going on inside Sunrise. It's maddening, that a company trusted with the care of so many vulnerable seniors, could just shut families out.
The questions are simple, the answers nowhere to be found: How many people in the home have been tested? How many staff are off sick? How many people have died?
And, most importantly, is my mom safe?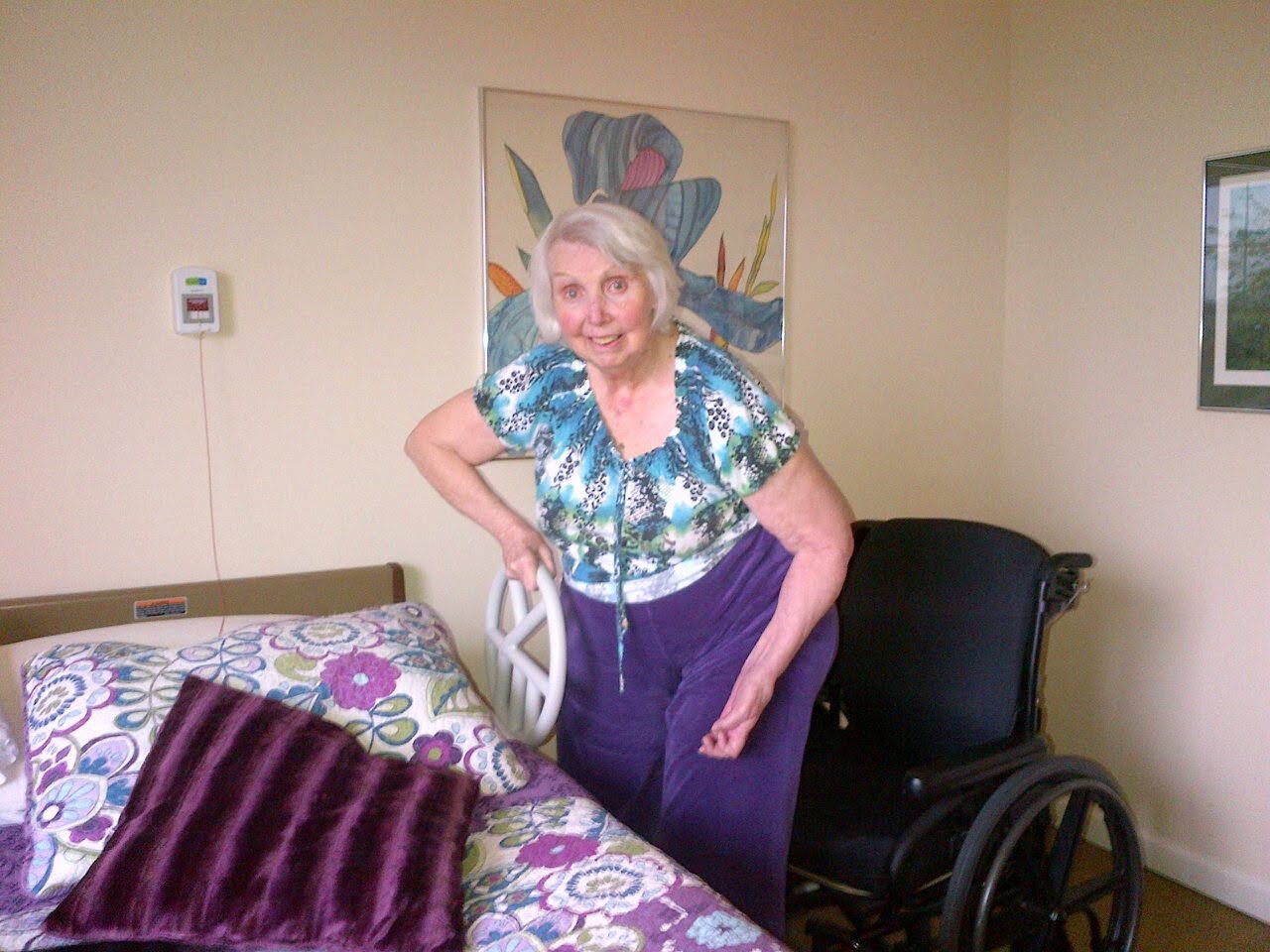 Paul Mathews' mother lives at Sunrise of Mississauga retirement home.
Many families, unable to handle the excruciating silence and uncertainty, have chosen to pull their loved ones out of facilities, even some who will struggle to provide the level of care many seniors require.
Mathews' mother needs additional assistance as a result of a stroke she suffered. She is partly paralyzed. Bringing her home, even temporarily, is not an option.
When Sunrise declared an outbreak it called families and told them one staff member had tested positive for COVID-19. More than a week later, on April 23, a letter was sent to families by the facility with further details.
"We are carefully following Public Health Agency of Canada guidelines to determine when a team member is free to return to work following any exposure, symptoms or diagnosis," the letter read. "You'll start to see many of our team return to the community when they have fully recovered from COVID-19 and are no longer experiencing any signs of illness."
The language implied that, rather than just one COVID-19 positive staff member, there were several. Asked by Mathews if that was the case, he was told just one of Sunrise's team had contracted the virus.
"I'd like to see the number of cases in residents and the number of cases in staff, like they're doing everywhere else," Matthews says. "We'd like to make sure it's proper testing with swabs, not just temperature checks, because they said they're doing temperature checks."
The problem with temperature tests was highlighted at The Village of Erin Meadows, another long-term care home in the city. A complete test of all residents last week revealed a series of new infections, 35 percent of whom had exhibited no symptoms of the novel coronavirus whatsoever.
"We need to know because we love our mom and families love their parents there. We have a right to know. Them not divulging [regular information], it breaks the trust and we get suspicious as to what their motives are. Are they protecting their brand? How about protecting the residents and communicating with the families."
The fact people infected with the virus can be asymptomatic is well documented. The medical data coming from a facility in the same city as Sunrise show just how ineffective temperature monitoring is.
The Pointer reached out repeatedly for two days this week to Sunrise by email and telephone to obtain the number of tests conducted and the results. The company said it could not release any data — even if it was anonymised — but when asked to explain why and what was being done to ensure accurate information that would be communicated to family, it did not respond.
Sunrise was founded in 1981 and is headquartered in an upscale Virginia suburb of Washington D.C. The company operates 325 senior-living facilities across the U.S., in Canada and the United Kingdom.
Asked how Sunrise is reassuring families concerned about a lack of transparency, Luca Kamber, director of its Ontario operations, said the company was in "timely, frequent communications" with families.
That's not been Mr Mathews' experience.
Kamber added that they were "deferring to local health departments" when deciding on sharing "information regarding case numbers and residents who have passed away, as they deem necessary."
That's a problem.
Local health departments are not responsible for the communications decisions of private companies.
Peel Public Health (PPH) told The Pointer its focus is on identifying and tracking outbreaks, but the issue of communication ultimately falls to each individual facility, with retirement homes and long-term care under provincial rules.
PPH's key role is to collect data and report it to the province, issues around jurisdiction mean they don't have the power to compel any company about releasing information, what information should be provided or when it should be given to families and residents.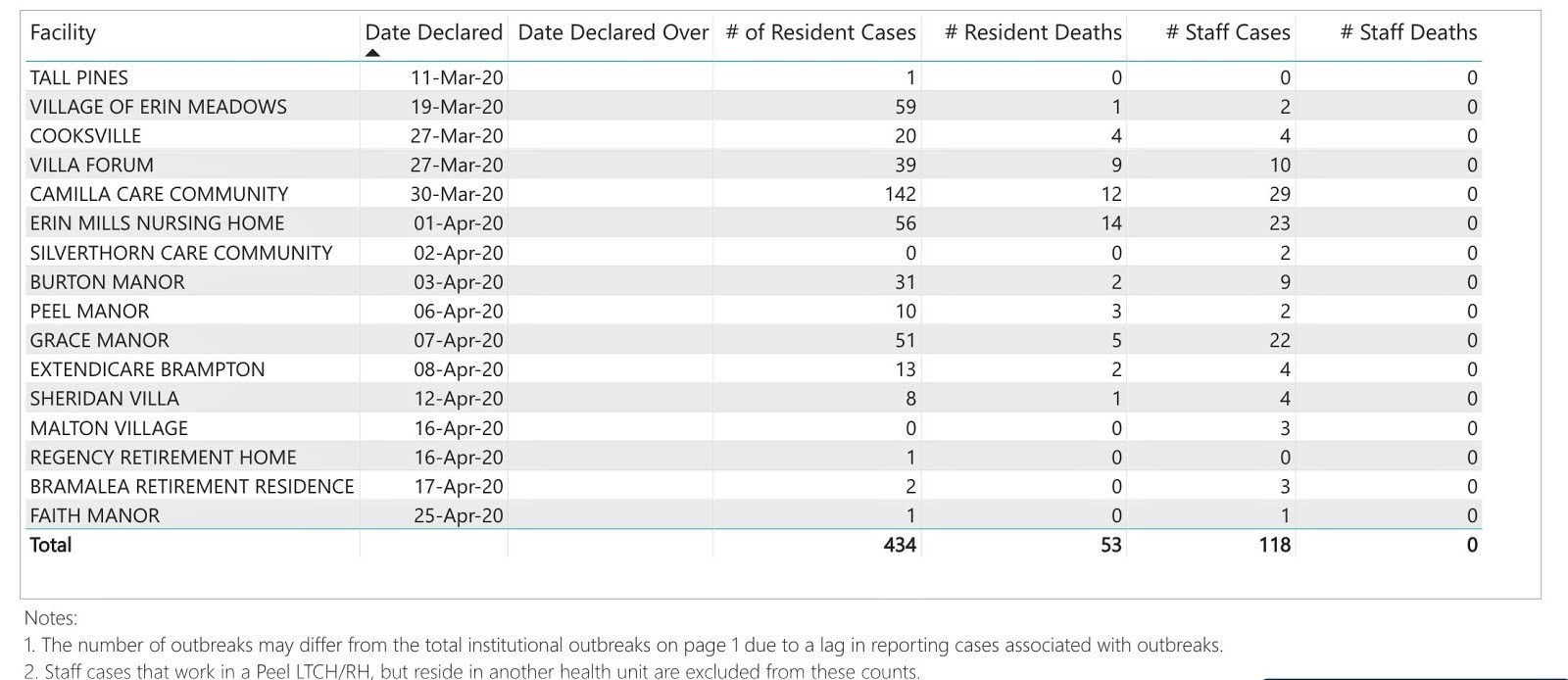 Ongoing outbreaks in long-term care and retirement facilities in the Region of Peel.
"Overall, Ontario's public health system is incredibly decentralized with 34 public health units. Local public health units are responsible for reporting cases from COVID-19, as this information is provided to them by hospitals, long-term care homes and other relevant health facilities," a spokesperson for the province explained. "Public health units must report any suspect cases (i.e. person with consistent symptom[s]) to the local public health units as soon as possible, however, a specific timeline is not outlined. Deaths in a confirmed case would already be known to the public health unit, or would become known if testing was done post-mortem."
The delivery of testing data (or presumed cases) within long-term care or retirement homes is fairly laissez-faire. A lot of the responsibility for transparency and timely updates falls to the private company; and not all of them have been open with this crucial information.
"We deserve clarity as to the extent of the outbreak, we deserve information. We're not children," Matthews says. "We need to know because we love our mom and families love their parents there. We have a right to know. Them not divulging [regular information], it breaks the trust and we get suspicious as to what their motives are. Are they protecting their brand? How about protecting the residents and communicating with the families."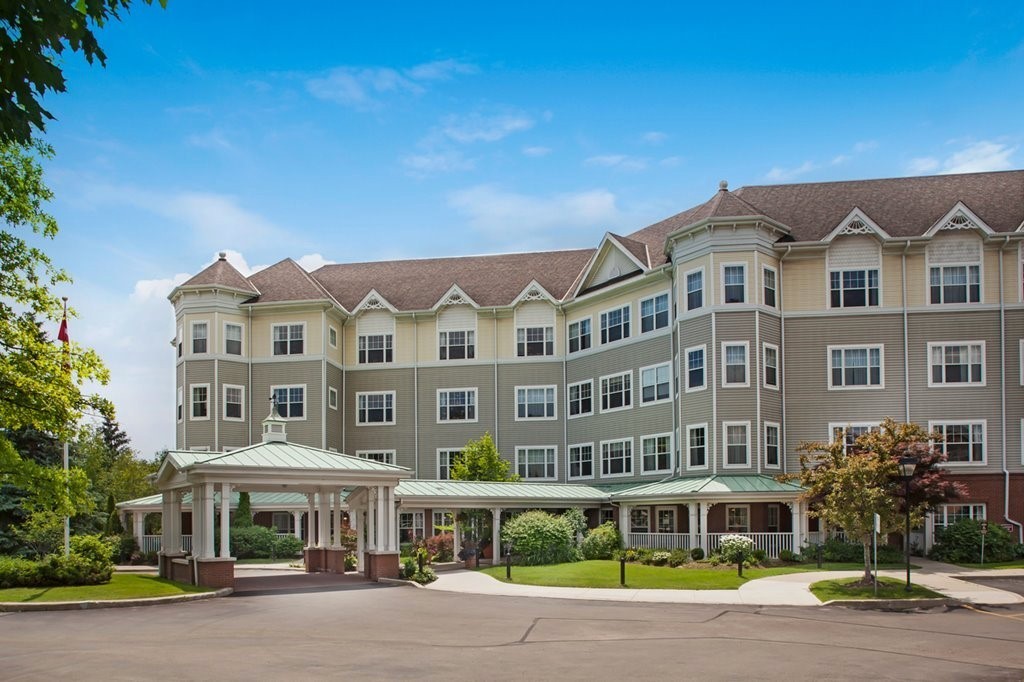 The Sunrise of Mississauga care home
Since speaking to The Pointer on April 28, and after the company was contacted for two days, Mathews' mother has received a test for COVID-19, but it's unclear what test was performed and who administered it. It's part of a wider testing strategy, Sunrise told families, but Mathews is skeptical. The difficulty he has had accessing information about his mother has left a sour taste and eroded confidence in the institution he has entrusted to care for his mother.
On Thursday, Sunrise told the family that Mathews' mother had tested negative, but three staff tested positive for COVID-19.
An Ontario directive, issued on April 15, underscored the need for transparency, detailing expected communication, telling long-term care homes they "must" keep families informed. It also said that "issuing a media release to the public is the responsibility of the institution but should be done in collaboration with the public health unit."
According to Ontario Regulation 68/20 of the Retirement Homes Act, retirement homes are required to take "all reasonable steps to follow the required precautions and procedures" outlined in the various provincial emergency directives for long-term homes.
It's unclear how much power the government has to force a facility's hand, if it is not being transparent about vital information during a widespread emergency such as a pandemic.
The official language implies that press releases are a mandatory element of communication for care homes and retirement homes. Multiple examples (including Sunrise and Greenwood in Brampton) exist of homes that have experienced outbreaks but have not issued press releases or included transparent numbers on their websites, to the frustration of families.
Other companies have not only included updated press releases on websites, some are publishing regularly updated charts listing detailed information about infection numbers among residents and staff, the latest testing results and other data to keep families fully informed.
Holland Christian Homes, which operates Grace Manor in Brampton which has been devastated by COVID-19, was initially criticized for the lack of information families were receiving, but as the situation grew increasingly dire the company only recently began publishing some information, including status charts, on its website.
It shouldn't take a full-blown crisis to force companies to be transparent.
A provincial spokesperson was unable to clarify the legal obligations care providers have regarding the publishing of information during an emergency.
"They just always put a standard response, a standard letter, sometimes it comes from the parent company and it's just fluff," Mathews says, frustrated at a trend of empty positive news releases many homes have been issuing. The majority of these bulletins, shared with families and the media, include no data. "It says a lot of positive stuff, but no hard numbers. We're looking for testing and testing results."
Recent communications from Grace Manor, currently receiving help from the Canadian military as it is battered by COVID-19, exemplify a home that appears to be confused about its responsibility to communicate. "All staff will be on the floor working, with no one staff sitting in the nursing station to answer telephone calls and messages left on the voice mail will be checked less frequently," a notice on the company's website states.
The company was ill-prepared for the pandemic and has now received national attention for the number of infections and deaths in the home. Grace Manor currently has 31 infected residents and six have already died, while 26 staff are infected.
"We apologize in advance if your calls are not returned in a timely manner, but we will need to prioritize these based on the urgency of the call," the company has posted on its website. "It would be very much appreciated if families could restrict phone calls to the nursing stations to only those calls which are deemed critical at this time."
At the other end of the spectrum, Schlegel Village, which runs a variety of facilities in Peel, has been sharing a detailed report on its website every day. The report includes new deaths, positive cases and tests, ongoing testing information and breakdowns by residents and staff and by specific location within each facility, allowing families (and the public) to feel secure about what is going on.
If Schlegel, a private company experiencing a serious outbreak can still provide statistics it is unclear what is stopping Sunrise. What privacy laws apply to one retirement home, but not another located in the same city?
Ward 9 Councillor Pat Saito told The Pointer Schlegel's data was so good she goes to its website instead of the Region of Peel's to get information about the facility, which some of her constituents are concerned about. Peel's data, she explained, can suffer a reporting lag of several days.
Data for April 27 provided on Schlegel's website
Information available on Peel Public Health's website includes cases and, as of April 28, breaks them down by long-term care home or retirement home.
However, as Saito points out, the website shows the most recent data the health unit has received, but not necessarily the most recent data that facilities have collected. This is exemplified by the fact that Sunrise, known to have an outbreak as of April 15, is not listed on the most recent regional data. This despite the fact at least one staff member is self-isolating with the virus.
"Communication with families about updates on residents is the responsibility of each home and we know they are doing their best to communicate with families while increasing the care for residents in an unprecedented time," a spokesperson for the Region of Peel told The Pointer. "If families are not getting the information they need there are a few ways they can get help. Families can reach out to the Ombudsman for COVID-19 issues for help and can also contact the Province of Ontario's Long Term Care Action Line."
For those with families in retirement homes, there is a separate number to raise concerns with the province. Families can call +1 855 275 7472.
Dr. Lawrence Loh, Peel's Interim Medical Officer of Health explained the data shown by Peel was as up to date as possible, but may not reflect all results that day. "Data is a day old based on when it is pulled from our database, but there is a variability depending on whether cases or deaths, for example. When it comes to deaths, it will depend if there was a positive test before death … certainly there's some variability on the back end, but what you see on the dashboard reflects what was entered into our database in the previous 24 hours."
It remains relatively vague where responsibility lies for reporting numbers in Peel and Ontario as a whole. Some homes are using the lack of firm rules — and the ever changing nature of the crisis — to keep transparency and public communication to a bare minimum. Data shown by local health units will eventually reflect the number of cases and deaths in an area, but regional health bodies are technically not required to break down cases by facility.
"We just need to know what's going on to make sure she's getting the best care and to make sure they're not sweeping it under the rug," Matthews says.
---
Email: [email protected]
Twitter: @isaaccallan
Tel: 647 561-4879
---
COVID-19 is impacting all Canadians. At a time when vital public information is needed by everyone, The Pointer has taken down our paywall on all stories relating to the pandemic to ensure every resident of Brampton and Mississauga has access to the facts. For those who are able, we encourage you to consider a subscription. This will help us report on important public interest issues the community needs to know about now more than ever. You can register for a 30-day free trial HERE. Thereafter, The Pointer will charge $10 a month and you can cancel any time right on the website. Thank you.
Submit a correction about this story