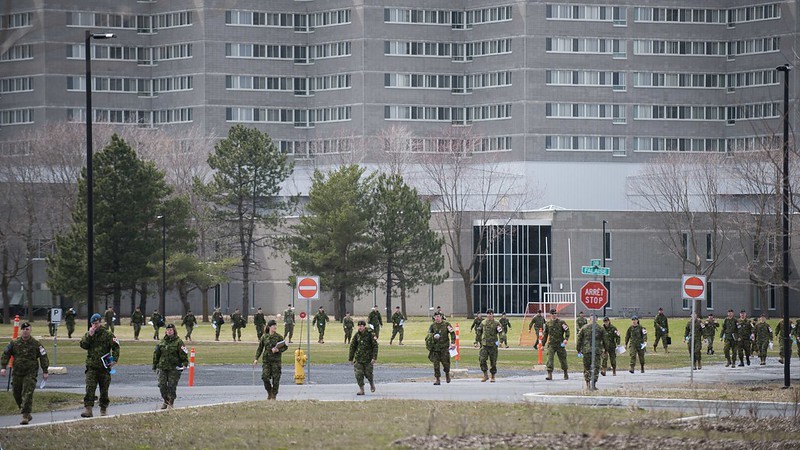 Photos from Canadian Armed Forces/Twitter/National Guard
Military personnel arriving at Brampton care home won't be able to fix system-wide problems
Grace Manor, one of Brampton's long-term care facilities hardest hit by COVID-19, is set to get a helping hand from the Canadian military today after it was chosen as one of the five by the provincial government to get assistance, based on a serious lack of staff and the dire situation.
As of the latest update yesterday from the company that runs the facility, 45 residents in the home have tested positive for the virus and four have passed away, according to the Holland Christian Homes website. There are now 21 staff members who have also tested positive. The numbers form part of the 427 cases in long-term care facilities across Peel, which have resulted in 39 deaths.
The lack of staff to handle the spread of COVID-19 at Grace Manor was one of the main reasons the long-term care facility was chosen to get desperately needed help from the military.
According to the province, priority was determined by looking at those homes where staffing challenges had led to "poor" outcomes for residents, Mark Nesbitt, spokesperson from the Ministry of Long-Term Care, told The Pointer.
At Holland Christian Homes, the trouble escalated rapidly and, two weeks ago the company released a message asking families to be prepared for the worst, advising them to have funeral arrangements put in place. The organization also warned calls from family members checking in on their loved ones will likely go unanswered.
"All staff will be on the floor working, with no one staff sitting in the nursing station to answer telephone calls and messages left on the voice mail will be checked less frequently. We apologize in advance if your calls are not returned in a timely manner, but we will need to prioritize these based on the urgency of the call. It would be very much appreciated if families could restrict phone calls to the nursing stations to only those calls which are deemed critical at this time," a notice on the company's website states.
The Canadian Armed Forces will work with Grace Manor staff and other medical professionals, assisting with infection control and prevention, Nesbitt said. The troops include military medics and nurses who will deliver care to patients. "Other help may include general duties like cleaning and food preparation, when required," Nesbitt said.
The military's arrival comes as another facility operated by Holland Christian Homes may soon need its assistance after confirming its first case of COVID-19. Faith Manor in Brampton announced an outbreak on April 25, with one resident testing positive for the novel coronavirus. On April 26, Peel Public Health were at the home testing all residents and 84 members of staff, an update from the organization states, with other staff members hoping to be tested soon. There is no indication when this will happen.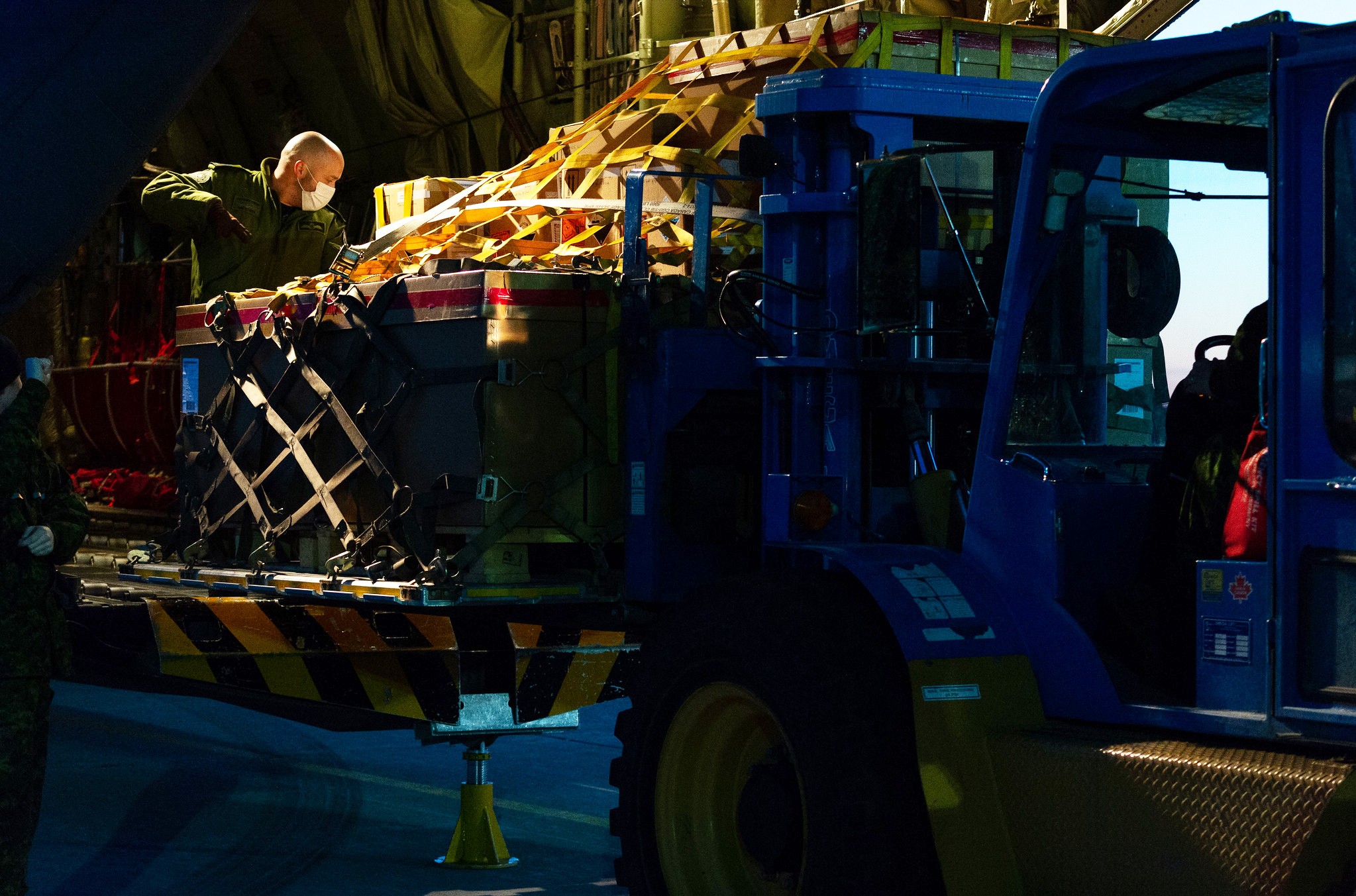 A member of the Canadian Armed Forces loads a truck with personal protective equipment (PPE).
To date, Ontario has seen 150 outbreaks in long-term care homes across the province, resulting in 2,523 confirmed cases and 671 deaths among residents. This is along with the 1,187 confirmed cases among staff and less than five deaths. Deaths lower than five are not published with specific numbers, in an effort to protect the privacy of individuals. These figures come from a report by the Ministry of Long-Term Care, which only recently started sharing such numbers.
The military assistance comes for a system that has been drowning for weeks, one that has grappled with low staffing levels even before COVID-19 began raging through facilities.
For years, long-term care homes across the province have dealt with staffing shortages. It's an epidemic in itself, a report from the Ontario Health Coalition states, as staffing issues range from housekeeping shortages to those responsible for vital functions of care. There simply are not enough personal support workers (PSWs) to help the province's 80,000 residents in long-term care homes.
The report, which was published before the COVID-19 pandemic, states there was a shortage of one to two PSWs every shift in practically every long-term care home in Ontario, with a shortage of five to 10 PSWS, at a minimum each day. In some homes, the shortage increased to 20 to 50 PSWs. The report highlights a number of badly needed changes, including increased wages and improved working conditions for PSWs.
This cause is now being championed by the The Long-term Care Crisis Committee, a group made up of people from across Canada, who are demanding more be done to address the challenges faced in these homes. The group has launched a petition calling for improved protections for those in long-term care.
One of the many asks in the petition addressed to the federal and provincial governments, which has received more than 13,000 signatures, is for the testing of all residents and staff in long-term care homes. It also calls for funding to address the needs of staff; such as money for transportation and child care.
"We have an opportunity to act now by putting emergency funds in place to protect our loved ones and to support the staff who care for them," the petition reads.
Ontario's Patient Ombudsman is taking a more citizen-centered approach. It's calling on people to come forward with complaints around COVID-19 in Ontario's long-term care homes. The organization, which advocates for fairness in various aspects of Ontario's healthcare system, said whistleblower complaints from staff and statements from family reveal the crisis these homes are facing. Severe staffing shortages, inadequate prevention measures and the failure for some homes to meet a residents' basic needs are part of the safety concerns that have come to the Ombudsman's attention.
"We know that there are more stories we need to hear," Jason Oliver, the organization's senior communication specialist, told The Pointer. These complaints will help design appropriate responses to the situation, including pandemic planning for long-term care homes who have yet to see a COVID-19 outbreak, Oliver said. "We want to learn more and help the system prepare for any second waves of COVID-19 during cold and flu season later this year."
While many continue to advocate for change in the system, their efforts do little to help those who have lost a loved one in these facilities. On Monday, a lawsuit was launched against Responsive Group Inc., which operates six long-term care homes in southern Ontario, including one in Mississauga — Cooksville Care Centre — and three in Toronto.
The claim, which has not been proven in court, alleges the facilities did not plan for the pandemic, among a number of other allegations. According to reports detailing the claim, approximately 70 residents have died in the homes from COVID-19.
This legal claim is not the only action Responsive Group Inc., a for-profit care provider, is facing. On April 22, a judge approved an injunction filed by the Ontario Nurses Association against the company, seeking a mandatory order for the company to begin providing proper personal protective equipment (PPE) to staff members. The complaints are across four Responsive Group Inc. facilities and include:
Masks were only being provided to staff members who treated residents confirmed to have COVID-19 and not those who were treating asymptomatic patients whose tests had yet to be confirmed. In some cases, even after residents were confirmed to have COVID-19, staff were denied access to N95 masks as the company said there were not enough to go around and they were not required.

Information about outbreaks in the facilities was not being adequately shared with the public and families of residents.

At Anson Place in Toronto, N95 masks were kept under lock and key, and at times, the supervisor would forget to stock up the supply for night shift staff.
Long-term care homes have faced a series of cuts since Premier Doug Ford's government came into power. After intense outcry and criticism, two grants that found themselves on the chopping block got an extension. The High Wage Transition Fund, which assists with staffing costs, was extended to Dec. 31, 2020. The Structural Compliance Premium provided homes not eligible for other funds with money from the Ministry of Long-Term Care for the upkeep of their facilities. The program was originally extended to March 31, 2020 and has since been replaced by the Minor Capital Program, which provides funds for the maintenance of long-term care homes.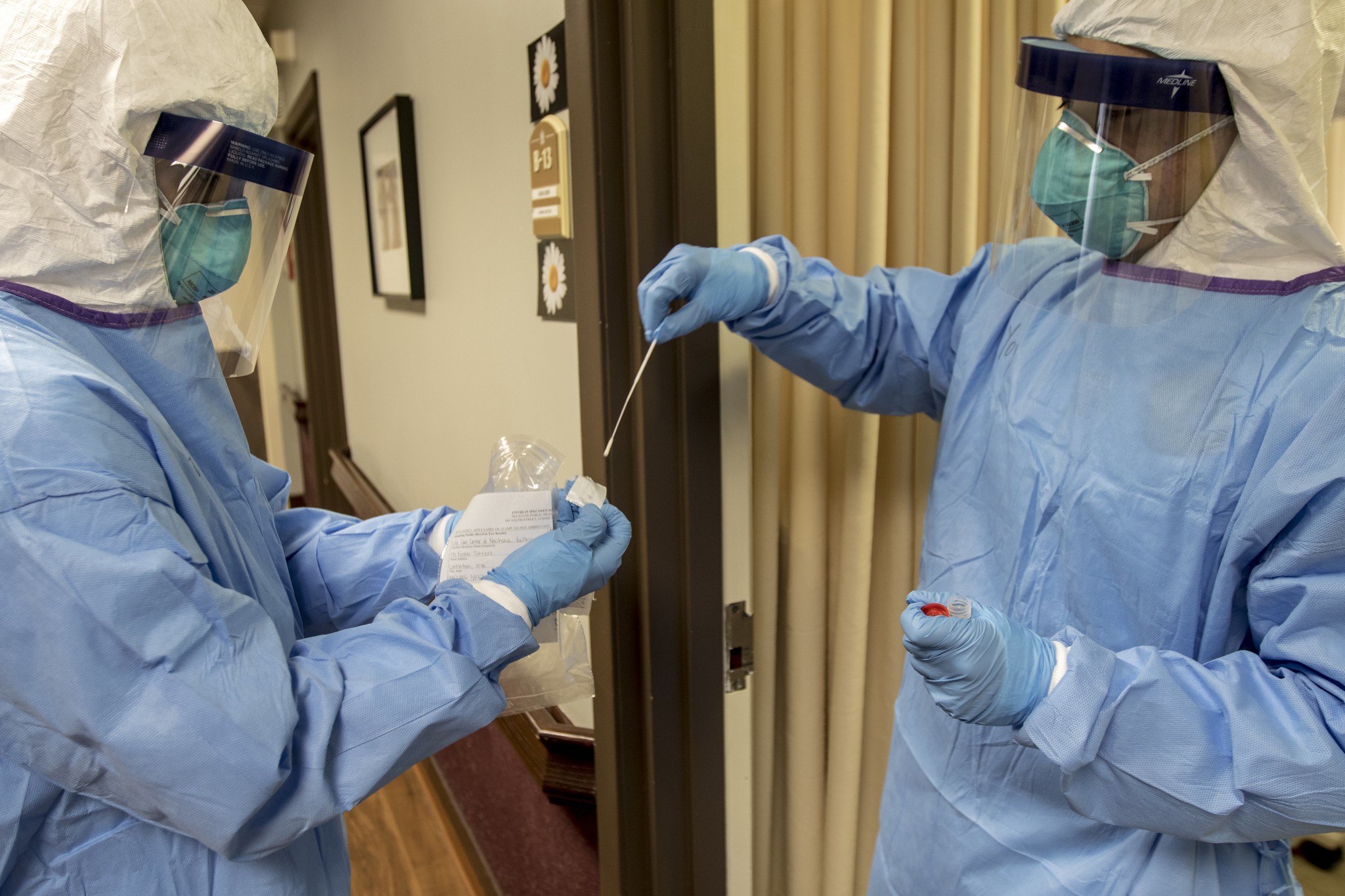 A court injunction filed by the Ontario Nurses Association alleges Responsive Group Inc. an operator of several long-term care homes, including one in Mississauga, was not providing adequate personal protective equipment for staff members.
Earlier this year, the provincial government also announced it will provide the Prescott-Russell Employment Services Centre in Hawkesbury, Ont. with $600,000 in funding for training and job placement services for PSWs. However, this funding will only assist 30 new PSW students and five current PSWs who want to update their skills. This is a fraction of the shortage illustrated in the report by the Ontario Health Coalition, which found that before the pandemic, long-term care homes needed between 10 and 50 more employees every day, depending on the facility.
---
Email: [email protected]
Twitter: @nida_zafar
Tel: 416-890-7643
---
COVID-19 is impacting all Canadians. At a time when vital public information is needed by everyone, The Pointer has taken down our paywall on all stories relating to the pandemic to ensure every resident of Brampton and Mississauga has access to the facts. For those who are able, we encourage you to consider a subscription. This will help us report on important public interest issues the community needs to know about now more than ever. You can register for a 30-day free trial HERE. Thereafter, The Pointer will charge $10 a month and you can cancel any time right on the website. Thank you.
Submit a correction about this story